Y'all it is time to add some front porch Christmas decorations to your home. Halloween has passed and everywhere you look the Christmas spirit is taking over. I, for one, am not ready to put up my tree. However, a little Christmas spirit on the front porch never hurt anyone! So I took a shopping trip to my local Old Time Pottery and came up with a ton of things for my front porch Christmas decor that you are going to love. Ready to see my finds?
This post is sponsored by Old Time Pottery, however, all projects and opinions are my own.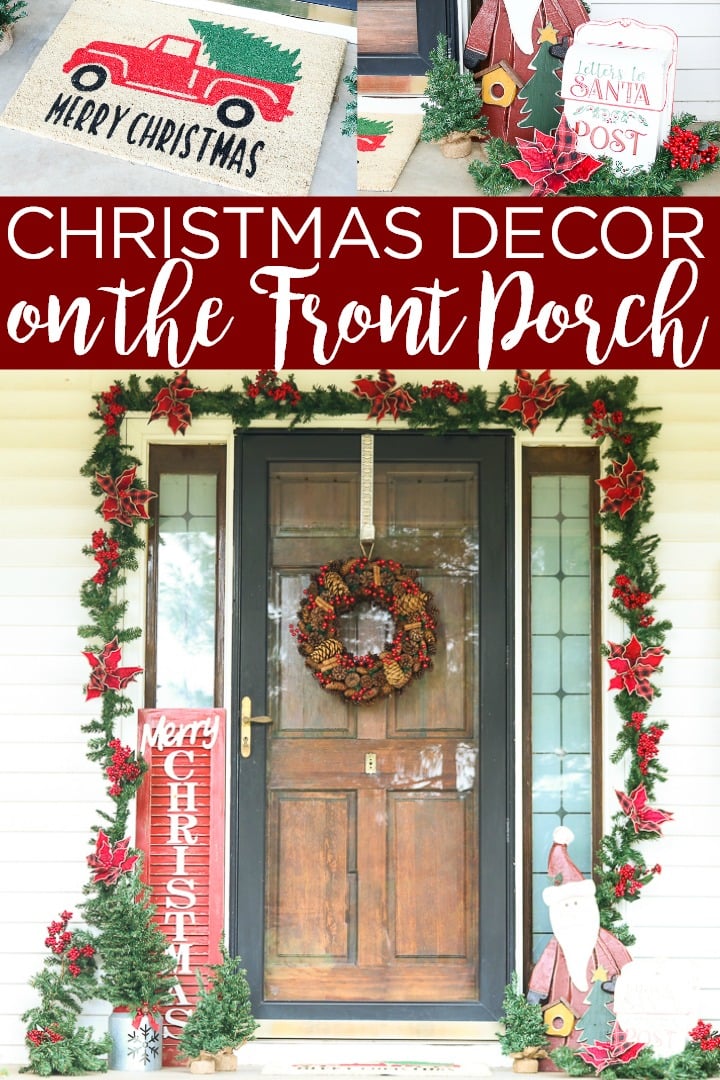 I started off with a list of things to make the perfect front porch. What was on my list? Well here is a brief list that might inspire your own porch decor this holiday season.
Front Porch Christmas Decorations
Wreath
Wreath hanger
Garland
Doormat
Sign
Floral
Large and small decor pieces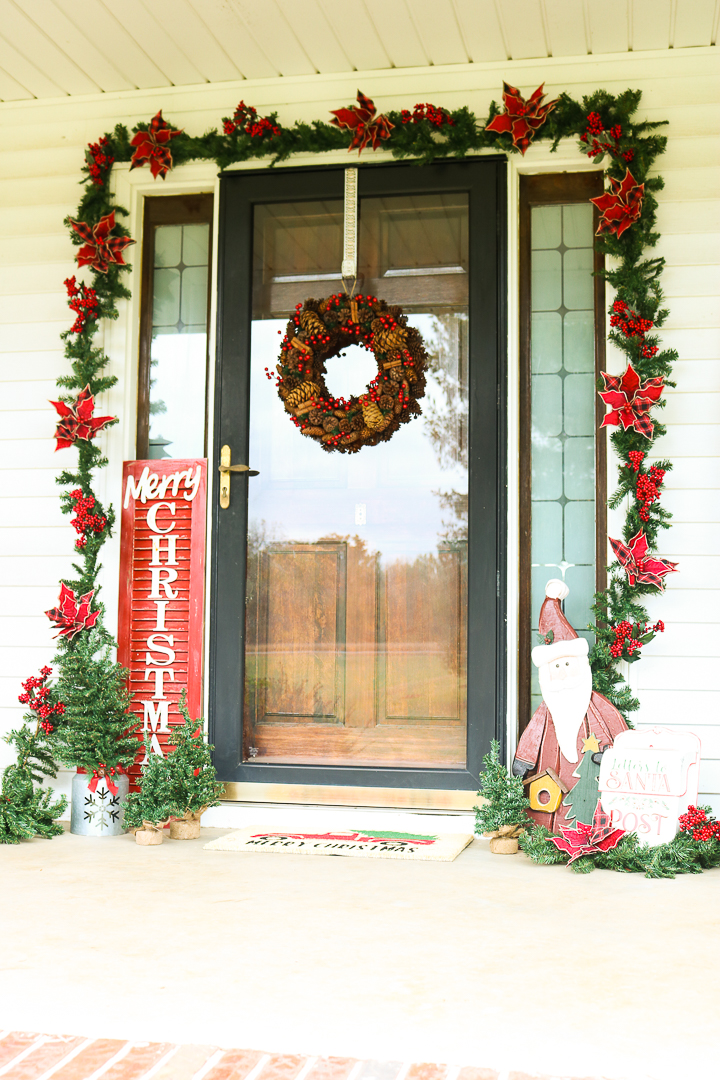 So, let's take a look at each of those pieces and how they came together into the perfect farmhouse Christmas front door. Where to start? With the doormat of course!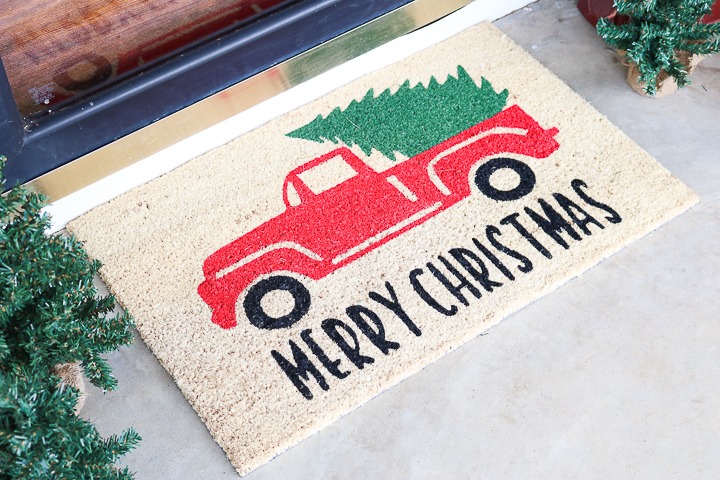 For me, it is the first thing that welcomes people to your home. I found this one with the truck and tree and knew that I had to have it!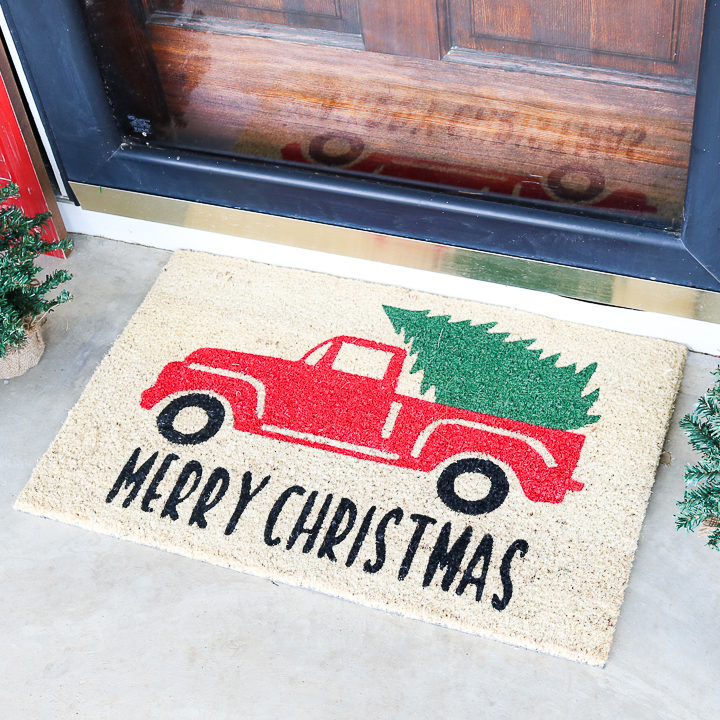 Next, I had to decide on a wreath. The wreath really sets the mood for the rest of the pieces. The selection at Old Time Pottery was HUGE but I fell in love with this pinecone wreath.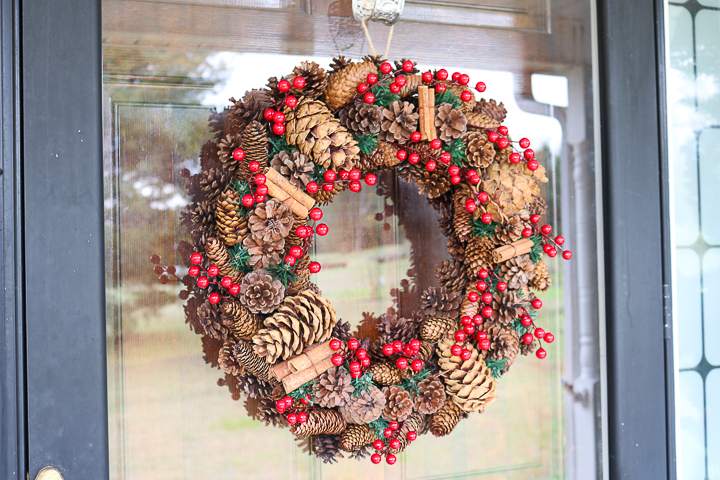 It is rustic so I went with that feeling for my entire front door. I mean look at those pinecones! Gorgeous!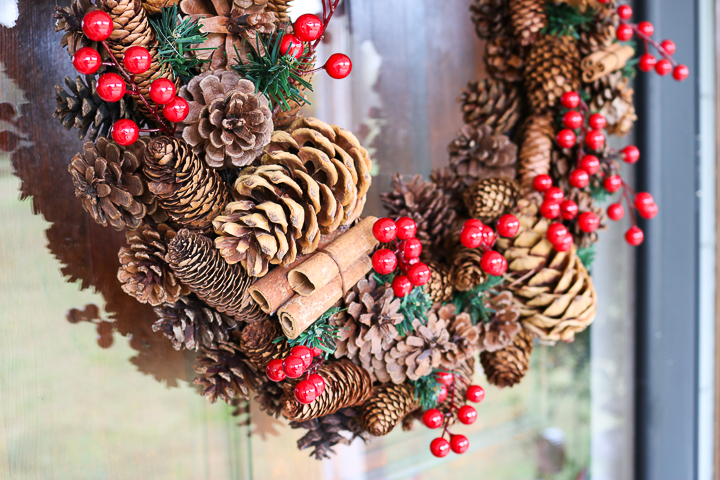 Then I wanted a really large sign for this area to welcome guests as they pull up. It needed to add to the rustic charm of the entire scene so it would work with that wreath.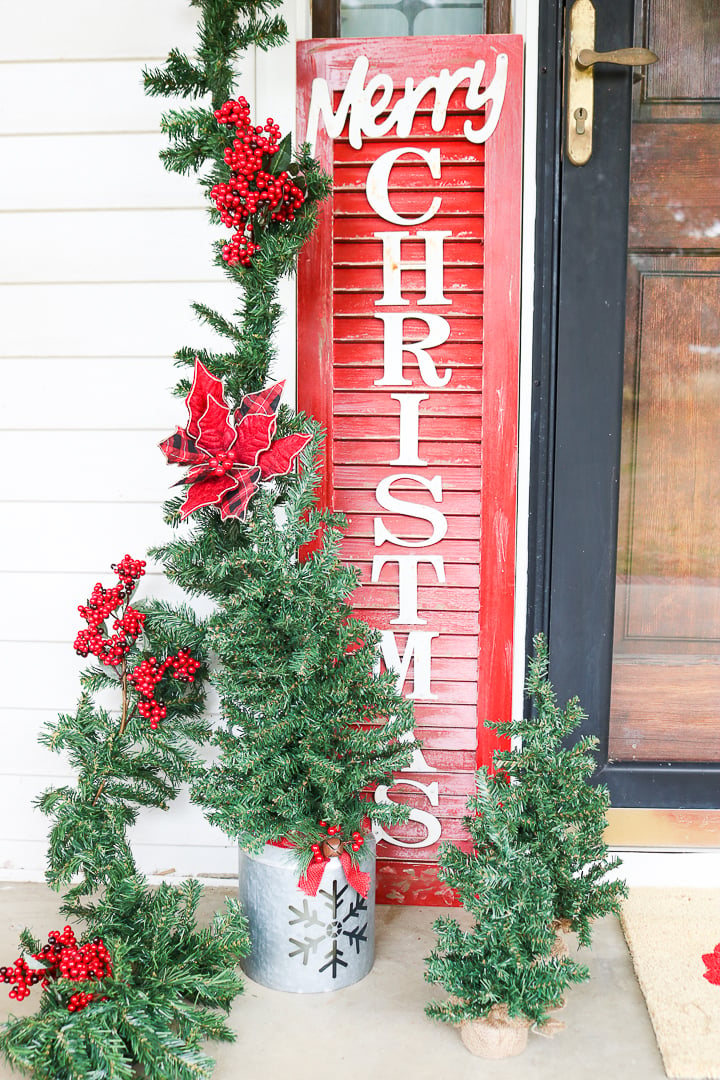 This large shutter was perfect! Just look at the slightly rusty metal lettering. Now, my front porch Christmas decorations were well on their way!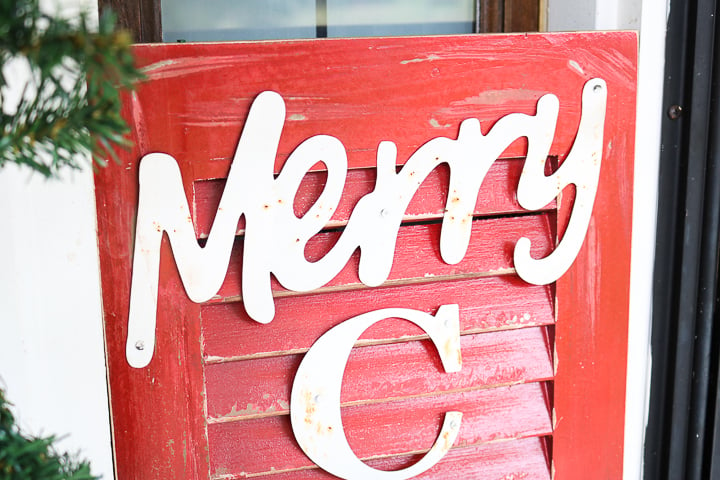 For both large and small decorations, be sure to look at the mini trees. They are inexpensive and can make a big impact. I took one of the larger ones and put it inside that galvanized bucket for even more rustic metal touches in this scene.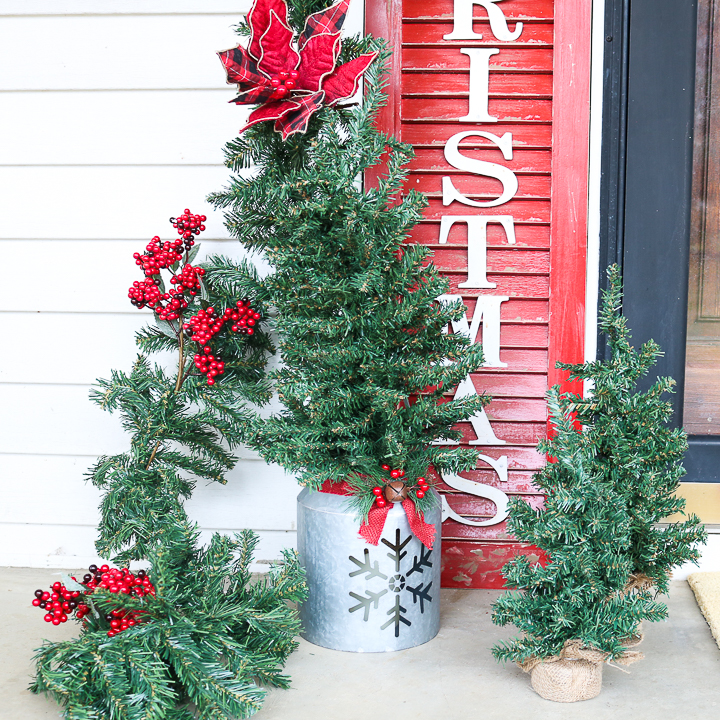 The opposite side of the door got a cute wood Santa that I just couldn't pass up.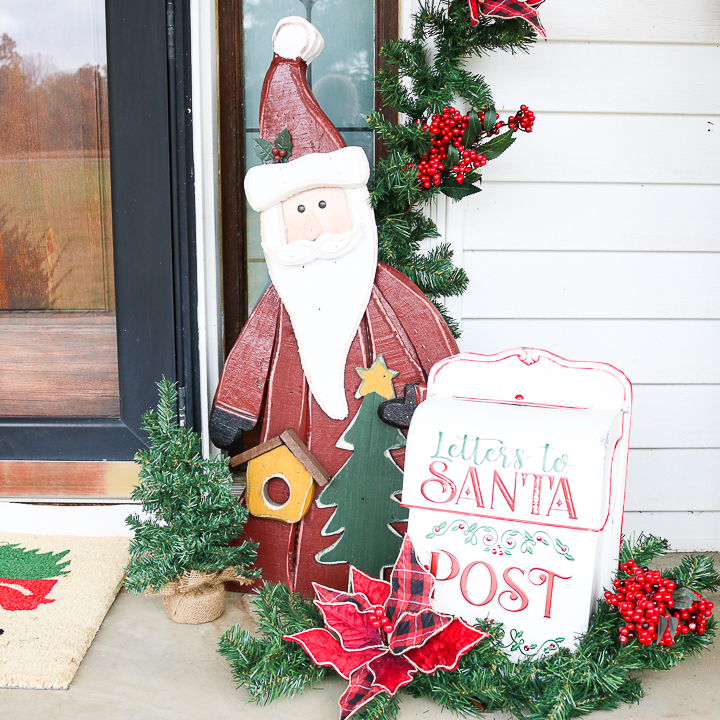 He is rustic and simply perfect for outdoors!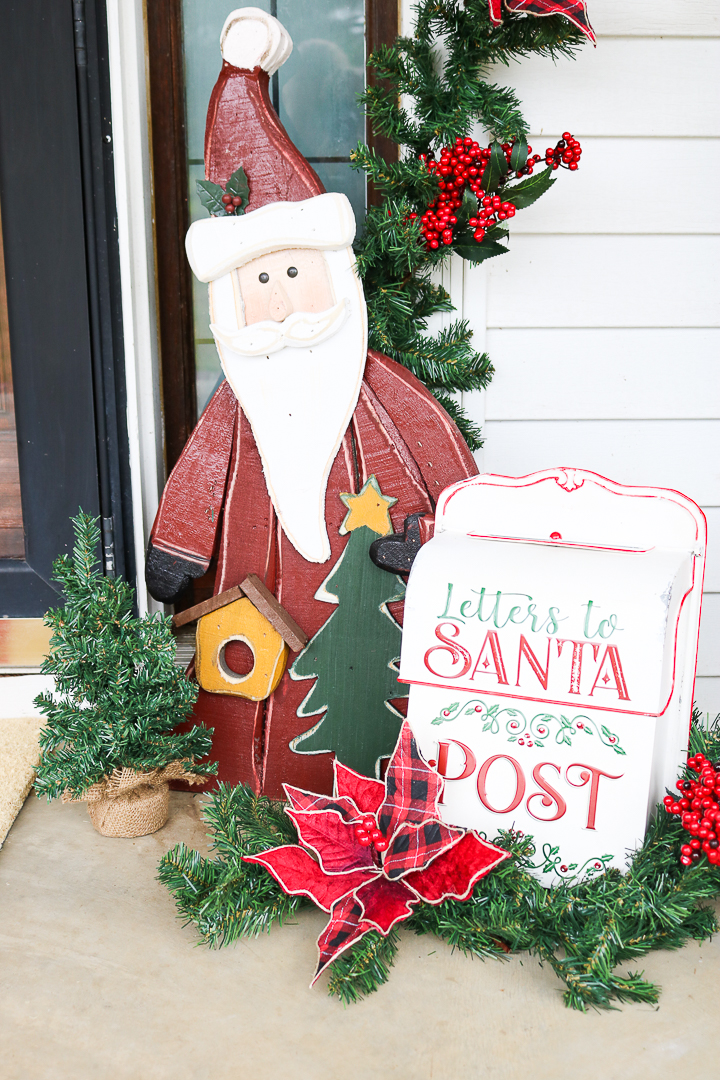 Every child will love that you have a mailbox for Santa on your front porch! This one from Old Time Pottery is the perfect addition to any Christmas scene whether it is rustic or not.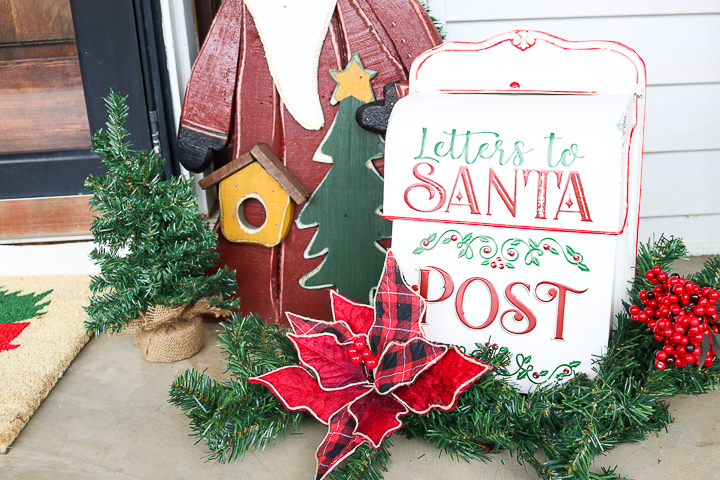 Finally, I needed some garland and floral touches. My inspiration for that came from these plaid poinsettias in the floral department. I grabbed a bunch of those.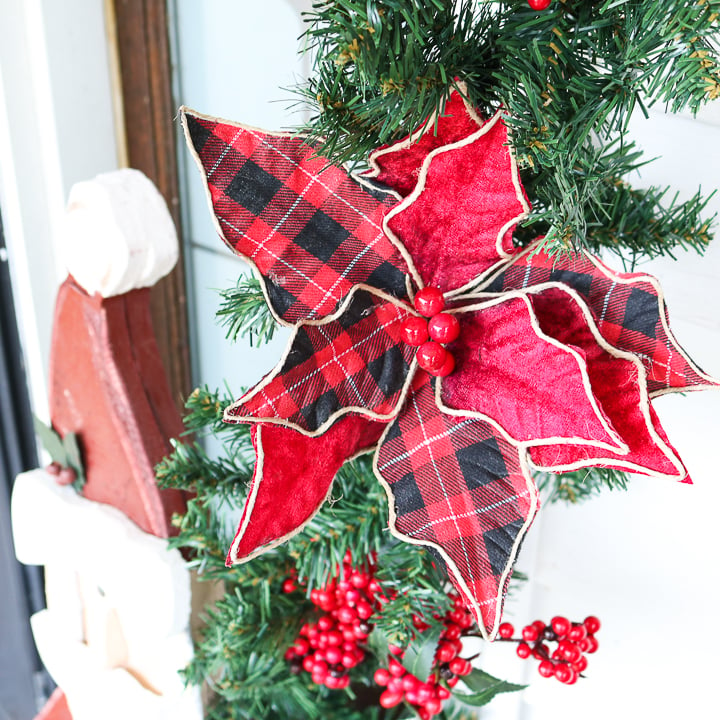 Then just put a garland of plain greenery around the door. Tie on the poinsettias and some red berries and you have the perfect Christmas look for your space! One tip is to get a longer garland than you need and let it pool on the ground at both ends. This will add a little interest to your scenes on both sides for very little money.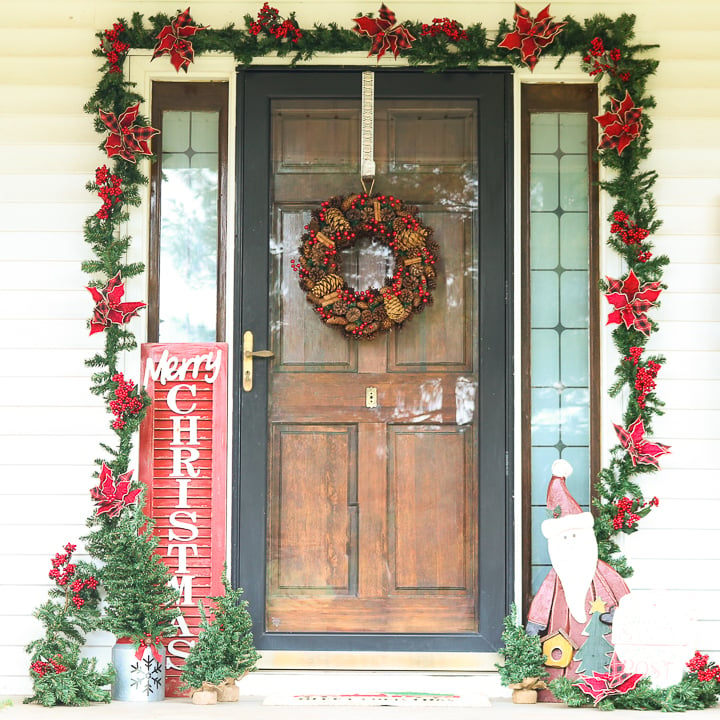 So, I hope you have enjoyed these front porch Christmas decorations. Maybe they will inspire you to create something similar around your home. If you are ready to decorate your front door for Christmas, be sure to shop Old Time Pottery for all of your needs. They have a huge selection so you are sure to find what you need!