I am so excited to announce I've written a Cricut Book! My book will be released on November 8th, 2022, and I cannot wait for you to see it. Keep reading to see how you can pre-order and get some exclusive bonus content!
Looking for more info on Cricut machines? Check out my one-hour crash course here.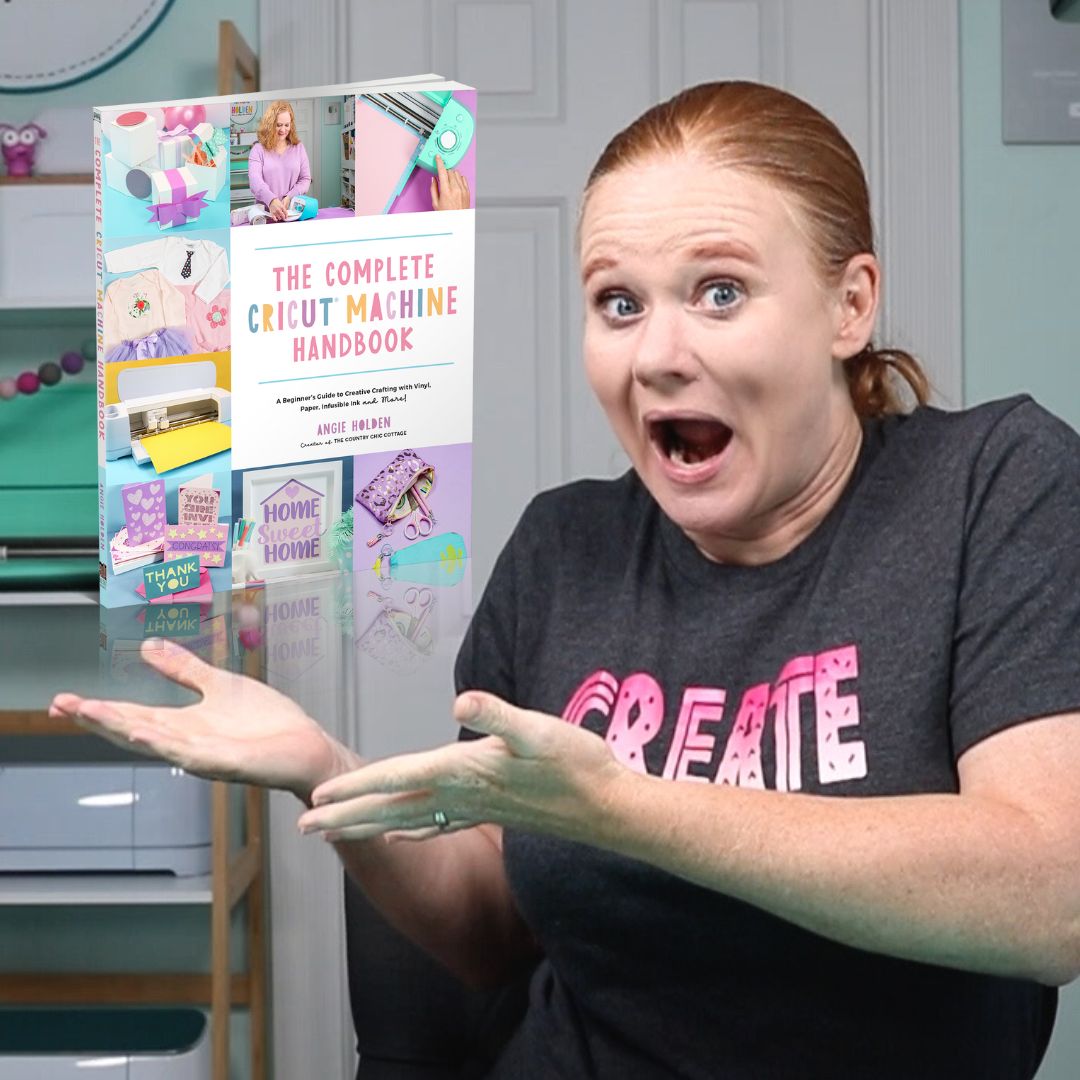 The Complete Cricut Machine Handbook
I am incredibly excited to announce that today The Complete Cricut Machine Handbook is avalible for pre-order on Amazon and a variety of sites. You can pre-order here.
Why did I write a Cricut Book?
Why did I write a Cricut Book when I have all these great videos on how to use Cricut machines? Over the years I've heard from many of you that you would like a written reference book for your Cricut machine. My book is that book for you!
What does the book cover?
My Cricut book walks you through Cricut Design Space as well as 24 step-by-step projects. The book starts with simple projects and works into more involved projects.
You'll learn how to use your Cricut machine all the way from the beginning and how to use a variety of materials including paper, vinyl, HTV, fabric, and more. If you've ever wanted to learn how to use your Cricut machine and learn to use Cricut Design Space, I really think that this is the book for you.
There is something for everyone, if you're a beginner or a more experienced crafter you're sure to learn something new. There are projects in the book that are a little bit more advanced and a lot of beginner projects too.
I have included everything from paper projects like cards and projects using other common materials like vinyl. You'll learn how to use adhesive vinyl as well as heat transfer vinyl. I even went into Infusible Ink. So even if you don't have a sublimation printer or haven't gotten into sublimation yet, you can get started with your Cricut machine and Infusible Ink, and The Cricut Machine Handbook.
What machines does the book cover?
My Cricut book covers ALL the Cricut machines that use Cricut Design Space. If you own an Explore machine, Cricut Joy, or even a Maker or Maker 3, there is something in my book just for you. I will teach you how to cut fabric with your Maker machine and what steps you need to take to cut it with an Explore machine.
What is included in the book?
My Cricut book includes 24 step-by-step projects, and yes, when you purchased the book, you get the files to make any of the projects where I used SVG files. You get all those files as well with the purchase of my Cricut book and I will have instructions on how to get those on here as the release date gets nearer.
Plus, when you sign up for that pre-order bonus below, I will be sending some more information about another really exciting bonus that I have to go along with the book as we get closer to the release date. You don't want to miss that either. I will send that notification specifically to the people that are on that pre-order list. So don't forget to sign up for your pre-order bonuses!
How to Order The Complete Cricut Handbook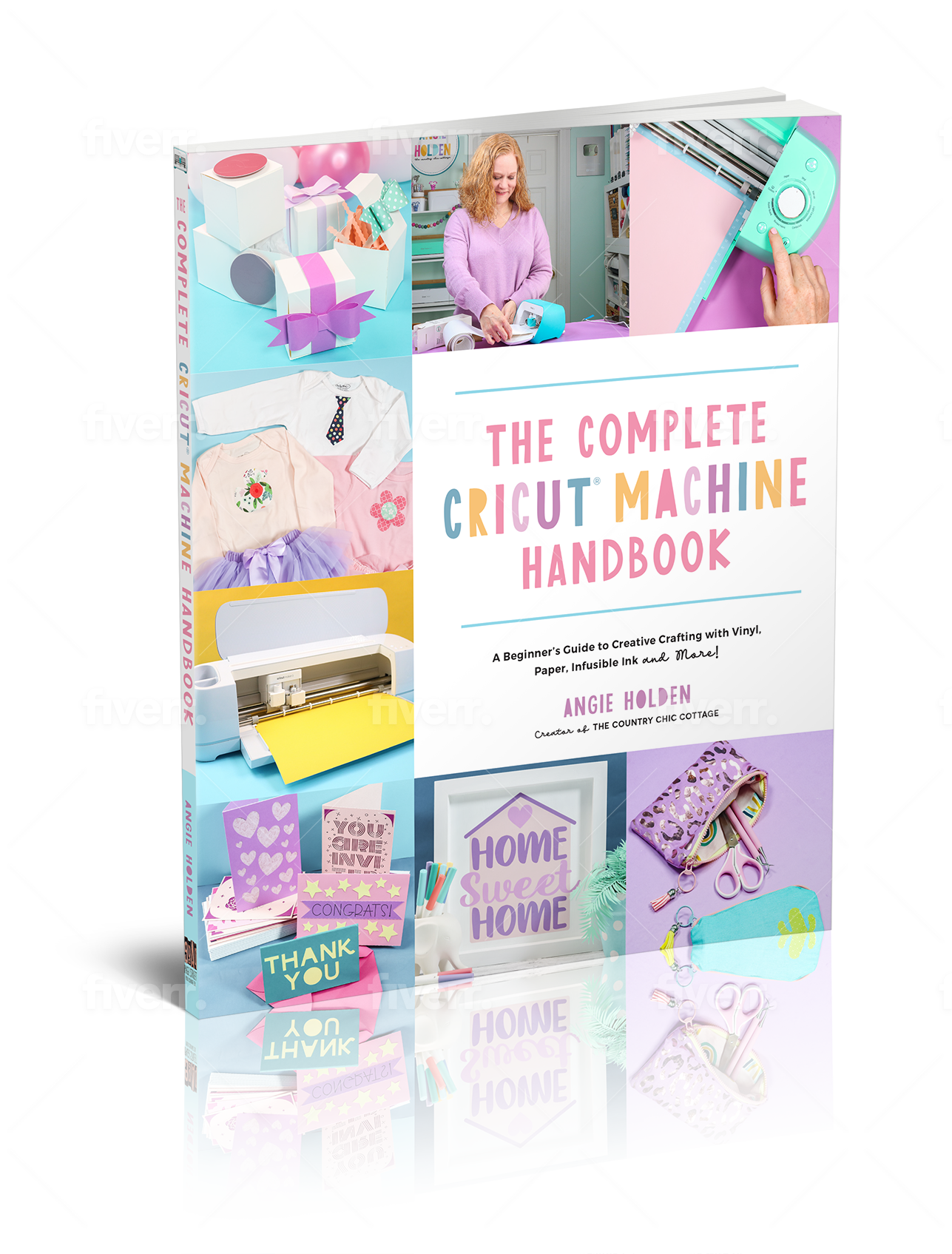 There are a variety of options on how to pre-order my Cricut Book at CricutHandbook.com. I have big news for those who pre-order – if you pre-order before October I have a series of bonuses for you!
I am including three bonuses and they are all digital files that you will get right when you order. There is a form to fill out here to include your proof of purchase and your digital files will be sent to you immediately. No waiting until November to use them!
Why should you pre-order?
Did you know that pre-ordering books really helps to support the author? Pre-orders are a big thing on websites like Amazon. The more pre-orders you get on any website the better the book ranks once it is released. That's why I'm annoucing my book before it's available to purchase and why I'm including bonuses for those who pre-order as a thank you for supporting me.
Closing Thoughts on The Complete Cricut Machine Handbook
I am so excited for you to get The Complete Cricut Machine Handbook into your hands. If you've ever wondered what goes into writing a book I can tell you, it takes a lot. I've been working on this Cricut book for about a year now and I'm really proud of how it turned out.
All the projects are my own, they're completely unique. I did everything from the SVG files to the photography. This book is all me and I hope you love it as much as I do. If you've ever watched my YouTube channel and thought "I really wish Angie had a Cricut manual for me to follow!" Here it is! I wrote this for you!
When you pre-order your book I'd love for you to share it on social media. Use #cricuthandbook so I can see it and thank you! And, when you get the book in your hands and start making the projects make sure you use the hashtag then too so I can see them. Thank you so much for your support, it means a lot!