Have you seen the Cricut EasyPress Mini? If you haven't, you are in for a treat! If you have, you might want to keep reading to see how I use this Cricut mini iron to make hats and shoes.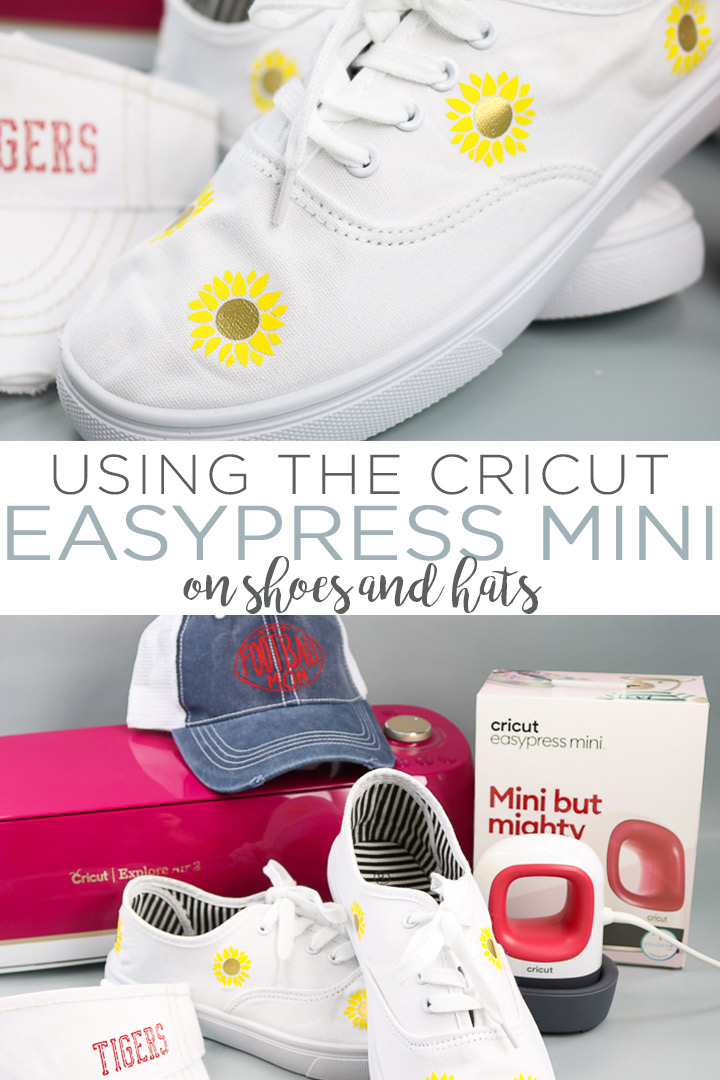 This is a great product for adding Cricut iron-on to tons of odd surfaces that the original EasyPress just cannot get to. I know that I have never had success making shoes with heat transfer vinyl before. But today, I have done it and love being able to make custom shoes right at home!
Links below may be affiliate links which means that you do not pay any more, however, a small commission will go to this site.
All About the Cricut EasyPress Mini:
The Cricut EasyPress Mini is a small hand-held heat press that is perfect for your small and shaped projects. Think hats, shoes, stuffed animals, and other already made projects. If you have been looking for a mini-iron for your heat transfer vinyl needs, this is one that you definitely want to look at! Let's dive into the Mini itself and some of the features you might like.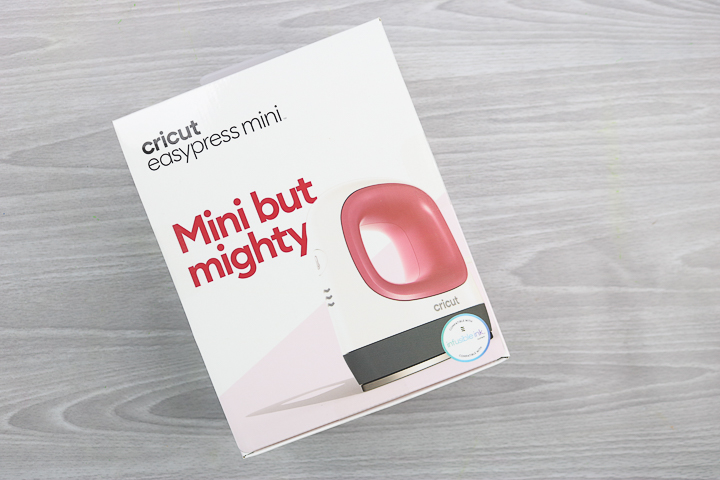 What is in the Box:
In the box, you will get the following:
EasyPress Mini
Safety Base
Instructions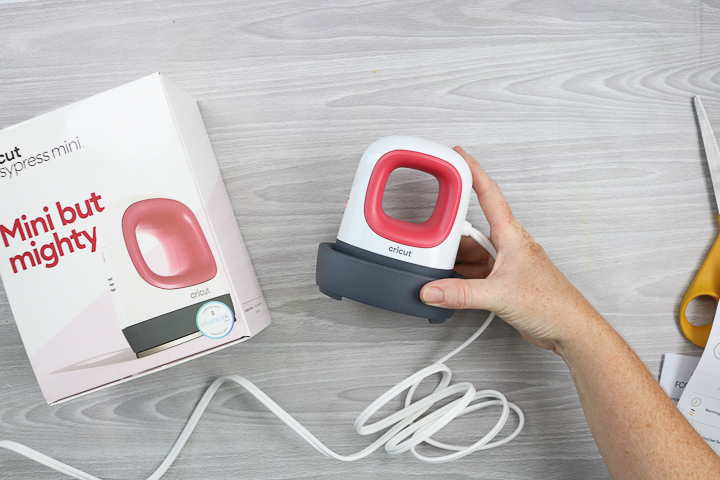 EasyPress Mini Features:
Just a few of the features of the Cricut EasyPress Mini:
The compact size (2.1 inches by 3.4 inches) is perfect for all of those small projects and hard to reach areas.
A pointed shape that allows you to get into small areas easily.
Ceramic-coated heat plate for dry, even, edge-to-edge heat that is comparable with the other sizes of EasyPress.
Three heat settings for foil/delicate, regular Iron-on, and Infusible Ink!
Insulated safety base so you can safely rest your Mini when hot.
An auto-shutoff feature so you don't have to worry about forgetting to turn it off.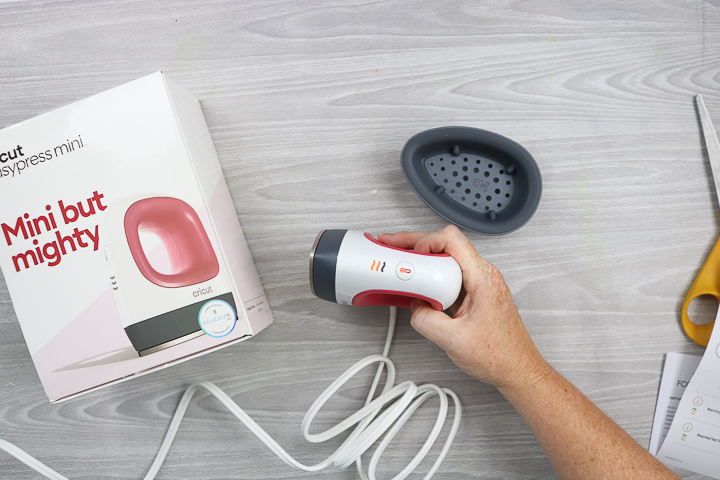 There are a few things features the Mini doesn't have that most EasyPresses do:
The Cricut mini iron does not have a timer. You will need another device for timing.
There is no temperature gauge. It only has three heat settings for temperature control. It does, however, turn from orange to green and beep when the temperature has been reached and it is ready to press.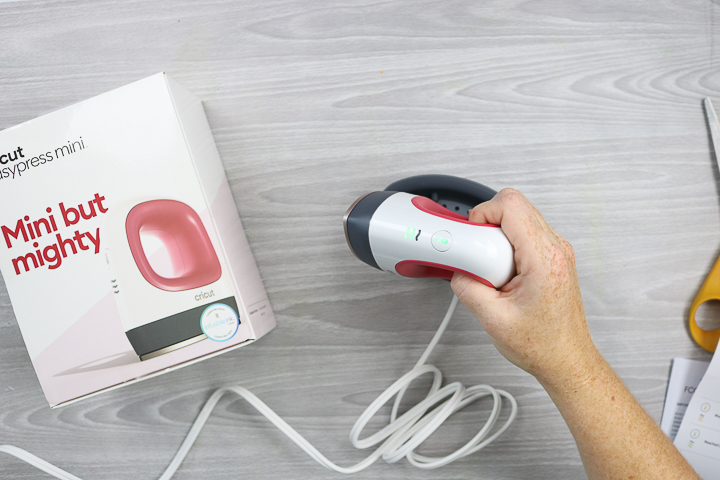 Video of EasyPress Mini from Cricut:
Want to see all about the Cricut EasyPress Mini instead of reading about it? Watch the video below!
Missed something or need more information? Just follow along below.
How to Add Iron-on to Shoes:
The first thing I wanted to make upon opening this Cricut iron was shoes. You see, I had tried to make shoes many months ago with the smallest EasyPress and I totally melted the soles of the shoes. After that, I decided that adding heat transfer vinyl to shoes was not for me. Then the Cricut EasyPress Mini was released and I knew I had to try again. This time, I had complete success! Read on to see how you can make your own custom shoes with Iron-on.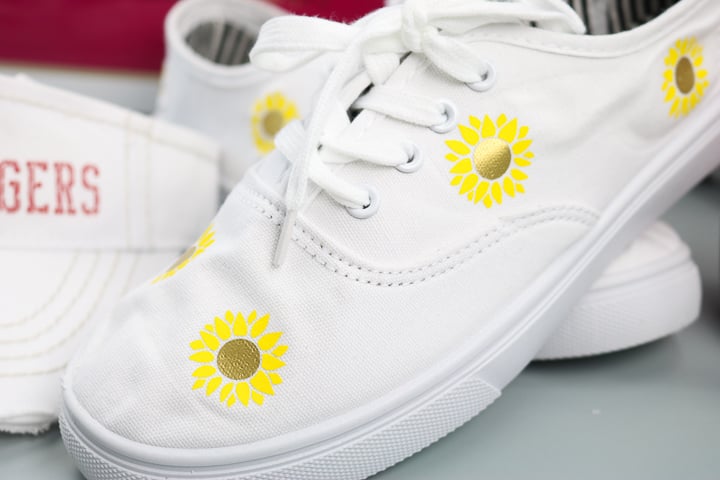 Supplies needed: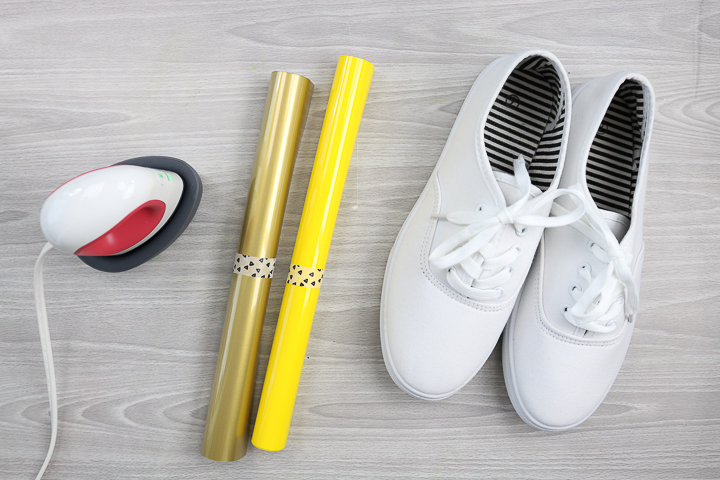 Using the Cricut EasyPress Mini on Shoes:
Start by cutting your Cricut Iron-on into the shapes you want to add to your shoes. You can find the cut file for the sunflowers here. Cut as many as you want to add to your shoes. Then weed away all of the excess vinyl and cut the backing paper so that you are left with small pieces for adding to your shoes.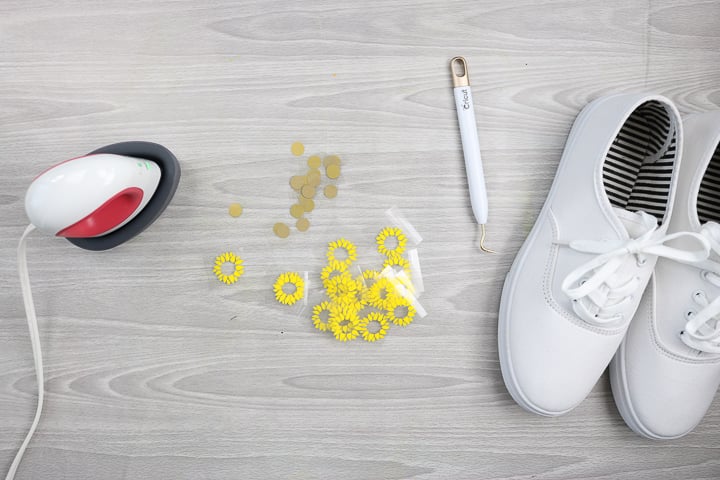 Heat the mini EasyPress from Cricut up to the appropriate temperature for your iron-on. I am using the medium setting. You can find the temperature settings on the heat guide here. When the Mini is heated up, the lights will turn green and a tone will sound.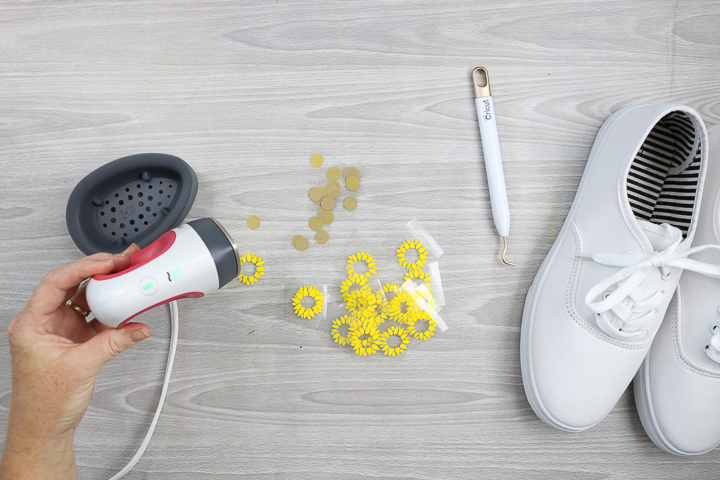 Add a towel to the inside of your shoes so you have something to press against while ironing.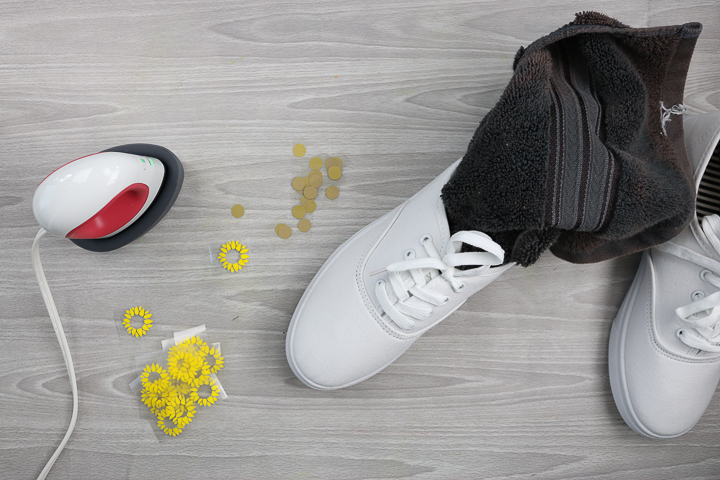 Then start adding your Iron-on! Use the time indicated on the heat guide. You will need a timer as the Cricut EasyPress Mini does not have one. Press the center of the flower first. Then remove the carrier sheet and press the petals second.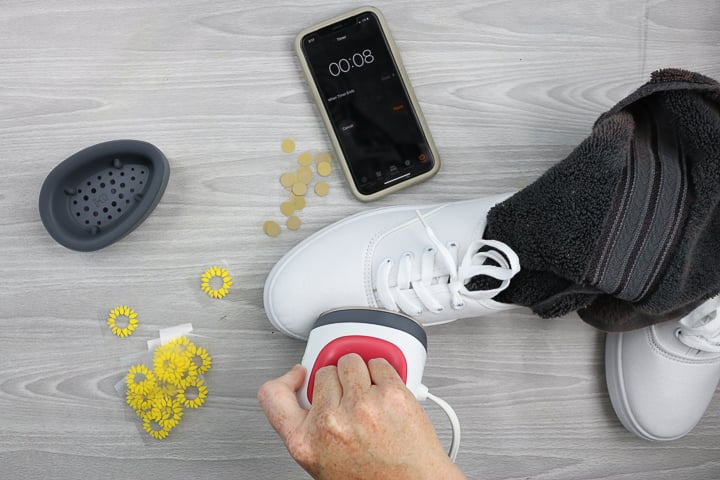 I did have to press the petals a few times to get them to stick. I think because the surface is rounded, I had to press one way then the other to get all of those little petals completely down.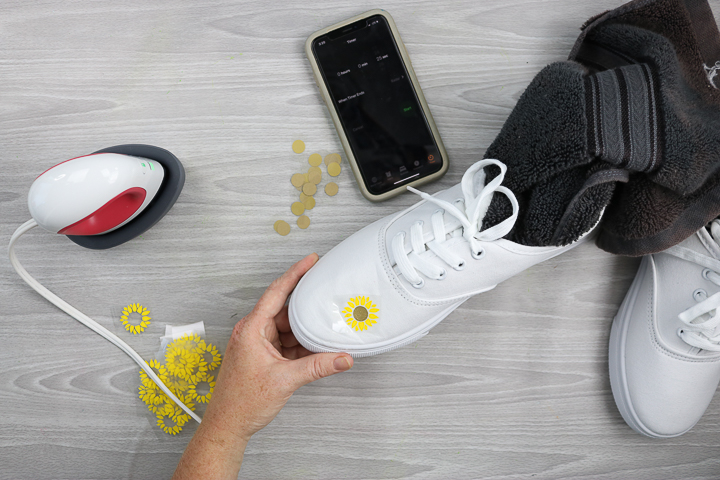 But, after pressing a few times, the sunflower adhered to the shoe and I was able to remove the backing. I like to add the iron-on protective sheet over the top and press again for 15 seconds or so just to ensure everything was heated properly. I only do this on odd surfaces like shoes. This is also a great tip for when you can't press from the back of the item.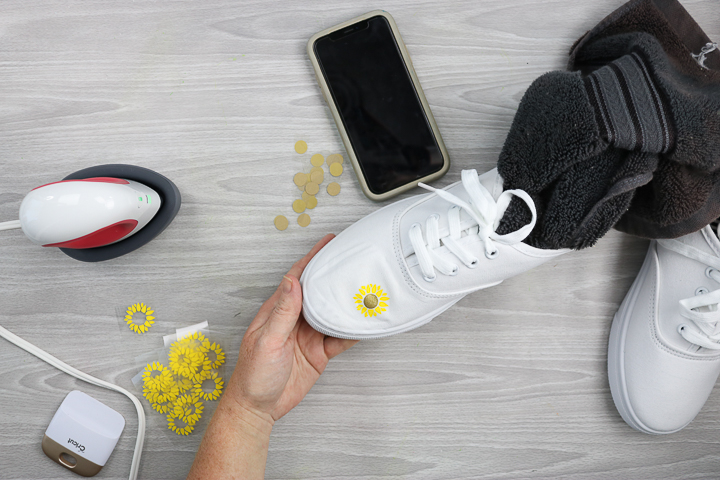 Tips When Adding Heat Transfer Vinyl to Shoes:
Trim the carrier sheet with scissors close to your design. That way when adding to weird spots on the shoes, the carrier sheet does not rest on say the seams and hold the heat transfer vinyl off of the shoe surface.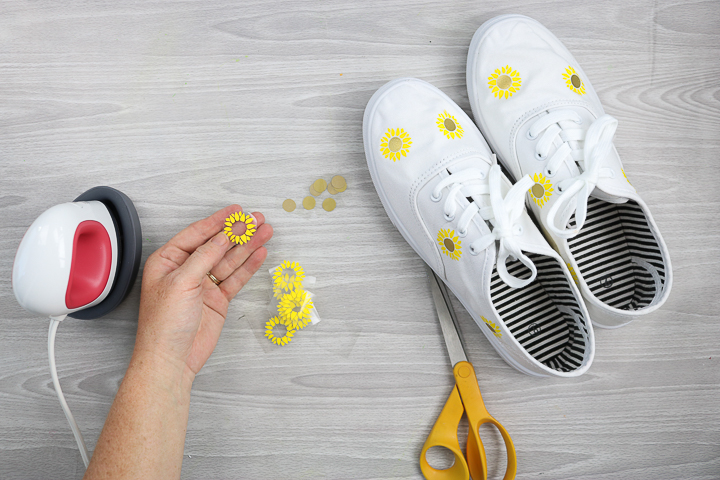 I kept all of my sunflowers small so they fit on the shoes in various locations. If doing a larger design, you need to trim the iron-on around things like the sole and seams so that the design will fit.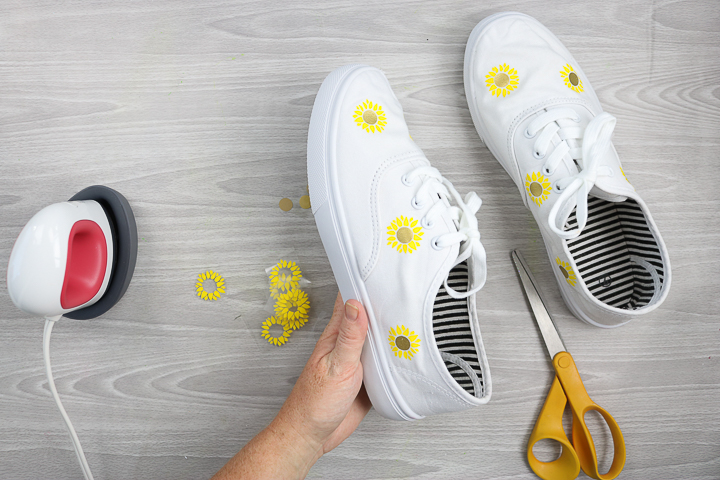 If you want to put your flowers close together, cover the flower that is already pressed with the iron-on protective sheet before pressing the second flower. You never want the Cricut EasyPress Mini (or any EasyPress) to come directly in contact with heat transfer vinyl.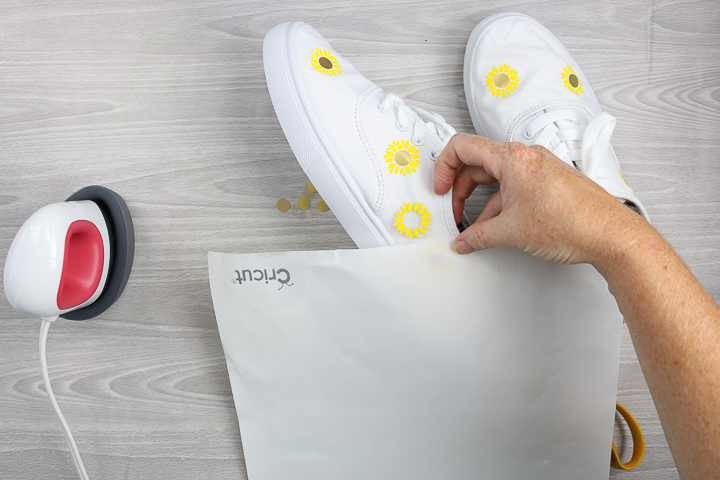 When adding custom designs to weird areas of your shoes, use the unique shape of the Cricut mini iron to really get in there. You will also want to make sure that the EasyPress is not sitting on the seams or eyelets or anything that will hold it up off of the surface. It is also very important not to let it come in contact with the soles of the shoes as they will melt!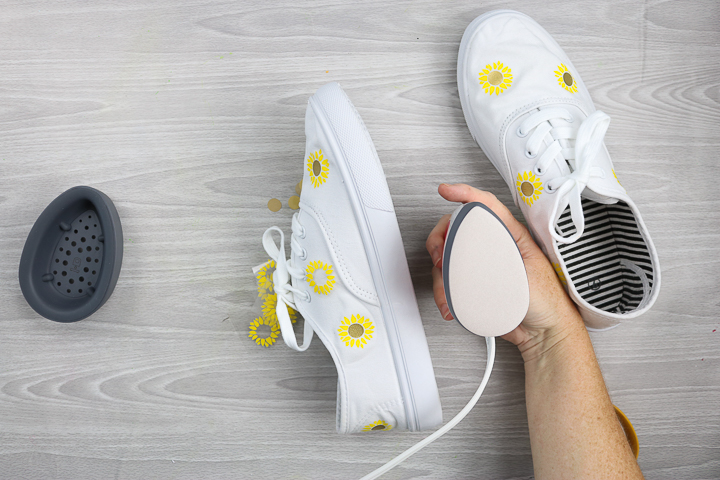 How to Add Iron-on to Hats:
I really couldn't resist. I had to make some hats as well! I mean just using the Cricut EasyPress Mini on shoes did not seem like enough of a test. So, I broke out both a hat and a visor to see how well the mini iron would perform.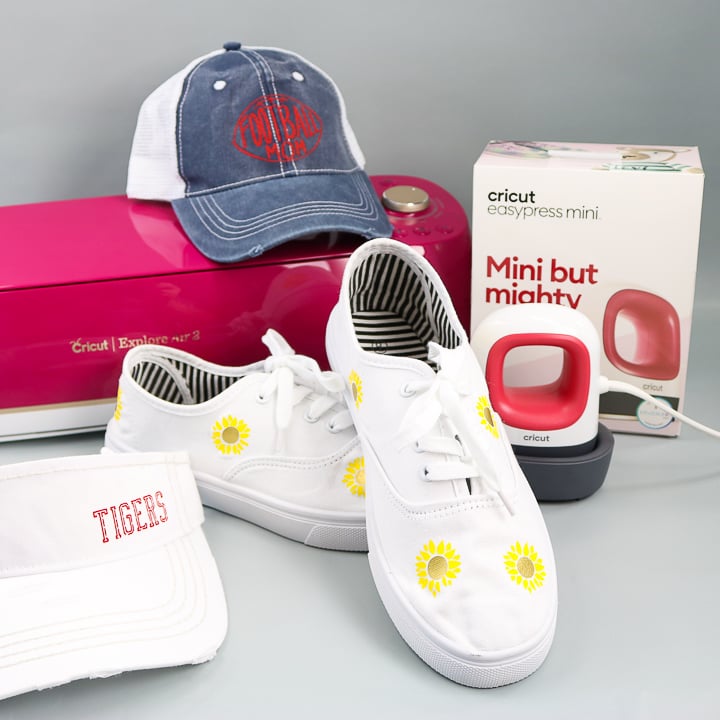 You can watch me make both the hat and the visor in the video below. If you want the football mom cut file, you can download that for free once you join our Facebook group here.
Do You Need the Mini EasyPress from Cricut?
So, now that you have seen both hats and shoes, is the new Cricut mini iron for you? Should you add this one to your Christmas wish list? Here are my thoughts:
The EasyPress Mini is perfect for adding iron-on to a variety of odd surfaces with rounded shapes. I have never successfully done this with any other EasyPress size.
The small size and shape of this machine are perfect for customizing just about any small surface.
Need to make a ton of hats to sell? I would go with a traditional large hat press.
Need to make a few hats in a year for gifts and to wear? The Cricut EasyPress Mini is definitely the answer!
Want to do Infusible Ink in small sizes or on weird surfaces? This is the only thing that I know of that has the ability to get that hot.
I hope these points help you decide whether or not to add the mini to your craft room!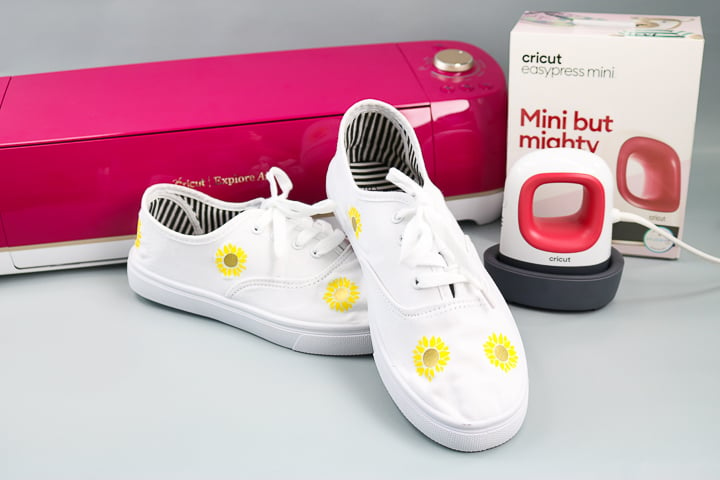 Where to Buy the Cricut EasyPress Mini
You can pick up the Cricut EasyPress Mini here on the Cricut website or at Joann, Amazon, Walmart, and Michaels. Be sure to add it to your Christmas wishlist as it will be here before you know it! Don't forget to add some blank hats and shoes to the list as well as you will want to dive right into some projects.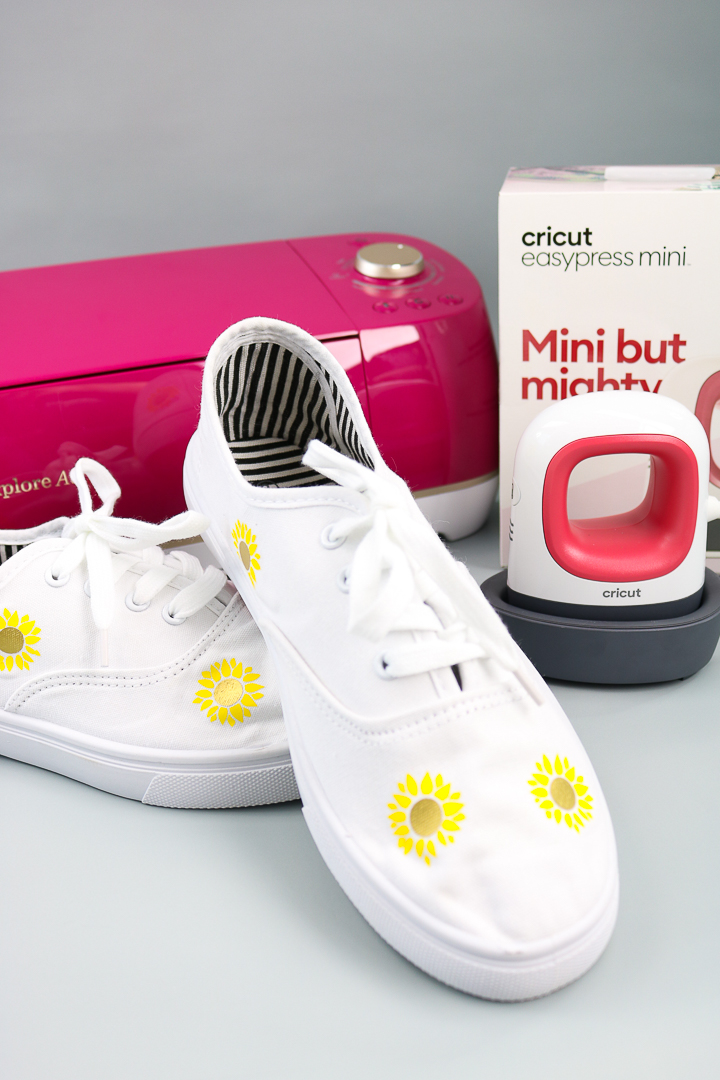 Once you get your Cricut EasyPress Mini, you will love using it to customize thing you never thought you could! From shoes to hats to stuffed animals and so much more. This Cricut mini iron will get into spots you could never get into with a traditional heat press or even one of the other EasyPress sizes. Want to see me use this machine on other surfaces? Comment below with what you want to see! You can also subscribe to our YouTube channel so you won't miss other videos using this machine.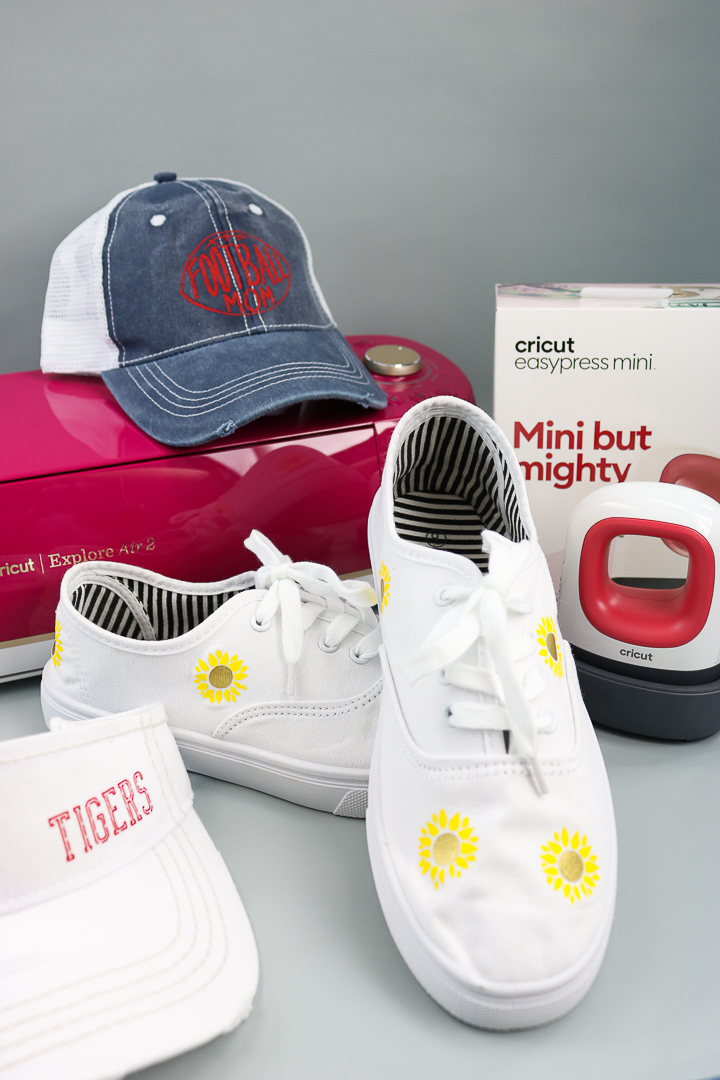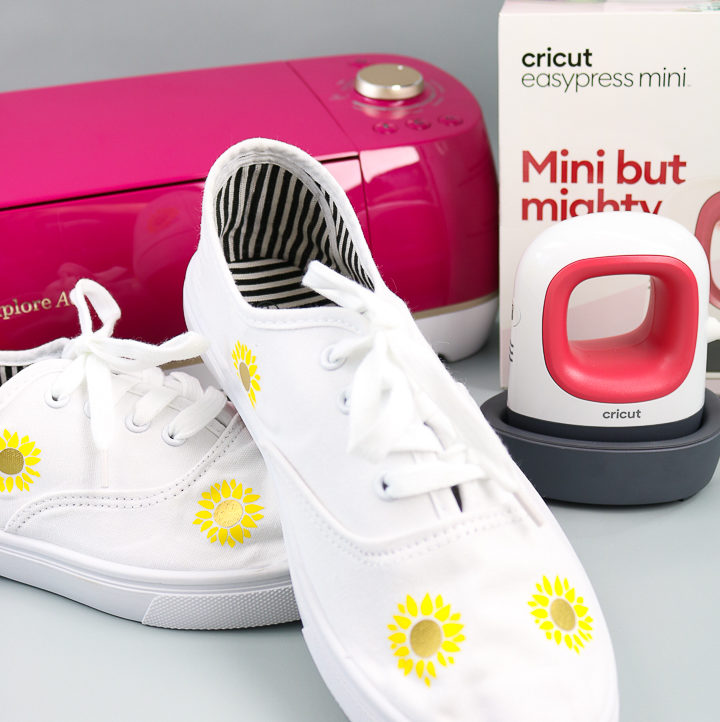 EasyPress Mini: Everything You Need to Know
Learn all about EasyPress Mini and how to use it to make personalized shoes, hats, and more!
Equipment
EasyPress Mini

Scissors

Iron-on protective sheet

Timer
Instructions
Using your Cricut machine and Iron-on material cut out your desired design.

Weed all excess material.

Using scissors trim your carrier sheet close to your design.

Preheat your EasyPress Mini to required level. You can find the right setting with the Cricut Heat Guide.

Use a towel inside the shoe or hat so you have something to press against.

Preheat your surface making sure to avoid the soles.

Place Iron-on on your shoes (or hat), avoid seams, eyelets, and anything else that will prevent the EasyPress Mini from pressing the Iron-on flat onto the surface.

Using a timer to track the time press Iron-on for the required time. Make sure the carrier sheet is always between the plate of the EasyPress Mini and the Iron-on.

Following the Cricut Heat Guide allow the Iron-on to cool as required and then remove carrier sheet.

Repeat steps as many times as required for your project.
Tried this project?
tag us to show off your work!
New to Cricut?
Sign up for our email list to download the Beginner's Guide to Cricut Design Space for FREE today!
Sign up to get the guide emailed to you!