You may have heard of Cricut's new Infusible Ink already, but now we are going to teach you how to use it. The right way! Your projects will come out amazing after following our comprehensive guide below. We will cover what Cricut Infusible Ink is, where you can buy it, how to use it, how to layer it, and so much more! So, are you ready to dive into this latest offering from the Cricut brand? I think you will love it! We even have a DIY mouse pad made with it here.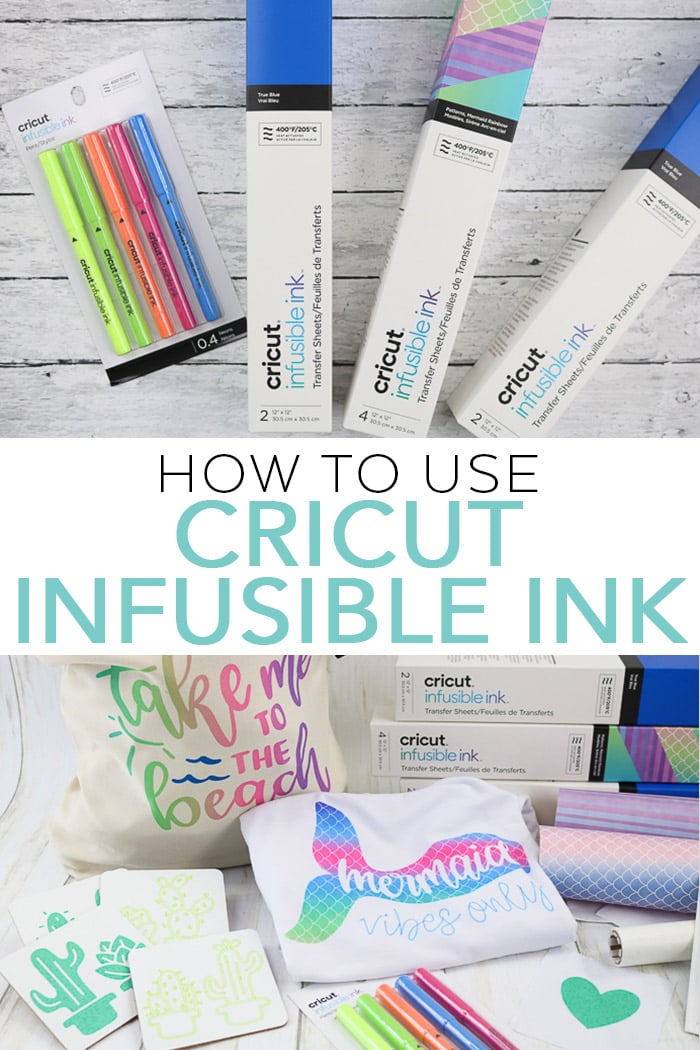 Cricut Infused Ink
I am covering a ton of information in this post. If you want to skip around or have a specific question, just use the table of contents below.
Table of Contents
What is Cricut Infusible Ink?
Infusible Ink is a permanent ink transfer product that works on specific Cricut surfaces as well as surfaces that are made for sublimation. This product allows you to create handmade, personalized projects with a professional, store-bought finish. Think of your own creations embedded with ink on shirts, totes, coasters, and more. Now imagine that this process is super simple and perfect for the home crafter. That, my friends, is Cricut Infusible Ink.
Peel proof, flake proof, and wash proof – now for the first time ever, you can achieve professional-level personalization at home with seamlessly smooth, richly colored, pro-quality transfers that become one with your base material – and last forever. Ready to learn more? I thought so!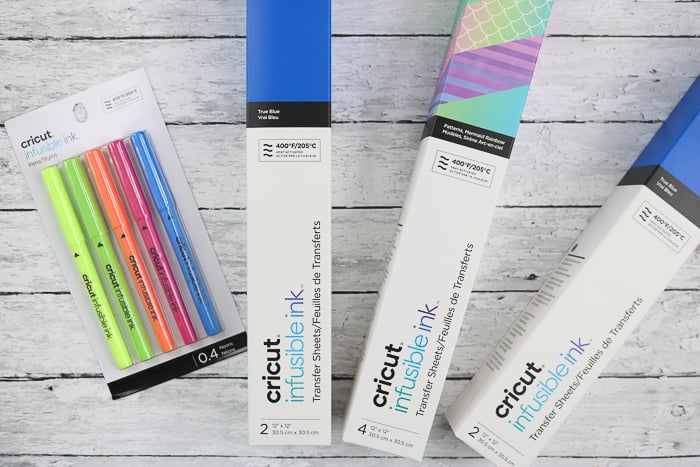 The ink is available in transfer sheets, pens, and markers. We will talk more about each below as well as show some projects using the products!
Is it like sublimation?
Sublimation is a process that uses a printer with special ink to make transfers that are then added to poly-coated surfaces. While Infusible Ink is similar, it is actually an entirely new product and there is nothing like it on the market. The Infusible Ink sheets are a new technology that allows you to cut designs right in your Cricut machine. You can then use those sheets to infuse ink right into your project. The technology is easier, faster, and much cheaper for the at-home crafter who wants to take their projects to the next level.
Where can I buy Cricut Infusible Ink?
Cricut Infusible Ink is available at the following stores:
How much does it cost?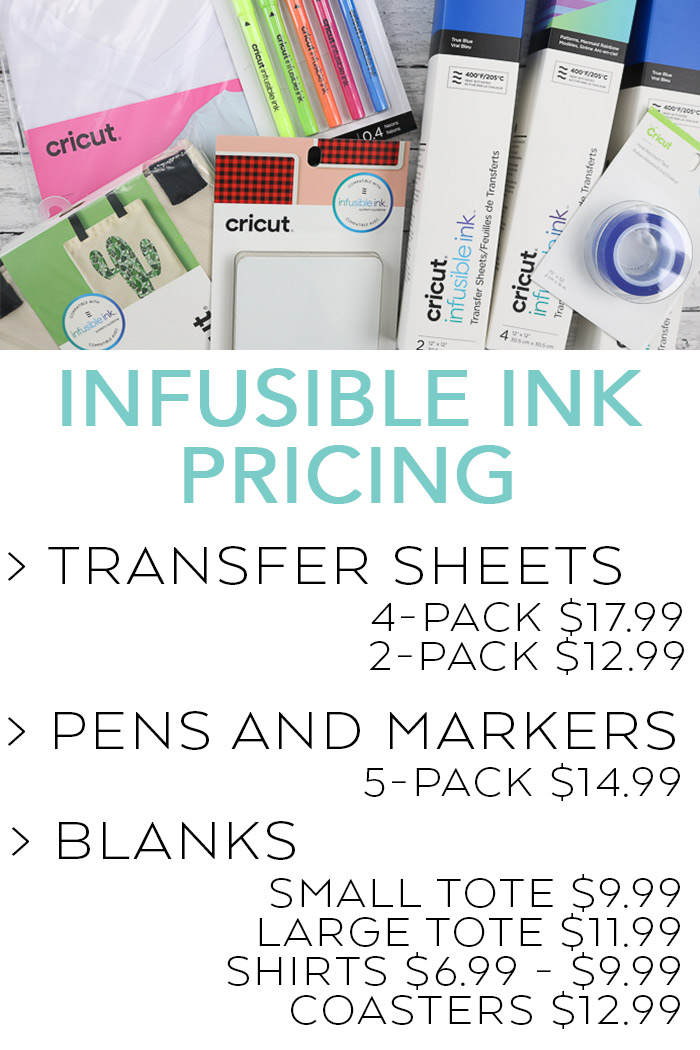 What can you expect to pay for this amazing new product? I have listed some of the pricing above. As you can see, the price is really affordable. Especially when you see what this product will do! I would suggest starting with one project as the investment will be small. You will be hooked after the first one, though!
What surfaces can I put it on?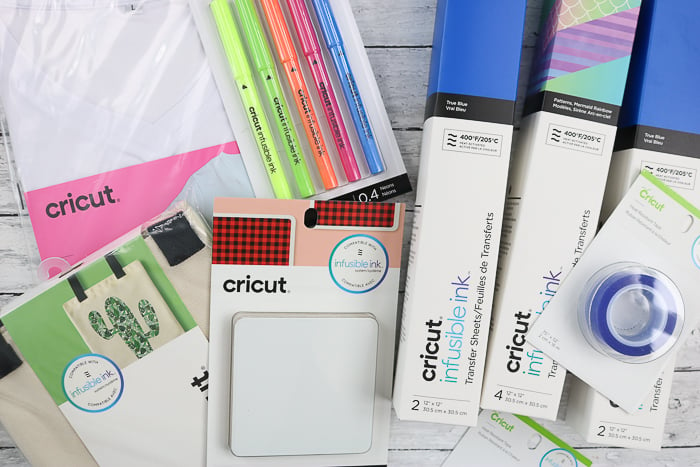 Cricut recommends that you only use these products with the surfaces that carry the "infusible ink seal." You can see that seal on the package of coasters and the tote above. The product itself does require a coating on the surface of the substrate in order to react and then seal once the heat is removed. You cannot, for instance, add this to a cotton shirt as it will not work. Other blanks that will work include those made from 100% polyester and those listed as good for sublimation.
What other materials do I need?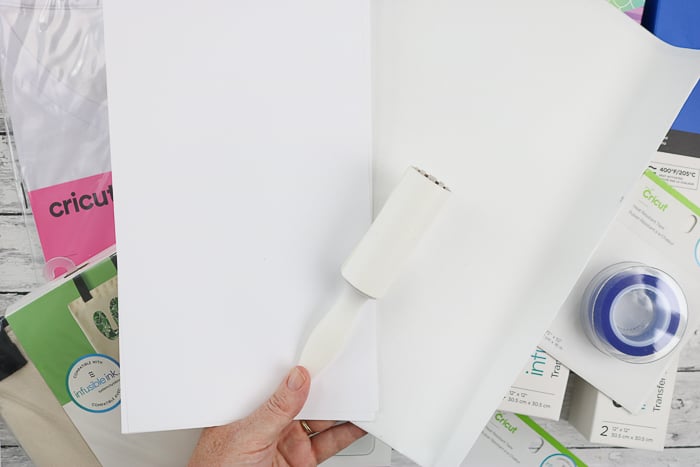 You will need a few things in addition to the product and blanks. Here is a brief list of things to keep on hand:
Lint-free cloth
Butcher paper (parchment or freezer paper is NOT recommended) (NOTE: Some of this will come with the transfer sheets but you may need more.)
White cardstock (needs to be white or off-white)
Laser printer paper (paper needs to have a note on the package that it is okay for a laser printer)
Cricut EasyPress 2 (the original EasyPress will work but you will need to check for different settings) (NOTE: You will need an EasyPress as large as your project as you cannot press Infusible Ink twice.)
Cricut EasyPress Mat (this will need to be as large as your project as well and it is required)
This project is made with Design Space files. Click here for my profile. Once on my profile, find the image of the project you want to create, click it to open it up, and then you can make it yourself.
Cricut Infusible Link Video
For those that are visual learners, I did make a video for you to learn all about Cricut Infusible Ink. You can watch that below!
You will find everything from the video in this post, however. So, whichever method works best for you is fine!
How to Use Infusible Ink Sheets
First, you will need to cut your design from the Infusible Ink sheets. Be sure your hands are clean and dry before handling the sheets! Put the material liner side down on the green or blue mat.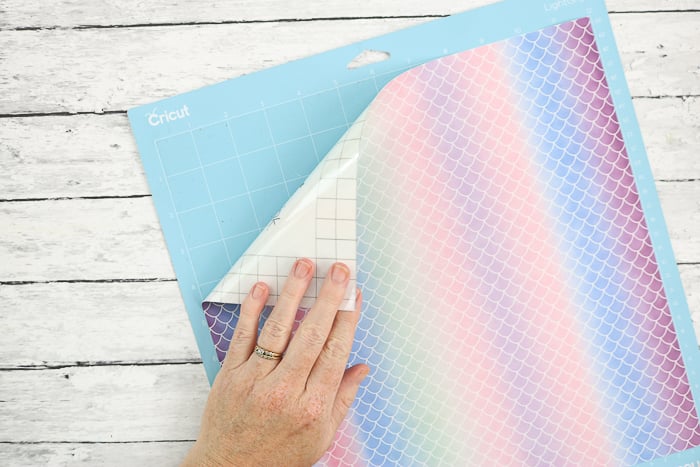 Then mirror your design before cutting on your Cricut machine. You will use the fine point blade and the Infusible Ink custom cut setting.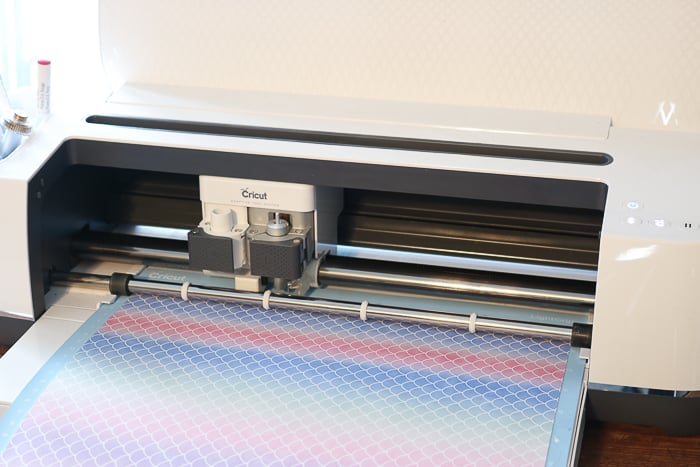 Remove the mat from the material instead of the material from the mat.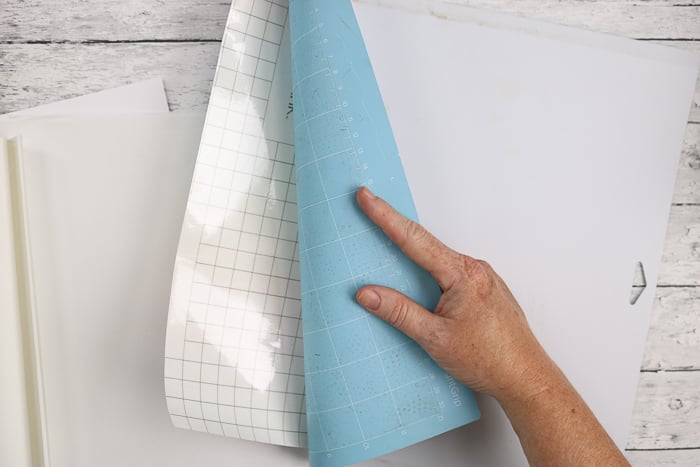 You will also want to be sure to trim away any excess from your sheet before weeding. Use either a pair of scissors or a paper trimmer to do so. Then you can use those smaller scraps on other projects. You can see more about using scraps with your Cricut here.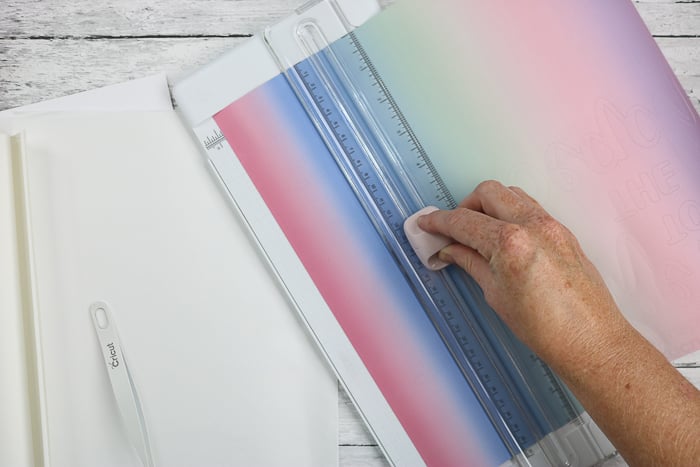 Weeding Cricut Infusible Ink
Now that your piece is cut, what about weeding? There are a few tips and tricks there as well! First, roll the design before beginning to crack the cuts and make weeding easier.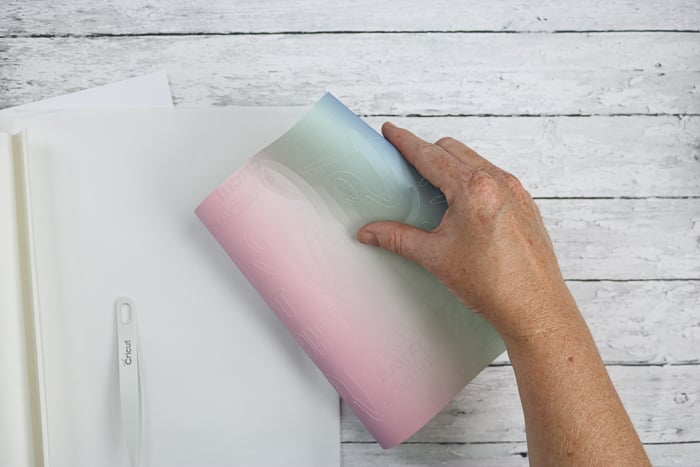 Then remove what you can with your hands. Remember to keep hands clean and dry when working with Cricut Infusible Ink.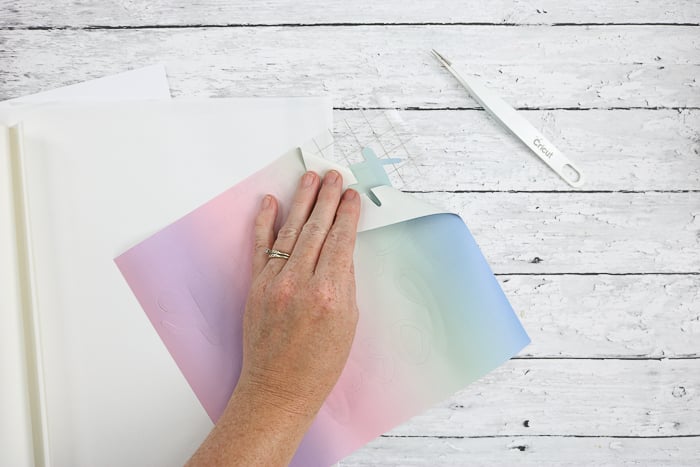 You DO NOT want to use weeding tools with the Infusible Ink. If you have any stubborn areas, try a pair of tweezers to help you lift the piece.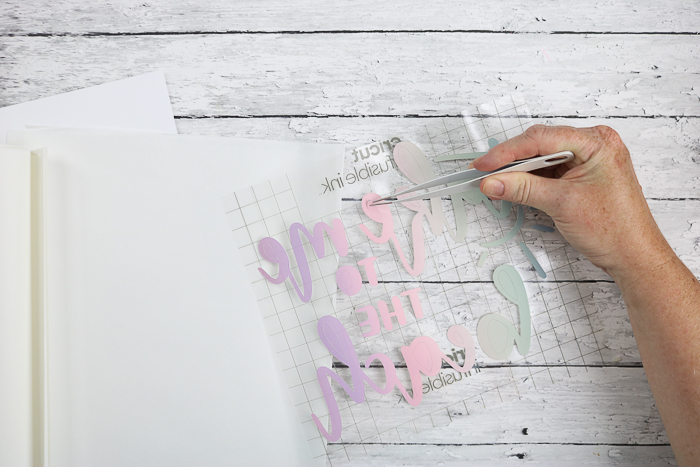 How to Use Infusible Ink Pens and Markers
For the pens and markers, you will want to put a piece of copy paper on the mat. Just make sure the copy paper is rated for use in laser machines.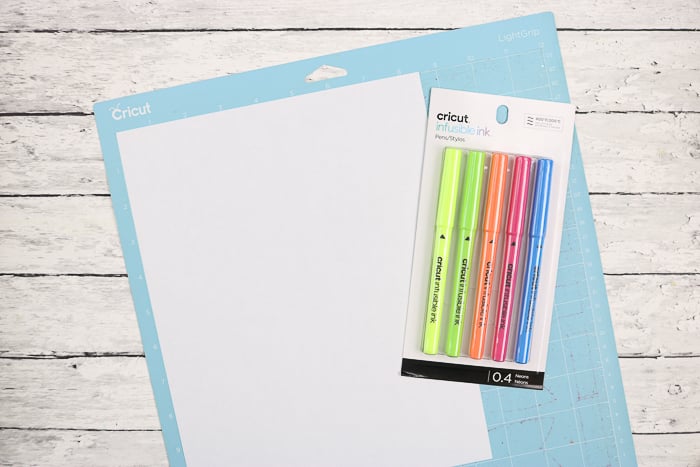 The pen is inserted in the second holder on your machine just like any other pen. The only difference here is that you do want to mirror your design before drawing it. If you are using multiple colors, be sure to color them all in Cricut Design Space then your machine will stop and ask you to change pens while drawing.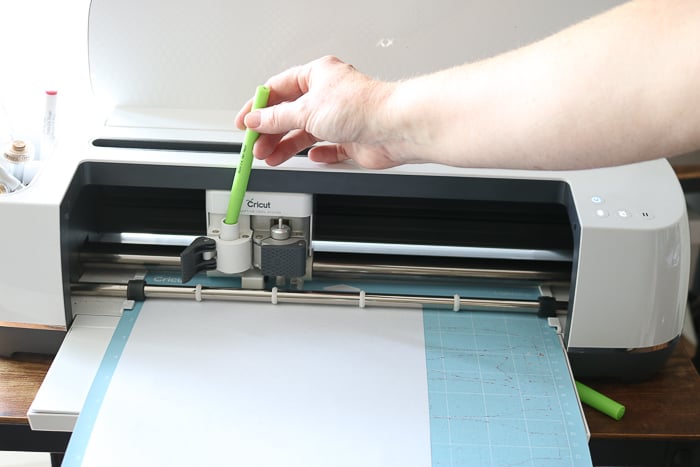 Once the drawing is complete, you can use the pieces as is or color in more with markers. You can also have the Cricut machine cut your paper to size or you can use scissors to trim once removed from the mat.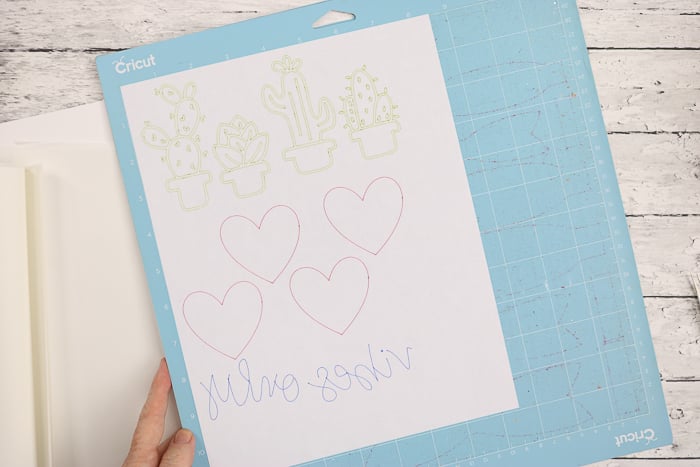 How to Use Cricut Infusible Ink
Let's dive into a sample project first. Every package of Infusible Ink sheets comes with a sample swatch that you can experiment with to get the hang of the product. Let's run through adding a heart to that swatch. Add white cardstock to your Cricut EasyPress mat. Lay the sample swatch down on top of the cardstock.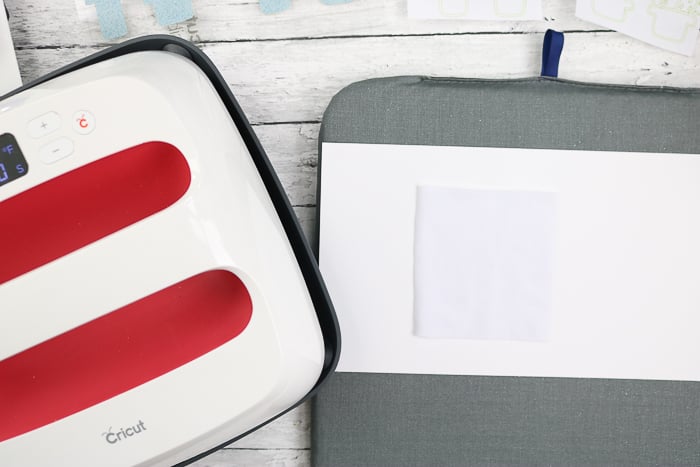 Be sure to use a lint roller to remove any debris from your surface. The EasyPress needs to sit flat on your project – lint or debris can prevent that. Be sure to roll the entire area where the EasyPress will sit.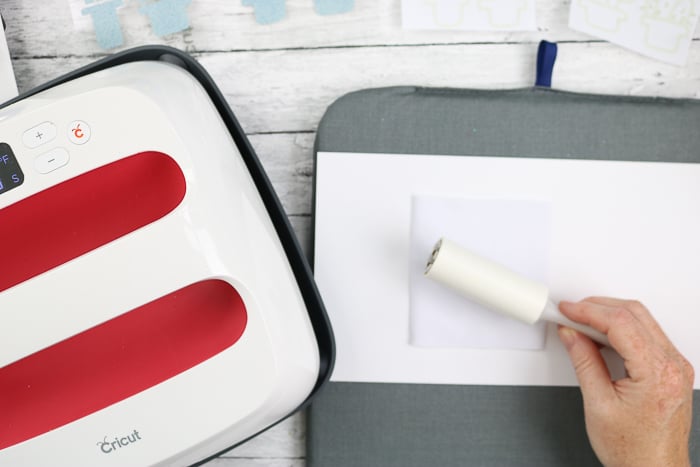 Add a piece of butcher paper that is larger than your EasyPress over the swatch and press at 385 degrees for 15 seconds. This removes moisture from your project. The settings I am using are for my EasyPress and the project I am completing. For your project, be sure to check on the Cricut website here for proper settings.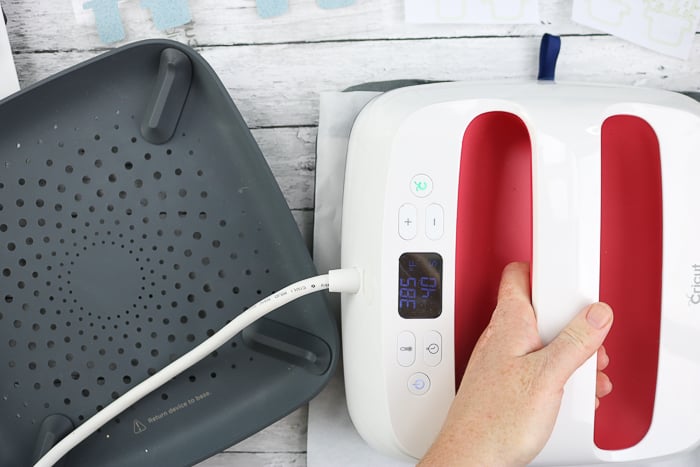 Allow your project to cool completely. Adding the Infusible Ink to a hot surface can start the transfer too early and ruin your project. Once cool, put the cut piece in place on the swatch with the liner side up.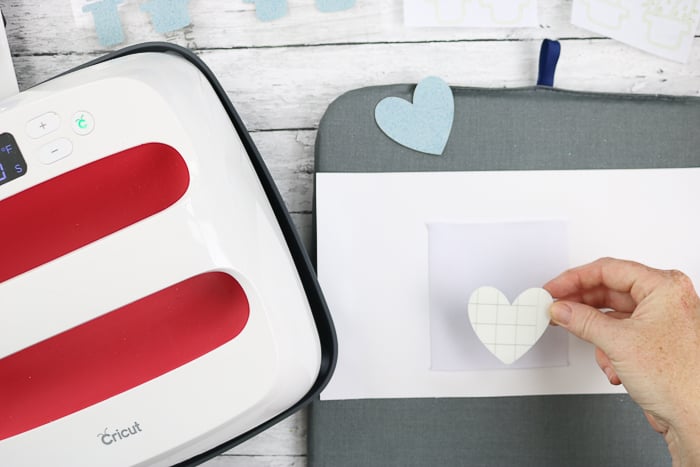 Return the butcher paper and press for the full 40 seconds using light pressure on the handle. Be sure not to move anything during this process! Keep the EasyPress as still as possible.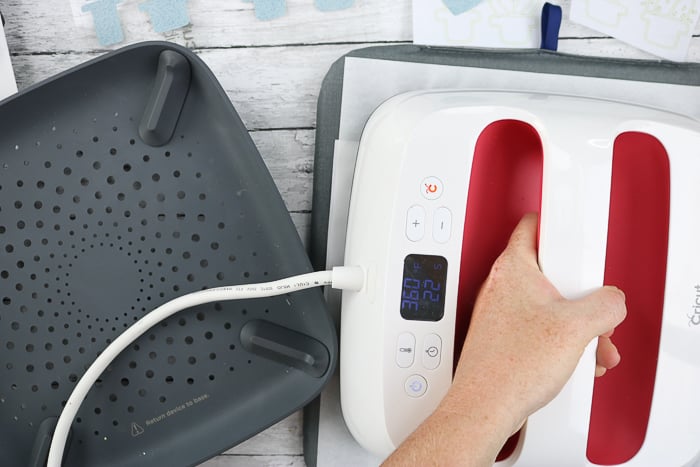 Once the time is up, remove the EasyPress carefully lifting straight up. Again you don't want to disturb or move anything. You will want to let everything cool completely before touching to prevent ghosting around your design.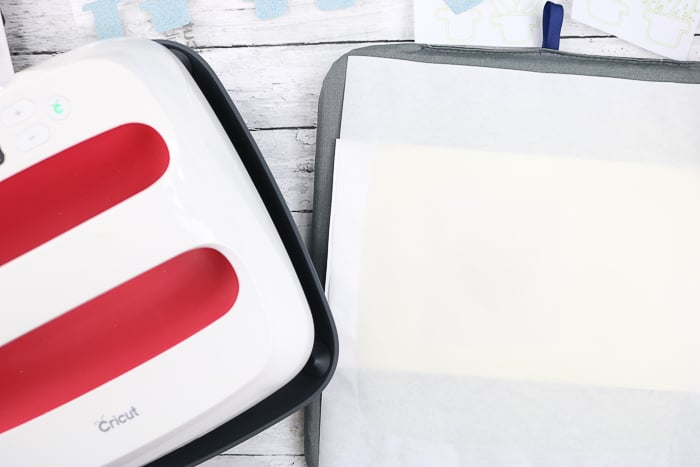 Once cool, remove your butcher paper and the liner piece. Your design will be on your sample swatch!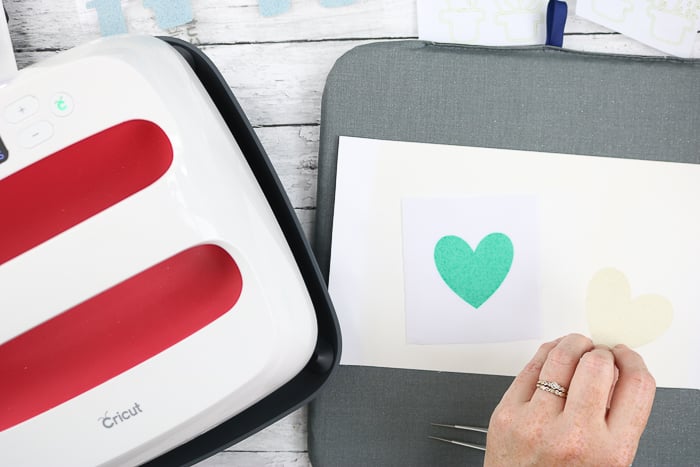 The design is completely dry and permanent once you lift everything up. There isn't anything else you need to do! I did want to point out the color change. You can see below that the heart on the left is cut from the same pattern of Cricut Infusible Ink but it has not been pressed. The one on the right is after pressing. The color change is so dramatic! You will always want to look at the colors on the boxes of Infusible Ink when choosing and not what the sheets look like before pressing.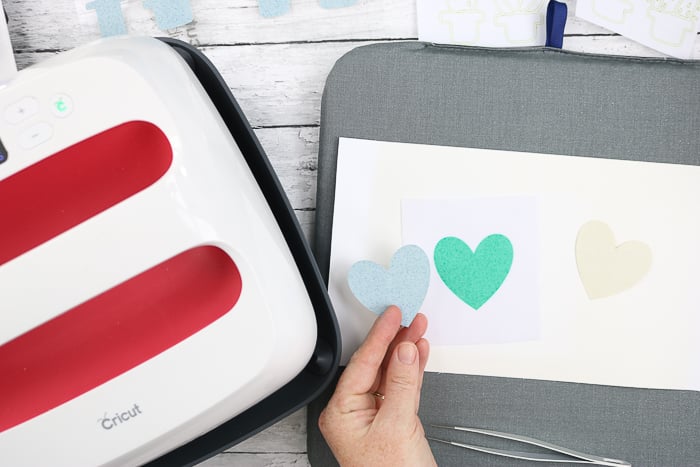 It is also hard to capture, but the ink is actually a part of the surface. I can stretch and move it in any way at this point!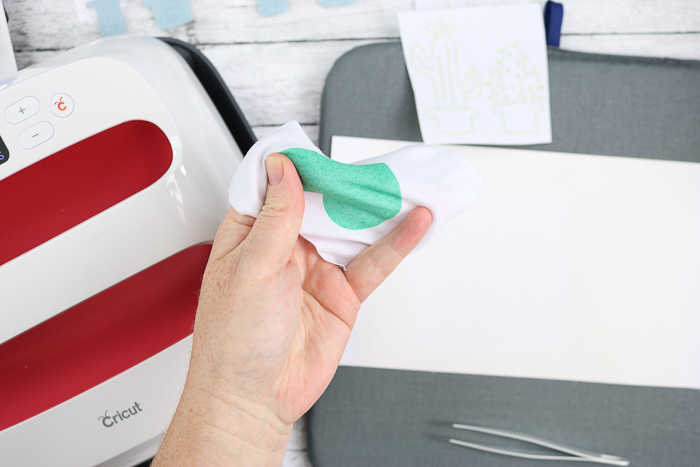 Infusible Ink Coasters
Yes, you can make coasters with the Cricut Infusible Ink! I actually did these two ways. Two with the pens and two with the sheets. That way you can get an idea of some projects that you might like to create. Follow along for some tips and tricks for making coasters below!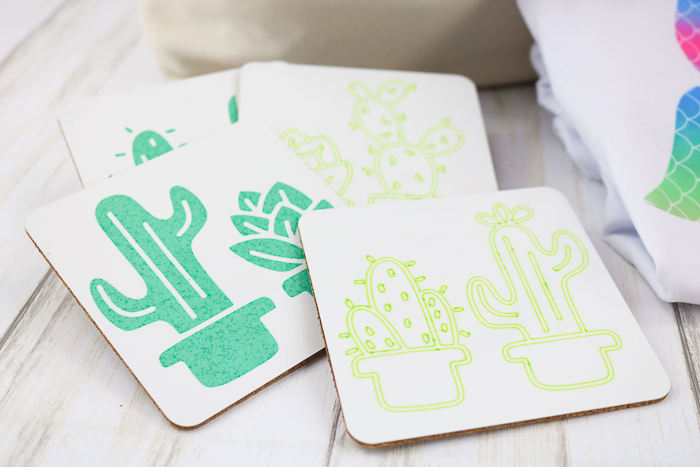 First, you can find instructions for coasters and more at this link. The instructions are different depending on what coaster you are using so be sure to head there especially if you are using the round coasters! Otherwise, the process is about the same as the swatch above. You will need to wipe away debris in this case with a lint-free cloth instead of a lint roller. Also, no preheat is required with the coasters.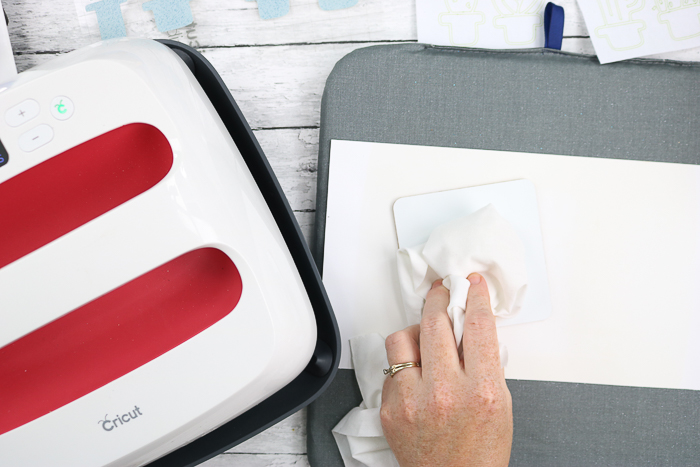 When you are using the Infusible Ink pens, be sure to put the drawing face down on your coaster.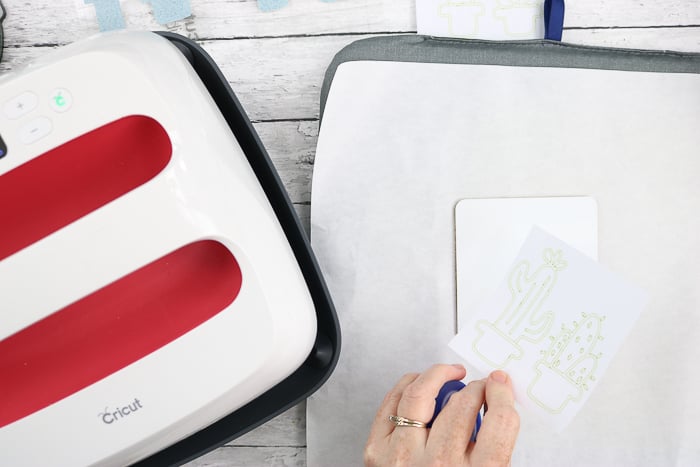 Then you will need to tape this paper down with the heat resistant tape. You don't want the paper to move, remember? The sheets have a sticky liner that helps keep them in place but the pens and makers will require the tape.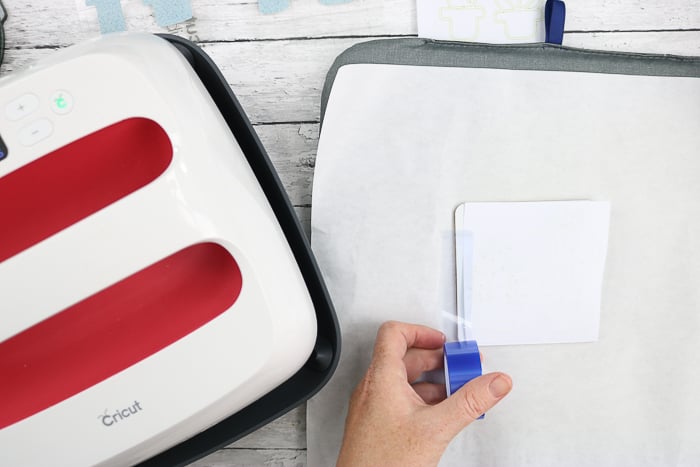 For the coasters with pens or markers, the stack is butcher paper, coaster, sheet with the drawing taped down, and then white cardstock. You then put your EasyPress on top and press for the recommended time and temperature. This time you don't even have to press down on the handle.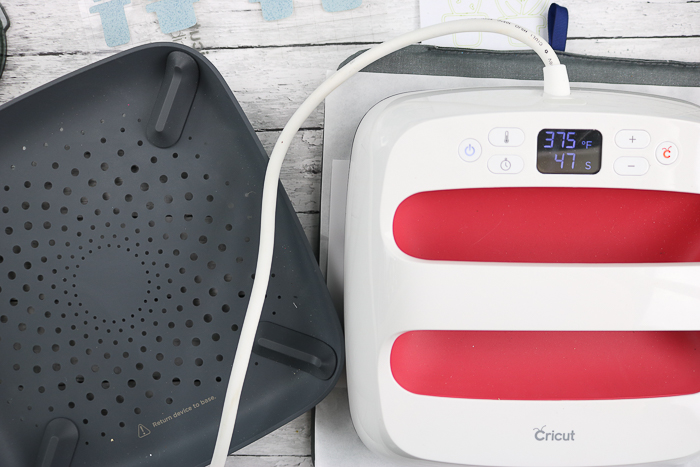 Then pick up the EasyPress carefully being sure not to move anything. Be sure to allow this to cool completely! It is really hot when you lift up that EasyPress! Once cool, peel back to reveal the magic! Once again the colors get more vibrant once pressed, as you can see in the image below. NOTE: Any cardstock or butcher paper put on top of the pen sheets will need to be thrown away after use as some of the pigment will get onto the sheet.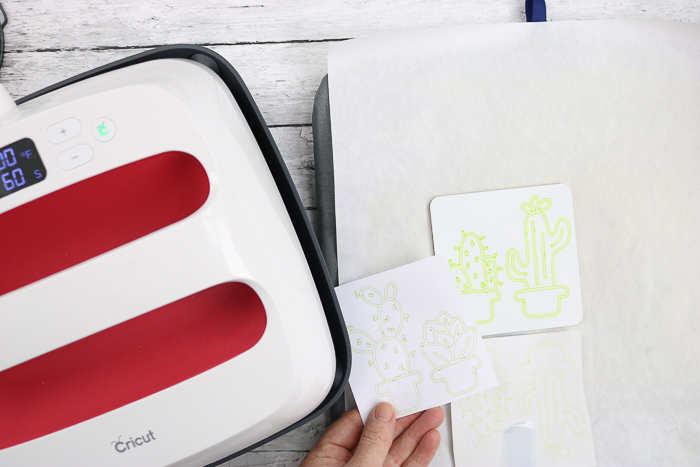 Using the sheets on coasters is fairly similar and you can follow the pictures found here. You can see what a difference there is between the pens and sheets below. The ink is locked into the coasters as soon as they cool and they are ready for use. No further steps are required.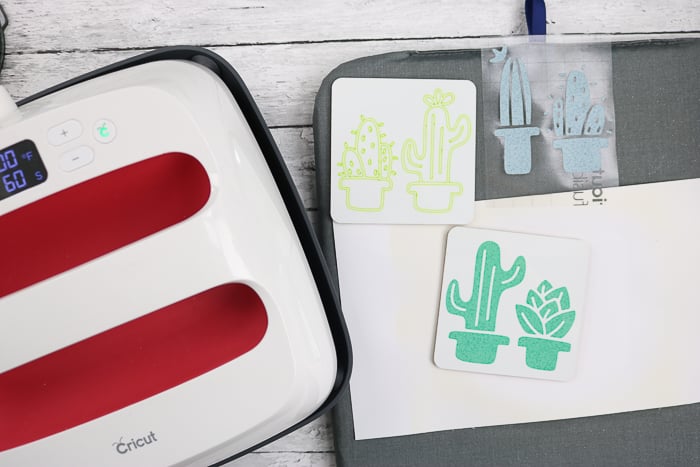 Infusible Ink Tote Bag
You can also make a tote bag with Cricut Infusible Ink but remember it must be a surface that is compatible so be sure to pick up one of the totes from Michaels.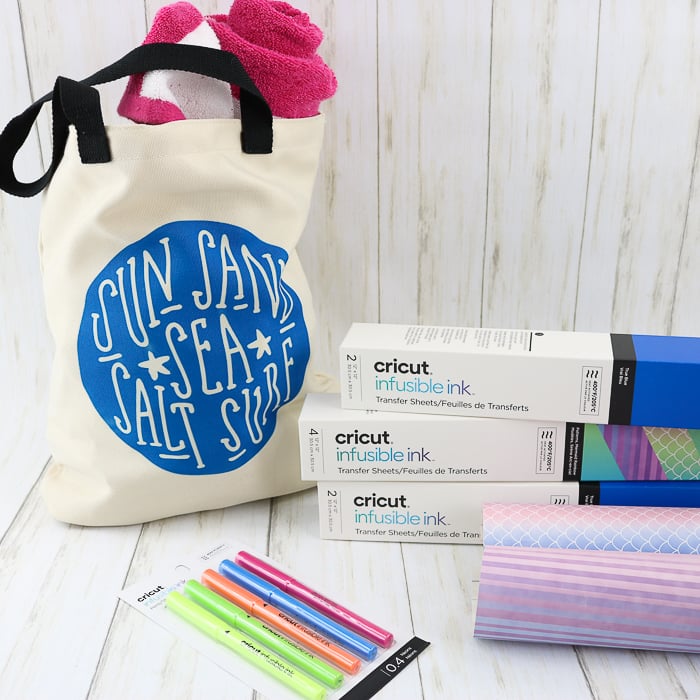 The totes have a few special instructions like adding the EasyPress mat inside of the tote and covering it with white cardstock.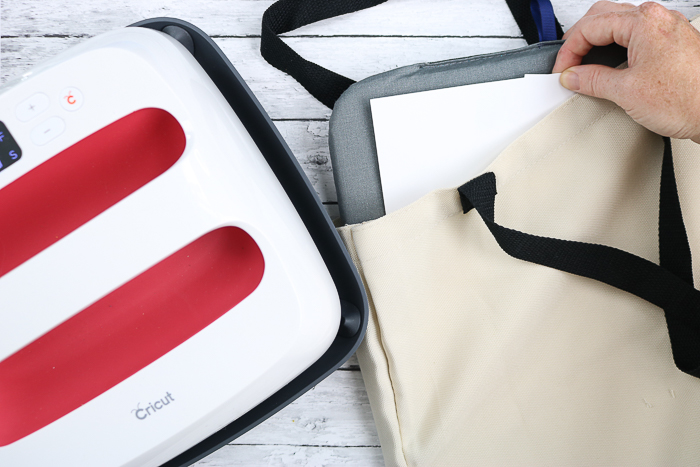 The rest of the instructions are fairly similar to our swatch and you can find those here. One tip is to watch the seams on things like the tote and the baby bodysuits. If your EasyPress is on a seam, it will not properly heat the Infusible Ink sheets. Make sure it is off of the seams when you press.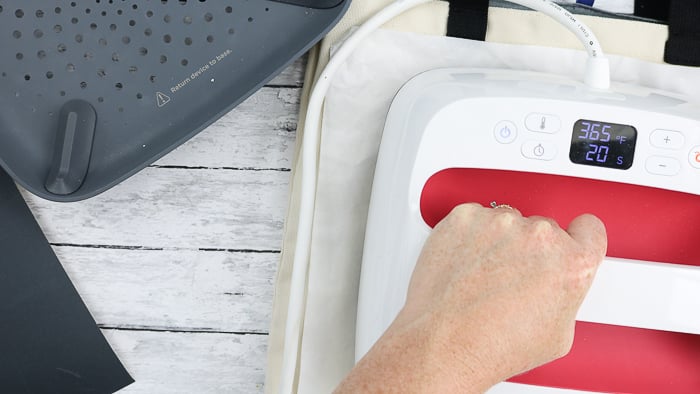 Also, similar to the patterned sheets, the solid sheets change color after pressing.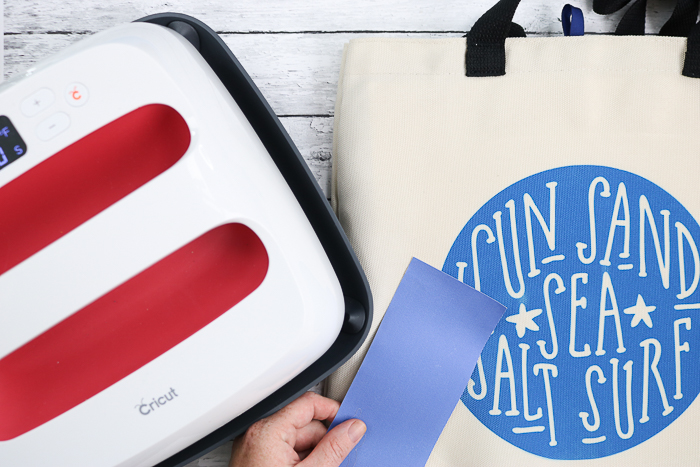 Can I layer Infusible Ink sheets?
Yes, you can layer the sheets but the process is a bit different than what you are used to. Here I am layering a patterned sheet with a blue solid sheet. Remember that you can only press the sheets one at a time to make your final project.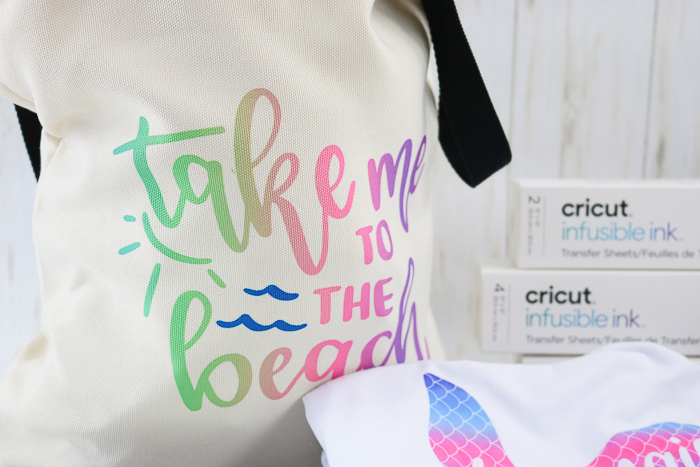 So, you will need to cut and weed both colors. Then just pick the pieces from one and put them on the liner sheet for the other. Here I put the blue pieces into place on the "take me to the beach" portion. Then you just press the design all at once just like the tote bag above.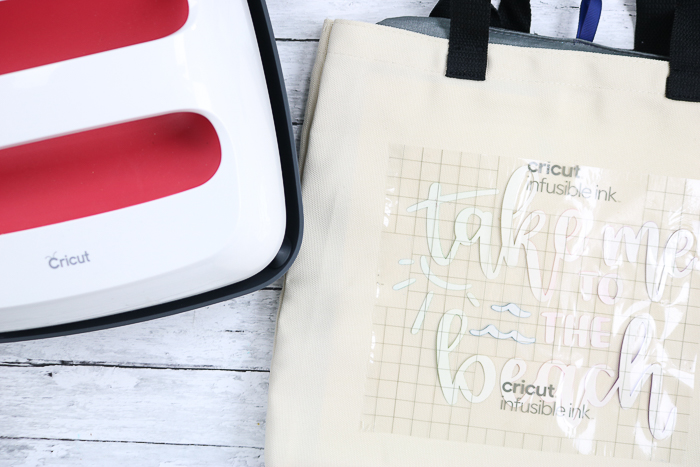 You can see more about slice and set in the instructions here. Layering can take your projects to an entirely new level!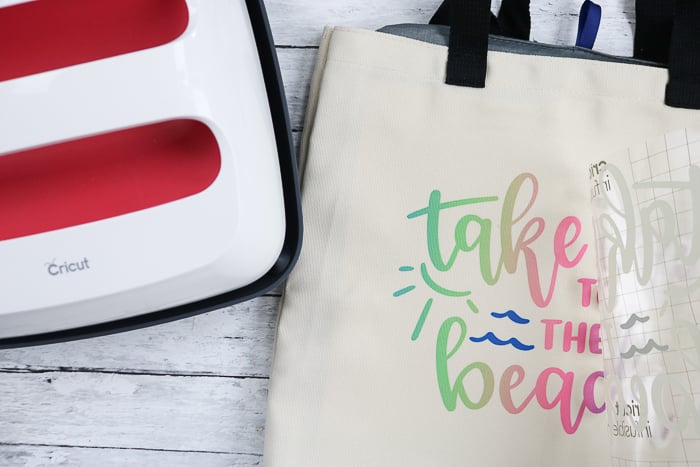 Using Infusible Ink pens and sheets in one project
Yes, you can do that as well! I thought why not try to layer these two together while I was working on some projects. Again, you will need to add them together before pressing as you want one press for your final design.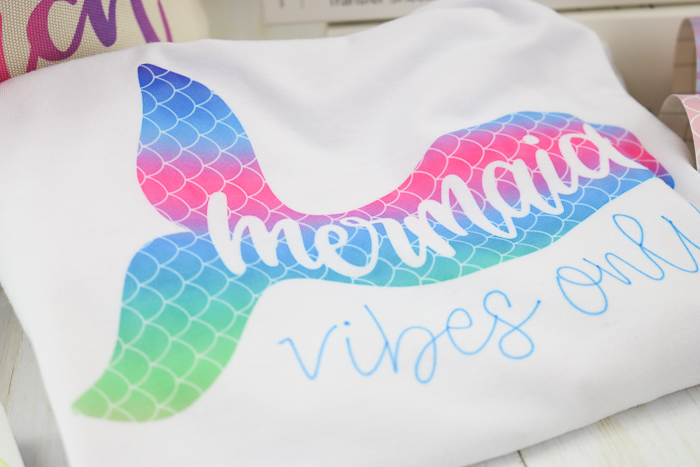 Cut your carrier sheet close to your design then put all of the elements on the shirt together. Be sure to use the heat resistant tape to secure the pieces of copy paper. You will also want to follow all the instructions for the shirt in this case that can be found here.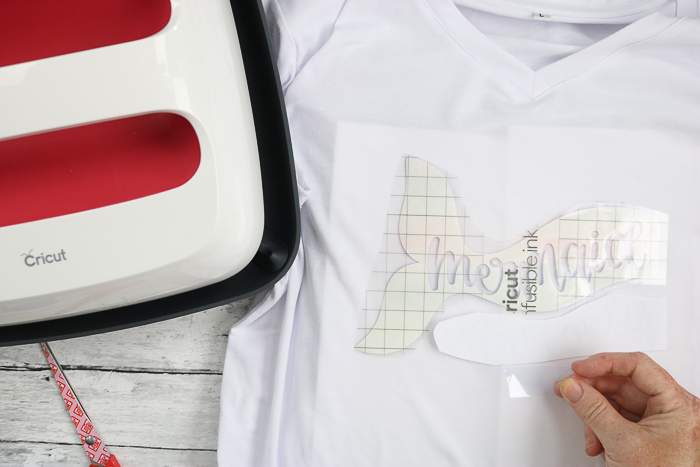 The process was easy and worked great! So, get creative with those designs and mix and match a bit!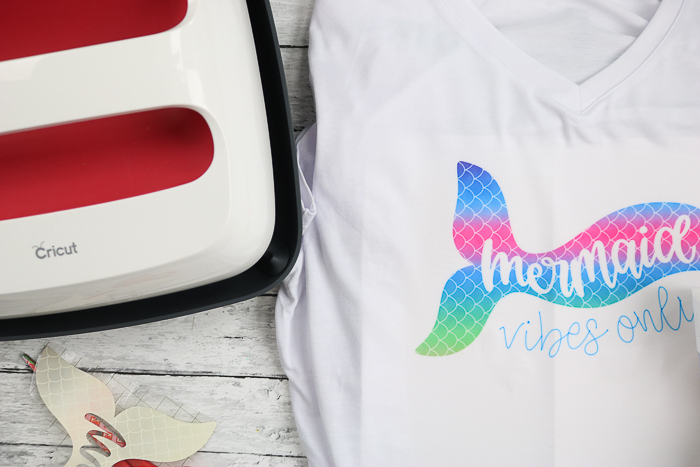 What if some of my ink pieces remain on my design?
Occasionally when you lift your liner piece back after pressing, a few of the ink pieces will remain on your design. Don't panic! Just lift those up carefully with tweezers. Remember that everything should be cool at this point so there shouldn't be any danger to your project.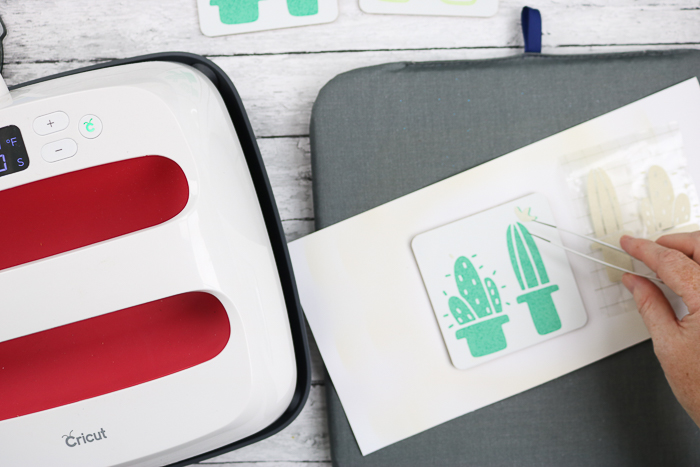 How long does Cricut Infused Ink last?
Cricut Infusible Ink will last as long as whatever you put it on. It is embedded into the surface and doesn't just sit on top. So, there is no need to worry about cracking or peeling. But, should we put this to the test? I say yes! Stay tuned y'all as I made a shirt with iron-on products running down one side and Infusible Ink running down the other. We are just going to see how long each lasts and what the results will be. I will be sharing those on my YouTube channel here so be sure to subscribe!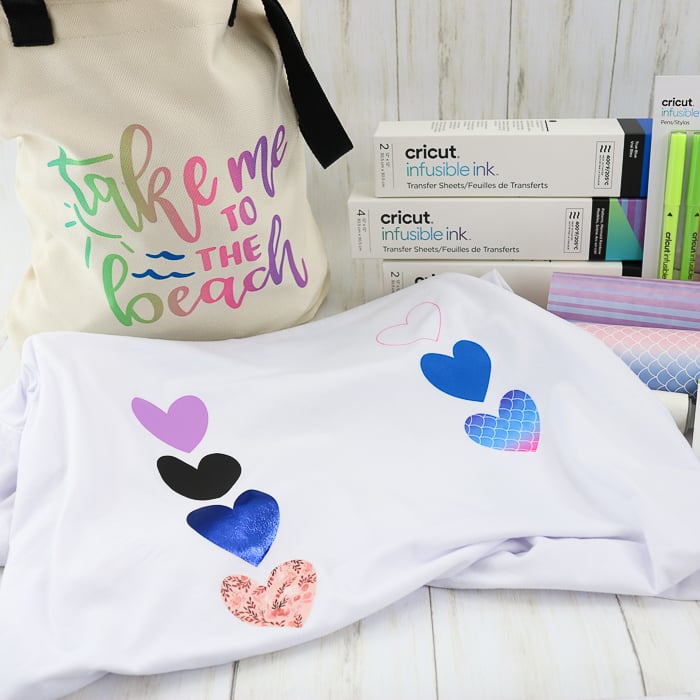 Why Cricut Infusible Ink?
The benefits are really too numerous to count but I think the real difference is going to happen when you see this product in action. I encourage you to buy just one package of sheets and one of the surfaces at your local Michaels. Then make just one project. You will be hooked! I guarantee it! And you will have professional level products that you made right at home. It simply doesn't get much better.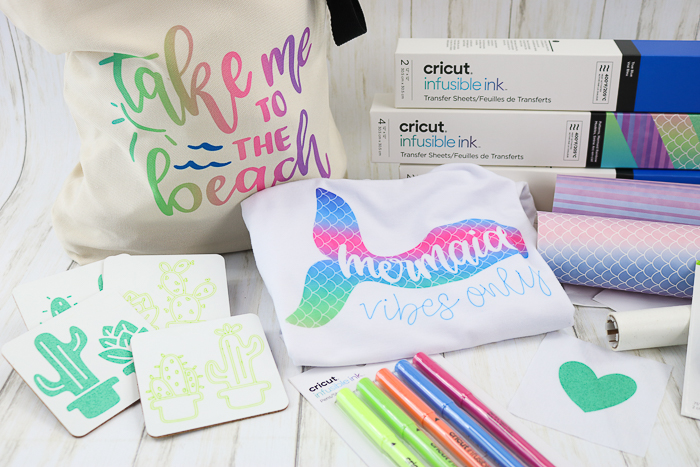 Where can I get the cut files for these projects?
Want the cut files for all of the projects shown in this post? You can click here to find those! Just delete off any you do not want to make before cutting.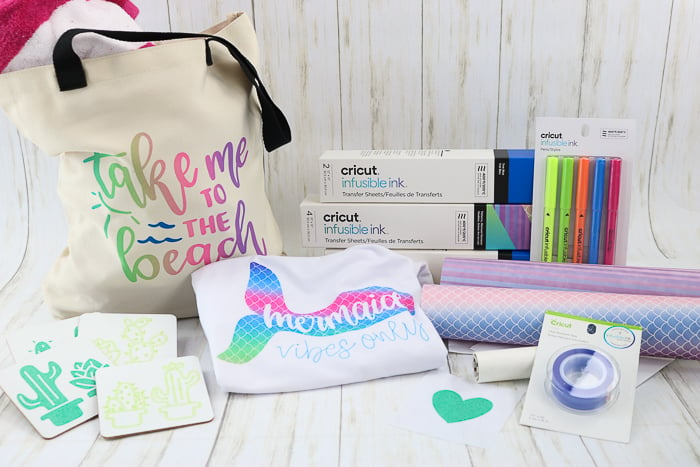 I hope you will come back here and let me know how much you love this product once you have had the chance to use it! As you can see above, there are a few tips and tricks but overall it is an easy product to use. And it is definitely one that is going to change your crafting forever! So, pick up the supplies for one project and experience the Cricut Infusible Ink difference for yourself!