This post and photos may contain Amazon or other affiliate links. If you purchase something through any link, I may receive a small commission at no extra charge to you. Any supplies used may be given to me free of charge, however, all projects and opinions are my own.
The Cricut Foil Transfer Tool is now on the market. I have everything you need to know in this one post. You will discover how to use this tool, how it compares to the foil quill, how it looks on 5 different materials, and so much more. Be sure to check out our guide for finding single line designs to work with your tool. They definitely give the best results. Now, let's dive into the Cricut Foil Transfer System.
This is a sponsored post written by me on behalf of Cricut. All opinions are 100% mine.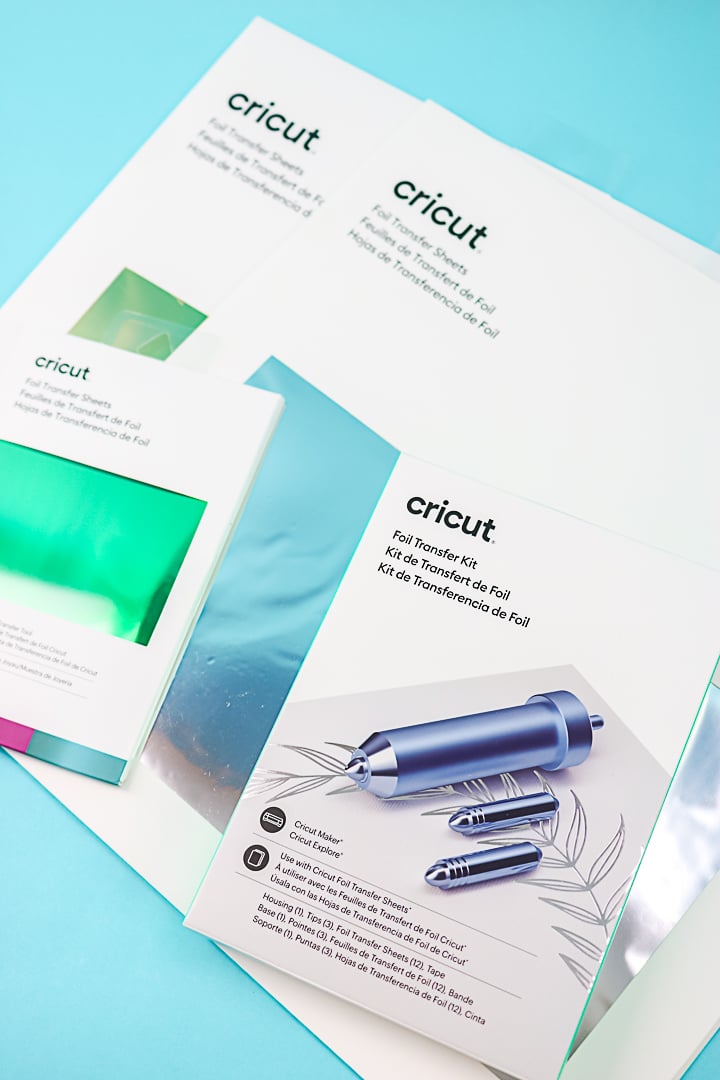 Cricut Foil Transfer Tool
I am dividing this post into sections so you can easily find what you need. Click on the sections below if you want to skip around to different areas of the post.
Table of Contents
Cricut Foil Tool Video
Do you want all of the information on the foil tool in video format? You can just click play below. All of the information contained in this post can be found in the video.
Can't watch the video or missed some of the steps? You can also follow along below.
What is the foil transfer tool from Cricut?
This tool allows you to add metallic foiling right to your projects in your Cricut machine. It applies pressure to special foil which then makes that foil transfer to your surface. It is great for paper crafts but can also be used on other materials so be sure to keep reading to see a list and some examples.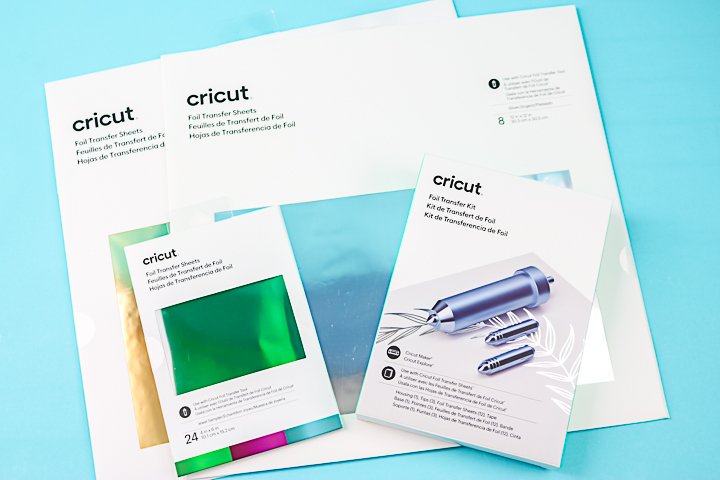 What machines will it work on?
The foil tool from Cricut will work in the Cricut Maker and the entire Cricut Explore series. So, for those of you with an older Cricut Explore machine, you have a new tool to play with! Please note that it does NOT work with the Cricut Joy. I will also note here that at this time it only works with the desktop version of Design Space so you cannot use it on mobile devices.
Contents of the Kit
The Cricut Foil Transfer Kit comes with the following:
Foil transfer tool housing
Foil tips (sizes fine, medium, and bold)
Tape (sized correctly for the foil sheets
Foil sheets (size 4×6)
So, literally everything you need to get started on a project is included right in the kit. Also, there really is no need to worry about replacement tips as these will last for a long time. The only way you would need to replace them is if you lose one.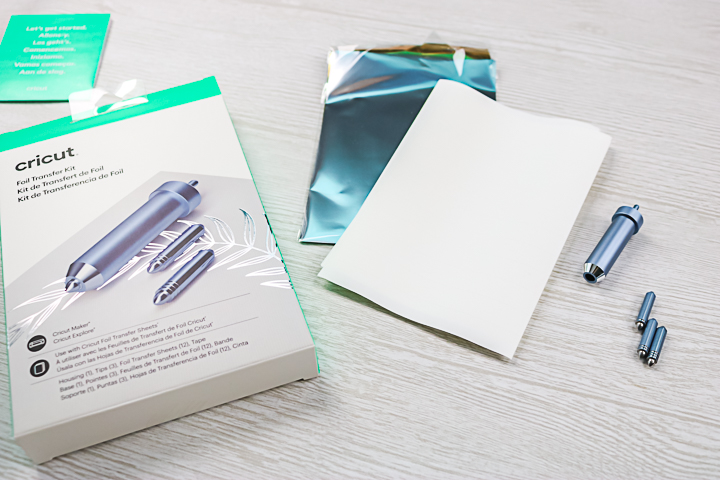 Where do you buy it?
You can pick up the Cricut Foil Transfer Tool at a local craft retailer including Michaels and Joann stores. You can also order from the Cricut website today using the following links:
Remember that you can use code CCC2020 for 10% off and free shipping on the Cricut website (excludes machines, Access, and digital files).
Updating to say that I realize this is sold out in several places. Here are some links to try and see if you can get one!
What type of foil do you use?
The foil used with this tool must work with pressure. You may have a heat reactive foil in your craft room for other uses, however, it will not work in this case. The products are different and work in a different manner. So, be sure you pick up the Cricut Foil for use with this tool.
The foil sheets actually come in a wide variety of colors as well as sizes. You can get variety packs in 4×6 inch as well as 12×12 inch sheets. I love the large sheet options for when I want to make a big project.
The Cricut foil sheets come with specific tape that you use to attach it temporarily to your surface. The tape is already cut to the size of your foil. The tape is specially designed to not harm your surface but testing it is always a good idea.
How does it work?
The foil tool travels over lines and presses down on the foil sheet with pressure. This transfers the metallic foil to your surface. There is no heat required and no electricity. It goes in the same machine slot that you would use for any other blade.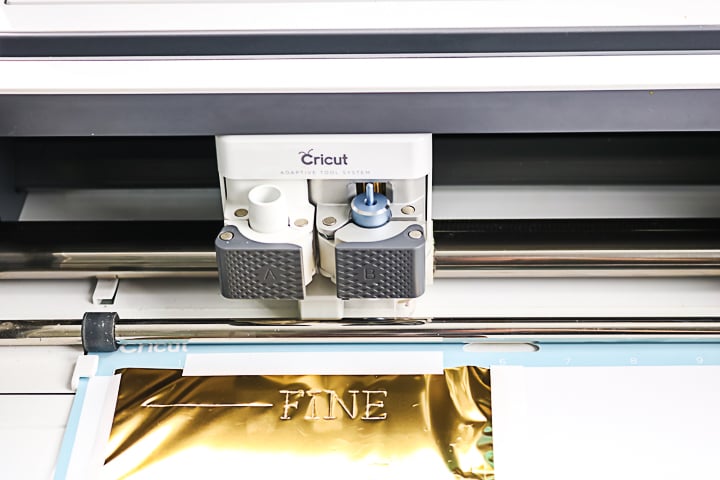 What types of files are best?
You will want draw files or writing fonts that are a single line for the best results. Otherwise, the foil tool will trace around your design similar to the way a pen would write in the machine. You can filter the files in Design Space by writing or drawing or see our guide here to finding single line designs.
How do you add the foil to the sheet?
Cricut Design Space will prompt you when it is time to add the foil to your project. Sometimes you will add it before adding the mat to the machine and other times the machine will stop and partially eject the mat so you can add it mid-project.
To add the foil, start on one side and use the tape provided with the foil. Tape the foil down just along the edge. Pull the foil tight and add tape to the opposite side. Repeat this procedure with the other two sides so that you are left with tape on all four sides. You also want the foil sheet to be fairly tight on your surface with minimal wrinkles.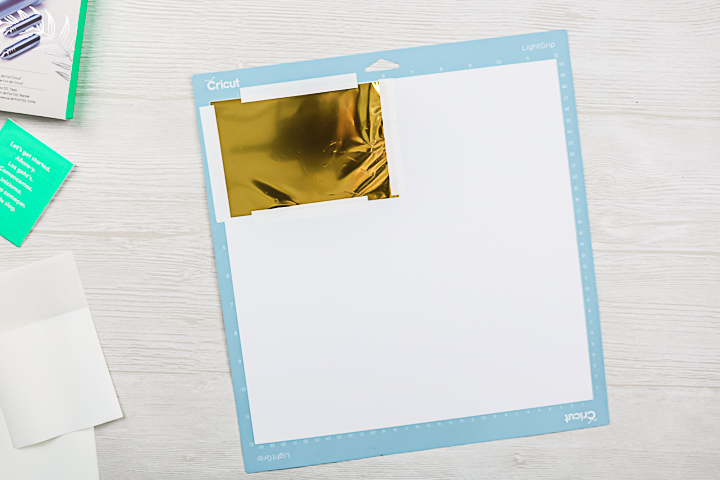 You can test the tape on your surface before using it to make sure it will not cause any damage. I didn't have any issues with the materials I have used so far.
Here are a few notes for foil location that you should try to follow:
Add foil where it is about 1/4 to 1/8 inch away from the edge of your paper.
Locate the foil where there will be 1/2 inch from the edge of your design to the edge of the foil. You can move your design in Cricut Design Space to get this measurement.
When in doubt, use a full size sheet to cover the area.
Do not touch the foil to the mat as it will stick and adhere to the mat itself.
Where do you find the foil setting in Cricut Design Space?
Highlight your object or text and pull down the linetype menu. There you will find the foil option with "fine", "medium", and "bold" included. You can pick one of these to change your line type. The item will change to reflect your selection and you can even pick the color of foil so that you can use two different colors of foil on one project.
Please note that the image below is for the Maker. The Explore will be similar except the engrave, deboss, wave, and perf will not be options. If you don't see the foil option at all, make sure you have the Maker or Explore set as your machine. Remember the Joy and mobile devices do not support the foil tool.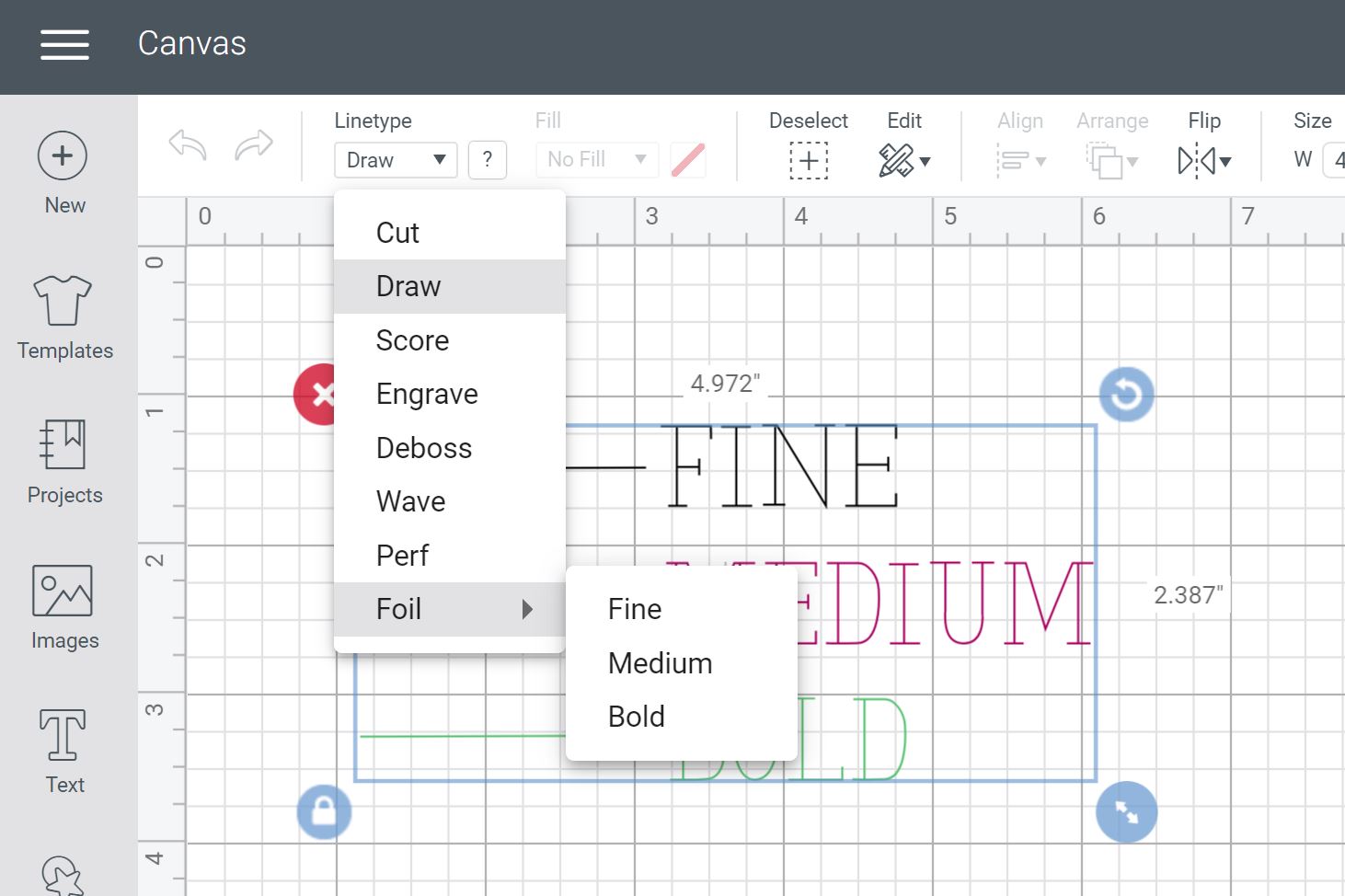 How do you change the tips?
The housing for the foil tool has a plunger at the top. When depressed, the tip will be pushed out of the housing.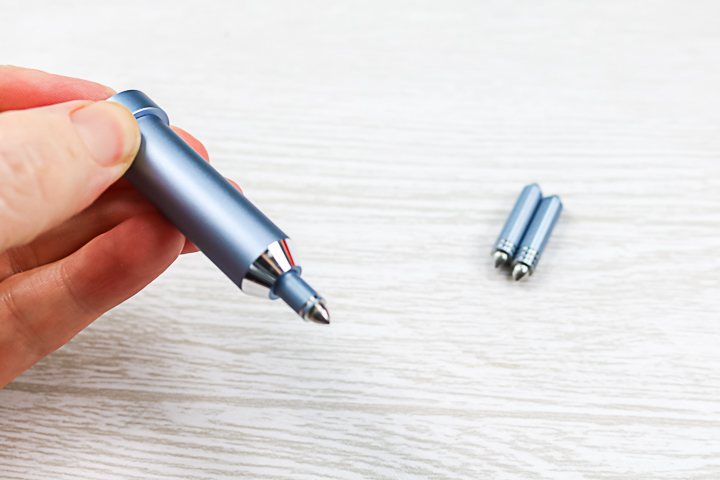 You can remove one tip and add another. Note that the fine tip has one line, the medium two lines, and the bold has three lines. You will be prompted in Cricut Design Space for the tool along with the number of lines on the tip when the machine is ready to foil.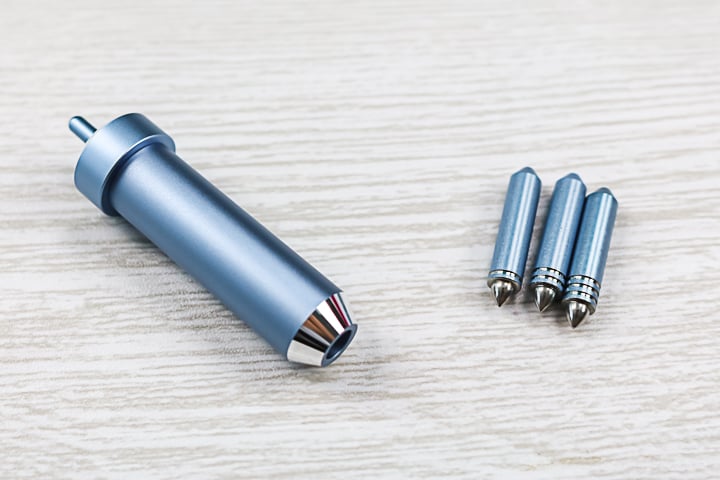 To change the tip, just pull out the one you don't want, insert the correct version, and release the plunger. The tips are magnetic so it will pull right into place.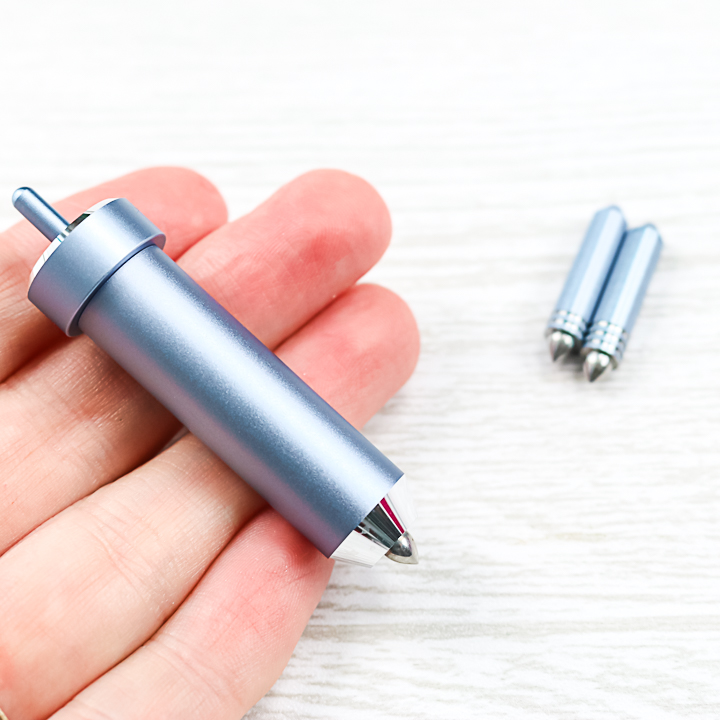 What is the difference between the fine, medium, and bold tips?
The tips go up in thickness from the finest to the boldest depending on the look that you want for your project. As you can see, the tips are pointed to give you really fine detail if you need it.
Here is a look at all of them used on a plain white cardstock to give you an idea of the difference in the thickness of each.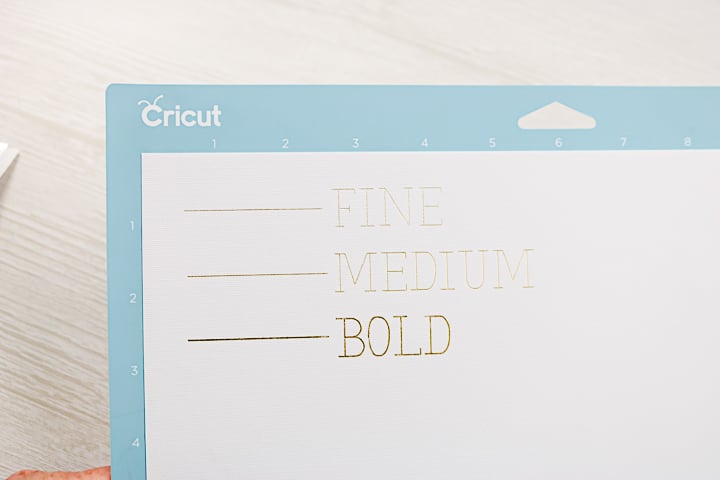 Adding the Tool to Your Machine
The Cricut foil tool will need to be placed on the blade side of either your Maker or Explore series machine. You will add this whenever design space prompts you to add it. Remove any blade that is in the machine and add the foiling tool.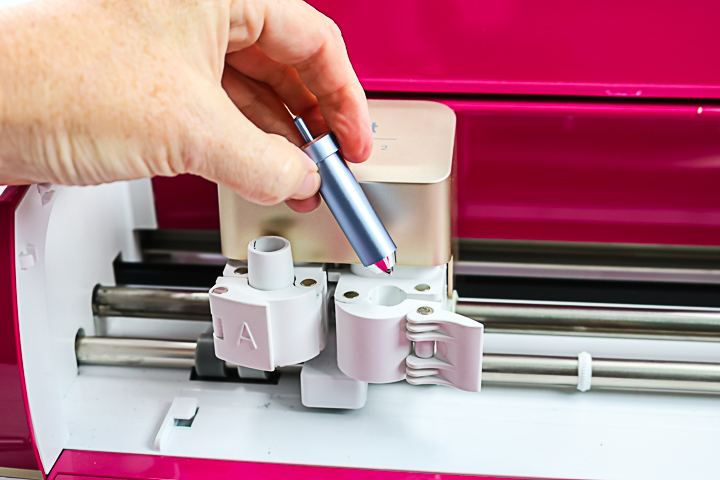 Close the clamp once the tool is in place and you are ready to create. NOTE: Neither the Explore or the Maker will check to see if you have the right tool in place so you will need to be sure to change to the correct tip. You will want to move the white star wheels on your machine all the way to the right. Remember that this foil works with pressure so the wheels may transfer some foil if left in place.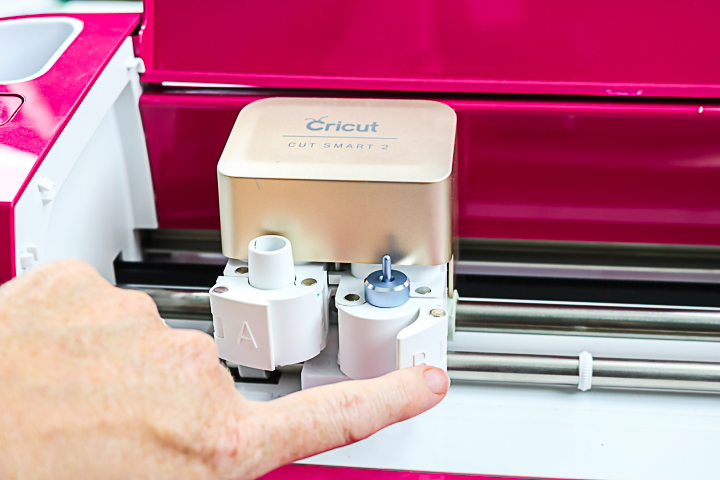 How do you cut and foil on one project?
Cricut Design Space will prompt you for what tool to load when and tell you when to add/remove your foil. It will eject the mat enough that this is possible but the mat will still be under the rollers so the location is correct for your entire project.
I have used a scoring wheel, foil transfer tool, and fine point blade all on one project with zero issues. Just follow the prompts! You can see more of the screens in design space in the video at the beginning of this post.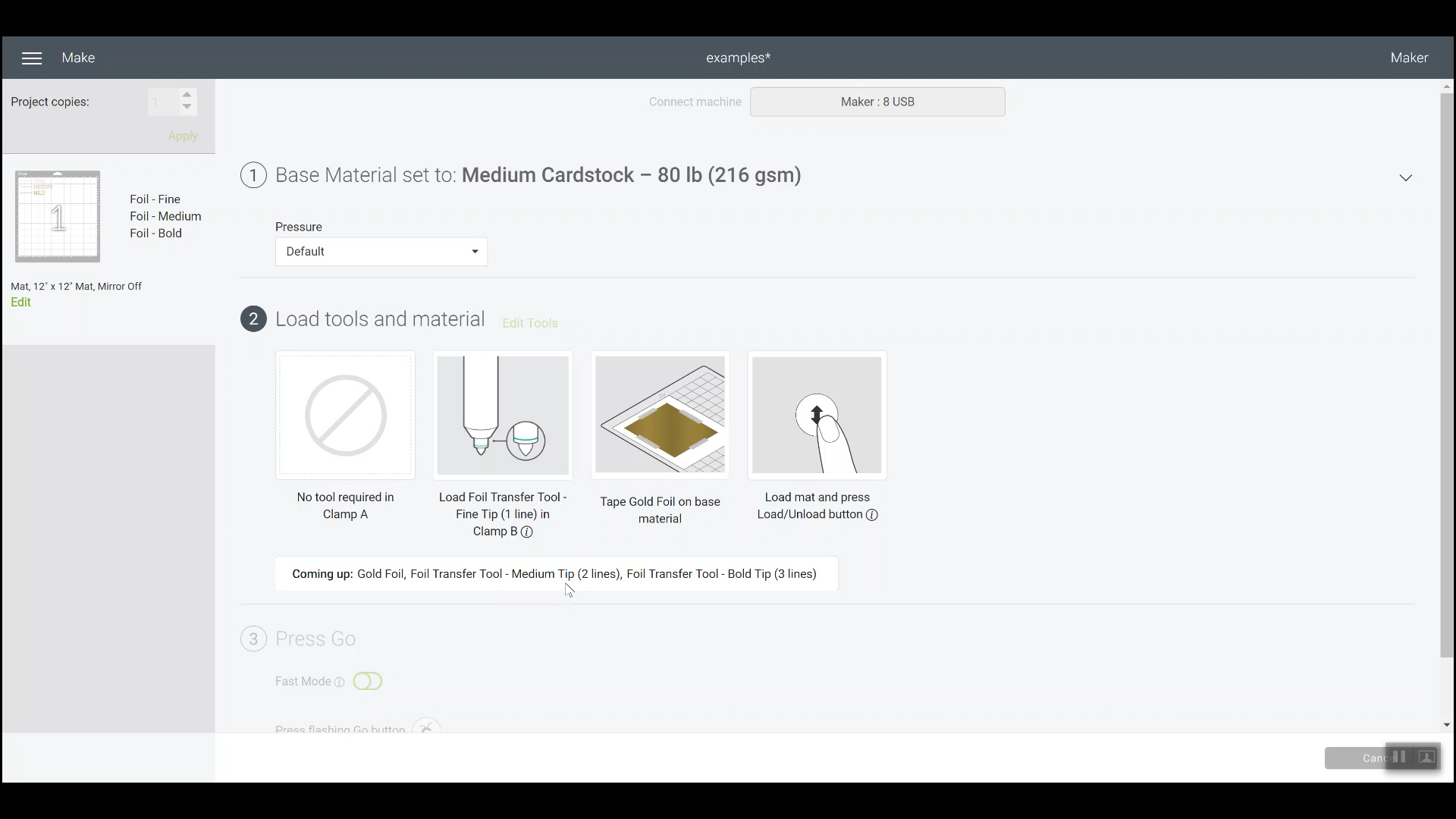 How does this compare with the foil quill?
This is the big question that a lot of you may have. I have talked about using the foil quill with your Cricut before and I have used it myself many times. How do these two foiling tools compare? Let's take a look!
The card on the left in the image below was made with the Cricut foil transfer tool. The card on the right was made by the We R Memory Keepers foil quill. The first thing I noted is that the Cricut tool can get finer lines. The foil quill fine tip is more like the transfer tool's medium tip. Also, there really is no difference between the medium and bold tip of the foil quill.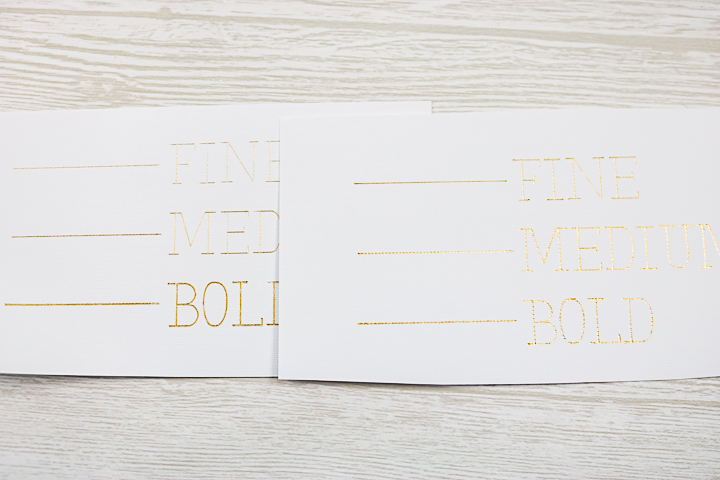 Here is a closer look at the writing with the foil quill pen. This cardstock has a very slight texture and that is very evident when you write with the foil quill. The foil is basically on top of the surface so it almost appears dotted as it hits every bump in the paper. The Cricut Foil Transfer Tool, however, produces a really clean and even line. This is because it debosses the paper a bit as it foils leaving the paper smooth where the lines are located.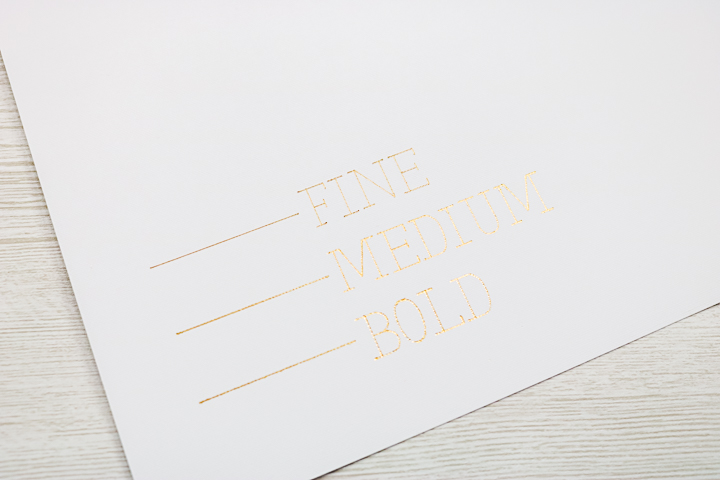 So, I definitely prefer the lines from the Cricut Foil Transfer Tool. But how do the two foiling tools compare otherwise? Here are a few things worth noting:
The foil quill is heat activated and it requires you to plug it in. This causes a few problems. The first is that the cord gets in the way and causes all sorts of issues when you are using the machine. The second is that you have to allow it to heat up for 5 minutes before using making crafting slower. And the third is that the heat can damage your machine. The new Cricut Foil Transfer System does not use heat so you don't have to worry about any of these issues.
The use of the foil quill does void the warranty of your machine as it is a non-Cricut product. The new foil tool is from Cricut so, again, no need to worry there.
The foil quill uses the pen side of your machine and draw lines. The means that it will not work with the new "foil lines" option. It also means that the machine will not know to eject the mat partially for tool changes. This makes it really difficult to foil and cut the same project where the foil transfer tool from Cricut is designed to do just that.
Finally, I have arthritis in my hands and at times I have a hard time changing the adapter on the foil quill. However, the plunger on the foil tool from Cricut is something I can use even on a bad day.
All of these points may not apply to you, however, I hope this gives you a good idea why I personally prefer the Cricut Foil Transfer Tool. I have had much better luck with it and the projects that I have made so far.
What materials can you add Cricut foil to?
Cricut is constantly testing and adding new materials but as of this writing the foil tool is said to work with:
Kraftboard
Cardstock and paper of all types
Faux leather
Clear printable sticker paper
Vellum
Printable vinyl
I thought I would make a few simple projects using some of these materials to show you just what this new Cricut tool can do.
Cardstock
I made both a card and an envelope using Cricut foil posterboard and pearl paper. The foil worked great on both surfaces. I did learn from this to make sure that your design and foil are located correctly. The first version of the card, the machine was trying to foil over the taped area and it definitely did not transfer as well. Learn from my mistake and measure twice before placing your foil.
Kraftboard
Kraftboard is a really thick paper that is great for many projects and one of my favorite materials. In this case, I made a box with a gold foil accent. Again, the foil tool worked great. This is actually the bold tip used in the Maker. Note that this project was scored, then foiled, then cut. So, yes, you can do multiple things to one sheet.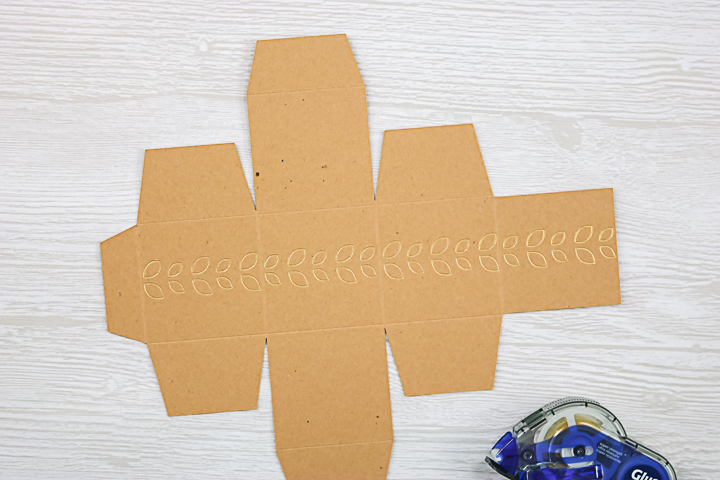 Faux Leather
Now let's talk about something a bit more exciting! You can add foil to faux leather! That makes things like making earrings with your Cricut even more exciting. You can now add gorgeous details to your designs. I mean look at that detail!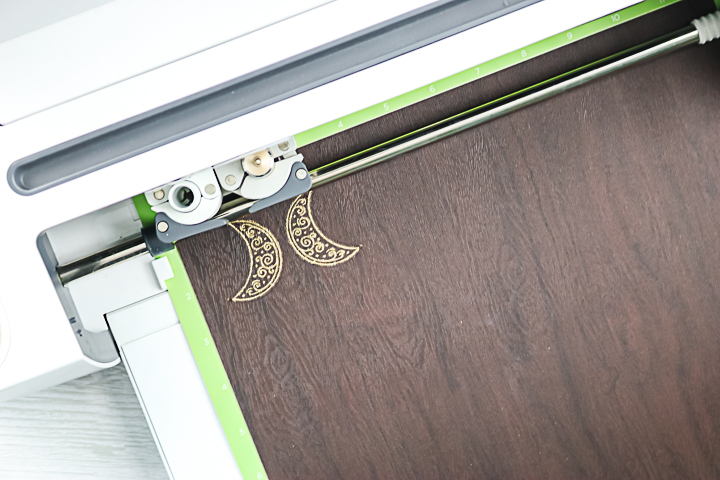 I made some earrings that actually have two pieces on two different colors of faux leather. Both had gold foil accents. All that you have to do once the Cricut is done is add some jump rings and earring hooks.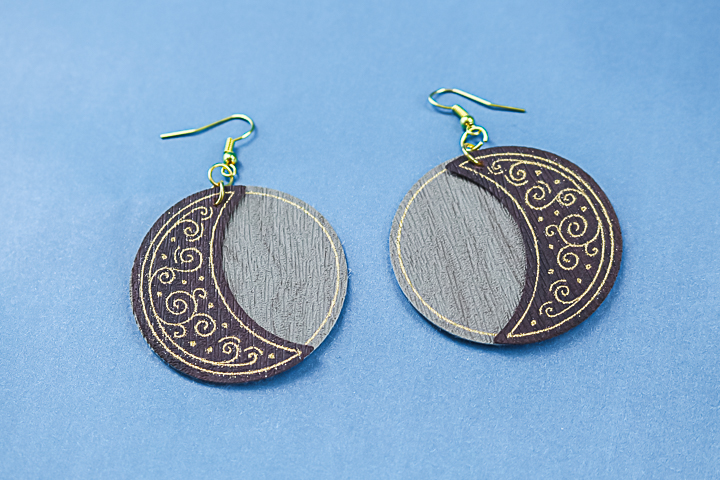 Vellum
Yes, you can add foil to vellum! This opens up all sorts of project possibilities. I had to put that to the test with a really complicated pattern design. You can actually see in the image below how the Cricut machine ejects the mat just far enough so that you can remove or add the foil.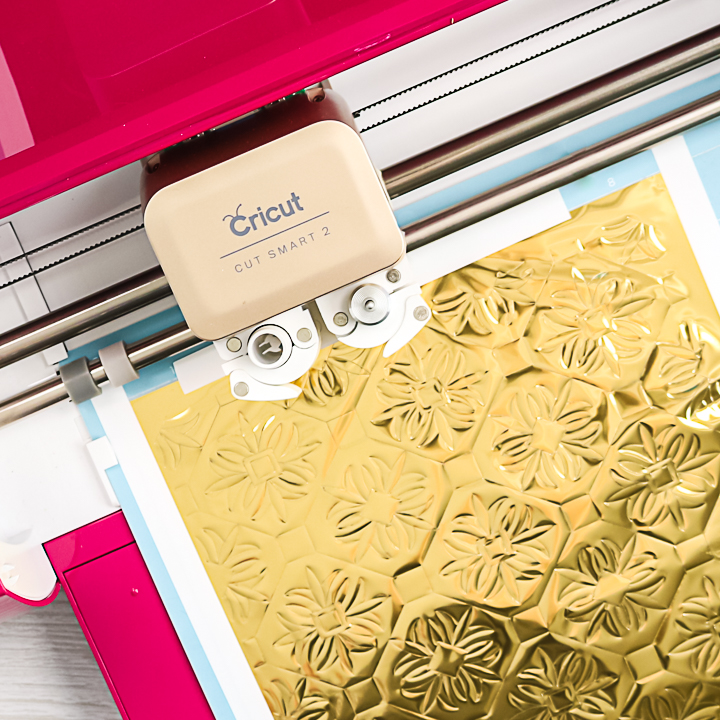 I am actually putting all of my projects together into a cute gift and that vellum sheet became part of the wrapping. But I needed something to keep it closed so I made one last project. I did mess up my mat on this one as I got some foil on it. Again, learn from my mistakes and be careful with foil placement.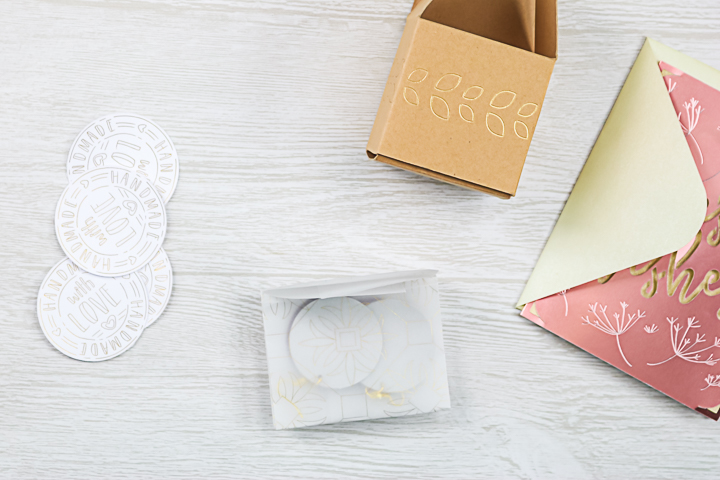 Printable Vinyl
You can make foil stickers with your Cricut machine. You read that right. I am literally over the moon excited about the possibilities for this one! Just add your printable vinyl to your machine and foil then cut your stickers (either with a kiss cut or cut through).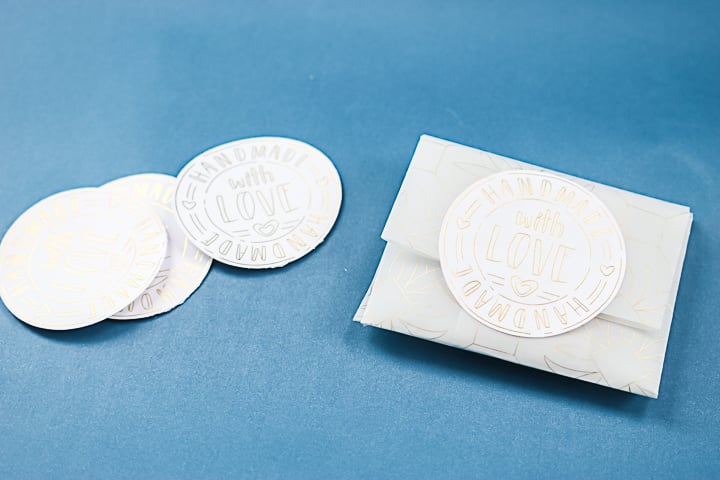 Cut Files for Projects
Need to make any of the projects shown above? You can do that with the cut file here. Just remove any that you do not want to make and start foiling as soon as your Cricut foil transfer tool arrives.
I put all of my projects together into one cute little gift idea with the earrings all wrapped inside the vellum and gift box. This foil tool can be used in so many ways and making gifts is just one option.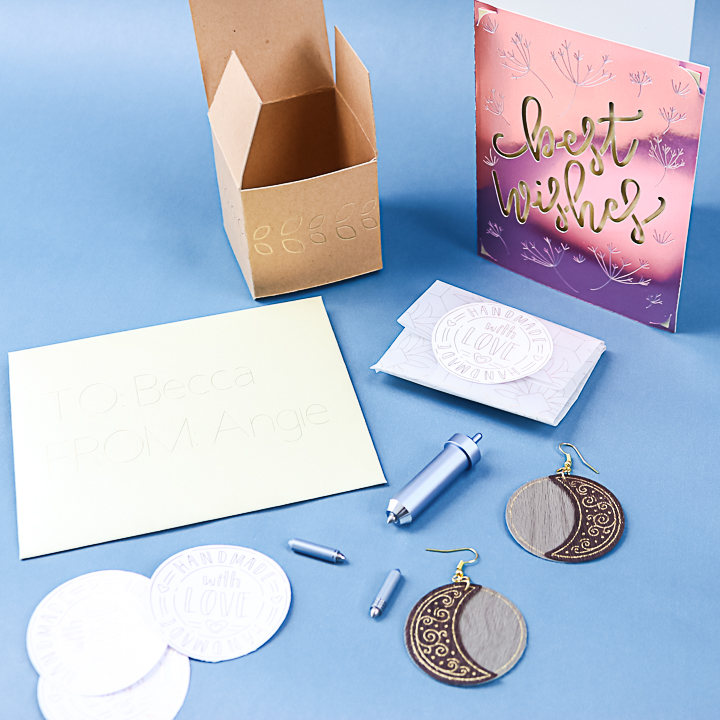 Storage Tips
One thing to note is that the tips are super small and easy to loose. My tip for you is to add them to the magnetic strip inside the tray of either your Maker or Explore. This will keep them from getting lost and you needing to buy replacements.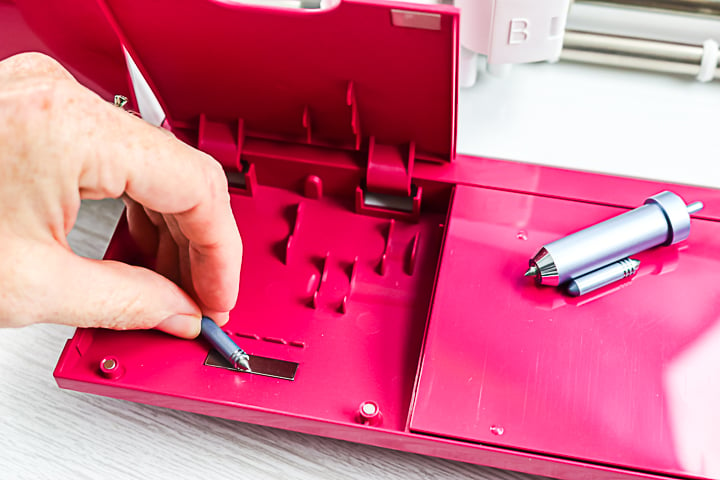 Do you need to add Cricut foiling to your craft room?
The final question is whether or not you need the Cricut Foil Transfer Tool for your machine. Here are a few of my top reasons for buying this tool:
If you have ever wanted to experiment with metallic foil on your craft projects, this is a great way to do just that.
If you have been frustrated by other foiling methods, I think you will be pleasantly surprised by this one. I have tried several methods over the years both with my Cricut and without. I must say that this one is easy and has great results.
If you have never heard of foiling until just now and you are intrigued, there is no better time to start!
If you love all things shiny, what are you waiting for? Be sure to order your tool today.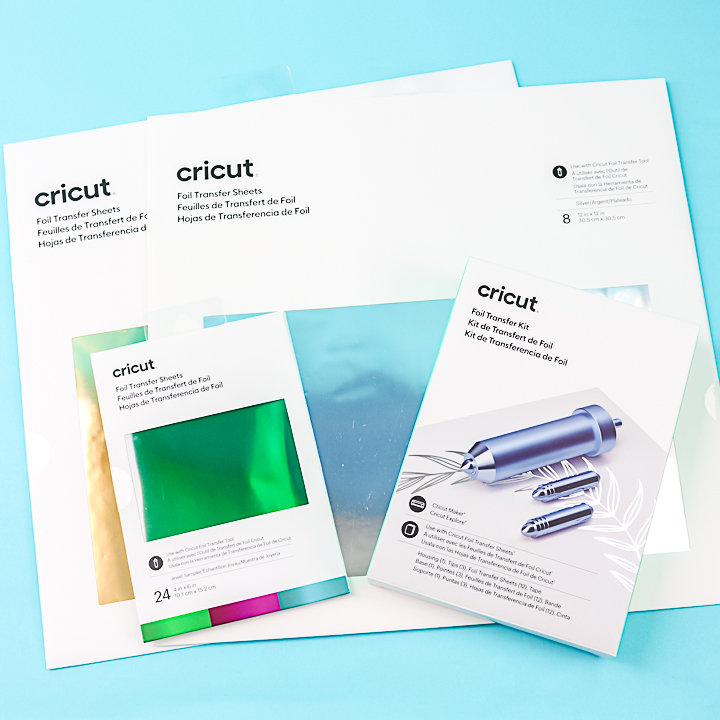 The kit has everything you need to get started unless you want to start with larger projects. If that is the case, you will want to get the larger sheets. Also, the kit comes with gold and silver foil. If you want to add some color, be sure to pick up a colorful variety pack as well. You will be making so many things as soon as you add that foil tool to your Cricut machine.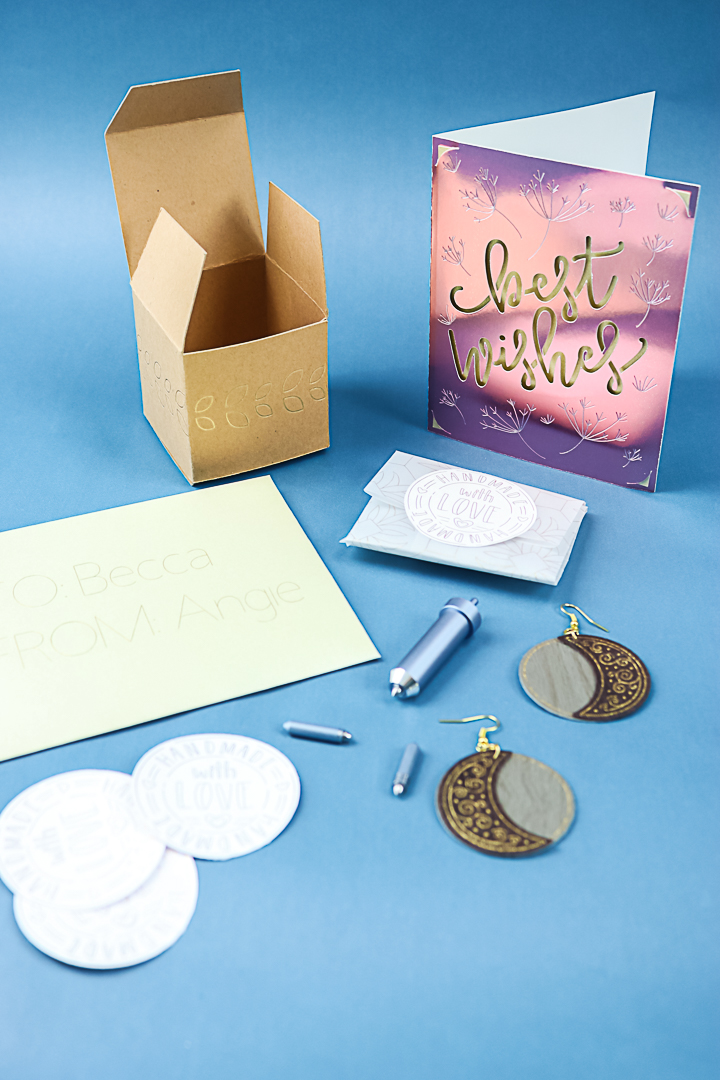 Is there something I missed that you still have questions about? Be sure to drop down to the comment section and ask away. I will try to keep this post updated with new information and projects as well. I have so many ideas for this tool and I can't wait to share them all with you.