I am wrapping up a week of family fun crafts with a boredom jar that will help you keep your entire family entertained all summer. Fill this bored jar with activities the family can do together. Then every time someone says "I'm bored" they have to pick an activity from the jar. Fun, right? Read on to see how I used Cricut printable vinyl to make my version of this jar.
Have you been keeping up with the ideas from this week? I posted my hangman game, vacation fun jar, would you rather printable game, and printable flat Stanley. You can also scroll to the bottom of this post to see even more family fun ideas from our blog partners for this series.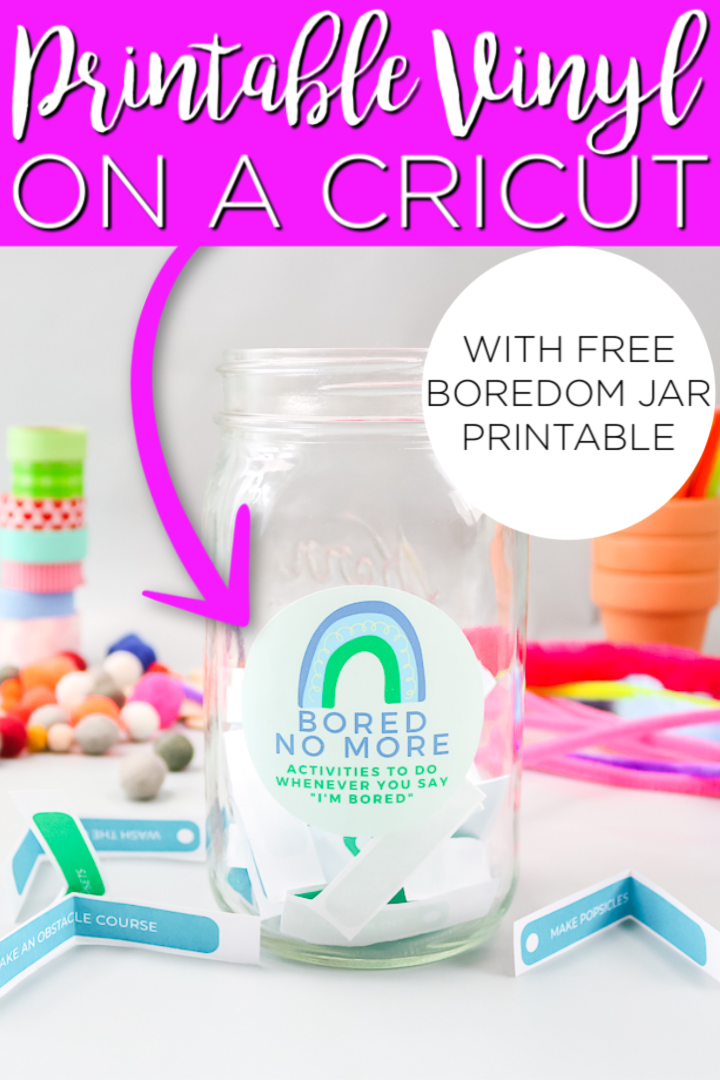 Supplies needed:
Boredom jar printables (see how to download the printables below)
Cricut machine (or there is an option to cut with scissors outlined below)
Mason jar with at least one smooth side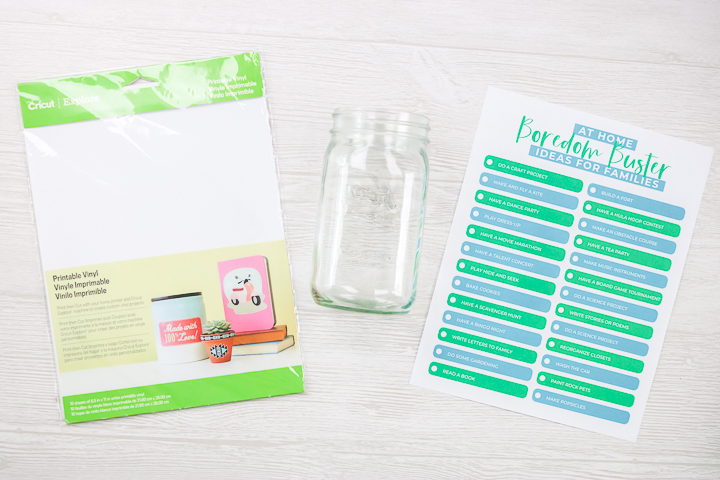 Boredom Jar Printables
First, you will need to download our free printables. To download, you will need to sign up for our newsletter in the form below. The files will then be sent to your email. You will click a button to download a zip file. You will need to unzip in order to print but you can print as many times as you would like.
Please note that these files are for personal use only. You can email me if you are having any issues with your download.
Using Cricut Printable Vinyl
Once you have the download above, you can print on regular paper and tape on your jar or you can print on Cricut printable vinyl and cut your labels with your Cricut machine. You can actually watch a video of how I used this second method below.
Can't watch the video or want to read the information? You can also follow along in the card below or even print the instructions.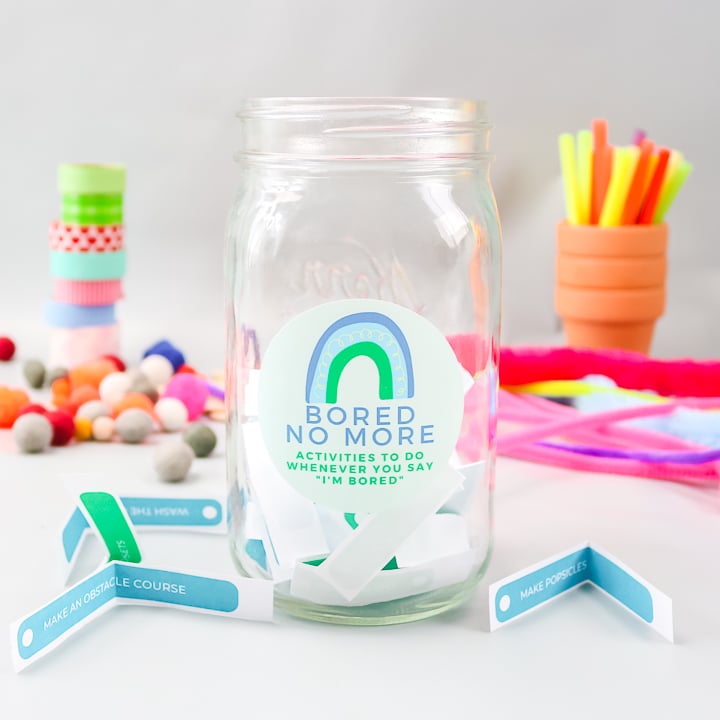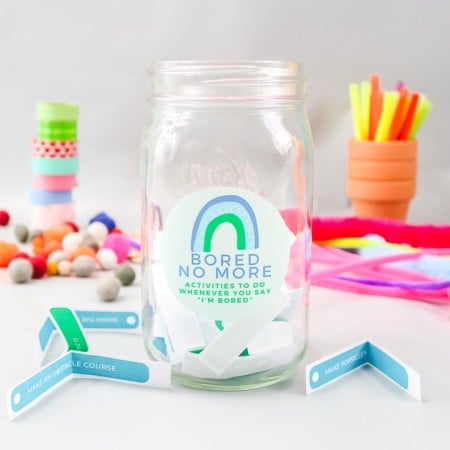 How to Use Cricut Printable Vinyl
Make stickers and more from printable vinyl on your Cricut machine.
Supplies
Mason jar

Cricut Printable Vinyl

Cricut machine

Boredom jar printables
Instructions
Upload the jar labels to Cricut Design Space. Be sure to use the PNG image and pick complex when uploading. Turn the surrounding area to checked when uploading then save as a print then cut. The video above shows you how to do all of this with a screenshot if you are confused.

Once you have uploaded your design, insert it onto your canvas, and resize to fit your jars. Then click "make it" and you will be prompted to print. Remember that a box will print around your labels and if you have the bleed option selected there may be a fuzzy area around the circles. That is okay! Once printed, pick Cricut Printable Vinyl from the list of materials to cut.

Your machine will use the black box to locate the cuts and cut around the circles of the labels. You will also need to print the list of boredom busters to add to your jars. I just printed these onto regular copy paper and cut them with scissors. Remember, you can also print these jar labels onto paper and tape or glue them to your jar if you don't want to use the printable vinyl.

Then just peel and stick the labels into place on your mason jar. I like to use a jar that has at least one smooth side when doing projects like these.

Cut the family activities into individual pieces before adding them to your jar. You will also want to remove any activities that you either don't want to do or cannot do.

Then just fold your boredom busters and add them to your jar. The next time you hear "I'm bored" just send them to the jar to pick something fun to do!
Tried this project?
tag us to show off your work!
This is a great project for those of you that may be staying home or for those long summer days. The kids may love (or hate) going to the boredom jar but either way…you win! You don't have to hear I'm bored any more.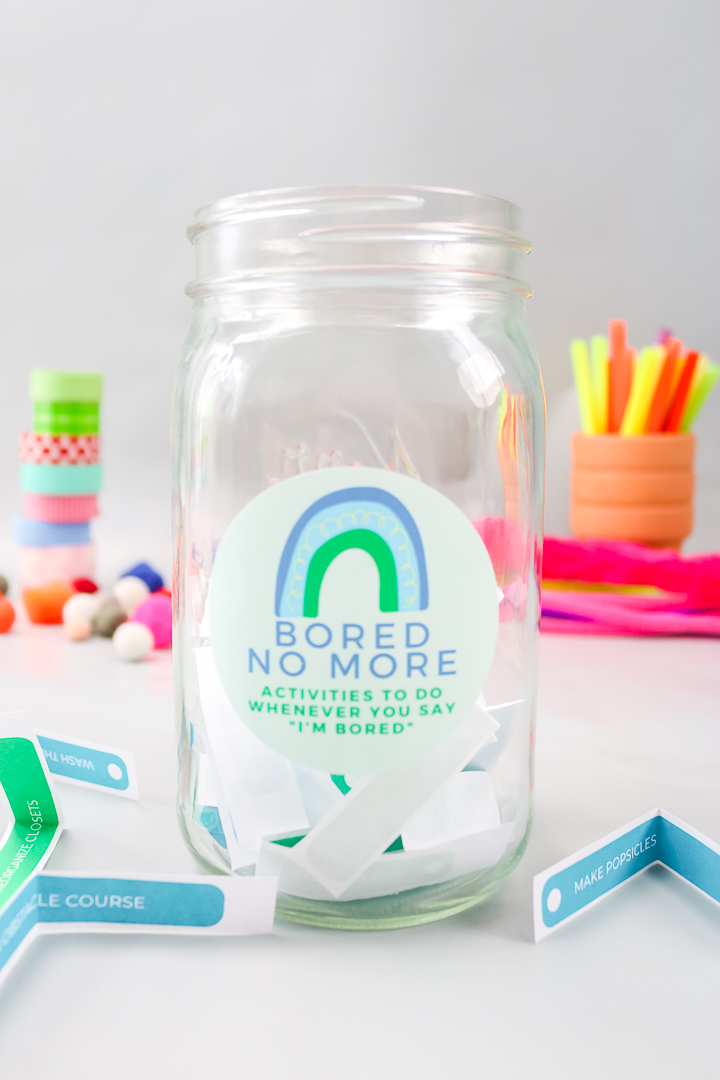 And that is the best thing a mom or dad can hope to hear…the amazing sounds of kids playing and NOT being bored. I hope that you and your kids love this boredom jar and that it brings hours of fun.
Love this Cricut family fun idea and want more? Try the links below as well!
New to Cricut?
Sign up for our email list to download the Beginner's Guide to Cricut Design Space for FREE today!
Sign up to get the guide emailed to you!