Make a DIY cabinet organizer to get your kitchen organized in the new year or any time of the year. I love this simple project as it is easy to make, can be customized, and adds a splash of color to my cabinets. Pick out crates that will work in your cabinets, then add on the stain and paint for an organizer that really stands out. These are perfect for adding to your other kitchen organizers for cabinets where you can find everything you need.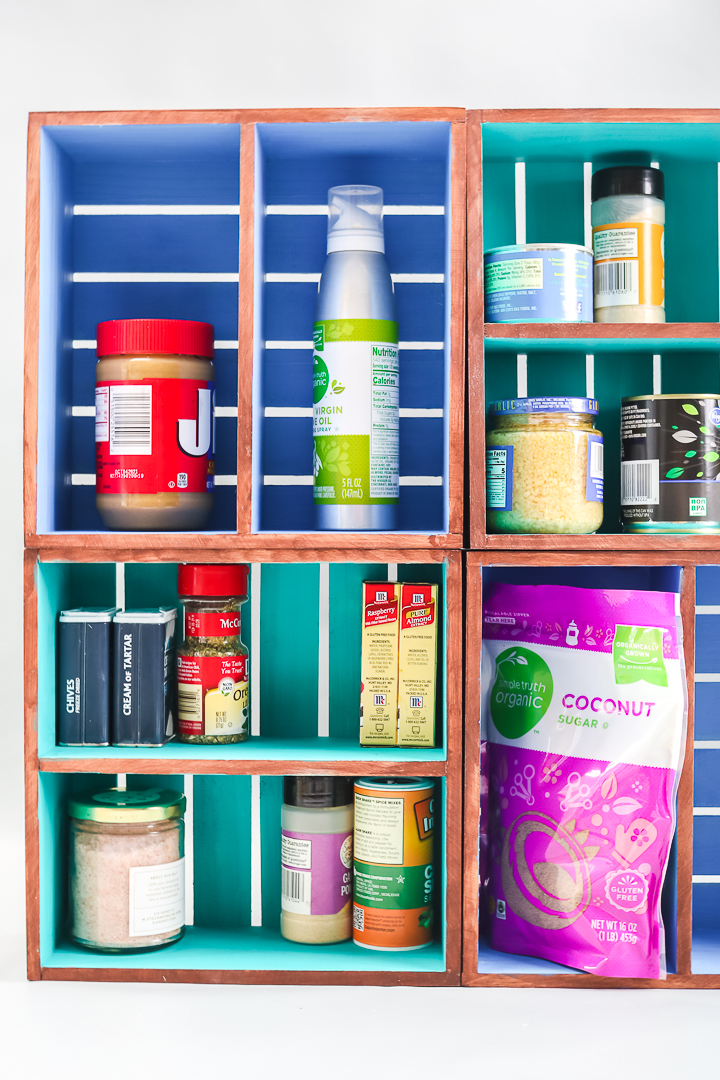 Making a DIY Cabinet Organizer
So, are you ready to add one of these crate organizers to your home? Let's talk about the supplies you will need to get started on this project.
What type of crates should you use?
I used these divided wood crates but literally, any crates that fit in your cabinet will work for this project. I like the wood for this project as it is easy to use and stands up well to daily wear. If you get crates that do not have a divider, you can add some with wood boards before beginning. You can even make your own wood crates if you want to really DIY this project.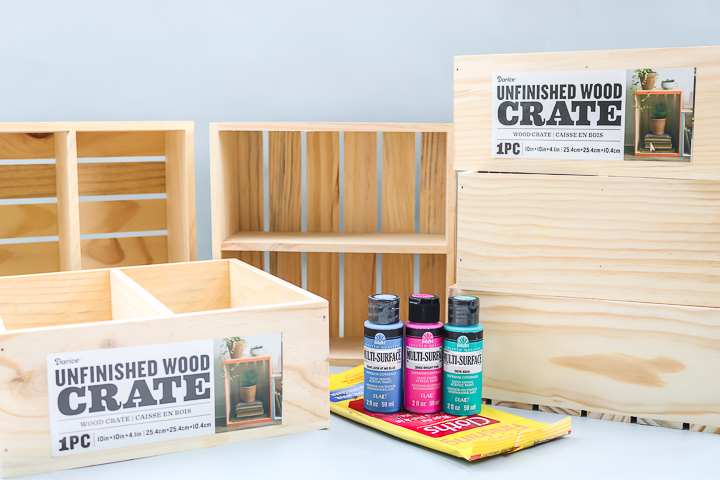 Other supplies you will need
How to Make a Kitchen Organizer
Now that you have decided which crates you will use and have your paint colors, it is time to make a DIY cabinet organizer for your home.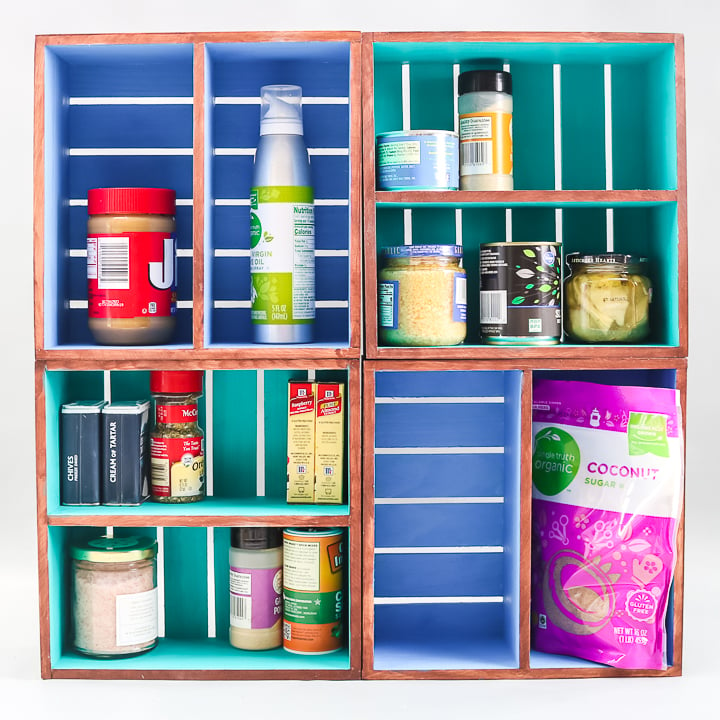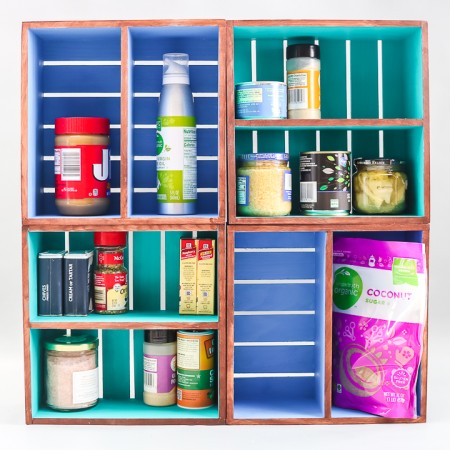 DIY Cabinet Organizer
Turn simple crates into something to organize your kitchen in just minutes.
Instructions
Start by staining the outside of each crate. Brush on the stain, allow to sit a few minutes, then wipe away any excess with a rag. I did both the sides, back, and front edges with stain. You can do any combination of stain and paint that you wish. Allow the stain to dry completely before continuing.

Then paint the inside of each crate with the craft paint. Be sure to choose paint colors that will work with your kitchen's decor. I did two coats of paint but you may need more or less depending on what type of paint you are using. Just be sure to allow it to dry in between coats.

Once your paint and stain have fully dried and cured, you can use these wood crates alone or stack them to create a larger organizer. You can also use wood glue to secure these together if you like.
Tried this project?
tag us to show off your work!
Use these crates in any configuration that will fit in your cabinets or even your pantry. You can dry fit them in place then glue together after you have something that will work for your space.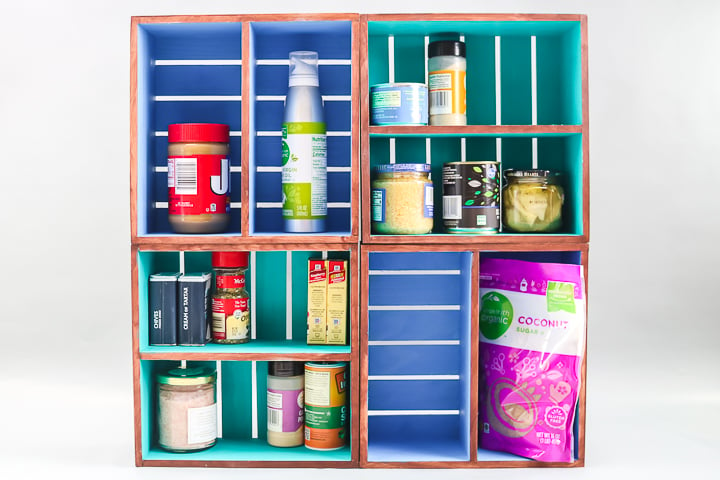 These are perfect for things like spices, small jars, cans, bottles, and so much more. I am currently using a ton of these as spice organizer across the back of my cabinets. They work perfectly for both small and large spices depending on which orientation you place them in.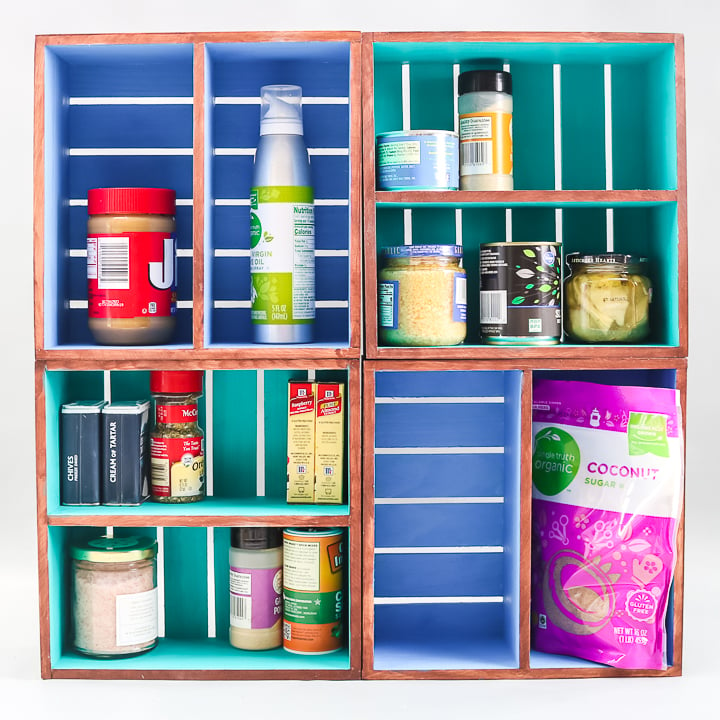 So, add this DIY cabinet organizer to your home this year. You will be so glad that you did. If you are looking to get your home more organized this year, this may just be the project for you. Grab some wood crates and get started on your own version of this organizer for your home.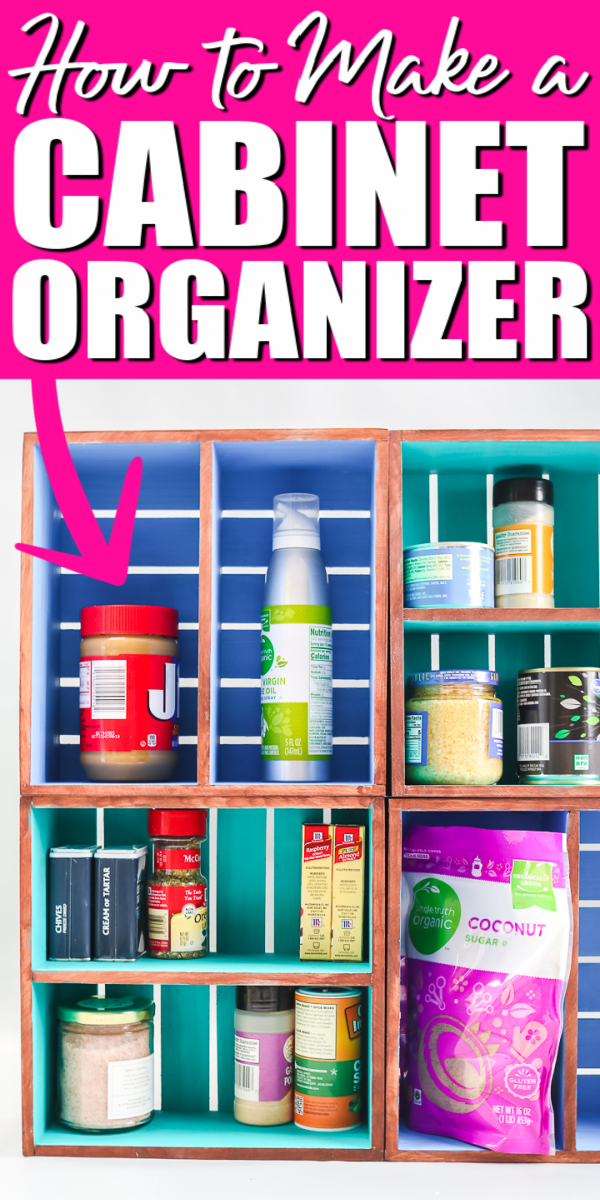 Love this idea for organizing your home and want more? Try the links below as well.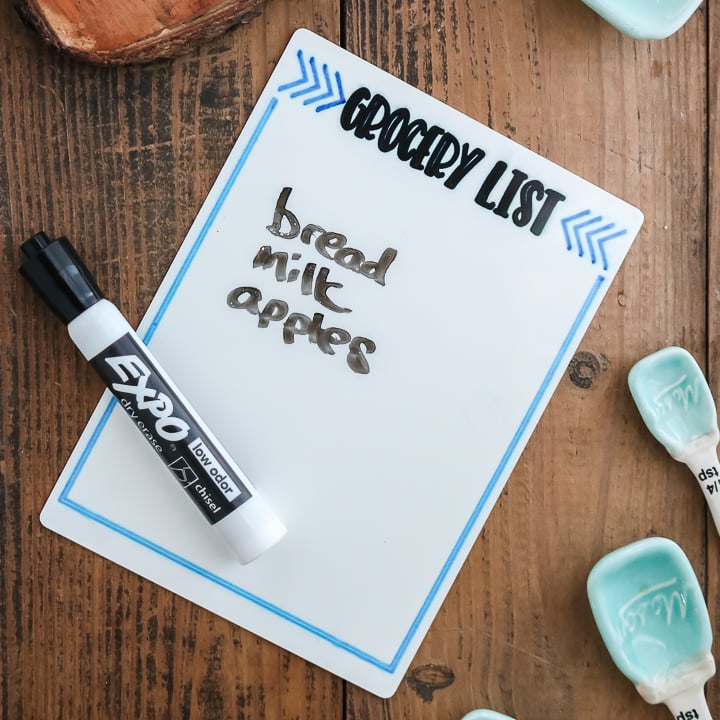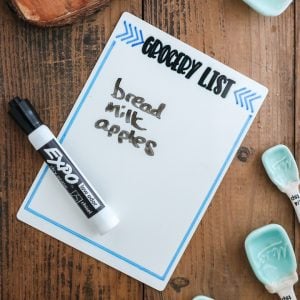 Grocery List Board with a Free Kitchen SVG
Make a dry erase grocery list board with sublimation markers and this organization SVG file.
Read More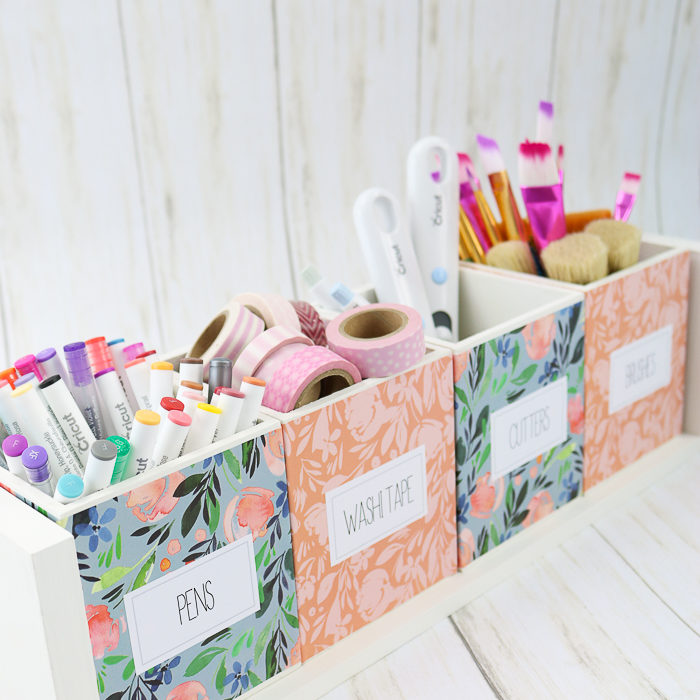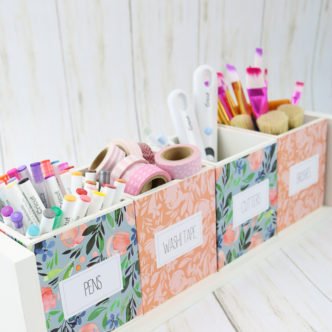 How to Make a Simple Craft Organizer: Step by Step
This craft organizer is such an easy project! You can use this organizer in your craft room, kitchen, or bathroom for endless organization possibilities.
Read More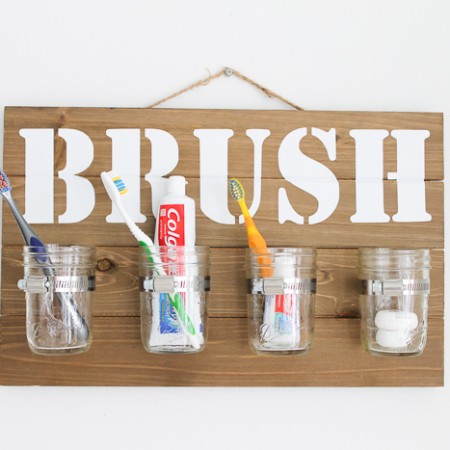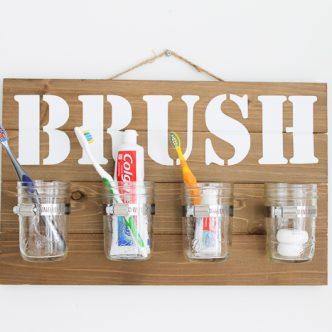 Mason Jar Bathroom Organizer Wall Decor
This fun and functional bathroom organizer is a great way to add some mason jar wall decor to your bathroom!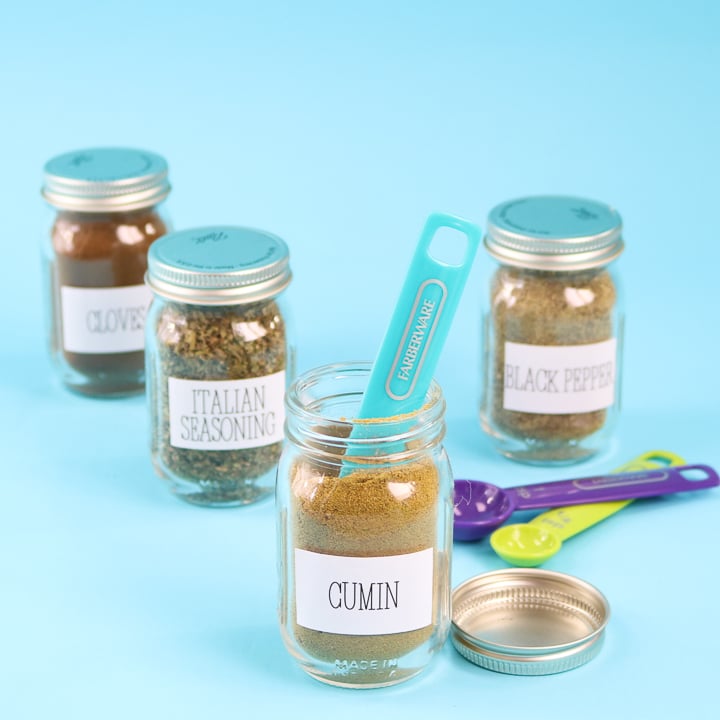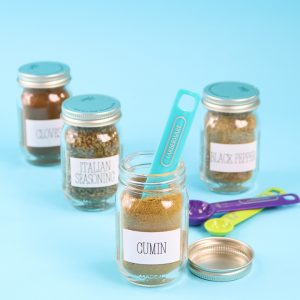 Printable Spice Jar Labels with a Cricut
Want to organize your spice cabinet? Here's how to make printable spice jar labels that look great and help keep your kitchen organized!
Read More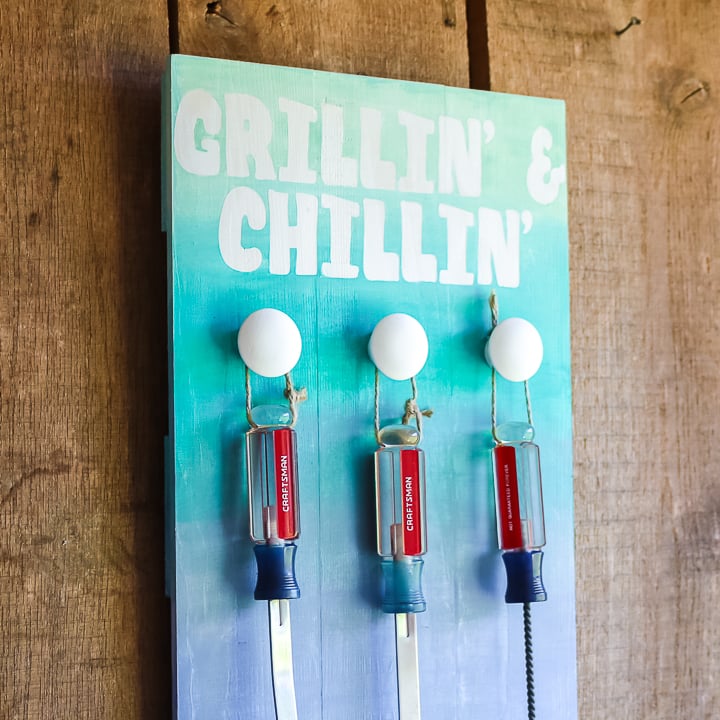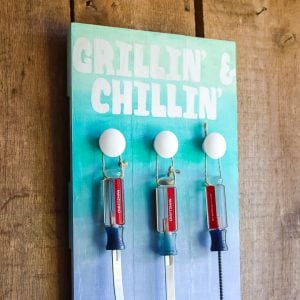 Grill Tool Organizer
Make this DIY grill storage with just a few supplies and some simple steps!
Read More