Okay I have wanted a demijohn in a basket forever…and ever… A demijohn is a fancy name for a jar or jug or something…I am trying to go all fancy on y'all today. I couldn't find one. Or one I could afford. So I made my own!!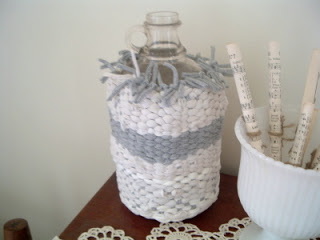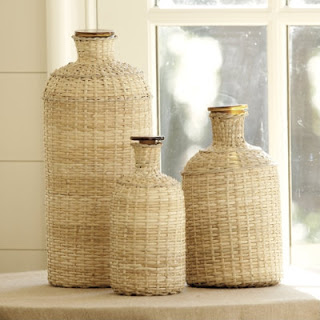 …and these in the Pottery Barn catalog…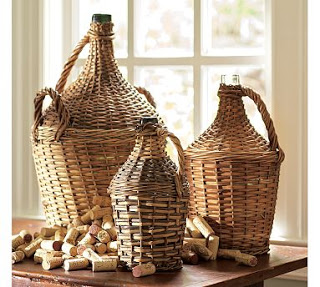 So after my adventure in weaving tshirt rugs that I posted on Monday…I thought I would try my hand at a tshirt basket. You use the tutorial on Family Fun magazine again but this time you pull your tshirt strips TIGHT as you weave. It gets to look a little like this…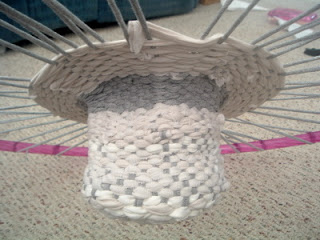 Woven tshirt hat anyone?? 🙂 I used a hula hoop for my basket cause I wanted it to be BIG. I used gray loops for the "spokes" and then I used white for the basket with one area being gray for a large stripe. When it was about as big as the photo below I stopped…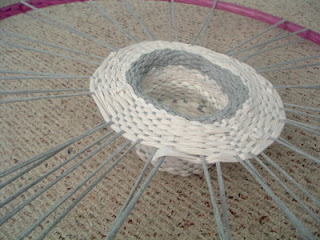 I had this large bottle with a spout. You could use anything you wanted. Heck an old pickle jar would work. Basically the basket looked like when I cut it loose it would strech up to the neck of the bottle so I was done.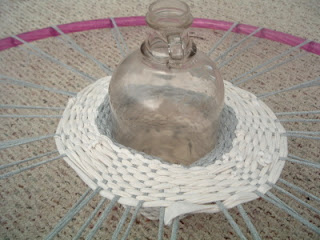 Once you cut it loose it looks like the picture below. Hmmm…not what we wanted right?? Just pull your last loop that you wove in and the basket will start to close up around the top.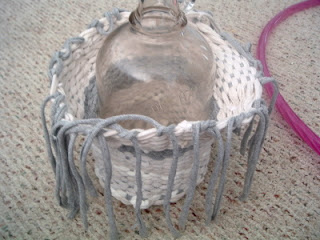 I tied off my "spokes" and cut them short but I left them exposed. You could tuck them into your basket if you like.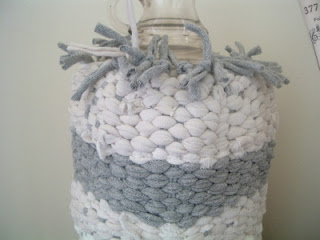 I really like the texture of it. And it pretties up an otherwise plain jane jar.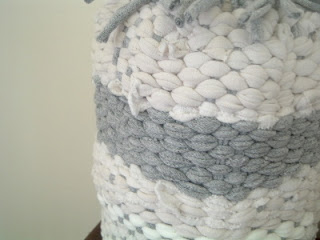 So I surrounded it by a few more pieces for a vignette. My winter one had to go!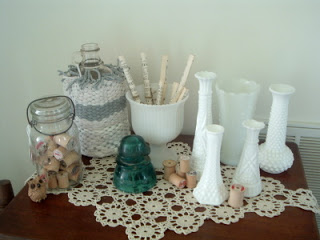 I ran across an amazing collection of wooden thread spools at a yard sale recently and had to swoop em up! I love them just scattered about in a vignette…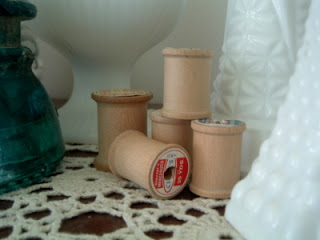 And also thrown in a ball jar! See that little owl?? 50 cents at a yard sale…he was too cute to leave behind!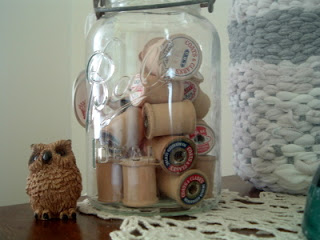 So what do you think?? Keep the tshirt covered demijohn or rip it all off?? I am kinda digging the added texture it brings…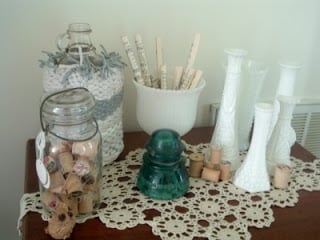 Ya know…these baskets do not take very long. You can do it while you are watching the new Harry Potter movie (ask me how I know??). They are free if you have some old tshirts hanging about. And I can think of all sorts of things you can do with em!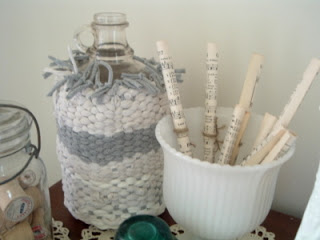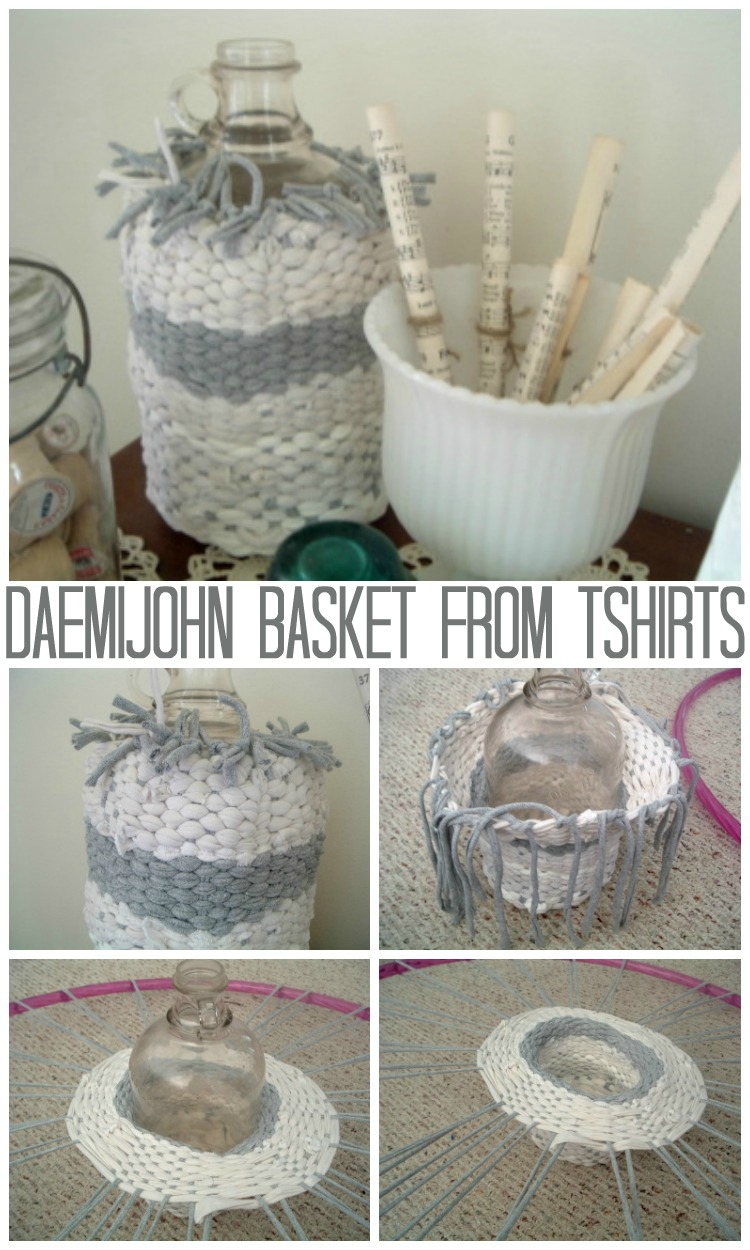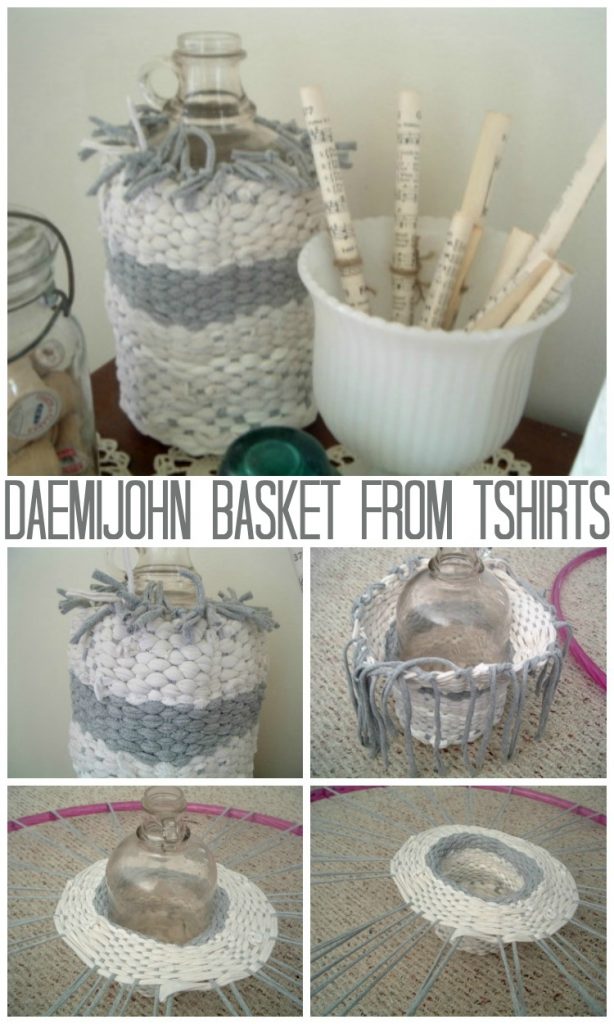 Whatcha waiting for?? Go buy a hula hoop today!! And send me pics or links of the creations you make from your old tshirts! Speaking of which…completely unintentional…but these and the woven rugs are the perfect crafts to celebrate Earth Day!
Posted at Whatever Goes Wednesday on Someday Crafts.
Posted at What I Whipped Up Wednesday on Sugar and Dots.
Posted at Good Life Wednesdays on A Beach Cottage.
Posted at the Earth Day Party on C.R.A.F.T.
Posted at the Go Green Party on Craft Test Dummies.

~Thanks for stopping by!~