Today I am sharing another project for my college daughter's new apartment. I made her a DIY upholstered coffee table from some thrift store cast offs. I love how this one turned out and wanted to share it here. If you missed it yesterday, I also shared my renter friendly picture hanging tips. All you need for this one is some thrift store ottomans and tray. Then throw in some patience and time. You too can have a unique coffee table that is all you.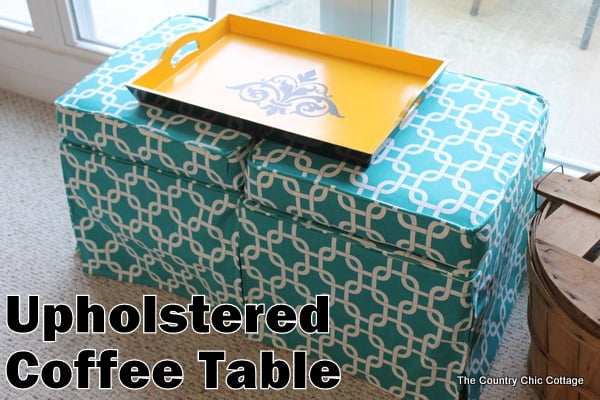 I purchased the ottomans at Good Will for $5.99 each. I loved the shape and they are in great condition. The fabric…not so much. I purchased them both with big plans for the future. I took them apart and used the fabric I removed as a template for the new upholstery. The first one went really slow but I found a groove and got them both done. Below is a "before and after" picture of my upholstery job. Not bad huh?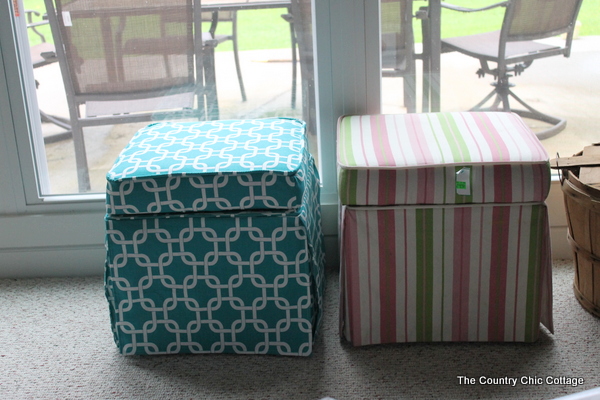 I also picked up a wood tray for $2 and painted it with Americana Gloss Enamels in yellow. Nice and shiny! I cut that flourish from vinyl on my silhouette. The flourish image comes from The Graphics Fairy (who else??). I just put that directly on the tray. It can easily be changed out if the girls tire of the flourish. Yellow was the accent color in the living room while the teal is the main color.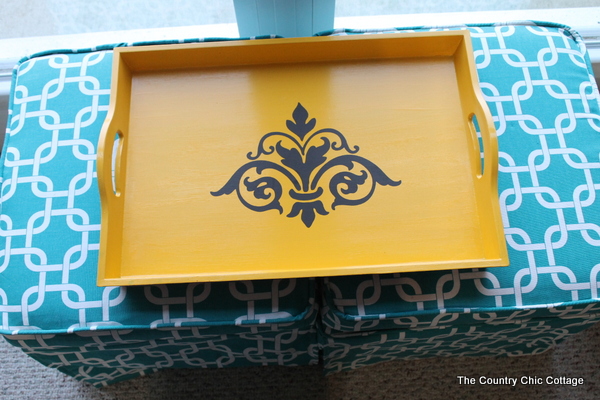 I am so pleased with how my project turned out and the girls loved it. These are perfect for any home as they provide extra seating if you don't need the room to set things. Plus they open up for great storage. Perfect for a small college apartment don't you think? So anyone else move a college bound child lately? Tell me I am not the only one! Oh and be sure to stalk your second hand stores and make your own DIY upholstered coffee table.