You will need two coordinating materials and some quilt batting. I used my largest round tray as a round template. Mine is 16 inches in diameter (if you measure across the circle). Cut the circle out of each fabric and the batting.
Now we are going to sew all the way around this strip. Two inches from the fold and one inch below that. Yes you are making a pocket for your drawstring to go through.
Now press the raw edges of your long strip under about 1/4 inch on both sides.
Now pin that strip all the way around your circles. Circles should be stacked with bag material (right side down), batting, then liner material (right side up).
I sewed all the way around once just catching the edge that was on the liner side. Then sewed again just catching the edge that is on the outside. That way the outside was neat and I did not miss the strip on either side. Now you just have to thread in your ribbon drawstring.
Tip: Put a safety pin through one end of your ribbon. Thread that end through the bag first. The safety pin will help you guide the ribbon around the bag. After you get your ribbon through, tie it and pull it to close.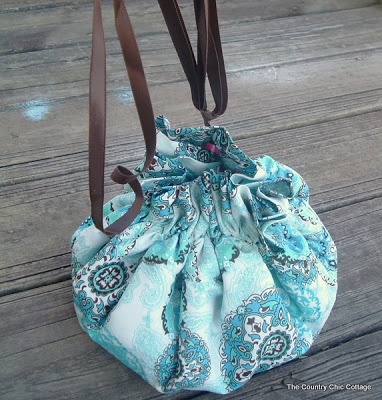 A quick and easy bag that will protect your camera when you are out and about.