Easter means it's handcrafting time! Try out this easy egg basket made out of paper mache that your kids can help make with you. It's a fun and quirky project that everyone in the family will love.
My family and I love Easter. I also love making every holiday exceptional for everyone at home and I want to give my little ones the full experience while they're still young. This time around, I settled for an easy easter basket that we'll be amused with.
I found a mini Easter basket in the papier-mache section of Joann's and knew that I needed to do something with them. I grabbed two different shaped baskets and some paper mache eggs and got to work. This project is perfect to decorate for Easter or spring. Grab your Decoart paints and let's get started!
DIY Paper Mache Easter Egg Basket
This homemade paper mache easter egg basket is the ultimate way for your kids to rack up all the goodies the Easter bunny will send their way during their egg hunting session.
If you need a last-minute treat idea for friends and family, I've got you completely covered! You can make these cuties with collections that are obtainable at any craft supplies store.
The selection of designs and colors to make this are extremely copious, if you're making them for a girl or a boy, there's always something for them! And for any cynics reading this, don't worry because this is surprisingly strong and won't break immediately.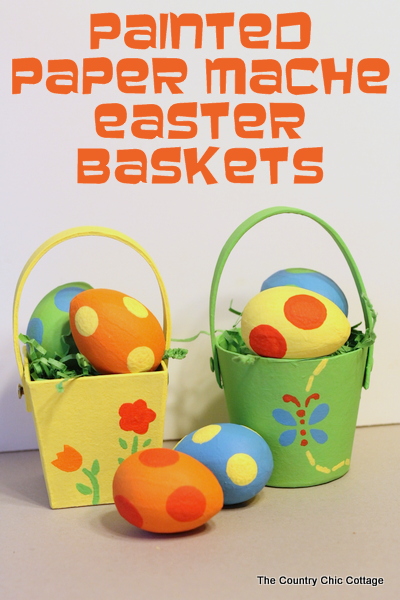 Items needed for Easter baskets:
Paper mache basket and eggs

Friends Frame Stencil from Decoart (would be found in the wood frame area of your craft store)

Dual Sided Paint Pouncers

Americana paint in TURQUS BLUE,

SOUR APPLE,

LEMON YELLOW,

CADMIUM ORANGE, and

BRIGHT ORANGE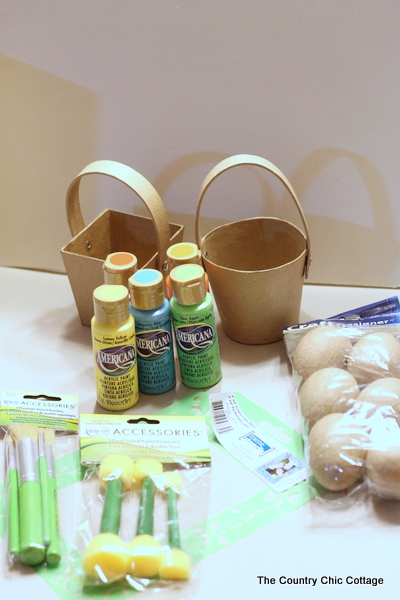 Start with a base coat of paint on your baskets and eggs. I used 3 or more coats of paint on each of my surfaces for a great base. As you can see, I improvised an egg drying rack to keep them from rolling around.
The frame stencil is intended to be used with a wood frame. I just wanted to use portions of it on my baskets. So I would pick the area I wanted to use and apply it to my basket. Then tape over any areas of the stencil that I would not be using.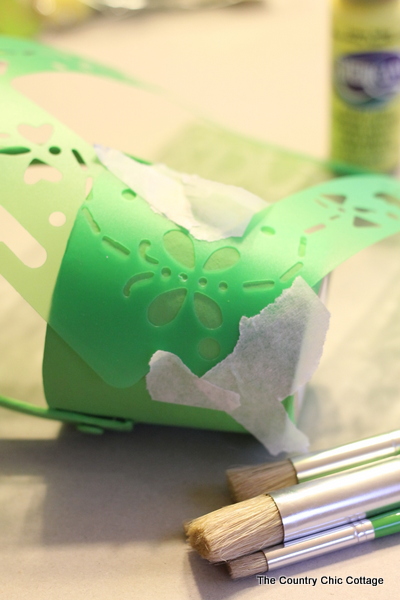 Then use your stencil brushes to apply a light coat of acrylic paint to your project. I found that two light coats were better than one heavy coat when using a stencil.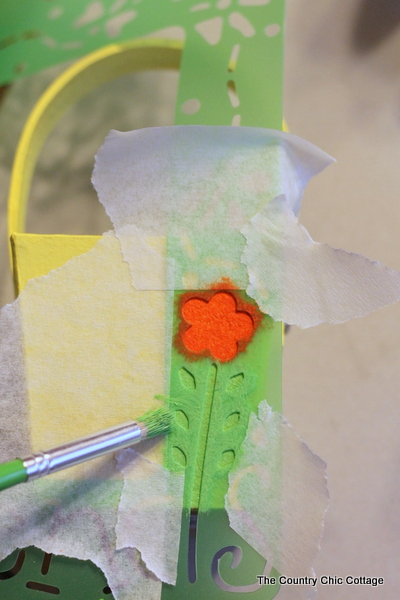 Now for the eggs, I made polka dots with my pouncer brushes. Just apply the pouncer to the egg. Again a couple of light coats turns out better than one heavy application.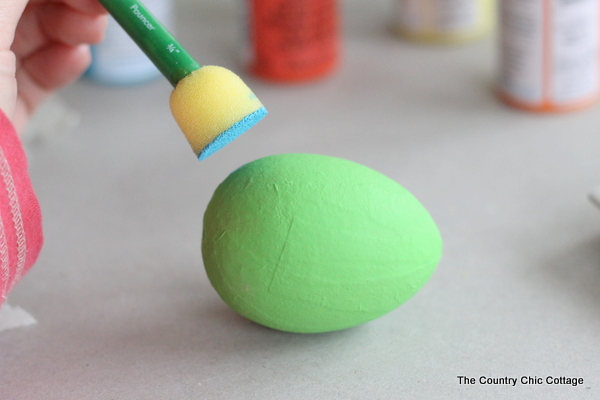 I mixed and matched the colors in my project and love the results. They are bright, fun, and perfect for spring. Grab these paper mache easter baskets and eggs at your local craft store and get to painting today!
Did you enjoy this post? Let me know in the comments!