This post and photos may contain Amazon or other affiliate links. If you purchase something through any link, I may receive a small commission at no extra charge to you. Any supplies used may be given to me free of charge, however, all projects and opinions are my own.
Need some easy Halloween crafts for kids? Look no further than these pumpkin magnets. I wanted to include a kids craft in my Testors Crafternoons series because nothing is more fun than crafting with kids. So, be sure to include the kids when you are planning an afternoon of fun crafting! Follow along below as I show you just how to make these adorable marbled paint magnets. This post is sponsored by Testors Crafternoons, however, all projects and opinions are my own.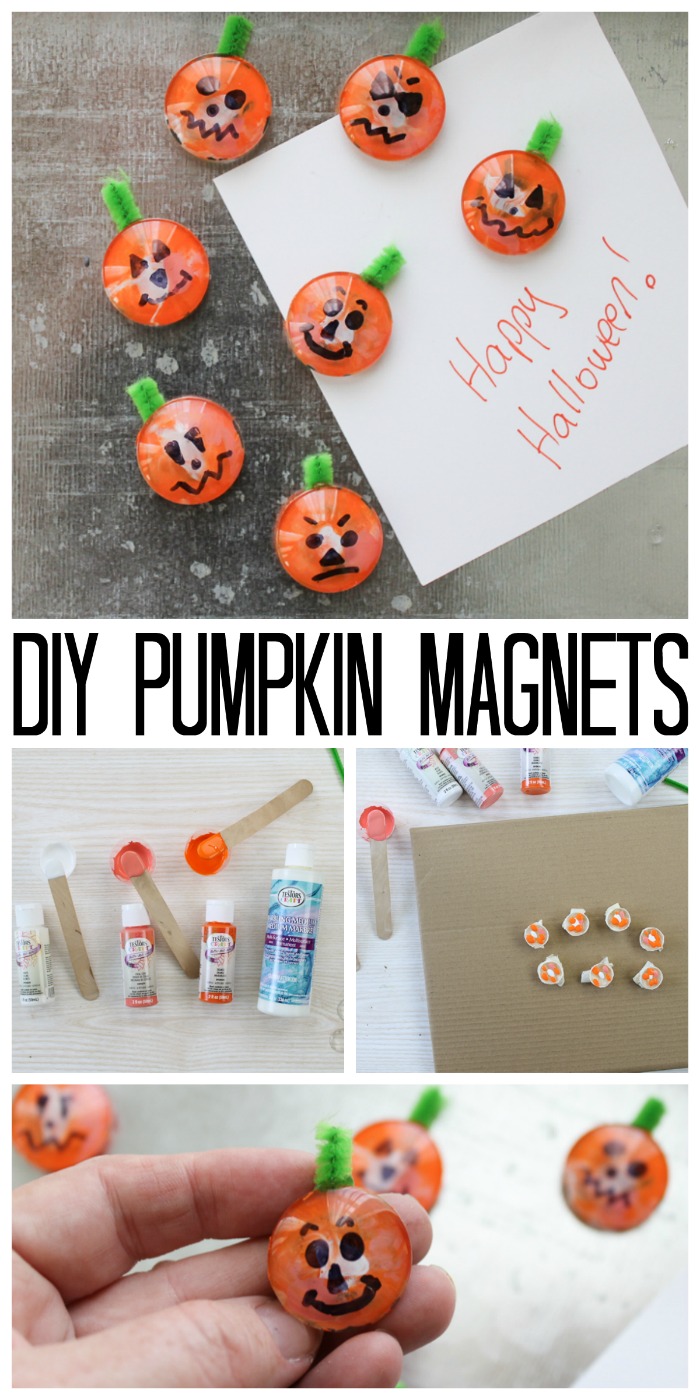 Supplies needed to make easy Halloween crafts for kids:
Glass rocks with a flat side
Testors Craft Paint (I used white, coral, and orange.)
Magnets
Adhesive
Black permanent marker
Green pipe cleaner
Hot glue and a glue gun
Craft sticks
Small disposable cups
Masking tape
Planning a Testors Crafternoons
So, first, you will need to plan your party! We shared some Halloween lanterns last week that are perfect for a Crafternoon. Today we have these fun pumpkin magnets. You can combine the two or have two different crafting parties – one for kids and one for adults. These magnets are great for kids to make but the paint will need some dry time. Be sure to plan a few more easy Halloween crafts for kids during the time your paint is drying. There is nothing worse than bored kids! Invite your guests, pick up your supplies, and then get ready for some fun! Testors Crafternoons are perfect any time of the year!
Video Tutorial:
Want to see just how to make these easy Halloween crafts for kids? I made a short video explaining the process. If you are a visual learner, this one is definitely for you.
Can't watch the video or missed some of the steps? Just follow along below!
How to make these pumpkin magnets:
You will want to mix your paint with the marbling medium to start. Mix equal parts of each in small disposable cups. Craft sticks make great stir sticks and they are inexpensive. Be sure to shake your products well before pouring then allow the mixed product to sit a while before using to allow any air bubbles to rise to the top. You can actually do the mixing if you want to and hand the kids mixed cups of paint for their projects.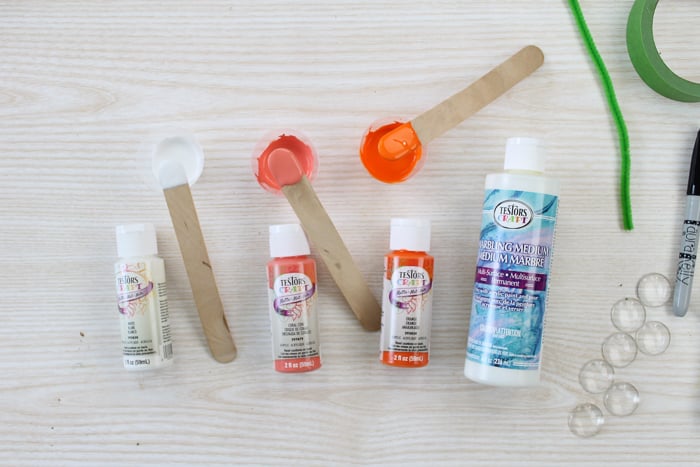 While those are resting, you can start masking off your glass rocks. I found that white masking tape stuck better to my rocks so you might want to experiment a bit before your party. Just mask off the domed area and leave the flat area exposed. You will also want to make sure these will sit fairly level after the tape is added. TIP: Protect your work surface well. Here I am using cardboard but you may want to use drop cloths or cheap tablecloths for a large group.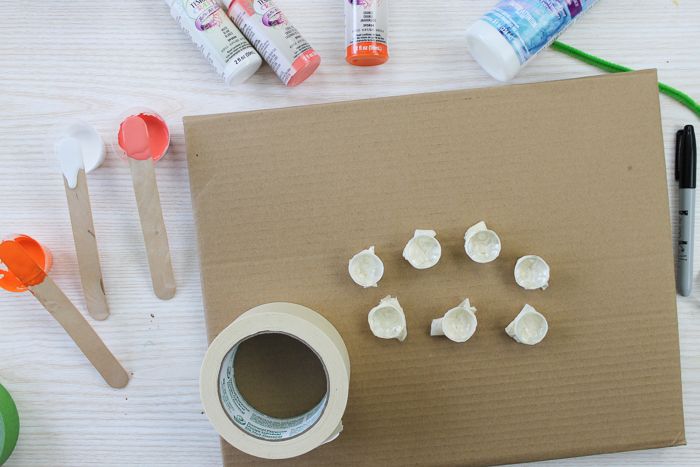 Now you can begin to add your paint to the flat surface of the glass rocks. This is where the kids come in! Let them drop on paint however they want.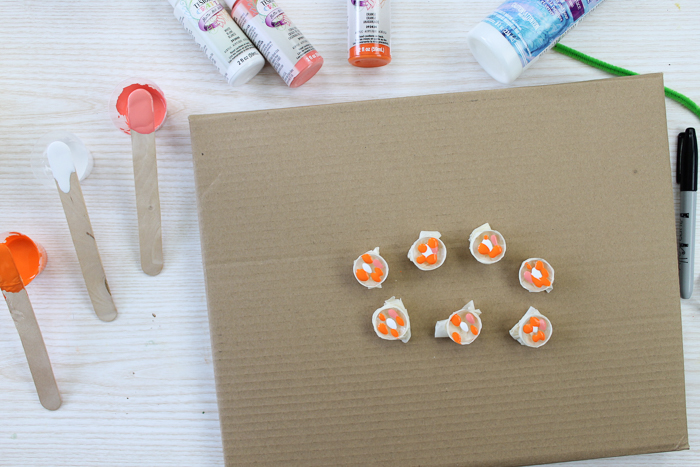 They can then swirl the paint with another craft stick or simply tilt the magnets until the paint runs together. Either way, you just want to make sure the entire flat back is covered and then set them aside to dry. Make sure they are fairly flat when drying. The dry time is when you will want to come up with some more easy Halloween crafts for kids so no one gets bored.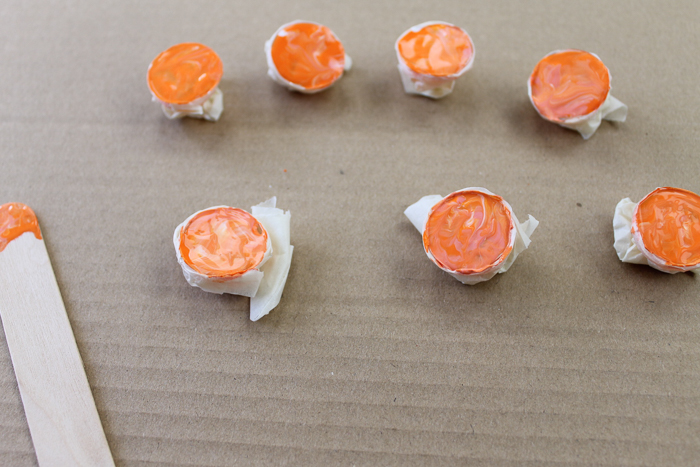 Once dry, remove the masking. If any paint seeped onto the domed portion, scrape it away with a craft knife.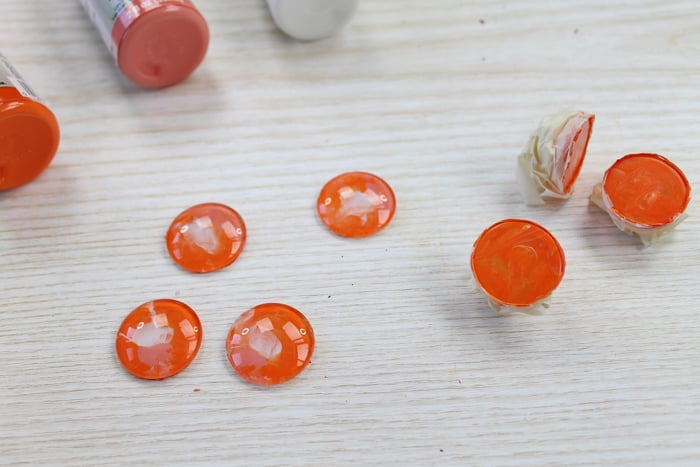 You will be able to see that gorgeous marble paint finish through to the front of your project.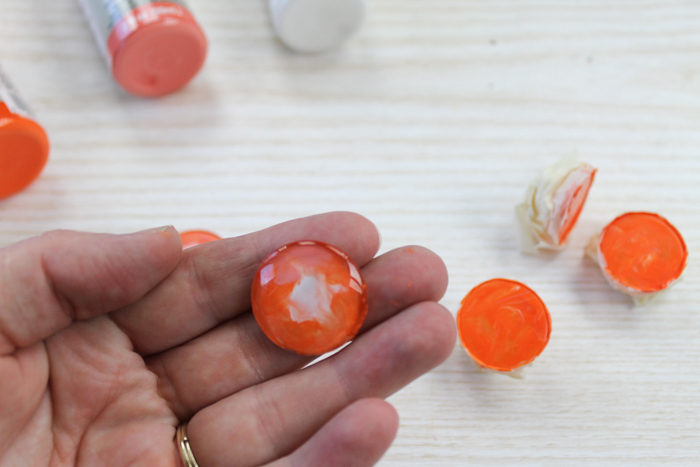 Then use a strong adhesive to attach your magnets to the back of each one. Please note that kids should NEVER handle magnets. An adult should do this portion of the craft project. I used a quick set adhesive so that the dry time would be minimal.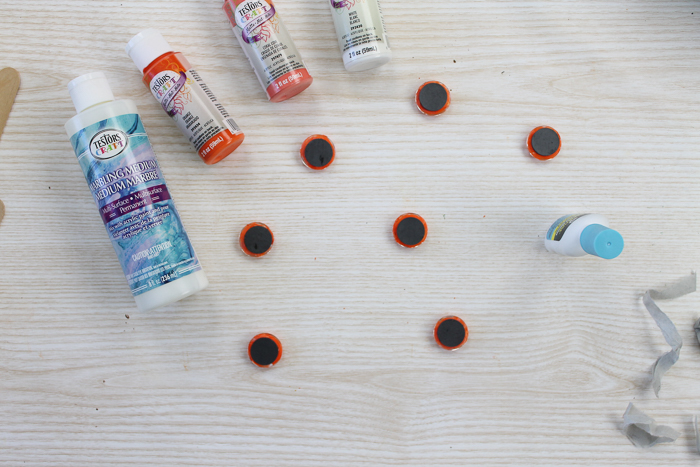 Then hand the kids a permanent black marker and let them go crazy drawing faces on their creations.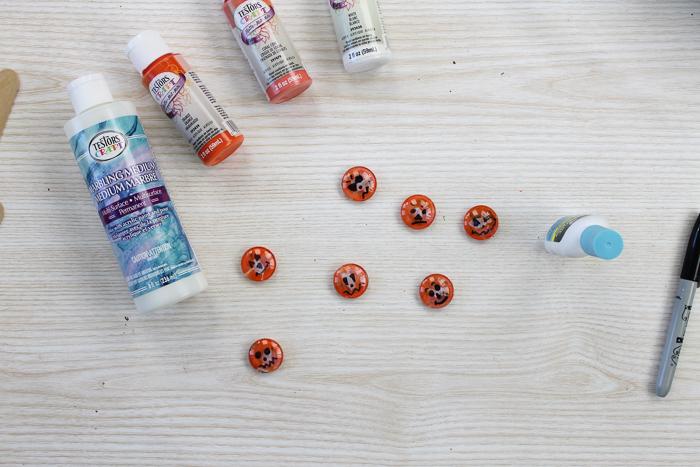 Cut small pieces of pipe cleaner and add them with a bit of hot glue. Again an adult should do this portion of the craft.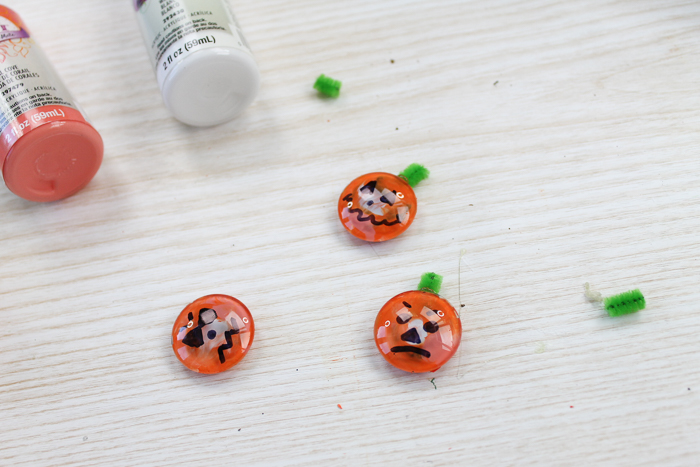 Then just add your pumpkin magnets to any metal surface!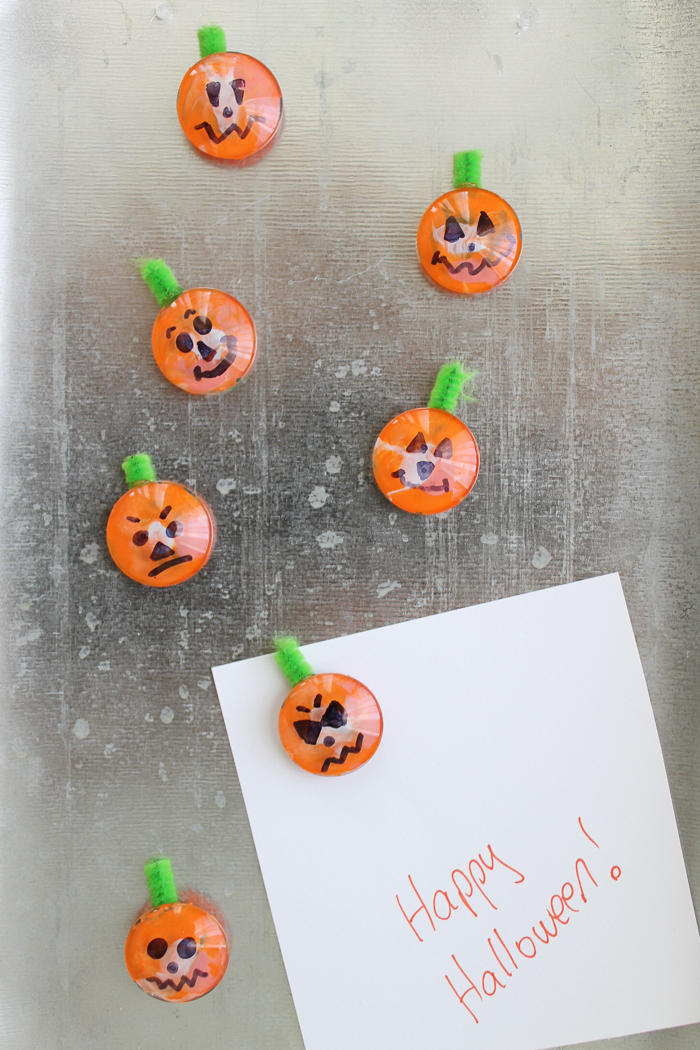 Dress up your refrigerator for Halloween this year! Everyone will love making easy Halloween crafts for kids! And planning some Testors Crafternoons may be just what you need! After all, being creative is a stress reliever and we could all use a little of that around the holidays.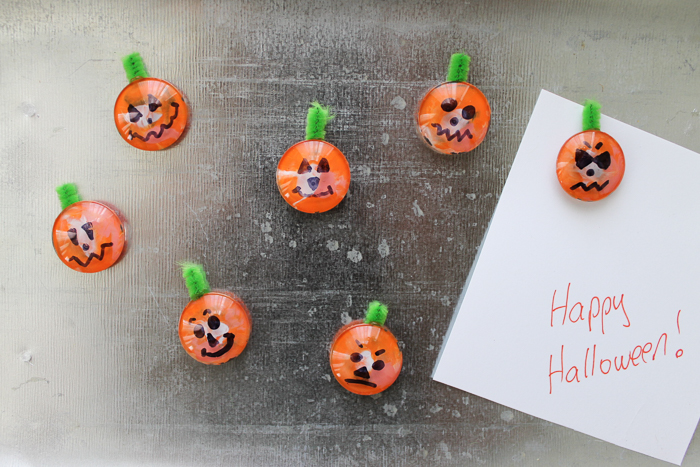 And who can resist cute magnets made by the kids? I know I can't!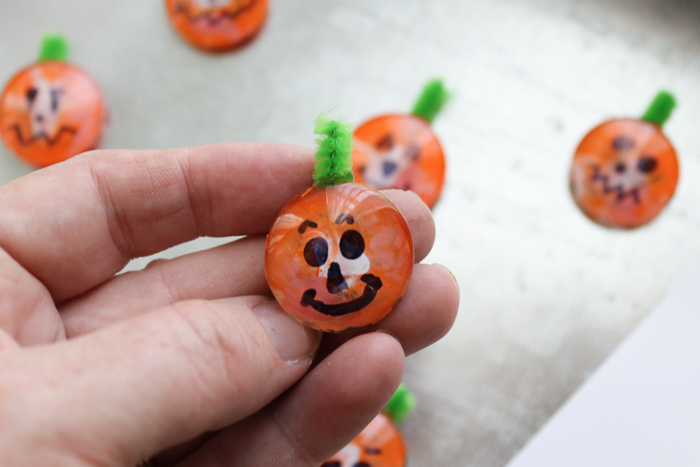 Be sure to pick up your supplies and plan an afternoon of easy Halloween crafts for kids. Your children will love it!