This post and photos may contain Amazon or other affiliate links. If you purchase something through any link, I may receive a small commission at no extra charge to you. Any supplies used may be given to me free of charge, however, all projects and opinions are my own.
You can make these Halloween lanterns for your home with a fun Testors Crafternoons event with family and friends. These easy to make lanterns are perfect for adding a little fright to any room. Add in a candle for a gorgeous and slightly spooky glow. This post is sponsored by Testors Crafternoons, however, all projects and opinions are my own.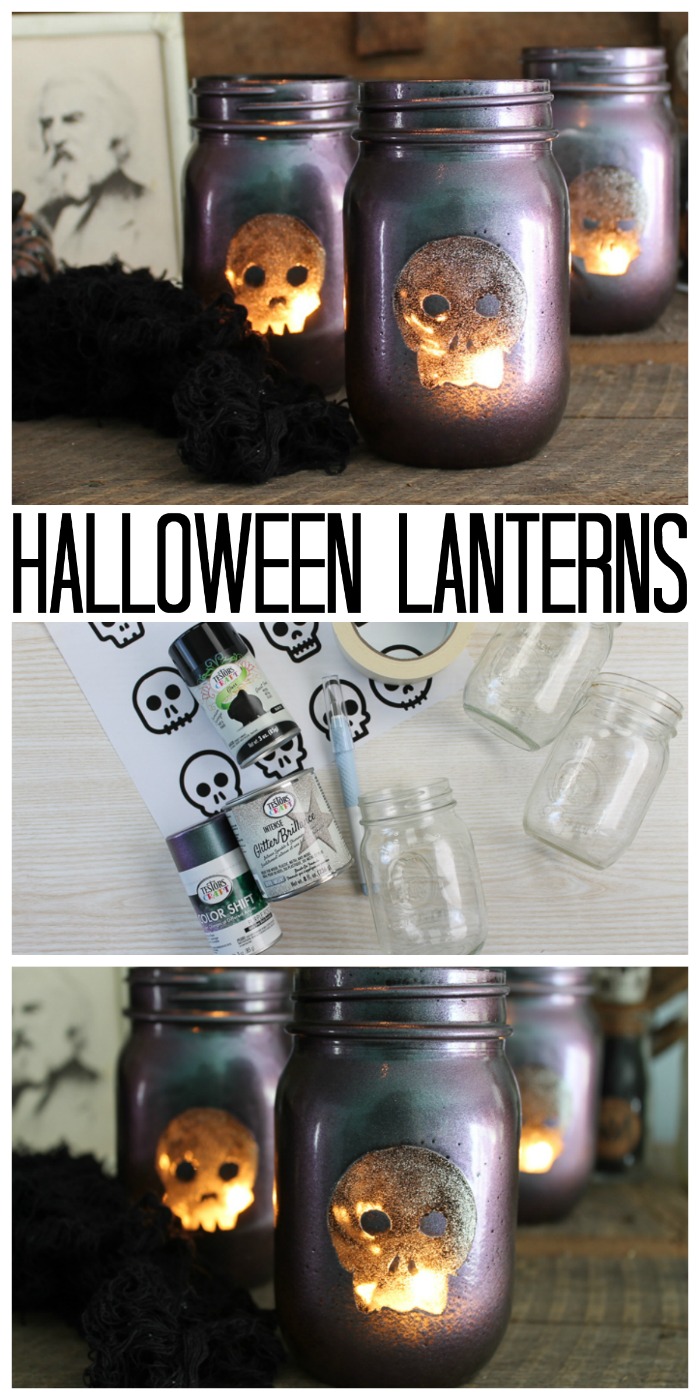 Supplies needed to make these Halloween lanterns:
Mason jars (with at least one smooth side)
Masking tape
Craft knife
Skull templates (print for free here)
Paint brush
Scissors
Tape
Rubbing alcohol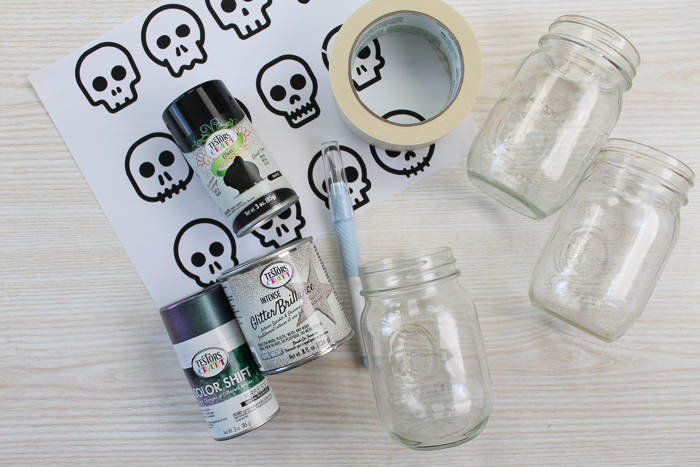 What are Testors Crafternoons?
So, first of all, what exactly are Testors Crafternoons? Well it is when you get together with family and friends for an afternoon of crafting. After all, making something is very therapeutic and so much more fun with those you love. This project is easy enough that crafters of all skill sets can complete it. That, my friends, is what makes it perfect for an afternoon of crafting. You can see my comments at the bottom of this page on how to turn this project into the perfect one for your Crafternoon!
Video Tutorial:
Want to dive right in and just watch these being made? Watch the video below. Plus the only way to really see that color shift paint in action is in video. Trust me…you are going to love the effect! You can also follow along with the step by step instructions below the video if you want!
Step By Step Instructions:
Start with a mason jar that has at least one side that is smooth with no emboss. You want to clean it well before you start. I find that rubbing alcohol works great. Just wipe it on and dry off before continuing. Add a strip of masking tape to the smooth side as shown below.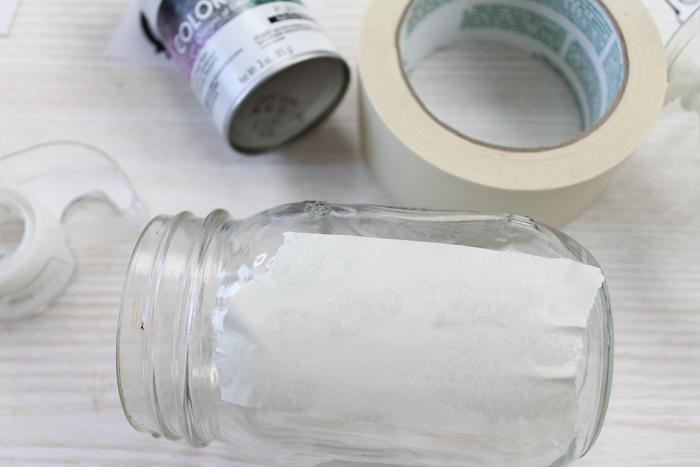 Print the skulls onto regular copy paper. Then determine which of the skull shapes you want to use. Cut it from the paper with scissors and use regular tape to secure it over the masking tape.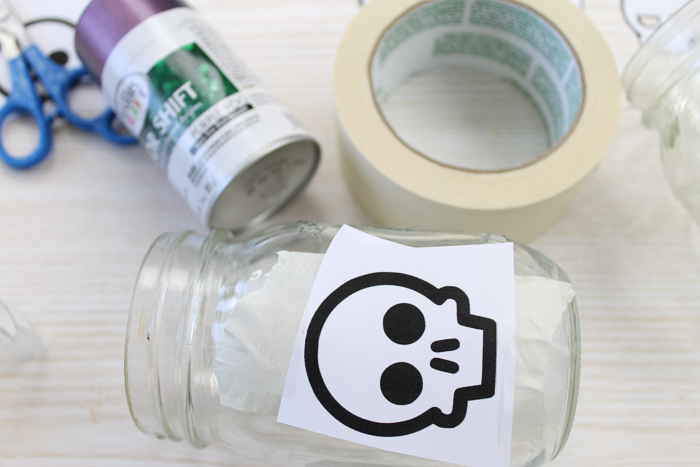 Use a craft knife to go all around the outer edge of the skull as well as the eyes and nose in the center. Be sure to cut through the paper template as well as the masking tape. Do any inner parts like the eyes first then do the outer parts.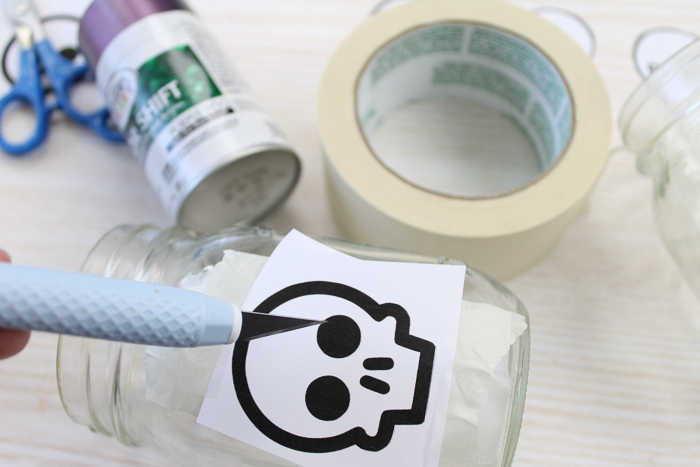 Remove the pieces that you cut and you are left with a skull shape on your mason jar. Repeat with as many jars as you would like. I did a different skull on each jar but you can definitely do the same on each one.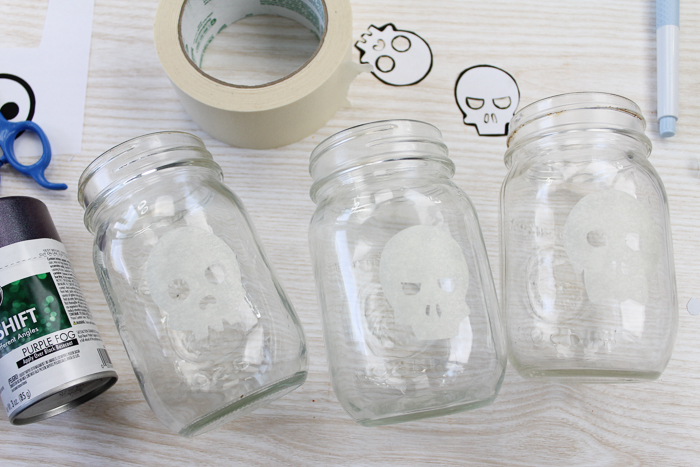 Then take your jars outside for some spray paint. Spray paint them black first. Allow to dry then go over the top with the purple fog color shift paint. Allow to dry before continuing.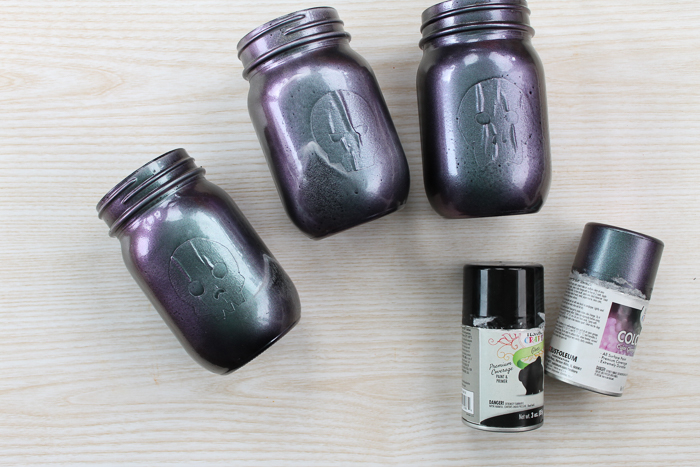 Use your craft knife to help you get under your masking tape and lift the skull shape. You can also cut any paint that may try to peel away with your masking.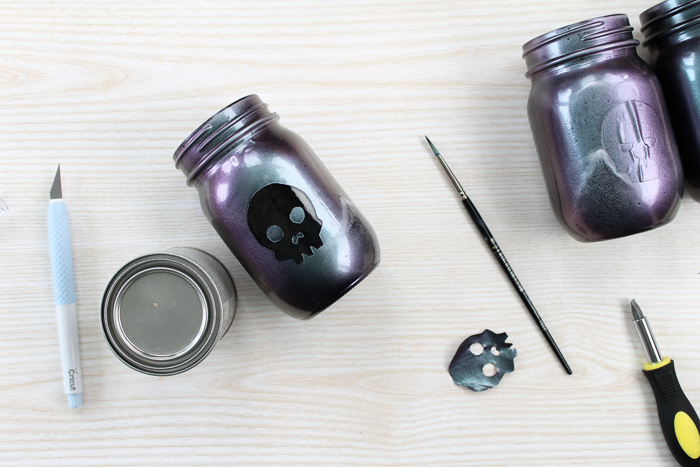 I feel that just about every project is better with a touch of glitter. This step is optional but I love the look it gives these Halloween lanterns. I used just one coat of Testors Intense Glitter paint just in the area where the paint was masked for the skull. Then just allow it to dry.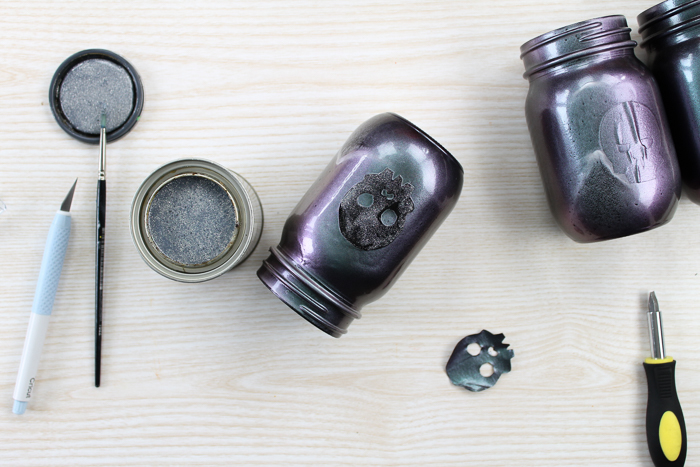 Pop in a candle and your Halloween lanterns are complete! I love the look of the glitter on the skull and how the light shines through!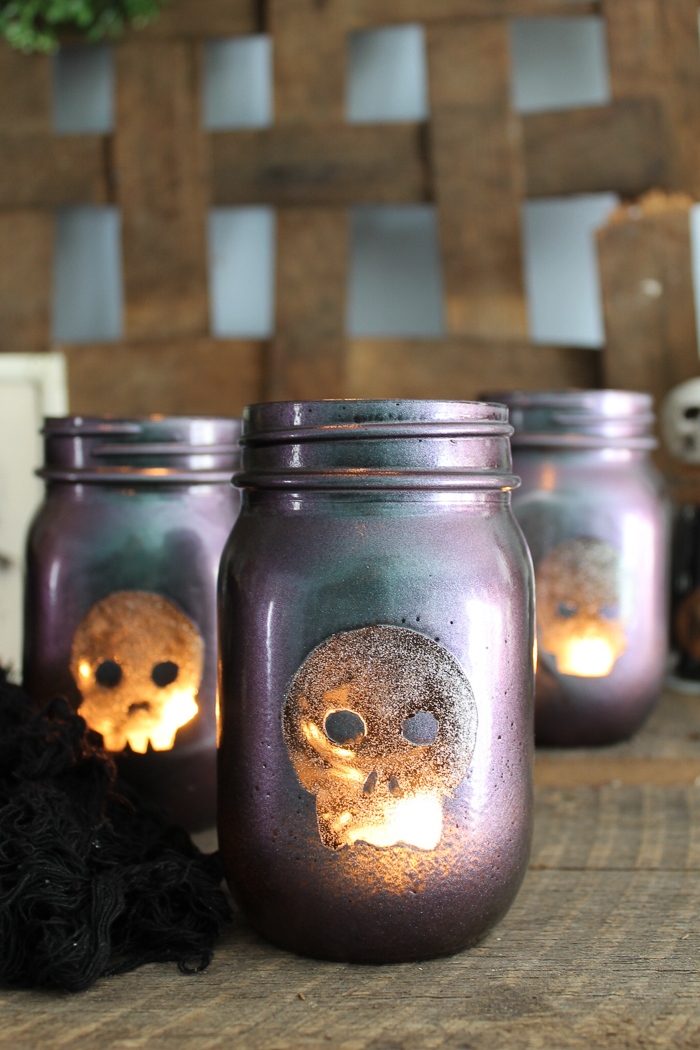 Your Testors Crafternoons Party
So, how do you turn this craft project into the perfect Testors Crafternoons project? I have some tips and tricks below.
Plan an entire afternoon of small crafts around a theme (say Halloween in this case).
Start with this project as it is super simple. Plus they can spray paint their jars black and you can allow them to dry while you work on other projects.
Then take a break from crafting later in the afternoon and spray paint your jars with the color shift paint.
Once dry, they can either carefully remove the masking and add glitter or take home as is. They could skip the glitter all together or add the glitter at home. You could even invite everyone back the next week to add the glitter because your Testors Crafternoon was so successful!
Need more ideas for your Halloween themed crafting party? Stay tuned all month right here because I have more ideas in the works! You might also like this witch legs wreath I made last year.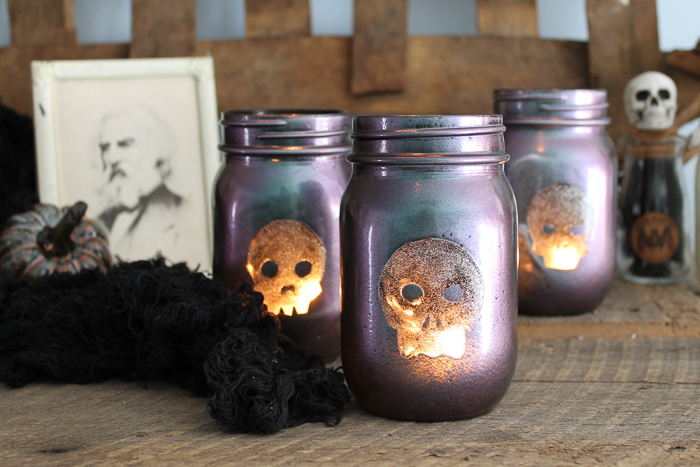 Now that you have a great project, what are your waiting for? Make these Halloween lanterns with your family and friends by hosting Testors Crafternoons. This fun party idea is perfect for those that love to make things!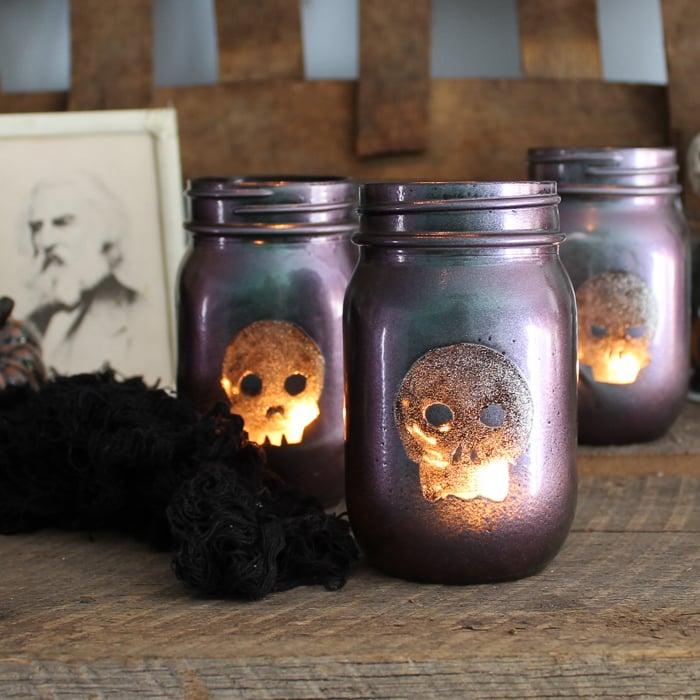 You may or may not be able to tell in these pictures, but that Testors Color Shift paint really changes color from different angles. I am in love with the effect and that you can get it right out of a spray paint can. It really makes these jars something special so be sure to add that even if you skip the glitter step.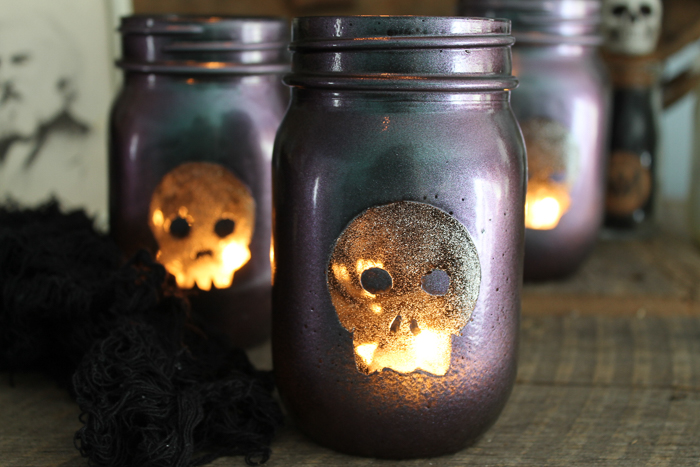 Now, grab your supplies and plan your Testors Crafternoon today! Everyone will love making some Halloween crafts and you get some quality time with the ones you love! Plus you get to make these awesome Halloween lanterns so it is a win-win!