Did you know that you can use an Epson EcoTank printer for sublimation? Converting this inkjet printer into a sublimation printer is actually fairly easy. And the best part is that it is an affordable way to start using dye sublimation printing at home. So, if you have ever thought about adding sublimation to your craft room, this post is definitely for you!
Want to know more about what sublimation is? Try this post!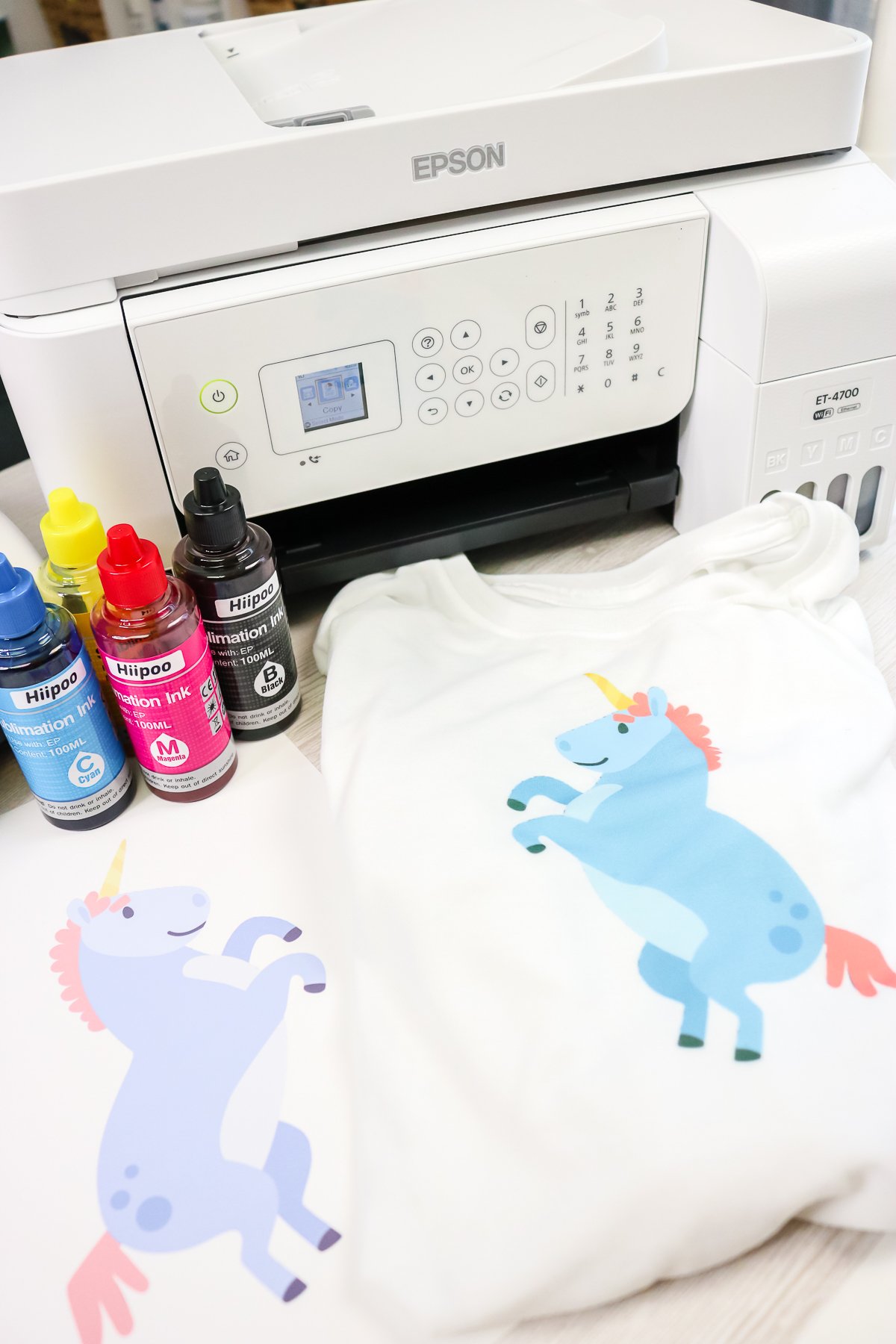 Epson EcoTank Printer for Sublimation
First, let's talk about the supplies you will need for this and what NOT to buy to do this printer conversion.
Which Epson printer?
I did a lot of research on this and I can really only recommend the Epson EcoTank line for conversion. There are ways to convert their other printers but they are much more complicated and expensive. I am using the Epson Eco-Tank ET-4700 and you can get it here it on Amazon and or I ended up buying here from Target. I decided on this particular EcoTank model because it was in stock. You can shop around for other models just make sure it says EcoTank on it!
I do recommend buying the printer new for this process. There are tutorials online for flushing a used printer of the old ink then adding sublimation ink. Apparently this works MOST of the time but does have a fairly high failure rate. If you run into a deal on an EcoTank, definitely give it a try but do note that it may or may not work.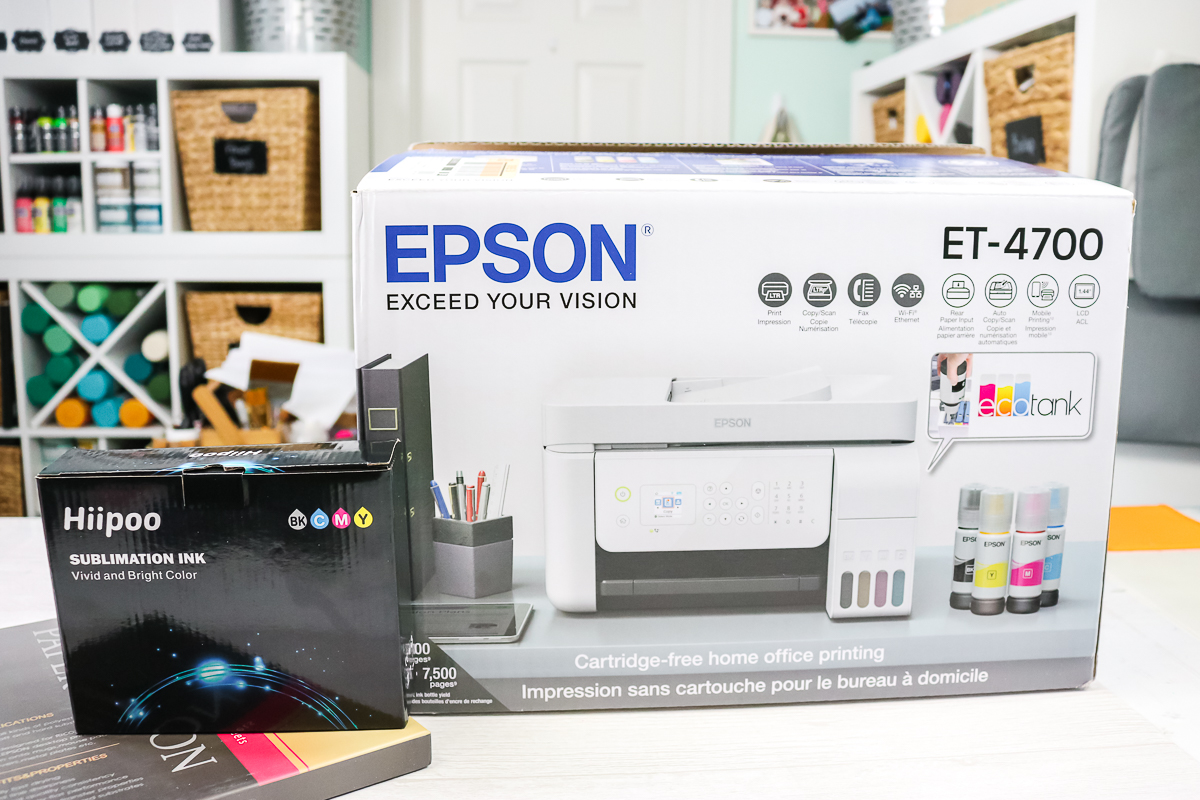 Where to buy sublimation ink?
You will also need sublimation ink for your conversion. I used Hiipoo Sublimation Ink and everything you need comes in the kit including syringes and gloves. I will say that switching ink brands is complicated so I would pick a brand and stick with it if you can.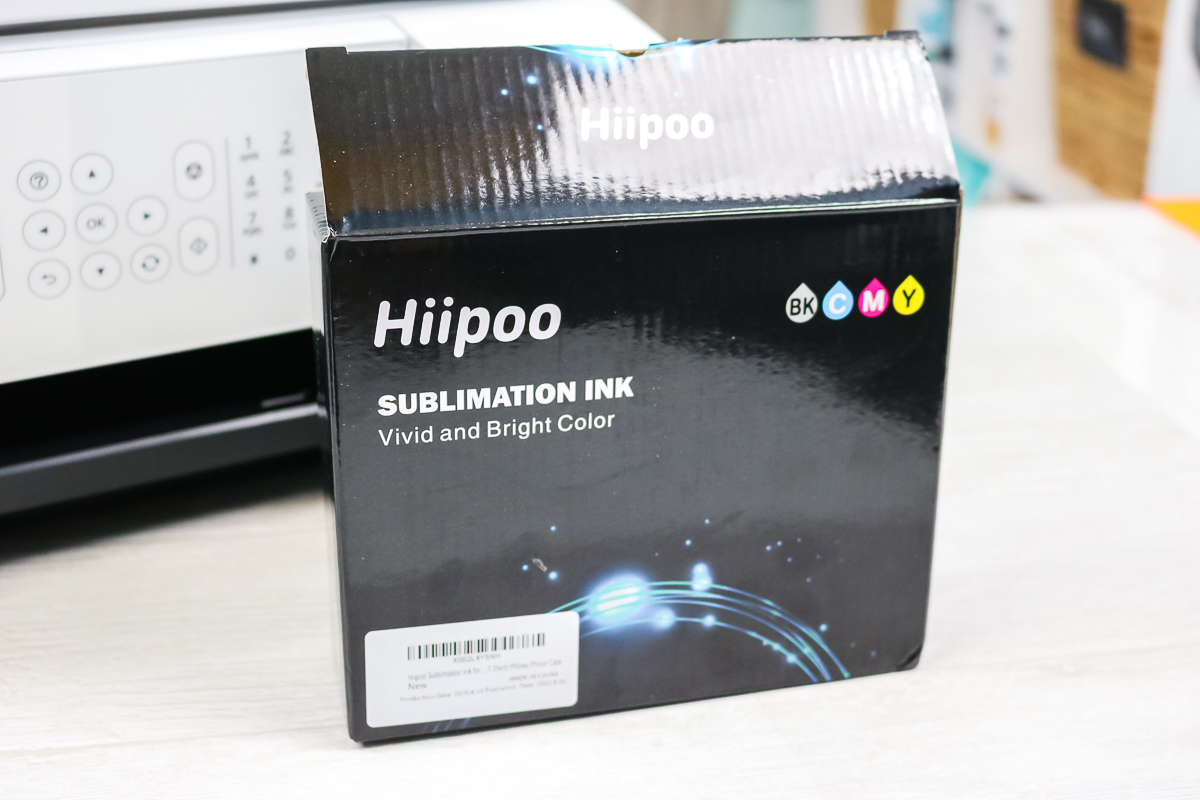 What else do you need?
There are a few more supplies you will need to actually make a project.
You do need special paper when printing with sublimation ink. I will have a paper comparison soon but for now, I am using A-Sub Sublimation Paper.
You can read more about sublimation blanks here in order to choose the correct type of material. Remember that sublimation needs polyester in order to be successful so you do want to choose the right substrate.
Finally, you will need a heat source. A heat press or an EasyPress will work here but you want something that will get to a minimum of 400 degrees F.
How to Covert an Inkjet Printer to a Sublimation Printer
Now that you have your supplies, it is time to make that conversion on the printer itself. You can watch my YouTube video below on how to convert the printer.
Can't watch the video or missed some of the steps? I also have instructions below for you.
Filling Ink Tanks
Once you remove your printer from the box, you can discard or giveaway the ink that comes with the printer. You will be filling the tanks of the EcoTank printer with sublimation ink instead. The printer has ink tanks on the side.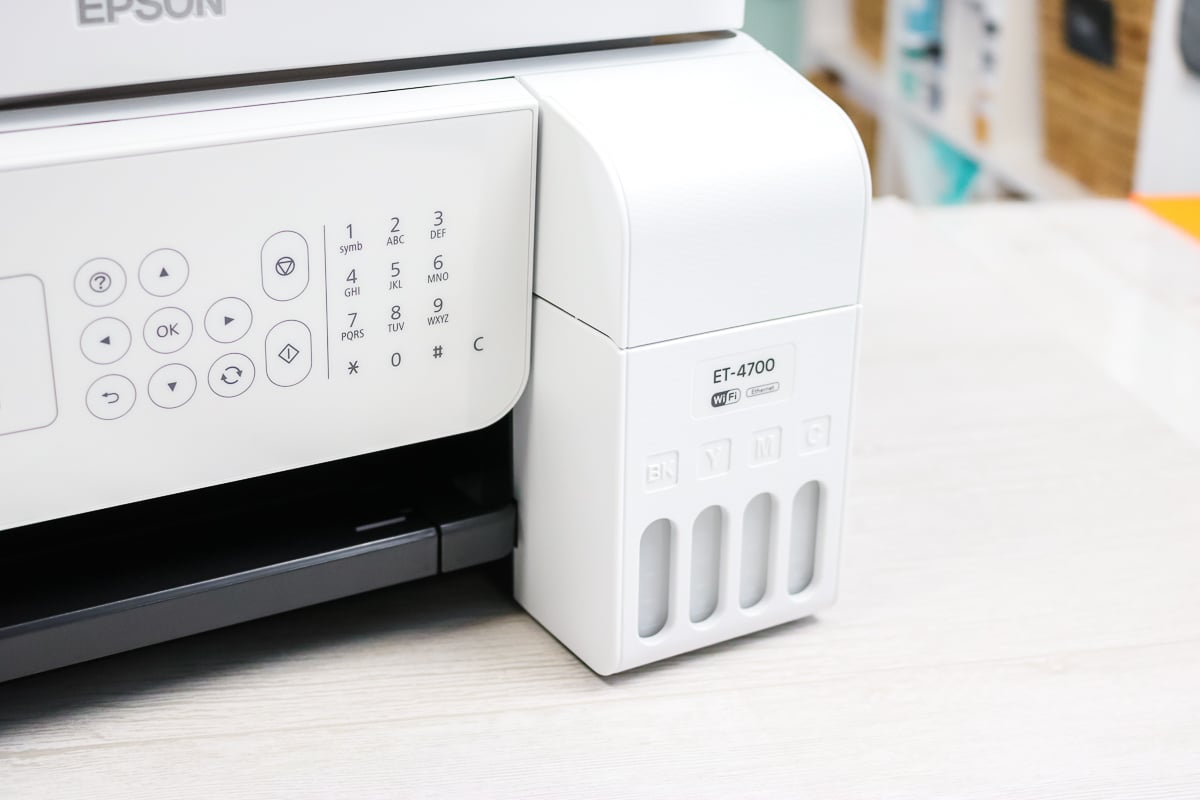 Just flip open the top and you can see each of the tanks. They are labeled with black, yellow, magenta, and cyan for their individual colors.
Each tank has a lid that just flips open to reveal an opening and that is what we will use to fill each one.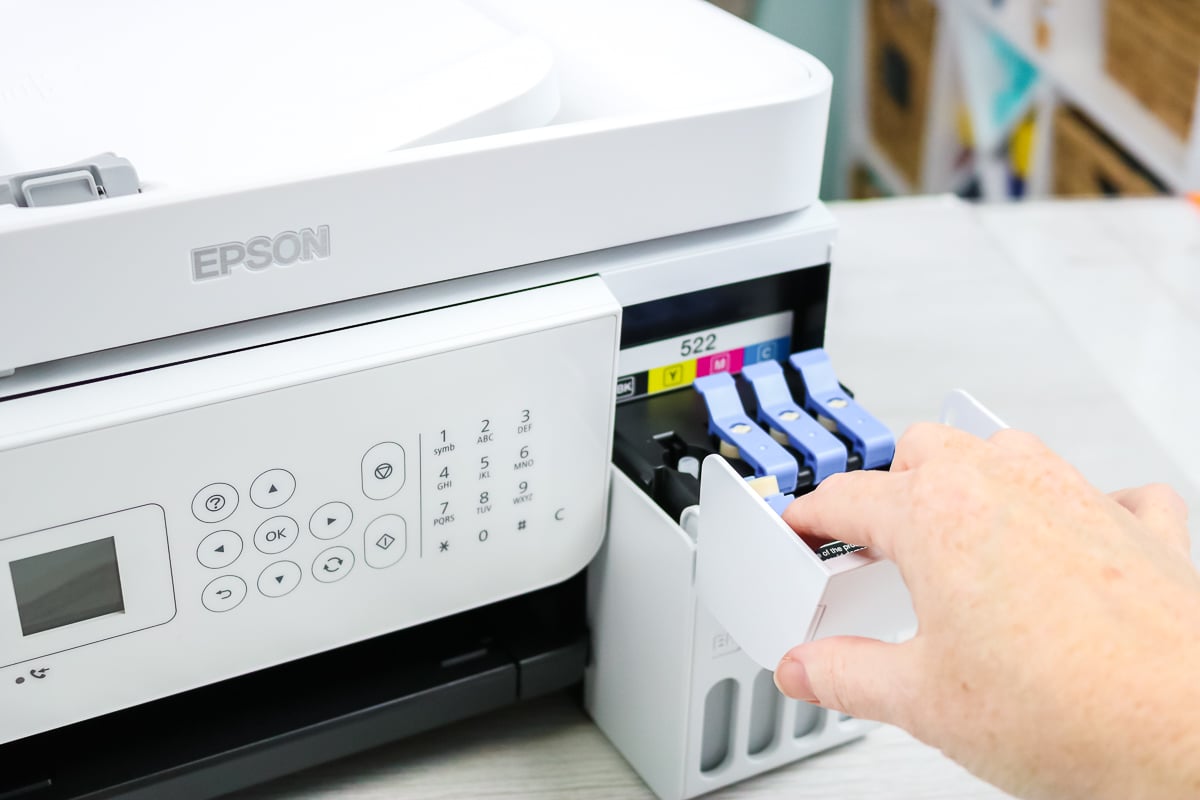 Open your Hiipoo sublimation ink and you will find syringes as well as gloves. I do recommend that you were gloves when working with this ink.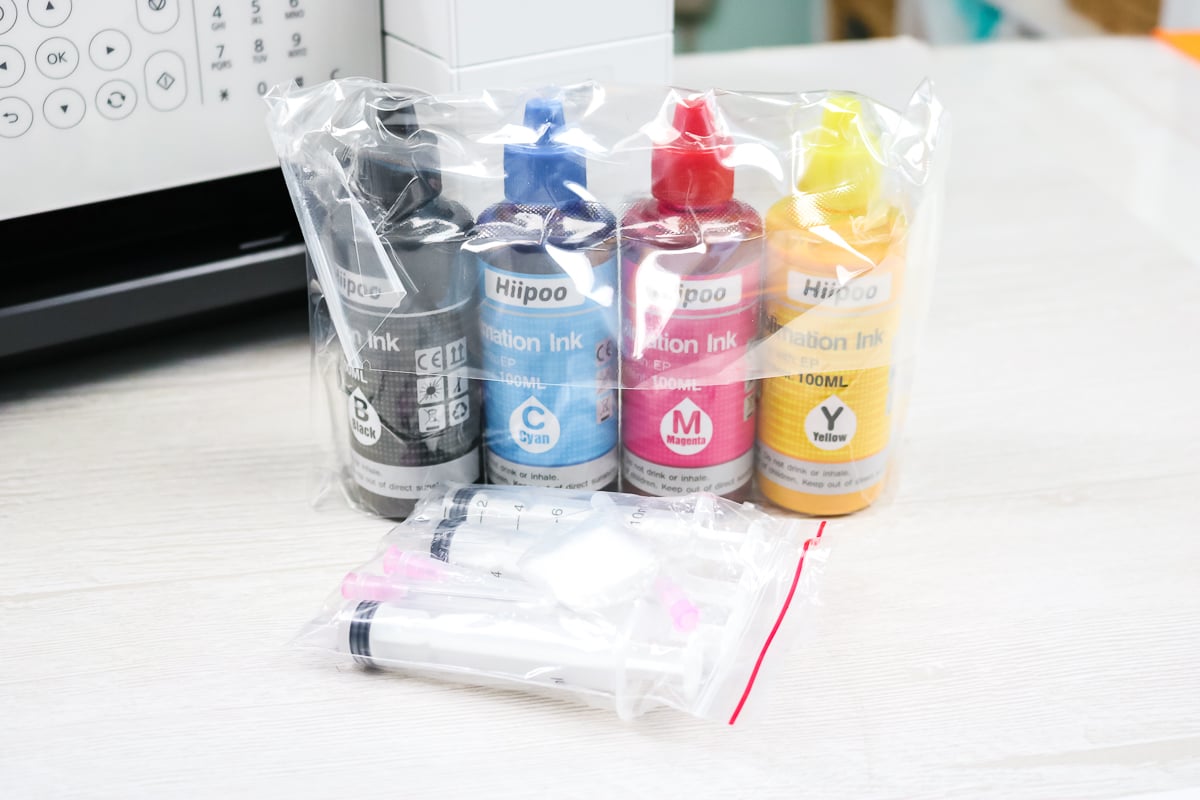 Add the needle portion of each syringe onto the body and you are ready to fill!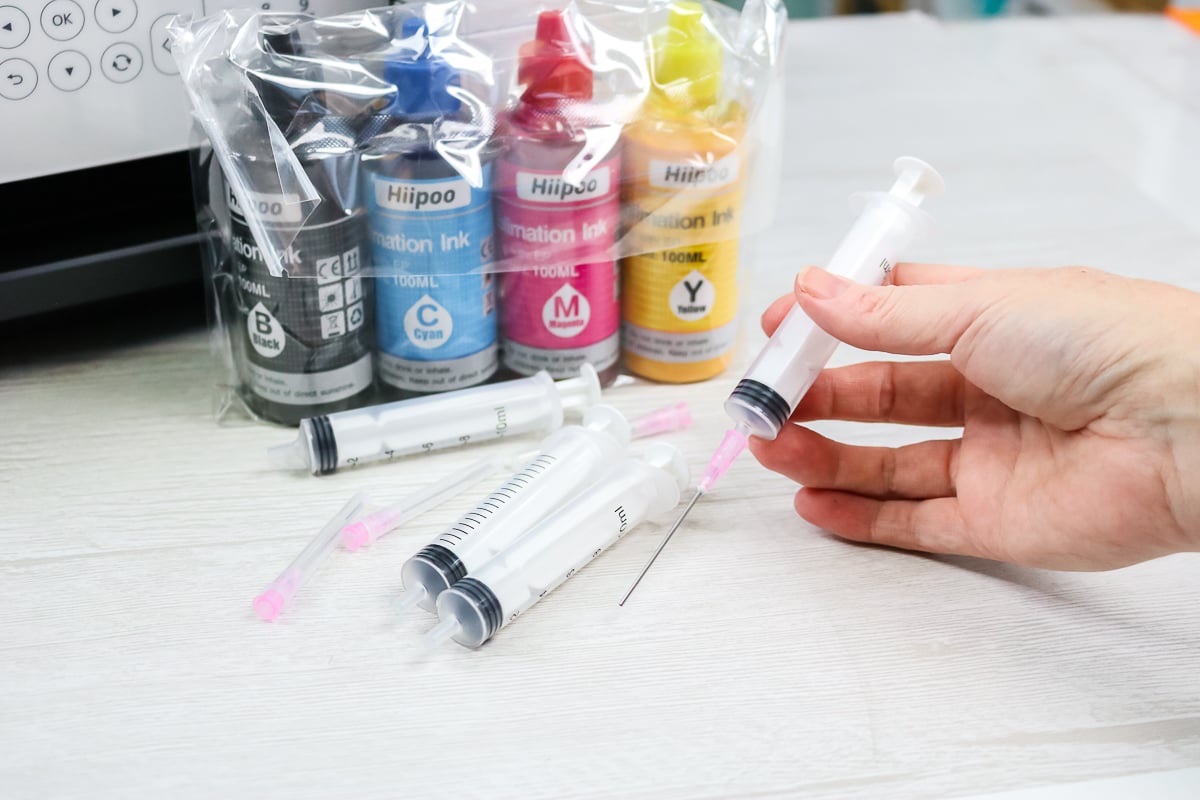 Just add the syringe to the bottle and tilt as you pull back the plunger. Once you have ink inside, put the syringe in the fill hole and slowly squeeze it into the ink tanks. You just have to put it slightly inside as the ink will just flow inside.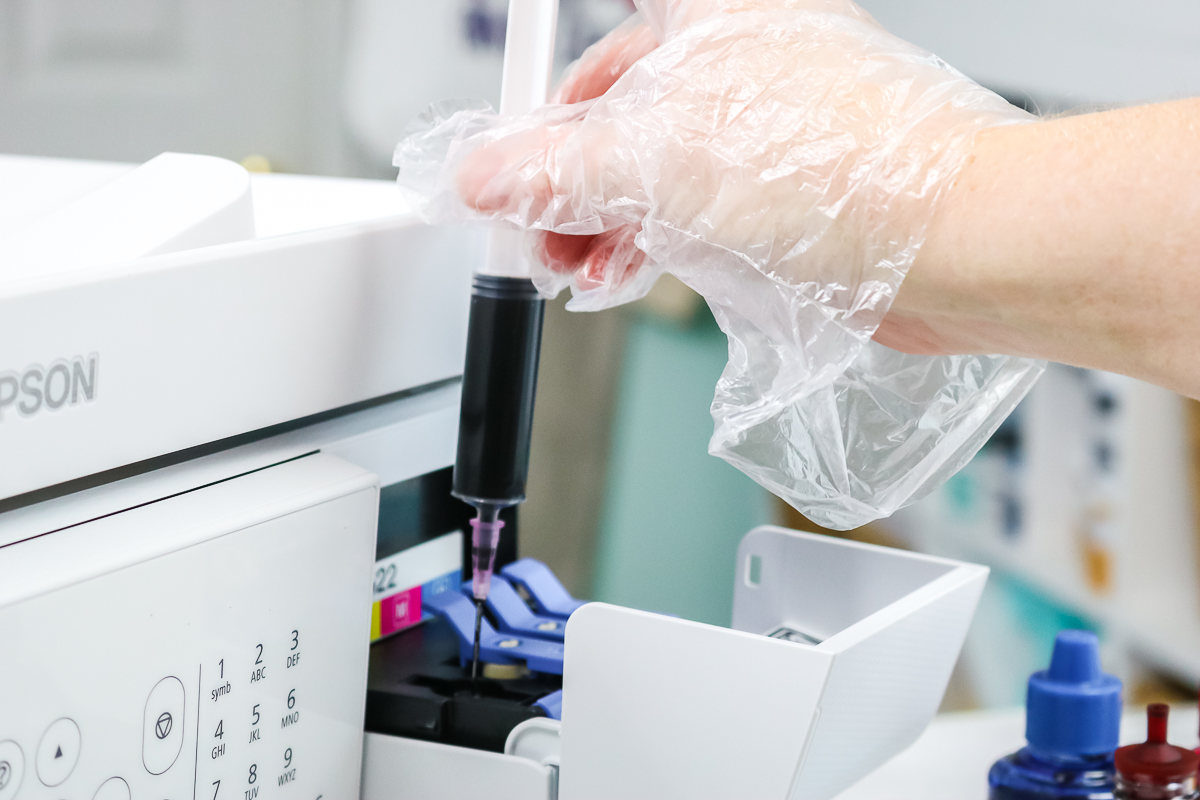 Keep an eye on the windows on the front as they will show you how much ink you have added. You don't want the ink to go past the top line.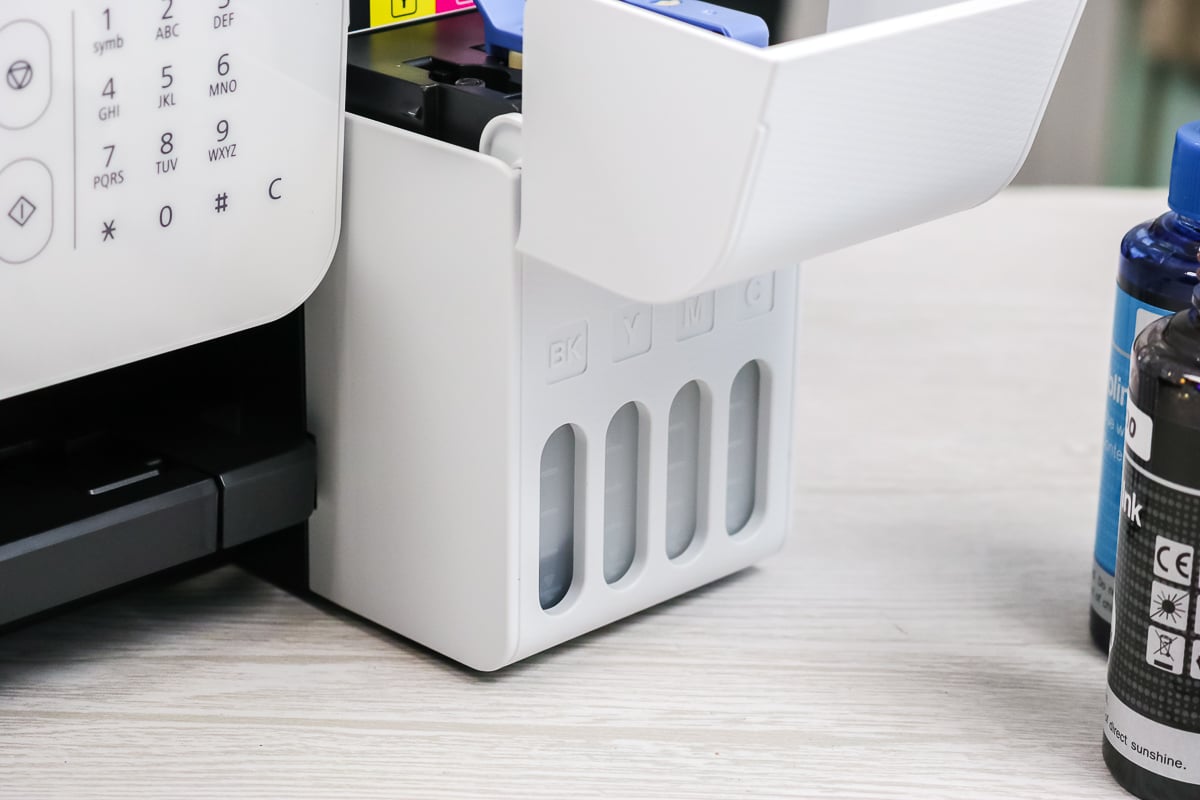 Once you have one color done, repeat the same process with all of your other colors. Be sure to use a new syringe for each color. One thing to note is that it only takes about 1/2 a bottle to fill up the ink tanks so you have plenty of ink in this kit to get started.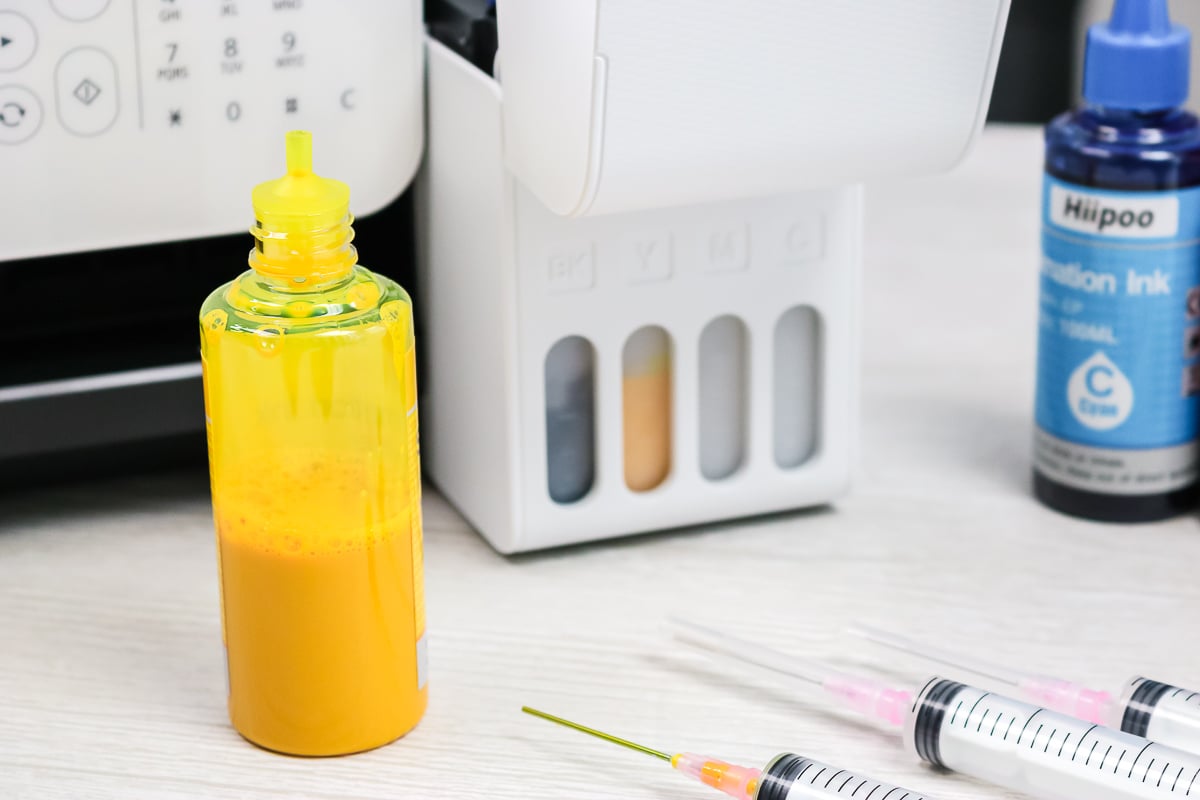 Then, once all of your ink tanks are full, you can move on to setting up the printer. NOTE: Do not plug your printer in until you have the ink tanks full!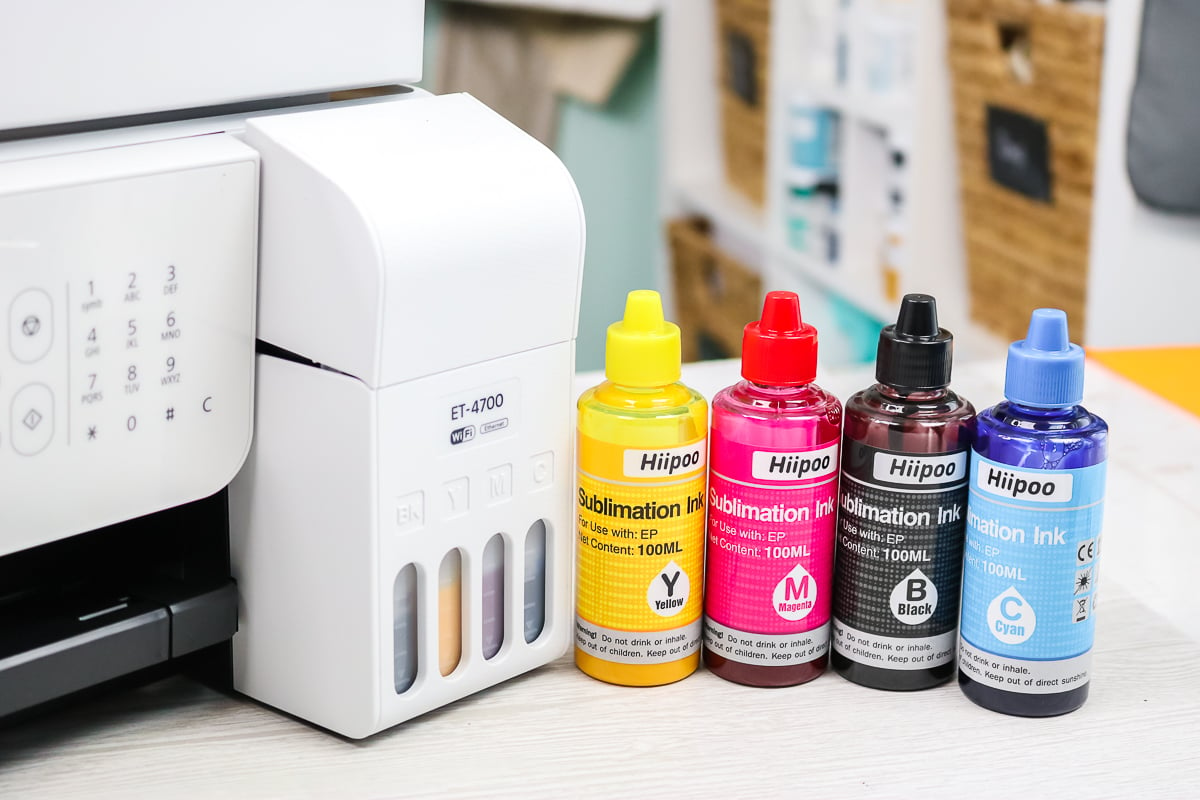 Cleaning and Storage of Ink
Once you are done filling the tanks, run air through the syringes to get all of the ink out. I like to do this into a disposable cup. Be sure to store the ink in a cool and dry place away from the sun.
Printer Setup
Now that there is ink in the printer, we can start the setup. Here is a brief rundown of the steps, however, there is a card in the printer with details for you. NOTE: This only has to be done the first time you turn it on. You will not need to do these steps every time you print.
Plug the printer in.
Turn on the printer and follow the on-screen instructions for setting location and time.
The printer will go through a preparing sequence.
Then follow the instructions on the sheet for buttons to push to initiate the priming of the ink into the printer. NOTE: this will use up quite a bit of ink. You might want to top off the ink in your tanks after this step.
The printer will then go through alignment steps. You can use any paper for these steps. Follow all on-screen instructions.
Now you can hook your printer up to your computer. Either use the disc that comes with the printer or go to the website address on the paperwork to download everything.
I do walk you through the settings in the video above but you do want to make the defaults as premium presentation paper matte as your paper type. You also want the best quality and check the box for mirrored printing. Do all of this in your printer settings and these will be your default every time.
Now you are ready to give your printer a try!
If you like the unicorn image I am using here, click here to get it for free! Another great source of images for projects like this is Yay Day Paper Co!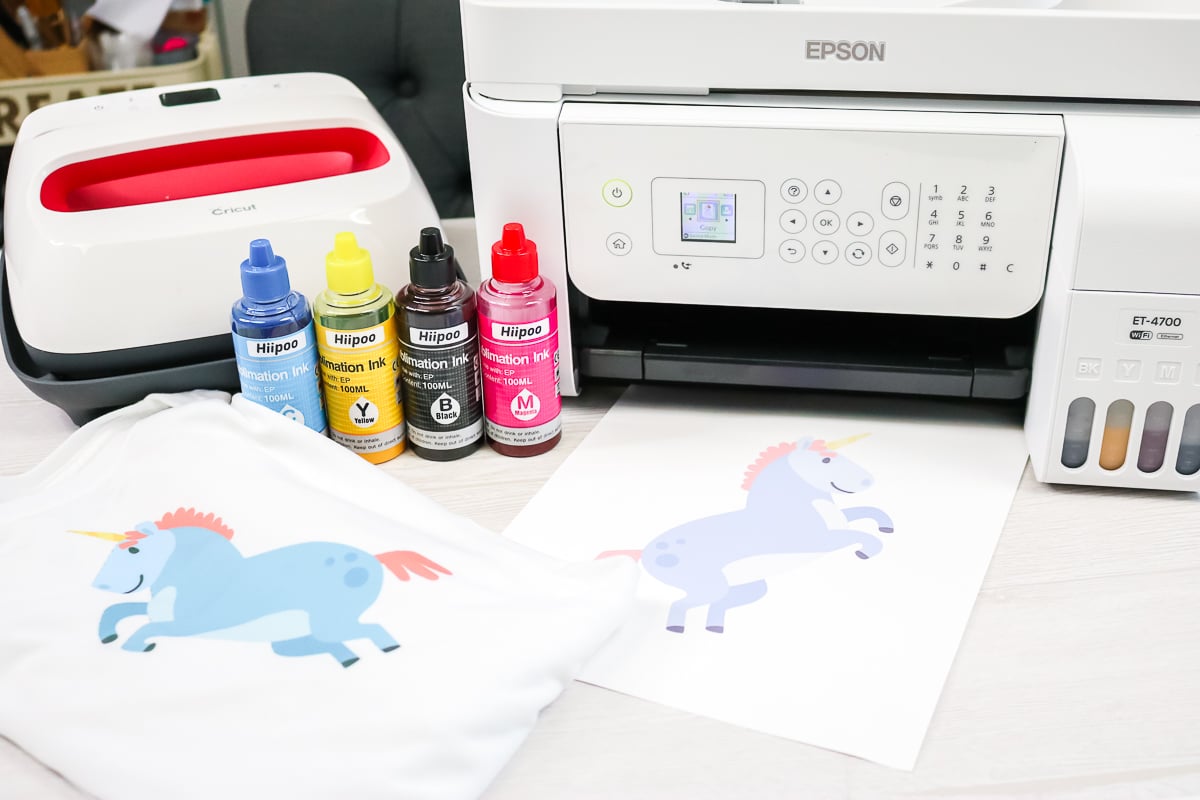 Making a Sublimation Project
So, now that you have your conversion done of your Epson EcoTank printer for sublimation, let's talk about how to use it to make projects.
Printing Your Design
Here are a few tips and tricks for printing with your Epson EcoTank:
Add paper to the rear tray face up. Most sublimation paper will have the "back" marked.
Be sure your settings are correct before printing. You want to be set to the matte paper, best quality, and design should be mirrored.
Remember that you must print on sublimation paper for the process to work.
Hit print and watch the magic happen! Remember that your setting is on matte paper and the tray settings may not match this. You can either hit a button on your printer to confirm each time or change the setting on your printer.
When your design comes off of your printer the colors will be REALLY muted. Black will look grey, etc. This is the way it is supposed to be!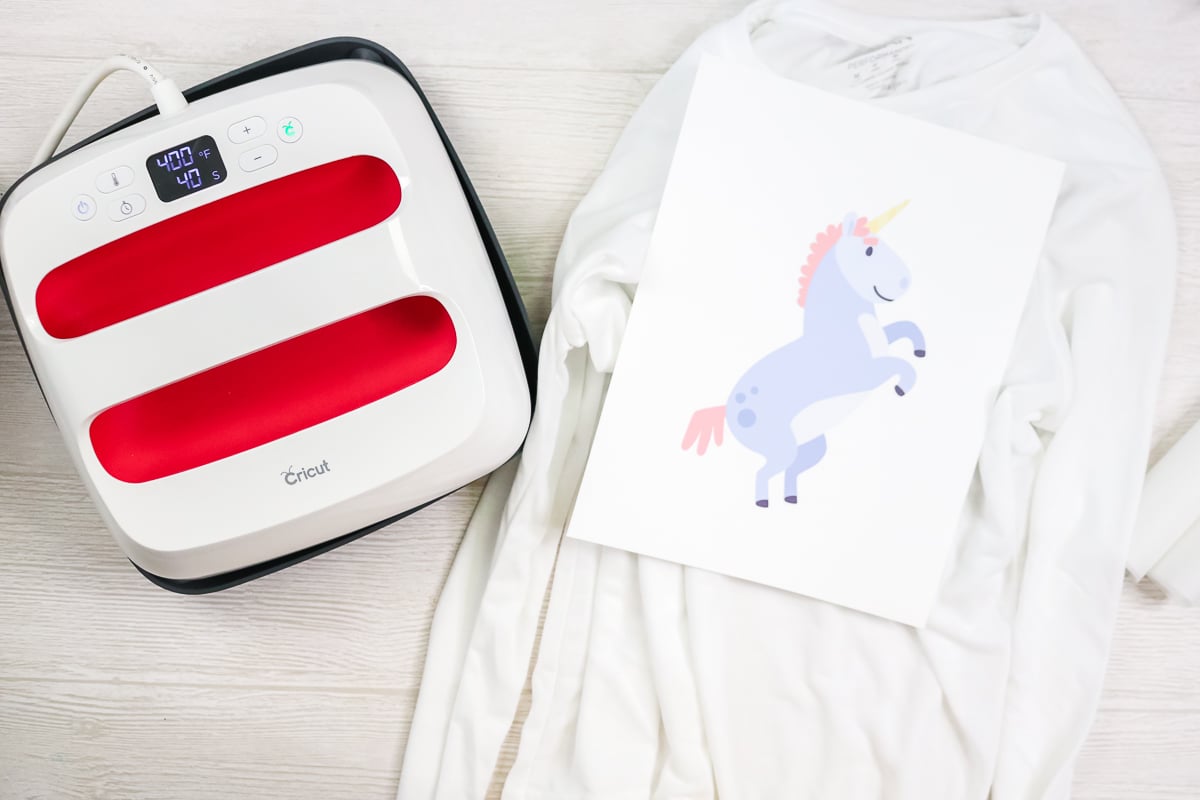 Pressing Your Design
Now that you have your print, it is time to make something using dye sublimation.
Ensure you have your polyester or polyester coated blank. I always like to preheat my blanks in order to remove moisture/wrinkles. You can also run over it with a lint roller to pick up any debris.
Then place protective paper inside your shirt or under your blank. Add the design on top ink side down. Tape into place with heat resistant tape as you don't want it to move.
Then add protective paper on top and press for the right time at the right temperature. Check with your blank manufacturer for these settings or there are usually generic settings with sublimation paper.
Once your time is complete, lift and allow to cool enough where you won't burn yourself. Then remove your paper to reveal your gorgeous sublimation project!
Take a look at the image below as the left is a shirt after pressing and the right is the print off of the sublimation printer. What a difference it makes once it is pressed!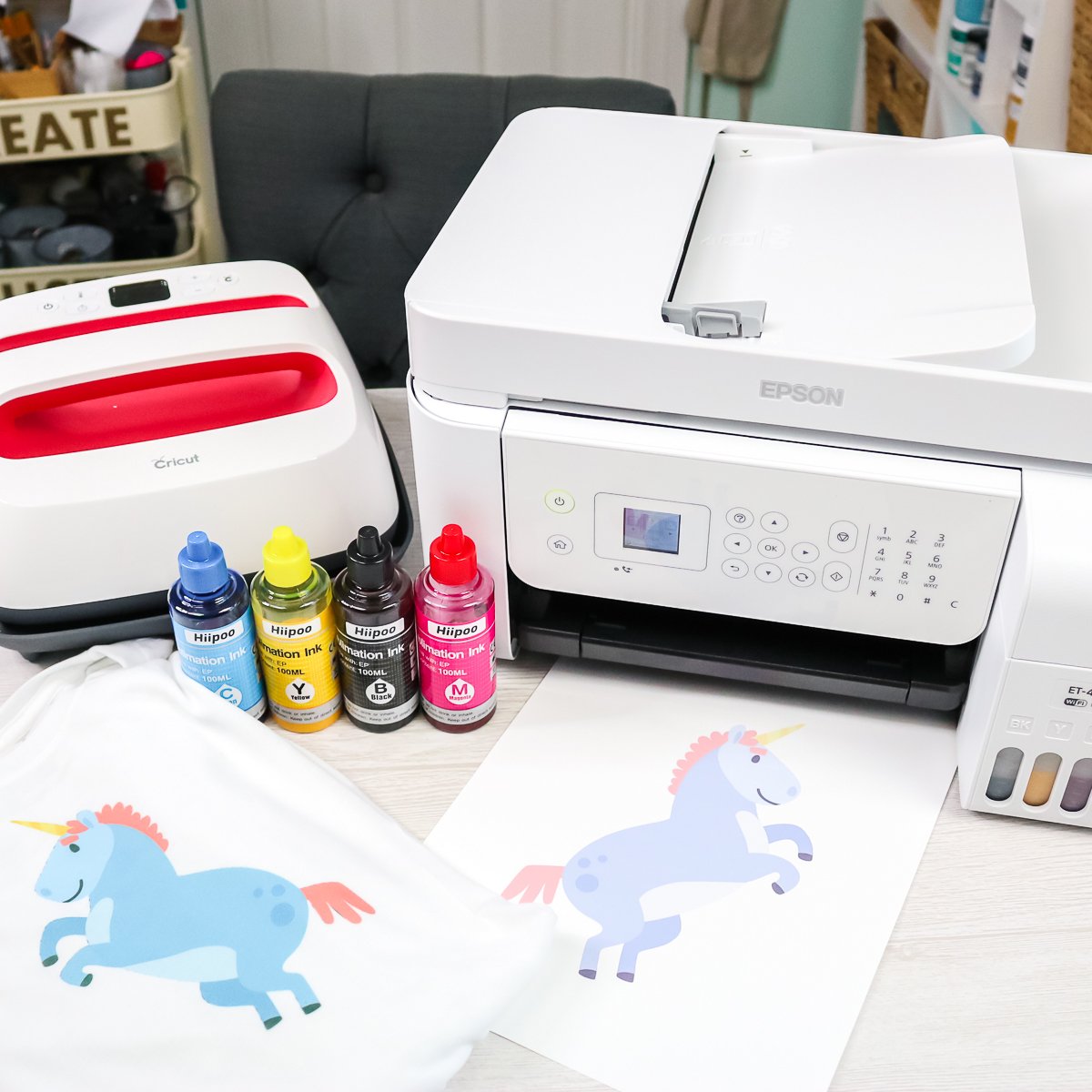 So, are you ready to use an Epson EcoTank printer for sublimation? I think you will love the results! If you have been wanting to try sublimation for yourself, this is a great way to do that!
If you love this sublimation project, you will love the links below as well!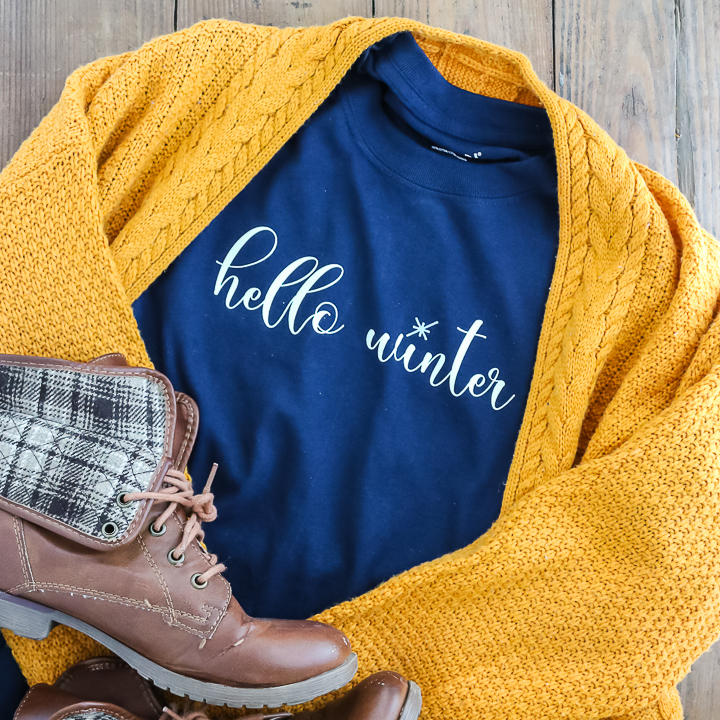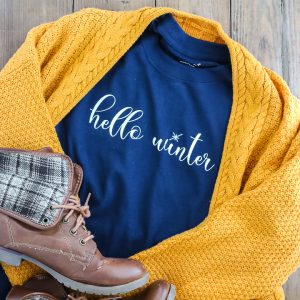 Adding Sublimation on Flocked HTV
Grab your sublimation ink and put it right on top of flocked heat transfer vinyl!
Read More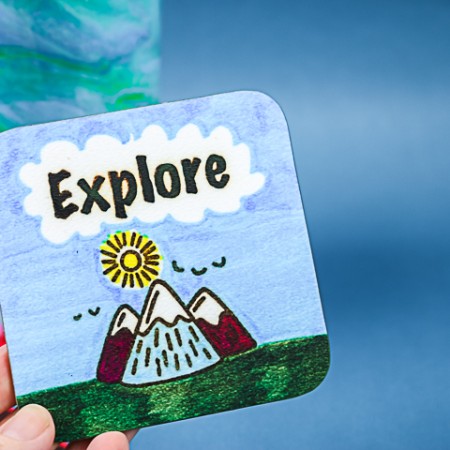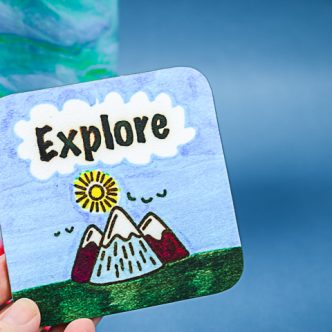 Sublimation Stamped Ink Coaster with Words
Add sublimation ink to a coaster with a stamp pad and this method.
Read More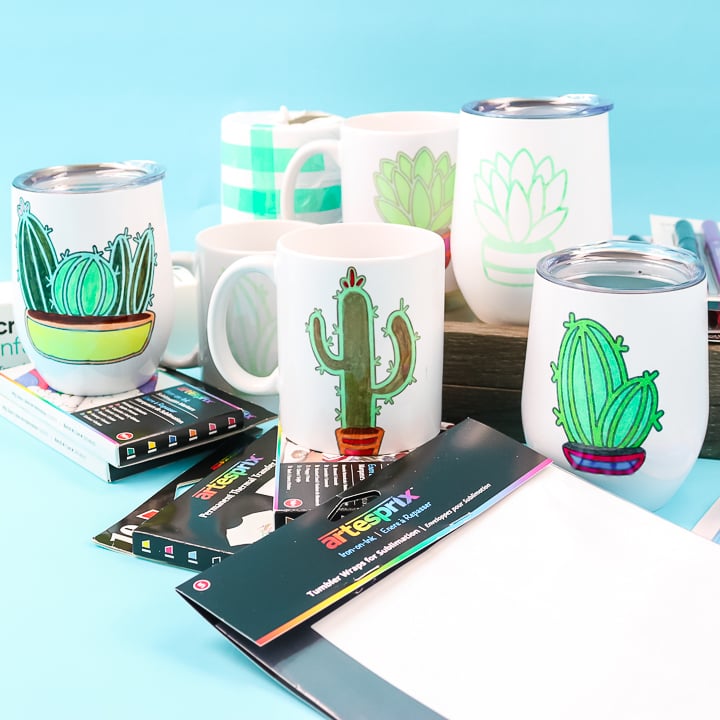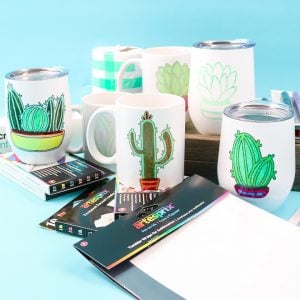 How to Do Sublimation on Mugs in an Oven
Use a small oven to add sublimated ink to mugs and tumblers with our technique and tips.
Read More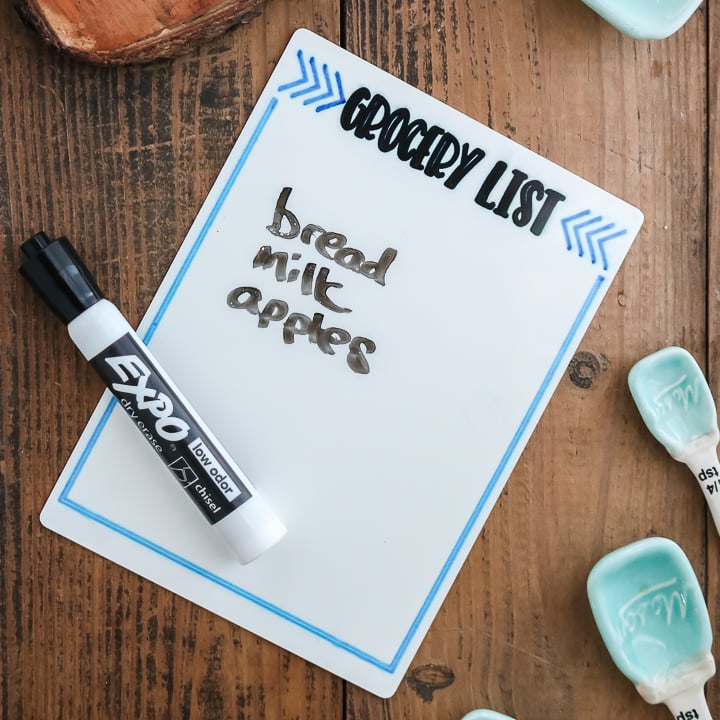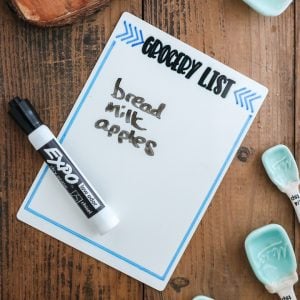 Grocery List Board with a Free Kitchen SVG
Make a dry erase grocery list board with sublimation markers and this organization SVG file.
Read More