Did you know that you can make fabric pumpkins in just 5 minutes with no sewing required? I used some burlap but any fabric would actually work for this same project. It is so quick and easy and you will love the results. Imagine saying you made this quick and easy fall decor yourself! Grab some fabric scraps and get started right now.
Supplies needed to make fabric pumpkins:
Fabric (I used burlap but any small pieces will work well)
Rubber bands
Driftwood pieces
Green fabric or burlap
Hot glue and glue gun
Hot glue finger protectors (optional but recommended)
How to make fabric pumpkins:
I actually made these little burlap pumpkins in a LIVE video! You can watch just how easy they are to make in real time below. Along with a bonus tip on how to cut burlap straight.
Pretty easy right? If you can't watch the video or missed any of the steps, here are the instructions.
Start with a piece of burlap. The size and shape will determine your final pumpkin look. Play with different options.
Gather up one end around a piece of driftwood that is laying inside of the burlap
Wrap a rubber band around this end tightly.
Wrap a rubber band around the opposite end as well (gathered just around itself with no driftwood).
Turn the entire thing around through the seam putting the rubber bands to the inside and the driftwood to the outside.
Add as much stuffing as you desire.
Hot glue the seam closed. Use finger protectors if you have them otherwise be extremely cautious.
Cut a leaf shape from green burlap and hot glue to the top.
Move your stuffing around with your hands to get the look you want.
Your fabric pumpkins are complete and ready for display.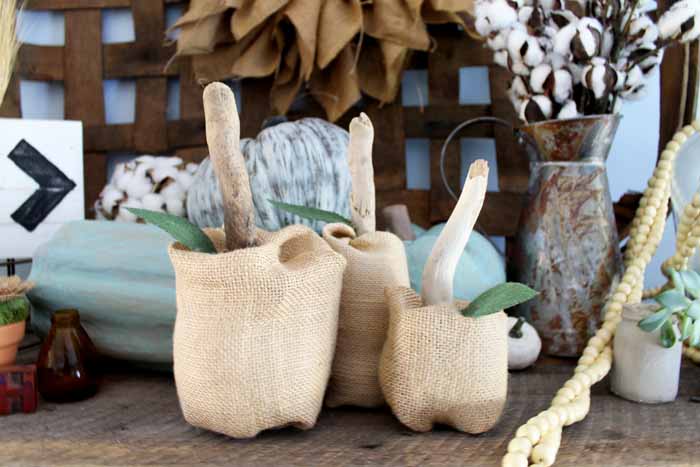 These rustic pumpkins are perfect for your home. Y'all know you want to make a batch to add to your fall decor.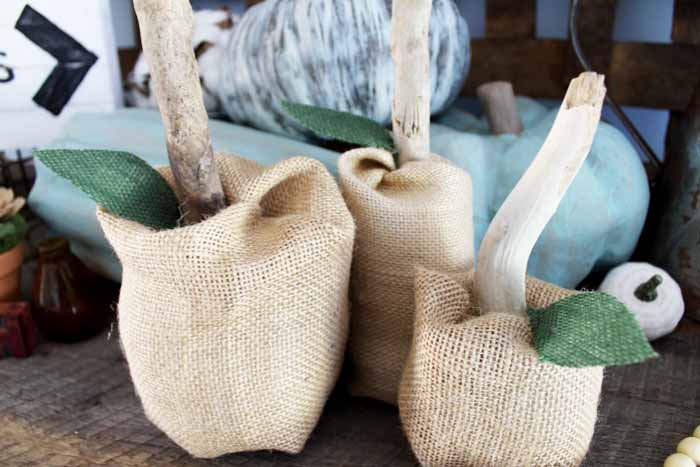 How many no sew fabric pumpkins will you make? I stopped with three but I believe I could make an entire pumpkin patch with this super simple craft. Three cute burlap pumpkins in under 15 minutes? That is my kind of craft project!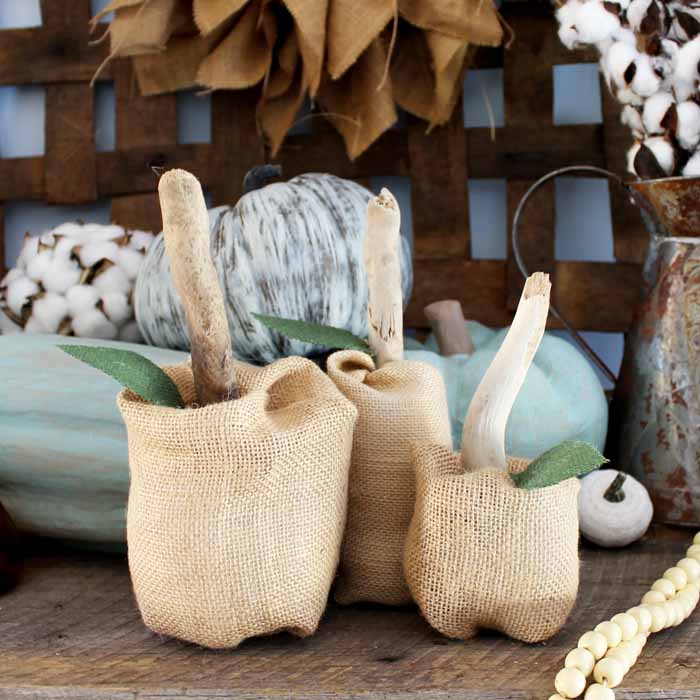 Love no sew fabric pumpkins and want more options? Try the links below!