Jen Goode with 100 Directions is back this month with some great DIY fall leaf gift tags. Make these simple tags in minutes and add to any gift idea!
Did you know you can make your own DIY fall leaf gift tags with leaf rubbing art? Oh yes! Leaf rubbing isn't just a kid craft, it's a great way to make some art without having to draw the designs. Add your own color combination and you've got yourself a pretty accent for all your fall hostess gifts. Don't worry, if you prefer to make the gifts, not the tags… I have a free printable you can use with my own leaf rubbing art.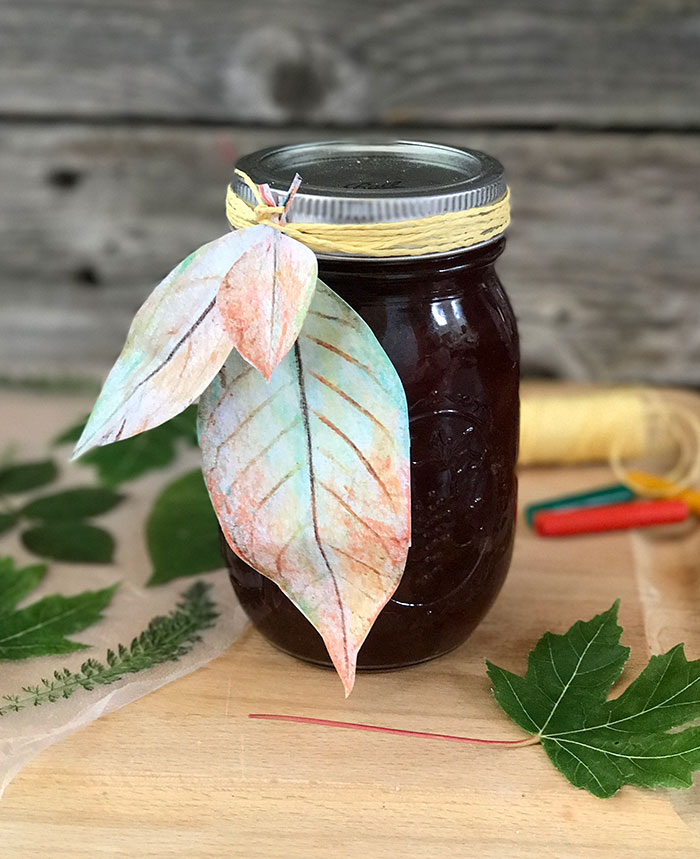 DIY Fall Leaf Gift Tags
Whether you make your own leaf art, or you create tags from printable fall leaf art, the handmade touch will be fabulous! Fill those pretty mason jars with your favorite jams, jellies or even sugar scrubs and bath salts and then add a few pretty fall leaves to finish the look. I tried to come up with a clever saying to add to the tag, but I'm really better at coloring than wording (grin). You can make this same leaf art project for any season, just change the colors you use when you create the leaf rubbings.
Materials
Fresh Cut Leaves
Paper
Crayons
Twine
Mason jar and lid
Note about leaves: you can use any kind of leaf to make a leaf rubbing. However, a fresh cut leaf is going to be the most sturdy with nice, distinct viens and stems. Dried leaves tend to break or crack as you create the rubbing art, so a fresh leaf works best.
Instructions
Either download and print out the leaf art or create your own.
To make your own leaf rubbing, simply place a piece of paper on top of a fresh cut leaf. Gently rub a crayon across the paper until you start to see the leaf design. Continue to rub color on the paper to get the look you'd like. I like to start soft and gradually add more pressure as the design begins to show. If you need more detailed instructions, head to my site for a tutorial on leaf rubbing or skip the art making moment and download the free leaf rubbing printable.
Cut out the different leaves you'd like to use.
Wrap twine around the lid of your mason jar and add the stem of the leaf so the twine holds it in place. Optionally, you can apply a little bit of glue to hold the leaf in place.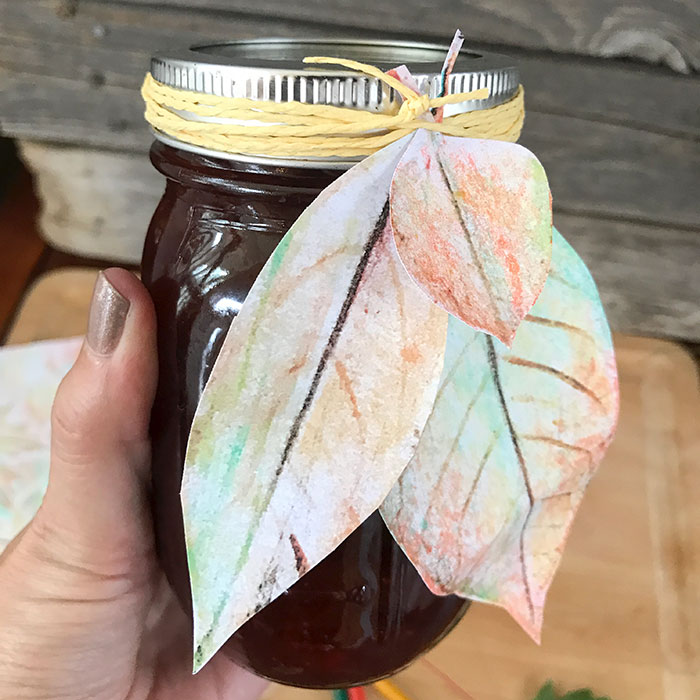 What I really love about leaf rubbing art is how the colors and blending are never the same. You can overlap the crayon colors and get some really pretty layers of color. Even if you are using the printable leaf art, you can add in your own extra color using crayons, colored pencils or even watercolor paints.
More leaf crafts:
Fall Felt Leaf Garland, Washi Tape Fall Leaf Garland and another fall leaf printable you can use for your mason jar gifts.
Use this art to make all kinds of Fall decor, accents and even note cards for friends. Have fun, I can't wait to hear all about how your DIY leaf gift tags turn out!