I am so excited to share my simple fall mantel decor. This one is so easy to pull together and will look great in your home. Use these fall decor ideas to make a fall mantel in your space. I know I love adding fall colors to my home every year. If you do as well, try these ideas in your home for a mantel you will love to display all season as well as on Thanksgiving Day.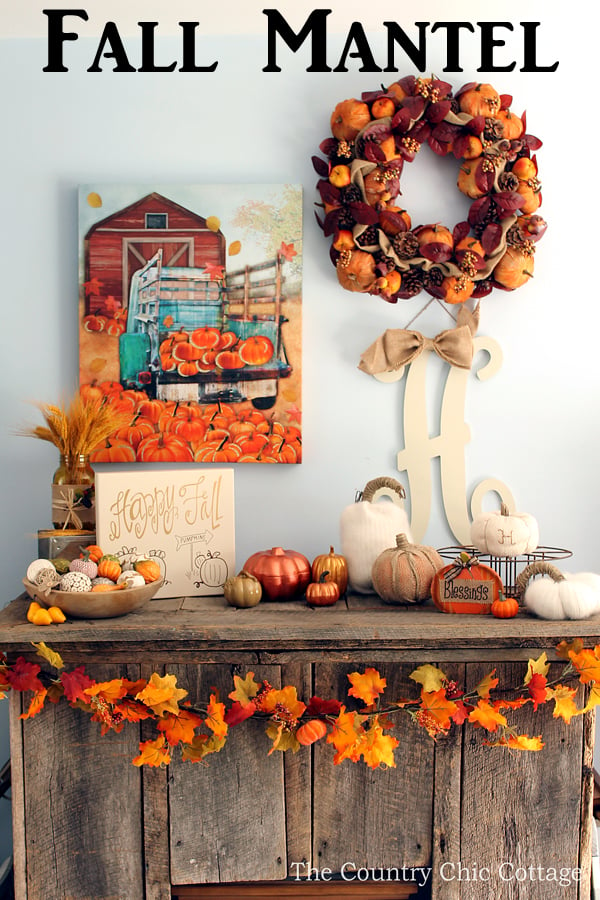 Simple Fall Mantel Decor
The new items I purchased came from the fall section on Kirkland's website. You can search there or find other sources for similar items. Use the tips below to make a shopping list then find items that will work in your decor.
Idea #1: Start with one main focal item.
I came across the perfect item to decorate my mantel around. This truck in a pumpkin patch canvas had me! A rustic barn mixed with a vintage truck plus fall pumpkins. Be still my heart.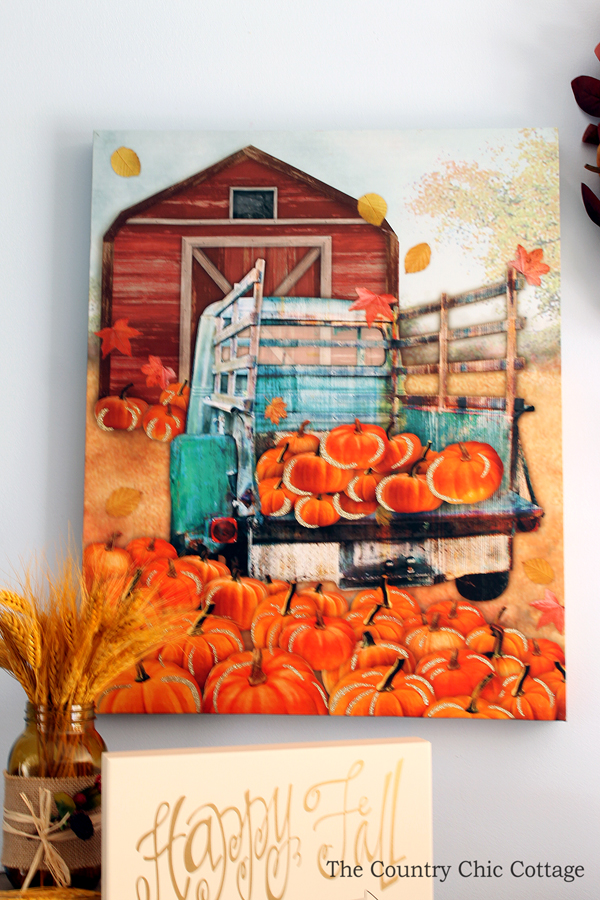 Idea #2: Find coordinating options that work with your focal item.
I added in other items that I thought coordinated with the canvas. I wanted a wreath and this pumpkin and pine cone wreath was my personal favorite. You can find other gorgeous fall wreaths or even make one. What mantel is complete without a monogram? Not mine that is for sure! This cream monogram will look great all year long in a variety of places.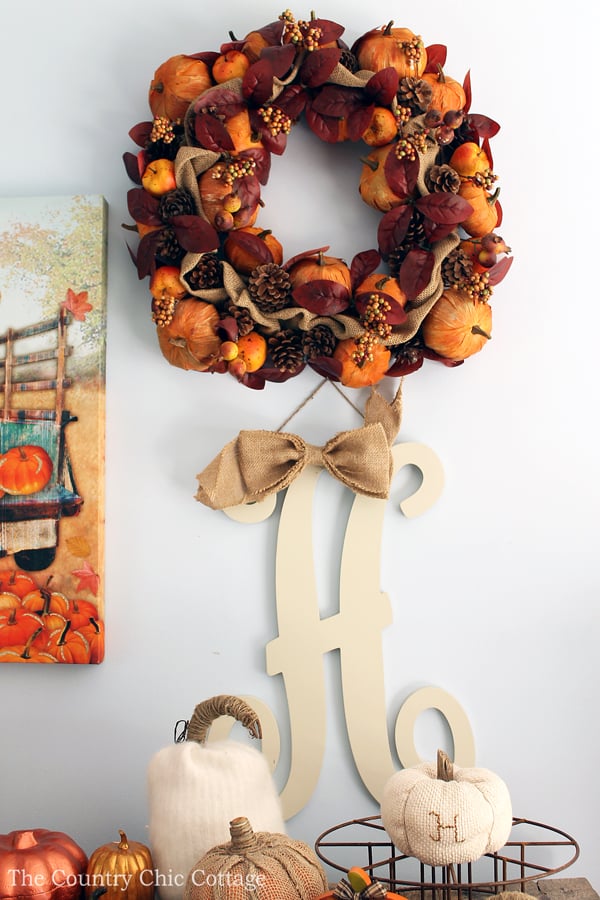 Idea #3: Fill in with smaller items.
I wanted a few items to set on the mantel as well. This happy fall sign was definitely my favorite. You can also see how to make those baker's twine pumpkins or paint faux pumpkins with metallic paint like the ones pictured below.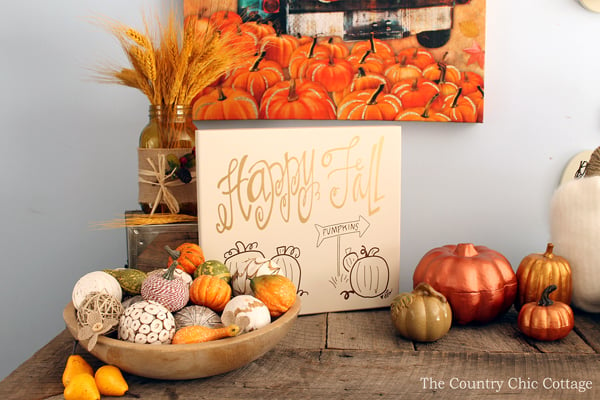 The other side of the mantel includes my sweater pumpkins, burlap pumpkin, and monk's cloth pumpkin.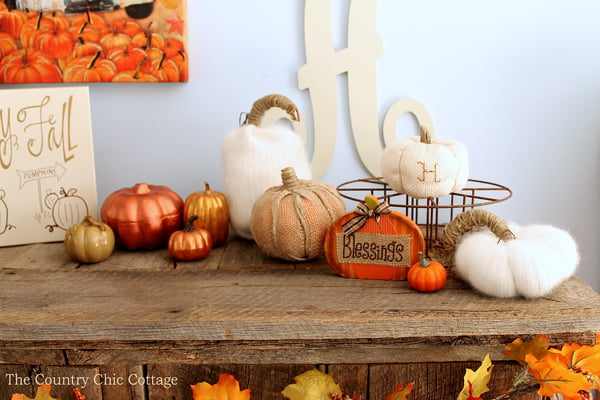 Idea #4: Don't forget the garland!
The front of the mantel needed a little something as well. I used this pumpkin and leaf garland to complete the look. You could even make your own.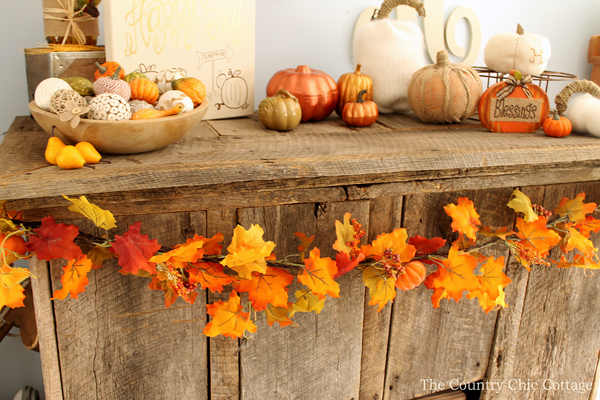 My fall mantel is complete and looking very festive! You can also see more about our barn wood mantel here. It is definitely the perfect touch to complement the rest of the pieces I chose.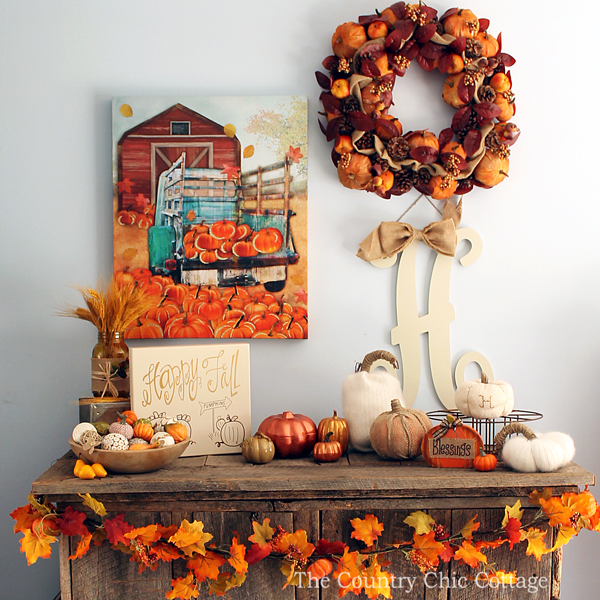 These ideas will allow you to decorate with simple fall mantel decor around your home. So, use our ideas to make a shopping list and start looking for those perfect items today. You will be so happy to see it all come together.