This morning I'm bringing you a great way to hang your flowering baskets outside plus reuse some old farm equipment at the same time. A few days ago I showed you how I feed my landscaping now I am going to show you a great product for container plants. But first lets talk about this farm equipment lawn art and how to make your own.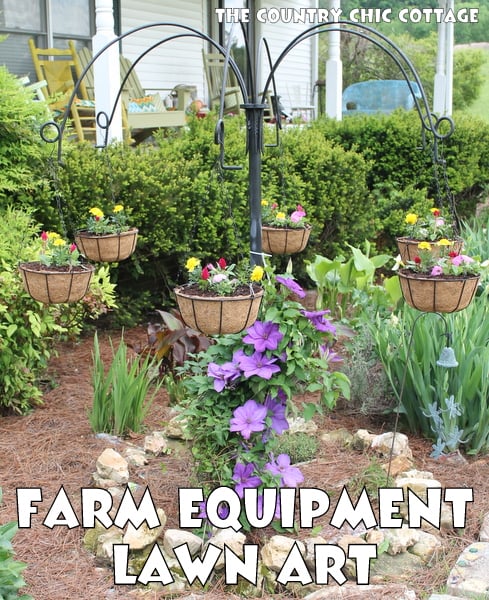 Again it was my welding hubby to the rescue on this one. I have actually had this about 12 years. Still looks great right? All I do is use some spray paint on it every year or two. It holds plants every year and looks great doing it. Hubby took some
hay rake teeth
and ran them through a metal disc that he had drilled holes in. This is key if you don't want your rake teeth to break after a few years. Then weld your rake teeth to a center post and the disc. Paint black and you are ready to hang.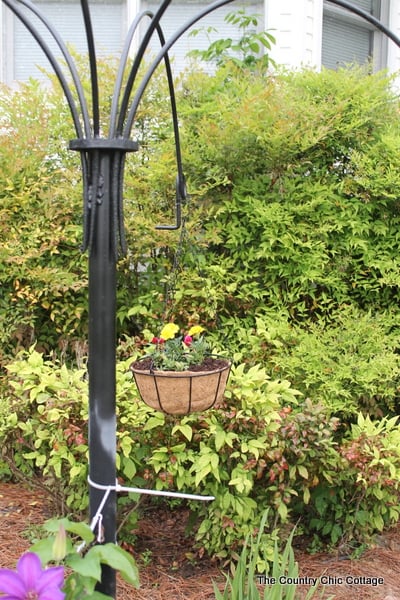 The ends of the teeth already have these great loops perfect for
hanging baskets
. It takes six of the hay rake teeth to make the version that I have. Around here you generally see these old rakes rusting in fields as they are obsolete. Stop and ask a farmer if you can purchase a few of these for your project.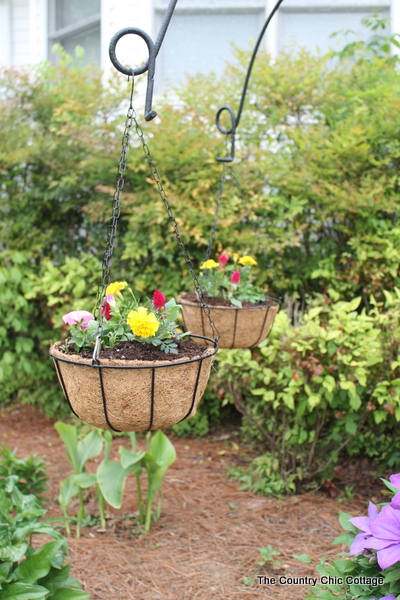 Now for my tips on planting those
coco lined baskets
. My first tip is very important y'all. These types of baskets can dry out very quickly in the summer sun. To keep more moisture in your baskets, use a couple of plastic grocery store bags to line your basket before you plant in them. You can cover up the edges of the bag with dirt so you won't even be able to see it. But this little tip will save you time and money this summer when you don't have to water as much — plus your plants stand a better chance of survival! Win win right?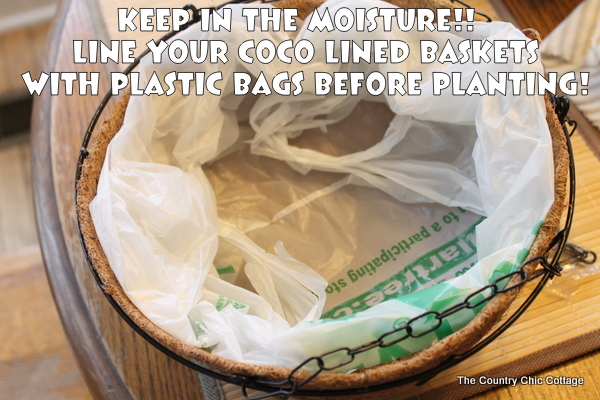 My next tip is to fertilize your plants when you put them into your baskets. Looking for an organic alternative this year?
Alaska® Fish and Kelp Fertilizers
are highly effective, natural organic alternatives to synthetic fertilizers. Nutrient rich fish and kelp plant food enrich soil, and enhance the strength and vigor of plants.
An essential building block for healthy soil, it stimulates micro-organisms to build soil content. It

doesn't

cause your plants to "burn" or become dried out to a point where plants are unable to recover. You gotta love that right? There is an odor y'all…I am not going to lie. But just look at those flowers! I think it is well worth it!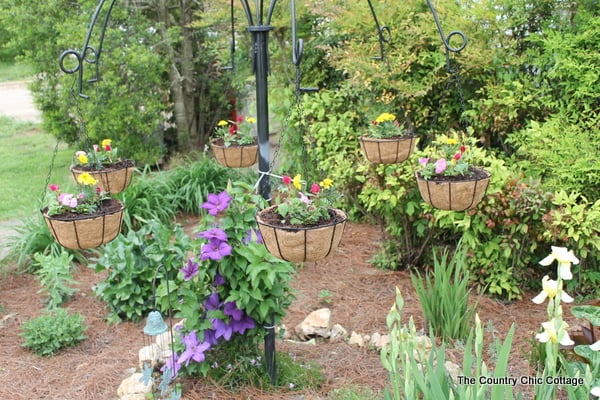 I hope you have enjoyed this farm equipment lawn art. Maybe you can talk your hubby into making one for you? Or ladies you can grab a welder and make this one for yourselves? Well I can't…but maybe you can? Y'all enjoy!