The best way to kill weeds? I have a few options below. I think the best way really depends on WHERE your weeds are located. Are they near flowers or plants? Or are they in the middle of your lawn? Near a fence where you really don't care? Lets talk about some of the ways that we can get rid of those weeds for good!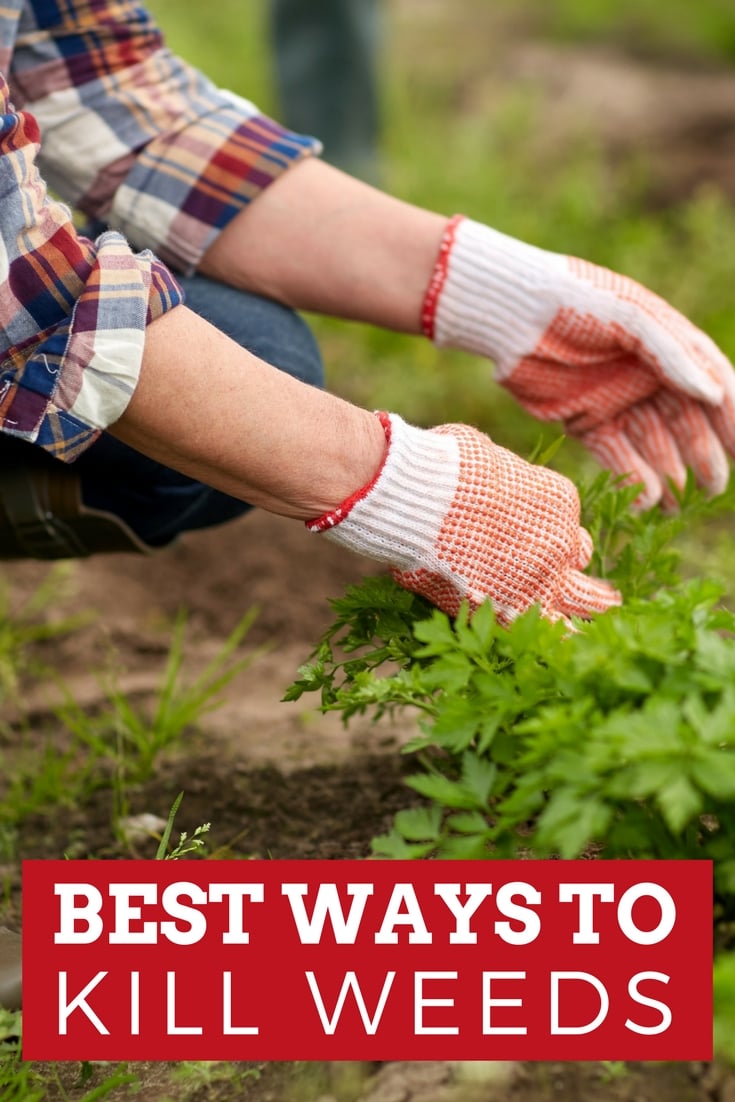 Best Way to Kill Weeds
Some links below may be affiliate links which means that you do not pay anymore.
There are some great all natural ways to kill weeds including vinegar, baking soda, and salt. However these are broad spectrum killers that will kill anything they touch. Pour vinegar onto a weed and everything in the surrounding area will die as well. If this is not an issue, then pour away! I find these methods perfect for weeds that grow up in concrete and pavement. Pour the vinegar on full strength to kill the weeds then add baking soda to the area to keep them from coming back. No vinegar? Pour salt on and water it in for the same killing effect. Want a great recipe? Try this homemade weed killer.
Bleach and Borax will have the same effects as the vinegar and baking soda above. Remember these are weed killers that will destroy everything they touch. Pour on bleach to kill the weeds and Borax to keep them from growing back. One added benefit is that Borax also helps to keep ants out of your home. If you have pavement right up next to your house, add Borax to the crack for both problems.
What about around plants? My favorite product is Spectracide Weed & Grass Killer. I just look for the label that says it is safe in flowerbeds. This product kills only what it touches which makes it perfect for me! You can spray it just on the weeds and those will die but leave your plants looking great! You can use a box or even an old soda bottle to help you to shield the spray and only get it on weeds.
Mulch and mulch alternatives are great for helping to control the weed problem. I use a really good quality landscape fabric as well. I go with one that is rated for 25 – 3o years like these. I basically don't want to have to work any harder than I have to and landscaping is hard work!
What about those pesky weeds in the grass? You want your lawn to look its best! You can definitely follow the advice in number 3 above and spray them each individually. But if you are looking for a one time plan of attack to gain control, try Spectracide Weed Stop for Lawns. I have grown to really trust their line of products over the years for doing just what they say!
So what is the best way to kill weeds? It depends on where you weeds are located. Try a few of our ideas above and you will be well on your way to a weed free yard. Happy gardening y'all!
Looking for more ideas? See this post for 14 tips for to get rid of weeds.