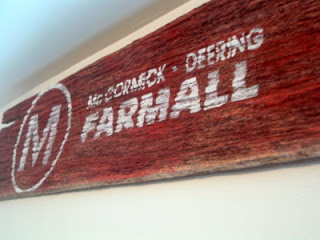 I knew I wanted to do something like this. And frankly I made this one up as I went along. Start with a rustic piece of barnwood and red Folk Art paint. Use a VERY DRY brush technique and put your red on in a thin layer.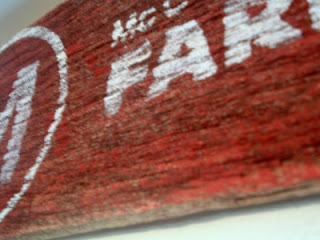 You want it to not be covered in all areas. To look worn and rustic. So get very small amounts of paint on your brush. And go back and forth on the board until all the paint is gone.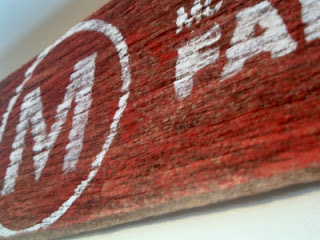 I then used my sihlouette and cut out the farmall logo. I actually drew the circle and "M" in the software. There is an "M" tractor and my big boy's name starts with "M" so it seemed to fit! 🙂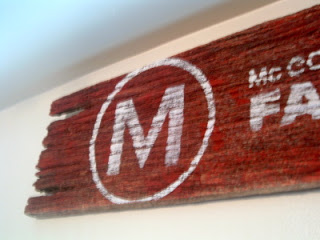 I cut the stencils from cardstock with the silhouette then laid them on the board. If you let your stencil hang off some…it makes it look more authentic…like it got cut off or something. Again I used a dry brush and made sure it was not perfect.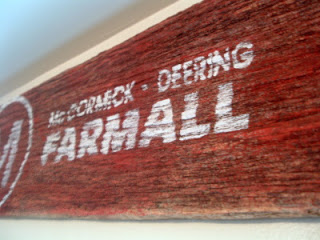 The imperfections and areas where there is very little paint make it look old and worn.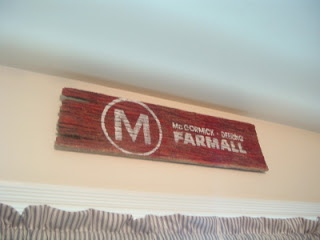 Seriously I love the way this one turned out! I just used one saw tooth hanger on the back and hung it up!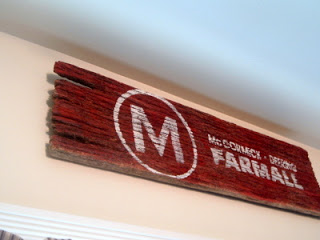 And seriously the curtains don't even deserve a post of their own! It is 3 yards of ticking. I did not even hem the edges…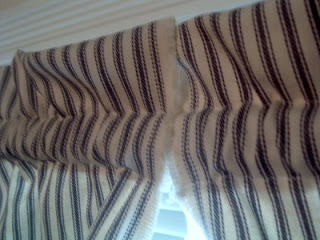 I made a rod pocket with two straight lines of sewing. And turned under the bottom with another straight line.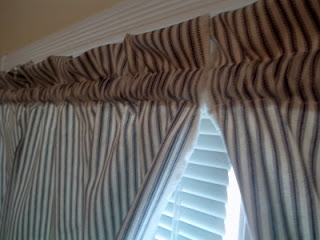 Seriously that was it!! And I think they add a great rustic touch to the room.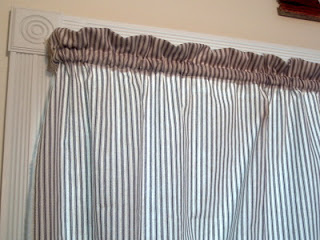 The perfect thing for my rustic little boy room!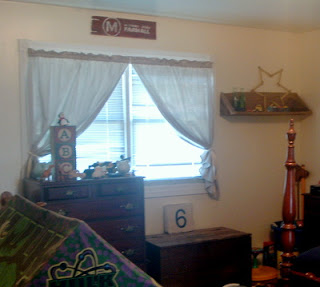 Posted at Take a Look Tuesday on Sugar Bee Craft Edition.
Posted at Tip Me Tuesday on Tip Junkie.
Posted at What Little Boys are Made of on 733.
Posted at the Silhouette Party on I heart naptime.
Posted at the Paint Party on Centsational Girl.
Posted at the Paint Party on The Inspired Room. ~Thanks for stopping by!~
~Angie~