Welcome to my home y'all! I am going to share my farmhouse Christmas tree with plaid ornaments today. I have been working hard on the decorations for this tree and I can't wait to show you. This post is sponsored by Cricut in conjunction with Balsam Hill. All projects and opinions are my own however.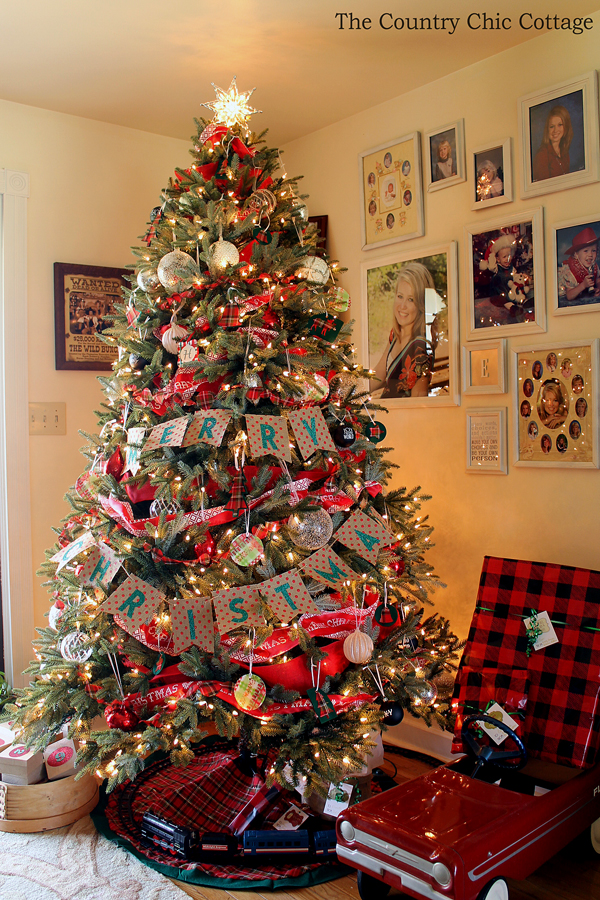 The tree and glass ornaments pictured were supplied by Balsam Hill. I was asked to do a red, green, and silver tree so the ornaments they sent were in those colors. My hands down favorites y'all are these silver beauties! They almost look like mercury glass and it was love at first sight. The tree of course is amazing. It is pre-lit and really high quality. The kids and I put it together and fluffed it up in no time at all.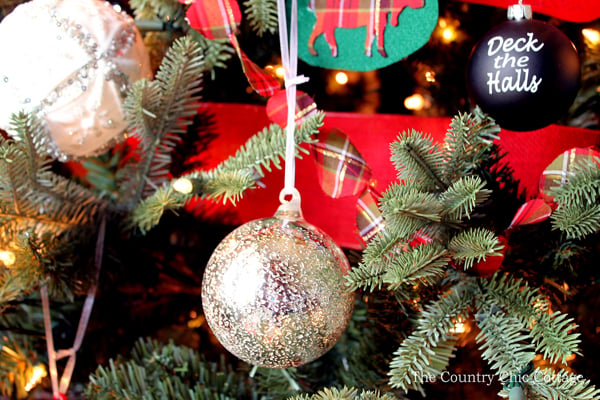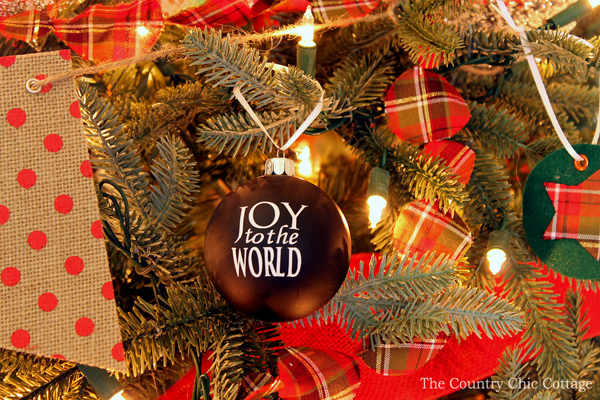 The kids also helped to add on the ornaments. Both the ones that I made and the ones from Balsam Hill. I am going to walk through the ornaments that I made using my Cricut next. These simple ideas will work great with your tree!
Plaid Farmhouse Christmas Ornaments with the Cricut
First up, I used some black ornaments and layered on white vinyl cut with my Cricut Explore for a chalkboard effect.
Next I used the Cricut Explore to cut plaid fabric into various shapes for these great plaid ornaments. You can actually click here to see more about these and download the shapes for yourself.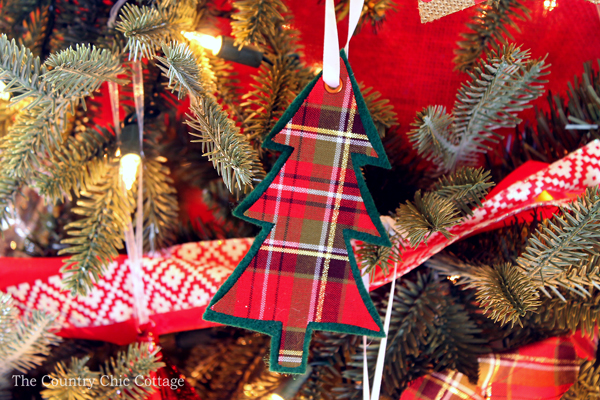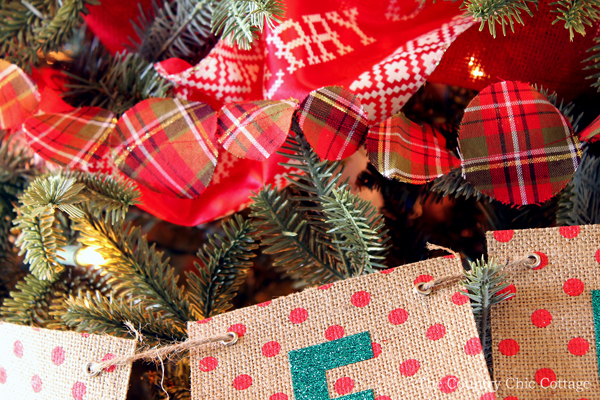 I had a bunch of that fabric so I also cut a variety of circles using the Cricut Explore. I then stitched them together on the sewing machine for a fun garland.
I also painted a fun plaid ornament that got a vinyl monogram on the front. You can see more about this ornament here.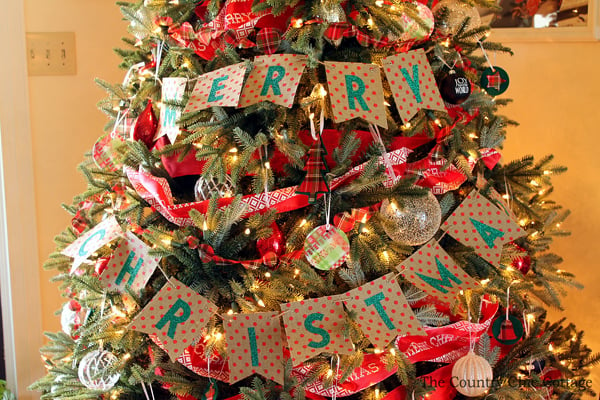 I created a banner for the front of the tree from pre-cut burlap panels and some iron on heat transfer material from Cricut. I love this green glitter heat transfer! I cut the letters with my Cricut Explore and ironed them on in just a few minutes.
The combination of the glass ornaments from Balsam Hill and the handmade ornaments that I made using my Cricut turned out to be the perfect combination. We are in love with our tree and get to sit and watch the gorgeous lights every night until Christmas.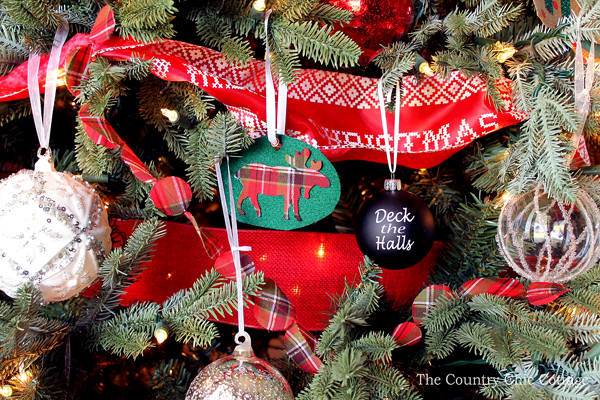 Do you want a look under the tree as well? I love using the vintage car that my husband had as a child to hold presents every year.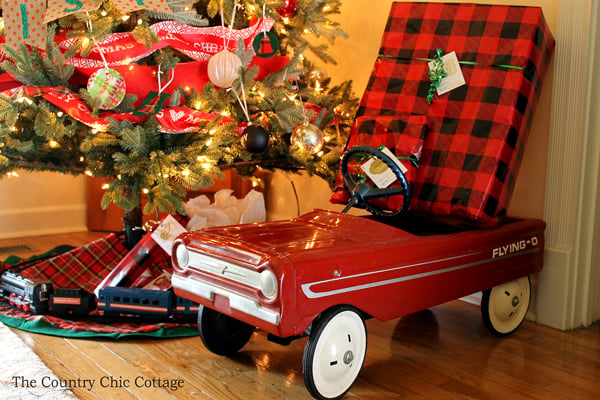 This year I am using a gorgeous plaid paper from Target for all of our wrapping.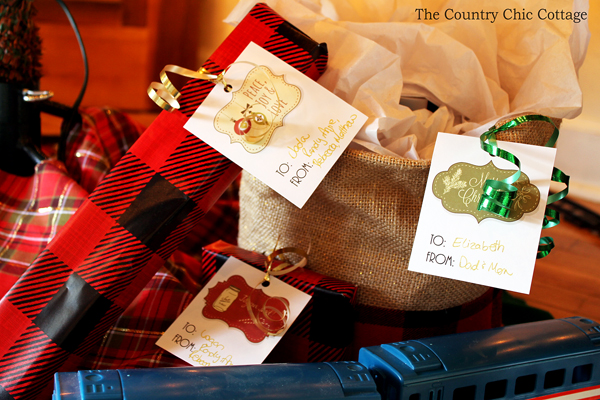 I used some of that same fabric to cut and sew a plaid tree skirt. We also always use a vintage train around the bottom of our tree. My dad bought this one for my son a few years ago and it is the perfect addition to a rustic farmhouse Christmas.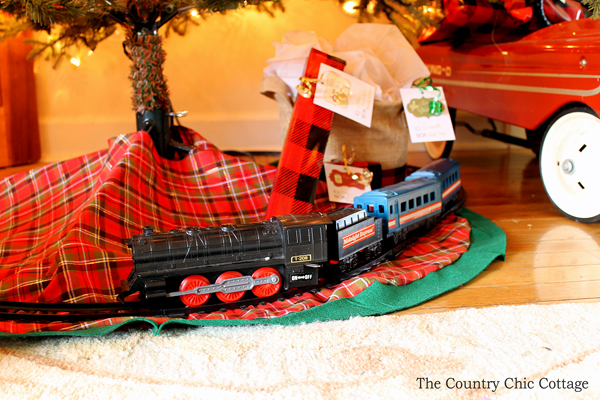 I also love to do a Christmas countdown calendar for the kids. This year I used paper mache boxes and cut out ovals and numbers with the Cricut Explore. I used decoupage to put everything together and we are ready to countdown every day in December!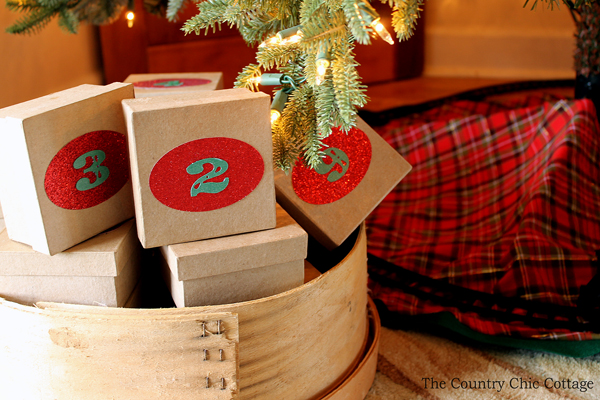 We love our farmhouse Christmas tree with plaid ornaments and I hope y'all do as well. I hope we have inspired you to create your own wonderful tree this holiday season. For now you will find us on the couch gazing lovingly at this beauty.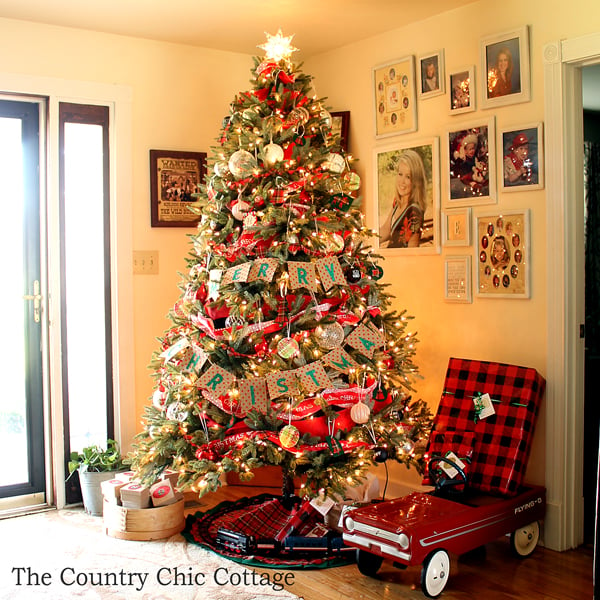 Want to learn more or get more inspiration? Be sure to follow Balsam Hill on social media as well.