This post and photos may contain Amazon or other affiliate links. If you purchase something through any link, I may receive a small commission at no extra charge to you. Any supplies used may be given to me free of charge, however, all projects and opinions are my own.
I was challenged by Better Homes and Gardens this month to make my home holiday ready and they are sponsoring this post. For me the flurry of holiday guests sends me into nesting and organization mode. Around our home, the guests all feel free to just pop in the back door. Which means instead of entering through our foyer they are coming in through the mud room. Hmmm…not exactly holiday ready y'all. So I made it my mission to organize, clean up, and make my mud room ready for any holiday celebration that happens at our home.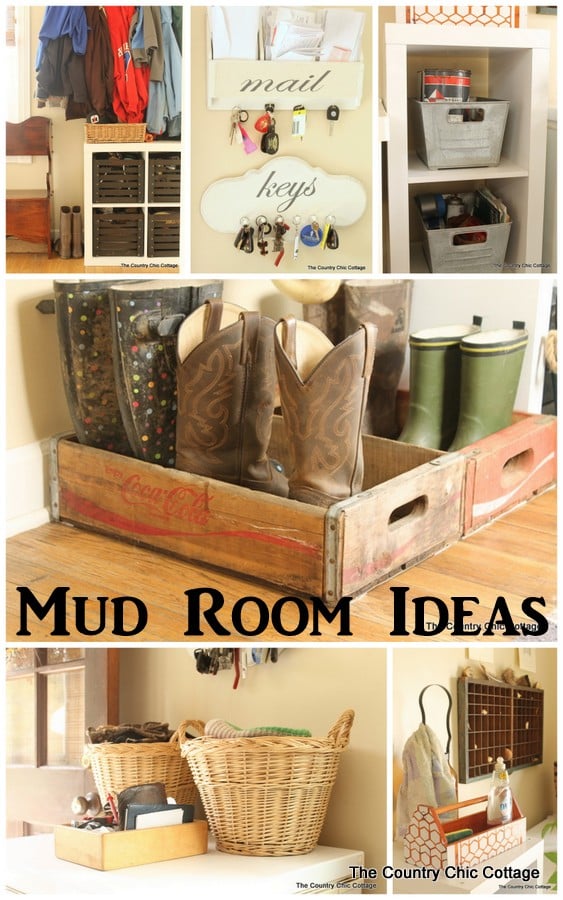 Come along as I show you how I used products from the Better Homes and Gardens collection at Walmart to make my mud room more inviting and organized. Y'all for me a tidy and organized room just screams welcome to any guests that happen to come through my door.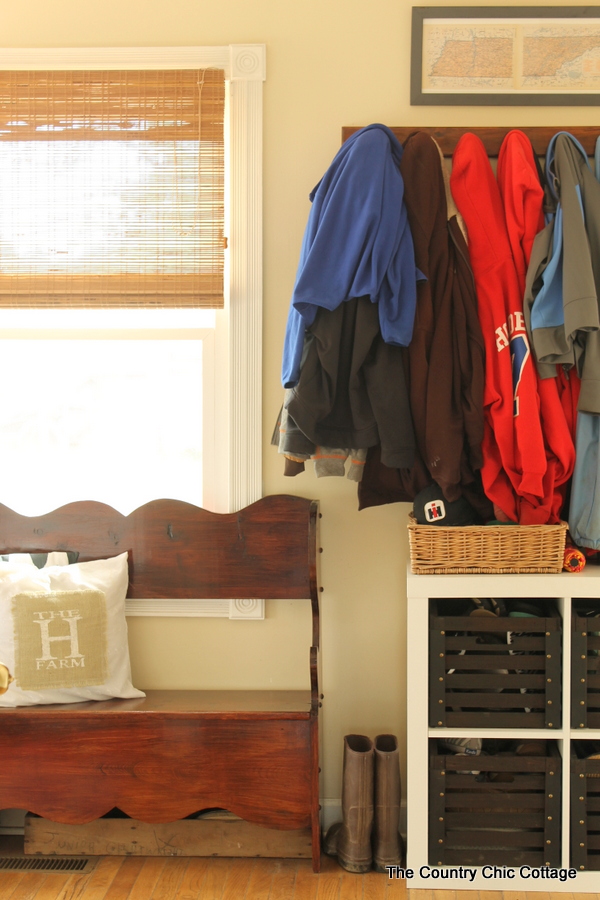 Every mud room needs a way to corral the shoes and coats. Our area was no exception. I had the coat hanger on the wall already but our shoe situation was a dire mess. Enter the Better Homes and Gardens Square 4-Cube Organizer
. Y'all this little organizer changed the game in this small space.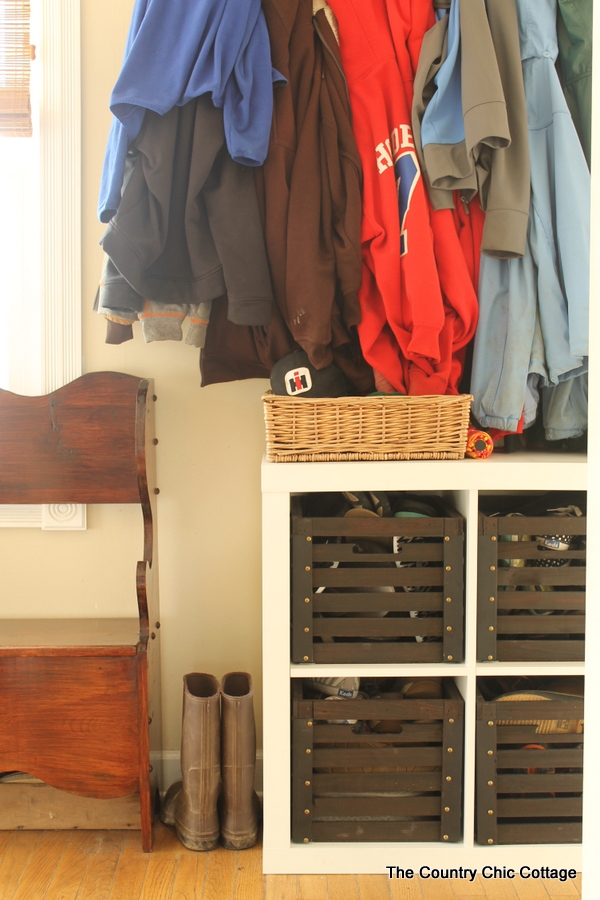 It is perfect for our shoes and did you notice those amazing farmhouse style crates that sit perfectly in the cubes? The Better Homes and Gardens Wooden Milk Crate
are also available at Walmart. Amazing farmhouse style right at your local Walmart store. And now right in my mud room….swoon.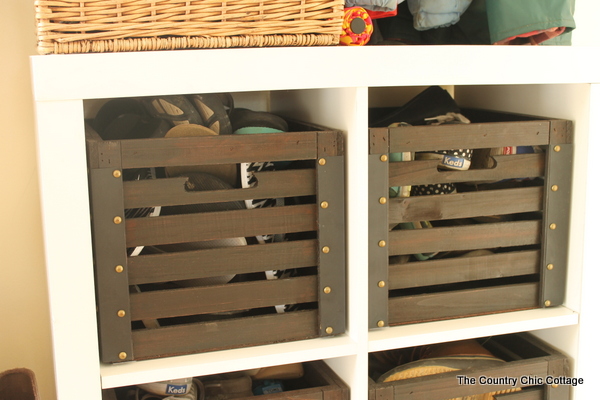 Above the coat rack is hanging a vintage map of Tennessee. This was hanging in my home already but I dropped it in another frame so that it would go better in this area.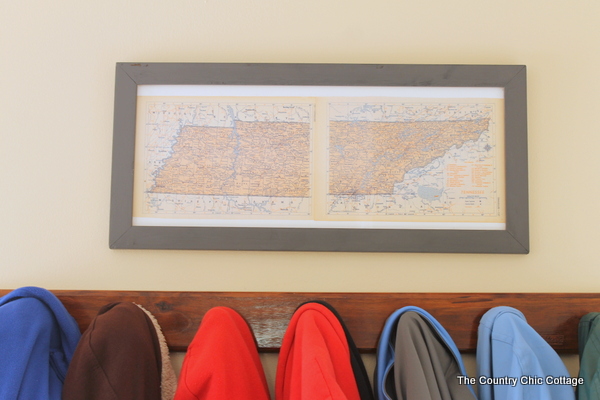 Just in case you are wondering about the layout of this room, it is very small and has tons of nooks, crannies, and doors. When you walk through my back door you can see through this room and into the kitchen. Now when holiday guests arrive through this door, they can see into a farmhouse style mud room that leads into a home that is ready and waiting for them.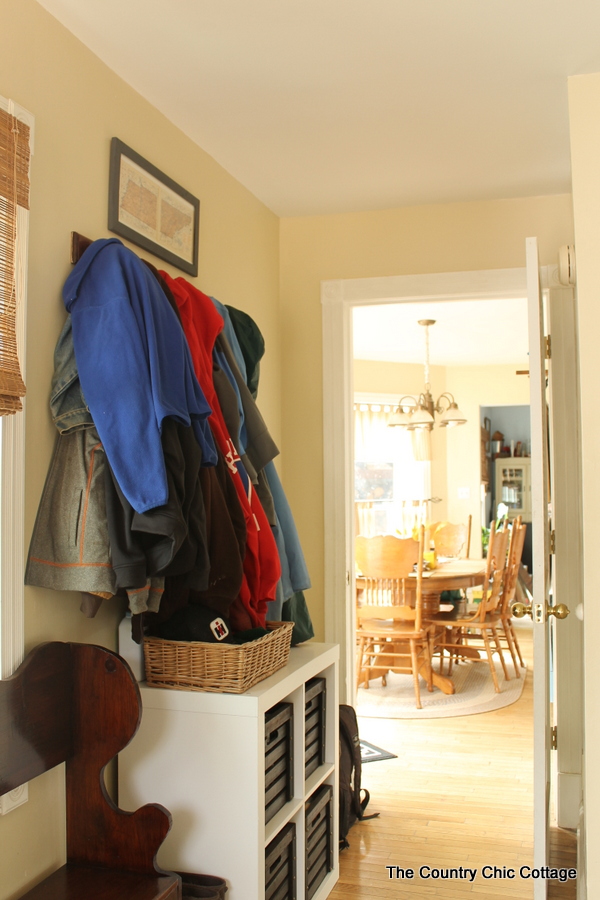 The bench in this room is a heirloom piece that my husband made in high school. I gave it and the coat rack a new coat of stain to liven them up a bit. You can find more about how to make that burlap and lace pillow by clicking here. This room also needs to be functional as a mud room on a farm so there are a few elements that serve that purpose as well. One is that laundry hamper next to the bench. My husband uses that to keep his work uniforms separate from our other clothing so it is a must.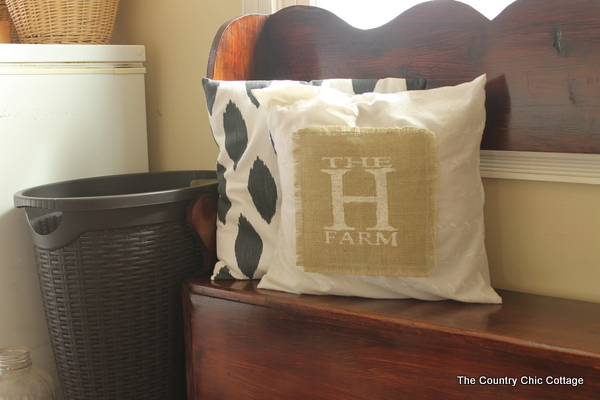 The next thing you will notice about this room is that we have TWO deep freezers packed in this space. We are a farm family that kills their own meat. Storage is required. However that does not mean this space cannot be warm and inviting for our holiday guests.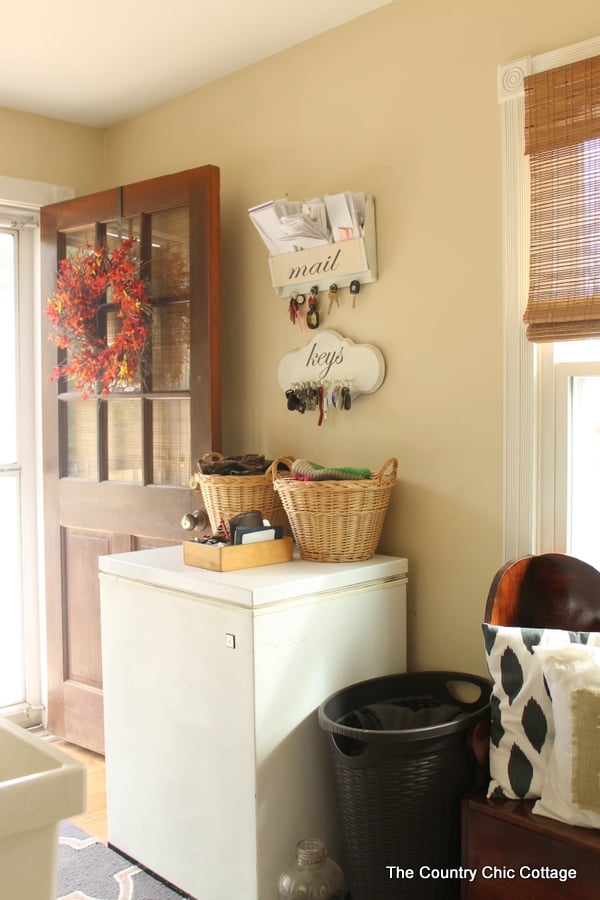 More function hangs on the wall above the freezer. I have had both the mail and key hanger for many years. They both received a paint touch up as part of this makeover. There are so darn many keys around this farm that hanging them up is really the only solution so this area is well used.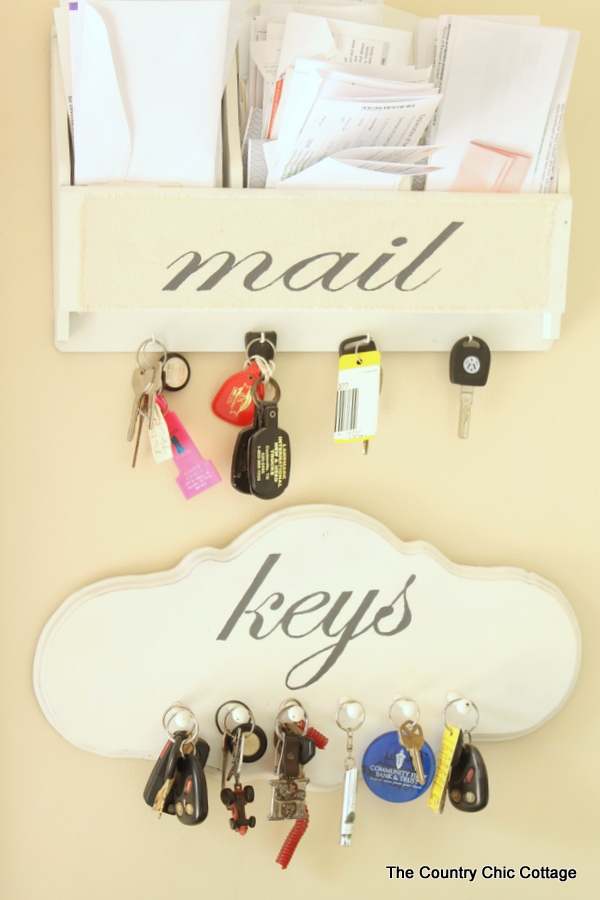 Under the keys, I separated out the hats and gloves into two baskets. Those are a necessity for the upcoming winter but the baskets made a huge difference from the (non-existent) system I had before. There is also a vintage wood box that my husband uses for a drop zone when coming in from a day of work.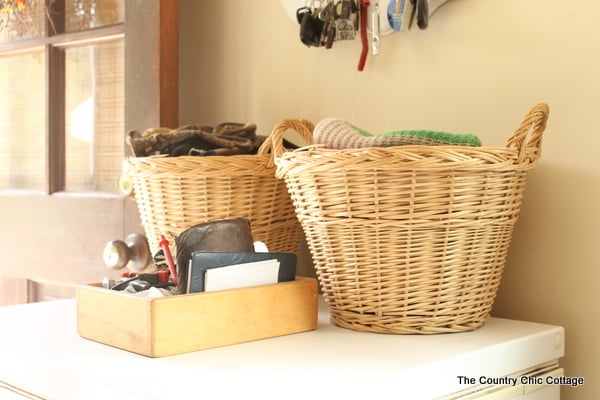 On the opposite side, there is that other deep freezer I mentioned with a few special things hanging on the wall above.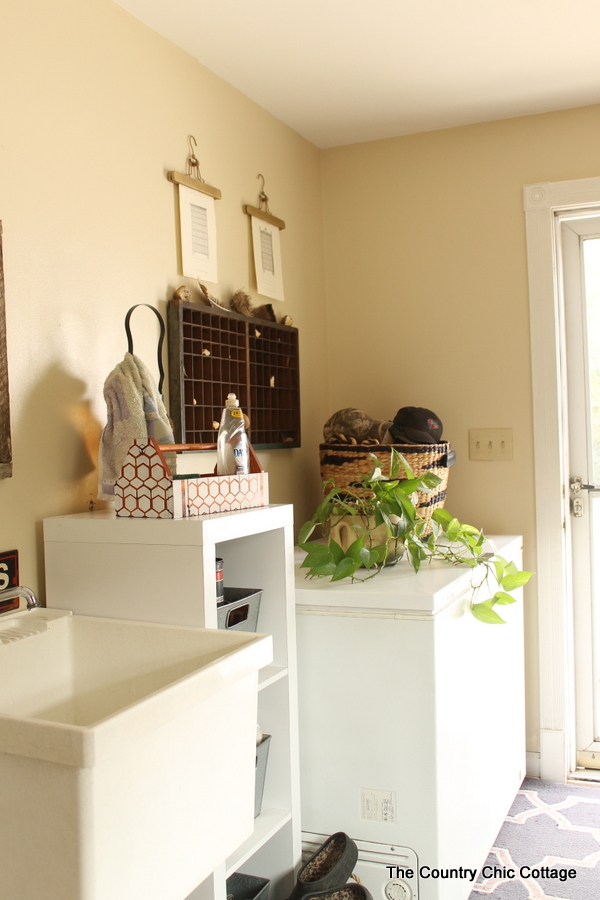 Turn pants hangers from Walmart into gold picture hangers in minutes by following the instructions here. I am displaying a couple of vintage book pages currently but these can easily be changed to suit my mood.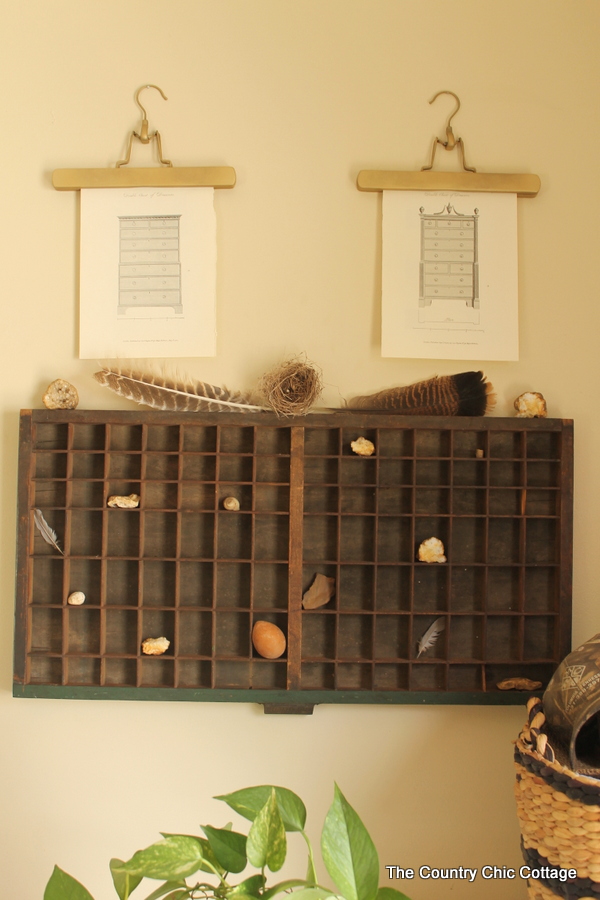 I found the printer's tray for $10 recently at an antique shop and fell in love. I am using it to display the treasures my son brings in from the outdoors. Currently the feathers really feel like fall to me so they are front and center.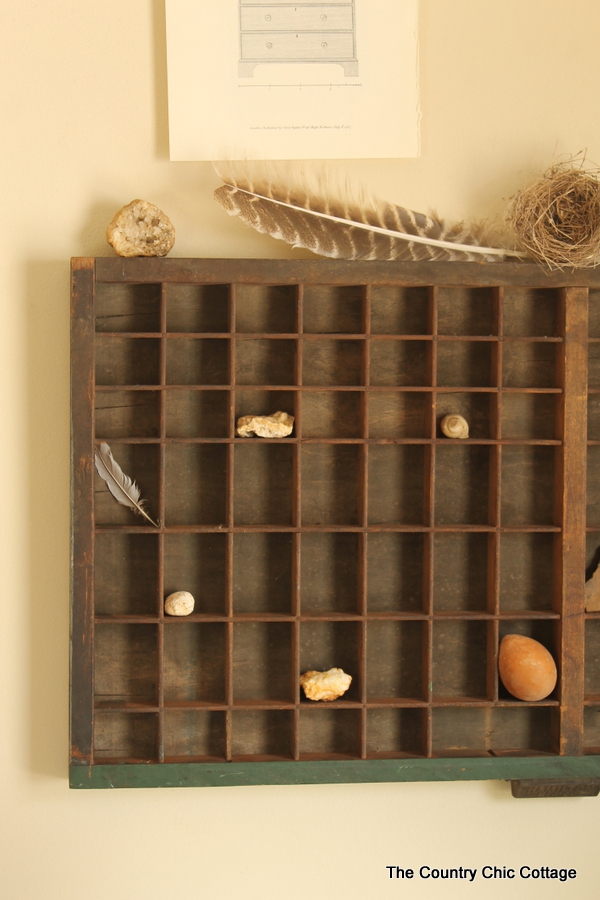 I could not resist adding in one of my house plants and a large basket sits atop this surface as well. This one houses odds and ends as well as some caps that belong to my husband.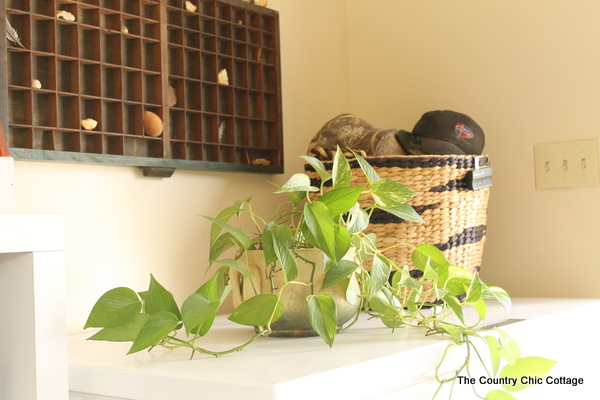 Moving further down this wall we have a very large mud room sink which is what I love about this room. It really helps to keep the mess contained to this room when they come in from a day of hard work.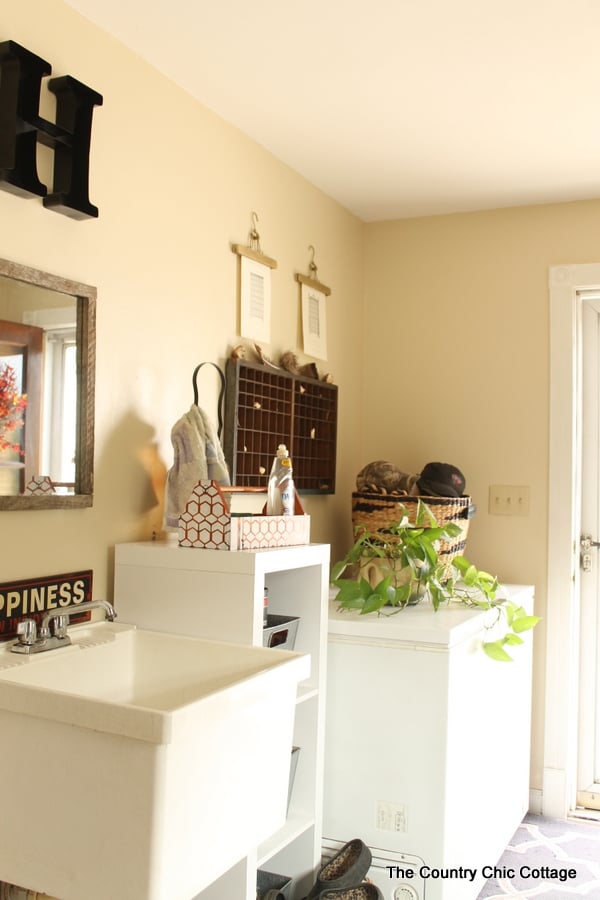 I have my wood caddy beside the sink to house all of the sink necessities. A large mason jar with a metal handle serves as a towel rack cause I just can't have a room without a jar y'all.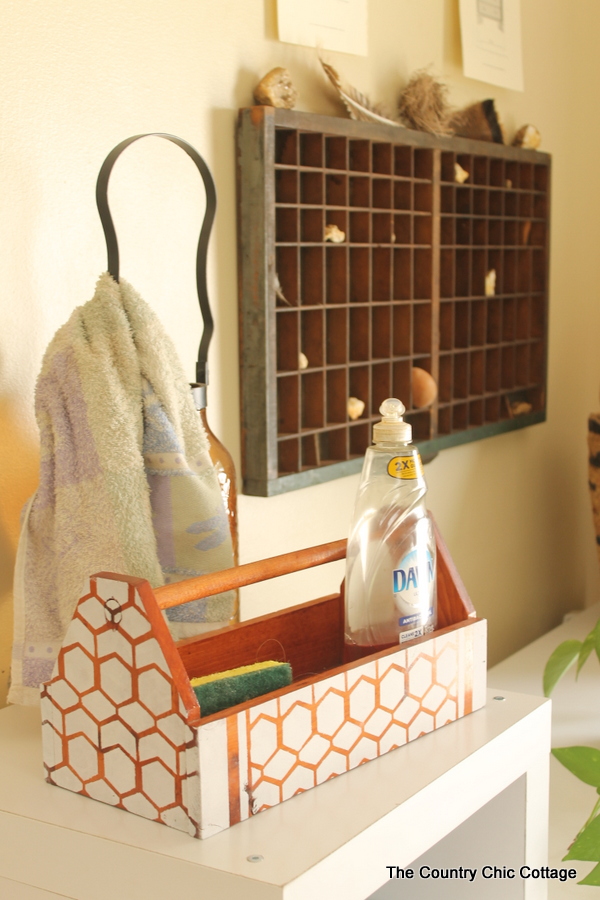 That caddy is sitting on another one of the cube storage systems from BHG. You can find a variety of configurations at Walmart. This one is the Better Homes and Gardens 3-Cube Organizer
. It houses odds and ends that have found a home in our mud room. Most of this is farm related and I won't bore you with the details.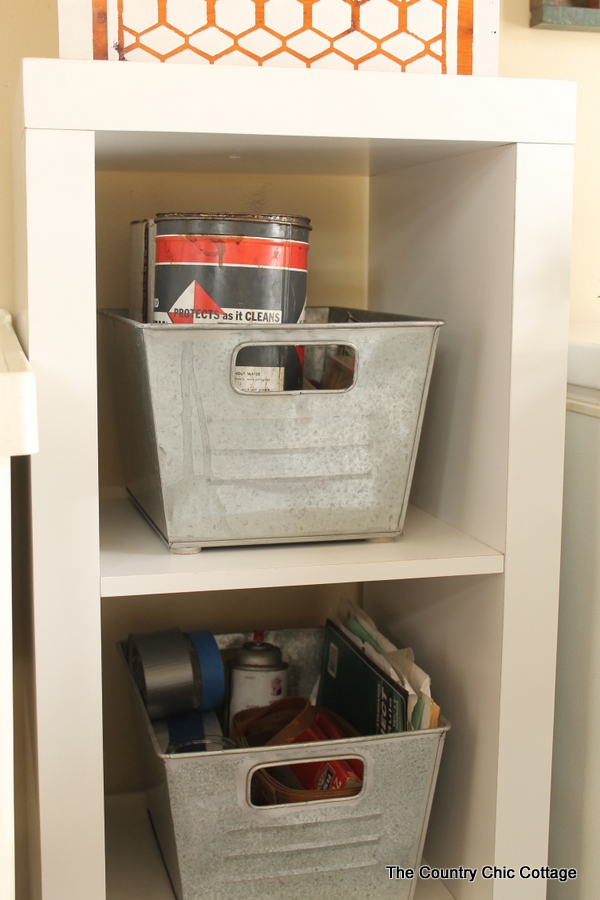 I will tell you that the Better Homes and Gardens Small Galvanized Bin
that is holding everything is also available at Walmart. Gorgeous! Plus they are super sturdy. I have mason jars inside of most of them organizing the contents of nuts, bolts, and more. These bins are perfect for containing these heavier items.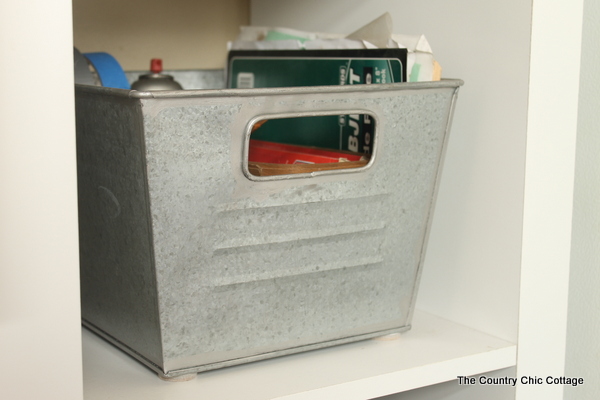 The mirror over the sink got a makeover as well. You can click here to see how to make a barn wood frame for a mirror. I am using a metal sign like a back splash above the sink. The metal letter is an eBay find and actually is brand new.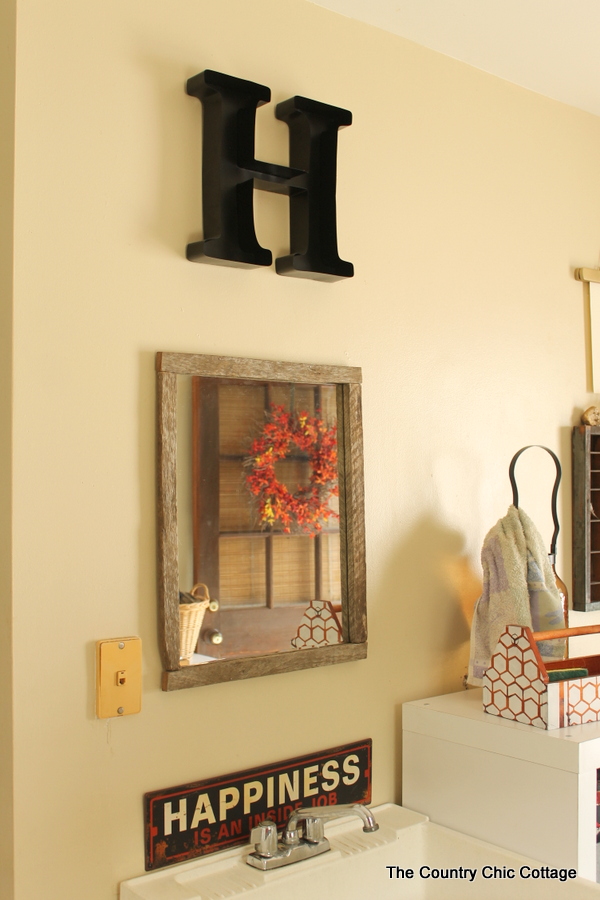 Below the sink I needed to corral all of the boots that are part of life out here. I looked at traditional boot trays but they just did not seem to be "me". Then it hit me one day….old Coke crates! They are the perfect boot trays and add more to the farmhouse style I am going for in this room.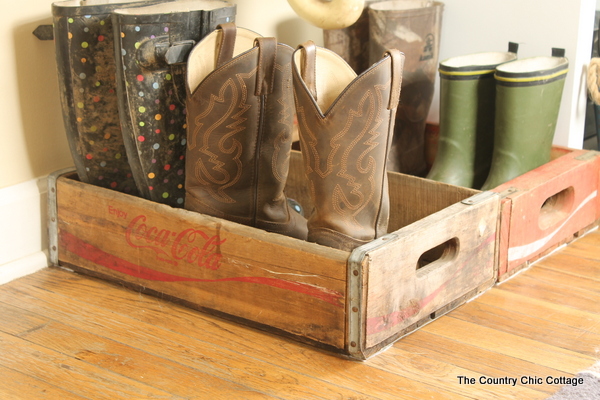 Just in case you are somehow curious about the remaining corner in this room, the doors hide our laundry area which will be the topic of another makeover I am sure. The hallway to the right in the picture below leads to the bathroom.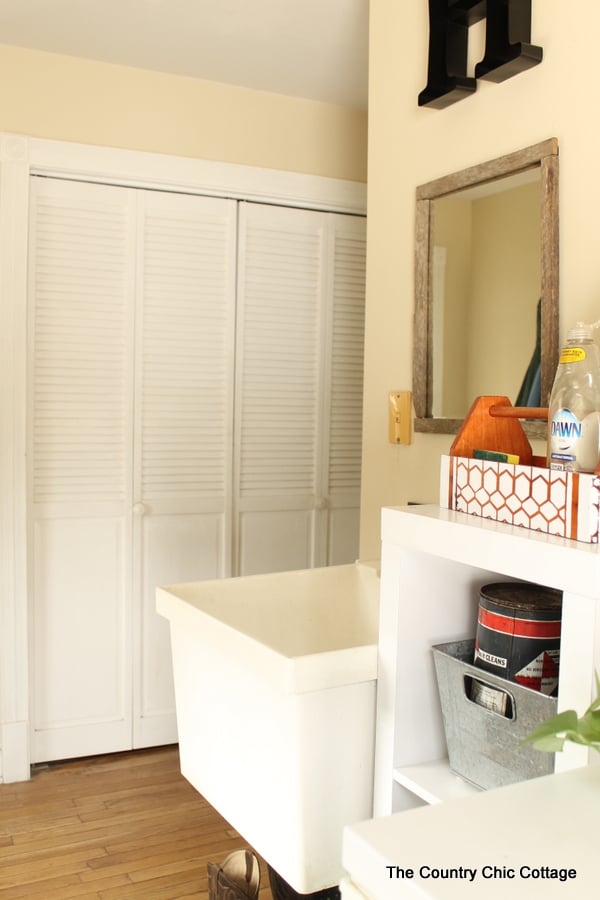 So there you have it! A complete 360 degree view of our farmhouse style mud room which is full of organization and ideas that I think anyone can learn from. A huge thank you to Better Homes and Gardens for sponsoring this post and the amazing products that I found at Walmart. Looking for a budget breakdown? Lets do this!
GRAND TOTAL = $194.73
A brand new farmhouse style mud room for less than $200 that will make my holiday guests feel welcome?? PRICELESS!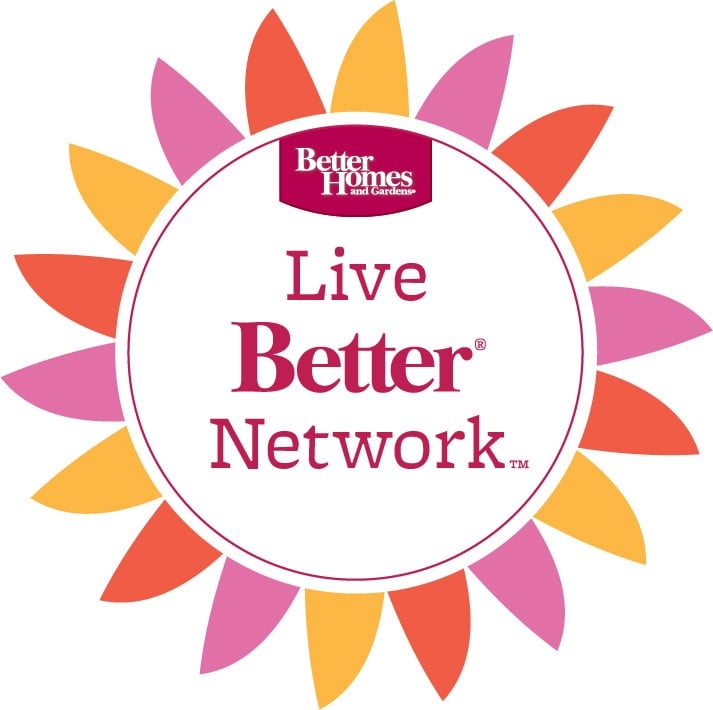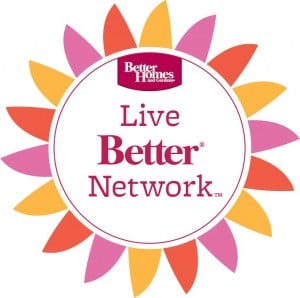 More Home Organization Help
Do images on Pinterest stress you out because they seem more like a fairy tale than something you can actually achieve?
Don't fall into that pretty and perfect trap. You can get clutter-free and organized without living a fairy tale life.
No one knows this better than my friend Hilary! She has an entire course for sale that is dedicated to real-life organization ideas. I love that her approach works for any family with any budget.
Check out her course and judge for yourself!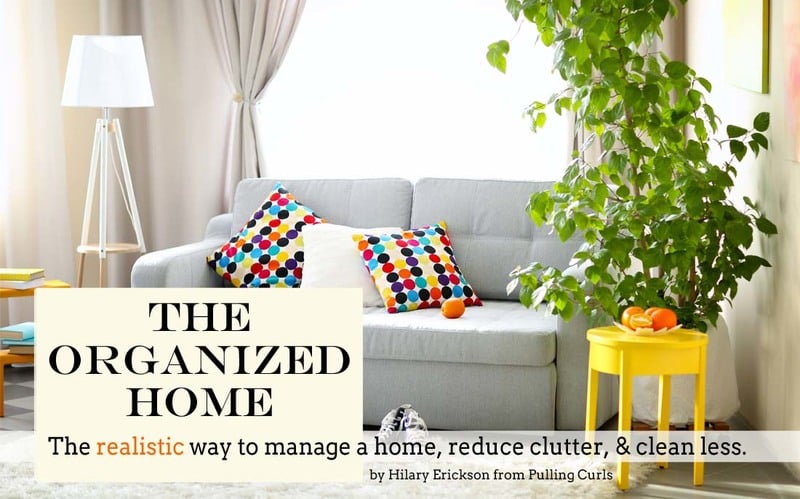 My favorite part of this course is that Hilary strives to make your home easier to clean-up, so that it takes only minutes, instead of hours. Who couldn't use more time and less cleaning?
Plus the system can make your house look fairly put together most times of the day. See for yourself with this course!