Jen with 100 Directions is back again this month with some printable first day of school signs! Print yours and take a picture of your kids on the big day!
I love the idea of taking pictures of the kids on the first day of school. I also love the idea of back to school signs for pictures. Create keepsake photos for your kids with easy to use printables that highlight the grade they are in this year. I've seen other signs that include the date and grades for each child and they come in a whole variety of styles and designs. Of course I had to design my own… so I thought, why not design school signs as coloring pages so you can personalize them for your own kids (or your kids can personalize how they like themselves). YES! Print out whatever grades you need and then you can use as is, or have the kids color and decorate their own sign. You can use their school colors or their favorite colors… or add a little sparkle with glitter like we did. Whatever you'd like to do, make these printable school signs all your own!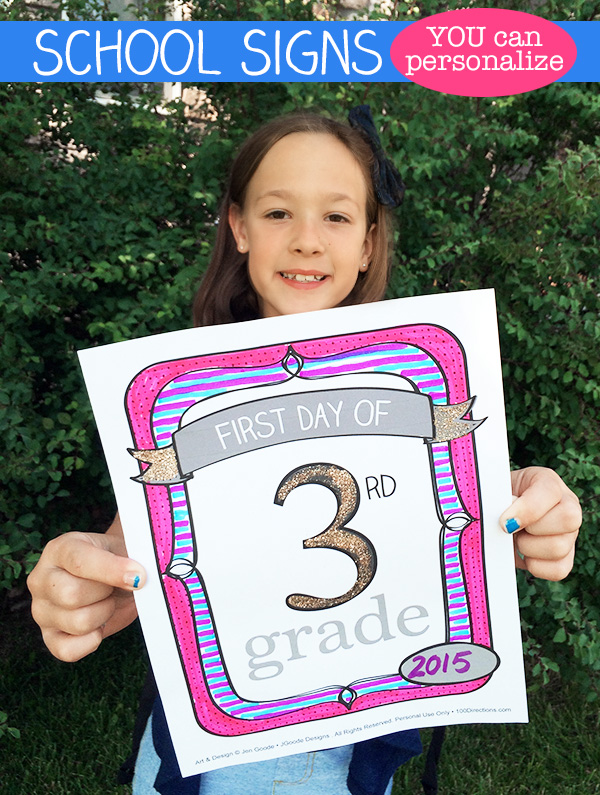 Worried about running out of ink with these pages? Did you know that if you have an HP printer you can print for just $0.03 per copy? Check out (affiliate link) HP Instant Ink and start getting your prints and ink for cheaper today!
Quick tip: grab some colored paper and just print the black and white design on the colored paper for a unique colored sign for each child.
We started school a few weeks ago, so I've already missed taking pictures of the "first day of school" with these signs. So, I added a second set that says "Hooray! I'm in" instead of "first day". I will also be offering a variety of add-ons so you can decorate and personalize your printable signs for other occasions as well.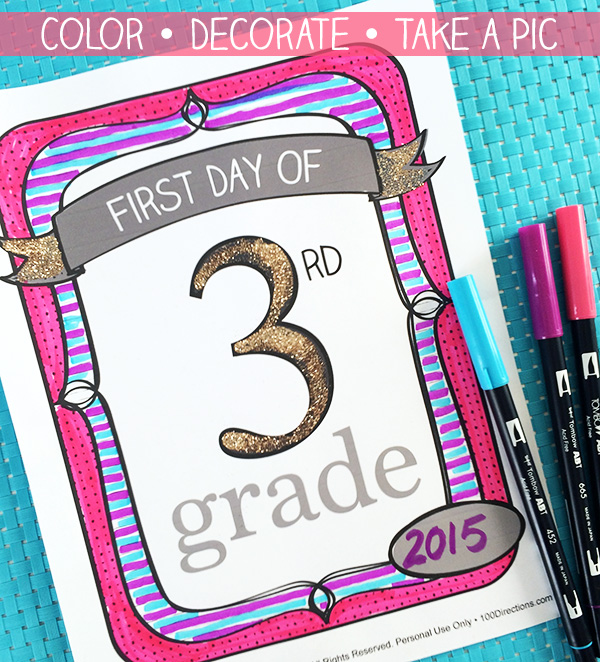 We added a little glitter to our sign and it was super quick and easy. Here's the trick.. instead of using glue, use clear nail polish. Brush on the polish and then immediately sprinkle on fine glitter. The polish dries almost instantly so you aren't waiting for the glue to dry before you can use the sign. If you prefer to use glue, use a paint brush to add the glue to all the areas you'd like with a smooth finish.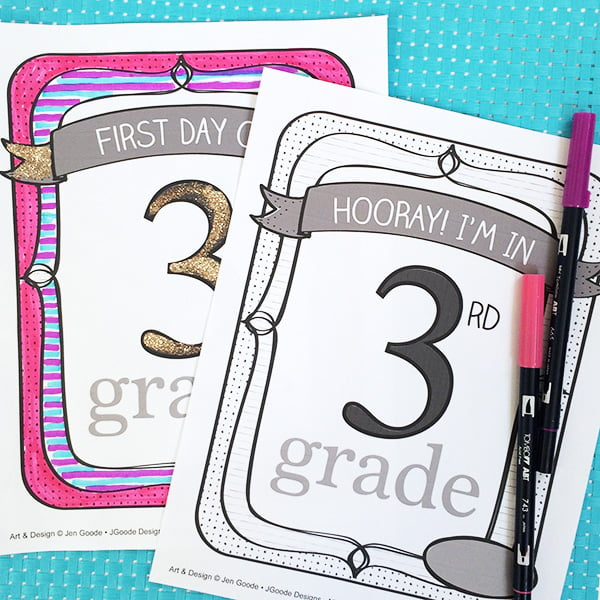 Don't worry, if you only have 5 minutes to grab a school sign and go, no problem! These signs look great as is… black and white for the win, right!?
Head to my blog to grab your own copies of these personalized printable photo signs.
Happy New School Year!