Both a photo booth and photo booth props are super simple to make yourself. So, don't run to the party supply store! With football season right around the corner, create these simple and customizable photo booth props for your next football party (or any party really)!
A photo booth is a fun activity to incorporate into any gathering you throw. People love to take fun pictures with different props and share them. I guess it's a good thing that a photo booth is super simple to create!
A football party seems like the perfect excuse to make a photo booth to me. 😉
In order to get the most fun out of a photo booth, you need a few props. Luckily, they're a snap to make too.
Here are some football party photo booth props that perfectly complement any football party you are throwing this fall. You can even customize them to reflect your favorite football team and use them over and over again to cheer them throughout the entire season.
Your guests will love using these fun props to become the star of the show. Don't forget to make this Football Cake for your guests to enjoy too!
Note: I originally published this post in August 2016, but I'm republishing it now with some additional helpful info.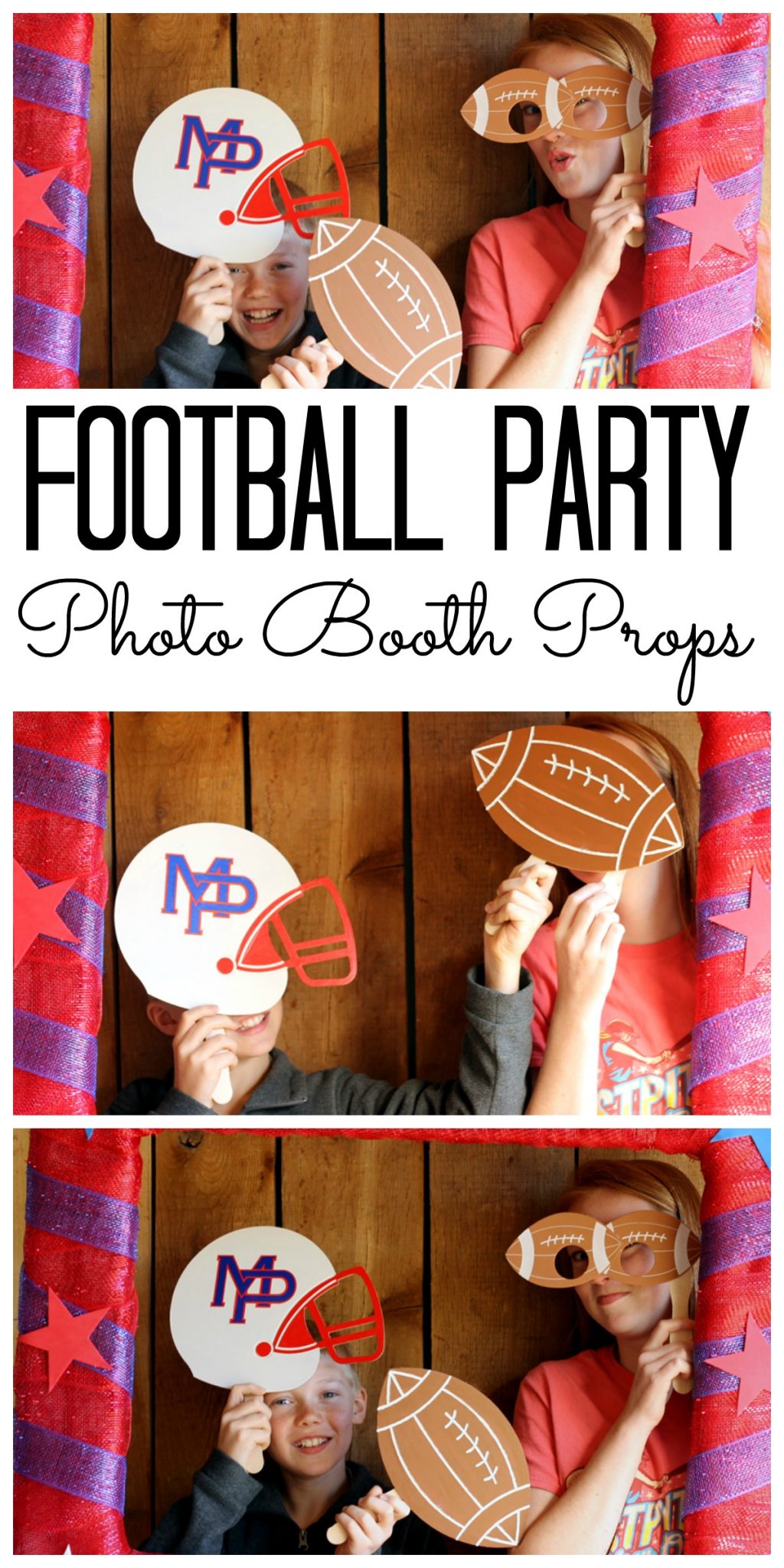 Supplies Needed To Make Football Party Photo Booth Props
Here's what you'll need to make these fun football photo props. I have included links to help you find some supplies faster and easier.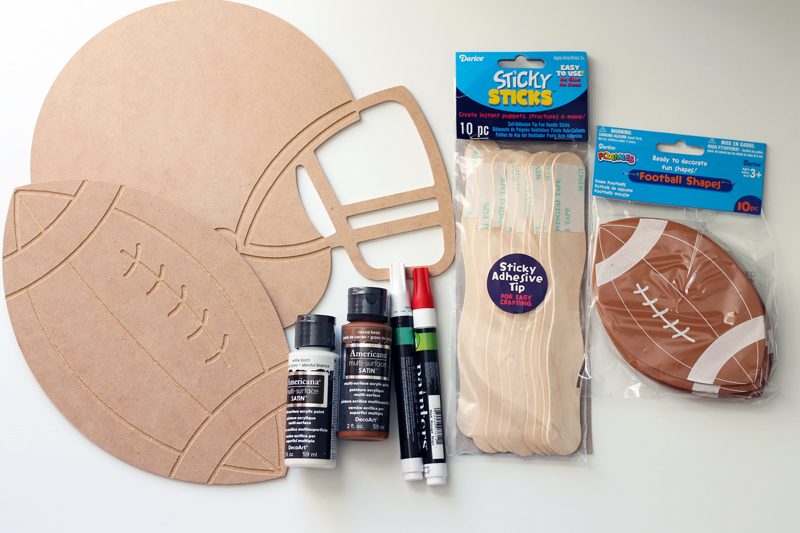 How To Make Football And Helmet Party Photo Booth Props
Follow these steps, and in just a few minutes you'll have your football photo accessories ready to go!
Step 1
Start by painting your wood helmet and football with a couple of coats of craft paint.
I chose colors based on our local high school team but you can pick your favorite team as a theme for this project.
Cheering on an NFL team in the big game? Be sure to decorate your props to match!
Step 2
Attach your stick handles to the backside of your football and helmet props using the self-adhesive on the stick handles. Just peel and stick the handles to the back of the dried wood shapes.
Pro Tip: The adhesive on the sticky stick fan handles is really strong so it's worth taking a moment to be sure you're placing the stick handle in the correct place the first time because you can't "re-do" it!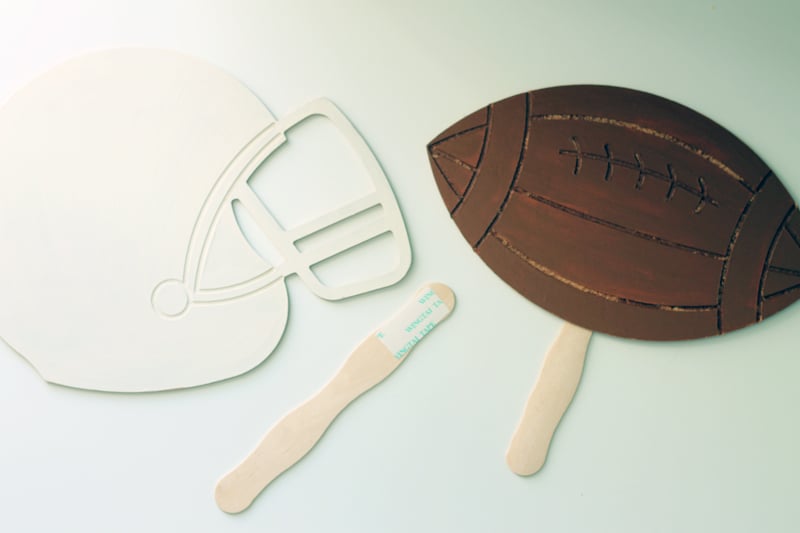 Step 3
Decorate!
You can use craft paint, paint pens, stickers, and more to decorate the helmet to match your favorite team's colors.
Want to add a logo but don't have a sticker with your team's logo on it? Try printing one from the internet and using decoupage medium to put it on your painted helmet or freehand it with a paint pen if you're artistically-inclined.
I used a paint pen on the football to get the white details. 🙂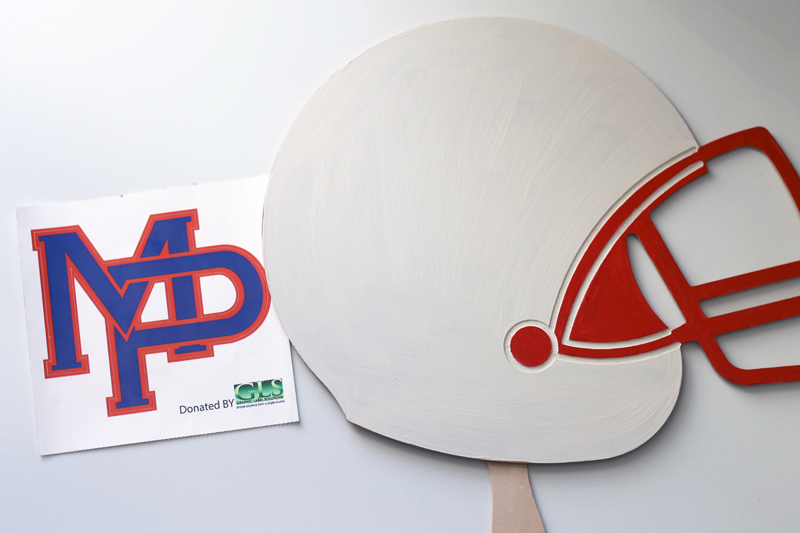 How To Make Football Glasses Photo Booth Props
It's time to make those fun football glasses!
Step 1
To make the football glasses, start by adding eye holes to two foam footballs. I used a circle cutter with my Sizzix machine to add the holes. You can use a circle punch or even just trace a circle object onto the football and use your scissors.
Then, hold the footballs up to your face in the mirror with a slight overlap to determine eye hole location. Once you've determined how much overlap you need, use tacky glue to adhere the two together in the right place.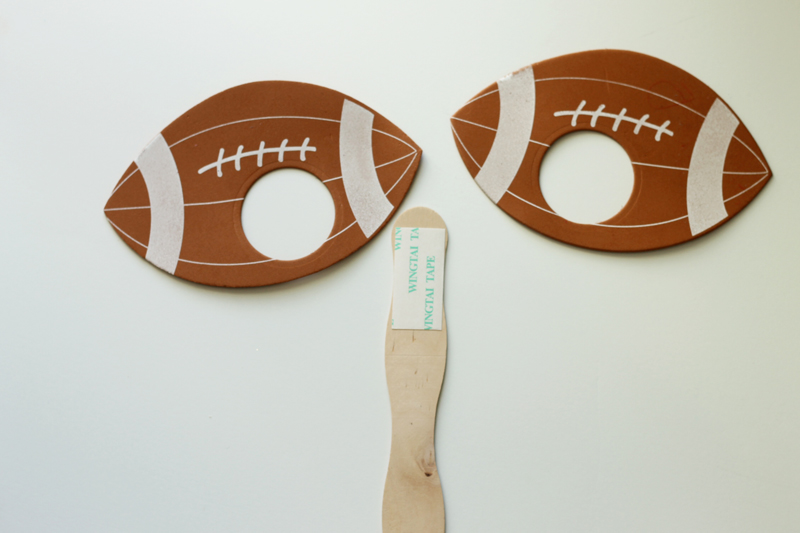 Step 2
Peel and stick the sticky handle to the back of your football glasses. And…done!
Now all of your football party photo booth props should be ready for the big party. That was easy, right?
Tip For Decorating Photo Booth
We decorated a large foam frame to make our photo booth complete. You can also easily customize it to reflect any team that you are cheering on this fall. I like to use large ribbons to wrap around the frame along with foam stickers and letters to make it really stand out.
Photo Booth Props: Final Thoughts
Now you're ready to use your football party photo booth accessories to get some great candid photos of your party guests.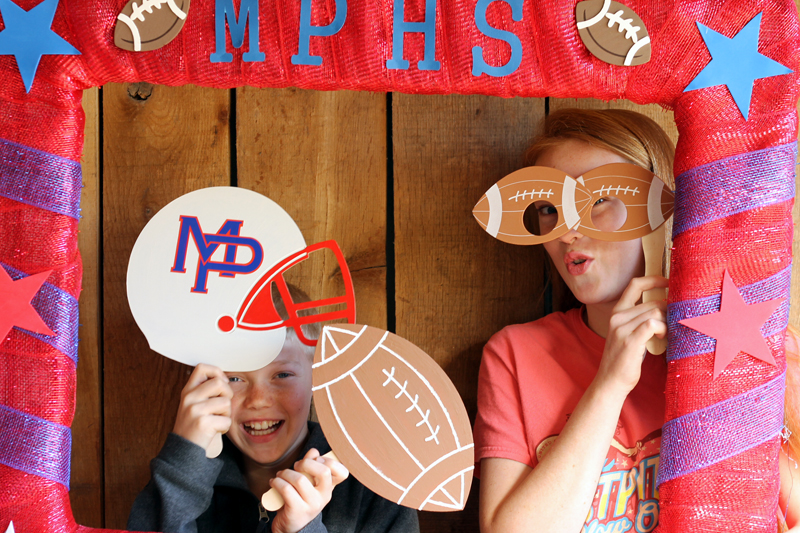 If you have never made a photo booth before, try setting up a photo booth at your next gathering. Your guests will have so much fun jumping in and grabbing a few of these football party photo booth props during half time!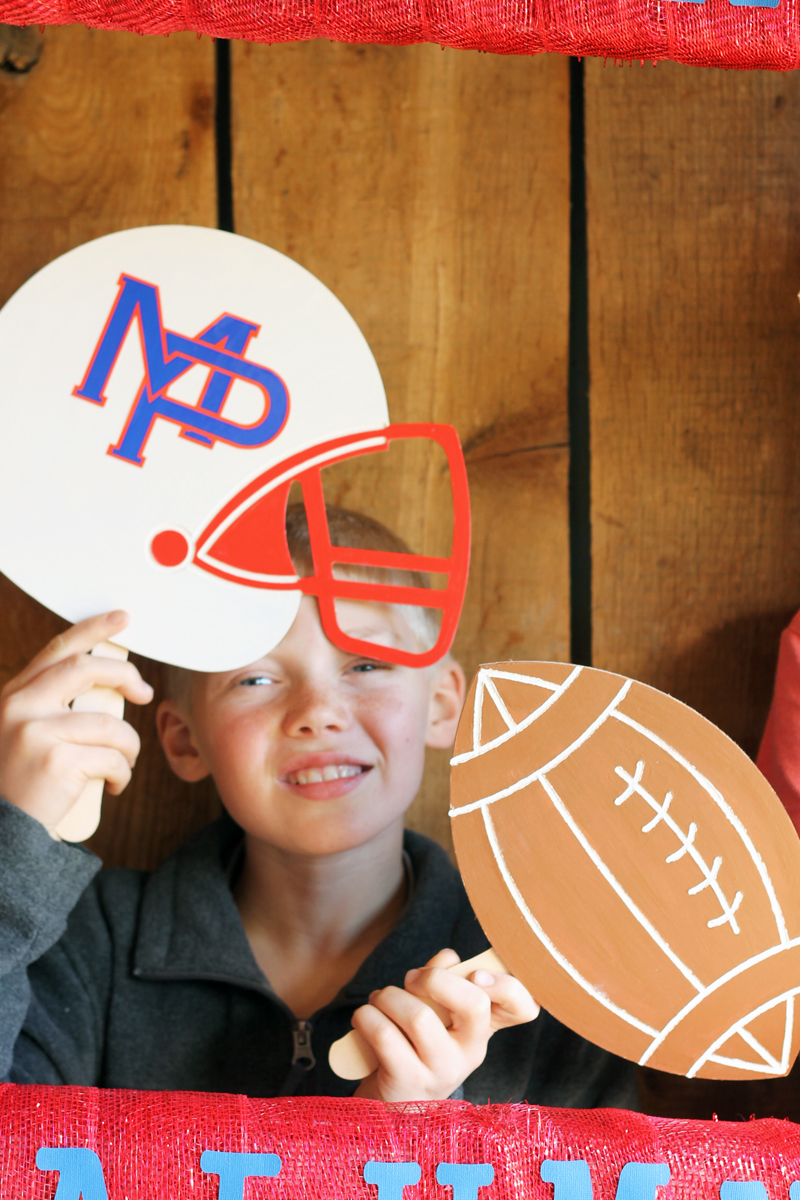 More Fun Football Party Ideas