Ever since The Shabby Creek Cottage posted about her adventure with freezer cooking, I have been thinking of trying it out once again myself. My first step is to gather some recipes and make a list of things to get at the store. I thought I would share those recipes and links here with you today in case part of your new year's meal plan is to cook ahead as well. Here are the freezer meal recipes that I have used and found to try.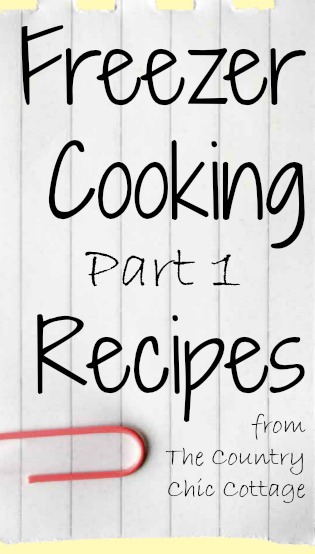 First of all, I have dabbled in freezer cooking before. However I need more recipes in my recipe box so I can cook even more meals ahead. A few recipes that are our tried and true freezer meal favorites:
Every weekend I cook biscuits and either sausage and bacon for the entire week. I put them together into individual freezer bags. Each morning my husband can grab either a sausage and biscuit or a bacon and biscuit for breakfast on his way out of the door.
The taco casserole from this post is divine. There are a lot of other recipes on this post that I need to try as well.
Breakfast Bake
4 frozen Pillsbury Southern Style Biscuits
2 cup frozen chopped broccoli
4 eggs
1 cup milk
1 cup cooked sausage (can use ham, bacon, etc)
1 cup shredded cheddar
Spray square baking dish with cooking spray. Cut each biscuit into 8 pieces and place in bottom of dish. In a bowl, beat eggs and milk until well blended. Stir in sausage, cheese, and broccoli. Pour mixture over biscuits. Make sure all of your biscuit pieces are covered. Cover and freeze. Thaw completely. Bake at 375 degrees for 45 – 60 minutes or until the center is set.
Now for the recipes and links that I have found that I would like to try. Are y'all with me? Make a list and lets try this thing!
Join me on the journey to simpler week nights. Pick some recipes from the list above that you think your family will enjoy. I will be back with more steps in my own journey. Stay tuned as I make a shopping list, get organized, and cook a freezer full of meals for my own family. Enjoy these freezer meal recipes and my freezer cooking series by subscribing to our free weekly newsletter.
Don't forget to print our free weekly meal planner as well.