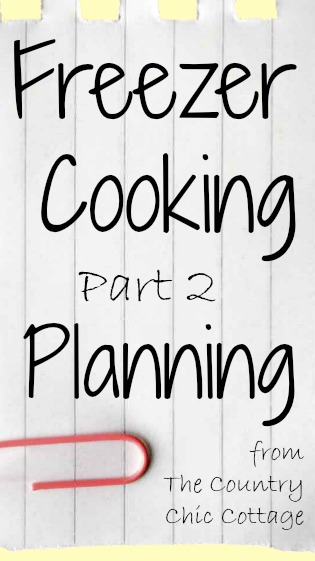 To do any type of cooking in bulk you need to be organized and have a plan. I found quite a few resources online that helped me during my planning stage. Check out some of those here:
I grabbed a few of those free printables and started mapping my plan. Here are 2 weeks worth of freezer cooking sessions. I am trying to keep my sessions to about 1 1/2 hours and get one week's worth of meals from each session.
Week 1 — 7 meals total as I doubled the steak sandwiches
Sausage Rolls
Steak Sandwiches (I cooked thinly sliced steak with peppers, onions, garlic, and seasoning then froze in freezer bags. I will add to buns to serve.)
Pizza Casserole (recipe below)
1 lb pork sausage
1 jar spaghetti sauce
8 oz pasta (spiral or other shape) (cooked and drained)
2 cups shredded mozzarella cheese
3 oz sliced pepperoni
Cook and crumble sausage in a skillet until done. Drain. Add sauce and noodles. Stir. Place in a 9 x 13 pan. Top with cheese and then layer of pepperoni.
To bake immediately, preheat oven to 350 degrees and bake for 25 – 30 minutes.
To freeze, cover and place in freezer. To cook, thaw then preheat oven to 350 degrees and bake 35 – 40 minutes until heated through.
Week 2 — 6 meals total as I doubled the beef stew
Pizza Balls
Taco Pasta
Beef Stew
Southwest Chicken Soup
Chicken Burritos (recipe below)
1/4 cup onion (chopped)
1/4 cup green pepper (chopped)
2 tablespoons butter or margarine
1/3 cup all purpose flour
1 cup chicken broth
1 can diced tomatoes and green chilies
1 tbsp diced jalapeno pepper (optional)
1/2 tsp ground cumin
1/2 tsp chili powder
1/4 tsp garlic powder
1 can (15 oz) chili with beans
1 8 oz cream cheese
3 cups cubed cooked chicken
flour tortillas (burrito size)
shredded cheddar cheese or mexican blend
In a large skillet, saute onion and green pepper in butter until tender. Stir in flour then gradually add chicken broth. Bring to a boil. Reduce heat and add tomatoes, jalapeno pepper if desired, and all of the seasoning. Cook until heated through. Stir in chili and cubed cream cheese until cheese is melted. Add chicken.
Spoon filling down center of each burrito and top with cheese. Fold into burritos and place in a 9 x 13 baking dish. Cover and freeze if desired. If cooking now, bake at 350 degrees for 35 – 40 minutes. To use frozen burritos, thaw overnight and then bake at 350 degrees for 45 – 50 minutes.
I try to use what I have one hand as far as meat or pantry ingredients and make my menu around those items. I then make a shopping list of what I need in addition to my on hand ingredients. So far this is saving me time and money. I can't even begin to tell you how nice it is not to have to dirty the kitchen and a bunch of dishes every night. I might actually get some crafting done y'all. I will continue with my weekly cooking for a while then report back to y'all with a final results post. I may include some example weekly menus and recipes in that one as well. Y'all stay tuned for more from me as I transform my life with freezer cooking. Also follow along on my freezer cooking Pinterest board for real time updates as I find great recipes, tips, and tricks for you.