I am back with the results of my freezer cooking experiment. You can see where I started by checking out part 1 for recipes and part 2 for planning. Now for how it is working for us and if we like it. I have decided (a little late) that my word for this year is simplify. Simplify all areas of my life. Breathe a little. Be able to relax. How do you simplify your meals and meal planning? One answer. Two words. Freezer cooking.
Follow along with my freezer cooking Pinterest board to keep up with all of the great links I find in real time!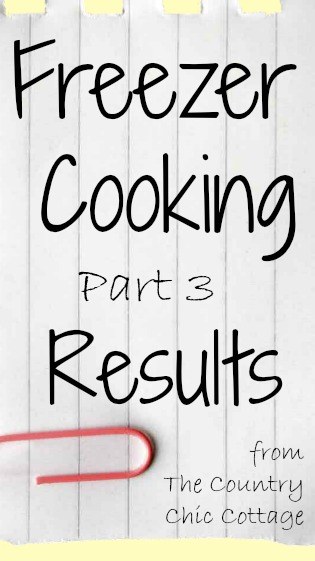 This has been an amazing transformation for us. I do my cooking on Sundays and make 6 – 7 meals each Sunday. Usually during the week we also eat a crock pot meal, have a sandwich night or other simple meal, and maybe go out to eat so there are a few extra meals I am building each week. This past Sunday y'all I didn't have to cook my freezer meals. I just made our supper and that was it. There were enough meals in the freezer to last this week. Simplify. That is the word and that is what freezer cooking has done for me.
Sausage Spaghetti Pie (I made 2 of these not 3.)
Taco Meat (I made a batch of taco meat just like I normally do for taco night and froze it for later.)
Week 4 — no cook week!
I was able to not cook and eat what we had in the freezer all week. On Sunday, I grilled steaks and made an extra batch of chili. Otherwise this week, we will be eating what is left from week 1 – 3.
Week 5 — 6 meals total
Pizza Balls
Steak Sandwiches (I cooked thinly sliced steak with peppers, onions, garlic, and seasoning then freeze in freezer bags. I will add to buns to serve.)
Country Steaks
(We will be eating these on Sunday as I am not sure how they will freeze.)
On average, I spend 1 1/2 hours cooking each Sunday and I am good for the week. Each night it generally takes me 15 minutes of actual hands on time to get our meal ready. It has left me with extra time at night with the family which I love. Also this is our busy sports season and in years past we have resorted to eating out during the week. Not anymore. I am able to get to sports and get a good meal on the table. Other benefits include fewer dishes during the week as most of the clean up is also done on Sunday. I am also saving money by planning everything out and not being forced into buying processed frozen food in the grocery store for busy nights. I would recommend a freezer cooking experiment to any busy family. Start small and just make a few extra meals each week. Trust me. You will love it. Your family will love it. Soon you will be cooking once a week or even once a month. I may continue to update y'all about once a month so you can get some new recipes and weekly meal cooking plans. I hope it encourages you to give freezer cooking a try for yourself.