This is a sponsored conversation written by me on behalf of Cricut. The opinions and text are all mine.
Did you know that your Cricut BrightPad is also great for hand lettering practice? Just print some hand lettering practice sheets and use the light to trace away! You will build that muscle memory and be brush lettering all the things before you know it! I have all of the details below along with links for free hand lettering practice sheets for you as well! Yes, the BrightPad is still great for weeding but it can also be used for so much more!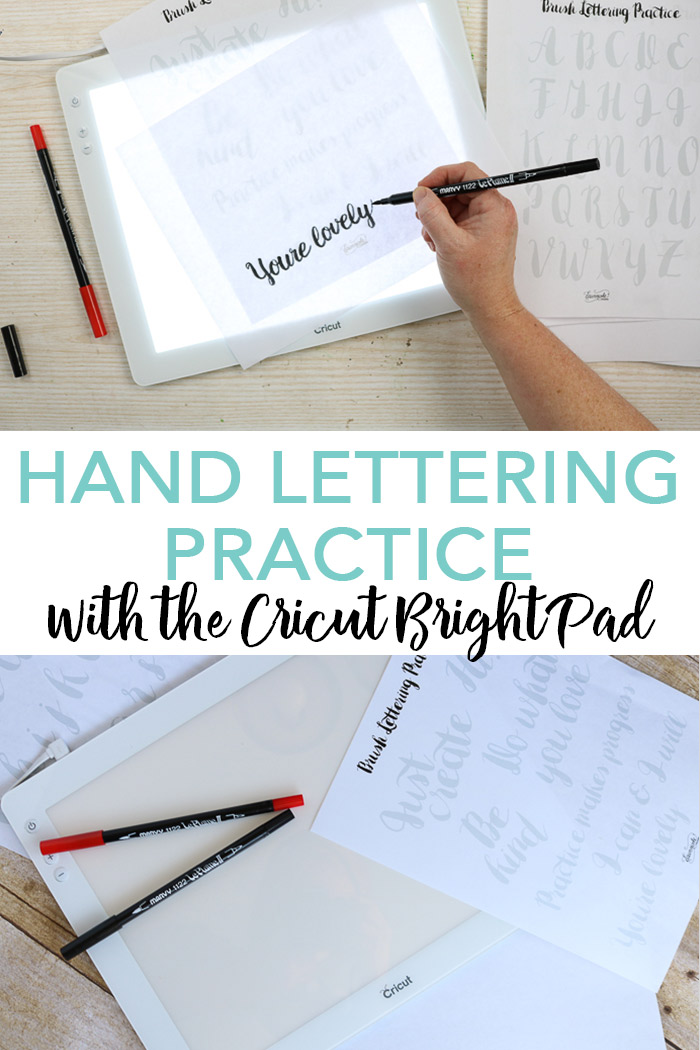 Supplies needed for hand lettering practice:
Some links below may be affiliate links which means that you do not pay anymore, however, a small portion of your purchase will go to support this site.
Hand lettering practice sheets (I am going to link to a few options below)
Brush lettering pens (you can read more about my favorites below)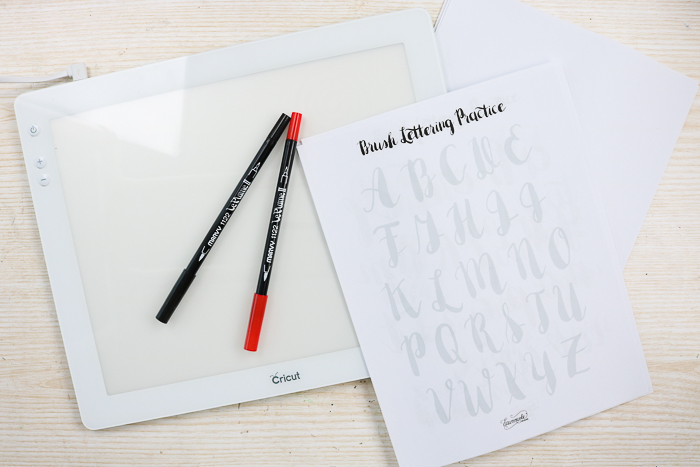 Free Hand Lettering Practice Sheets
There are several sources for practice sheets but I thought I would run down a few of my personal favorites.
Just download these and print on regular copy paper. You are definitely not limited to just these. Good hand lettering and literally print off anything you can find for practice!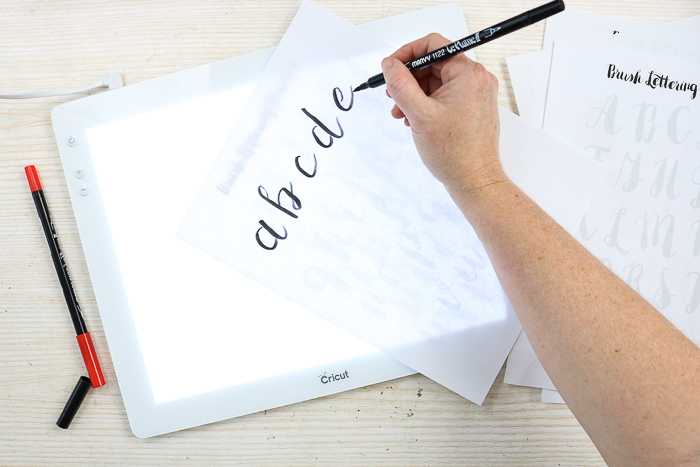 Hand Lettering Pen Recommendations
So, which pens are best? You want a pen with a brush tip so you can get both the thin and thick lines from one source. A few of my favorites include Marby Le Plume II and the Tombow Dual Brush Pens. The type of pen is actually a really important factor when learning how to hand letter. Don't skimp out here and try this with a regular marker. You will be highly disappointed!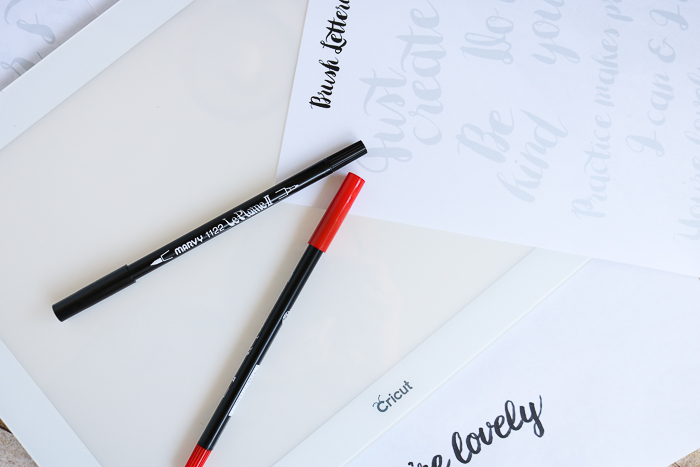 Hand Lettering Practice Video
I actually made a video all about practicing hand lettering with the Cricut BrightPad. You can watch that below.
Can't watch the video or missed some of the steps? Just follow along with the instructions below!
Hand Lettering Practice with the Cricut BrightPad
Now that you have your supplies gathered, it is time to start practicing! Add your practice sheet to the BrightPad and put a plain piece of paper over the top. Turn on your BrighPad and you can now see those letters right through the top page. This makes tracing and creating your own hand lettered designs super simple!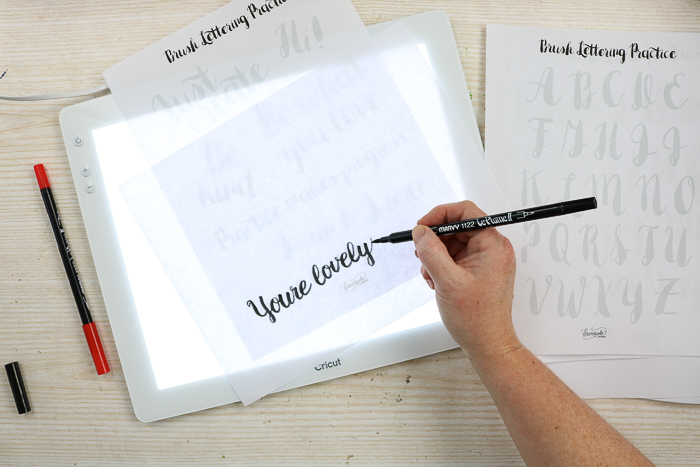 You can work on word art as shown below or individual letters. When it comes to hand lettering, practice makes perfect! Practice builds that muscle memory in your hand and it literally is the only way you can get better! If you want more instruction about the strokes when hand lettering, see my post here.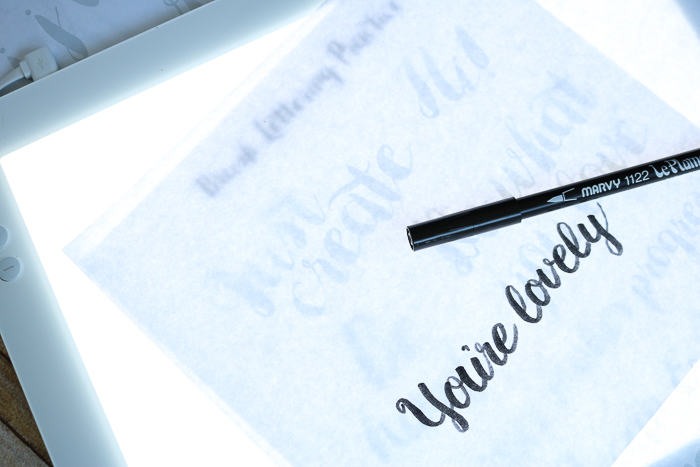 When working on your brush lettering practice using the Cricut BrightPad there are actually three brightness settings. I recommend the very brightest to really shine through your pages.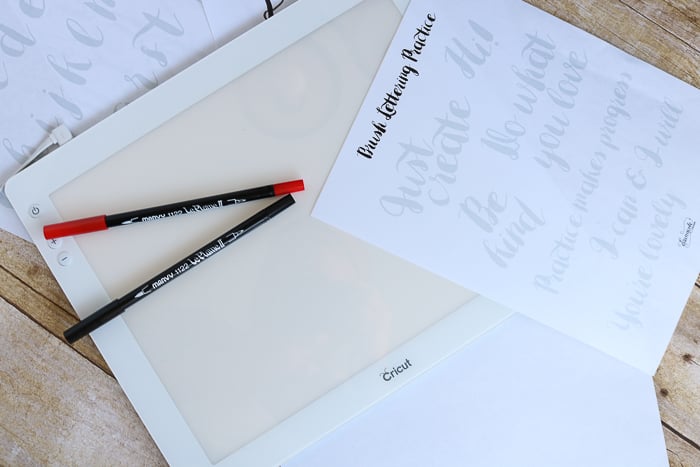 What else do I love about the Cricut BrightPad? The bright, uniform LED light is amazing for all types of craft projects. It is lightweight, portable, and extremely durable. The 9 x 11.5 inch area is perfect for standard sheets of paper when doing your hand lettering practice as well. You do have to plug the unit in but the 6-foot power cord gives ample room for movement.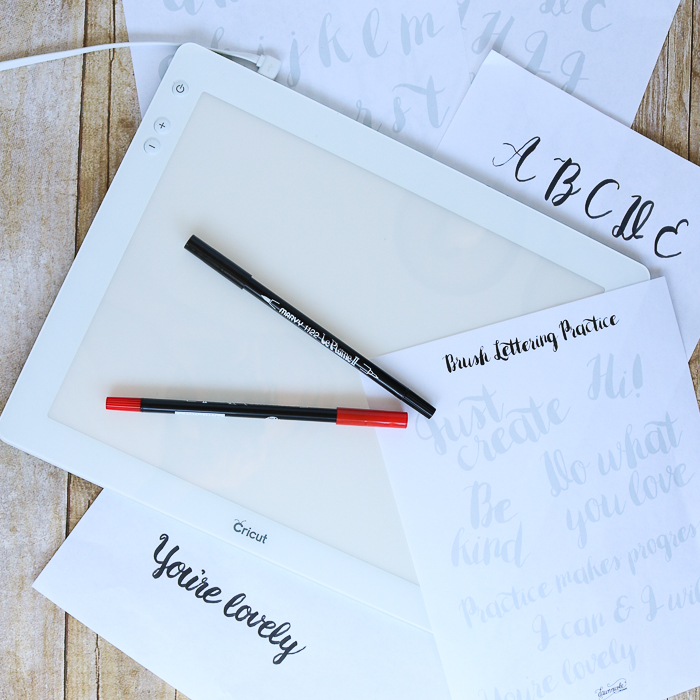 So, print some hand lettering practice sheets and get started training your muscles to create something gorgeous! You never know what you will accomplish once you master the art of brush lettering! You can shop for the Cricut BrightPad here for all of your hand lettering needs! Want to use the BrightPad for weeding your Cricut projects? Click here to see how to do just that!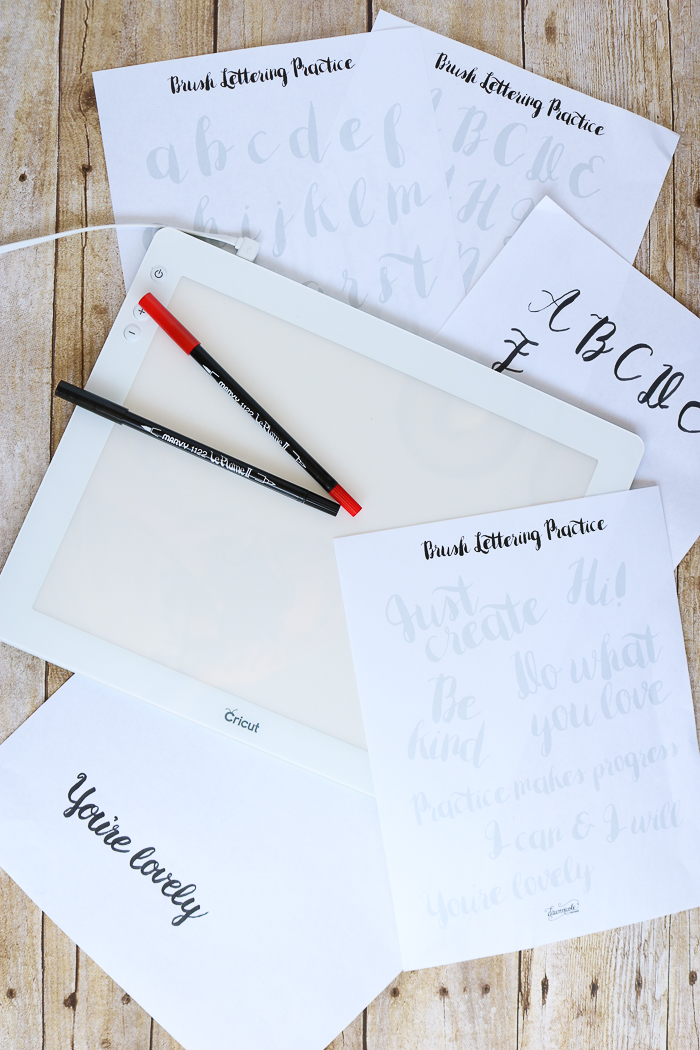 New to Cricut?
Sign up for our email list here to download the Beginner's Guide to Cricut Design Space for FREE today!
Sign up to get the guide emailed to you!