If you already have your Cricut Foil Transfer Tool, you may be wondering how to foil with print then cut. I am making a cute project today using a print then cut image and then adding some foil accents. The process is simple once you know a few tips and tricks! This foiled plant art actually makes a cute and inexpensive gift idea. Read on to see how to make it and 8 more gift ideas from some other bloggers joining me for a gift series today.
You can also win a Cricut Joy bundle at the bottom of this post so don't miss that as well!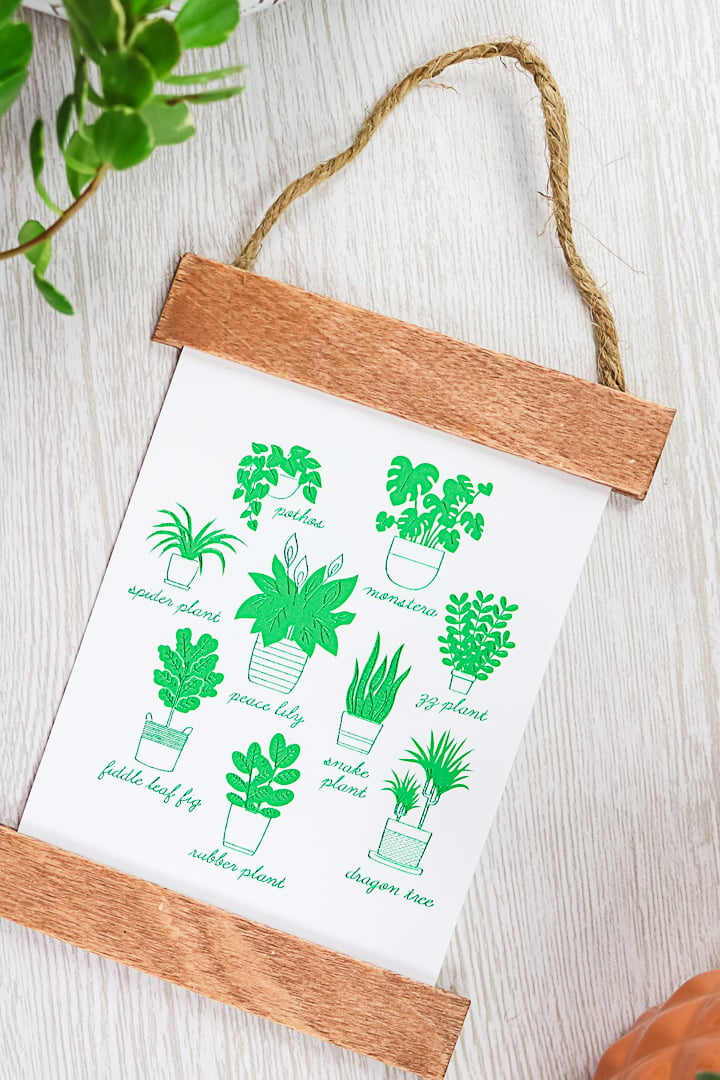 Supplies needed to foil with print then cut: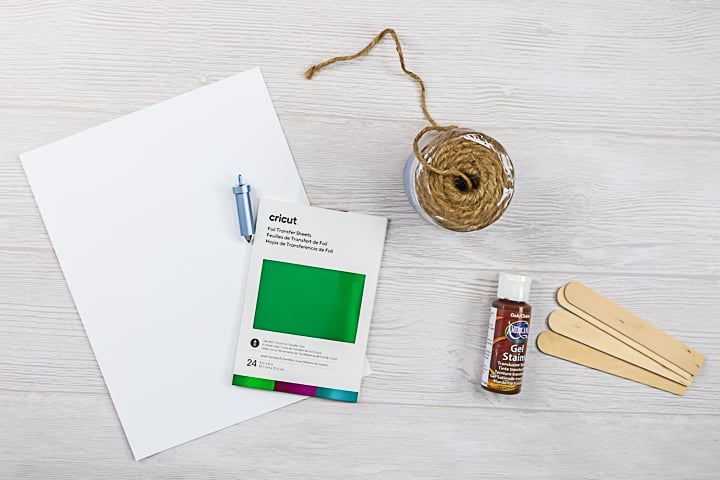 How to foil and print with a Cricut:
Now that you have your supplies, it is time to make our cute project and learn how to foil with print then cut on either your Maker or Explore machine. If you love metallic accents, learning how to use foiling with your print then cut projects will be a game changer.
Video tutorial:
You can watch the entire process of me foiling this plant art in the video below. If you are confused about how to add those foiling lines to your project, be sure to watch our video here on the Cricut Foil Transfer System.
Can't watch the video or missed some of the steps? I have instructions for you below as well!
Using Print Then Cut with the Cricut Foil Tool
You can use the card below to go over the instructions in detail or to print the instructions if you need to. Then just start adding those gorgeous foil tool lines to your Cricut print then cut projects.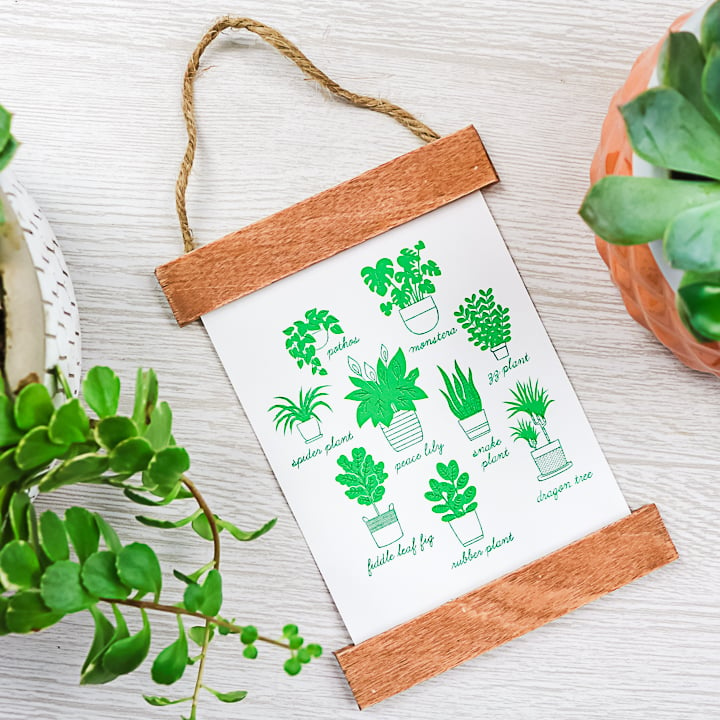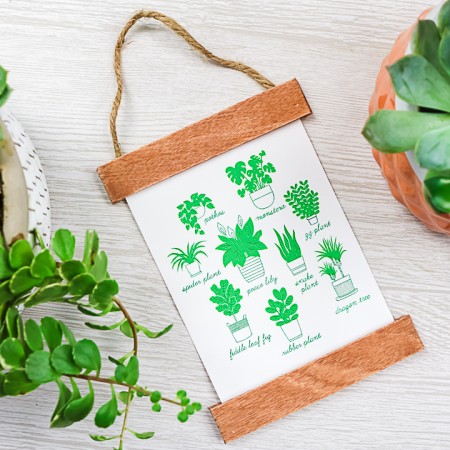 Foiled Plant Art with Cricut Print Then Cut
Learn how to use foil with Cricut print then cut and make gorgeous prints with metallic accents.
Supplies
Cricut Foil Transfer Tool

Green foil

Cricut Design Space project

Printer and ink

Stain

Twine

Hot glue and a glue gun

Cricut machine
Instructions
Print your project when prompted in Design Space and add to the mat.

The software will ask you to add the foil at the appropriate time. When adding the foil, you cannot cover any of the black box with tape. I like to cut my tape pieces in half lengthwise. Then cut your foil where it is slightly smaller than your box. Add the foil to the print with the tape be cautious not to cover any of the box.

The machine will then add the foil lines with the foil transfer tool. Be sure you have the tool in the machine and the correct tip installed before pressing go.

Once the foiling is complete, the machine will eject the mat far enough so that you can remove the foil. Remove the foil and tape then add the blade to the clamp to cut your art.

After the cut is complete, you can remove your mat from the machine to complete the project.

Carefully peel the mat back from your project to avoid curling.

Cut the ends of the craft sticks off square. Then should be slightly wider than your print.

Stain each of the sticks on the front and sides. Wipe the stain on, allow to sit a few minutes, then wipe away the excess. Allow to dry.

Cut a piece of twine to go at the top of your wall hanging.

Sandwich the paper in between the craft sticks on both the top and the bottom using hot glue. At the top, add the twine in between the sticks as well. Your foiled plant art is ready to hang or to give as a gift!
Tried this project?
tag us to show off your work!
This easy DIY art project is perfect for getting started with foiling and printing with your Cricut. Take those print then cut projects to the next level with this easy technique and the new Cricut Foil Tool!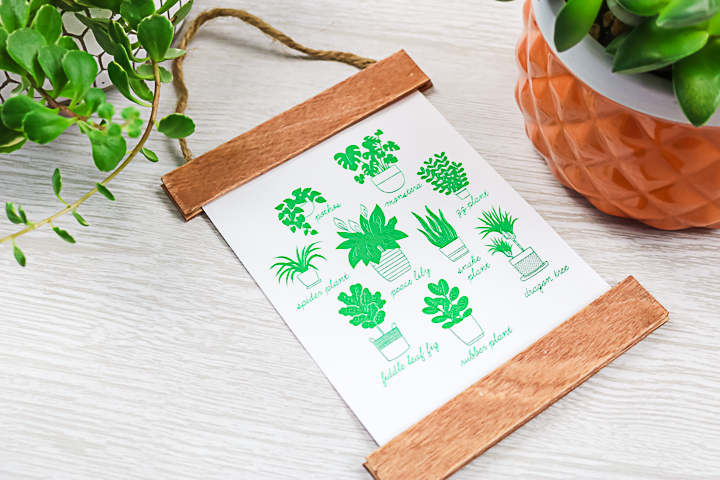 Don't love the green foil I used on this one? Try a different color, gold, or silver. There are a ton of options to choose from for whatever project you have planned.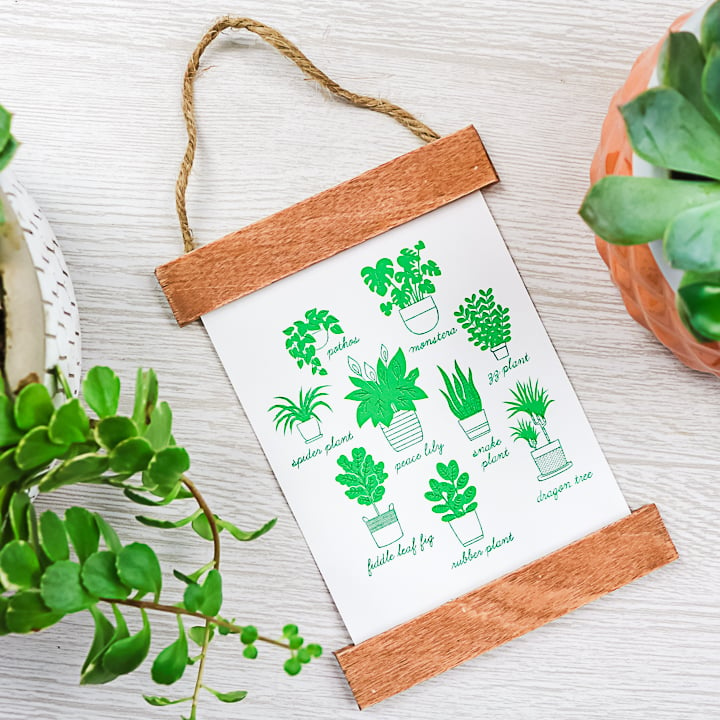 I would like to note that the maximum area for print then cut is 6.75×9.25 inches so you will need to make sure your project fits in that window to make it with your Cricut machine. Otherwise, have fun with this technique! Now that you know how to foil with print then cut, the sky is the limit!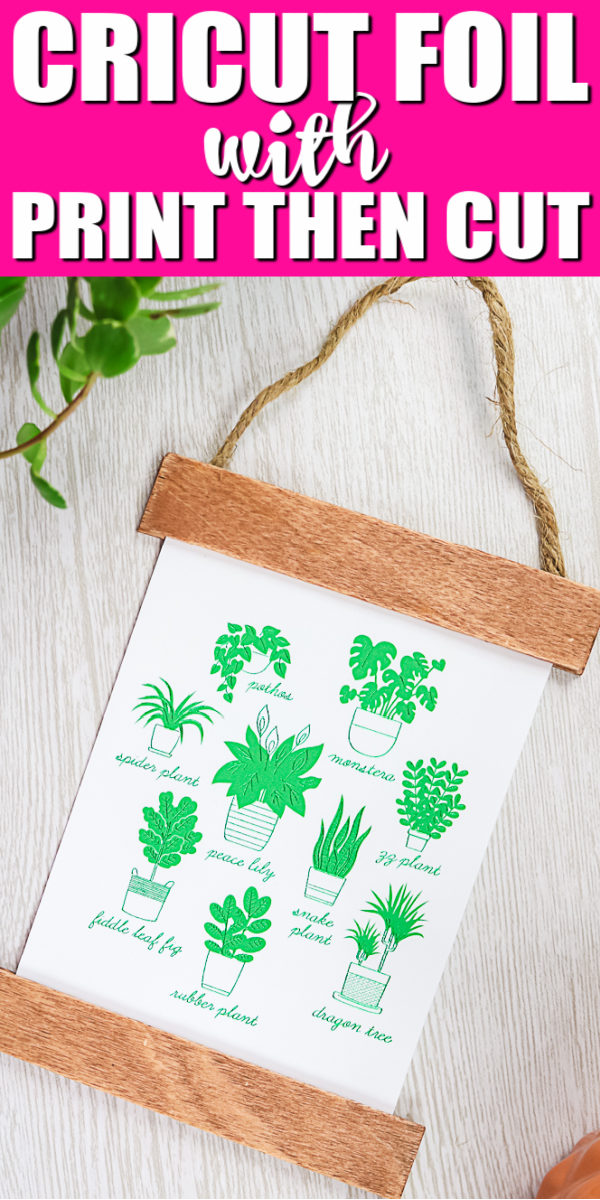 Want more Cricut gift ideas?
Looking for more ideas for things you can make for gifting with your Cricut machine? I have a total of 9 ideas below that you are going to love!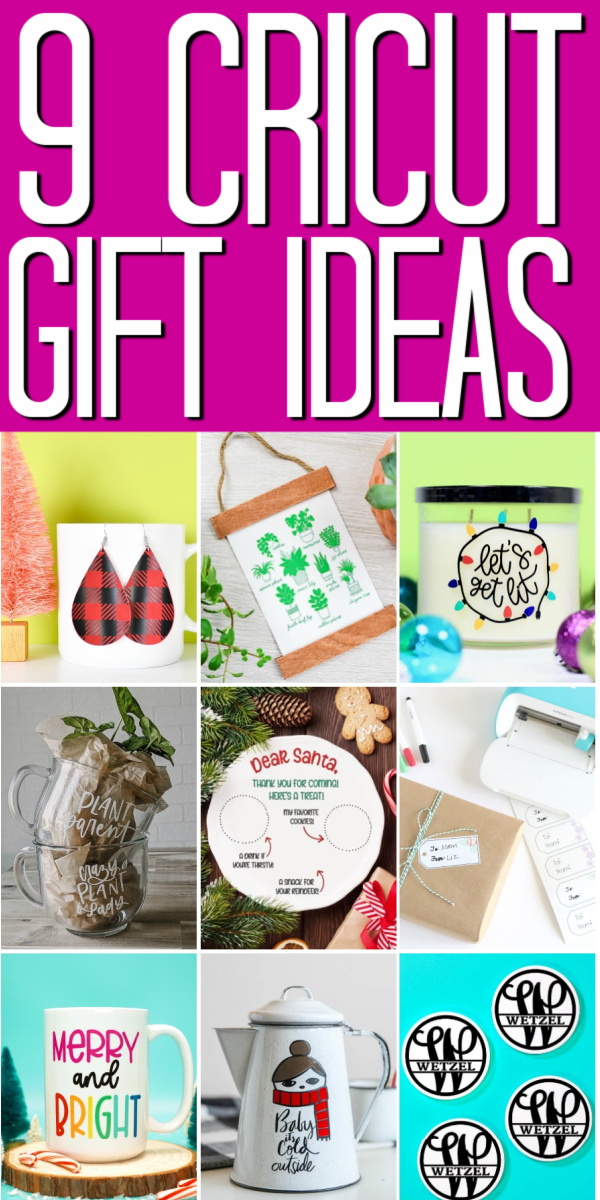 Enter to win a Cricut Joy bundle!
You can also enter to win our giveaway in the widget below! Good luck!
Cricut Joy Christmas Giveaway
So, try your hand at using foil with print then cut then make a few of these other gift ideas as well. You will love the results and everyone will love getting handmade at the the holidays.