Today I wanted to share with you a tutorial on how to make Christmas ornaments from clay. If you have not used oven-bake clay, you are in for a treat! It is a super forgiving medium and makes cute ornaments like these easily. You are sure to get hooked after you use it just one time. This post is sponsored by Sculpey, however, all projects and opinions are my own.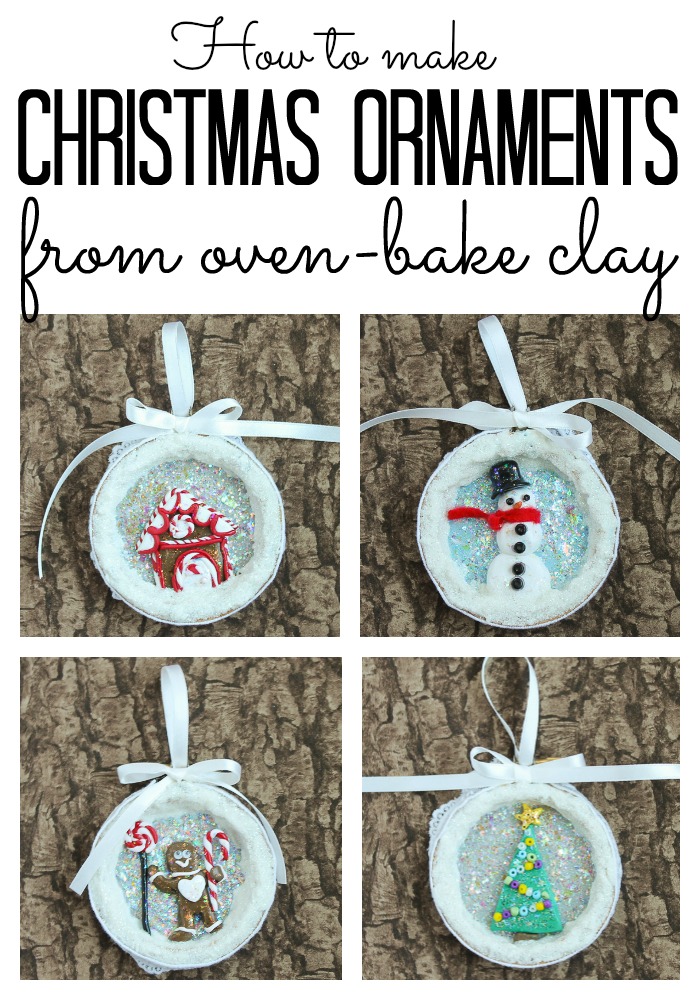 Supplies needed to make these ornaments:
Some links below may be affiliate links which means that you do not pay anymore, however, a small commission from your purchase will go to this site.
Embroidery hoop (I used a 3-inch size)
Felt (in the color of your choice)
Glitterific paint (in a variety of colors)
Oven
Sculpey Metal Cutters (optional)
Beads
Lace
Ribbon
Hot glue and a glue gun
Pallet knife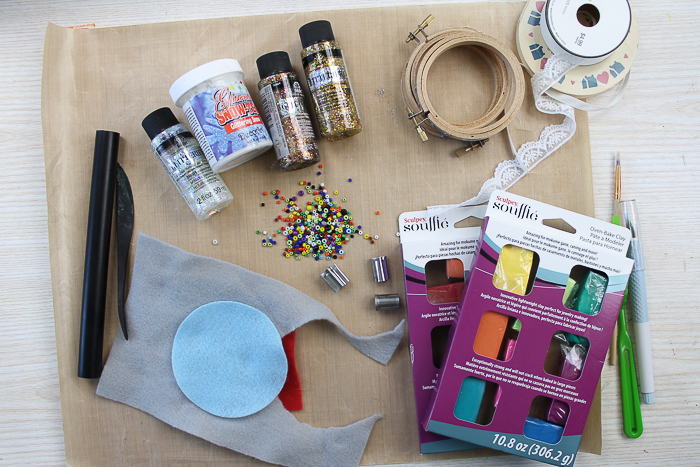 How to Make Christmas Ornaments Video
If you want to see just how to make Christmas ornaments from clay, try the video below. It will walk you completely through one of these ornaments.
Can't watch the video or missed some of the steps? Try the instructions below!
How to Make Christmas Ornaments from Clay
Start by adding felt to an embroidery hoop. I used grey on most of mine but blue on the snowman. Trim away the excess felt with a craft knife.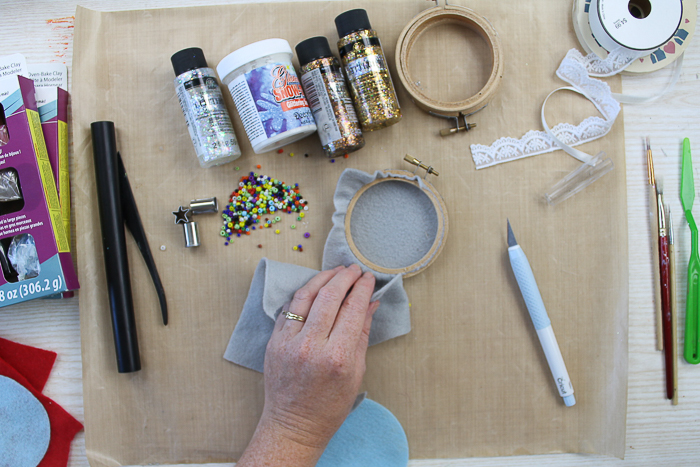 Then add a large amount of Glitterific paint to the inside of the hoop. Spread into an even layer with a paintbrush. I used the clear holographic paint for all of my ornaments.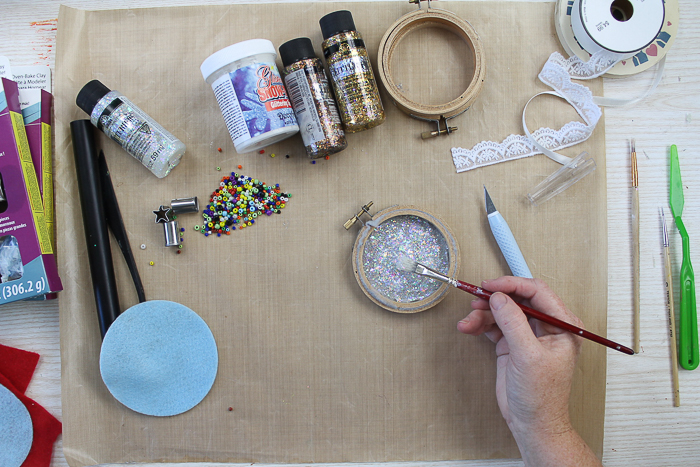 Then add snow paint to the inside surface of the hoop as well as the outside edge as shown below. This covers everything up and makes it look more like an ornament. Applying with a pallette knife is best for this type of paint.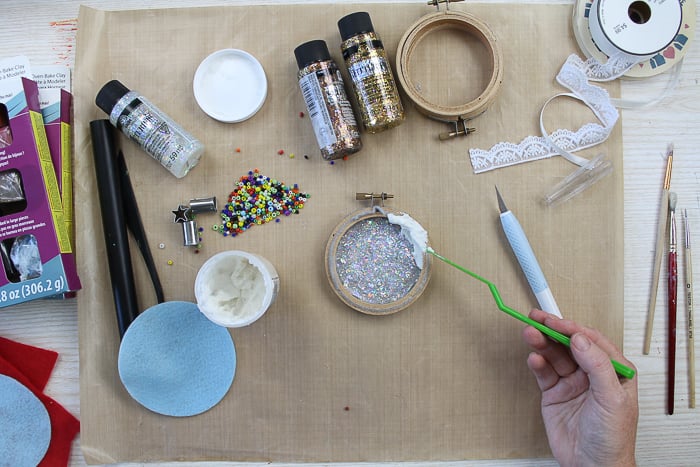 Once completely covered, set aside and allow to dry completely. It takes about 24 hours to dry especially if you have applied a thick coat.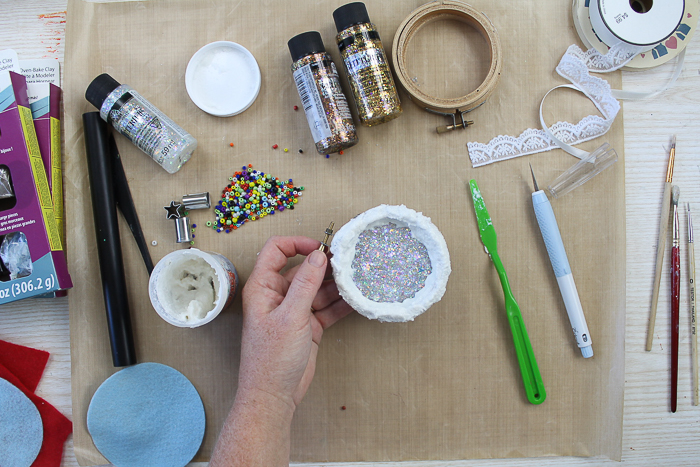 While that dries, you can work on your clay pieces to add to the inside of your ornaments. I worked on a Sculpey Clay Work Mat which allows you to bake right on the mat. It is also non-stick which makes it easier when creating your projects.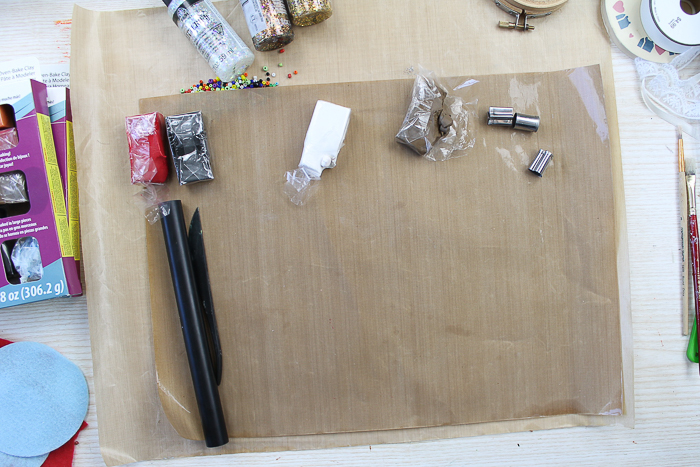 Then just start rolling the clay to make the shapes you need for your Christmas ornaments. On this snowman, for instance, I used round balls flattened for the body.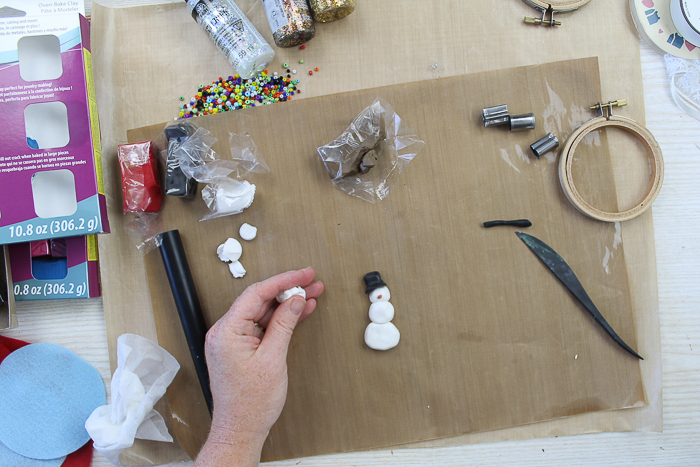 You can also flatten larger pieces of clay and cut out shapes with a plastic knife like with the gingerbread man below. To create the candy cane strips, I used two long logs of red and white clay and twisted those together.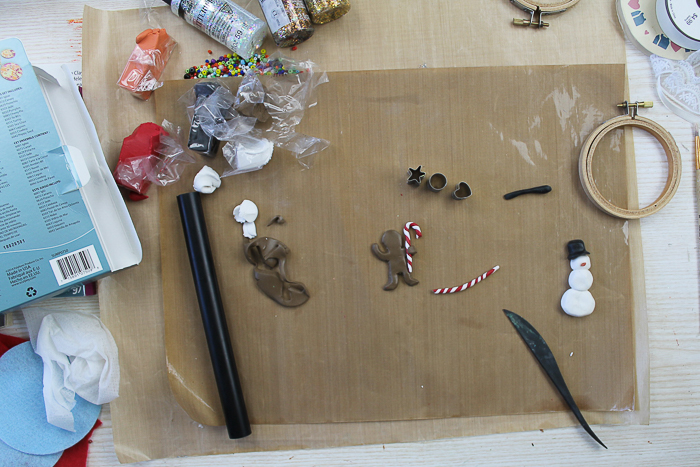 You can also use the Sculpey Metal Cutters to add shapes to your clay pieces. Like the heart on the gingerbread man or the star on top of the Christmas tree.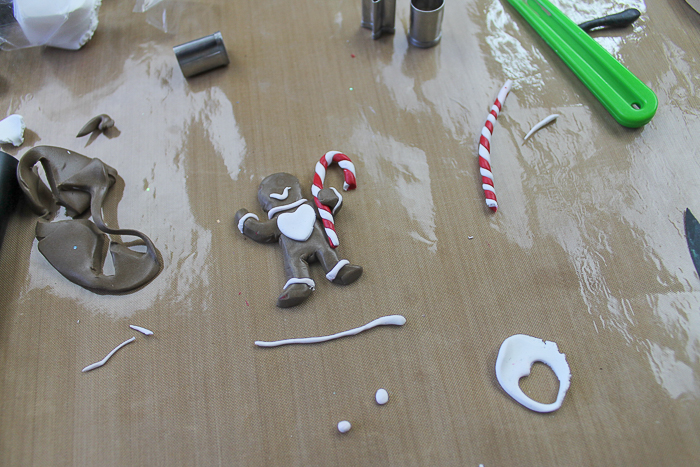 The Sculpey Souffle Oven-Bake Clay will not dry out in the air so you can continue to work your pieces as long as you would like. I love the smooth feel of this clay and how forgiving it is when you work with it.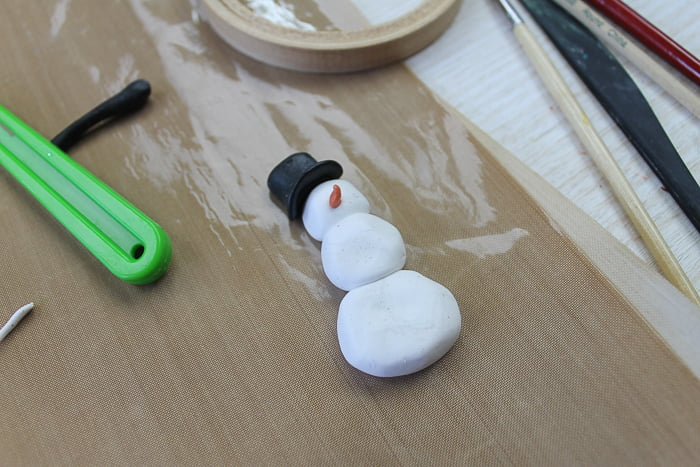 Once you have completed your pieces, just bake them in the oven according to the package directions. I wanted my candy cane to stand up so I added a bit of aluminum foil to keep it level when baking. You can do this for any pieces that you may have hanging off.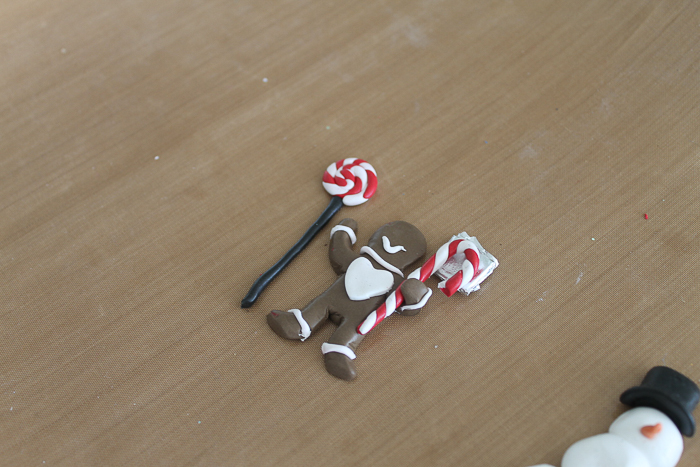 Bake the pieces right on the mat on a cookie sheet. Then allow them to cool. Once baked, the pieces will be firm and you will not be able to alter the shape any longer.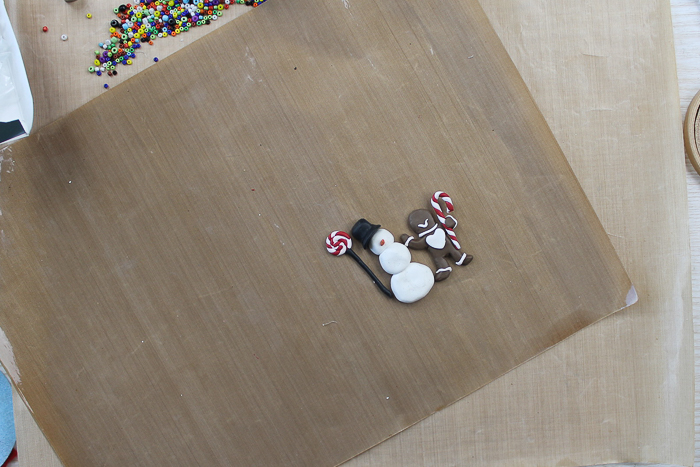 I wanted to add a little something extra to the pieces so I added more of the Glitterific paint onto the clay pieces. Just paint right over them and allow to dry. Use any color of paint you would like. Allow to dry then use hot glue to secure to the hoops. You can add more snow paint at this point if needed to make your clay pieces appear to be sitting on the ground.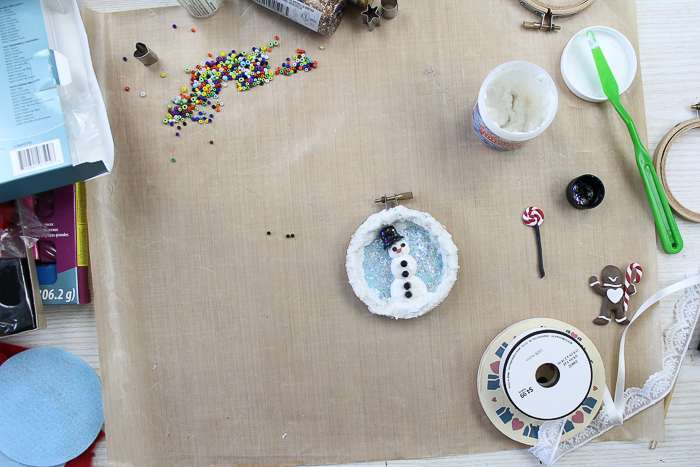 Then use hot glue to secure lace around the outer edge of the ornament.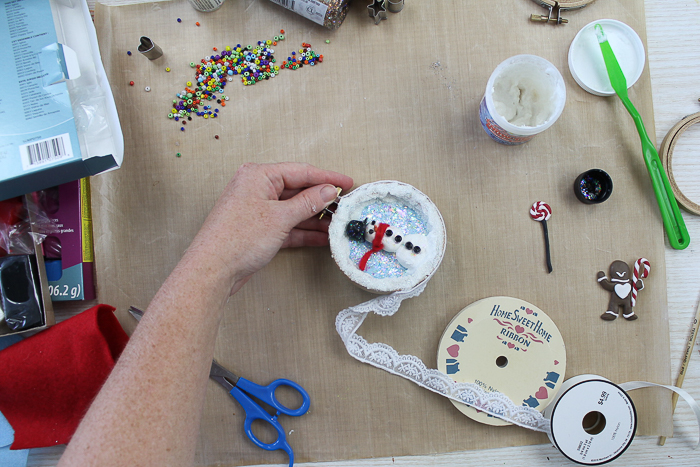 You can also add more elements to your design including beads or even a felt scarf on your snowman. Just attach all of these pieces with hot glue.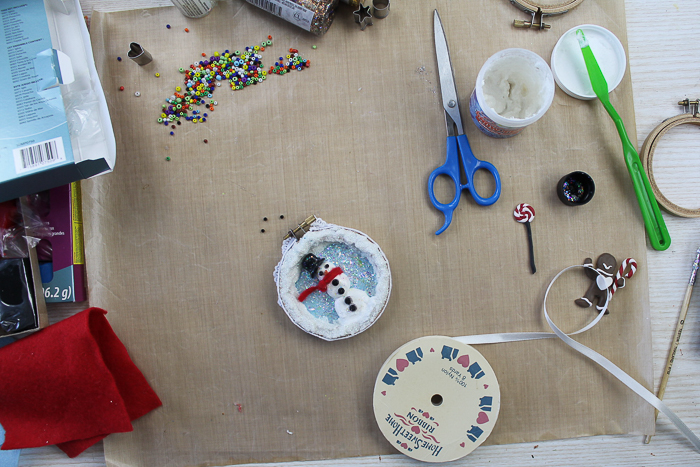 I also added a bow to the top of each one and another loop of ribbon for hanging.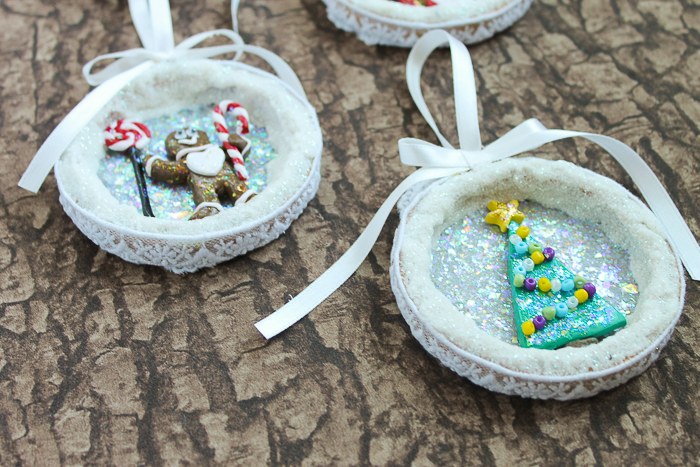 Once you learn how to make Christmas ornaments from clay, it is hard to stop at just one! I made four different versions.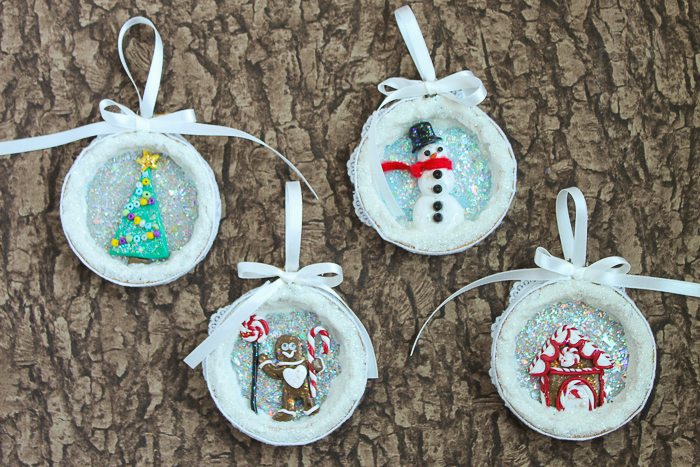 The first is a Christmas tree complete with a bead garland.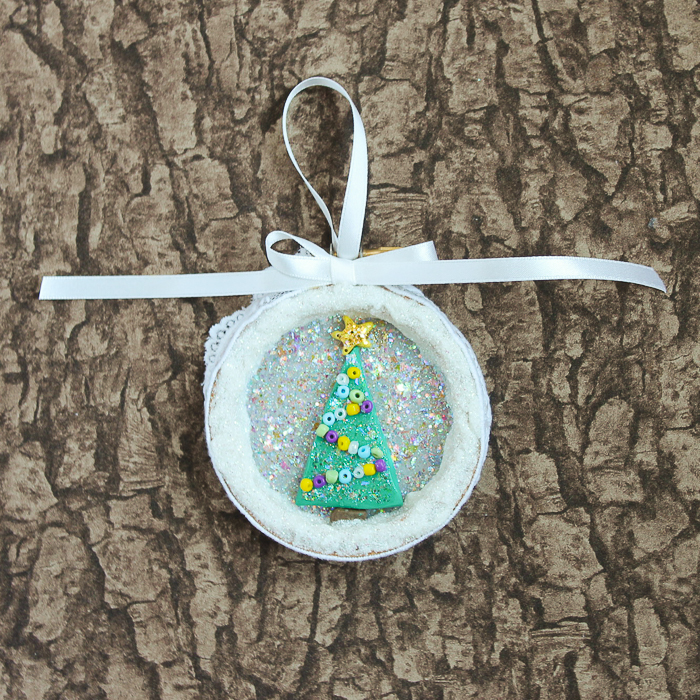 The second is that cute gingerbread man with googly eyes holding a candy cane.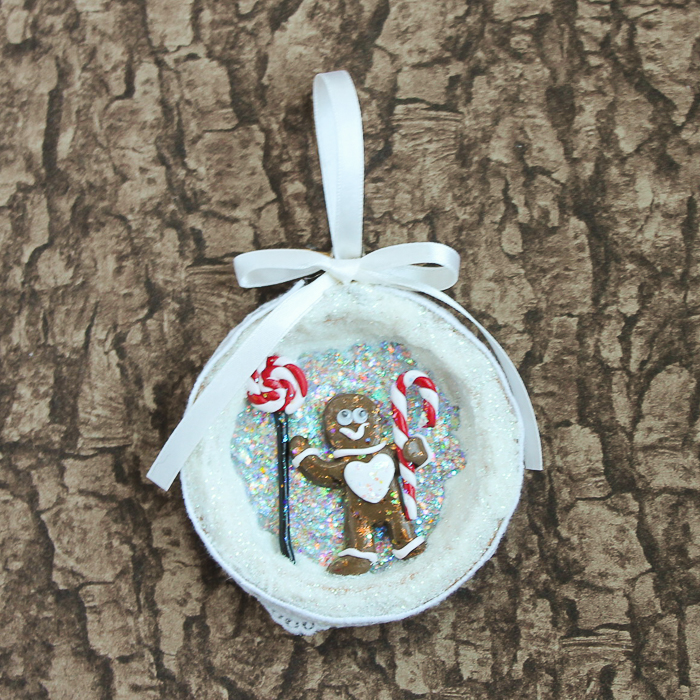 The third is that snowman kept warm by his fuzzy scarf.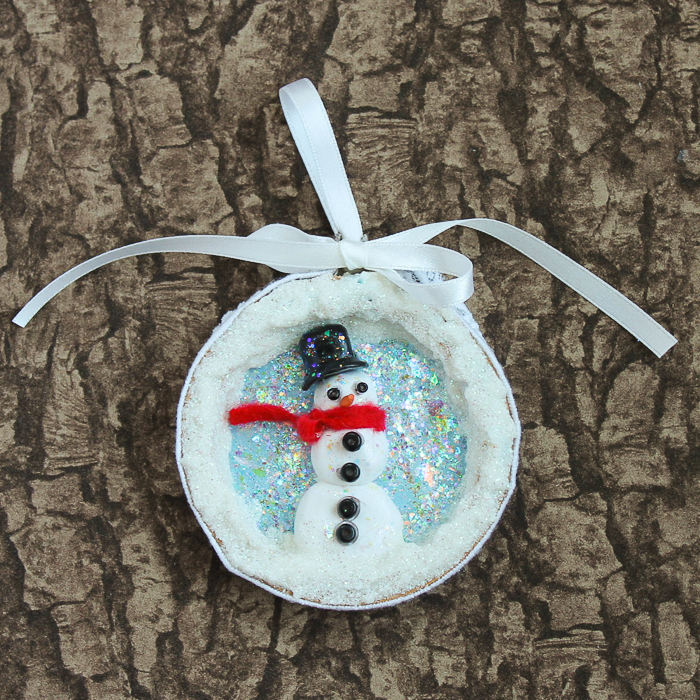 Finally, we have a gingerbread house all decked out in red and white.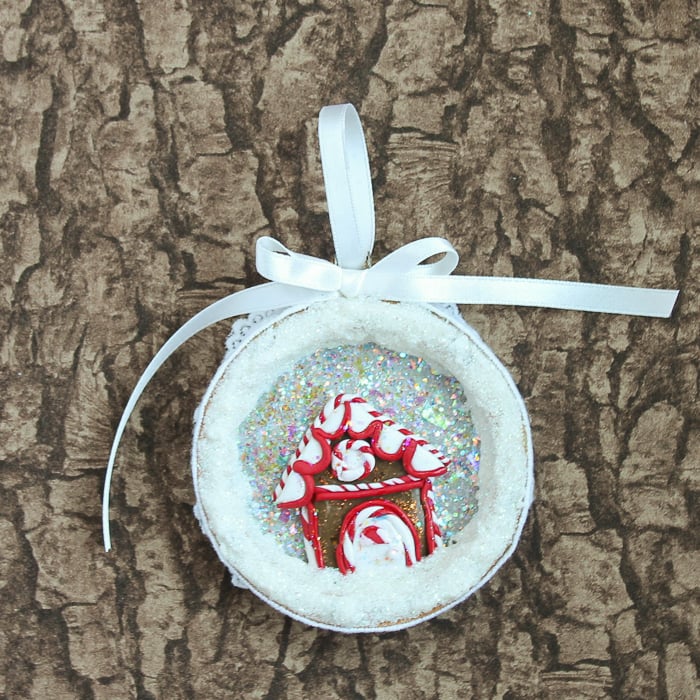 These will look great on your tree this holiday season. Who knew that a tutorial on how to make Christmas ornaments could be so easy?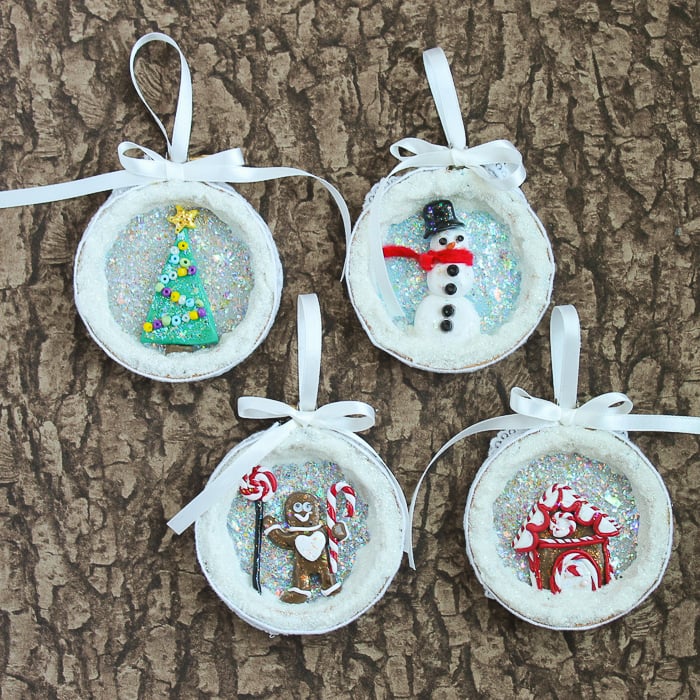 Will you be making some of these clay ornaments for your decor this year?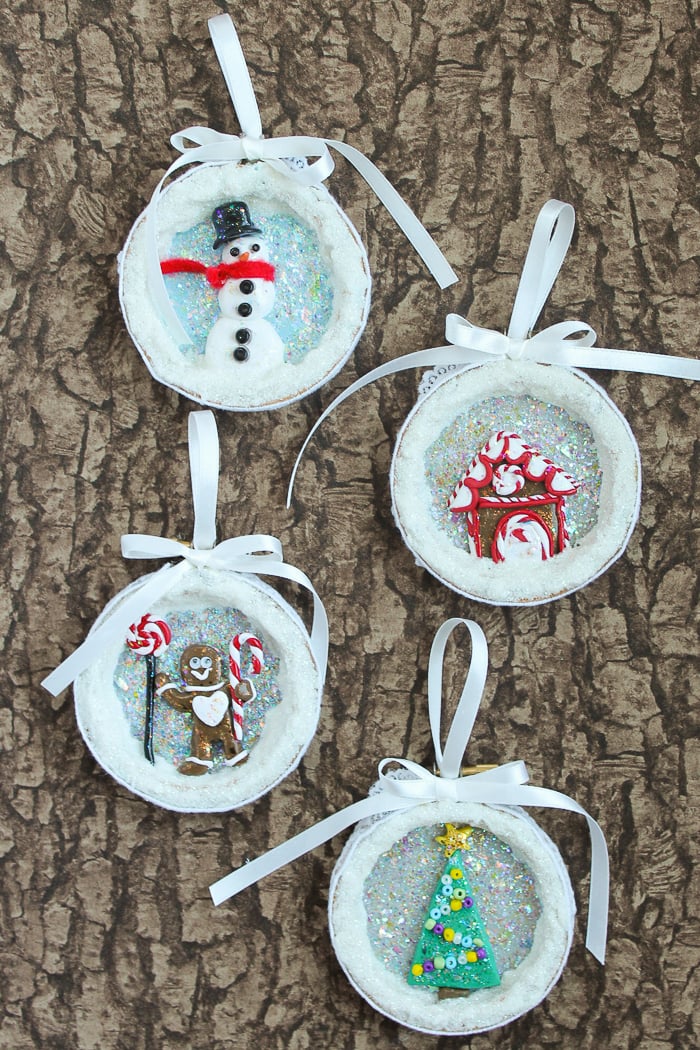 Grab your supplies and be sure to follow our tutorial on how to make Christmas ornaments from clay. You will love the results!