Today I wanted to share with you a tutorial on how to make clay ornaments for your Christmas tree If you have not used oven-bake clay, you are in for a treat! It is a super forgiving medium and makes cute ornaments like these easily.
You are sure to get hooked after you use it just one time. In fact, making polymer clay Christmas ornaments may just become a new family tradition!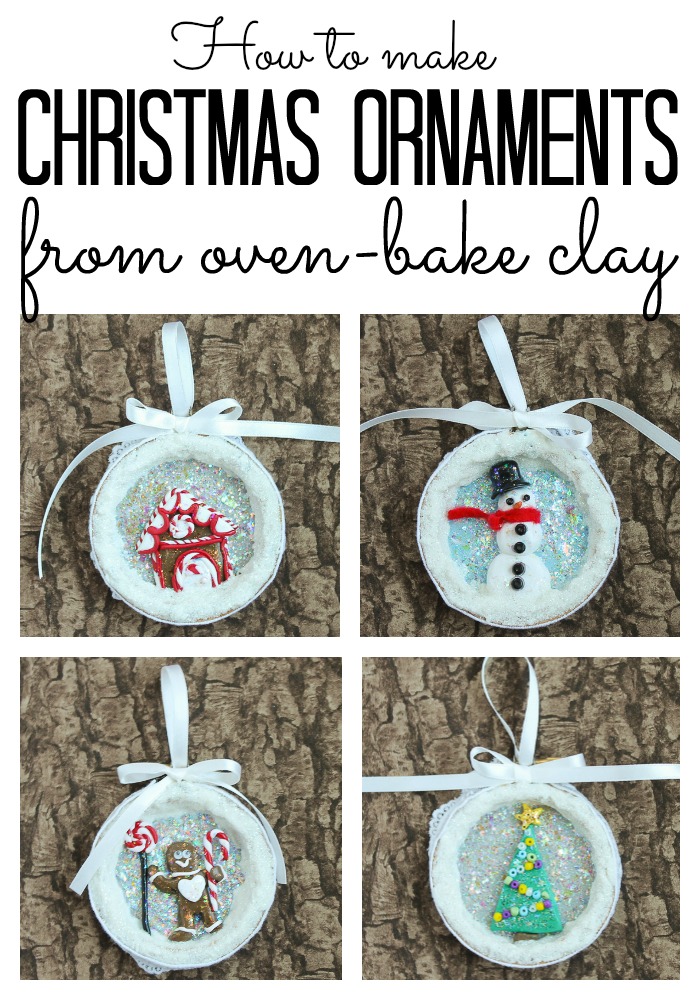 Supplies needed to make clay ornaments:
Embroidery hoops (I used a 3-inch size)
Felt (in the color of your choice)
Glitterific paint (in a variety of colors)
Sculpey Metal Cutters (optional)
Beads
Lace
Ribbon
Hot glue and a glue gun
Pallet knife
You'll also need to have access to an oven to bake your clay ornaments. I recommend having some parchment paper or a Sculpey Clay Work Mat to put on the baking sheet.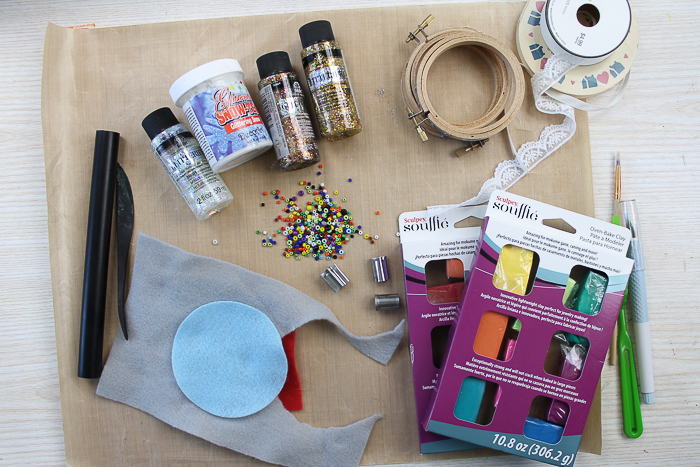 Video: Watch and Learn How to Make Clay Ornaments
If you want to see just how to make Christmas ornaments from clay, try the video below. It will walk you completely through one of these ornaments.

Can't watch the video or missed some of the steps? Try the instructions below!
How to Make Christmas Ornaments from Clay
1. Add Felt to the Embroidery Hoop
Start by adding felt to an embroidery hoop. I used grey on most of mine but blue on the snowman. Trim away the excess felt with a craft knife.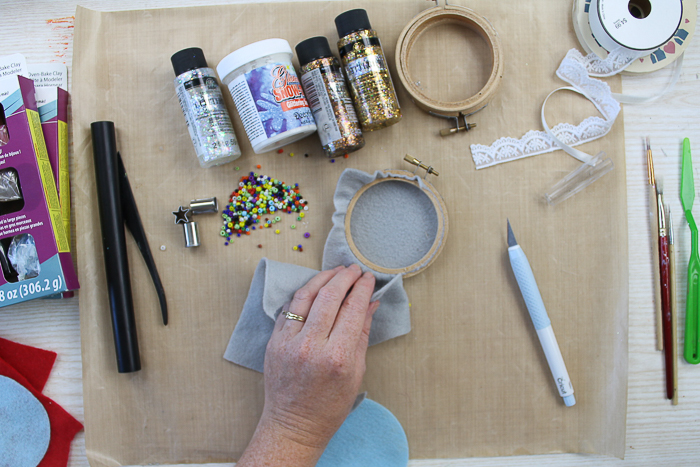 2. Add Glitter Paint
Then add a large amount of Glitterific paint to the inside of the hoop. Spread into an even layer with a paintbrush. I used the clear holographic paint for all of my ornaments.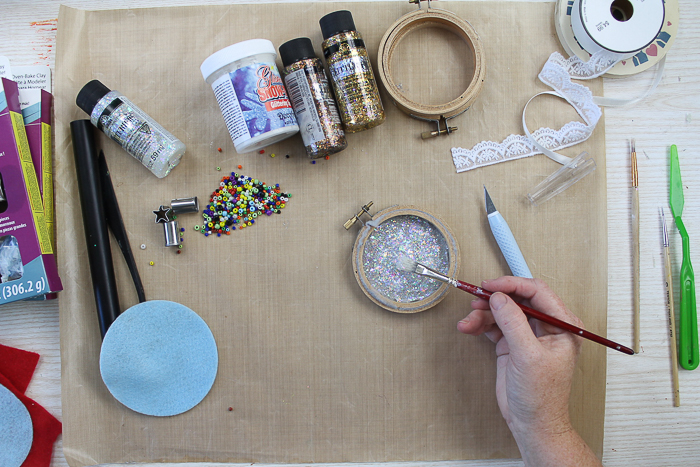 3. Add Snow Paint
Then add snow paint to the inside surface of the hoop as well as the outside edge as shown below. This covers everything up and makes it look more like an ornament.
The best way I have found to apply this kind of paint is to use a pallette knife.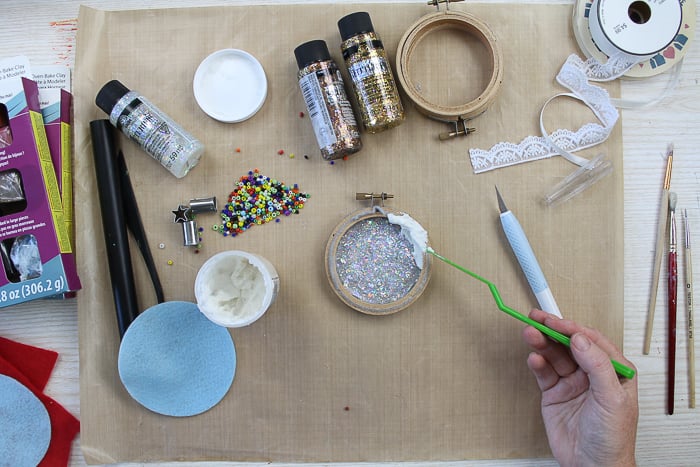 Once completely covered, set aside and allow to dry completely. It takes about 24 hours to dry especially if you have applied a thick coat.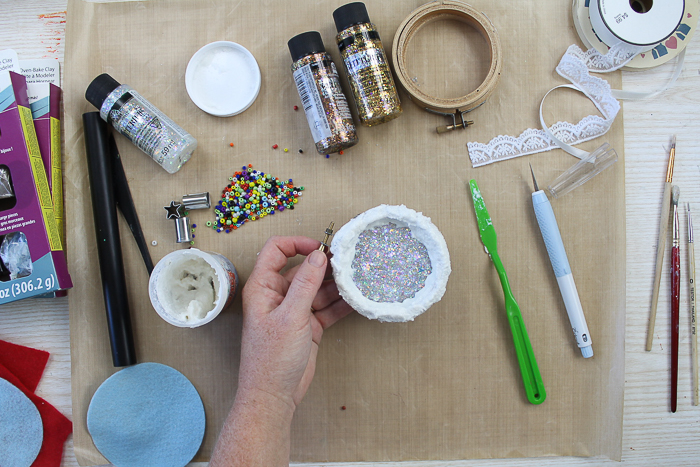 4. Form the clay
While that dries, you can work on your clay pieces to add to the inside of your ornaments. I worked on a Sculpey Clay Work Mat which allows you to bake right on the mat. It is also non-stick which makes it easier when creating your projects.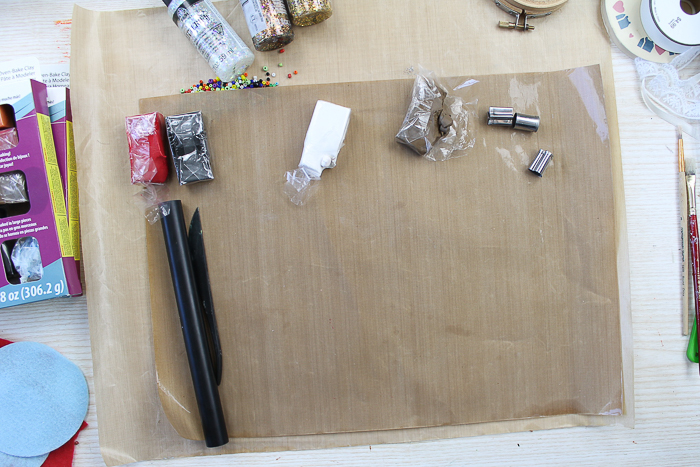 Then just start rolling the clay to make the shapes you need for your Christmas ornaments. On this snowman, for instance, I used round balls flattened for the body.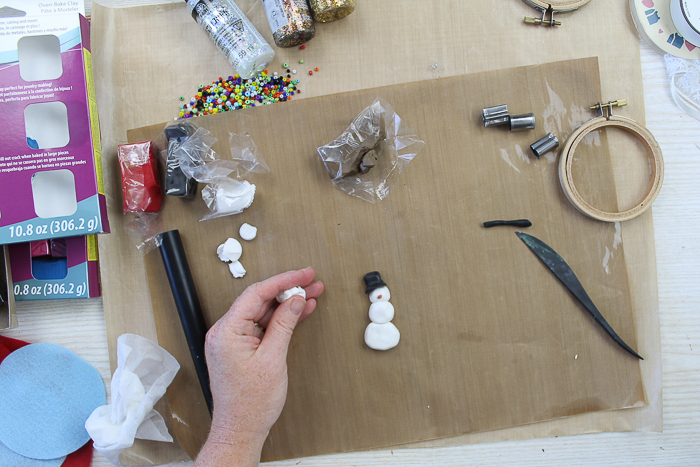 You can also flatten larger pieces of clay and cut out shapes with a plastic knife like with the gingerbread man below.
To create the candy cane strips, I used two long logs of red and white clay and twisted those together.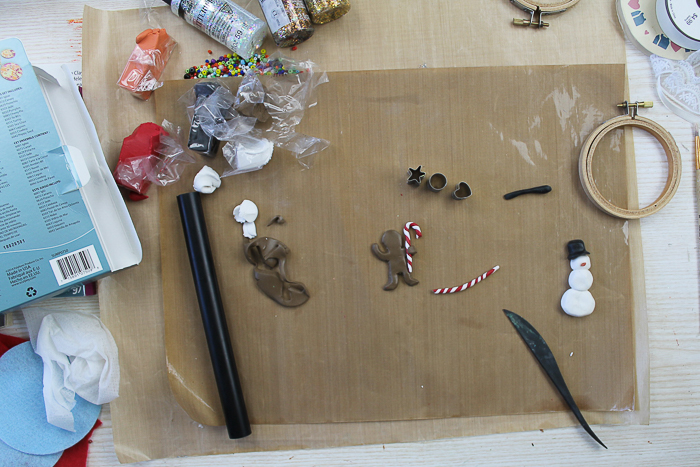 You can also use the Sculpey Metal Cutters or a small cookie cutter (don't use this on food after—it'll need to be just for crafts) to add shapes to your clay pieces.
If you look at the photo below, that's what I did to add the heart on the gingerbread man. You can also use one to make a star for the top of the Christmas tree.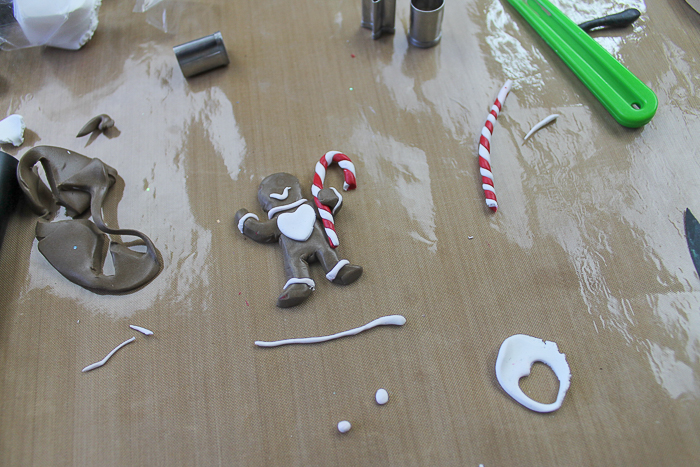 Oven bake clay typically will not dry out in the air so you can continue to work your pieces as long as you would like.
I love the smooth feel of this clay and how forgiving it is when you work with it. It's quite therapeutic!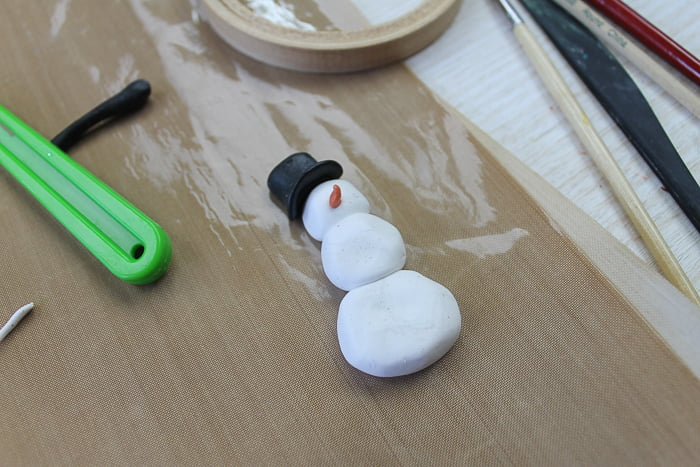 5. Bake the clay ornaments
Once you have completed your clay ornaments, just bake them in the oven according to the package directions. I wanted my candy cane to stand up so I added a bit of aluminum foil to keep it level when baking. You can do this for any pieces that you may have hanging off.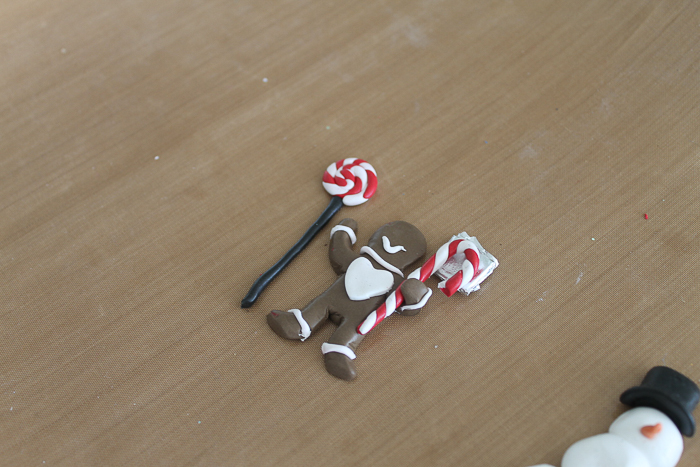 Bake the pieces right on the mat on a cookie sheet. Then allow them to cool. Once baked, the pieces will be firm and you will not be able to alter the shape any longer.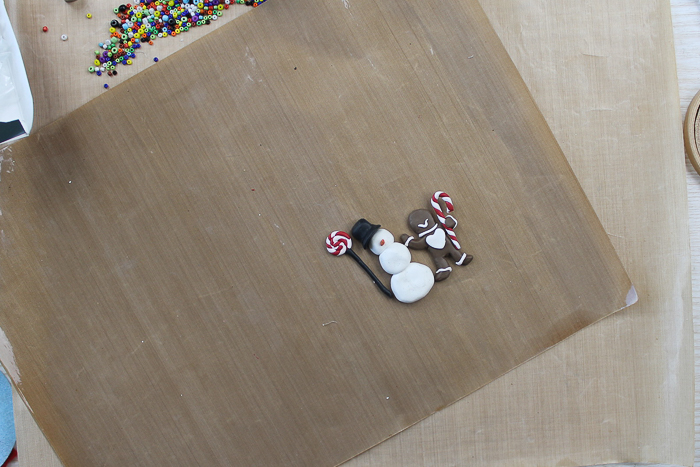 6. Add the Finishing Touches
I wanted to add a little something extra to the pieces so I added more of the Glitterific paint onto the clay pieces. Just paint right over them and allow to dry. Use any color of paint you would like.
Allow to dry then use hot glue to secure to the hoops. You can add more snow paint at this point if needed to make your clay pieces appear to be sitting on the ground.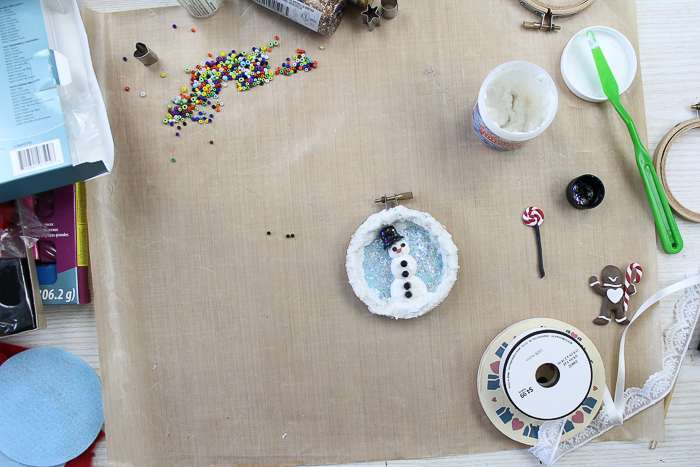 Then use hot glue to secure lace around the outer edge of the ornament.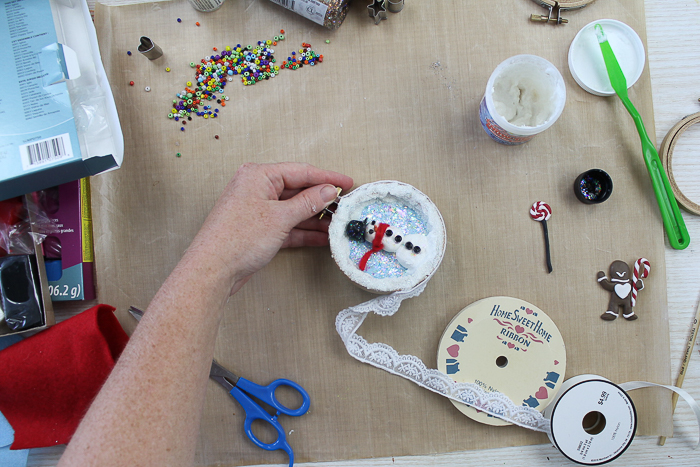 You can also add more elements to your design including beads or even a felt scarf on your snowman. Just attach all of these pieces with hot glue.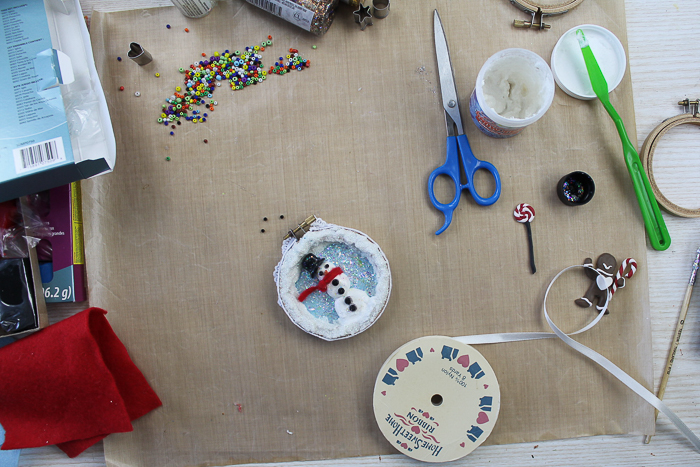 I also added a bow to the top of each one and another loop of ribbon for hanging.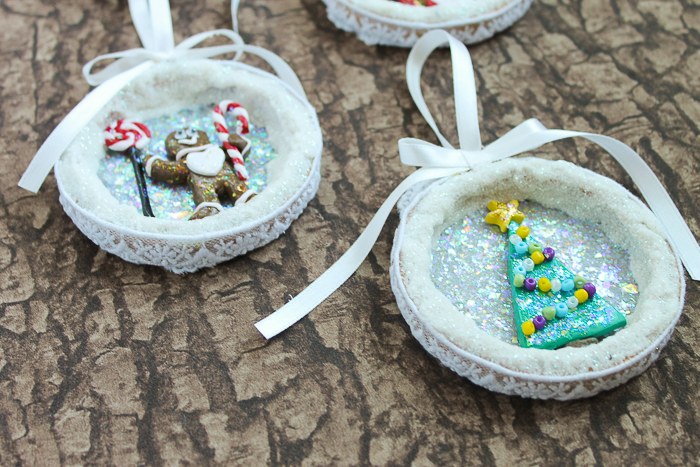 Four Christmas Clay Ornaments to Try
Once you learn how to make Christmas ornaments from clay, it is hard to stop at just one! I made four different versions.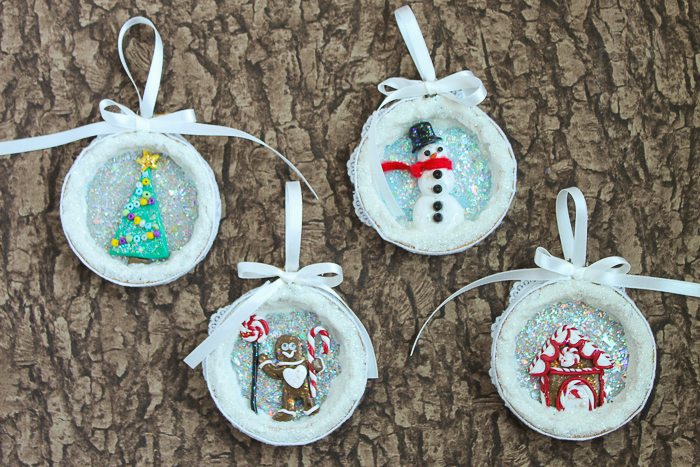 Christmas Tree
The first is a Christmas tree complete with a bead garland. Making the garland is great for little fingers to practice hand-motor skills with.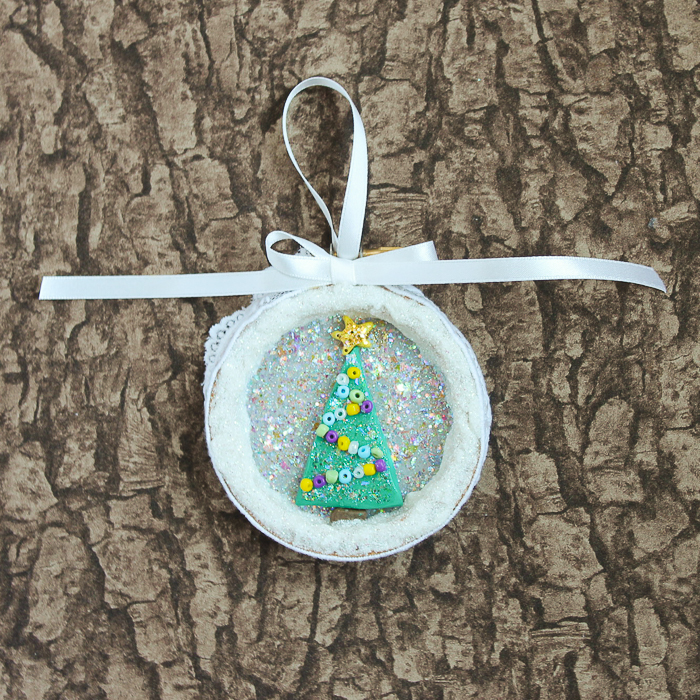 2. Gingerbread Man
The second is that cute gingerbread man with googly eyes holding a candy cane. Twisting together the peppermint was my favorite part!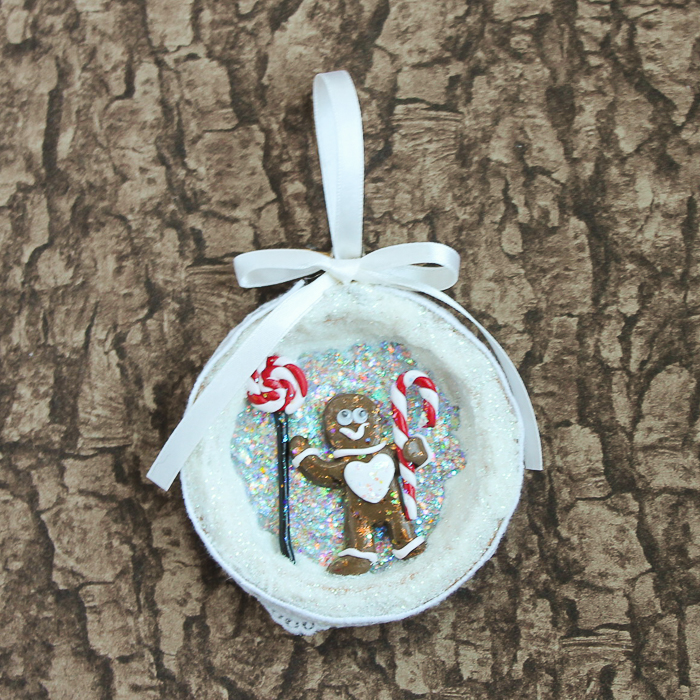 3. Snowman
The third is an adorable snowman who is kept warm by his fuzzy scarf. I made the scarf out of a piece of felt, but you could also use ribbon or a pipe cleaner.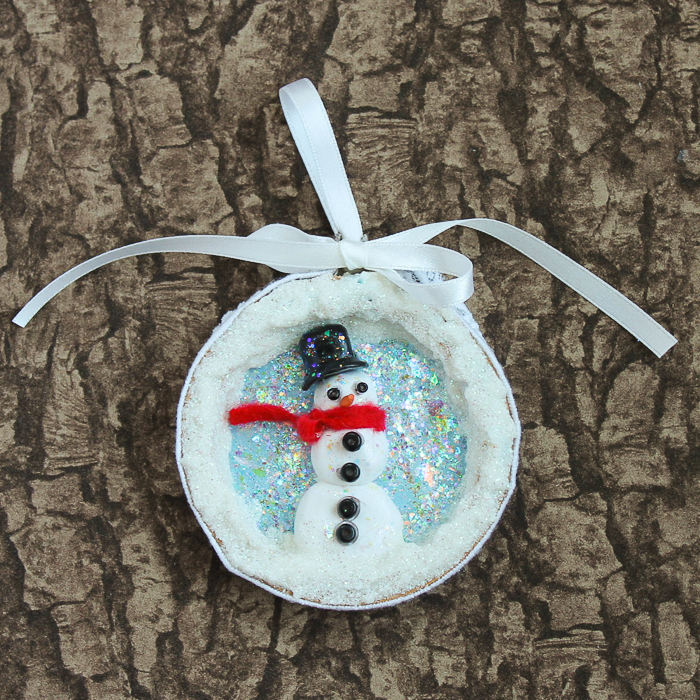 4. Gingerbread House
Finally, we have a gingerbread house all decked out in red and white. Instead of having a typical gingerbread house contest, let each child sculpt one in a clay ornament. So much fun!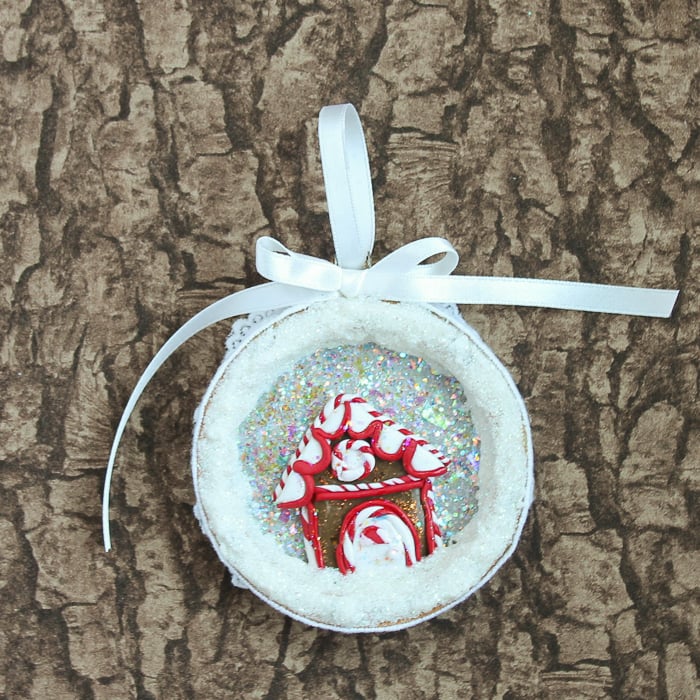 These will look great on your tree this holiday season. Who knew that a tutorial on how to make Christmas ornaments could be so easy?
FAQs About Clay Ornaments
Can you make this project with air dry clay?
Sure! The steps will be very similar, except for instead of baking, you'll need to allow the clay to fully dry. I recommend keeping it on a shelf high away from the reach of little ones for at least 72 hours.
How thick should clay ornaments be?
I would lean on the thicker side more than the thinner. If you make these too thin, they will easily crack and can break over time, which would be so sad. About 1/4 – 1/2″ thick should work well.
What's the best way to store these DIY ornaments?
To store these, wrap them carefully in several layers of newspaper or bubble wrap. Then, put them inside a waterproof plastic container and keep them away from high heat and inclement weather.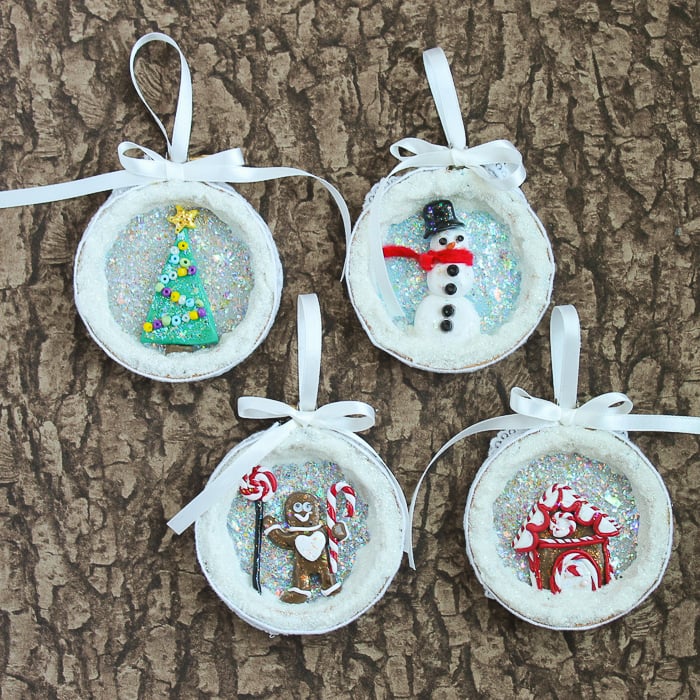 Will you be making some of these clay ornaments for your decor this year?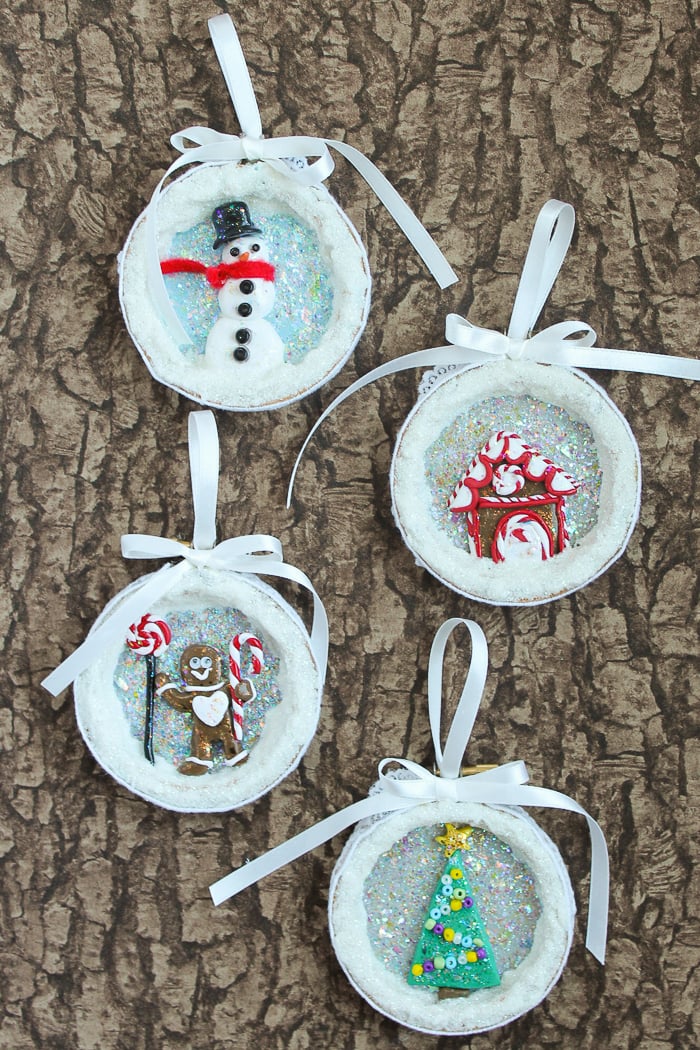 Grab your supplies and be sure to follow our tutorial on how to make Christmas ornaments from clay. You will love the results!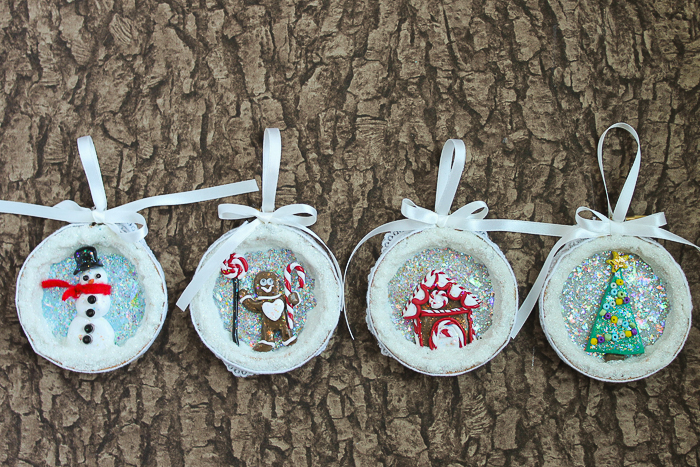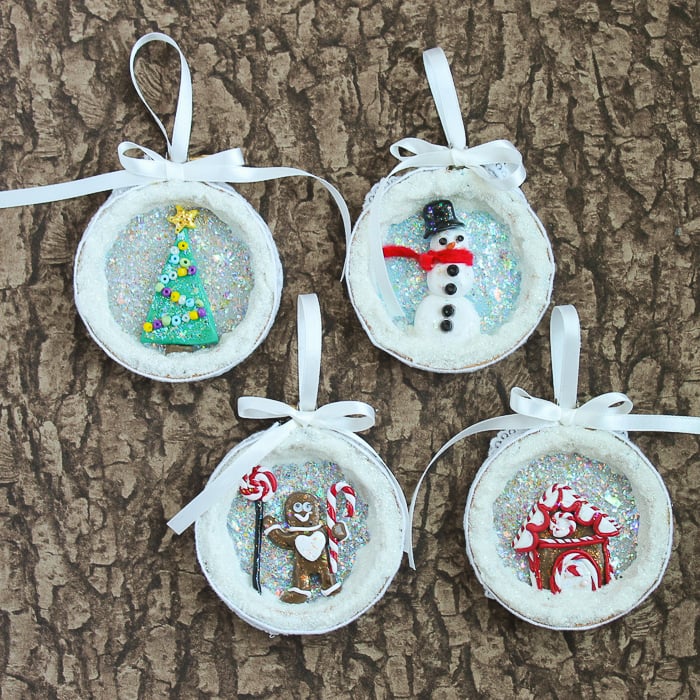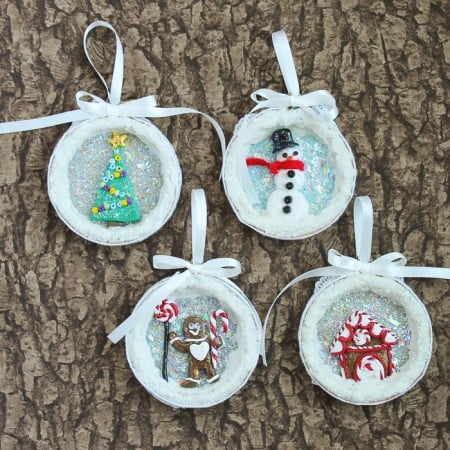 DIY Clay Ornaments
These DIY Christmas ornaments are made from oven-bake clay. Learn how to make four different variations of clay ornaments for the holidays!
Equipment
Oven

Sculpey Metal Cutters (optional)

Sculpey Essential Tool Kit

Pallet knife

Craft knife
Supplies
4

Embroidery hoops

(I used a 3-inch size)

Felt

(in the color of your choice)

Glitterific paint

(in a variety of colors)

Beads

Lace

Ribbon
Instructions
Add felt to the embroidery hoop to create a "background". Trim away any excess.

Paint the felt with Glitterific Paint.

Add snow paint to the inner part of the hoop with a pallete knife. Allow it to dry for 24 hours.

While the base is drying, begin sculpting figures with the clay.

Bake the clay, then add finishing details.

Hot glue the clay figure to the base of the ornament. Then

Add lace to the edge with hot glue, then add a ribbon. Hang and enjoy!
Tried this project?
tag us to show off your work!