Sublimation ornaments are easy to make if you have a sublimation printer at home. Today I am making DIY photo ornaments using sublimation in a few different ways. First of all, there are several different varieties of blanks that you can use for sublimation that are ornaments. There are a wide variety of types, shapes, materials, and more. I love personalizing my tree with DIY photo ornaments and I know you will love this technique as well.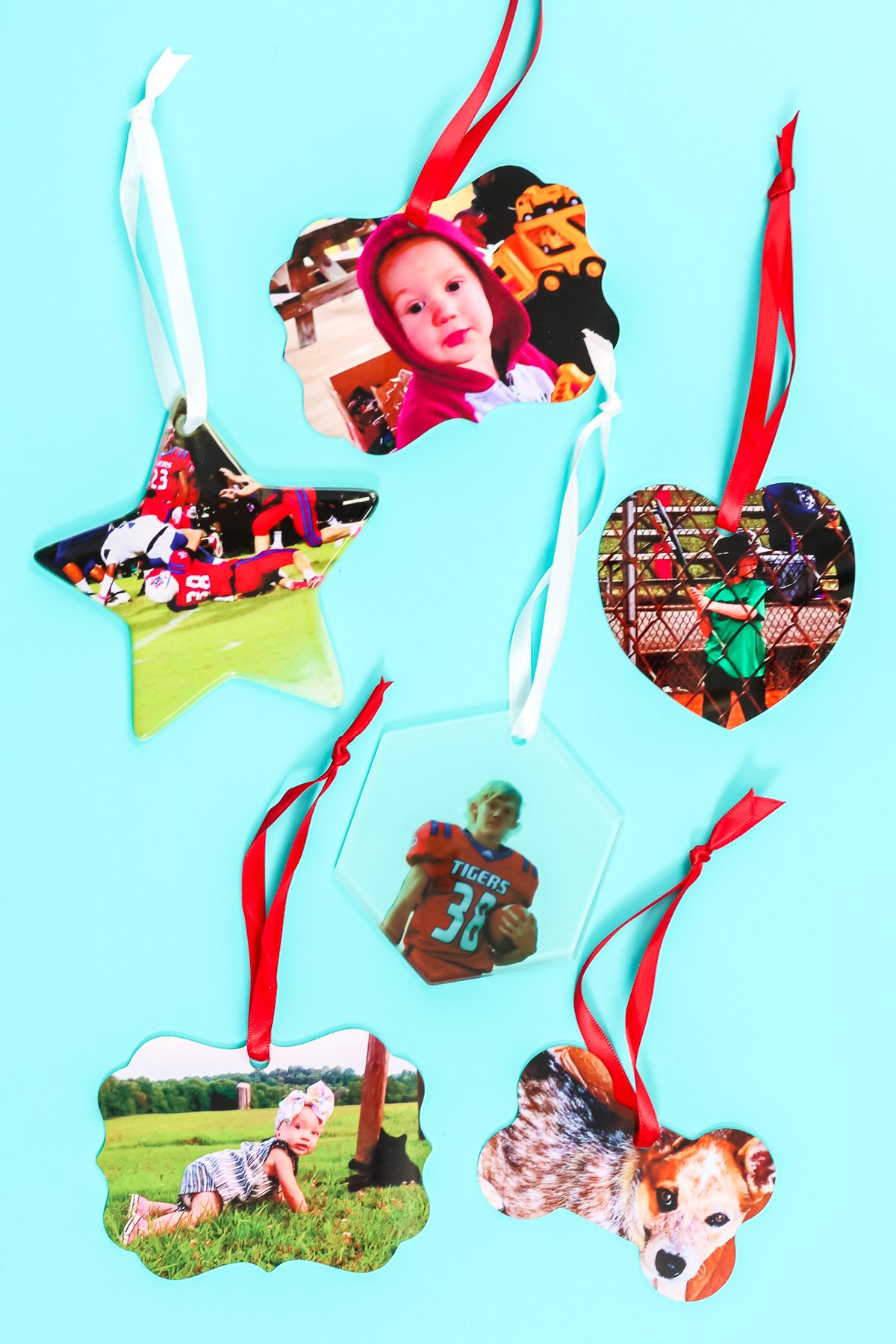 Sublimation Ornaments
You can actually watch me make three ornament versions with sublimation in the video below. I am tackling metal, porcelain, and glass sublimation blanks. The metal is definitely the easiest and the best place to start. However, if you are ready to branch out, just click play below!
Can't watch the video or miss some of the steps? I have instructions for you below as well!
Supplies Needed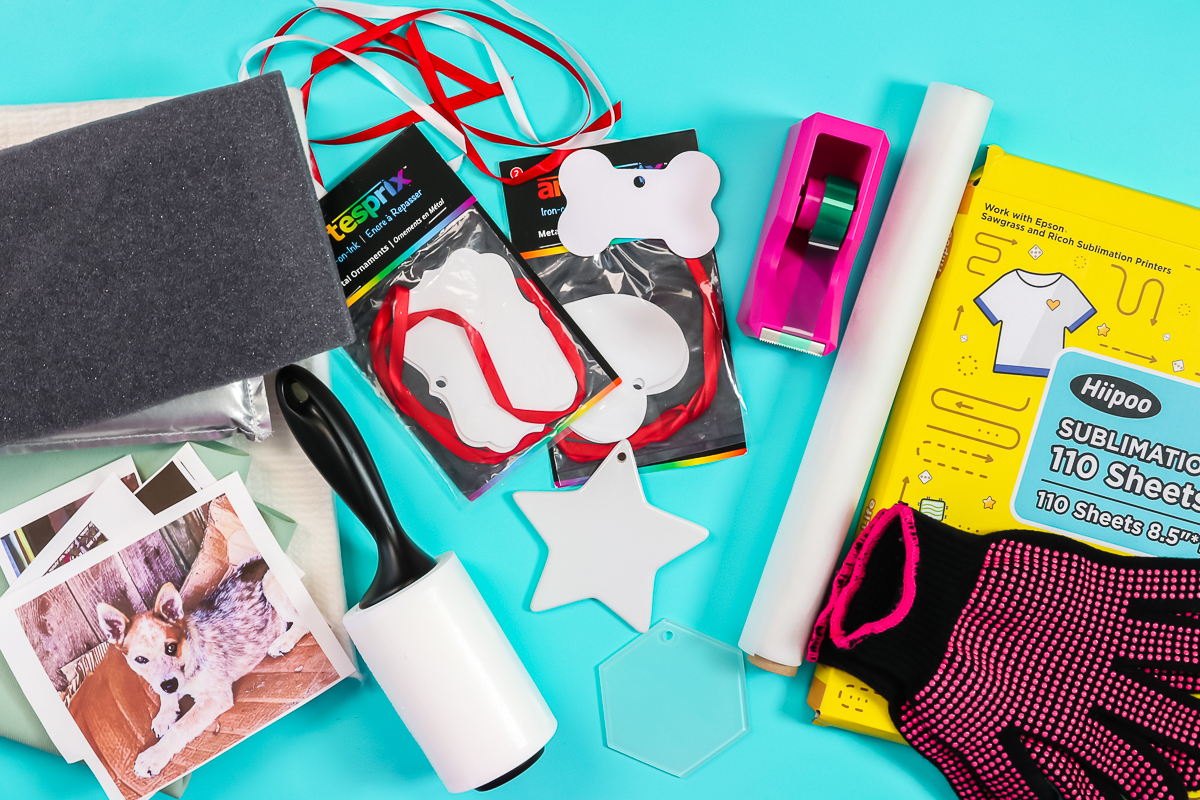 Sublimation Ornament Blanks
There are so many blanks on the market for this project. There is no way I could try each and every one. I will say that the easiest ones are the metal sublimation ornaments and they come in a huge variety of shapes. I'm going to use a couple of those, but you can definitely shop around at some of my favorite sources below. I am also going to do glass as well as porcelain blanks but you do need a few more supplies for those.
NOTE: In all cases, you have to have ornaments that are coated with a sublimation coating. Look for listings that say sublimation blanks when purchasing.
Metal Sublimation Ornaments
Some metal blanks are single-sided while others you can press on both sides. You want to press on the white side for any that are single-sided. On double-sided blanks, you can press on both sides if you wish. I actually usually press both sides at the same time in this case.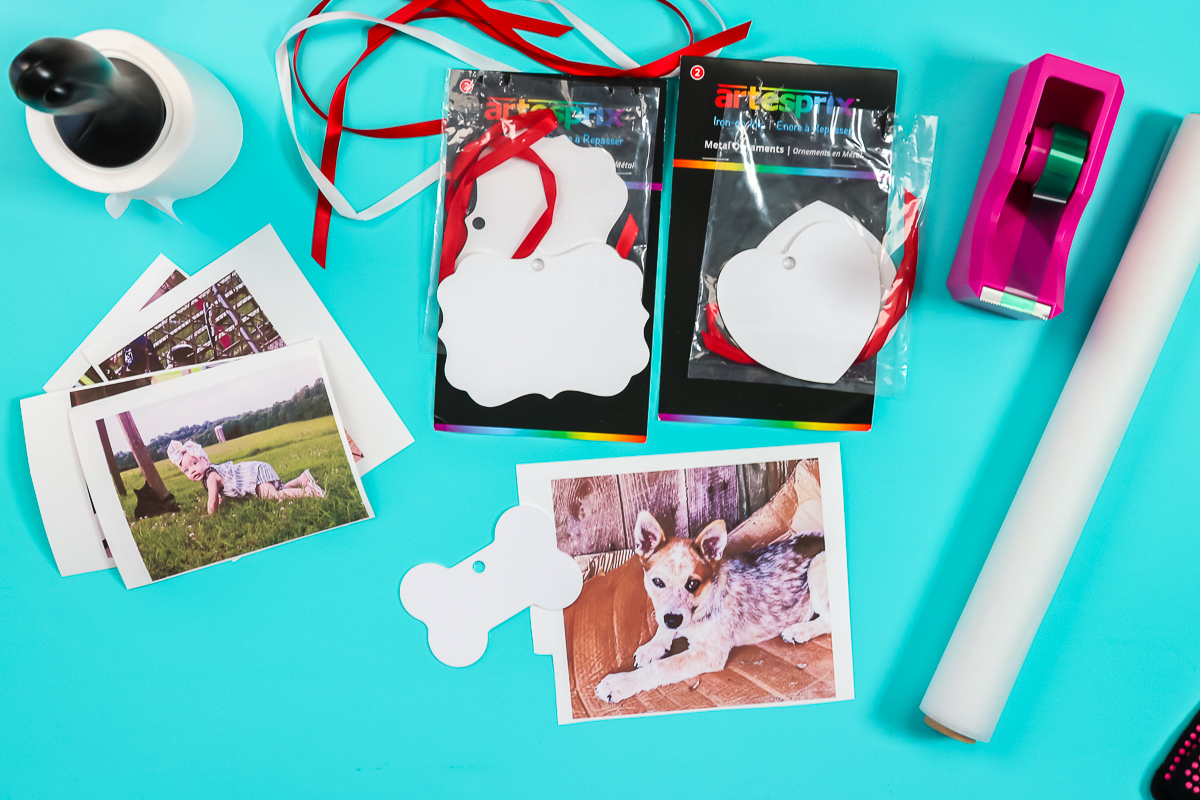 Clean the ornament well. I like to use a lint roller to do that.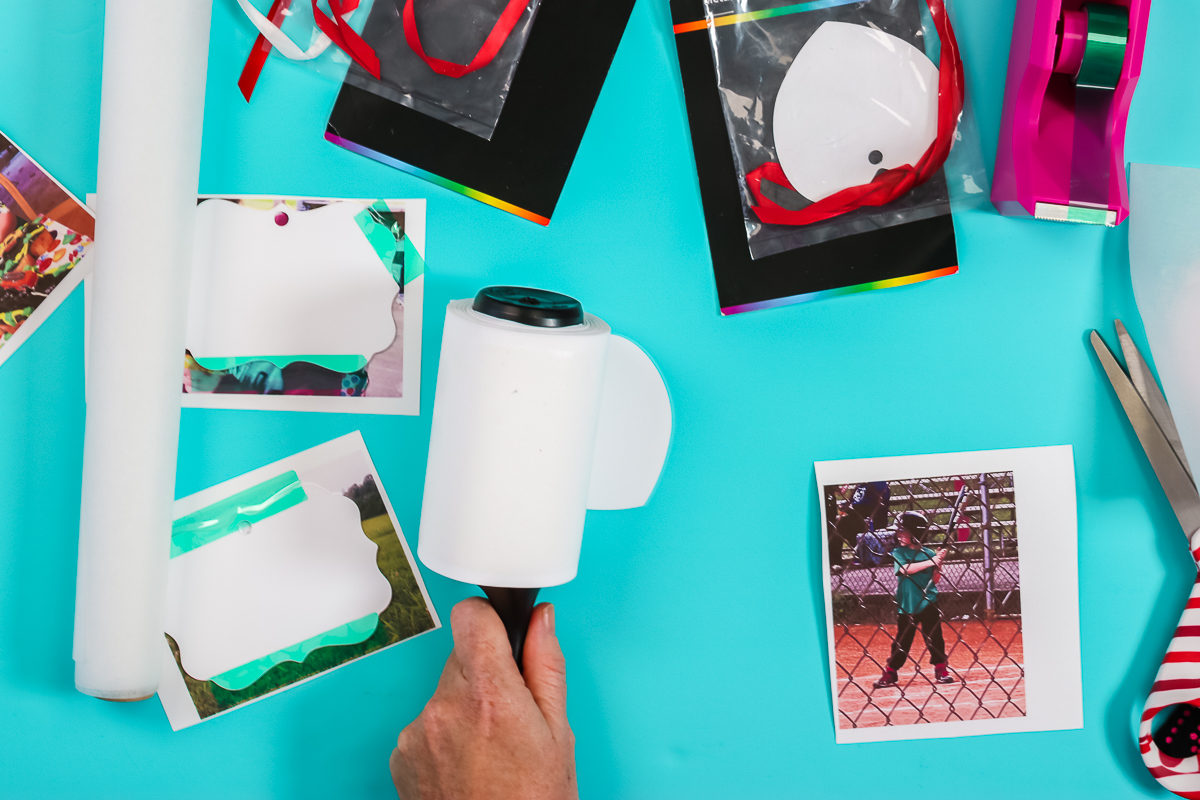 Decide how you want your print to look on your ornament and locate it on the sheet. Tape the ornament down to the sublimation print.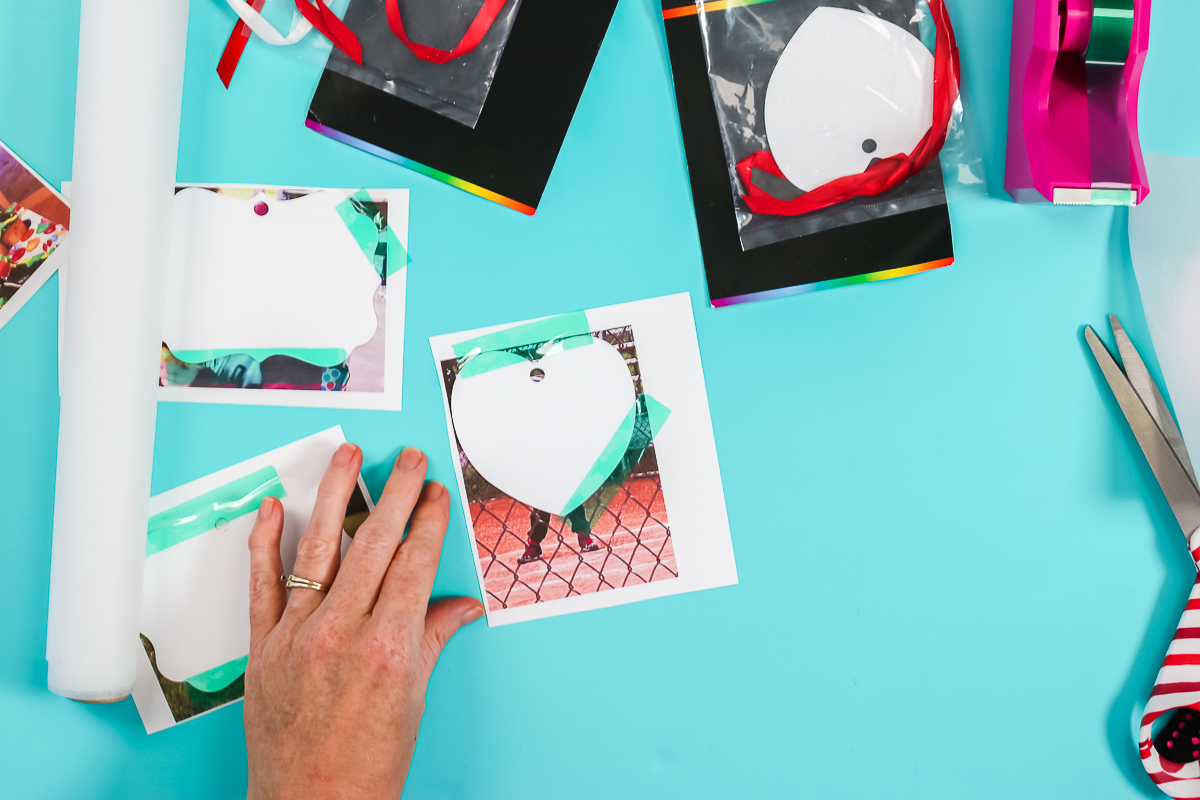 Trim away excess with scissors if you would like. I trim away the excess so that I need less protective paper.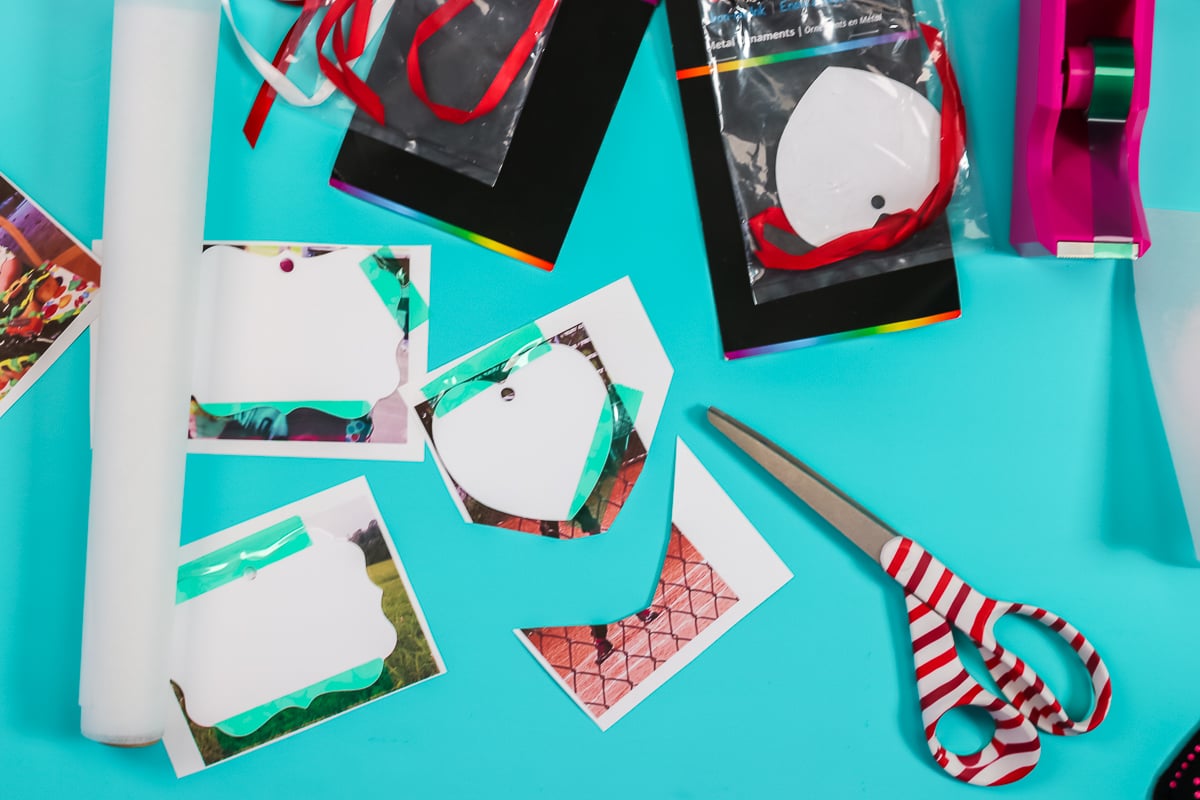 Add protective paper on both sides.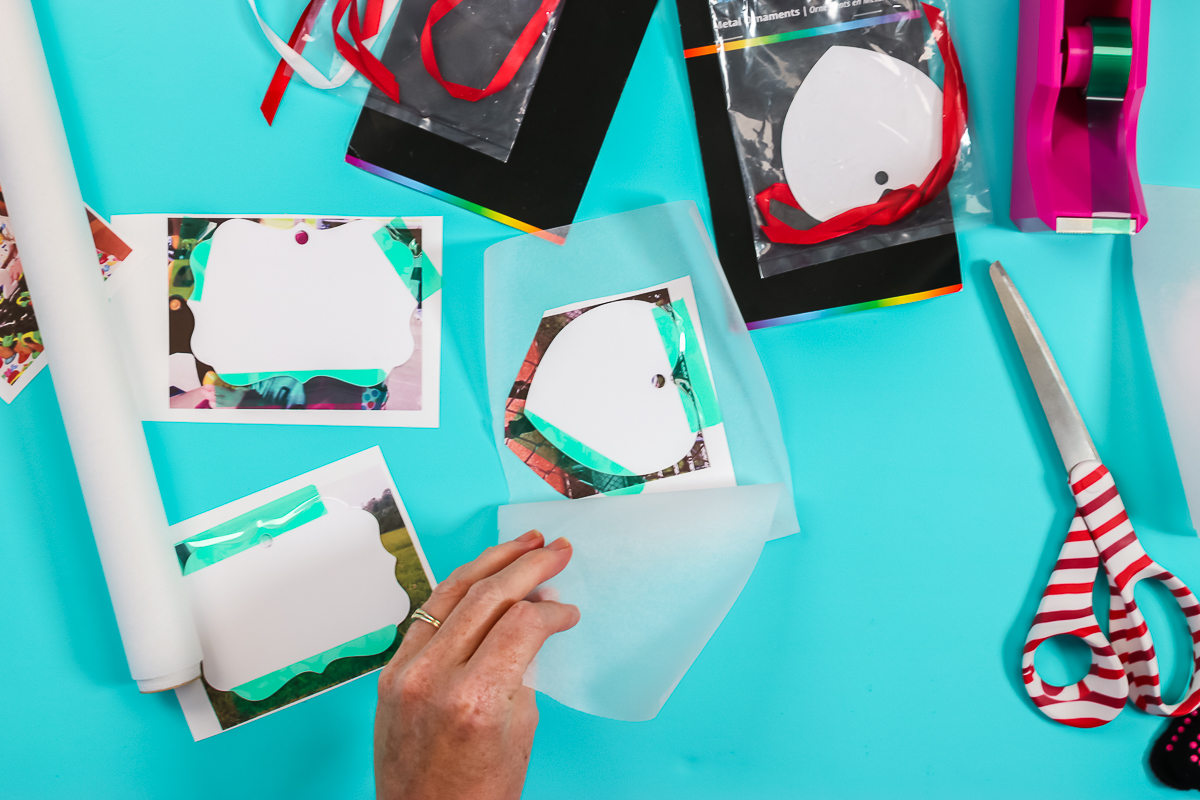 The ornaments that I used were pressed at 400 degrees for 75 seconds with medium to heavy pressure. Check with where you purchase your blanks for specific instructions. Make sure that your sublimation print side is up if you are only doing one side.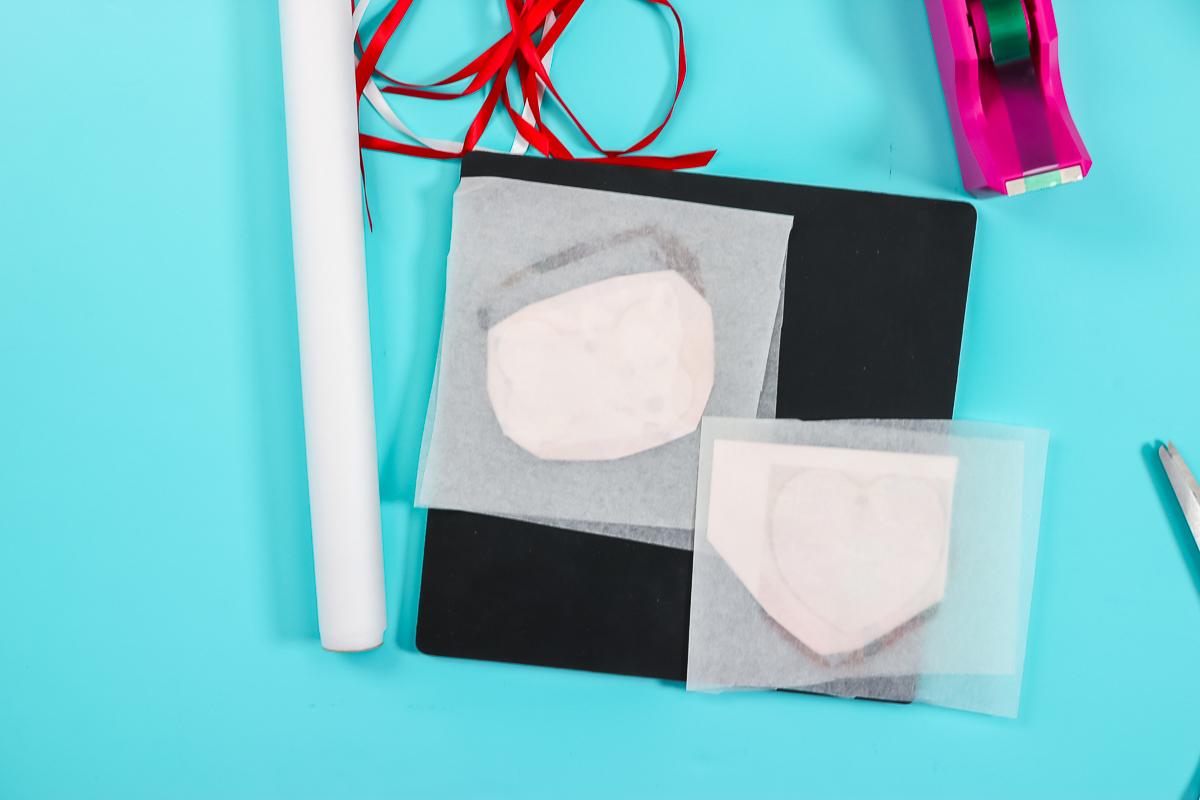 I pressed mine two at a time in my heat press. When they were done, I put them on a heat-resistant mat. I like to remove my prints while the ornaments are still warm. I wear heat-resistant gloves to protect my hands while doing this step.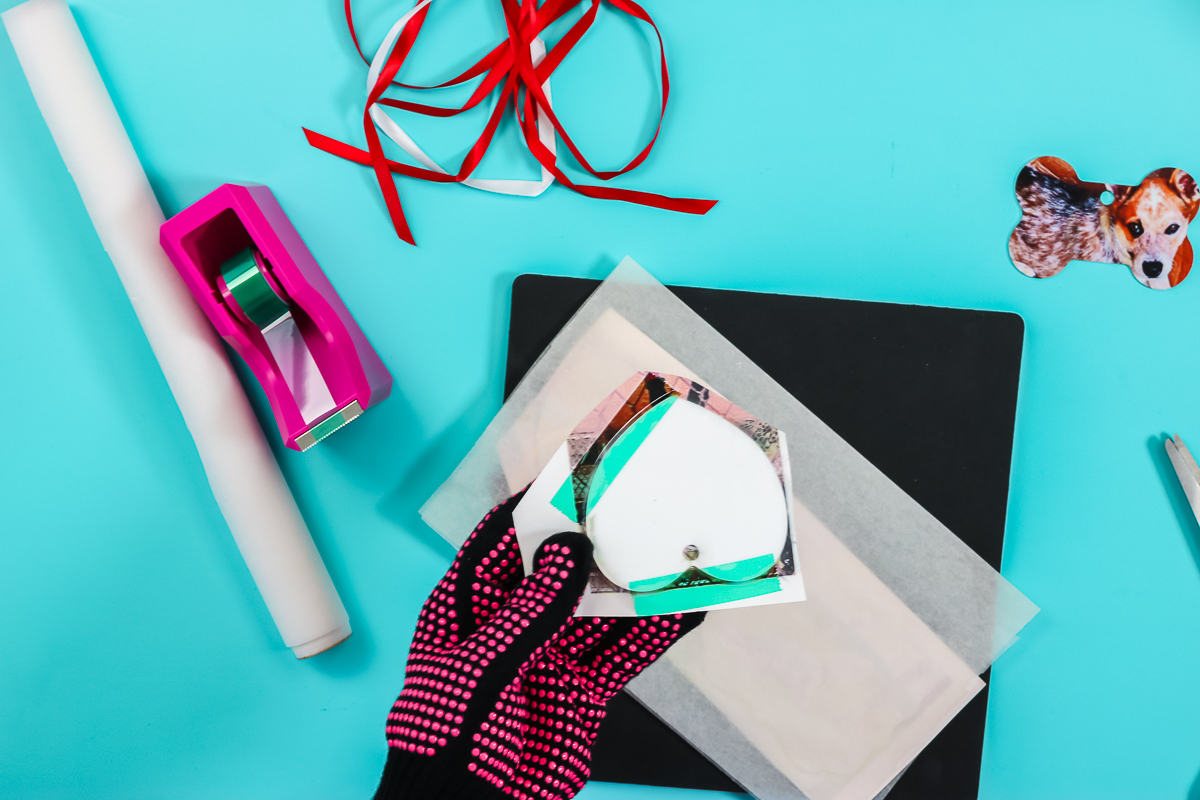 Once your paper is removed, you have some super cute photo ornaments on metal!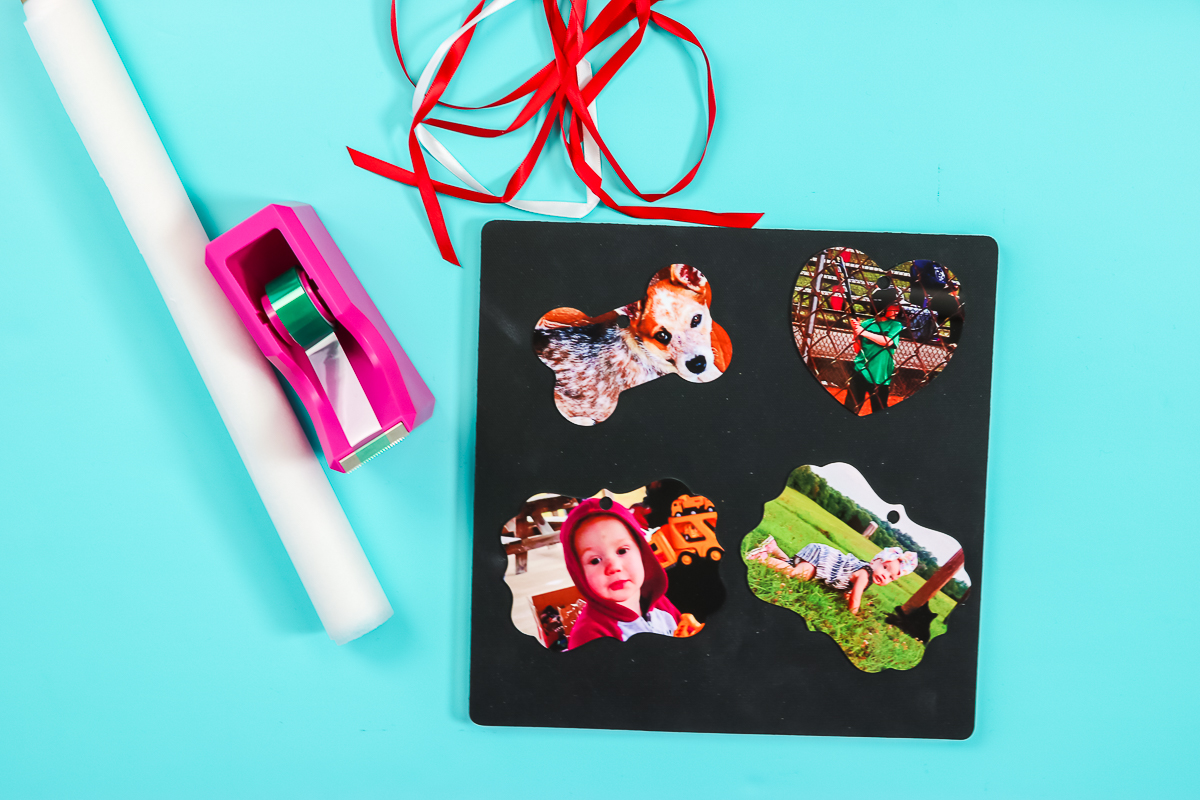 Once they cool, just add some ribbon and these are ready for the tree!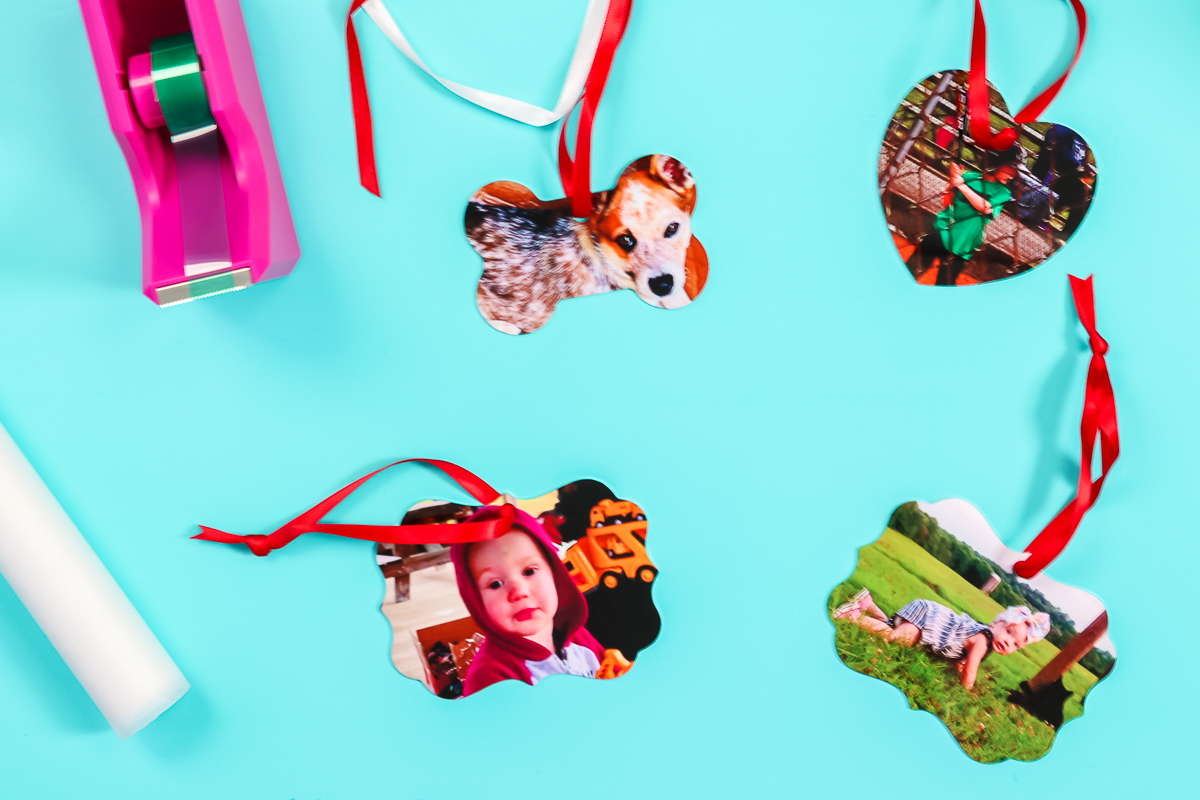 How to Sublimation on Porcelain Ornaments
The procedures are almost the same for porcelain as they are for metal with a few exceptions. Again, you will want to add your ornament over the area you want to be transferred and tape it down. Be sure to clean it well with a lint roller before adding to your sublimation print. The instructions do call for you to use adhesive spray on this one and I don't particularly like to use it. I think this will be fine with just some tape.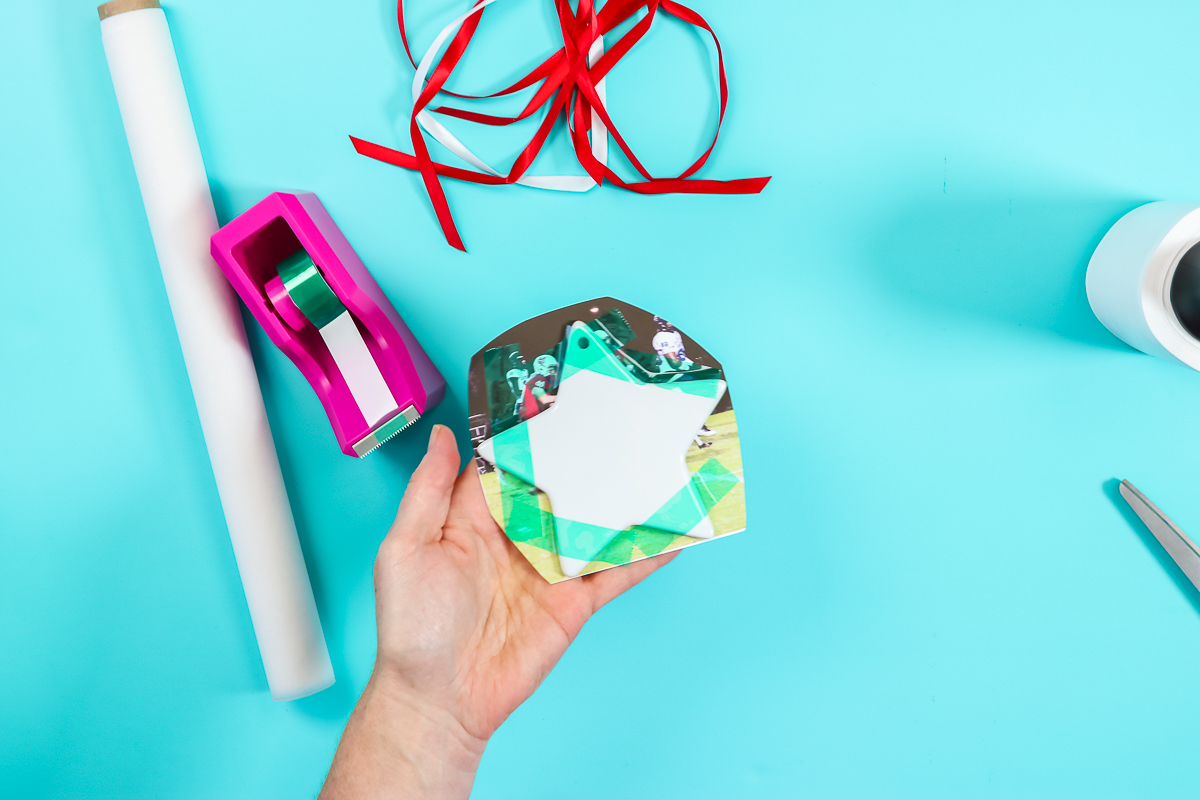 The pressing is where the differences come in with these sublimation ornaments. I'm going to put a Nomex pad on the bottom of my heat press. Then add a layer of protective paper. Then add the ornament face down with the sublimation print on top and cover with protective paper.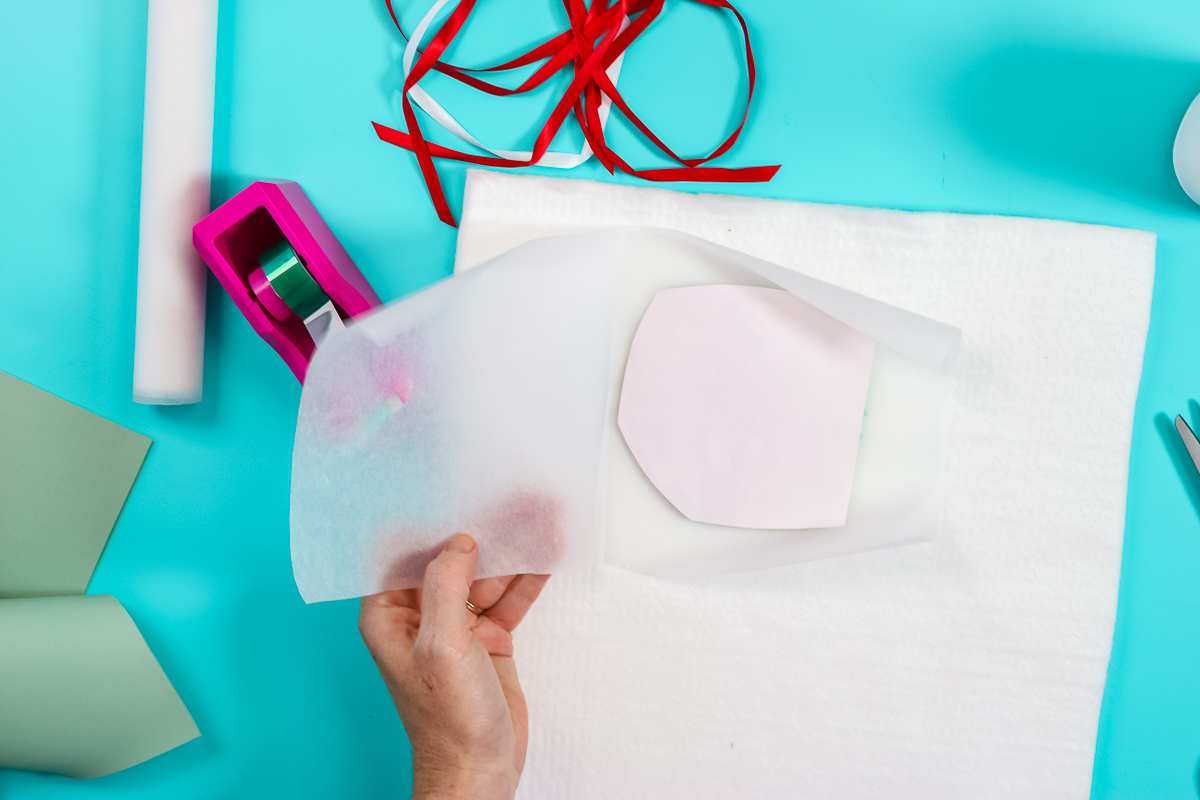 Finally, I'll put a rubber pad over the top. Then you want to press with light pressure for 400 degrees for four minutes. Again that is the instructions for this particular blank. You will want to follow any instructions for the blank you are using.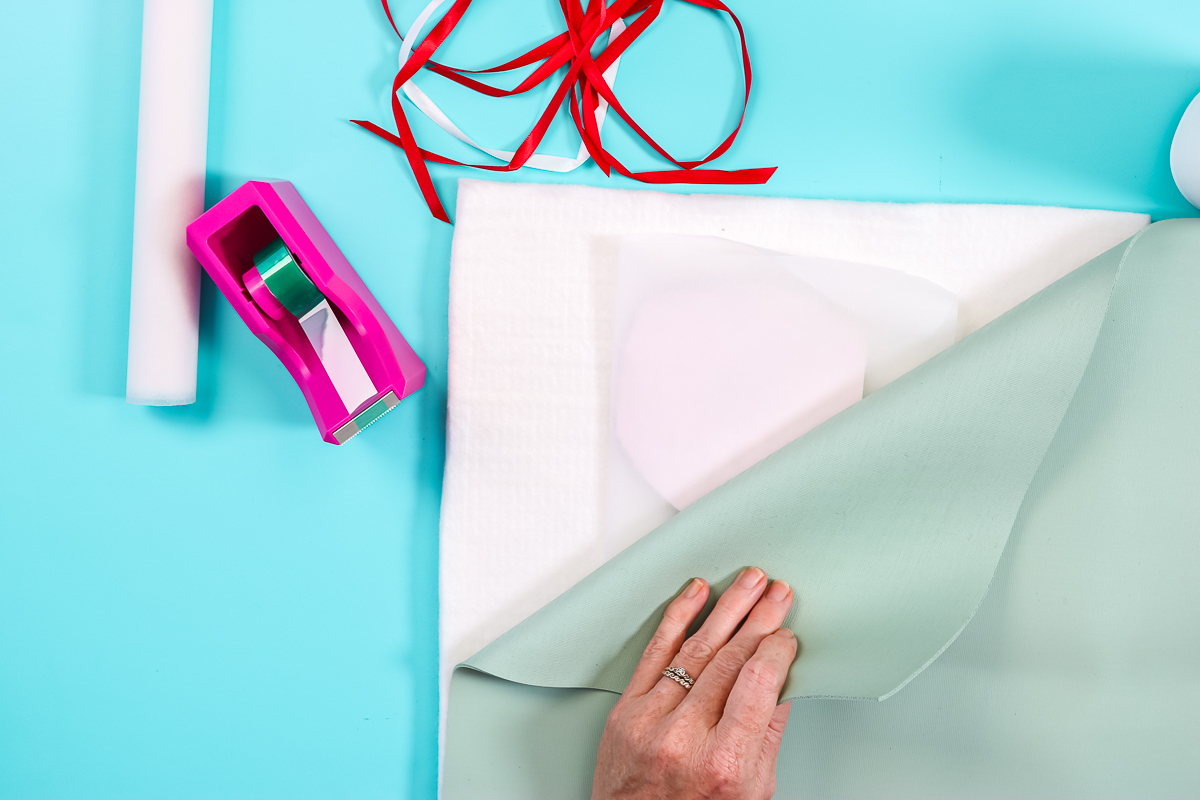 Here's that porcelain ornament after it's done pressing. Just remove the sublimation print to reveal your photo. Remember this will be HOT and you will want to use caution while handling.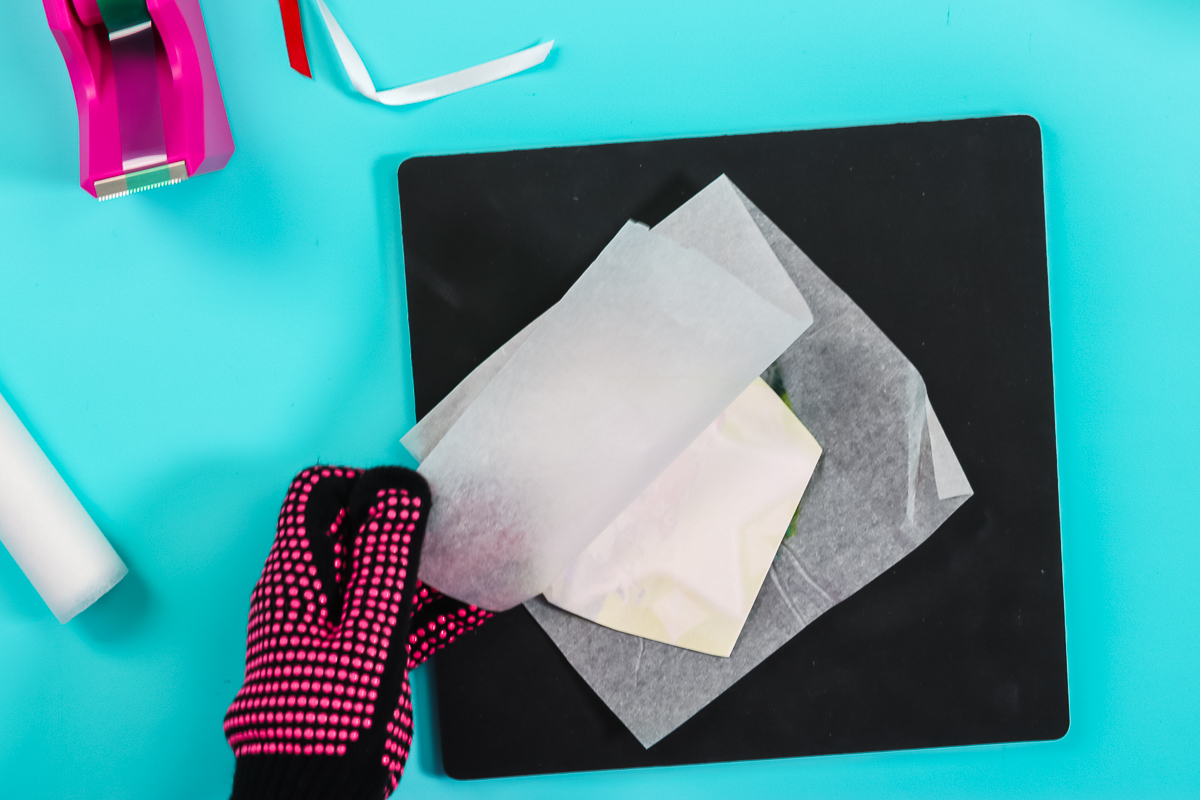 The photo ornament looks really good and I love the look on porcelain! Just add a ribbon to hang this one from your tree.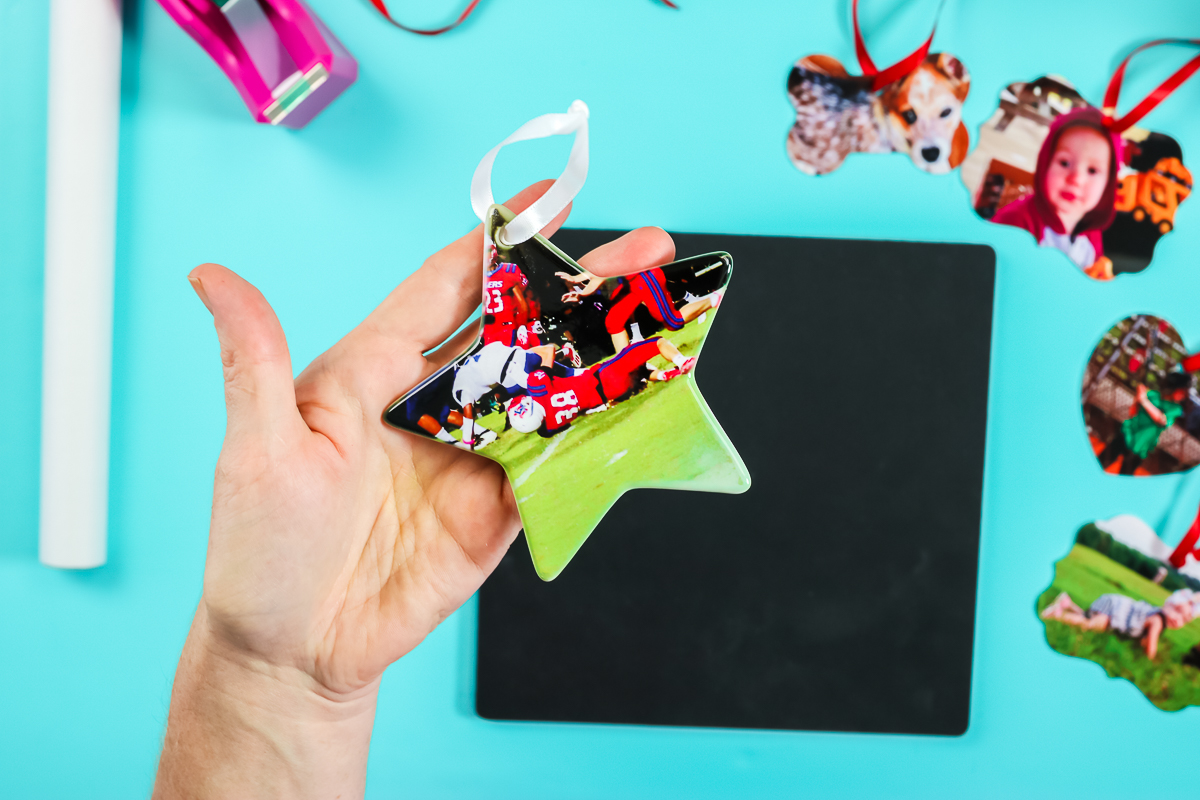 Dye Sublimation on Glass Ornaments
The glass ornament requires a different procedure. It's clear on one side, frosted on the other. You're going to put your print on the frosted side and it's going to show through to the clear side, so you don't want to mirror your image. I did not mirror my image in this case.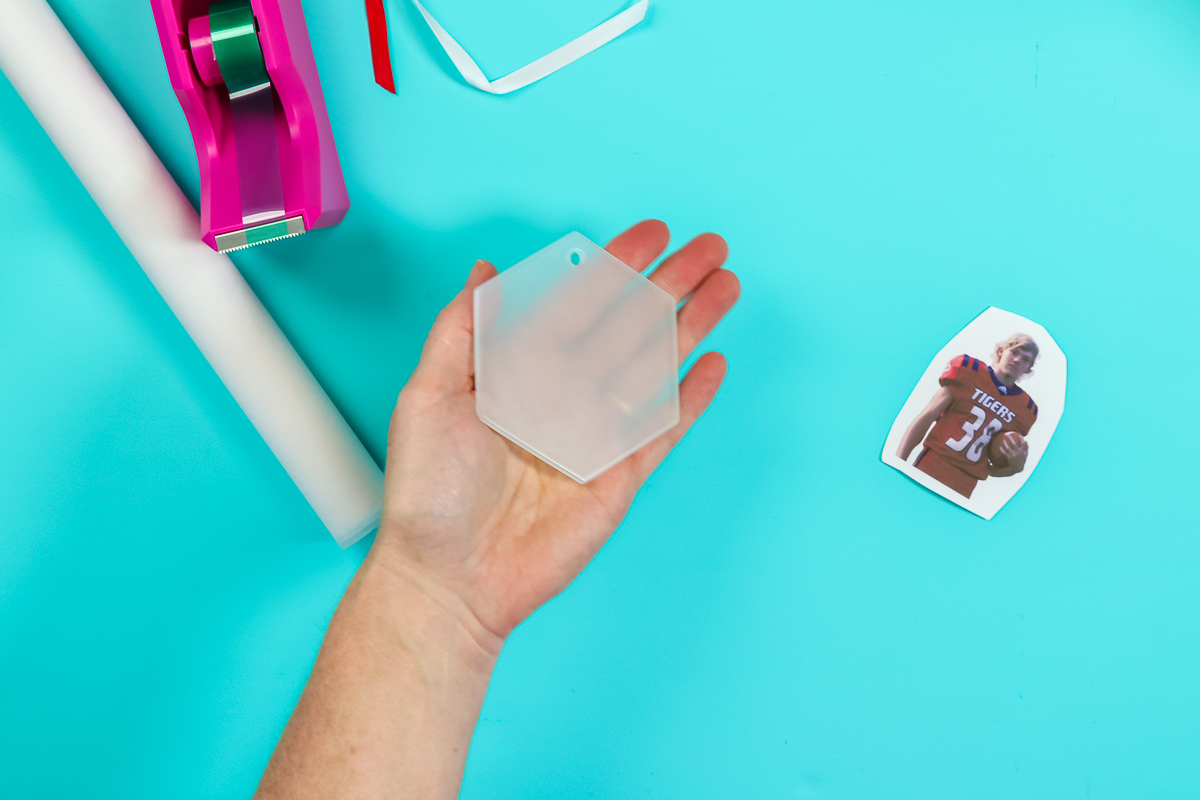 Clean the frosted side with a lint roller. Also, on this image, I removed the background so I will be able to see the frosted glass once the ornament is complete. That is optional but a fun effect. Locate your print on the frosted side looking through the front side as a guide then tape it into place.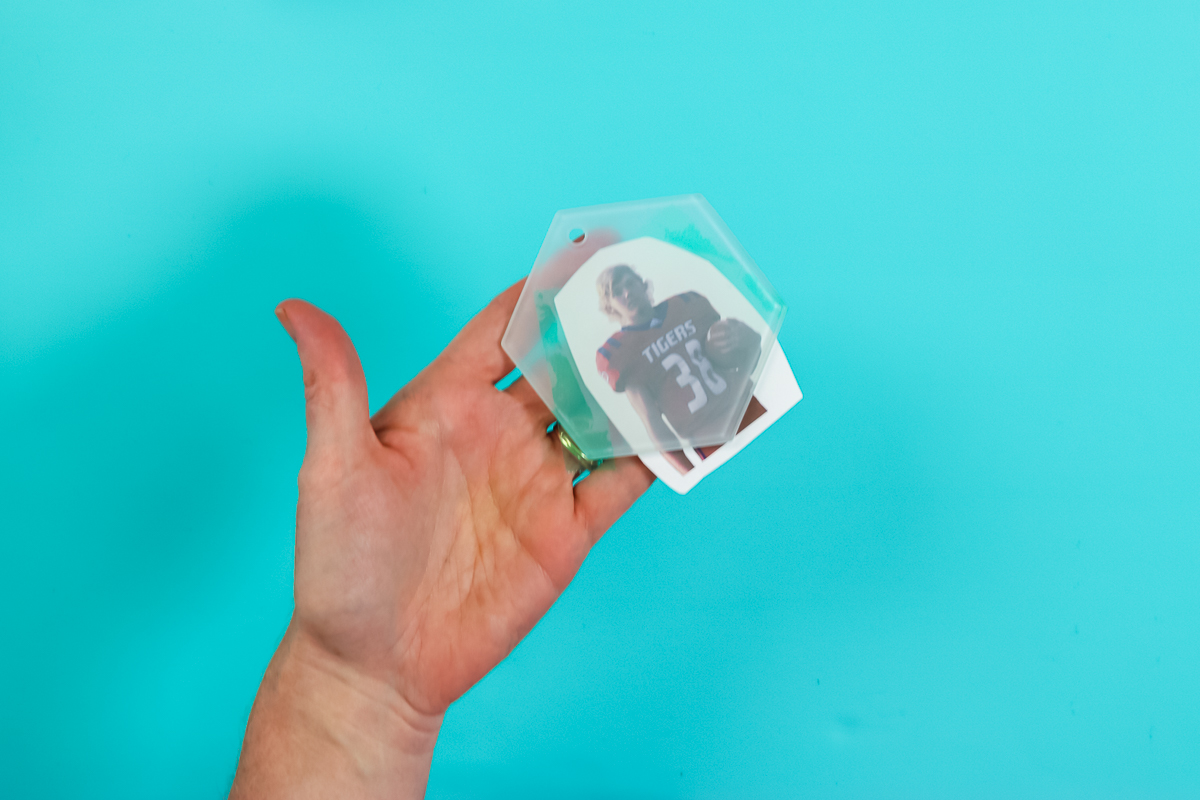 Now let's talk about the pressing procedure. Again, we're going to place the Nomex pad on our heat press with protective paper. This time, we're going to put the ornament down with the image on the bottom and the protective paper over the top. Your sublimation print should be on the BOTTOM!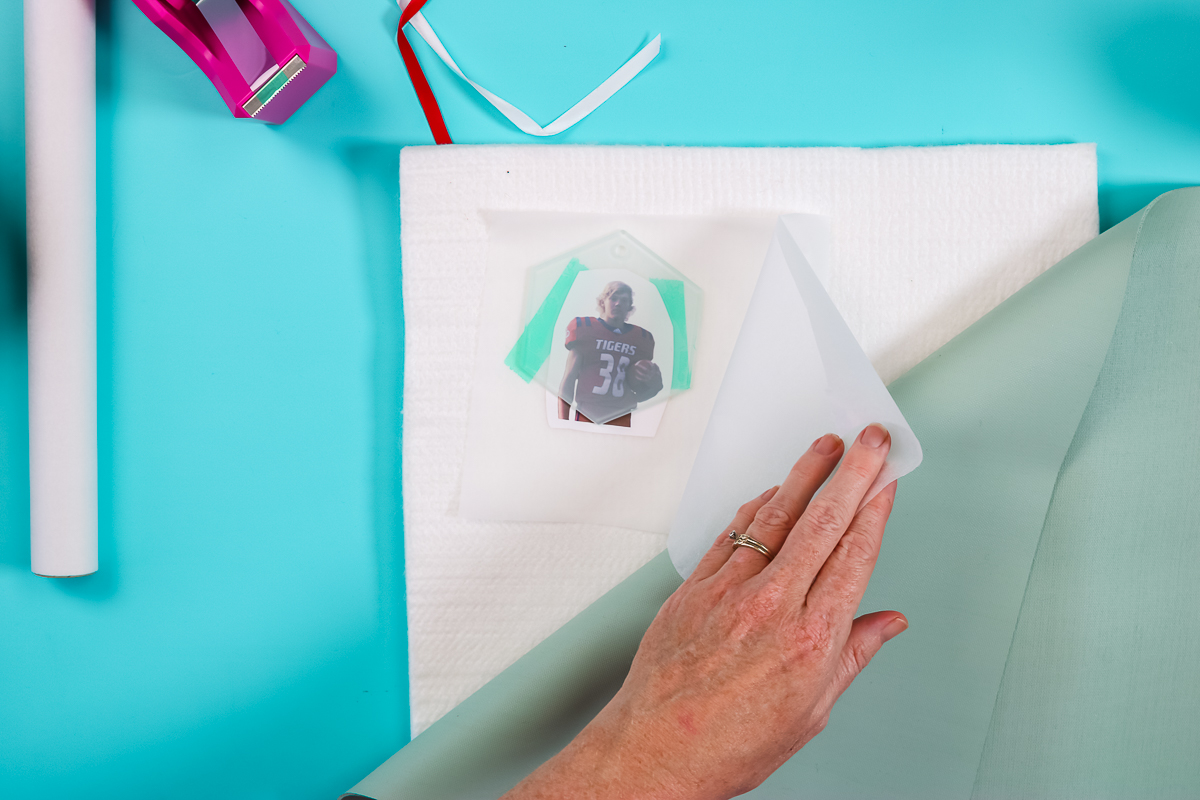 Add the rubber pad to the top before pressing. We're going to press this at 385 degrees for 480 seconds at medium pressure. Again, you will want to follow all directions from the place you purchase your ornaments.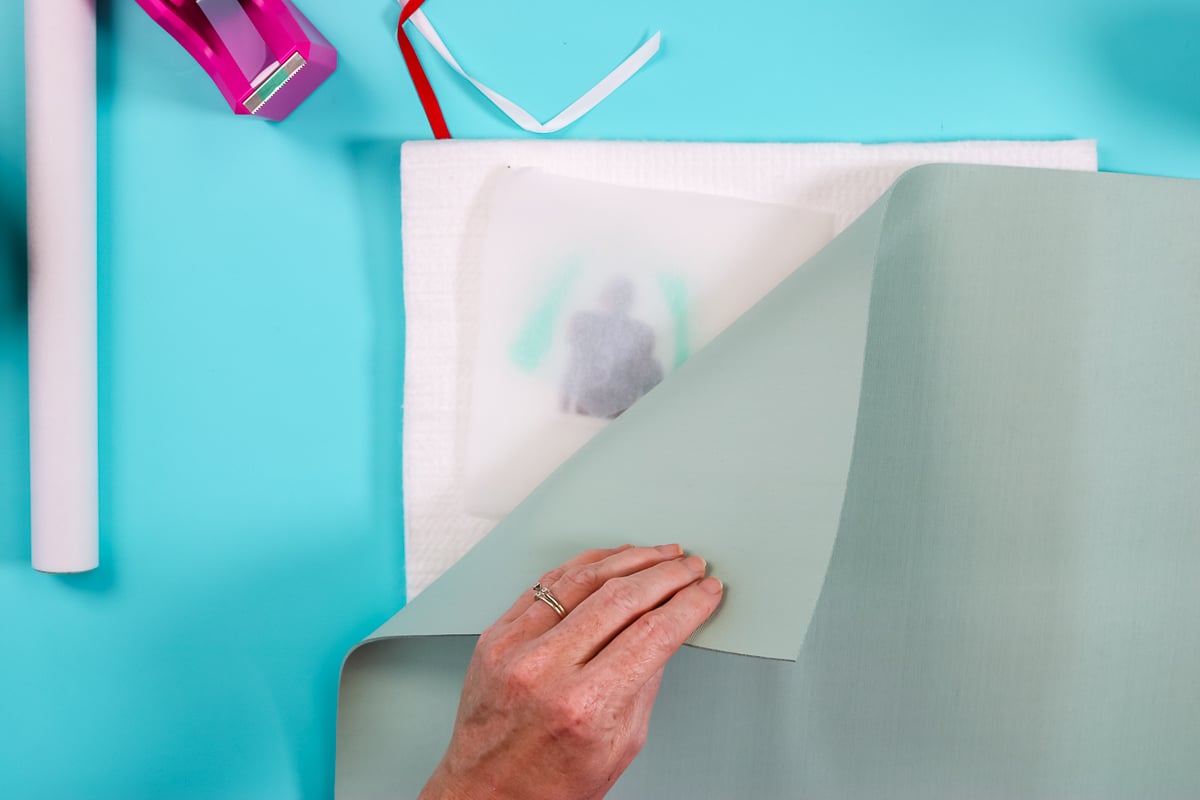 Here's that glass ornament after pressing. Remember to use caution as these will be hot when you remove them.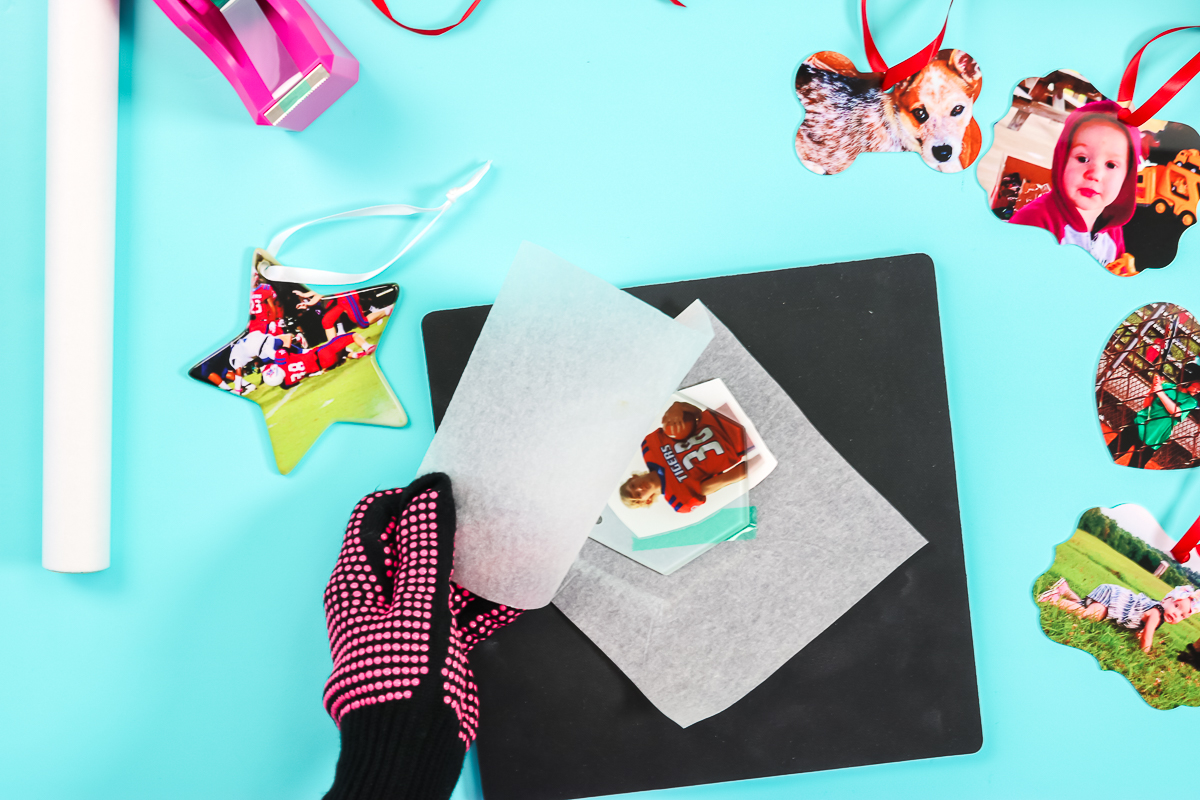 Remove your sublimation print from the back and add a ribbon to hang on your tree. I think this may be my favorite with the background being that frosted glass! You could definitely sublimate over the entire ornament here as well.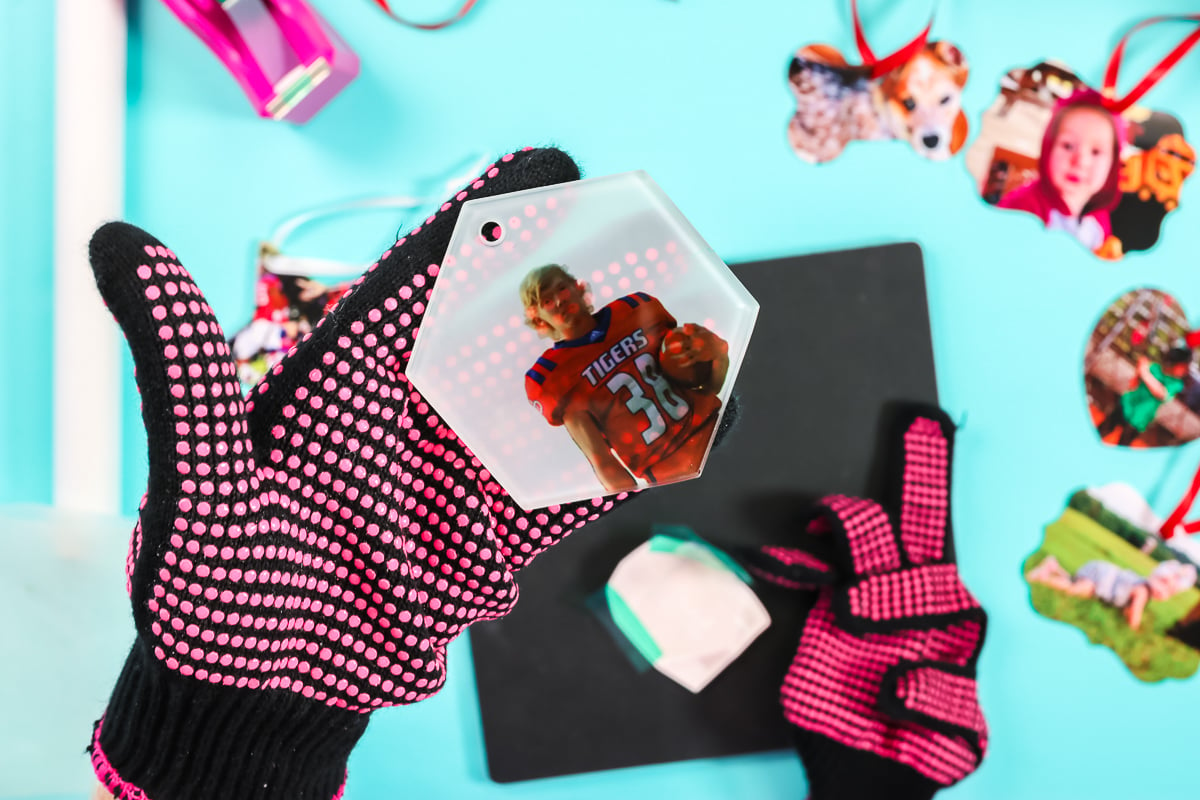 How to Finish Your Sublimation Ornaments
Once you have pressed your ornaments according to the directions, they are complete! With sublimation, there is no need for any additional sealer to make them permanent. Just add on your ribbon and start hanging. These ornaments will last for many years and you will have a tree full of great memories.
I would like to know which of these options is your favorite. For me, I love sublimation metal ornaments if I just want to do something quickly as they are super easy.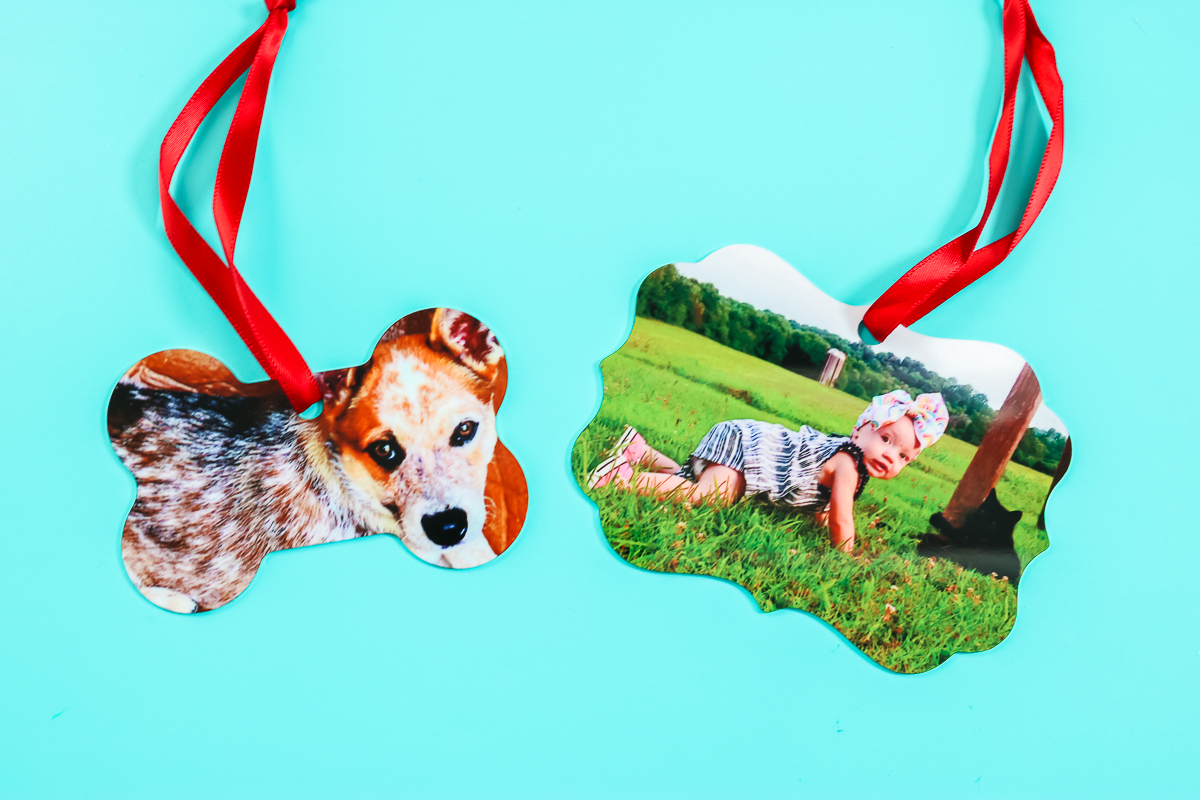 I feel like the porcelain version is more elegant. They are more of an heirloom that can be passed down through the generations.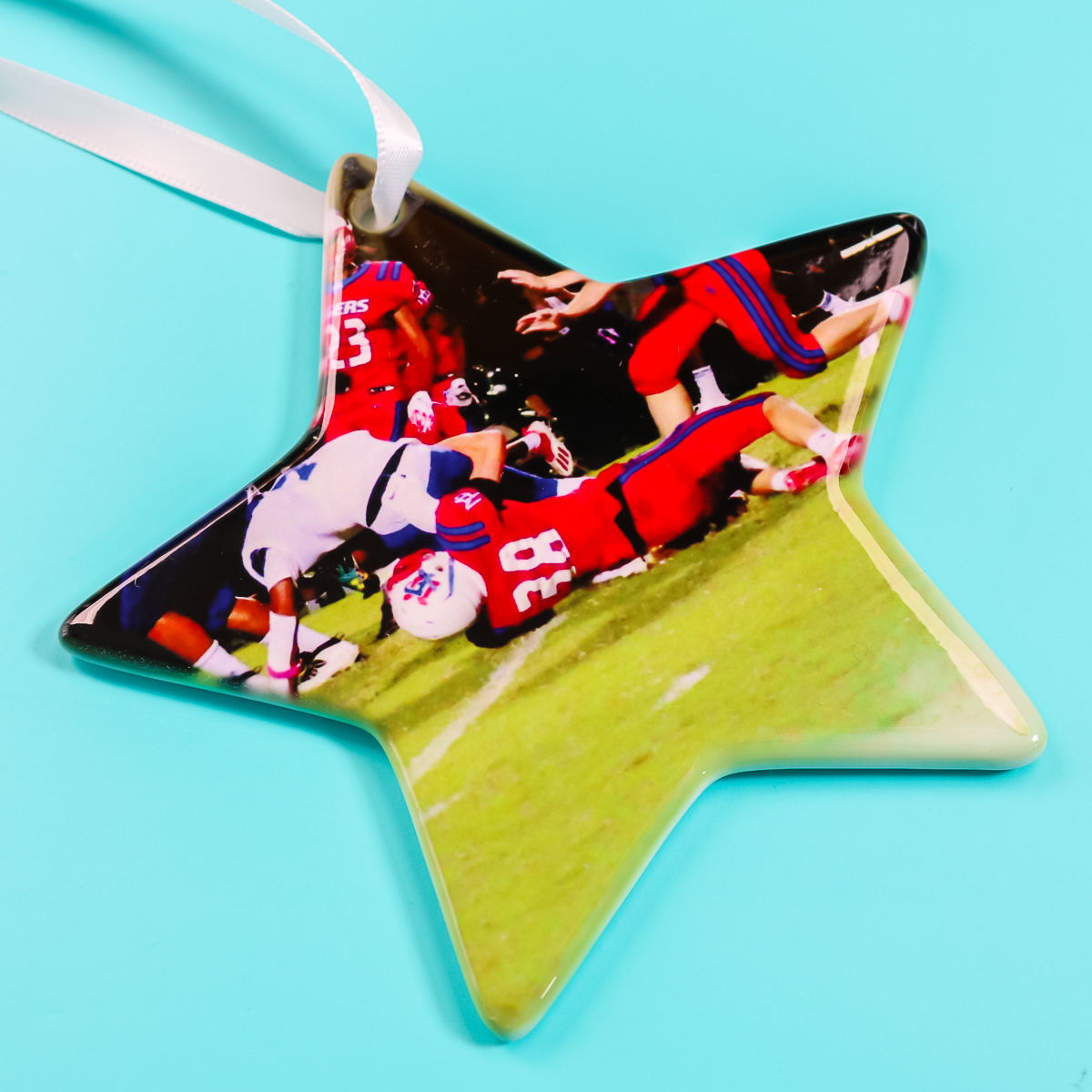 I will say, however, that the glass sublimation ornaments are my absolute favorite! The frosted glass is stunning and an amazing way to make sublimation ornaments that everyone will love.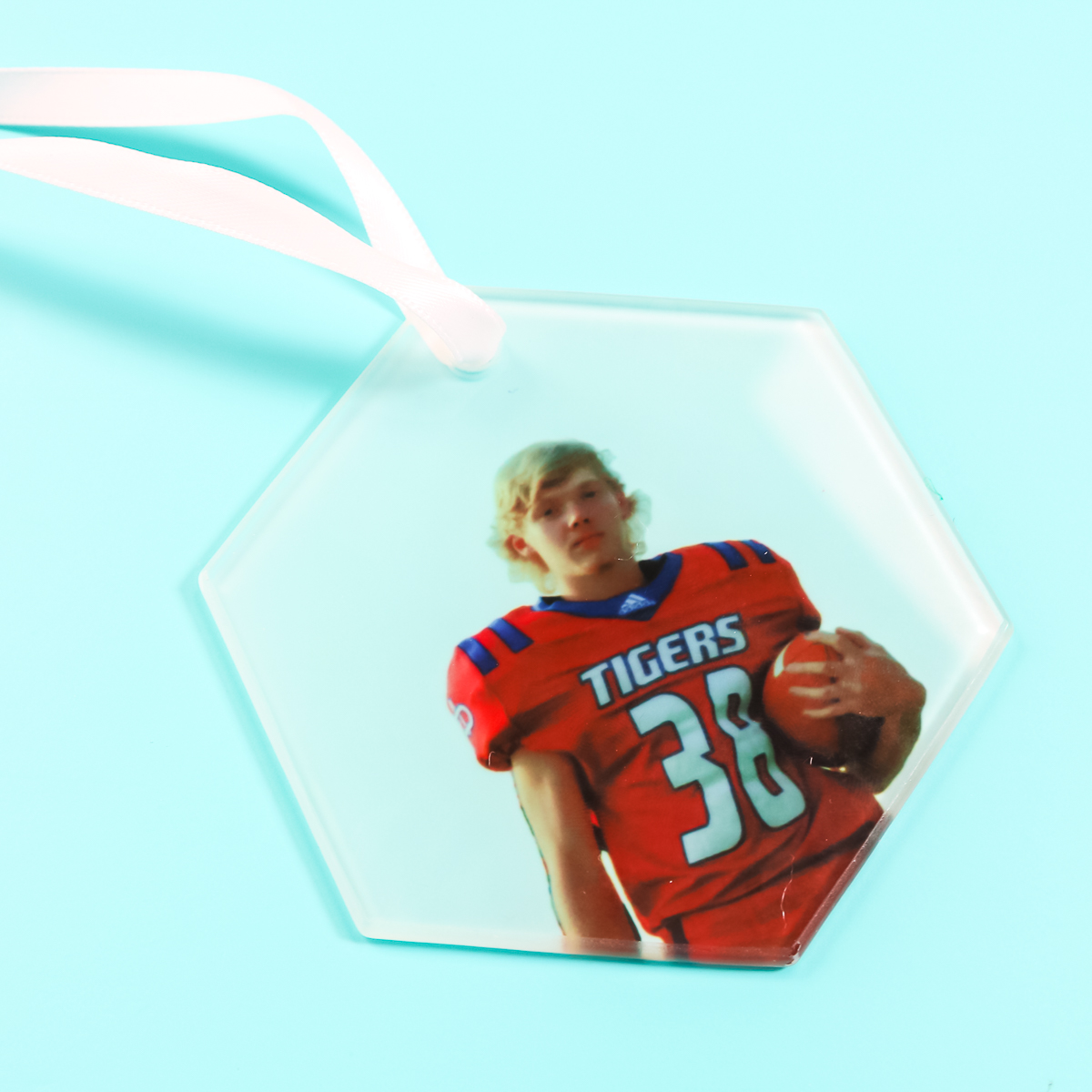 Whether you use metal, glass, or porcelain, you have options for making photo ornaments for your tree. Or you can make even more and give them as gifts or even make items to sell.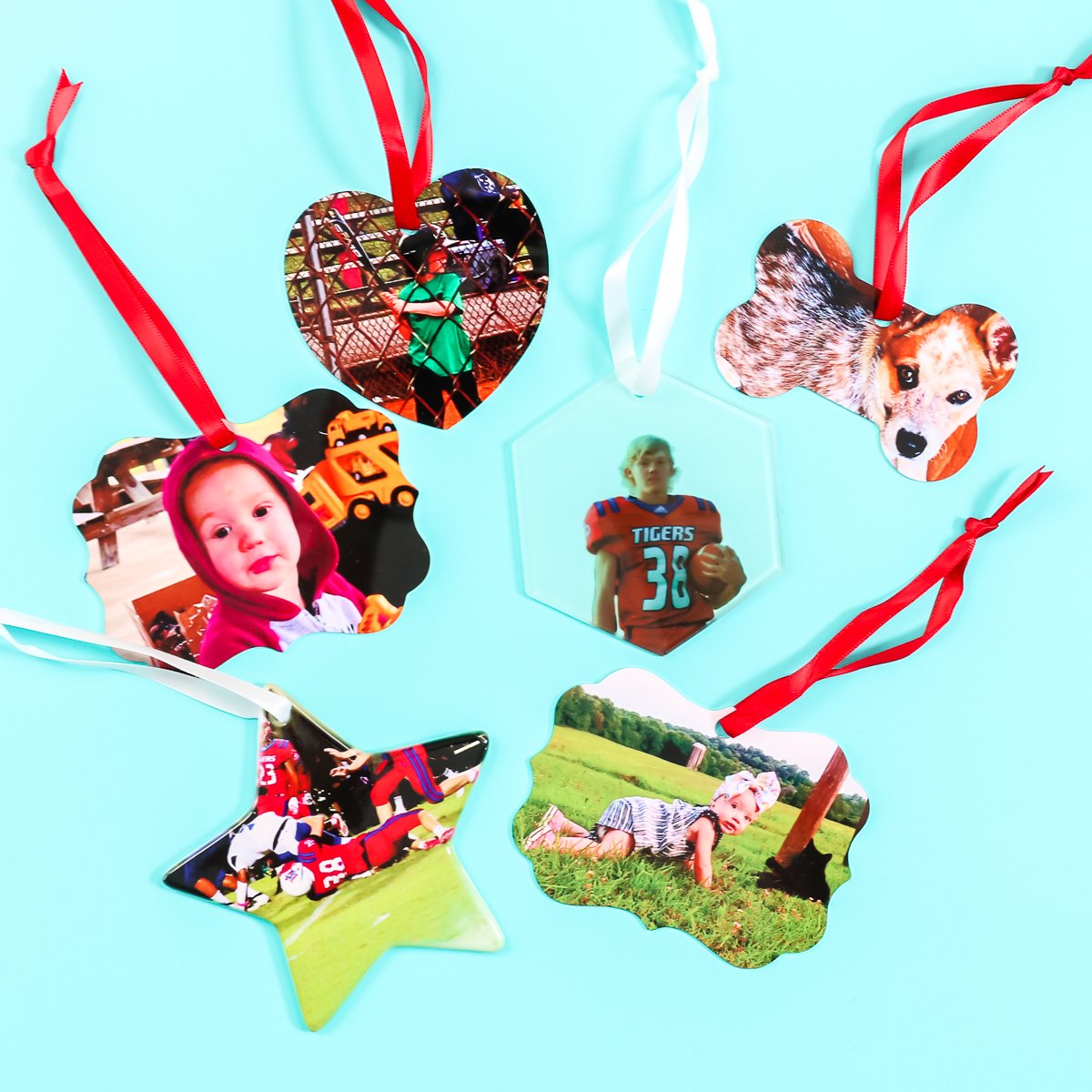 Make some sublimation ornaments this year. I know you will love how they look on your tree!