Learning how to sew is becoming a lost art. I thought I would share for you some online sewing classes for beginners that you can take yourself or share with your family. Older children can definitely learn to sew and it will benefit them later in life.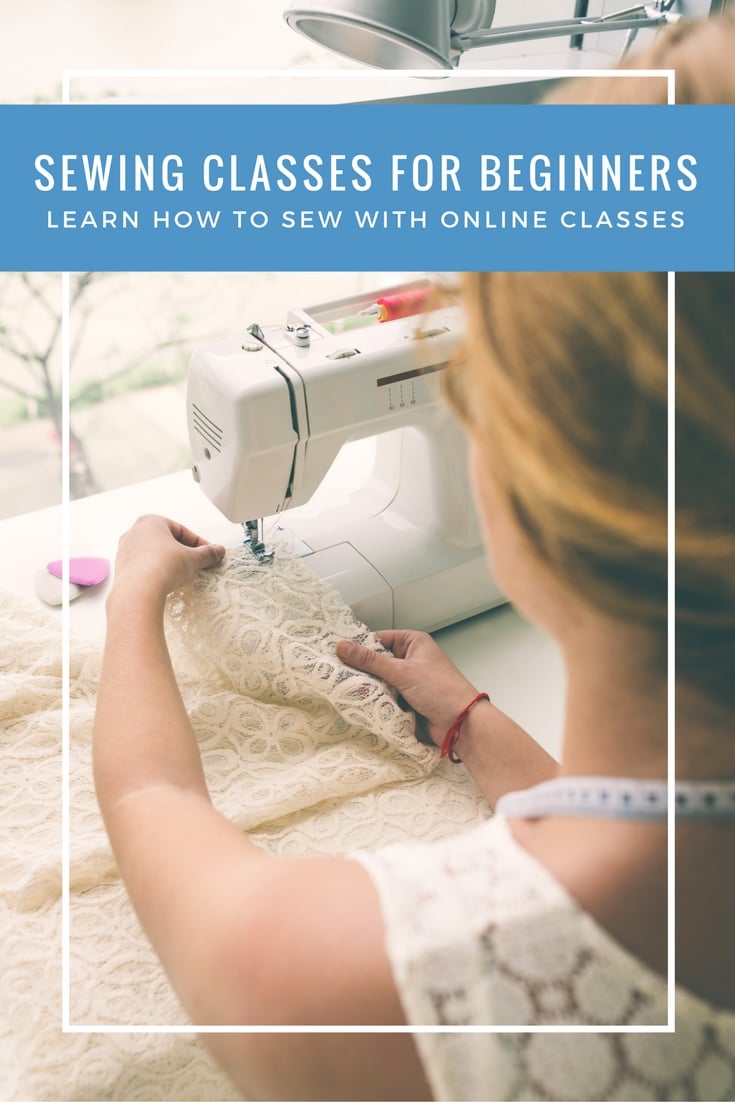 This post contains affiliate links which means you do not pay anymore.
I ran across an online learn site called Skillshare where you can get three months of access for 99 cents (click the link to access). That includes tons of courses on sewing but on a wide range of other topics as well. From cooking classes to classes on business topics to photography and so much more! I love that you can try the service for so cheap before making any commitment. I thought I would round up a small portion of the classes on how to sew for you here. Start with these sewing classes for beginners and branch out into other topics that interest you before your trial runs out.
Sew a Canvas and Leather Tote Bag
Not only will you learn how to sew a fabulous bag but you will also learn the machine basics such as:
Overview of machine knobs + functions
How to properly thread your sewing machine
How to wind a bobbin
Understand machine tension + timing
Trouble-shooting machine problems
Using various presser feet
Changing the needle
Sewing with heavyweight fabrics such as 12 oz duck canvas
Trouble-shooting techniques
Sewing techniques for greater control and stitch accuracy
Sewing Machine Boot Camp
In this comprehensive boot camp, you will
Get to know the parts of a sewing machine
Learn how to properly thread it
Wind a bobbin
Sew in a straight line
Make a pillowcase
Sewing 101 for Kids
Yes they even have courses geared towards kids! In this mini workshop, your child will learn sewing machine safety and then how to control the speed of the machine to ensure accurate sewing. They will finish the workshop by sewing their own bookmark.
How to Insert an Invisible Zipper
Inserting invisible zippers can be challenging. Learn the two secrets to inserting the perfect invisible zipper in this course. This was something that took me forever to master. I really wish I had a video course like this one when I was learning!
Design and Piece a Mini Quilt Top
This class is the first of a two part series that equips students with all of the basic skills needed for quilting. By the end of this class, students will have a completed quilt top for a mini quilt. Mini quilts are a great way to learn all of the skills, without being overwhelmed by a larger quilt. If you have ever wanted to learn how to quilt, this is the place!
These are just five of the great sewing courses you can find on Skillshare. Click here to try the service for three months for 99 cents. You can take as many courses as you would like during those 3 months and really give the site a test drive then continue if you would like or cancel. It is totally up to you but there is no way you can learn everything there is to know on Skillshare in just three months. I have been approached by other online learning sites but was hands down impressed with the number and wide variety of courses offered by Skillshare. I think y'all will love this online learning website. You can use it to learn how to sew or for any of the number of topics that they offer.