Image copyright can be tricky. You find an image on the internet and may think there is no harm in uploading and cutting that on your Cricut. Actually, you can be committing copyright infringement. So, how do you know which files you can actually use and which are off-limits? Here is a guide to help you understand how to navigate the world of online copyright. We are covering the basics of image and SVG licensing so you know how to protect yourself and your business.
Please note that I am not a lawyer and this post should not be used in the place of legal advice.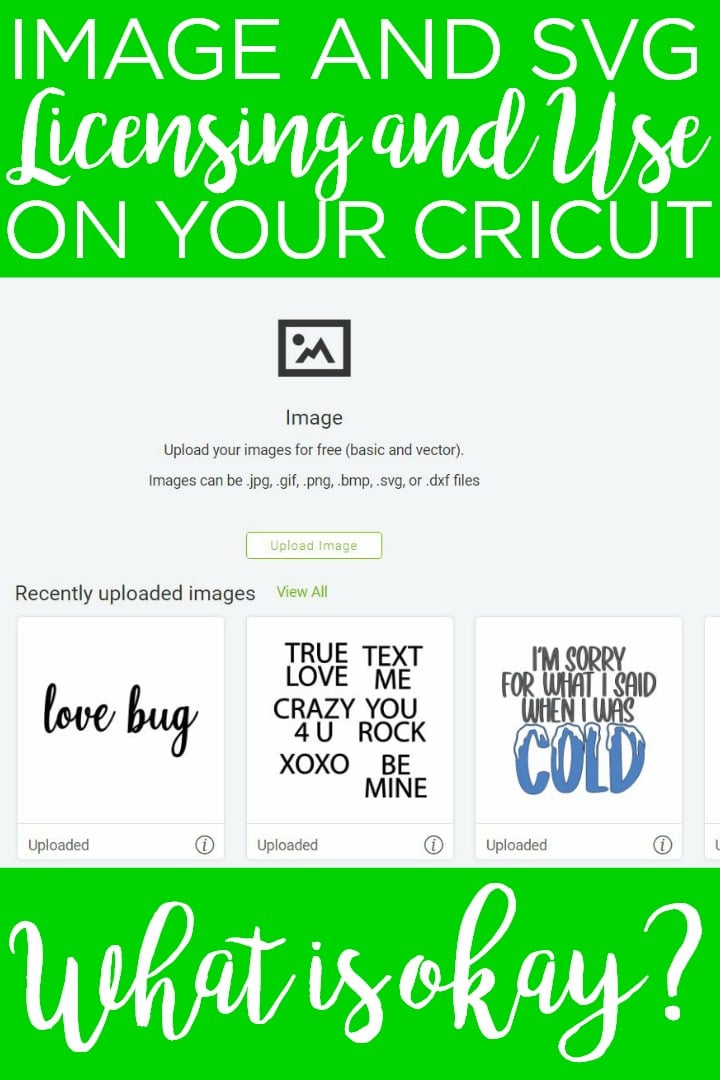 Who Owns an Image?
Images are owned by whoever created them. Whether that is a photographer who took a picture or an artist who drew a picture. Sometimes, however, those copyright owners offer up a license to use their work. This license can be free or something you need to pay for. Follow along below as we talk about the different types of licenses and what they mean.
Why is Copyright Important?
If it is discovered that you are using an image, the copyright owner can then invoice or even sue you for damages. At that point, you have little to no negotiation room. You basically have to pay whatever they ask for. In this digital world, it is actually really simple to look for offending images with a reverse image search. This makes it easy to get caught using images incorrectly. Do not let this be you! Read on to see the proper use of images according to their license.
Know the Difference Between These Image Licenses
CC0 Image
This is an image labeled for Creative Commons. Meaning it is free to use personally or for commercial use. You will need to find the source of an image to see if it has a CC0 license. A few great sources for this type of image are Pixabay, Unsplash, and Pexels. You can download free images here and upload them to your Cricut machine with no issue.
Personal License
If this type of license is with a file, it means that you can use the file for creating things for yourself or to give as gifts. Once you start using images to make things that you sell, you will need a commercial license. For instance, the free SVG files that I offer here fall under a personal license. Please remember that these licenses are not transferable. You can't download some SVG files and pass them along to a friend. You can, however, give your friend the link where you found them and have her download her own copy where she will get her own license to use the files.
Commercial License
This license allows you to make things and sell those items with the file. Most likely you will need to purchase these but they are occasionally free. Please note the terms of a commercial license. They are often issued for a limited amount of product. So, something like a license to sell 500 pieces made with the file. Note the amount and be sure to keep track of how many sold when working under a commercial license of a file. You will also need to remember that these are not transferable. You can't give these files to a friend. Each person that uses these files will need to purchase their own commercial license.
So, the next time you want to use an image, think about the source. Is it allowed? Should you be uploading this to your Cricut machine? Image and SVG licensing can be tricky so be sure to read the information on the page where you source an image or file.
The Cricut Angel Policy for Image and SVG Licenses
Cricut has a special policy for those individuals that wish to create and sell crafts incorporating their products, designs, and images. The Angel Policy provides limited permission for certain sales of such crafts. It does have limits, however. Things like the Disney images and other licensed art are excluded. You can see the entire policy here so you know just what you can make with the Cricut Design Space images.
FAQs About Image And SVG Licenses for Cricut Images
Can logos be uploaded to a Cricut?
This is a question I see most often and the most violated policy. All logos are copyrighted and should not be uploaded to your Cricut. This includes logos for products like Pepsi and even logos for things like professional sports teams. You are putting yourself at risk each time that you upload these types of images.
What about the

files you purchase

?

Again, be sure to check the license provided for specific details. My favorite sources for files are:
Hungry JPEG (Want to make a purchase instead? Use code 10OFF for 10% off!)
Creative Market
My Design Deals (use code SAVE10-GI2BOR to save 10%)
Files on Etsy are often fine but buyer beware. Things like Disney logos and likeness are still copyrighted. The people selling these are infringing on copyright but you will be as well if you use these files. Be aware of what you are purchasing and what types of copyrights may be violated with use.
So, do you have any more questions about image and SVG licensing? Be sure to ask them in the comment section below. Always protect yourself by making sure you have permission to use each image that you upload to your Cricut.
Need Help Organizing Your SVG Files?
Are you overwhelmed with the number of files on your computer? SVG (or digital cut) files can take up a ton of space, and it can be so hard to find exactly what you are looking for. That is where Cut File Clean Up comes in! The Cut File Clean-Up system ends the frustration of organizing your cut files so that you can find what you need and get to the best part of crafting—actually making your project.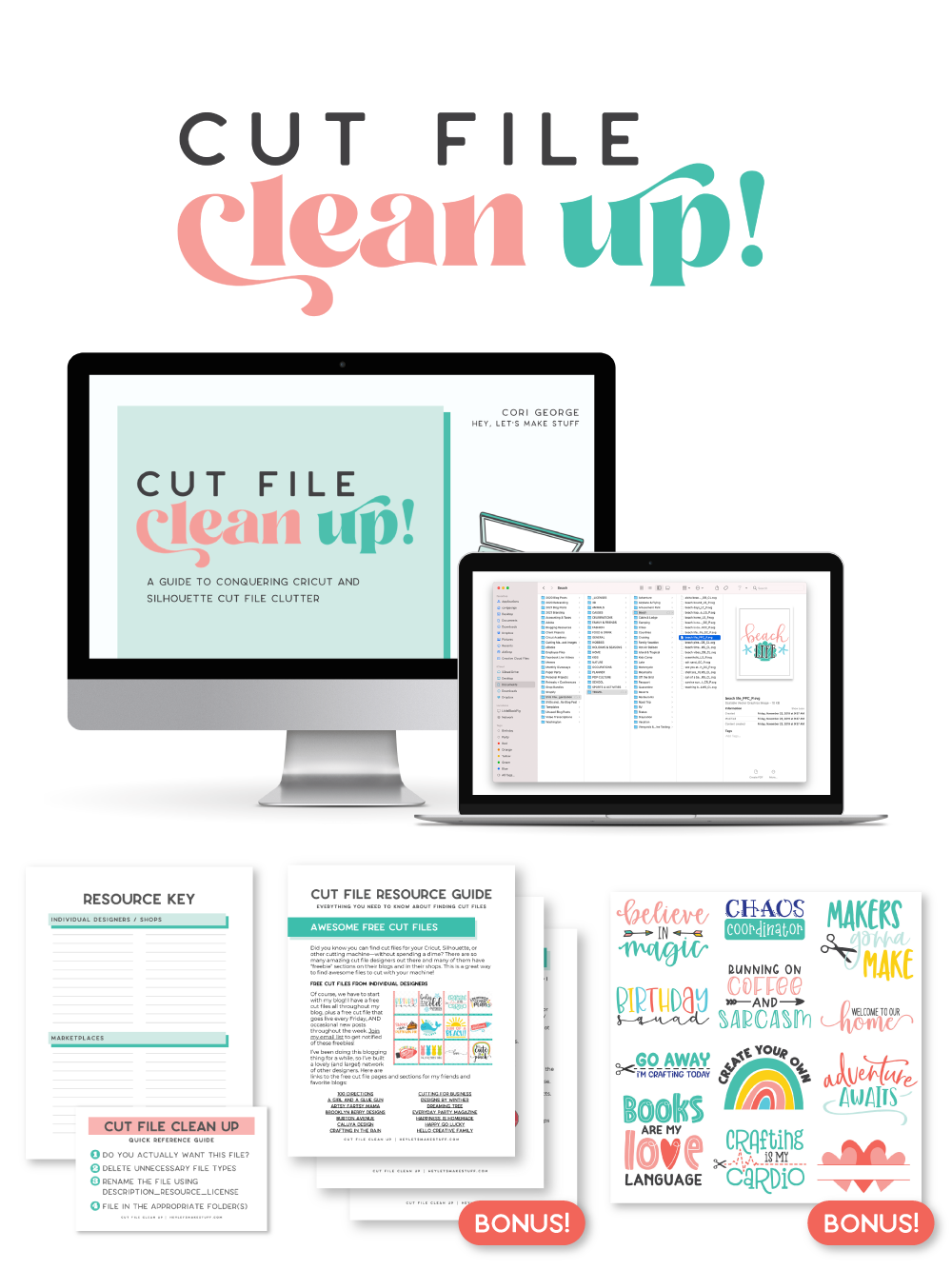 The best part is that you can get it for a deal right now with great bonuses. And yes those bonuses include even more digital cut files for your crafting. You can't get enough of those right? Grab it now.
New to Cricut?
Sign up for our email list to download the Beginner's Guide to Cricut Design Space for FREE today!
Sign up to get the guide emailed to you!