I originally posted this on Positively Splendid. Thought I would repost it here in case you missed it! Plus I am trying to bring more kid friendly crafts to my blog this summer and this one fits the bill!
I found a tutorial on Family Fun and was doing some experimenting with crayon wax. This idea was born! An easy way to paint "treasures" for even the tiniest of hands! Get your rocks and get started!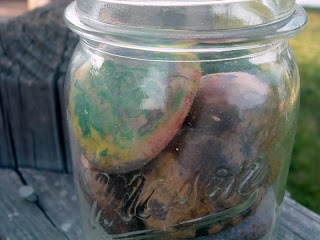 Smooth rocks

Crayons

Foil lined baking sheet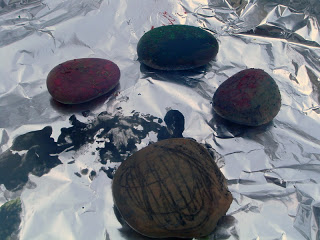 Literally color all over your rocks. Randomly, in patterns, doesn't matter. Just a nice thick coating of crayon wax. Let the kids go wild!!
Place the rocks in your oven on 225 degrees for about 3 minutes. Watch them close. The wax should melt but not start to come off of your rocks. Remove them from the oven and let cool!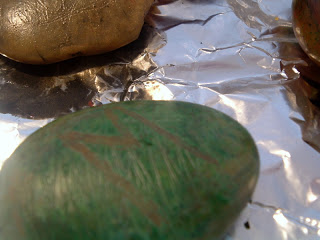 While the wax was wet, we even scratched some initials in some of our rocks with a skewer. Totally optional but fun! 🙂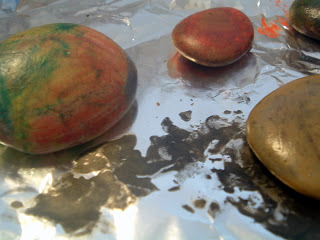 They look all shiny when you remove them. The wax will sort of melt together and blend. Then harden back to a smooth, glossy finish!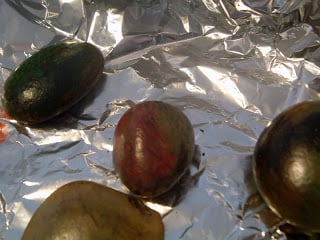 Gorgeous "painted" rocks — no mess, non toxic, easy, quick, fun, what more could you ask for?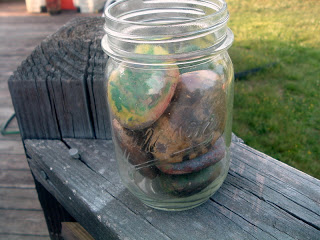 I popped our creations in a mason jar to display them….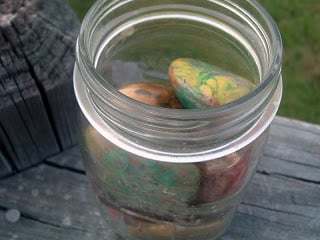 But you could use them in a wide variety of ways:
place in the dirt of your potted plants for a touch of color

make "X" and "O" rocks for a great tic tac toe game

draw faces for your very own rock men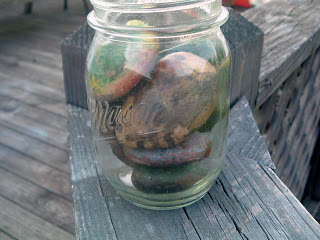 I don't know about your kids…but mine looove to treasure hunt for rocks. So this is a perfect activity for us! Treasure hunting for the rocks and then painting them!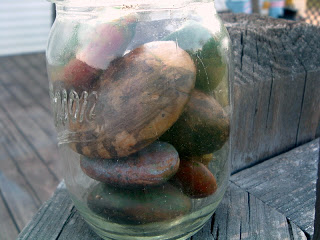 My collection would have been more colorful — but my youngest loves the color black! What is a mom to do but have black rocks! 🙂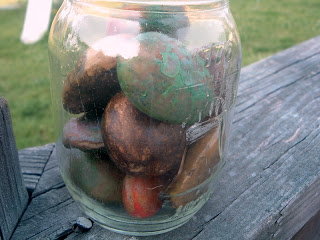 I hope you enjoy this tutorial! Let me know if you paint some rocks with your kids!
~Thanks for stopping by!~