Looking for the perfect fall-themed craft to make with children? Look no further than this adorable turkey pinecone!
This is a quick and easy craft that will keep your kids occupied on Thanksgiving morning while the meal is being prepared. Your kids will have an awesome time making these little crafts with you, and playing with them too!
Grab a few supplies and some pine cones from your yard and make these with your kids. I will also show you how to add these to the kids' table at Thanksgiving as a fun project while everyone waits on the meal to be ready.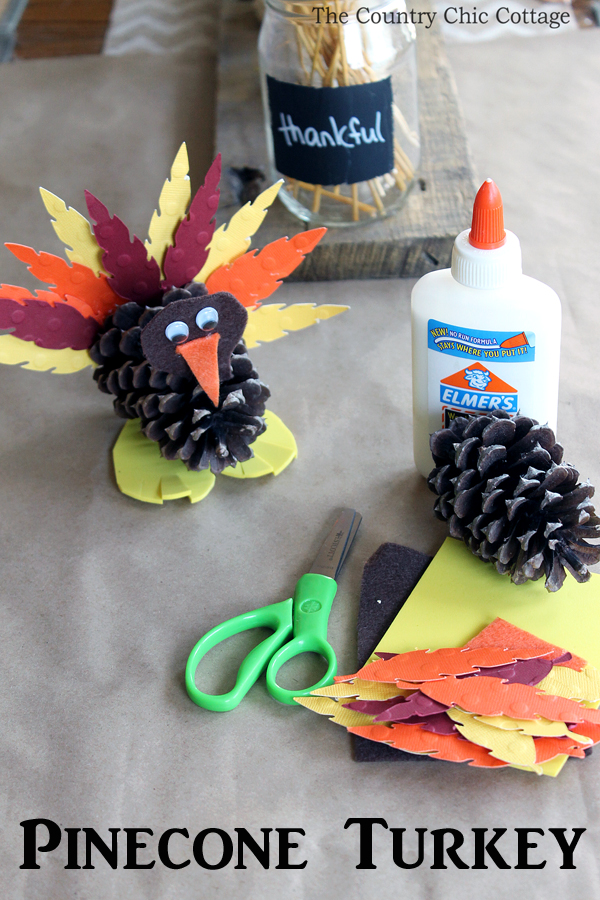 Supplies Needed to Make a Pinecone Turkey
Some of these links may be affiliate links.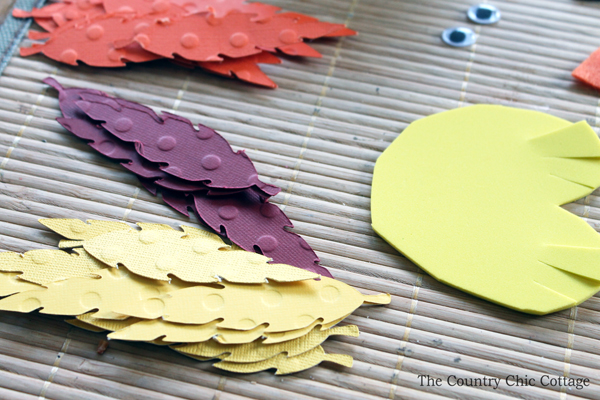 Step by Step Directions
First, prep all the pieces for the turkey. I used my Cricut to cut out the feathers, but you can simply trace a template or cut them by hand. I also used yellow foam to cut out the feet for the turkey too.
Then, glue the foam "feet" to the pinecone. You'll want to make sure the pinecone is angled like the photos below – the base of the pinecone will be the butt of the turkey.
Next, insert the head onto the "front" of your turkey. Add on eyes and a beak. This is always everyone's favorite part!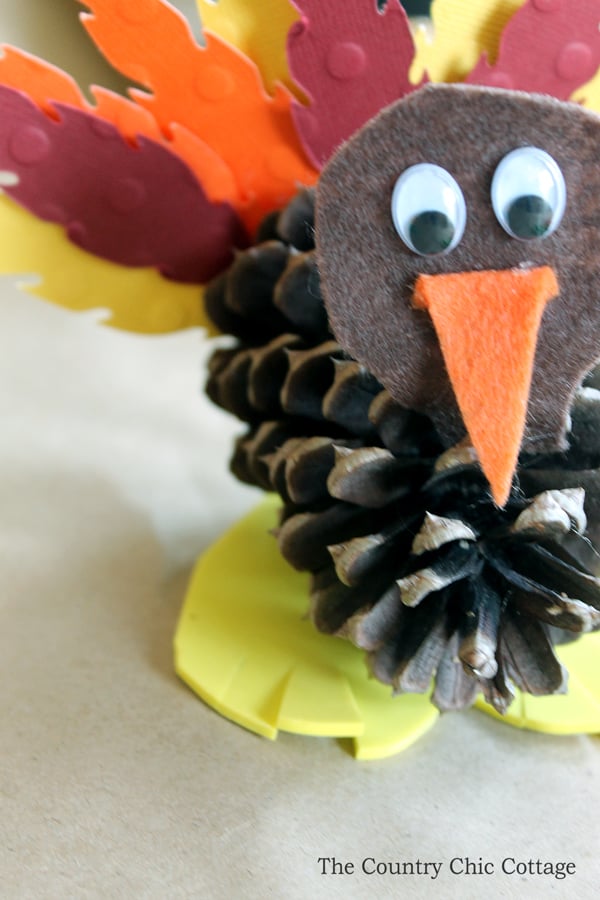 Now it's time for the feathers. The feathers are glued into place as shown below, tucked into the pinecone crevices.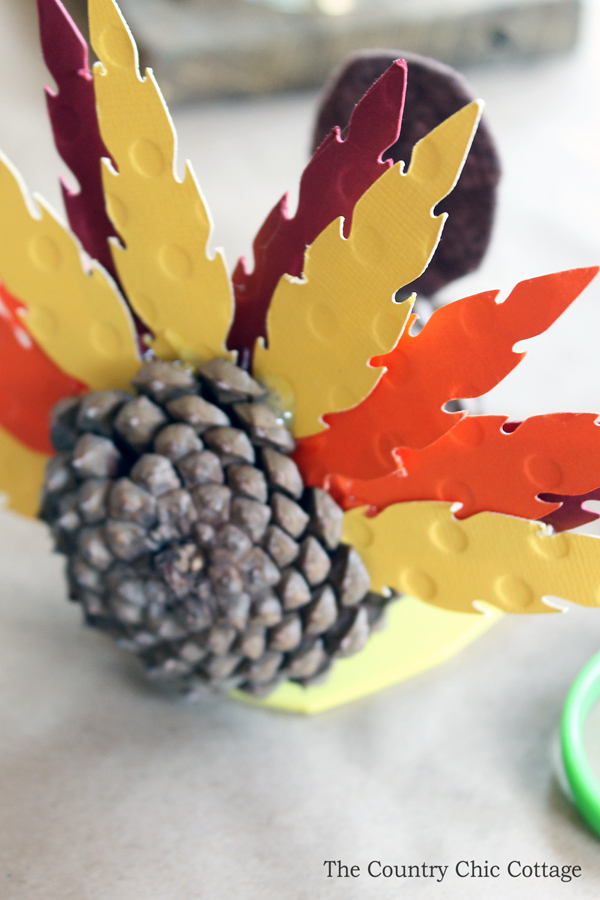 Then, allow the turkey to dry. That's it!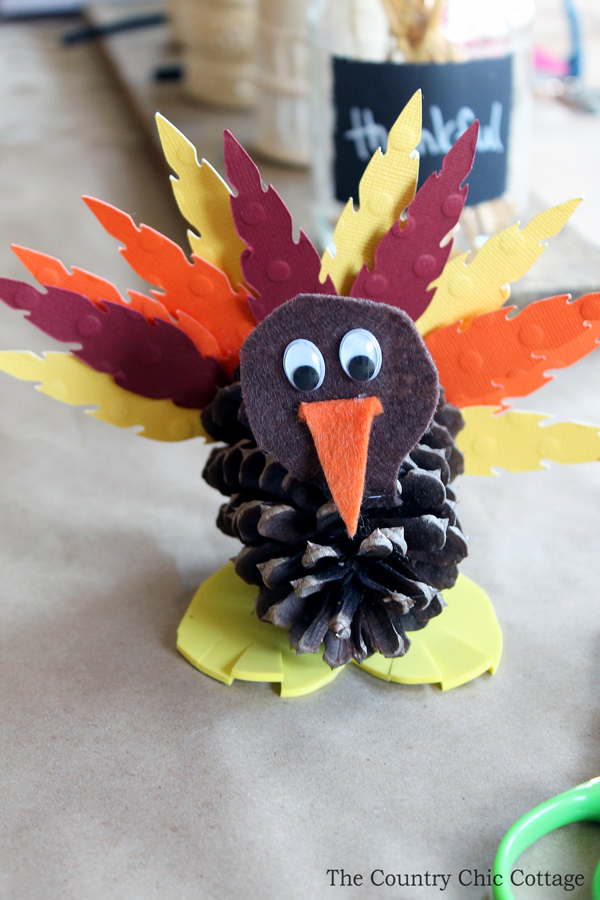 Where can I find pinecones?
This is a question that many people ask me. I am lucky enough to live in an area where pinecones grow, so it's as easy as popping out to the yard! Part of the fun of making this craft is foraging for the perfect "turkey", so grab a basket and head outside.
If your yard isn't a good source for pinecones, you can find them in a variety of places: near hiking trails, parks, or even at craft stores. Of course, you can find them online too!
What age is this turkey pinecone craft for?
This is a good craft project for any age! Toddlers will need a little assistance with cutting out the pieces and assembling them together, but this is where that wonderful creativity can shine.
Older kids will be able to make them on their own, but will likely need light supervision when it comes to the cutting aspects.
How to Make This a Thanksgiving Day Craft
My favorite way to use this craft is to set up one turkey for each child attending Thanksgiving.
This cute little kids' craft will be the hit of any Thanksgiving dinner or fall dinner party. Grab your supplies and be sure to grab enough for every kid that is coming. This is one fun craft idea that everyone will want to do!
I also made an example so they would have something to go by.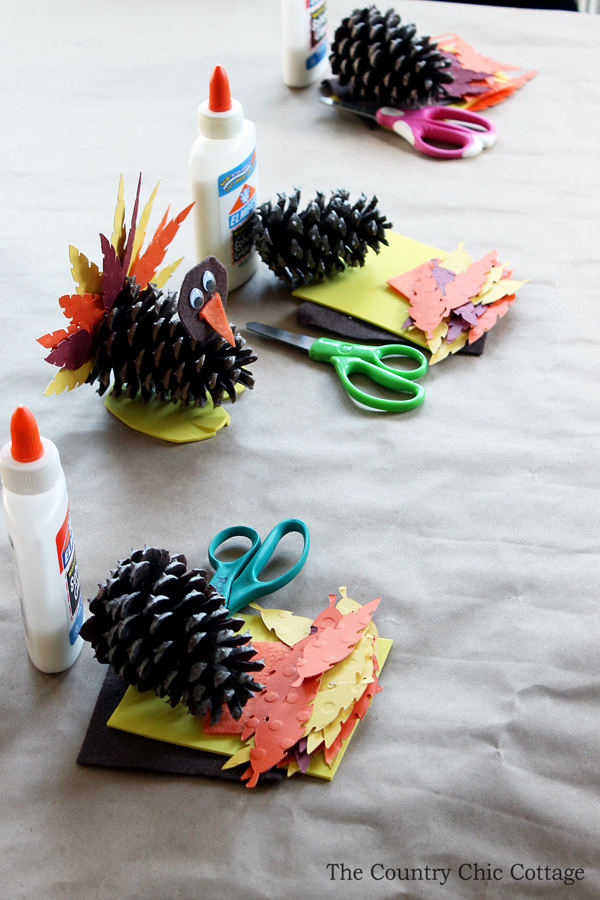 I supplied the following for each pinecone turkey:
Pine cone
Feathers cut from paper (I used my Cricut but you can also use a template)
Square of brown felt
Small piece of orange felt
Square of yellow foam
School glue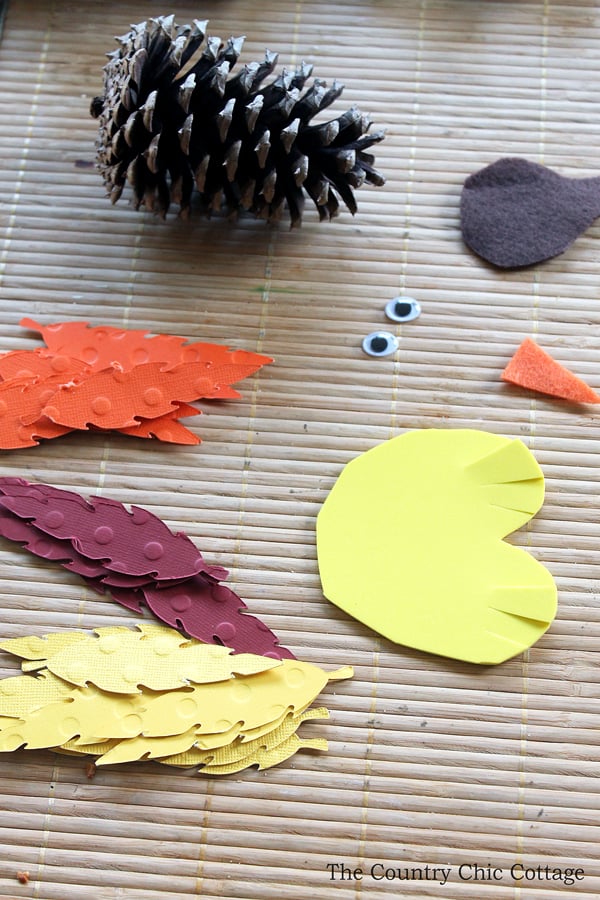 I set up the table as you see above. Each child had their own set of supplies to make this fun kids' craft. If the kids are younger, you'll also want to have someone supervise and give an example of how to create it.
Once your little guests make their own pine cone turkeys, be sure to allow them to dry before sending home.
More Thanksgiving Crafts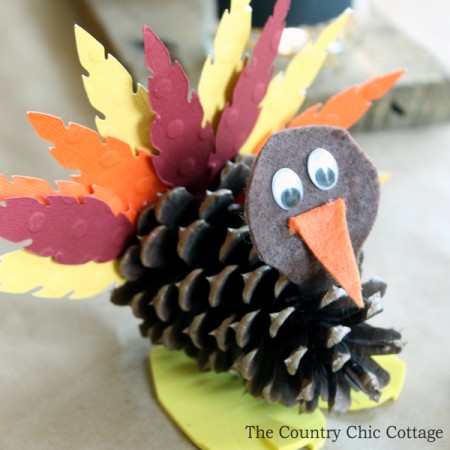 DIY Turkey Pinecone
Learn how to turn a pinecone and a few basic craft supplies into a turkey pinecone! This is the perfect Thanksgiving craft for kids to keep occupied with during Thanksgiving dinner.
Supplies
Pinecones

Textured paper

Cricut Explore

or handcut feathers

Foam Sheets

Felt

in orange and brown

School Glue

Safety Scissors
Instructions
First, prep supplies by cutting feathers out of textured paper. You can use a Cricut or simply cut by hand. You'll also want to cut out feet for the turkey too out of foam.

Glue the feet onto the turkey using craft glue.

Add the head along with eyes and a beak.

Tuck feathers into the crevices of the pinecone and glue in place.
Tried this project?
tag us to show off your work!