I have posted a variety of kitchen organization ideas around here over the years. I decided I would round up the top ideas that actually work in our home. These ideas are all still functioning in my home today and make our kitchen run smooth. These are all tried and tested ideas that you can easily replicate for some organization in your own home.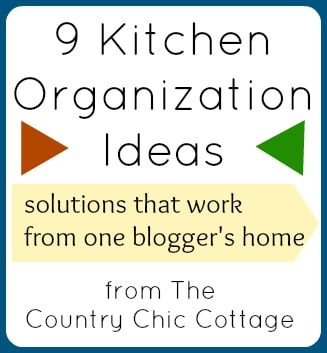 First up is my mason jar spice drawer organization. This is the best thing I have ever tried for my spices and boy I have tried a ton of things. This stays looking neat and the chalkboard drawer liner makes sure you put everything back in the proper place. Click here to see more about this way of organizing spices and the materials you will need to implement this one in your own home.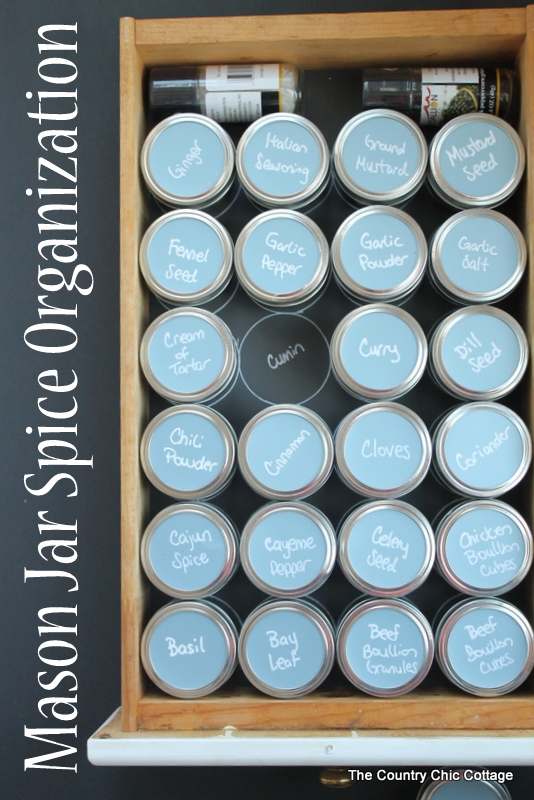 I think every family needs some sort of command center. The only thing that has worked for us over the years is using the side of the refrigerator. It is handy and keeps everything organized and (hopefully) off the kitchen table. Click here to see our refrigerator command center and learn how to make one of your own.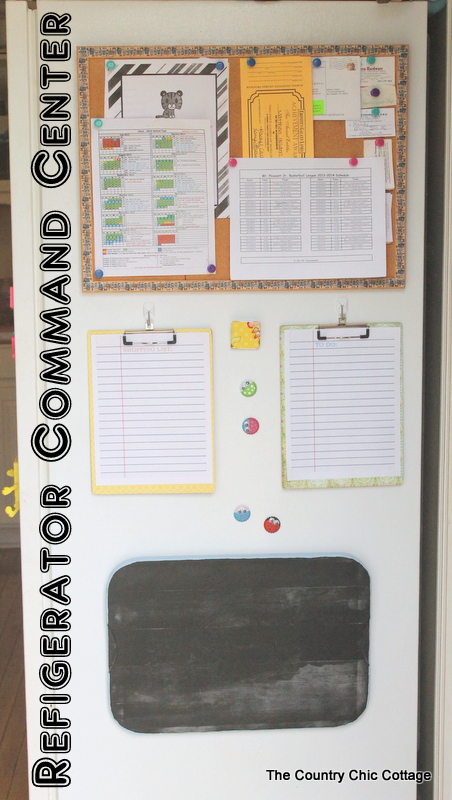 Another thing that works for us is weekly meal planning. I know this might not be what you typically think of when you think kitchen organization ideas but it will change your life. Get organized and print my weekly meal planner pages by clicking here.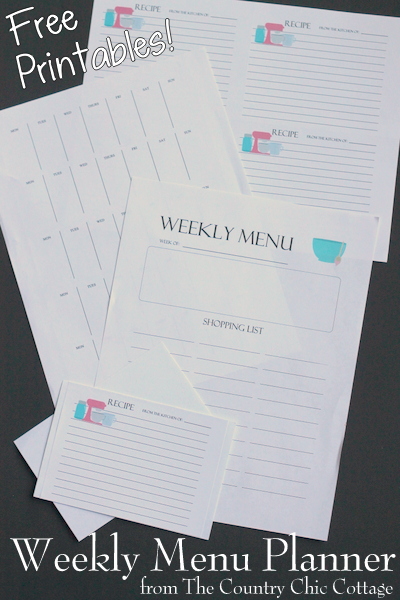 Next up is quite possibly one of the best things I have ever done. I lined one wall of cabinets with chalkboard labeled cookie jars. These hold all the snack foods nice and neat while remaining where the kids can see them. You can see more about this wall of jars in this post.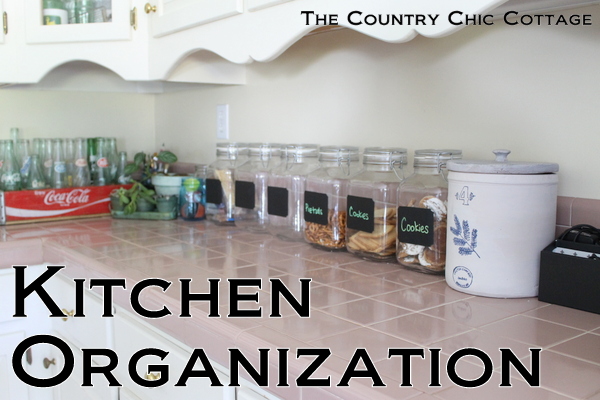 Another way I tame clutter is by using various containers in the kitchen. These allow me to organize various things but keep them out of sight. Plus I don't have to take up valuable cabinet real estate. One of the things I love is my collection of old cheese boxes. They house my cookbook collection at the moment. Find some container you love and collect them. You will be glad you did!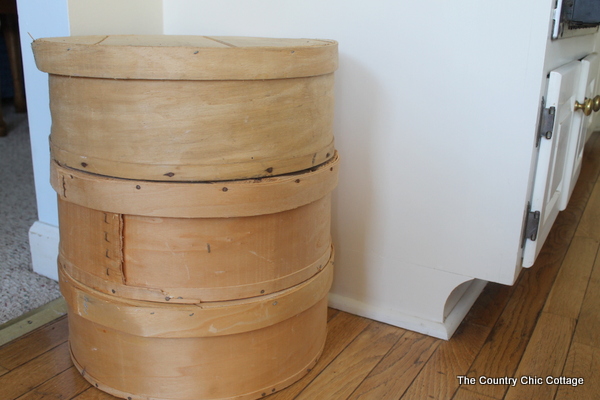 You can also make fun containers for your kitchen like these that I made from old food containers. Click here to learn how to make your own version of these. I throw in all the loose hardware so it is corralled in one area. When I need a random nail or screw I know exactly where to look.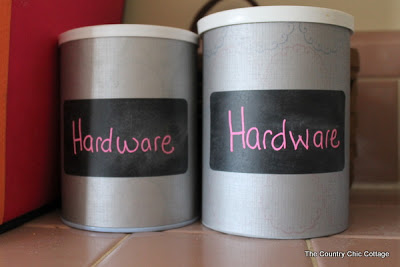 These next pictures are from many years ago but these items are still working for our family today so I wanted to include them. Grab a pot rack for your cookie sheets and muffin tins. This literally saves me hours each year because everything is so accessible.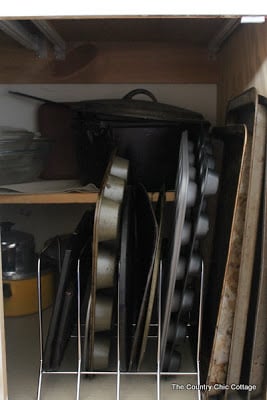 Another thing you can purchase for your cabinets that is a lifesaver is shelves! If you have cabinets that don't have them or not enough of them — just buy em!! They are simple to install and will change your cabinet space in a few minutes.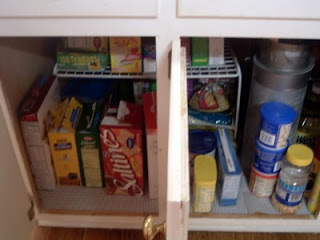 I also use a couple of fabric lined boxes for plastic bowls and lids. You can make these boxes yourself with the instructions here for little to no money. Then throw lids in one and bowls in another. These have kept our chaos in this area to a minimum for several years.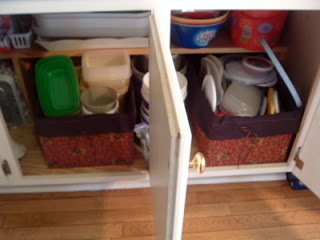 I hope you have enjoyed these kitchen organization ideas that work for our family. These really are the ways we keep our family organized in the kitchen…every single day!
More Home Organization Help
Do images on Pinterest stress you out because they seem more like a fairy tale than something you can actually achieve?
Don't fall into that pretty and perfect trap. You can get clutter-free and organized without living a fairy tale life.
No one knows this better than my friend Hilary! She has an entire course for sale that is dedicated to real-life organization ideas. I love that her approach works for any family with any budget.
Check out her course and judge for yourself!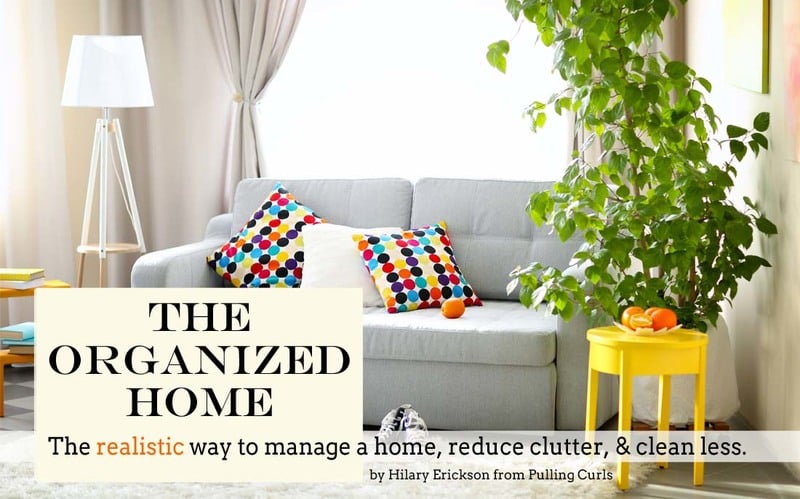 My favorite part of this course is that Hilary strives to make your home easier to clean-up, so that it takes only minutes, instead of hours. Who couldn't use more time and less cleaning?
Plus the system can make your house look fairly put together most times of the day. See for yourself with this course!
Declutter Your Home in 31 Days!
Clear the clutter and organize your home with our daily emails! Every day for a month we will send you a prompt to declutter! Sign up for our email list below to get started.