Is your spice drawer a mess? I have a great solution for you! Organizing spices in mason jars. However my version has a unique twist with chalkboard that makes this idea even better. This one was first posted over at the Darice blog however I wanted to share it here in case you missed it. I have been living with this mason jar spice organizer for over 3 months and it really works for us. I hope it will work for you as well.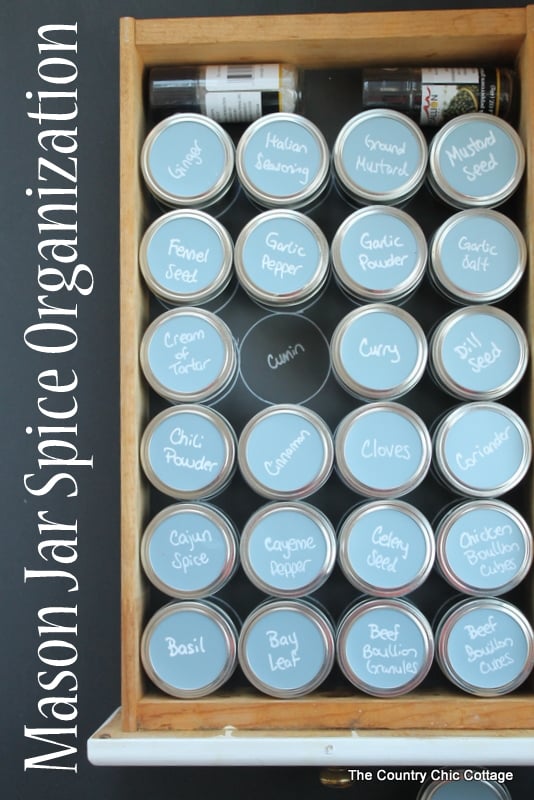 Supplies for organizing spices in mason jars: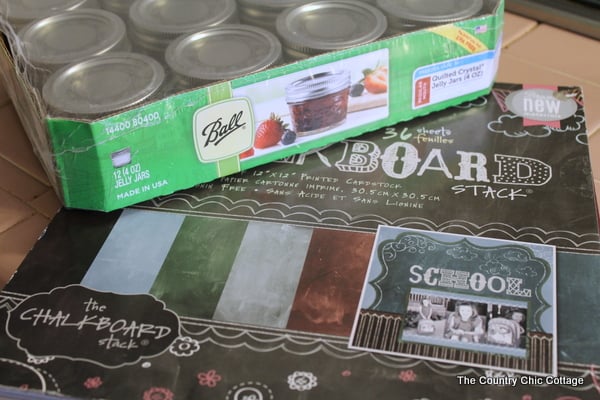 Would you like to see the state of my spice drawer before? Yep here it is in the messy, cluttered, disorganized state.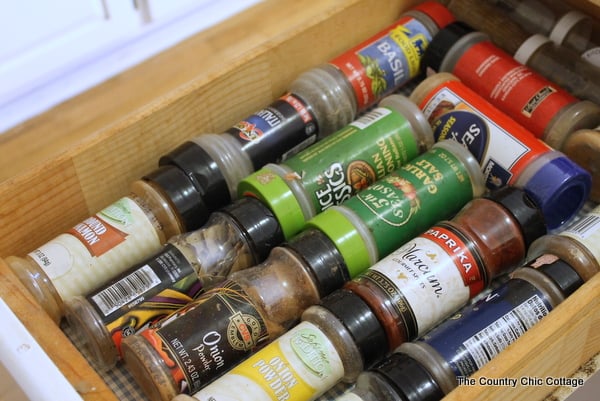 I started with the chalkboard paper stack and chose blue for the tops of my jars. I used a Sizzix and a circle die close to the size of the top of my jars. I cut several circles from the blue chalkboard sheets. You can also trace the lid onto the paper and use scissors to cut out circles. The edges of your circles will not be visible so any method you choose will work. Then just add your spices to the jars and top with the lid and chalkboard circle. Nothing else is needed as the two part lids will hold the chalkboard circles in place perfectly.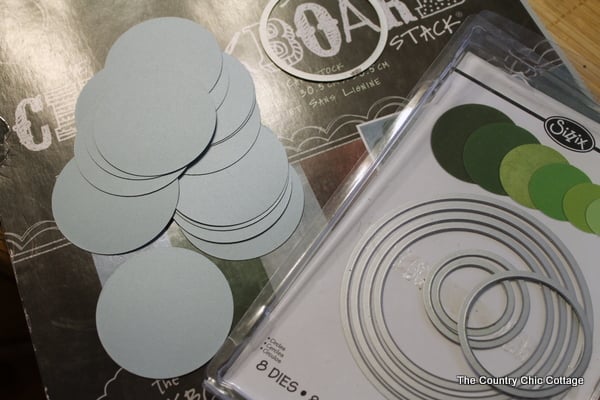 But remember up above I said I had a unique twist to my method of organizing spices in mason jars. What is that twist? Line your drawers with chalkboard paper as well. You will see exactly what this does for you a few steps down. Use another color from the chalkboard paper stack and line your drawer. I had to use two pieces cut to size and overlapped them as shown. I used the Glue Dots to stick the two pieces together so they would not move or shift.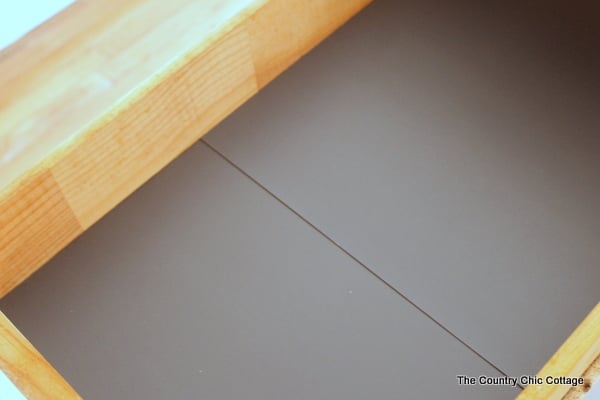 Then trace the top of your mini mason jar all over the chalkboard paper as shown. This is the layout of how your jars will be in the drawer. I tested out the jars in the drawer before marking my spice organizer paper. However, if you mess up, remember that it is a chalk marker and will erase with just a damp cloth. NOTE: Be sure to trace the top as shown that is the only way to get correctly sized circles.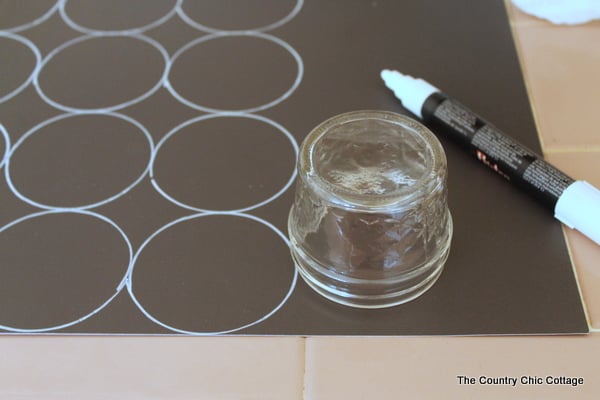 I then laid out my spices in alphabetical order and began to write each spice name on the chalkboard drawer liner. Do you see where I am going with this? Organizing spices in mason jars has never been easier y'all.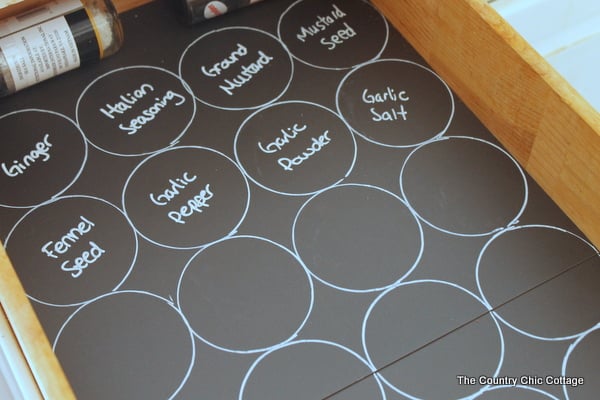 Load up your drawer with all of your spices and admire your mason jar spice organizer. Look what happens if you remove a spice to use it in your cooking. You know EXACTLY where to put it back! Brilliant. This is my absolute favorite part of this entire project.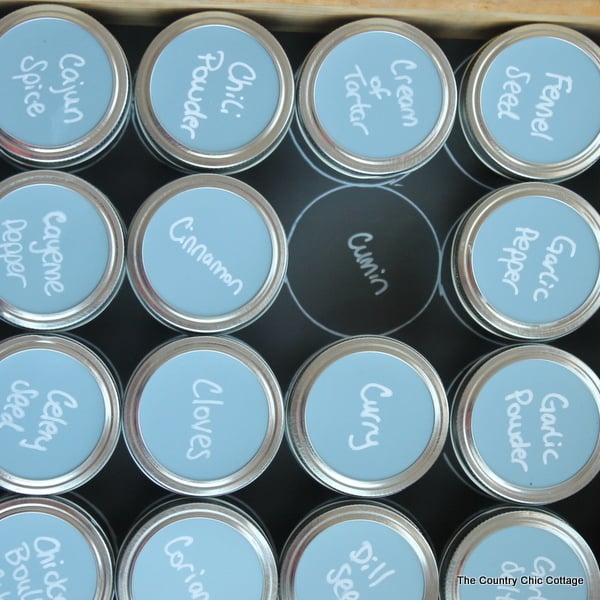 I now have two spice drawers that look like the below image. I am one happy, organized lady. The salt and pepper grinder in the back of the drawer are just extras. There is not enough room in the drawer for another row of jars. They will also keep your jars from shifting as you open and close the drawer so win win! The other drawer that is not shown also has room for expansion of my spice collection. There are jars with tops that have no writing so I can fill those with whatever I wish. The use of chalkboard in this project makes it super simple to rearrange the order of your spices as well. Just erase the liner with a damp cloth and reorder. You gotta love that.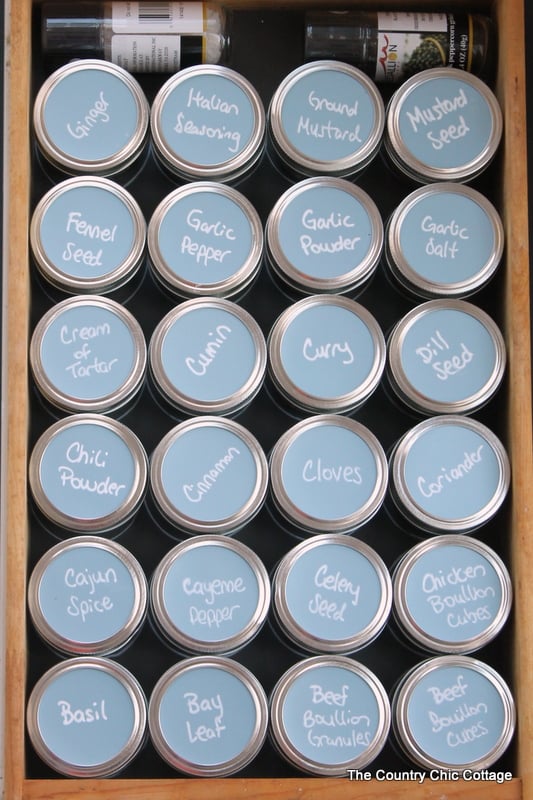 If y'all will excuse me, I am off to gaze lovingly at my spices. Yep even after three months I am enamored with my way of organizing spices in mason jars. It definitely works for our family.
More Home Organization Help
Do images on Pinterest stress you out because they seem more like a fairy tale than something you can actually achieve?
Don't fall into that pretty and perfect trap. You can get clutter-free and organized without living a fairy tale life.
No one knows this better than my friend Hilary! She has an entire course for sale that is dedicated to real-life organization ideas. I love that her approach works for any family with any budget.
Check out her course and judge for yourself!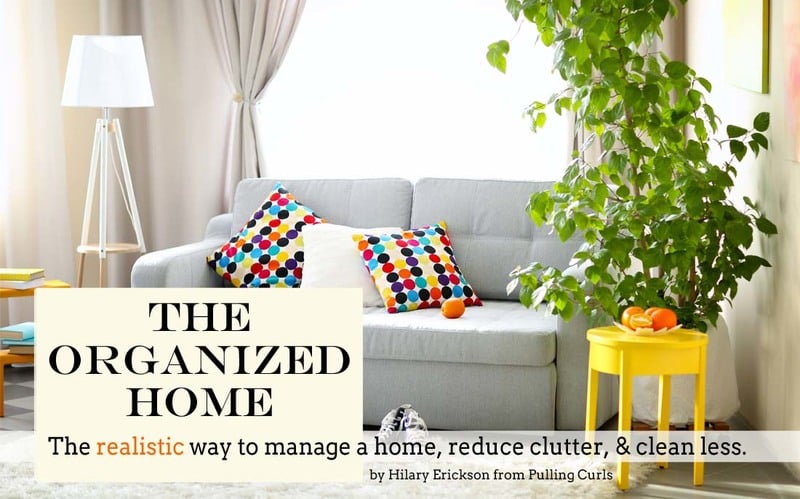 My favorite part of this course is that Hilary strives to make your home easier to clean-up, so that it takes only minutes, instead of hours. Who couldn't use more time and less cleaning?
Plus the system can make your house look fairly put together most times of the day. See for yourself with this course!
Declutter Your Home in 31 Days!
Clear the clutter and organize your home with our daily emails! Every day for a month we will send you a prompt to declutter! Sign up for our email list below to get started.