If you haven't heard of it before, Lego tape is about to become a new favorite crafting supply. It only takes minutes to make this DIY Lego bracelet, but will provide hours of entertainment and fun for your little builders!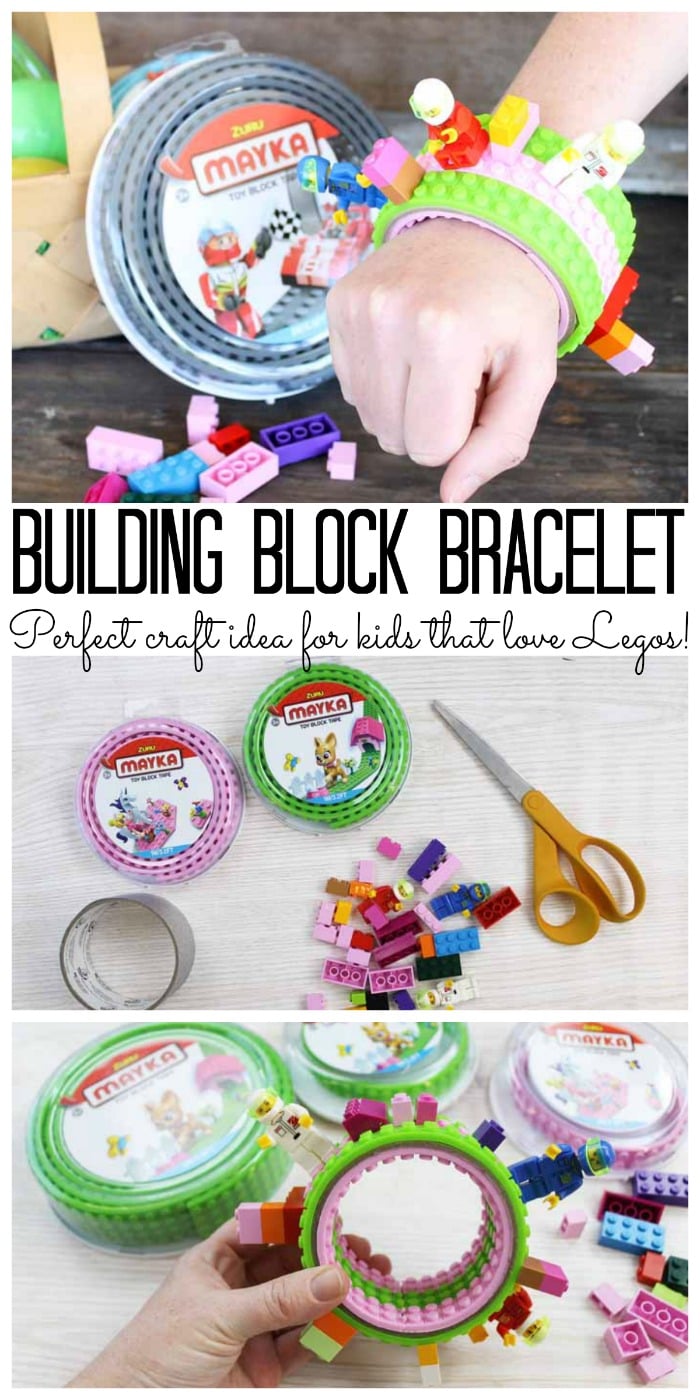 If your kids love building blocks as much as mine do, this is the perfect thing to make together for a fun craft night.
What is Lego Tape?
Lego tape is a fairly new item to hit the market, and has been made by several different brands. One of the most popular brands is Build Bonanza although you can find other versions online too. Whichever one you get, the premise is the same.
The beauty of Lego tape is that you can transform practically anything into a Lego play surface! This sticky tape adheres to most surfaces, allowing only your imagination to be your limit.
A few popular ways to use Lego tape include:
Adding a custom brick building base to a round table
Creating a portable building base that you can grab and go on road trips
Making the underside of furniture perfect for adding Legos
And, of course, making one of a kind building jewelry like this DIY Lego bracelet!
How to Make a Lego Bracelet
Lego bracelets are so much fun. If you have a little builder, this can entertain him or her for hours! Plus, they are incredibly easy to make and can be finished in just minutes.
Supplies needed:
Lego Tape (2 stud tape in two colors of your choice)
Empty duct tape roll
Lego pieces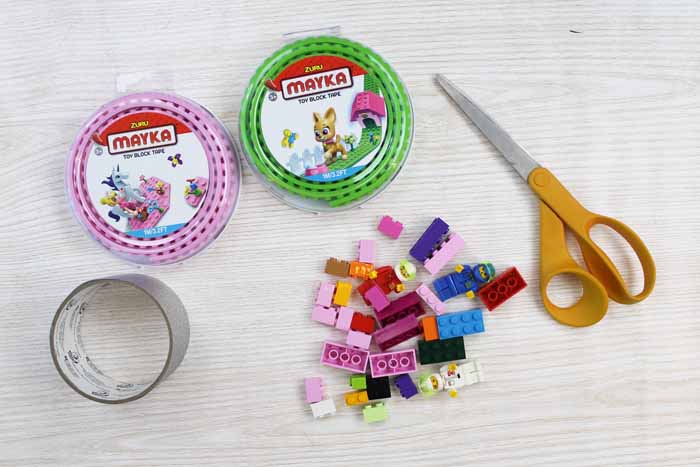 Watch the Video
While I have the step by step directions written below, I thought I would make a fun video to show you just how easy this project is.
Seriously, kids of all ages can make their own Lego bracelet. Just watch below and see what I mean!
So easy right? Can't watch the video or missed some of the steps? Try the step by step instructions below.
How to Make Bracelet with Lego Tape
1. Choose Your Form
I opted to use duct tape rolls as my bracelet base because that's what fit my kids best. You could always use something else or even cut strips of cardboard and shape them into a circle if you need a different size. For ease, however, I recommend the duct tape roll.
You will first need to remove all duct tape from the roll if you haven't used it already. If you need suggestions for what to do to use it up, give this adorable duct tape wreath a try!
2. Cover the Roll with Lego Tape
Cover both the inside and the outside with the Lego tape. All you need to do is roll it out to see how much you'll need to cover the bracelet. Then, cut to length.
Lastly, peel the backing, and stick into place. It is seriously that easy!
3. Cover the Inside with Lego Tape (Optional)
Finally, you can opt to cover the inside of the roll with Lego tape. This gives your kids an extra building surface if they want to use it on the go.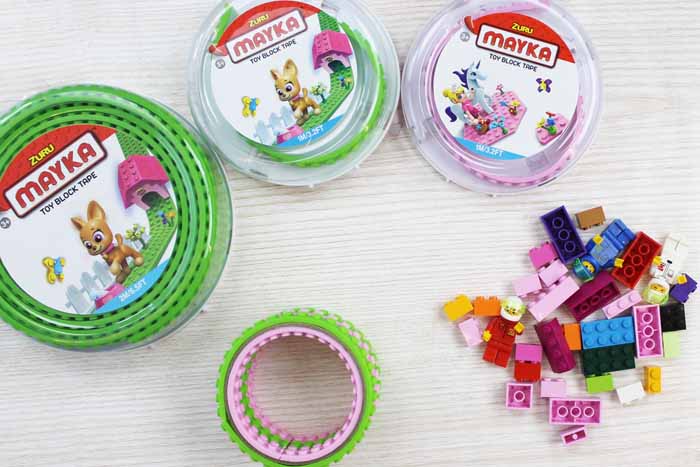 Troubleshooting tip: I've heard some people in online reviews say they had a hard time getting the Lego tape to stick. I've never had an issue, but just in case you do, you can always add a few dabs of superglue to ensure a permanent stay.
How to Use the Lego Bracelet
Then let your imagination run wild! Add on building blocks, Lego figures, and more!
Your kids will love changing up this bracelet whenever they feel like it! Imagine what they will create.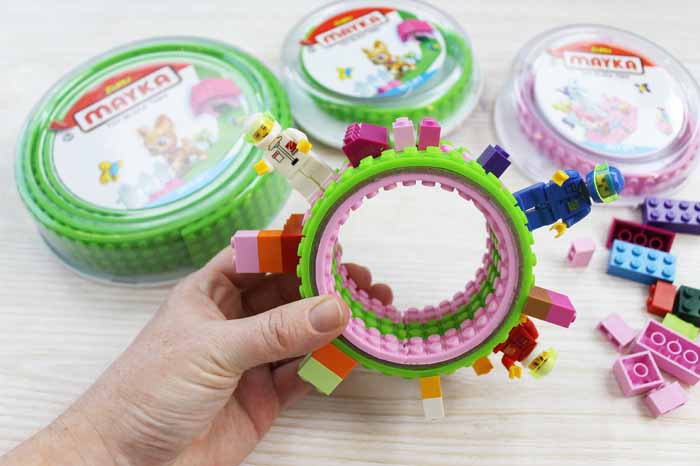 You can add the bracelet to their Easter basket as well. Be sure to add some additional packages of tape as they will want to make some Lego crafts of their very own.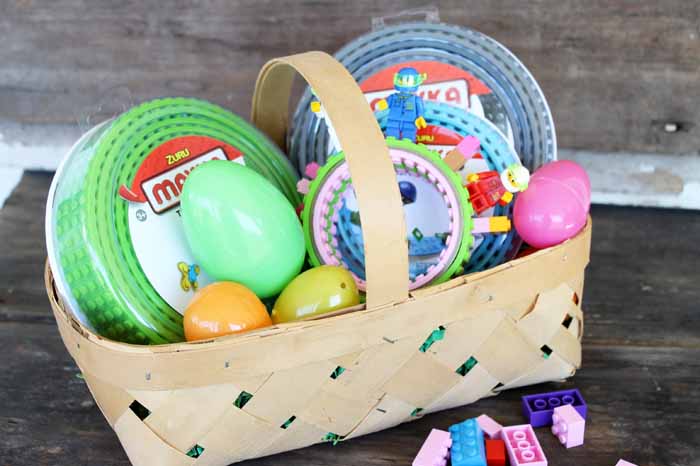 Then they can sport their building block bracelet whenever they want!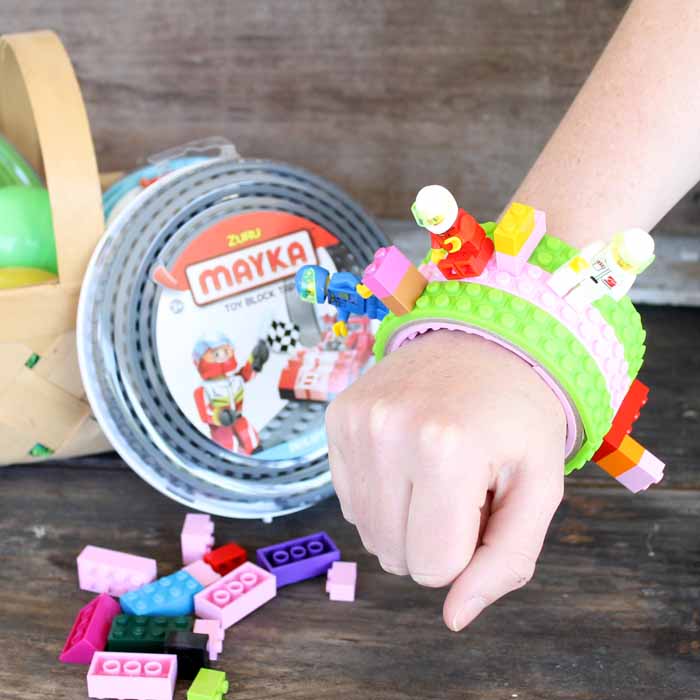 Grab your Lego tape to make projects like this one as well as our Lego travel case. They both make fun projects to make with your kids or for them.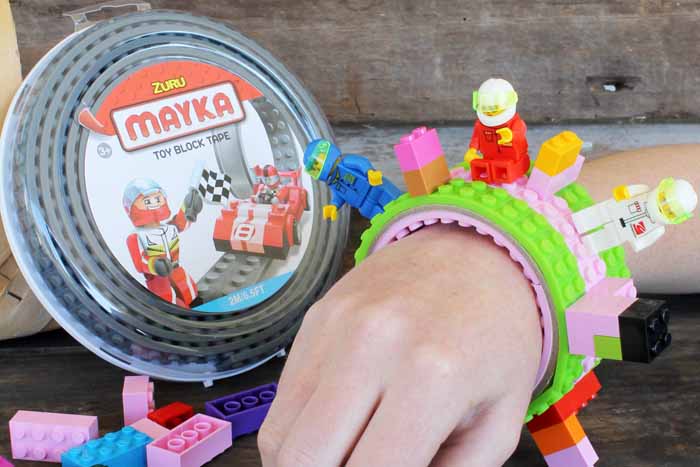 So, do you have any Lego crafts that you are dying to try with this product? We would love to hear about them in the comments below!