I could not leave holiday Craft Lightning week without a handmade gift idea and this Lego travel case sure fits the bill. This is an easy gift idea that the little one on your Christmas list will love. They can now play with their Legos anytime and anywhere. Read on to see just how I made it. If you have missed any of the 15 minute holiday crafts this week, be sure to catch up with day 1, day 2, day 3, and day 4. You will also want to scroll to the bottom of this post to see the crafts from today's blog partners. This post is sponsored by Zuru Mayka Toy Block Tape however all projects and opinions are my own.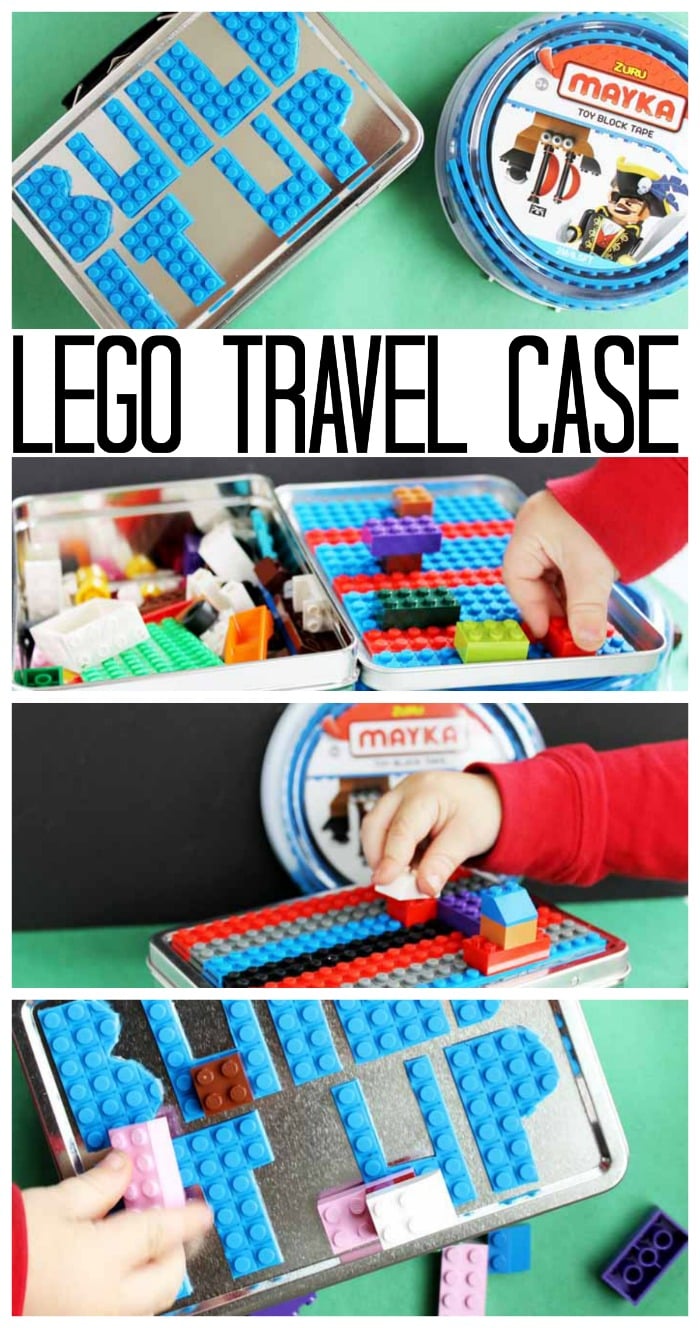 Supplies needed to make your own Lego travel case:
Plain steel lunch box
Legos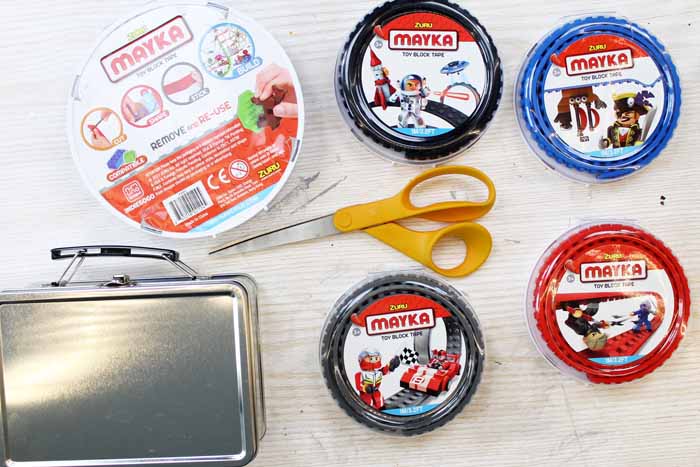 I thought it would be fun to show just how easy this product is to use in a quick video. You can watch me make this Lego travel case in the video below.

Can't watch the video or missed some of the steps? Try the instructions below.
Instructions:
The Mayka tape is self adhesive which makes this a super easy project. I made three surfaces for my case. The front of the lunch box I spelled out "BUILD IT UP". I cut the Mayka tape to the right height and free handed the letters by cutting with scissors. This stuff is so easy to cut! Just layout your design roughly before you start to get an idea of how big your letters should be. Don't worry! You can keep trimming to make them look just right. I used the tape that has four studs across for this portion of the project. You then just peel the backing from each letter and stick it right on the lunch box.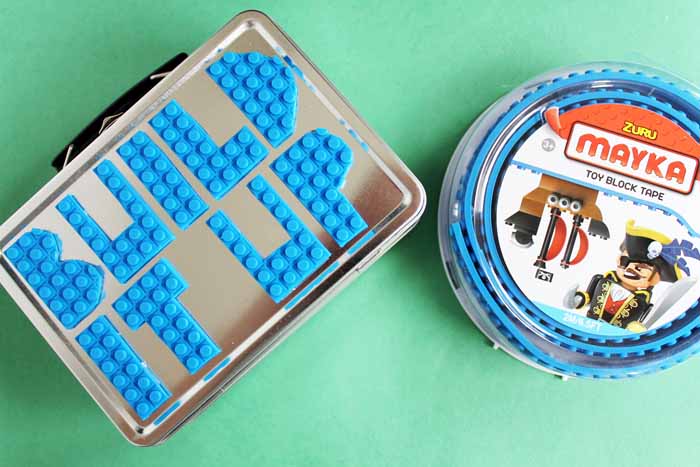 I also made a surface for play on the inside of the lid. For this one, I used a combination of the four and two stud tape. I just cut it to the proper length, peeled the backing, and stuck to the surface by pressing well. NOTE: The backing is stuck REALLY well to the adhesive. I love that because the adhesive is really strong which is just what I am looking for! Just be patient and make sure to just peel up the paper leaving the adhesive behind. I never ruined a piece of Mayka tape while making this project. Need more help? Watch this video for another method for peeling the tape.
The third play surface I created was on the back of the lunch box. Here I used all two stud tapes in various colors running in stripes. Note that if you get to the end and need a smaller piece of tape, you can cut the tape into half long wise as well.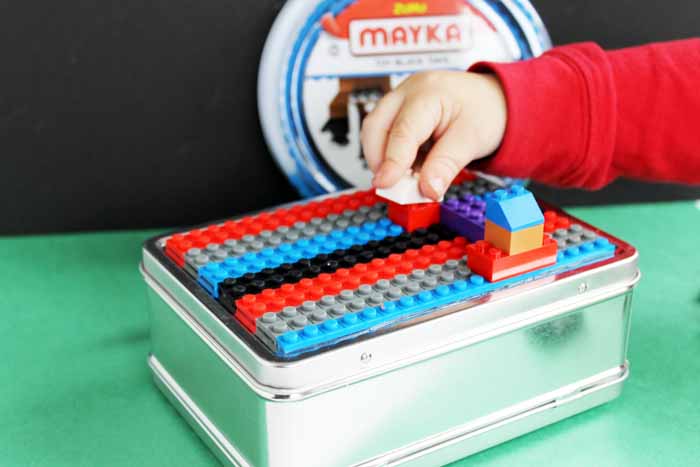 Once you peel and stick the tape to all of these surfaces, you are ready to play! The Lego brand of bricks sticks right to the Mayka tape and you have three surfaces to play on with this Lego travel case.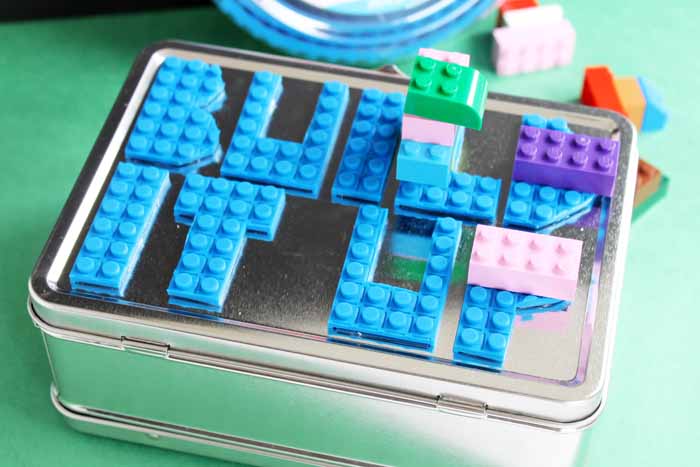 I had fun making this and we also had fun playing with it. I can see a ton of uses for Mayka tape and I will be giving it a try on other projects as well.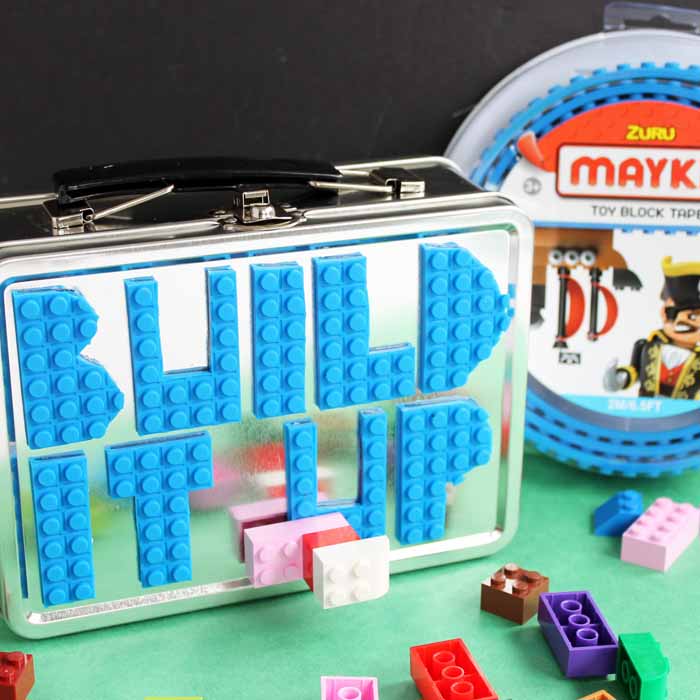 Where will you add some Mayka tape and what will you make? I am off to think of some additional ideas because this stuff is able to stick anywhere!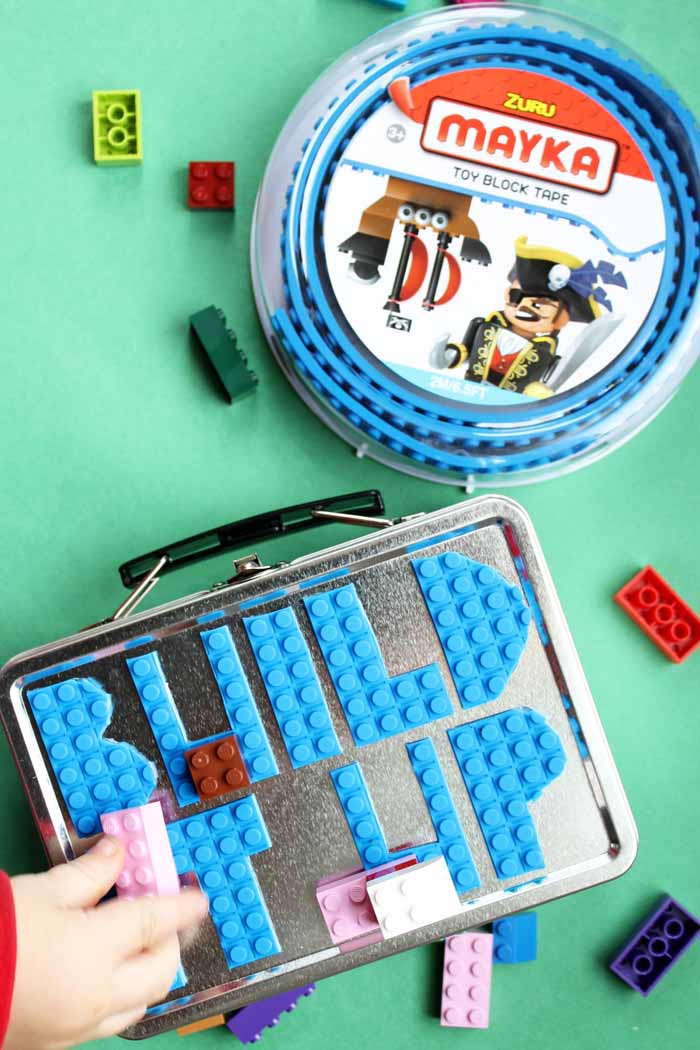 So do you love this Lego travel case and want more ideas? Try the links below!
Start by making some holiday themed tea towels with this tutorial from Lydia Out Loud.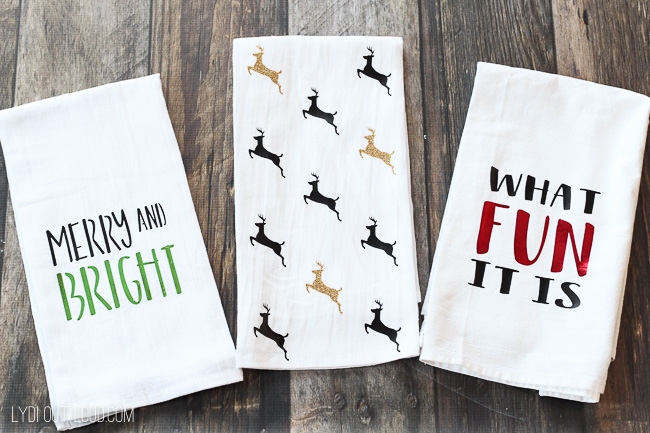 Make your littles a custom Santa bag like this one from Make Life Lovely.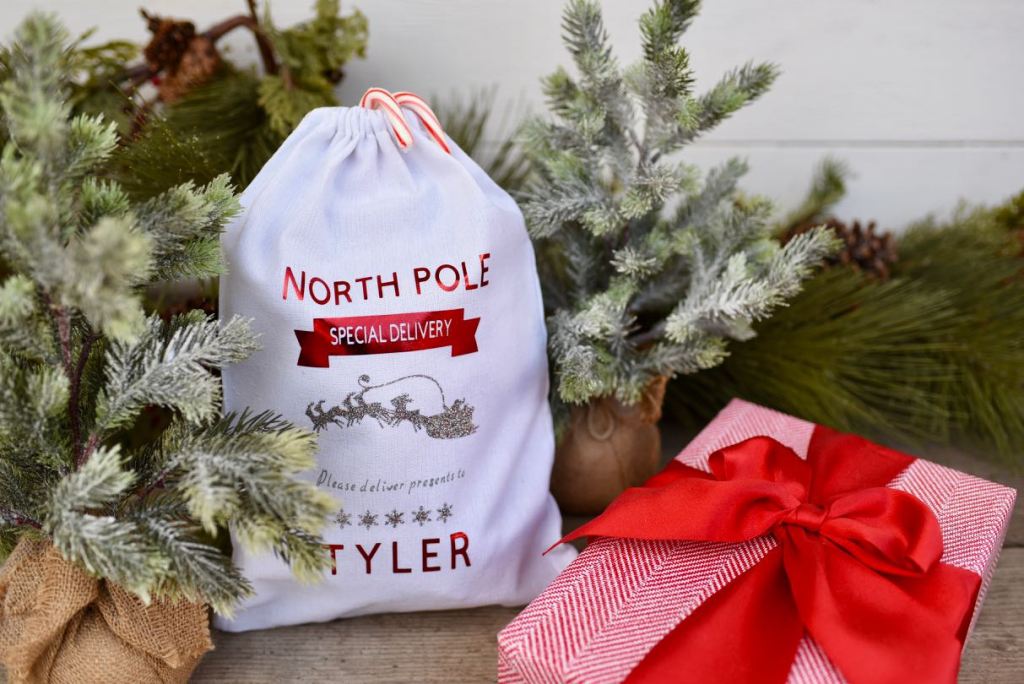 Need a simple placecard for your holiday celebration? Try these placecard wreaths from Creativities Galore.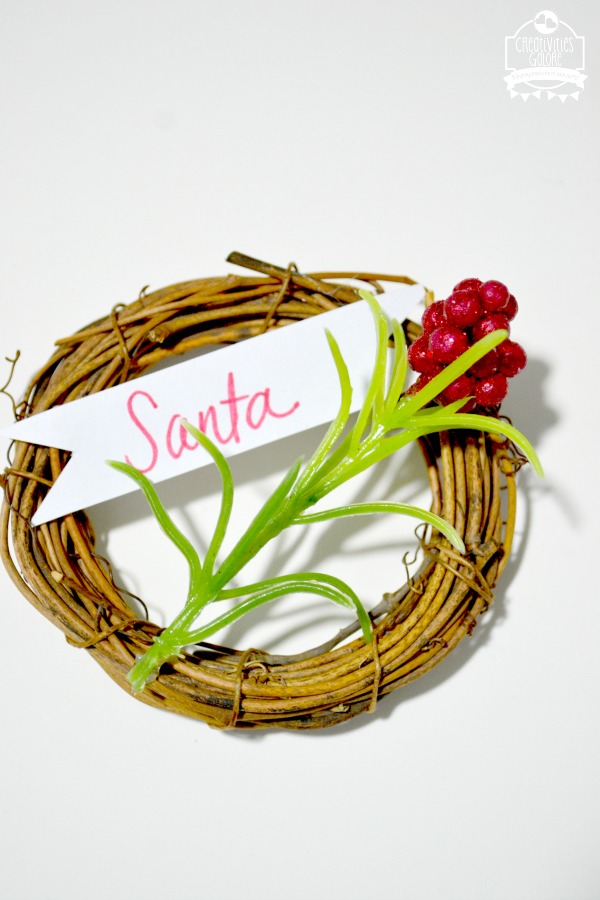 I love a good handmade gift idea. You can make these tray pendants with the tutorial from Becoming Martha.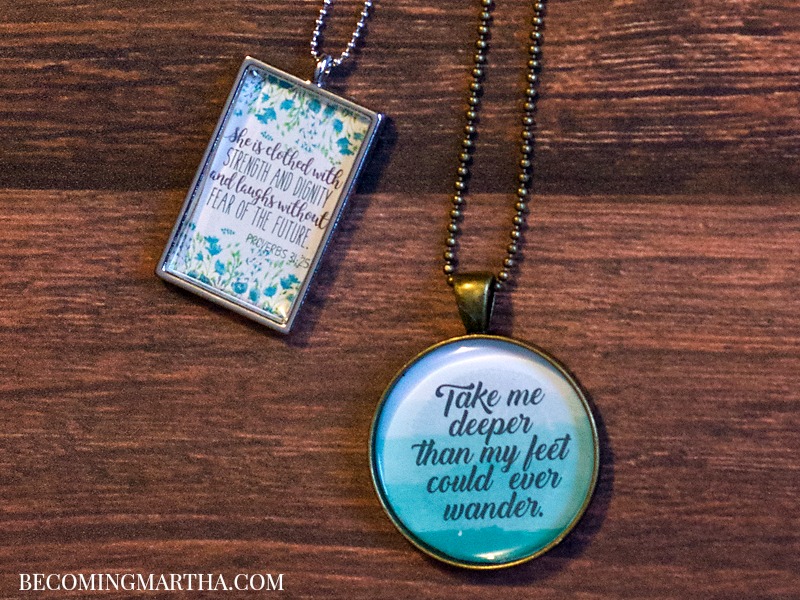 We use an advent calendar every year and love it. Want to help the kids countdown to Christmas? Make this felt countdown calendar from A Sweet Berry.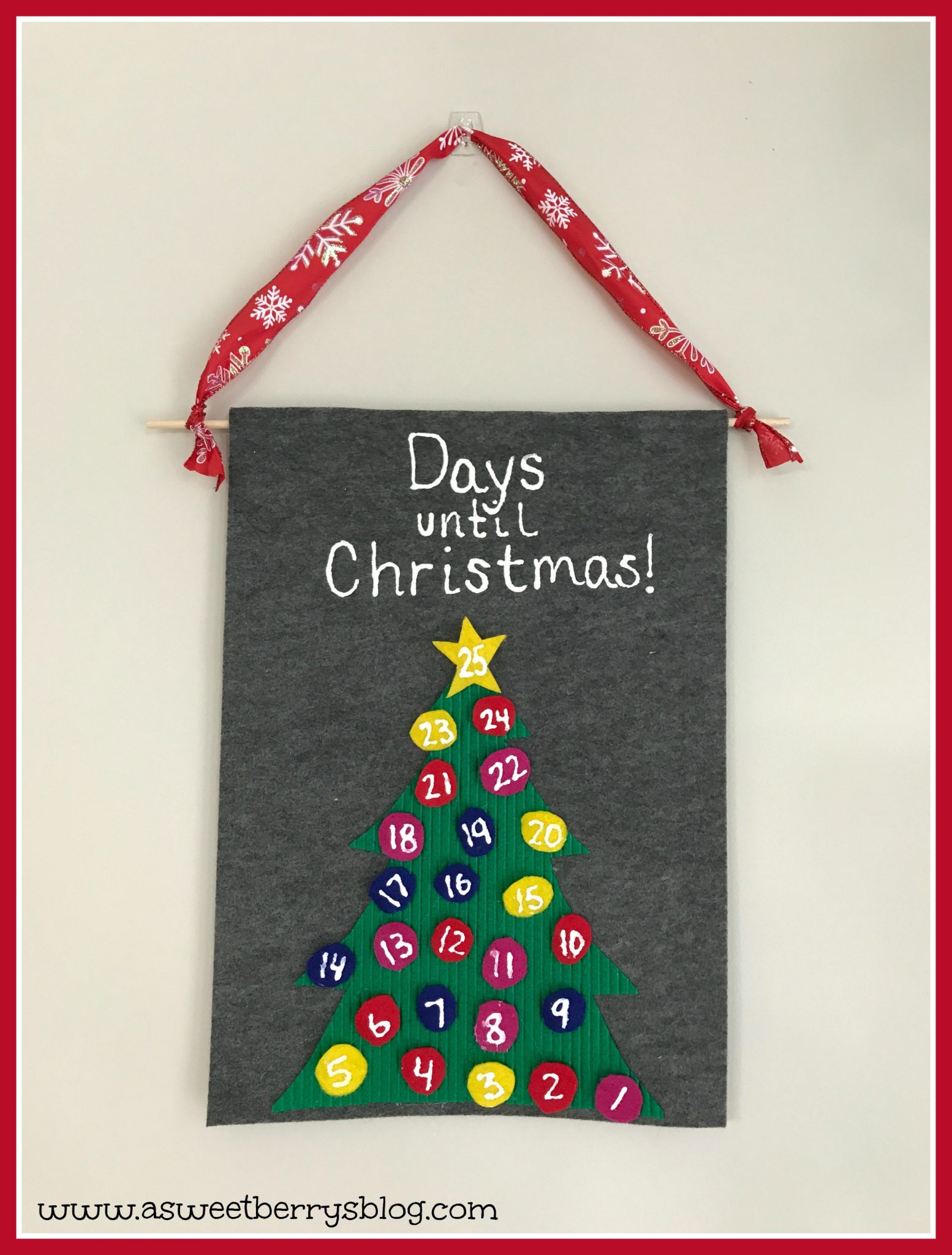 Nothing is better than a gift in a jar! How about these snow globe mason jars from Happy Go Lucky? Adorable right?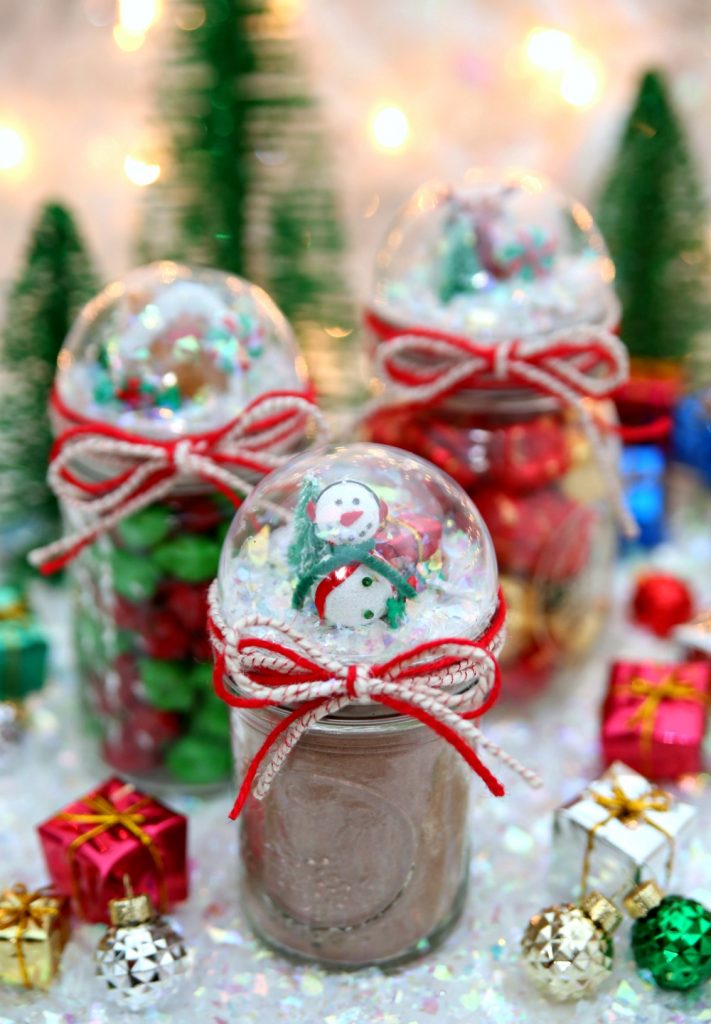 Customize an ornament in minutes with this split monogram ornament from It Happens in a Blink.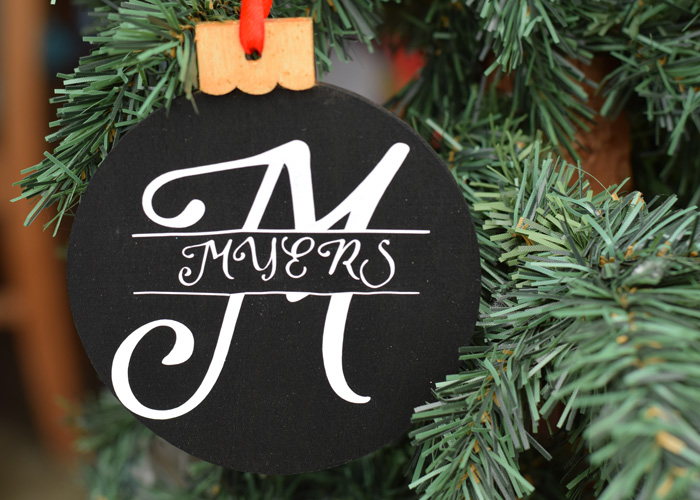 This glitter paper light garland from Frog Prince Paperie is just so adorable!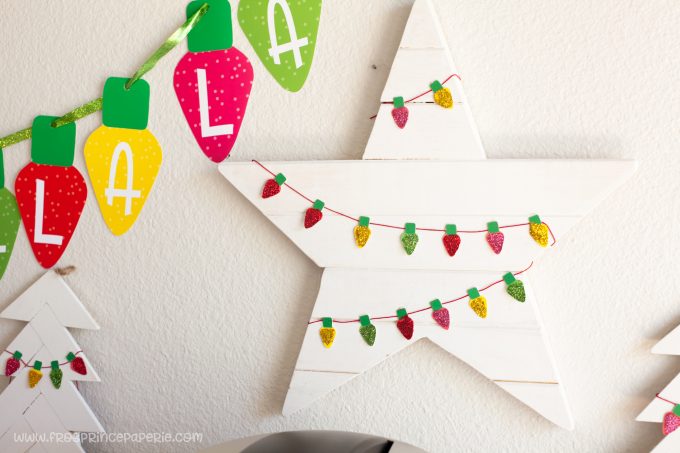 Want an inexpensive ornament? Try these sparkle filled dollar store ornaments from our guest co-hostess Mad in Crafts.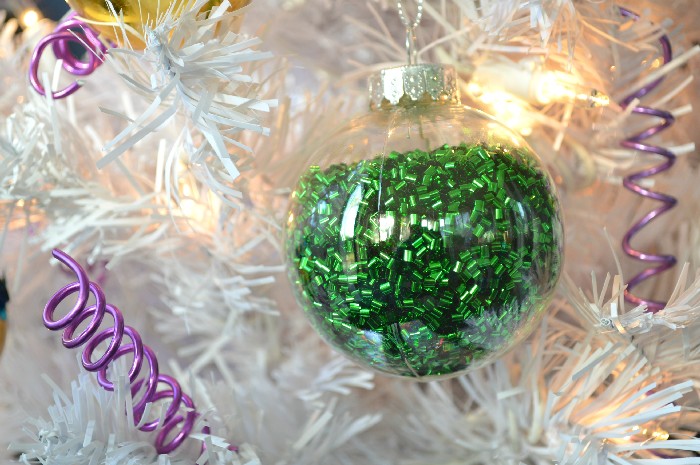 Make a Lego travel case like this one or any of the other quick and easy holiday crafts we have included here. This is the end of Craft Lightning, however, I will post a round up of all of the ideas tomorrow so y'all stay tuned!
SO DO YOU NEED MORE IDEAS NOW? Try our 15 minute holiday crafts from last year by clicking here.