I showed y'all my whale dresser and more of the nursery for my grandson here. This whale canvas art is also in the room. I am reposting this one here but it was originally on Crafts Unleashed where I am compensated for being on their design team. See the craft tutorial below where I show you how to make these adorable canvases for your own home or as a gift.
To make this whale canvas art you will need:
Some links may be affiliate links.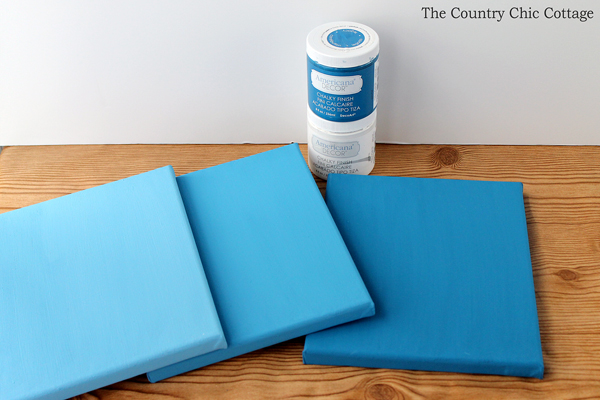 Start by painting your canvases with the Legacy paint in Chalky Finish. You can choose another dark blue if you would like just follow the same directions. The first canvas is painted with the Legacy straight from the container. The second is mixed with a little bit of Everlasting. The third is mixed with even more Everlasting. My canvases took two coats of paint each (allow to dry in between coats). Then you will need to trace a whale and wave image with your Silhouette. For the whale, I used this image from 100 Directions. Just trace the lines with your Silhouette software. I then copied the water out of his spout onto multiple vinyl sheets. I stretched it into a variety of different sizes. I ended up cutting the whale and then two sheets of the water droplets.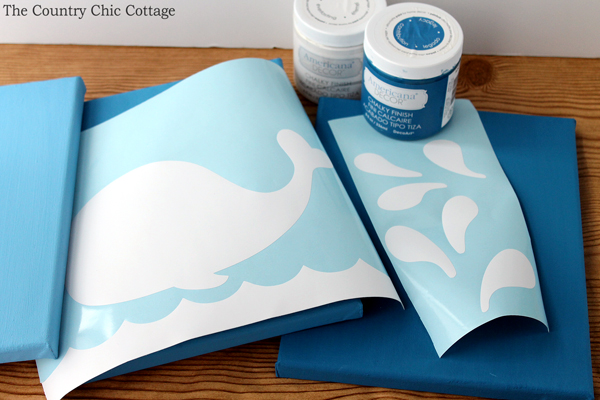 Do you really want to see how this project came together? And in just 6 seconds? I made a cool video of the process below. Just click play and see how this craft was made….in seconds!
The vinyl is super easy to just peel and stick to the canvases. Here are some images of the canvases so you can get an idea of placement.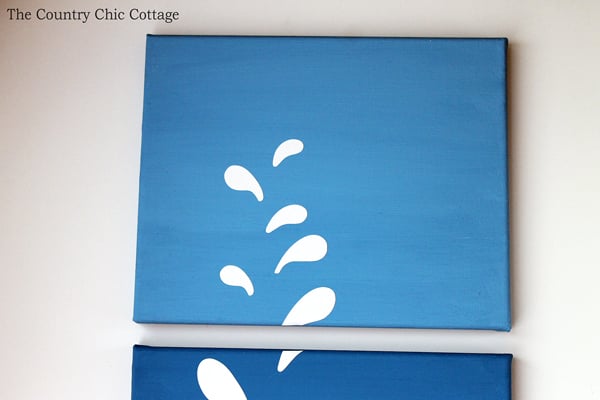 The top two canvases are all water droplets. I made a few droplets span two different canvases. I just used scissors to cut those into two pieces.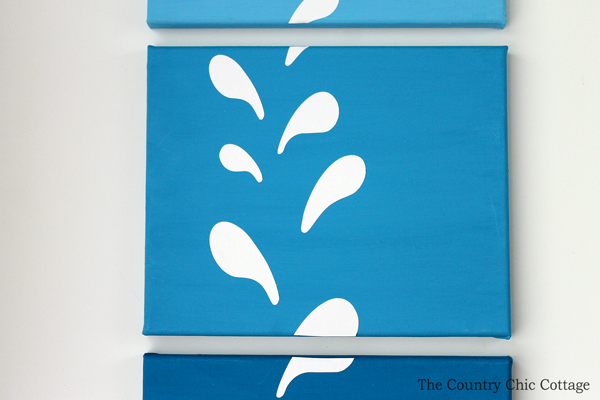 Press down the vinyl really well as you apply. You might find a book behind your canvas helps with this. The waves on the bottom of the canvas were also cut to length with scissors.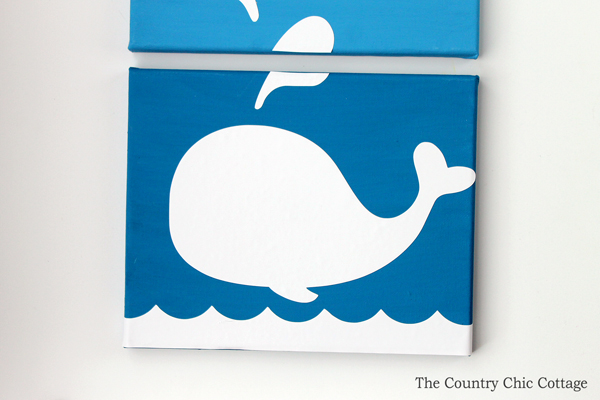 This whale canvas art is perfect for a nautical nursery but you can also use the same idea for some bathroom art. Y'all enjoy this fun canvas art and be sure to use this idea for your home!
You can see more about the nursery here as well as where that art was placed. Doesn't it look adorable in the image below!??!