Learning how to make your own outdoor pillows is super simple with the step by step instructions below. I will even show you how to add those fun quotes with a paint marker for a personal touch to your outdoor decor. I have been compensated for this post by Fairfield who makes the pillow forms and material used in this tutorial. The project and opinions are always all my own however.

The fabric we are going to use to make these pillows is called oly*fun. It is amazing stuff that can be cut and it will not fray. It is great for a wide variety of craft projects.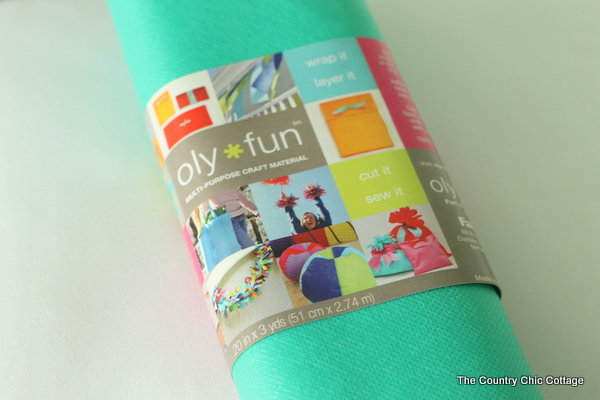 I love it for use on outdoor pillows because it is already water resistant y'all! You can click here to shop the wide variety of colors online or you can find oly*fun in craft stores now as well.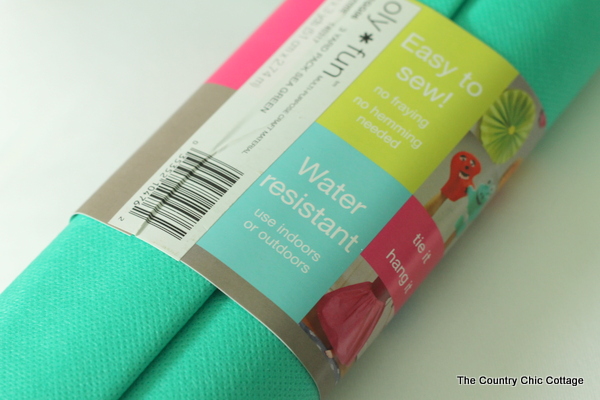 Now what type of pillow insert do you use outside? Did you know that they make a special weather resistant one just for that purpose? The pillow form is from Fairfield and you can click here to purchase online or look for the package below at your craft store. They come in 18 x 18, 16 x 16, and 12 x 18. I used the 16 x 16 and 12 x 18 in my project.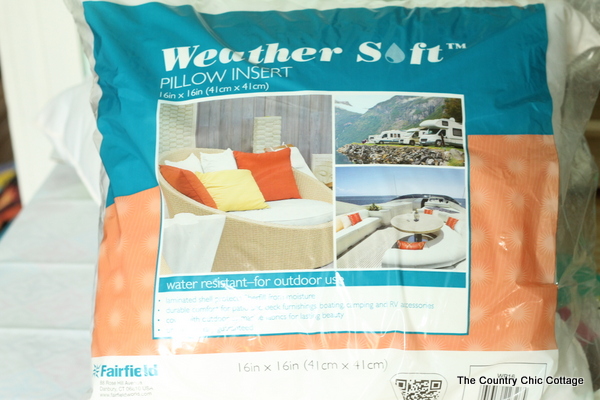 Start with the oly*fun and cut it to width. I left about 1/2 an inch of extra room on the sides of my pillow plus added a 1/4 inch seam allowance to both sides. So for the 16 x 16 inch pillow cover, I cut a strip 17 inches wide. I made an envelope type pillow cover so you will need to make the length twice as long as you need it plus add about 3 – 4 inches. In this case you would need 16 1/2 plus 16 1/2 plus the 3 – 4 inches. No need to add seam allowance to the length. In this case, I would cut it around 36 to 37 inches long. Then fold it as shown below with the overlap to the back of the pillow cover. Pin into place. REMEMBER: oly*fun does not have a front and a back it is the same on both sides so it does not matter when folding your fabric.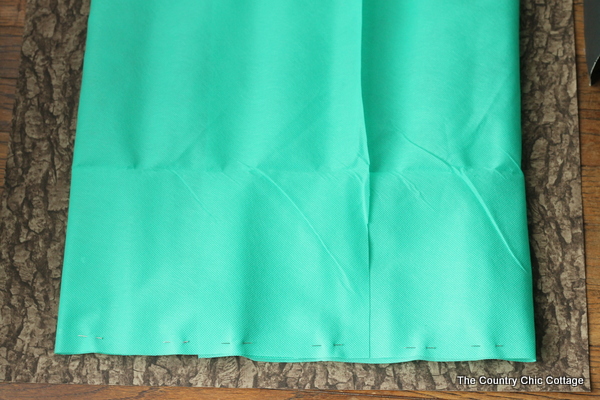 Remember I said oly*fun does not fray. There is no need to do anything to that overlap. Just leave the edge raw. That is what makes these outdoor pillows so quick and easy to make! Just sew down both sides with your 1/4 inch seam allowance. Flip the pillow right side out. Now we want to add something fun to the front. I drew out some words on cardboard with a black magic marker, slipped the cardboard into the pillow then traced the letters with a paint pen. Be sure to go over them a few times to get a bold line. Yes you can see just slightly through the oly*fun so this method worked for me. If you are having issues, try this transfer paper method as seen in this t-shirt post.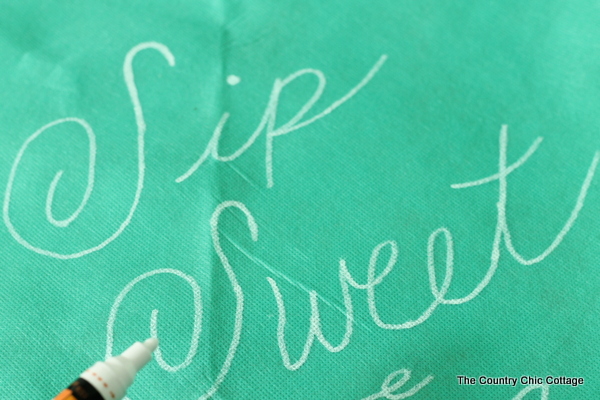 Allow the paint to dry completely, then add your pillows to your porch. These outdoor pillows will definitely invite your guest to have a seat and stay a while.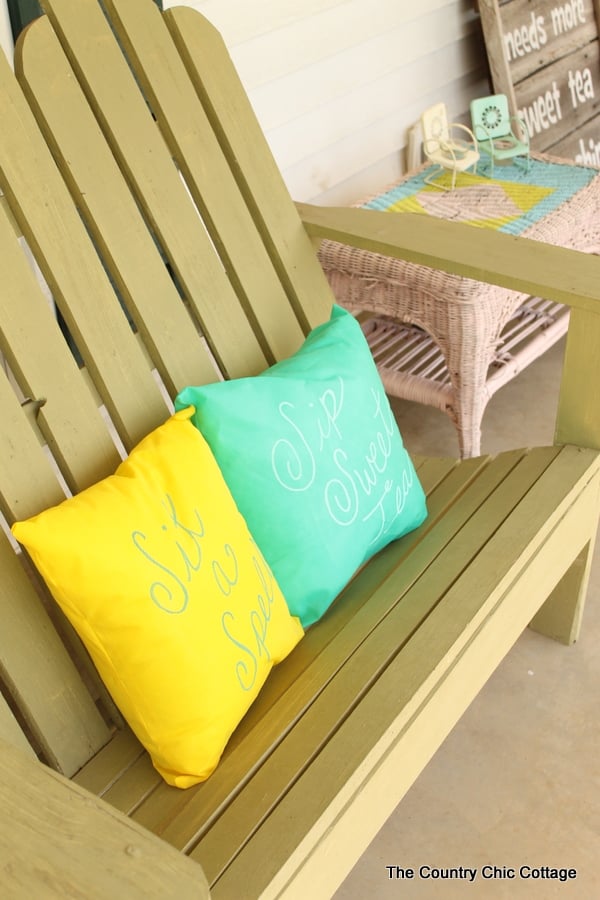 My personal favorites are the two pictured below however they all turned out great!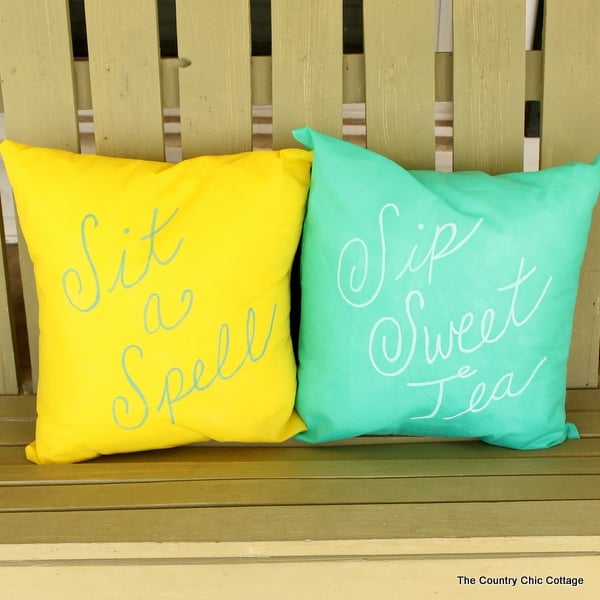 I changed it up a bit and did a Tennessee pillow in addition to the quotes. Just use the same method as above but use a print out of your state instead of the words mentioned above. Tennessee worked great on the long pillow form but you might need a square form depending on your state shape. Don't forget to add a heart in there to let everyone know where you heart lies. I actually used the paint pen on this one as well and just filled it in slowly. You can grab some fabric paint instead for a large area like this.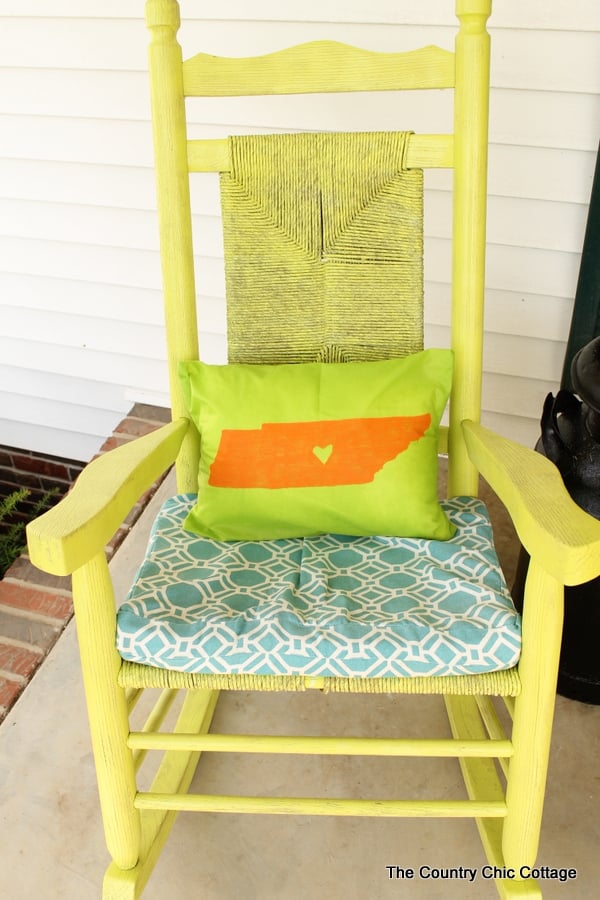 My porch is now relaxing and inviting with comfortable outdoor pillows on all of the seats. You can find more about that wicker table by clicking here and that sweet tea sign by clicking here.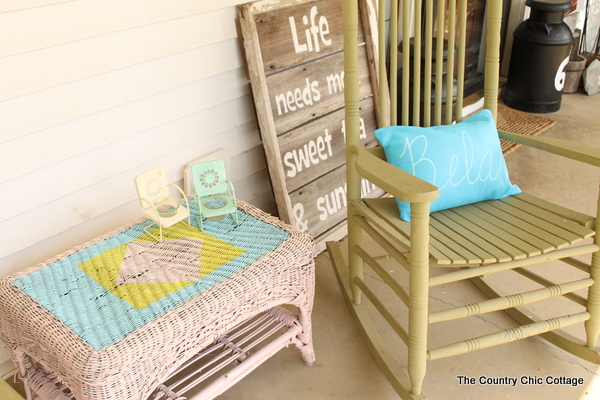 Grab your supplies from Fairfield and get started on these great outdoor pillows for your home. You will love that these only take minutes to make and the fact that they make a huge impact on your outdoor space.