This world map wedding guest book is such an easy project and will be perfect for your wedding. Just add a world map to the table and our free printable sign for a unique guest book and keepsake that you will treasure forever. I love simple touches like this that can be kept and remembered for years after the wedding is over. You can actually see more quick and easy wedding ideas here if you are planning that DIY wedding of your dreams.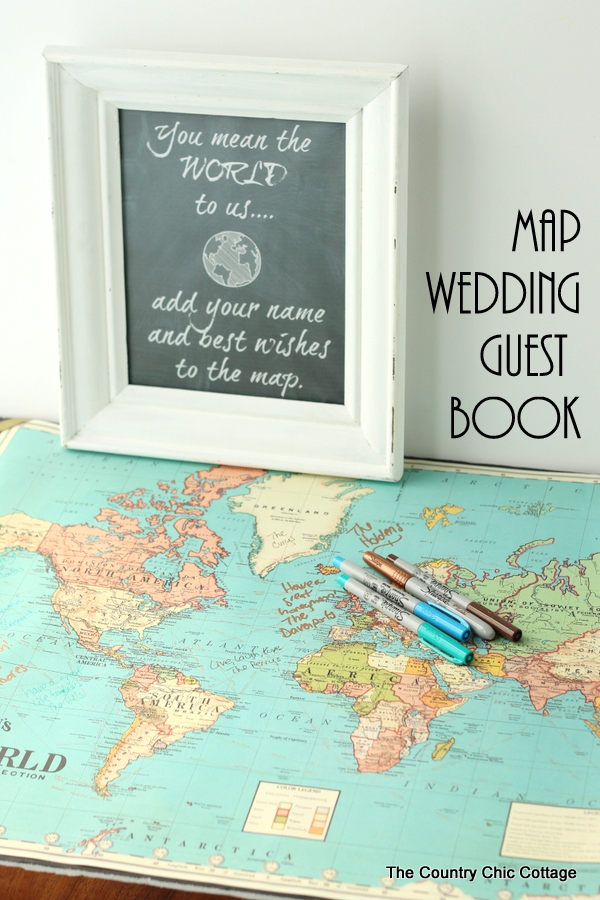 World Map Wedding Guest Book
This project is a quick and easy one and you can pull it together in minutes. Start with a few supplies and then be sure to get our free printable to complete the guest book table.
Finding a Map
First, you will need a map for this project. Pick something that the bride and groom love. They can then frame this guest book after the festivities are over. You can click here to see the map I purchased or browse and find another that you love. I would encourage you to use a large world map so there is plenty of room for guests to add their well wishes.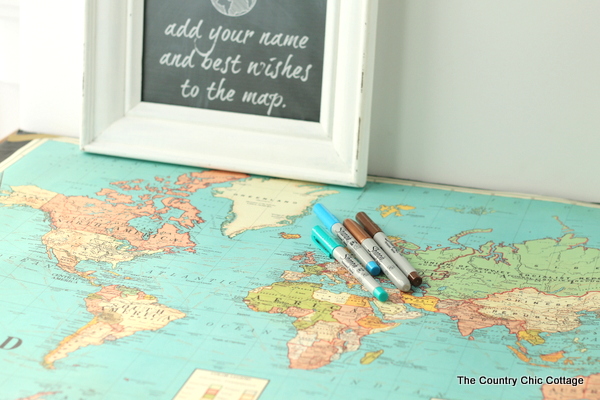 Adding a Free Printable Sign
I wanted a fun sign to go on the table to let guests know what they are supposed to do. I made this free printable chalkboard wedding register sign that you can print for free. Just sign up for the newsletter below and the PDF file will be sent directly to your email address. Look for a signup form below that has a picture of the printable that you would like then add your information. If you already get our newsletter, just add your information again as you will not be signed up for anything further.
Please note that this sign is for personal use only. You can also contact me if you have any issues with your download. Once you get the email, just download and print the sign. You can add it to a clipboard or even a frame if you wish.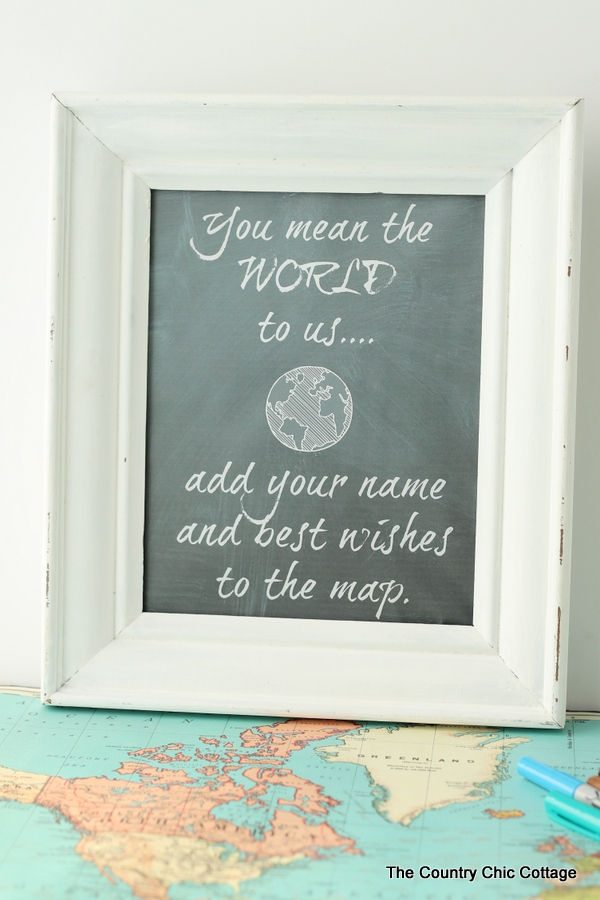 Putting Together the Guest Book Table
Now that you have everything you need, it is time to put together the table for your guests.
Add the map itself to a large table. Putting it down flat will help your guests sign more easily but you can also try hanging it on a wall.
Add the framed sign you printed above to the table at your reception. I love this in a rustic white frame but you could also use a clipboard or another color or style of frame if you wish.
Then just put out a variety of markers to go with your map and you are ready for those wedding guests. You can even make the colors of these markers match the wedding colors or colors the bride and groom will use in their new home.
I told y'all this map wedding guest book was super simple! Grab your map and the free printable above and make your own unique wedding register today!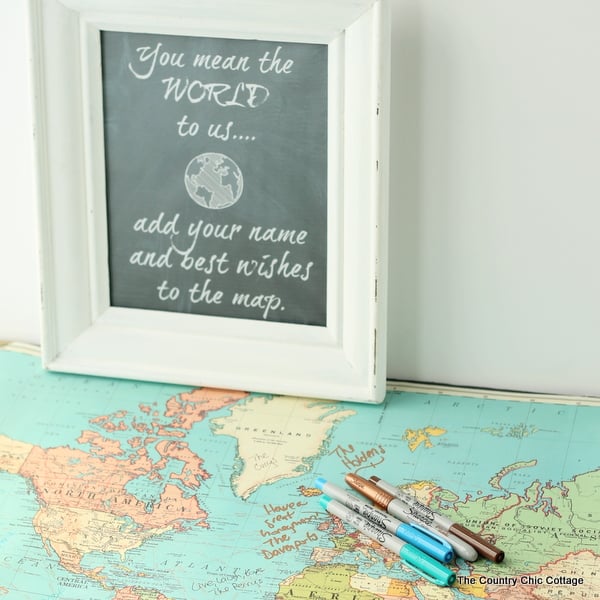 Love the map theme for your wedding? Be sure to click here and see how to make map-lined envelopes and matching seals. They will be the perfect kick-off to a map-themed wedding then you can add this world map wedding guest book on your big day.