Resin coasters are a great way to share family photos as a gift or display them in your own home. Learn how to make coasters using terra cotta saucers, your choice of paint, and any style of paper that you love.
Because these are made using terra cotta saucers and coated with epoxy, they are super durable and waterproof. In this tutorial, I am using atlas map cutouts but you can use scrapbook paper or any other kind of paper that you prefer.
I love super versatile crafts, and I think coasters may take the cake for adaptability! With so many options for showing off creativity, you can make photo coasters, coasters with wood-burned patterns, trendy copper foil designs, and several more coaster designs.
This would be a great (and practical!) craft to celebrate Mother's Day or Father's Day! Grab the supplies and follow along:
How to Make Resin Coasters
How do you make homemade coasters waterproof?
These coasters become waterproof after you cure them with the high-gloss finish, also known as epoxy resin.
The resin seals the design and protects the material from water damage.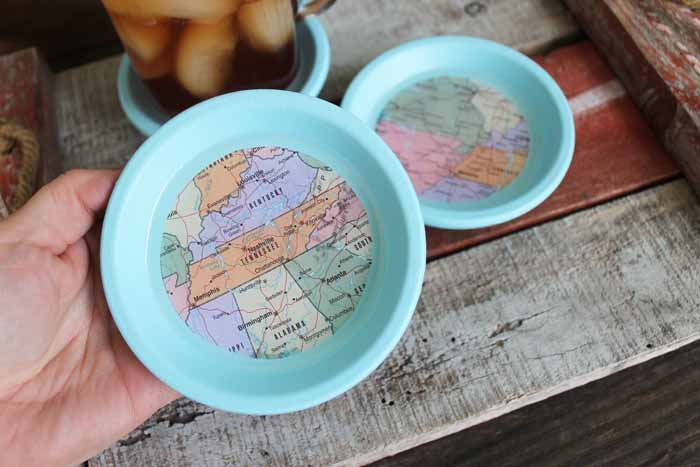 Supplies needed to make coasters:
Some links below may be affiliate links which means that you do not pay anymore, however, a small commission will go to this site.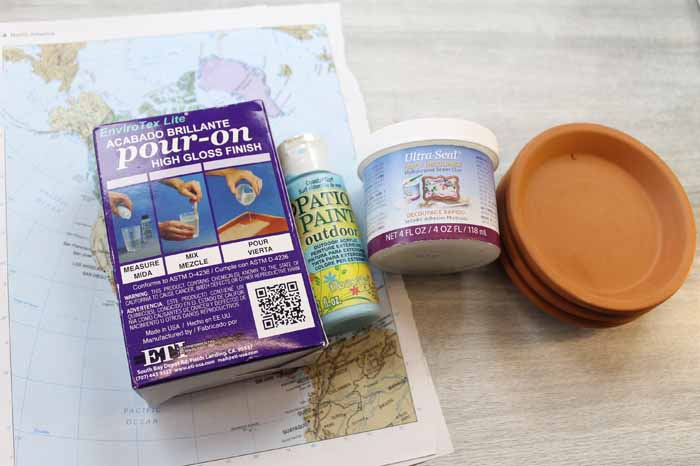 Instructions for resin coasters:
First, paint the terracotta saucers with your choice of outdoor paint. This may require several coats to cover the saucers completely.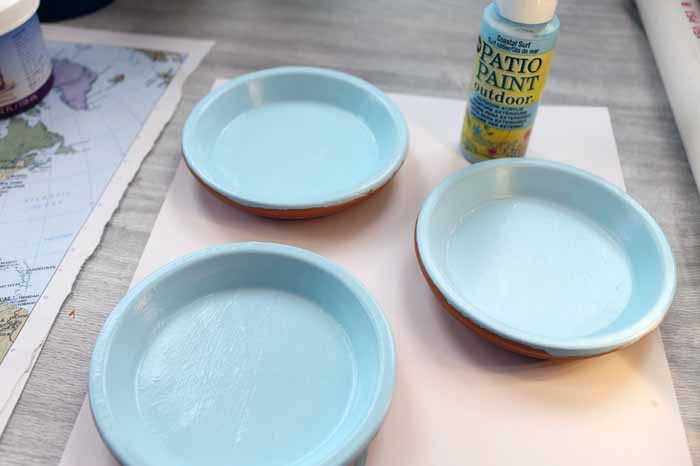 Painting the saucers on all sides (even where the paper will cover) gives a more finished appearance to the final product.
Allow the paint to dry completely before moving on to the next step.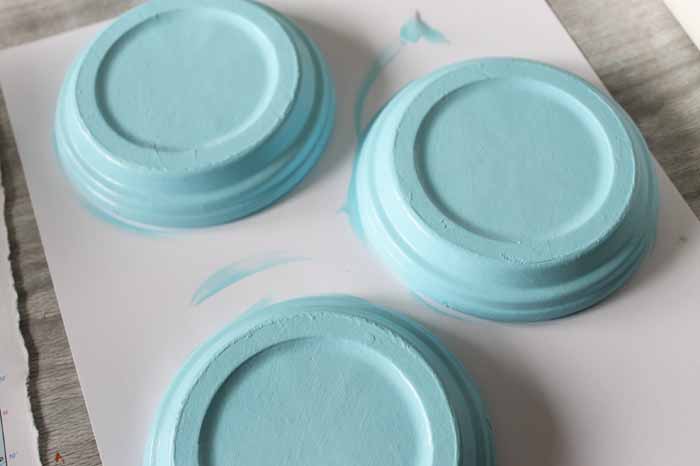 Next, adhere the paper of your choice to the center of the saucer. Using a circle template or cutter, cut your paper to the desired size that will cover the saucer to your liking.
Place the paper in the center of the coaster and brush on the decoupage to adhere it to the bottom of the saucer.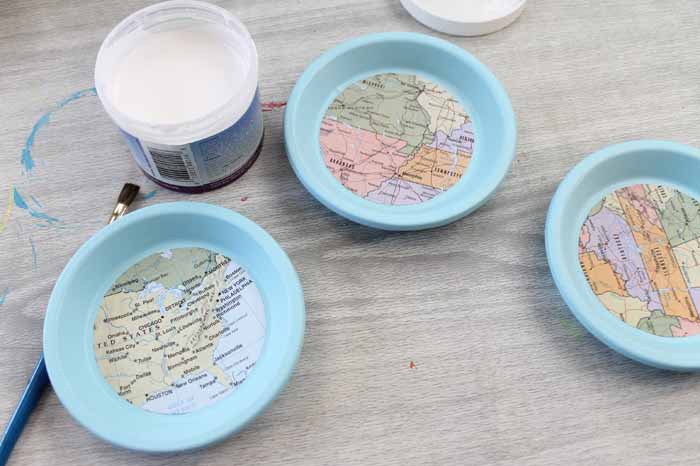 Two coats of decoupage may be required before continuing. This will completely seal them in preparation for your epoxy coating. Allow these to dry completely before continuing.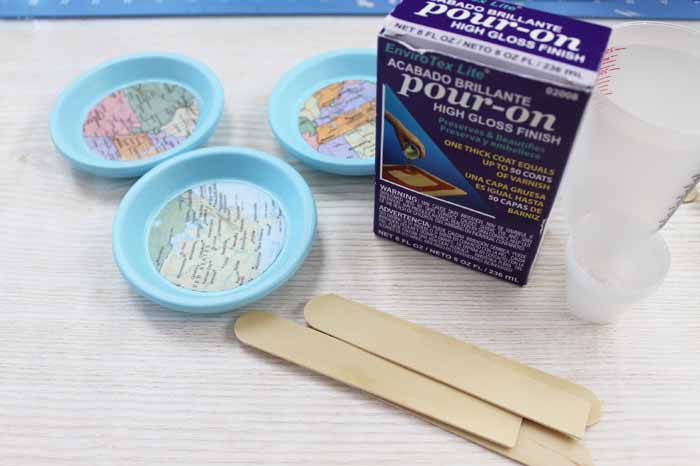 TIP: Add decoupage to the back of your circles before adding them to the coasters and allow them to dry. This will minimize bubbles when you add to the coasters.
Then, measure and mix your 2 part epoxy resin. Since every resin is different, make sure you follow all the instructions that come with the package and mix well.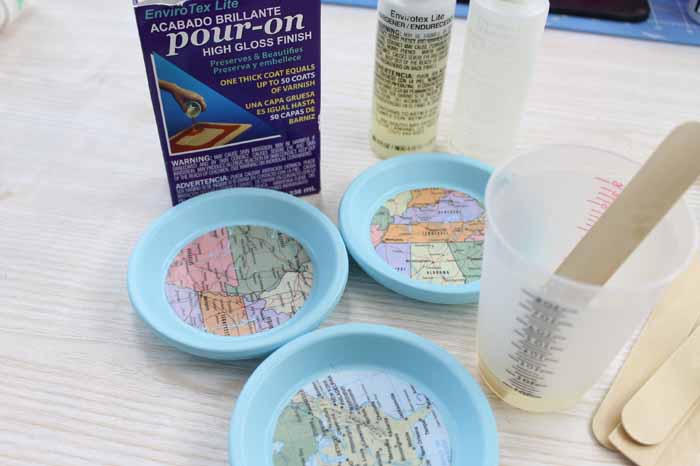 Pour the epoxy mixture over your maps as shown below.
Create an even and equal layer of resin on each coaster, and be sure to pop any bubbles that rise to the surface.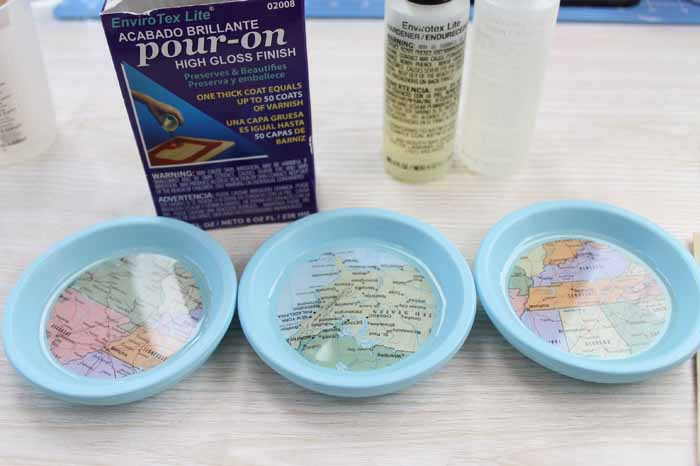 Then, place them on a level surface to cure completely – at least overnight. Once cured, your coasters are ready for use!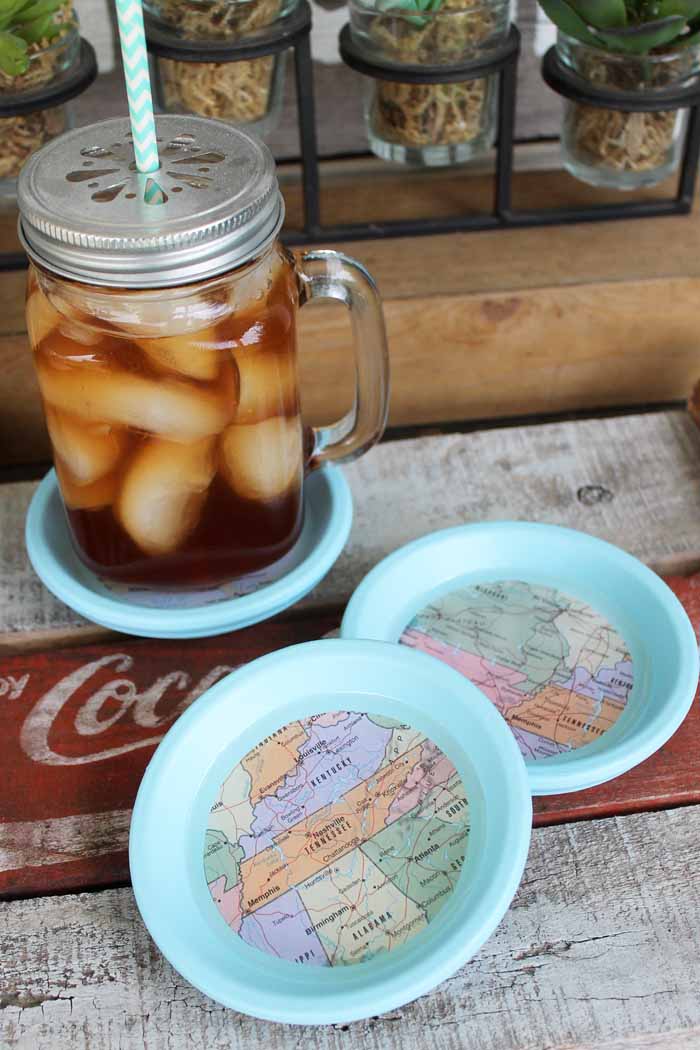 Now that you know how to make coasters, you can make some for any occasion!
Friends will love getting coasters as gifts and you will love displaying these one-of-a-kind pieces around your home.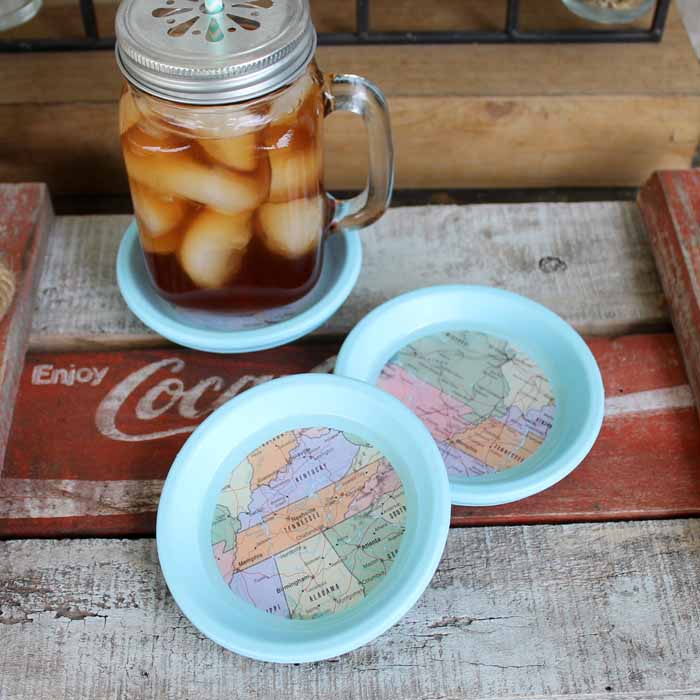 Learning how to make custom coasters is super simple. Now all that is left is to decide just how many you need to make!
Struggling with resin and need help?
I know that a ton of you are intimidated by resin. Don't be! You just need to know the basics and gain some experience with the medium. I have a course that will help you to master epoxy resin and give you the confidence you need to tackle this project and so much more.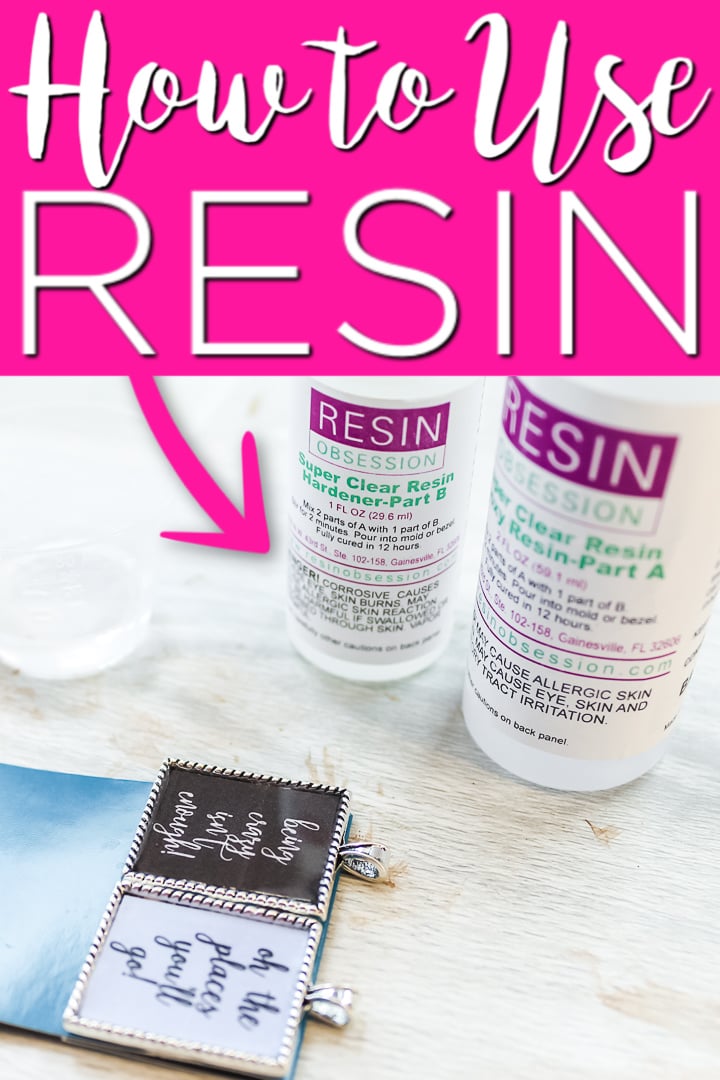 With unique insights drawn from more than a decade of creating and selling resin jewelry worldwide, this course is from an Amazon best-selling author on the topic. This class goes beyond making a few projects. You get thirty video lessons to give you clear directions on how to make resin jewelry you can confidently share and sell. Want to see more?