This post and photos may contain Amazon or other affiliate links. If you purchase something through any link, I may receive a small commission at no extra charge to you. Any supplies used may be given to me free of charge, however, all projects and opinions are my own.
Today I thought I would share with you how to make gift bags. I am using maps but this same process can be used with any large piece of paper. This is one of my fave all time projects! I mean this is just the best! If you love old maps, then this project is definitely for you! Grab your paper and get started making gift bags today!
This post was originally published on November 3, 2010 but I added some more information for you!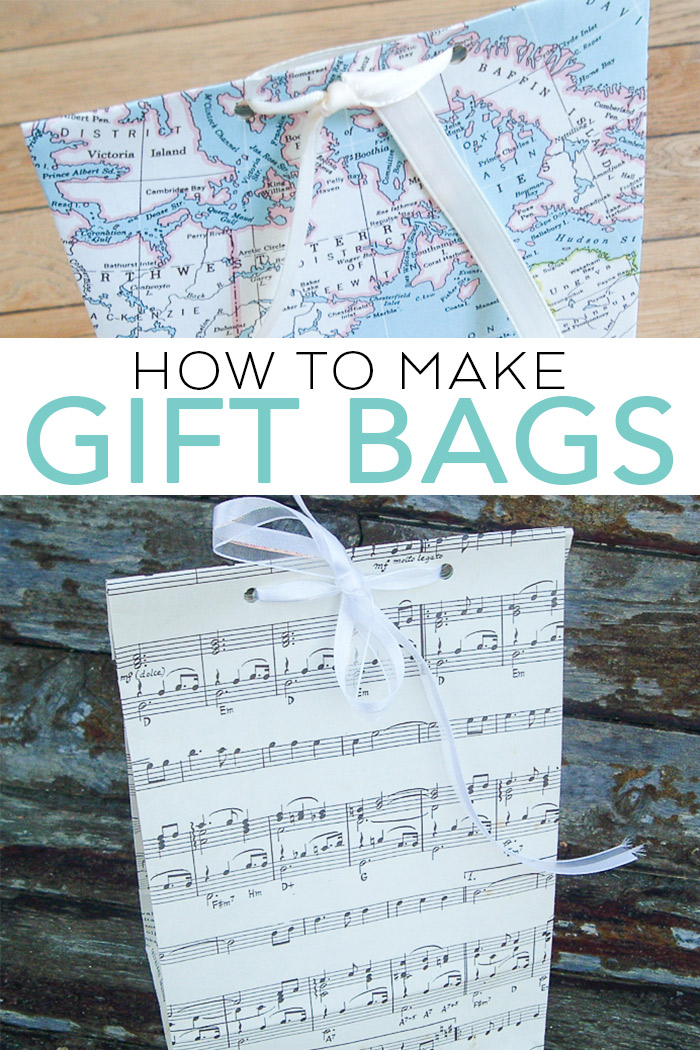 Supplies needed to make gift bags:
Maps, sheet music, or other paper ephemera
Ruler
Clear tape
Hole punch
Ribbon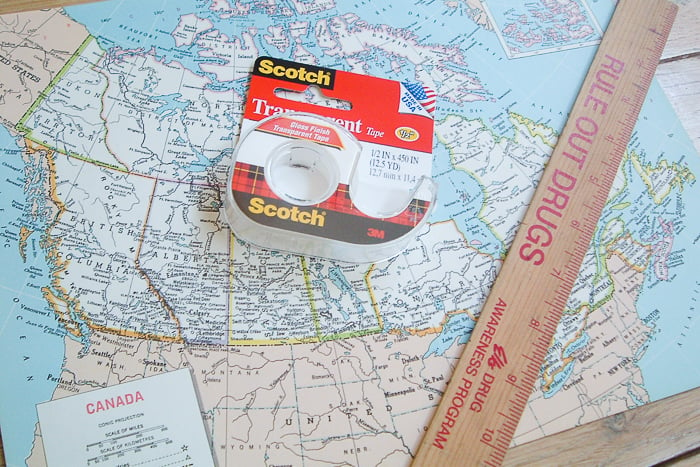 How to Make Gift Bags
Are you ready to fold? Decide which side of the paper is your front and which end is the top. Fold your paper so that the ends meet in the middle of the "back". Your top should be up and your front is facing out not in. Make sure it is even where it meets. Please note that all of your folds need to be neat and crisp. Use your ruler or fingernail to run down all the creases as you do them. Run a long strip of tape all the way down the center seam.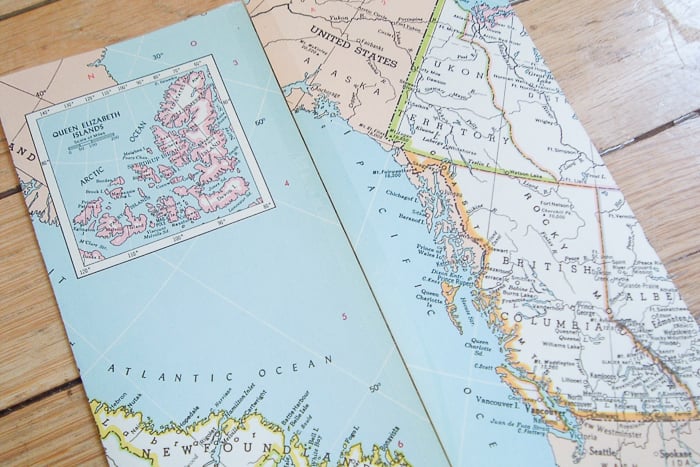 All of the dimensions below are for this particular bag, you can play with all of this later for different sizes of paper. I did and you can do all sorts of things! Fold up the bottom of your bag 1 1/2 inches. Again you need to make sure you have a nice crisp, even fold.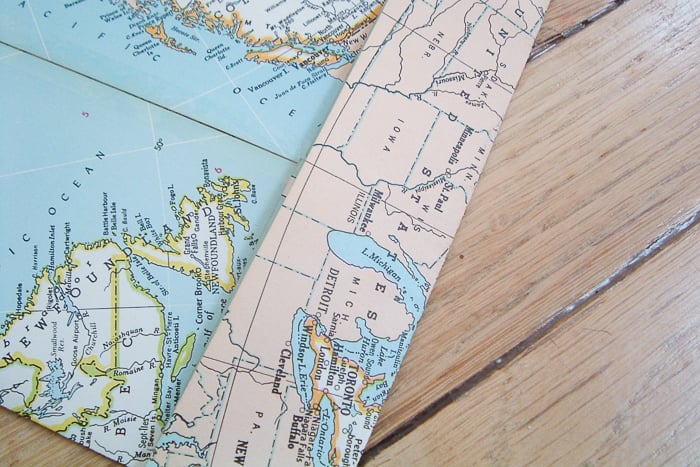 Open up that fold and make a triangle in the corner like shown below.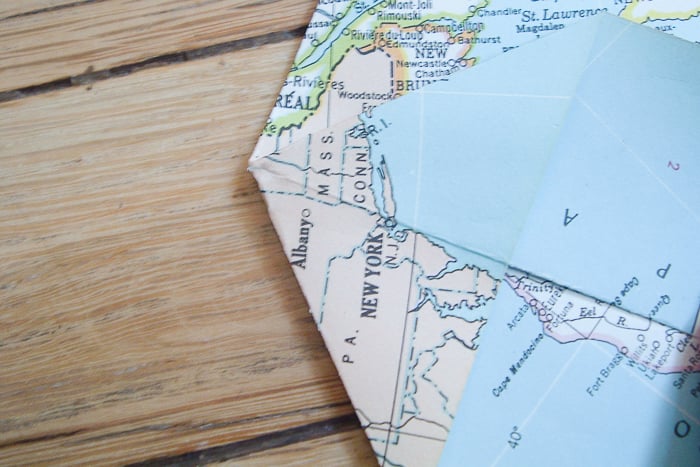 The crease in that triangle should line up just perfect with the crease in your paper. Repeat by adding another triangle on the opposite side.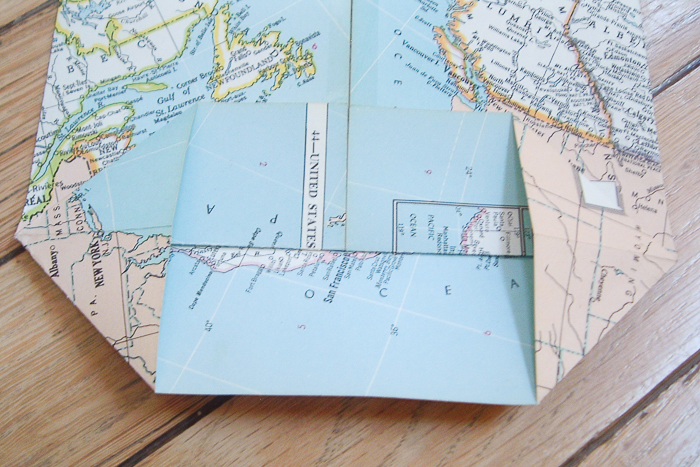 Now take both sides and fold them to the center making them meet at the crease. Nice and neat folds perfectly meeting in the center.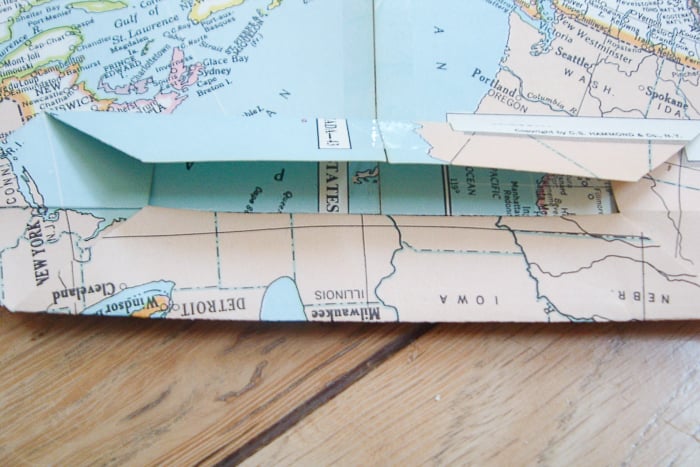 Run a strip of tape all the way across where those pieces meet and pop open your bag!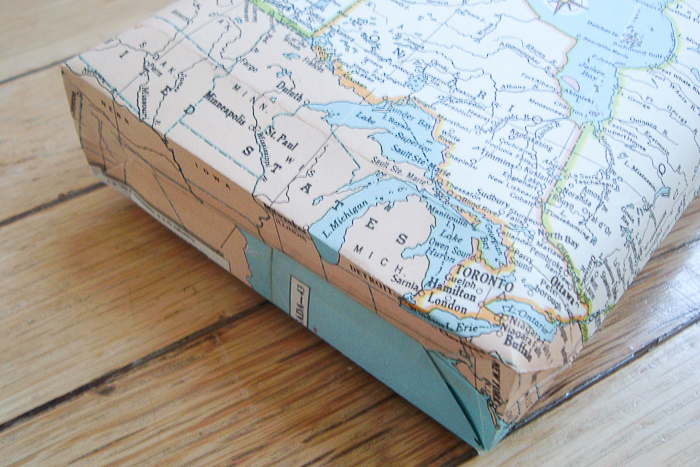 NOW it is starting to look like something! Crease all of your bag edges with nice neat folds so it looks professional.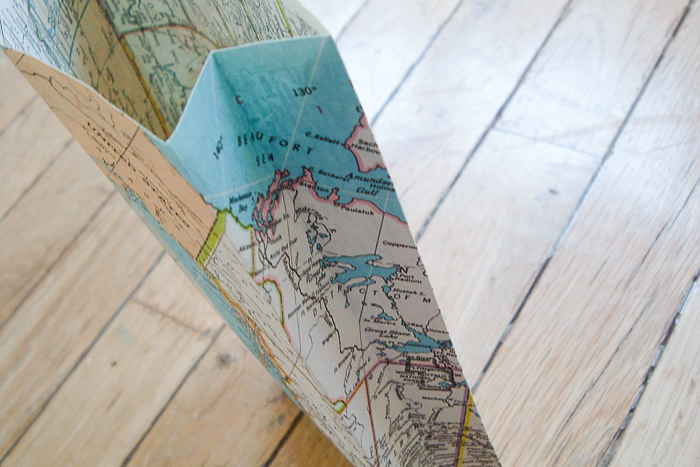 You have officially made your first DIY paper bag.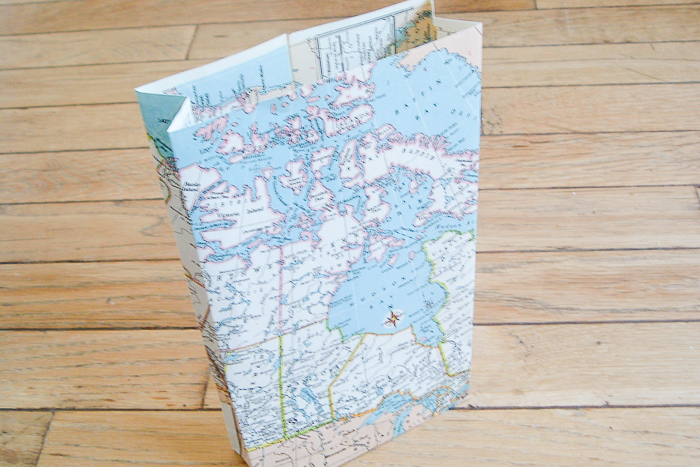 Here is the back which is just as pretty as the front.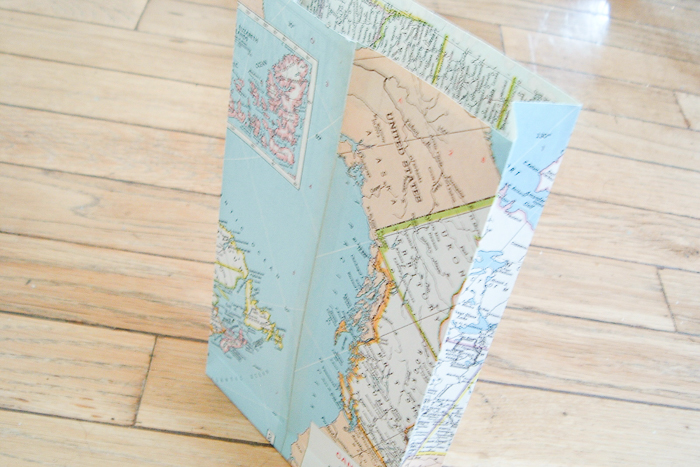 When using a double-sided piece of paper, the inside is just as cute as the outside.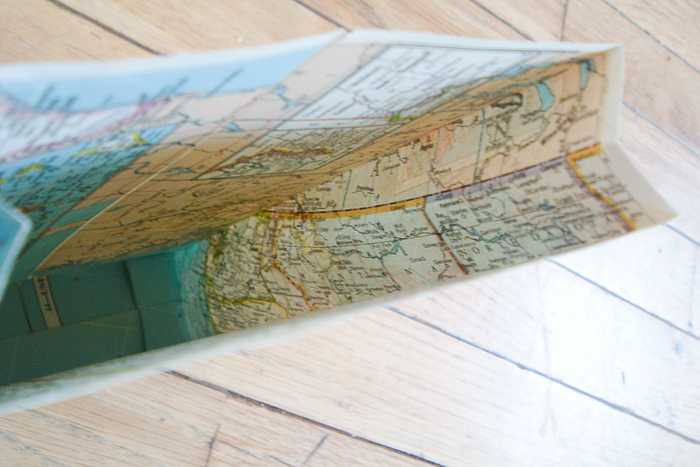 Finishing with a Bow
Want to give your DIY gift bag a finished look? Fold down the top a few times and punched a couple of holes. Thread in a length of ribbon and tie it off. So pretty and oh so easy!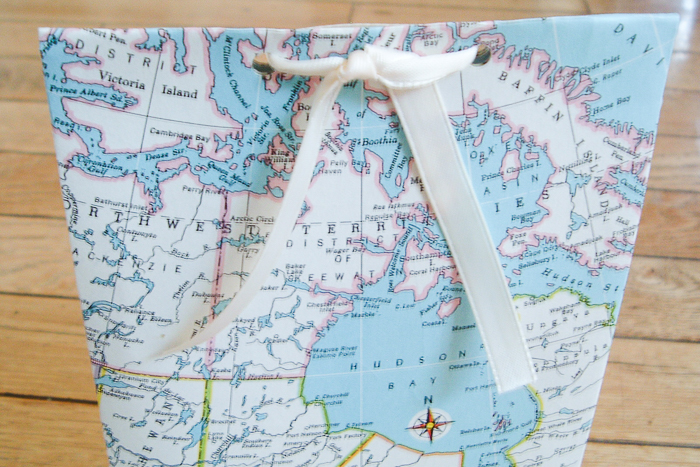 Can't you see all of your gifts in vintage paper ephemera? I mean the possibilities….maps, sheet music, dictionary pages, old magazine ads….serious cute potential here! Using this same basic method, I even used two sheets of paper to make a larger gift bag.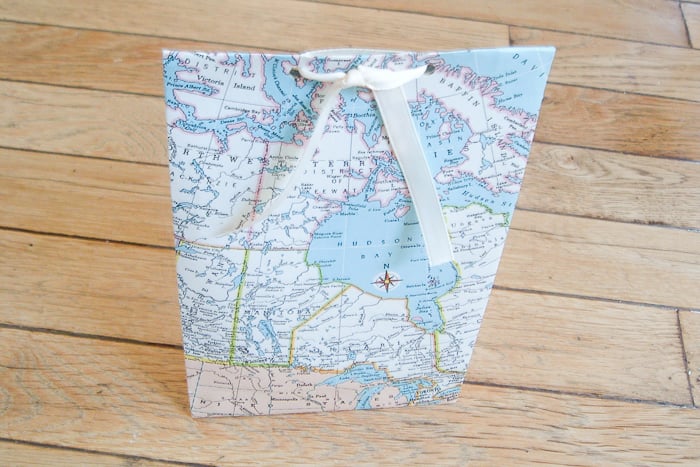 Want to see another option? Here is a gift bag made from sheet music.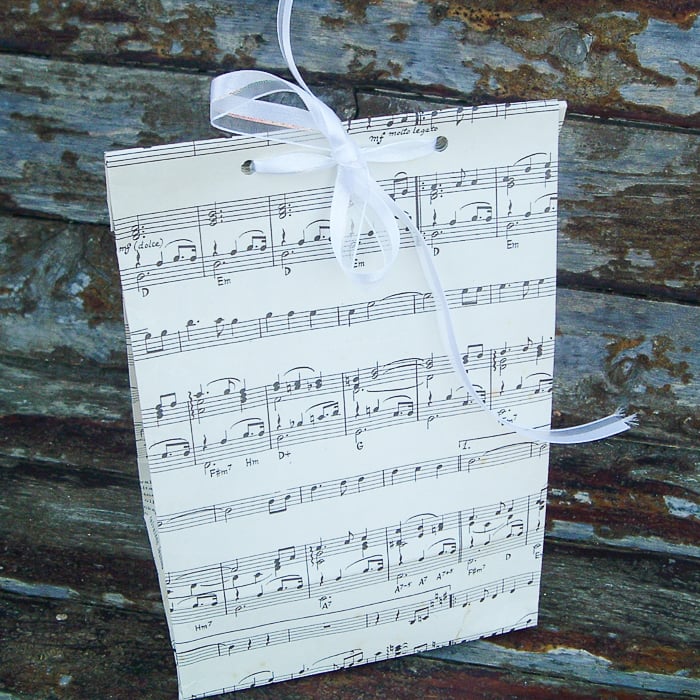 Go ahead and start shopping your thrift store for old paper now. You are going to want to make gift bags for every occasion.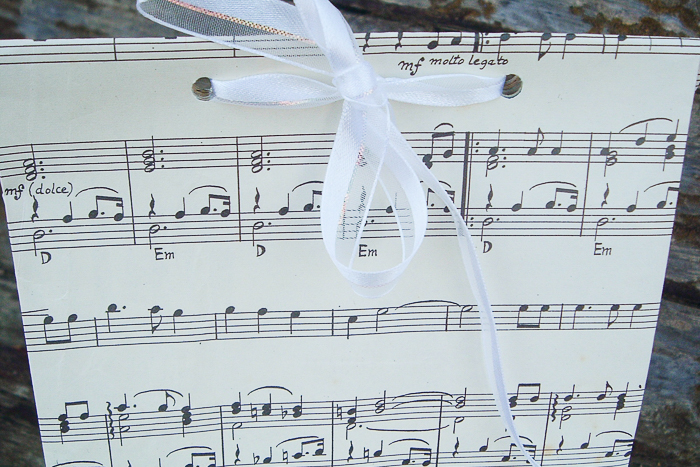 So, now that you know how to make gift bags, how many will you make? That is really the only question!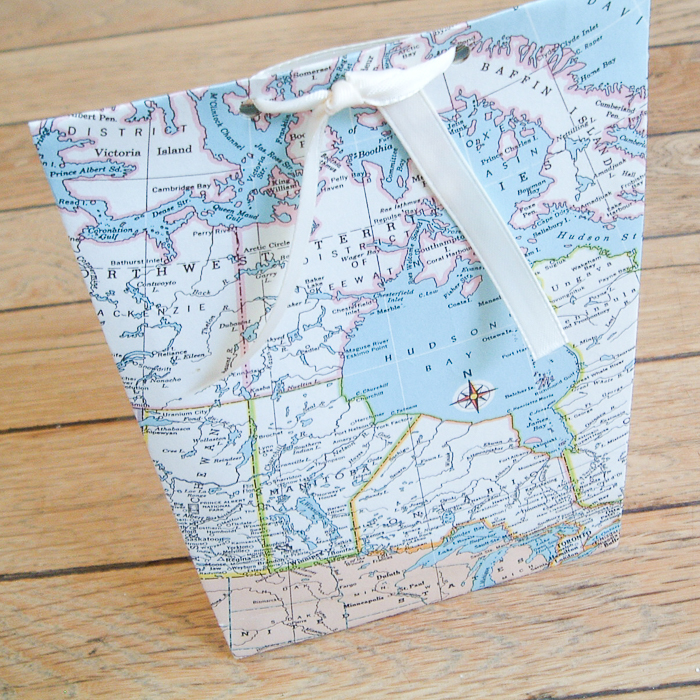 Love the idea of making gift bags? Try the links below for more ideas!