You can paint your own mason jar picture with no artistic talent whatsoever! How? We have a super easy technique to show you and a printable template. You will be painting your own art and loving every minute of it. This fun version is for Valentine's Day but once you learn the steps you can paint your own art anytime you want.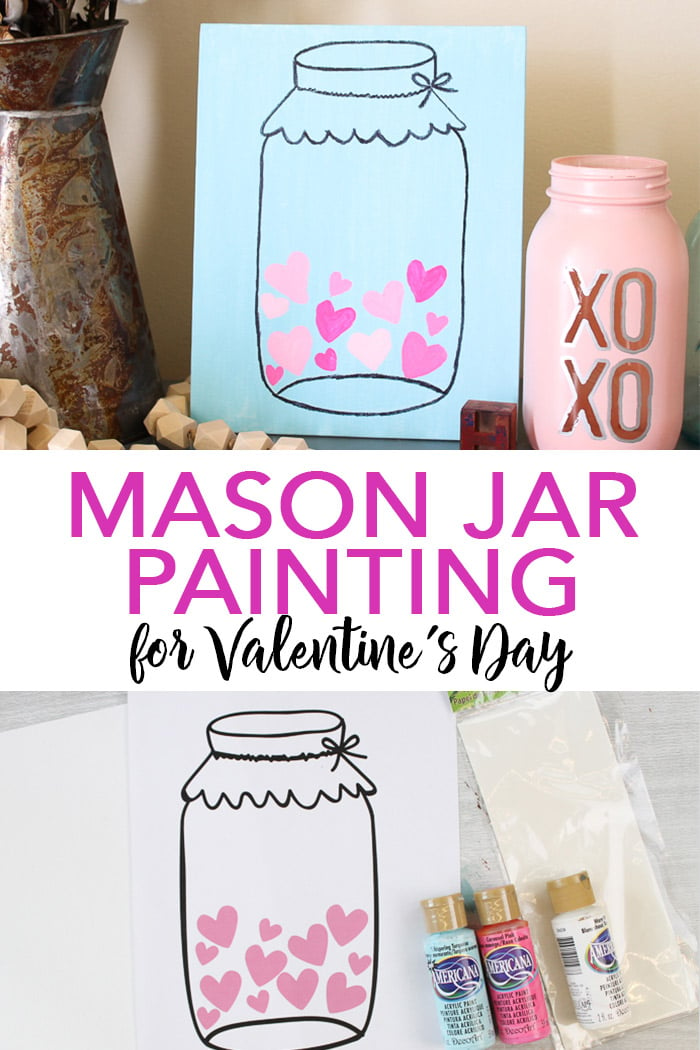 Supplies needed to make this mason jar picture:
Some links below may be affiliate links which means that you do not pay anymore, however, a small commission will go to this site.
Canvas or piece of wood (8×10 in size)
Free printable mason jar art template (download here)
Craft paint in aqua, pink, and white
Sharpie
Pen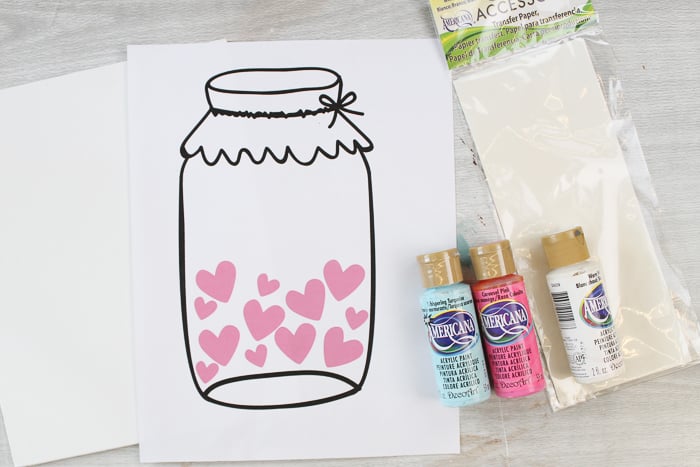 Video Tutorial:
I thought a video would be a fun way to show this technique. You can watch me create this mason jar picture below.
Can't watch the video or missed some of the steps? Try our instructions below!
Instructions:
Paint your entire canvas with a base color including the sides. I used an aqua or light blue paint but you can use any color that you choose.
Allow to dry completely.
Then print the template for your mason jar art. You can click here to download and print.
Now for our secret to this method! Transfer paper! This is the same carbon paper that you may have used in elementary school. It actually comes in black and white. I used the white to add my template to the painted canvas. Just layer the paper with the shiny side down the lay your template on top. You can tape in place if you desire.
Trace around the lines of your template with a pencil. You may need to put a book under your canvas to get the lines to transfer.
Remove the template and the transfer paper and you should have lines on your canvas to trace for your mason jar picture.
For the black lines, I just traced those with a Sharpie. If you have a steady hand, you can use black paint instead.
Then fill in the hearts with pink paint. I used pink and white and mixed them to create a variety of shades in my hearts.
Allow your mason jar picture to dry completely before displaying in your home.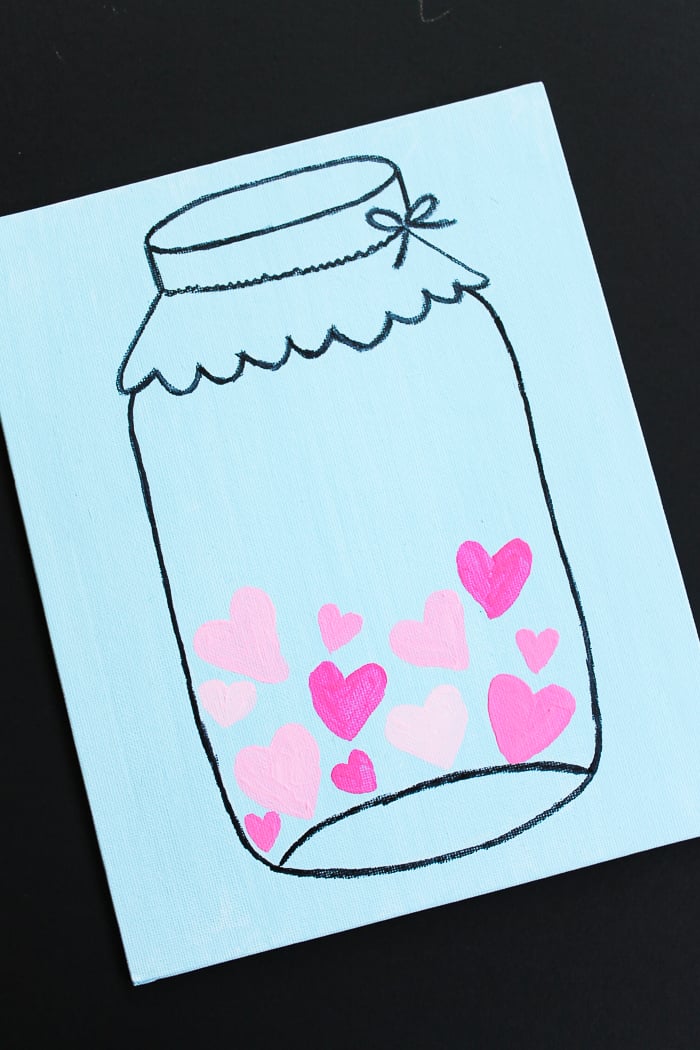 Then add your simple painting to a Valentine's Day vignette.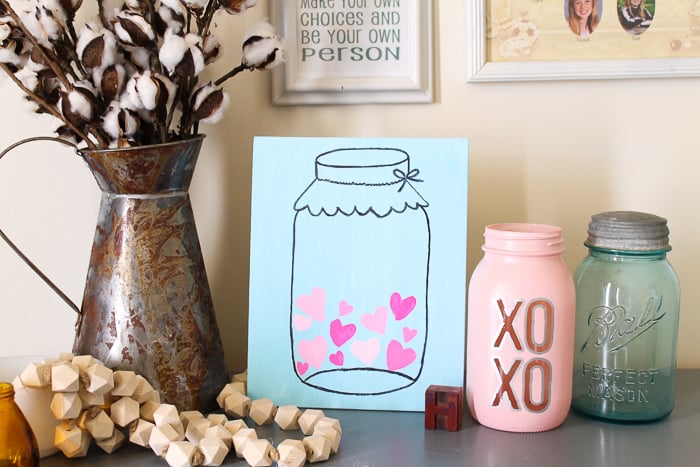 You will be so proud that you created this mason jar art piece from scratch! A gorgeous addition to your home's decor any time of the year.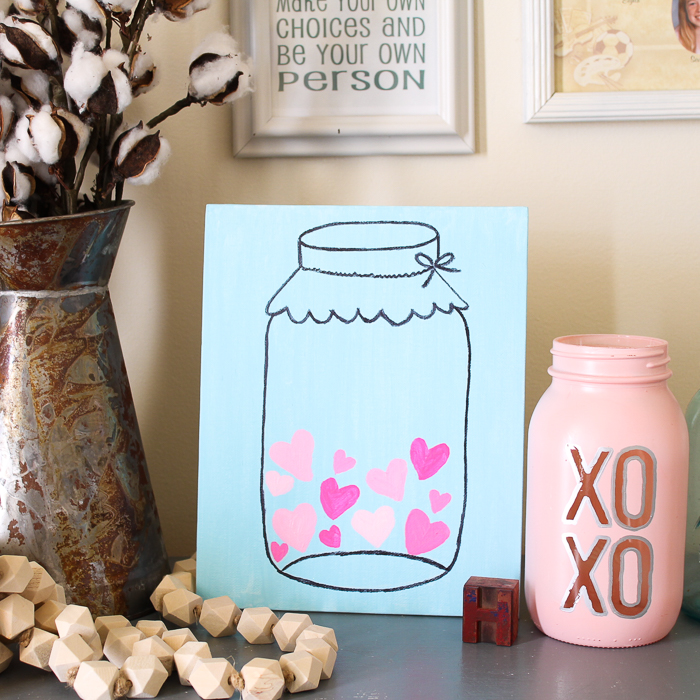 Want to make the XOXO mason jar as well? Click here for the tutorial. It looks great with this mason jar picture, don't you think?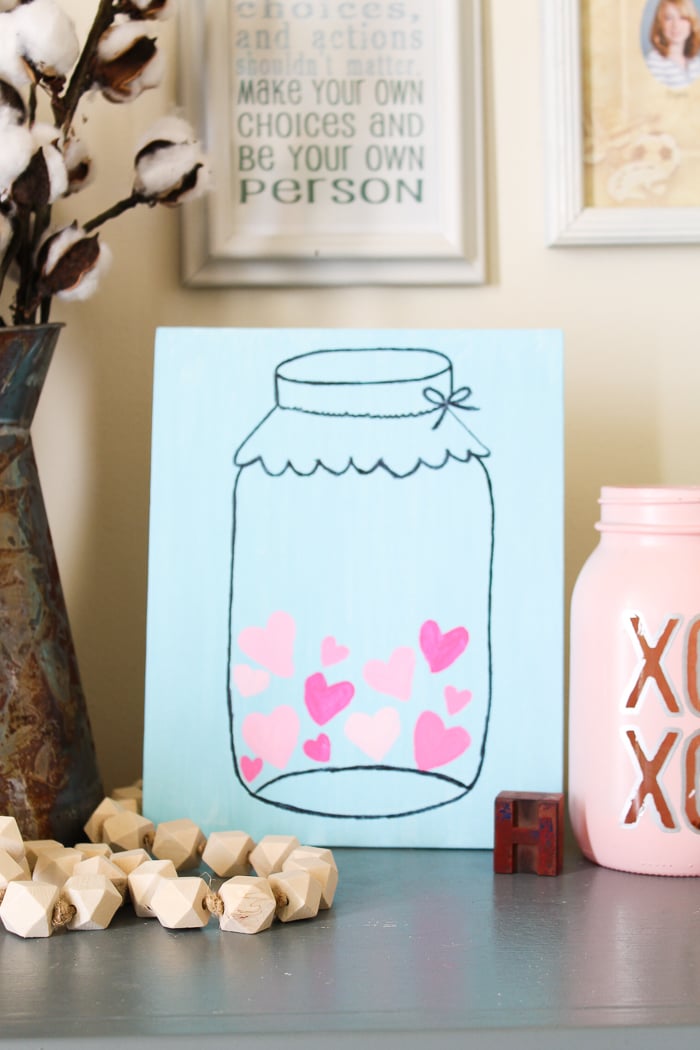 Love this mason jar picture and want more ideas? Try the links below!
A Year of Jar Crafts
Sign up for our email list to get a FREE book with an entire year of jar crafts! 12 months, 12 crafts, tons of fun!