I spent all week last week using Mod Podge Ultra on a wide variety of surfaces so I could give you a rundown of how this product really works. Spoiler alert. I am extremely impressed and this may very well be my favorite new craft product of 2019. This is a game changer for a wide variety of crafts and I am telling you now that you are going to want to try this spray Mod Podge for yourself!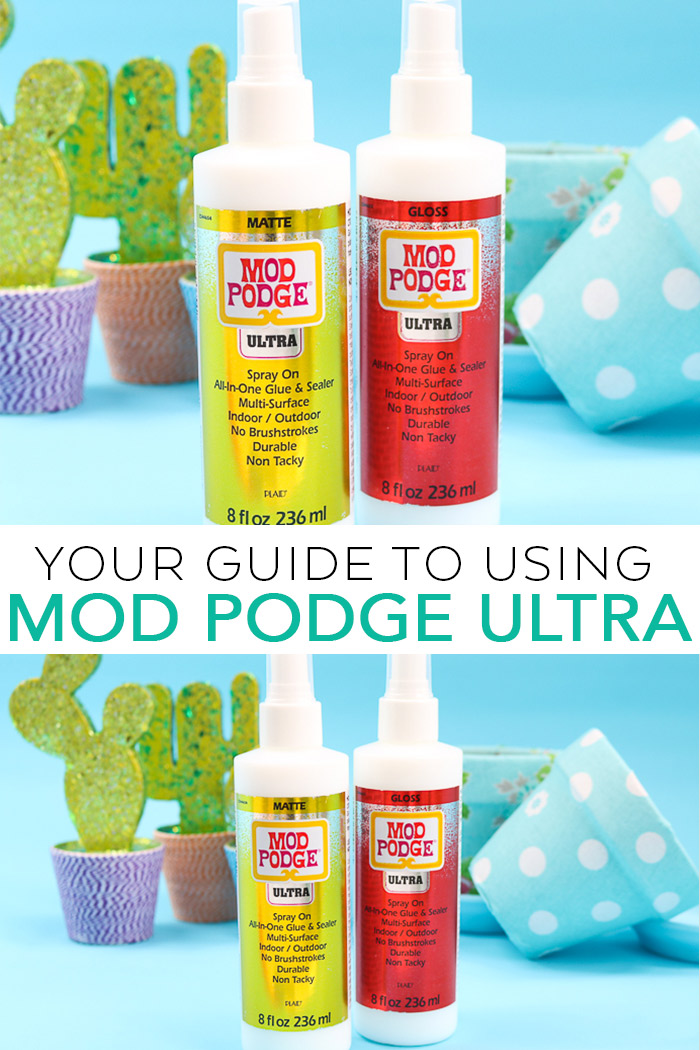 Some links in this post may be affiliate links which means that you do not pay any more but a small commission will go to this site.
What is Mod Podge Ultra?
It is the new Mod Podge spray formula that is literally brand new to the craft market. It has a super strong hold, dries quickly, and self-levels. Bye bye, brush strokes! You can get it in both a matte and gloss finish as well as both a 4 and 8-ounce bottle. It is a waterbased, non-toxic formula so the clean up is everything you already expect from the Mod Podge brand. I also love that it is an indoor/outdoor product and doesn't leave any stickiness behind once dry.
How do you use it?
A few tips and tricks for using this formula:
You will need to shake the bottle well. Shake vigorously for at least 10-15 seconds.
Be sure to protect your work surface. I like using wax paper.
Spray onto a scrap piece of paper or paper towel to prime the pump. You are looking for a consistent spray from the nozzle.
Then spray onto your project, add your embellishment, and do a light top coat over the entire project. Thin coats are better than thick.
Elevating your project when drying is always a good idea so it does not stick to your surface.
You will want to clean your pump well before storing. I would recommend removing it entirely from your bottle and running water through it then putting it back on the bottle.
Allow your project to dry. It can take 4 to 24 hours depending on thickness. You can add more layers after it dries if you would like.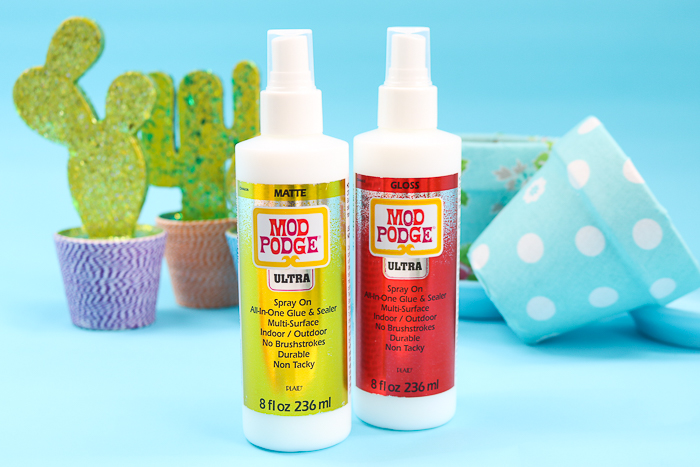 What materials can you use it on?
I put this formula to the test on quite a few materials last week. You can see them all in the video below!
Can't watch the video or missed some of the information? You can also keep reading about the projects and materials that I used below.
First up was adhering baker's twine to paper mache. You can see more about my DIY cactus project here. I actually poured the formula in a cup in this case and ran my baker's twine through then wound it around the paper mache. This was frankly the easiest method I have found for doing a twine wrap. And it turned out perfectly!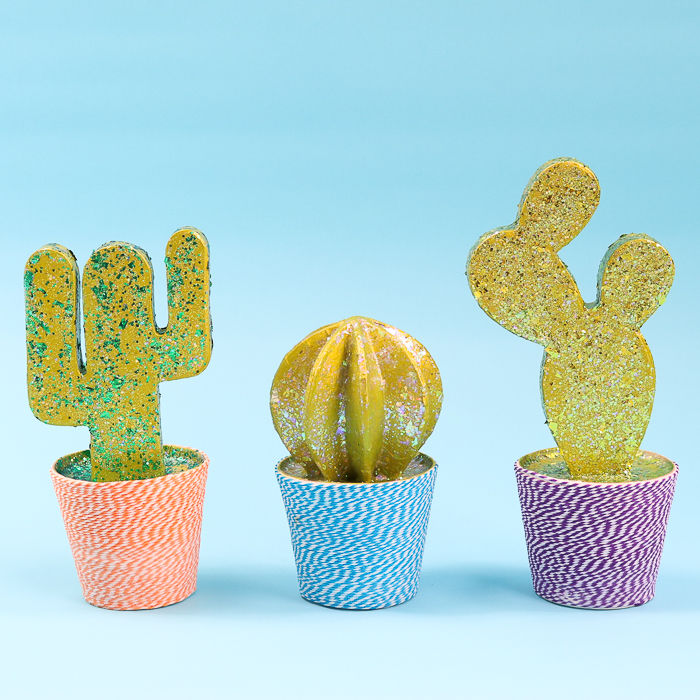 Next up, I tried fabric on terracotta pots. It worked great! The fact that the Mod Podge Ultra is an indoor/outdoor product makes it great for planters. You can see how to wrap pots with fabric here.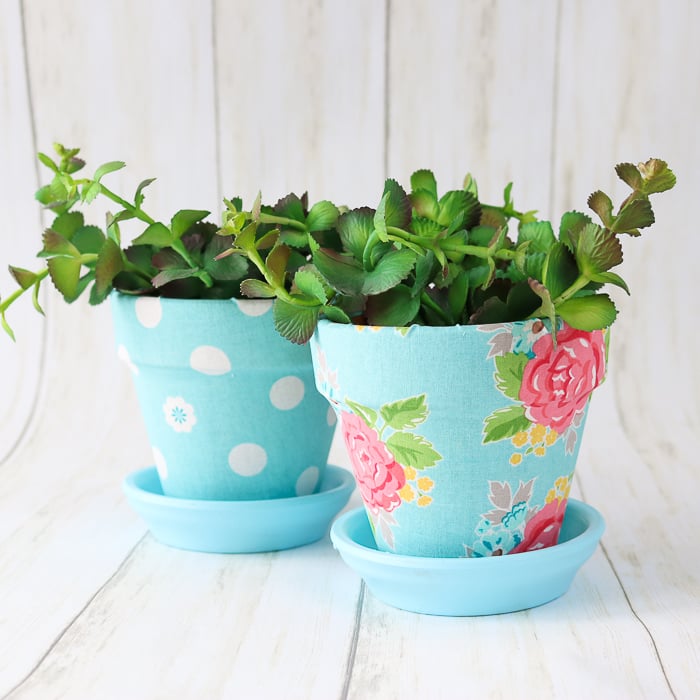 Of course, I had to test the spray Mod Podge on paper! I used it to make these DIY letter board accessories and I loved both the hold and the ease of use.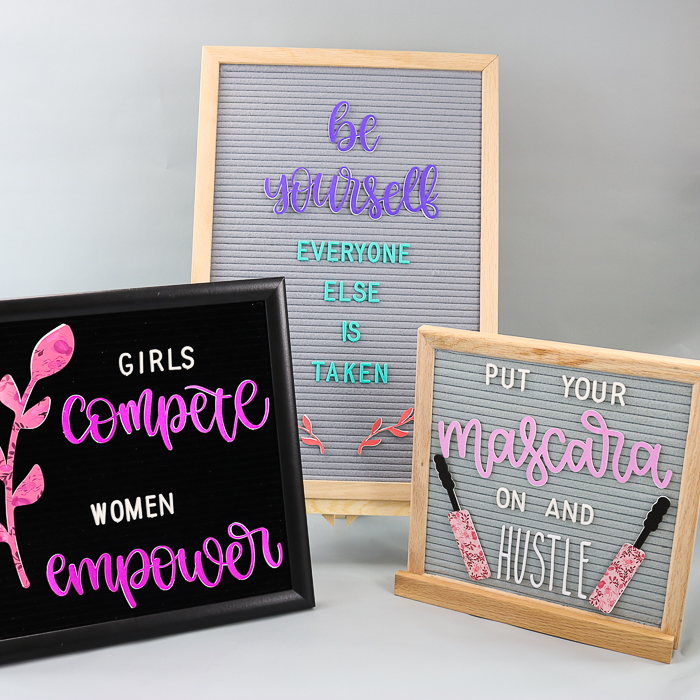 What could I possibly test next? Glitter, of course! I applied a glitter design to wood and am seriously declaring Mod Podge Ultra the best glue for glitter. It creates a project that does not shed and you can even make stenciled designs like the one below with the spray easily.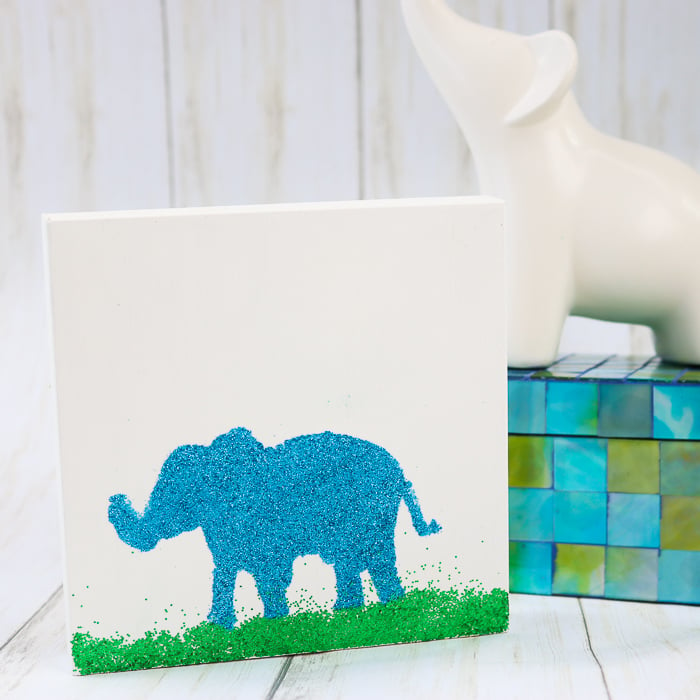 Finally, I was ready to put the Mod Podge spray to the test! I used it on glass. You can see this broken glass mosaic frame here where I put layers of glass on the side of a frame and only used Mod Podge Ultra as my adhesive. I did do several layers but overall I was blown away by the power of this magic spray. Cause y'all it is like magic!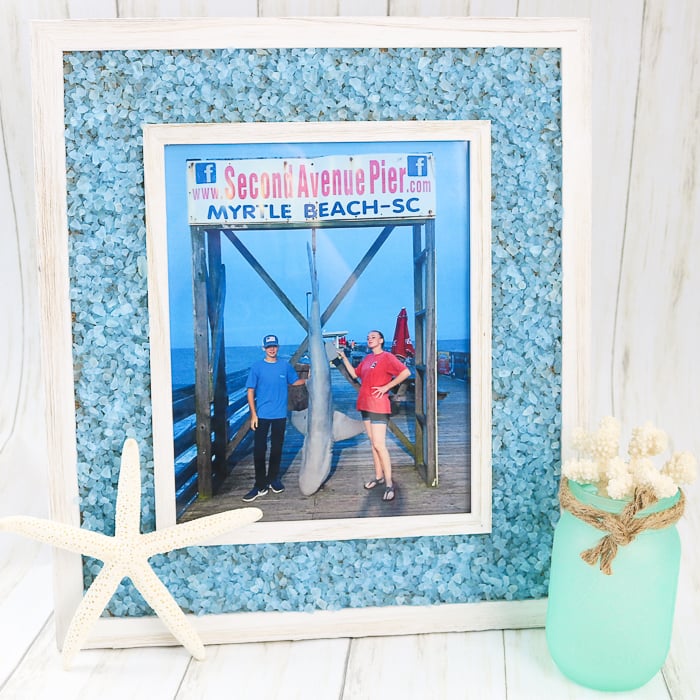 As you can see, the spray Mod Podge can be used with a vast array of surfaces and design elements. Everything from the super light to heavier items like glass pieces. I am sure I will have many more projects in the coming months.
Matte or gloss?
You might be ready to buy now but which one is right for your project? I thought I would do a little experiment. I used both matte and gloss to adhere some small glass pieces to a clear glass bottle.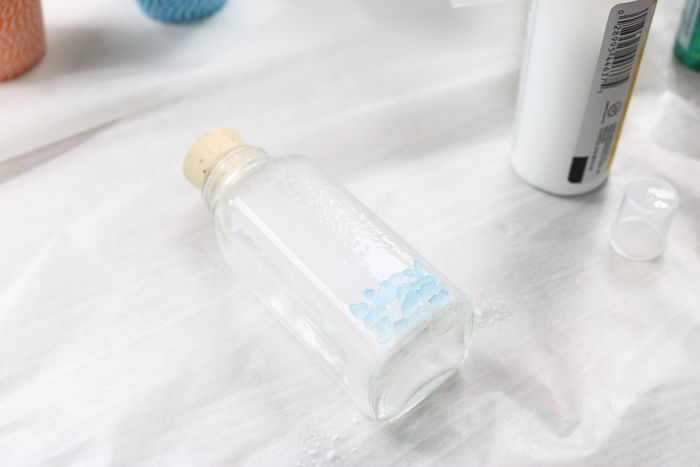 Once dry, you can see a haze with the matte.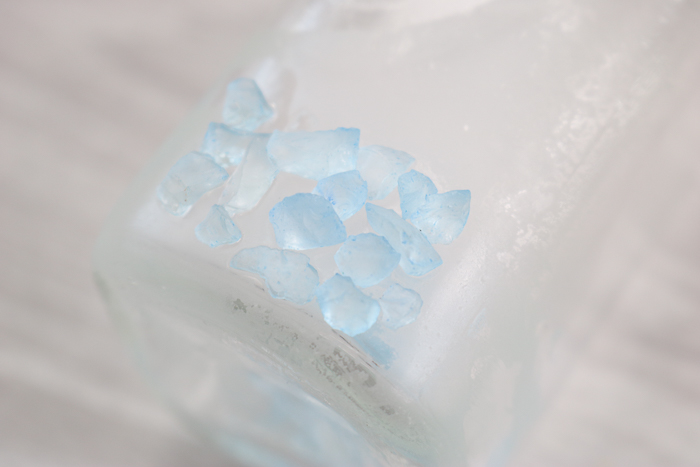 The gloss however dried extremely clear. So, if you are using on clear surfaces or anywhere you want a glossy finish, gloss is for you. A more matte finish can be achieved with the matte.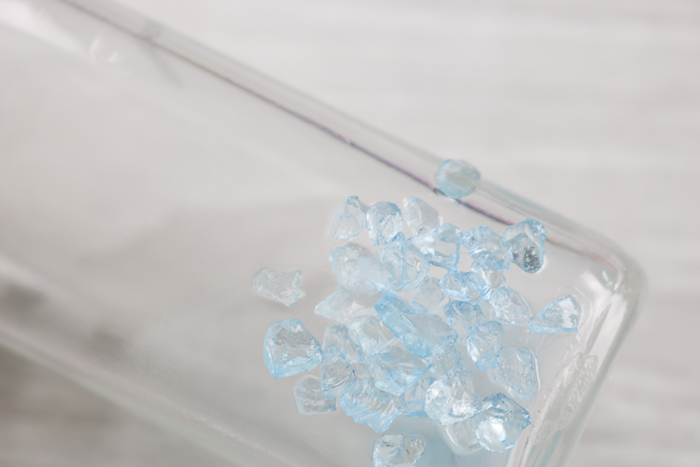 Where to buy Mod Podge spray?
This spray is new to the market but it is available on Amazon right now! Click here to purchase. Over the next year, you should also start seeing it pop up in craft stores near you. I think this will be one product that everyone will want! You might even want to get 2 bottles while you are shopping as I went through one super fast spraying all the things!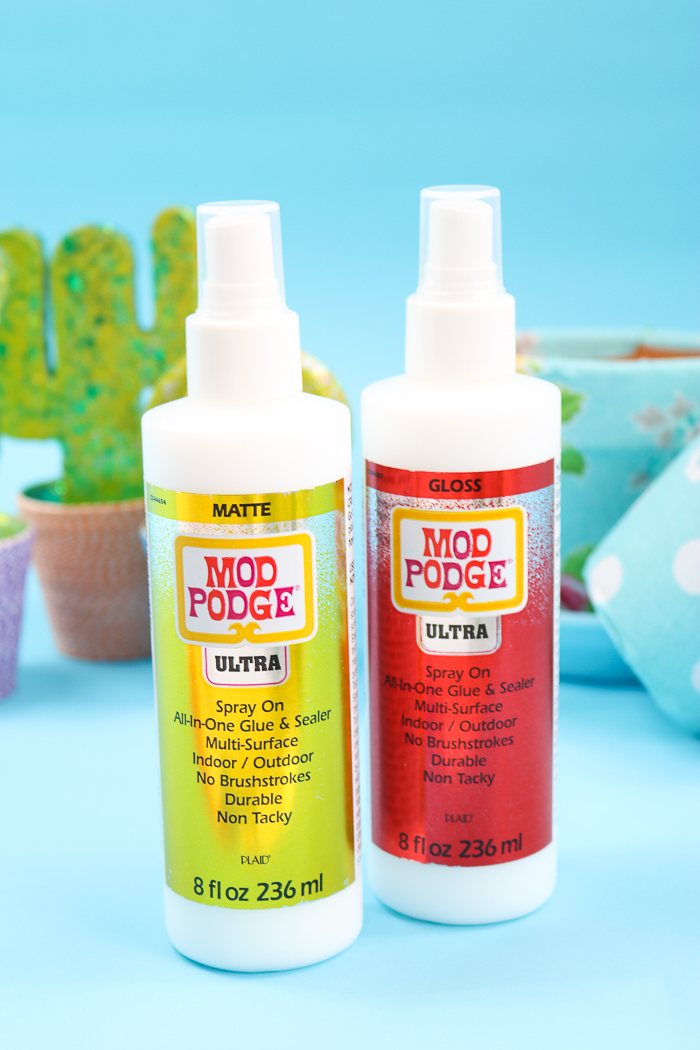 More inspiration using spray Mod Podge
Of course, you might want a bit more inspiration for projects you can tackle with this great product. Try a few of the ideas below!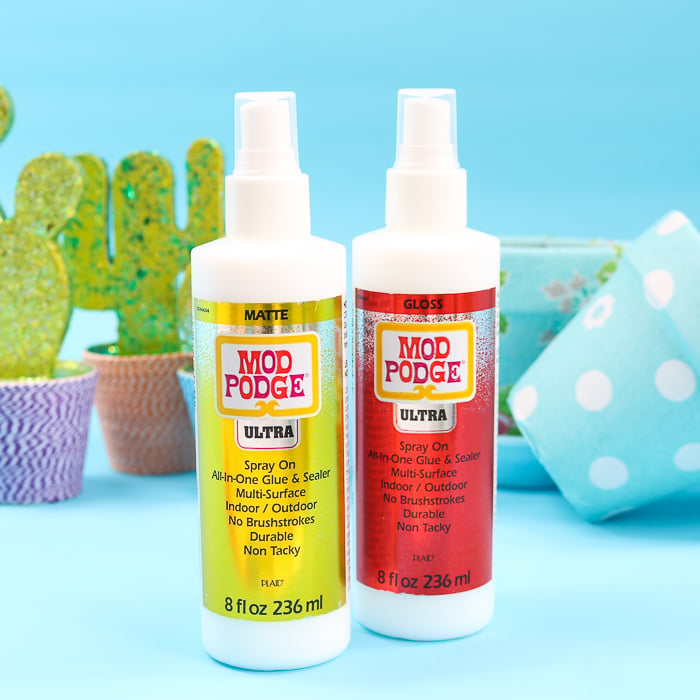 So, have you tried the new spray Mod Podge formula? I would love to see what you have made as well! Haven't tried Mod Podge Ultra yet? What are you waiting for?