Cactus decor is hot right now and adds that perfect warm-weather vibe to your home. The good news is that it's so easy (and fun!) to make yourself. Check out this easy technique to make a DIY cactus!
Whether you love minimalistic plant care (cacti thrive on neglect!) or dream of going somewhere warm like Phoenix, cactus home decor is crazy popular. As a result, it's either hard to find or more expensive than I would like to pay.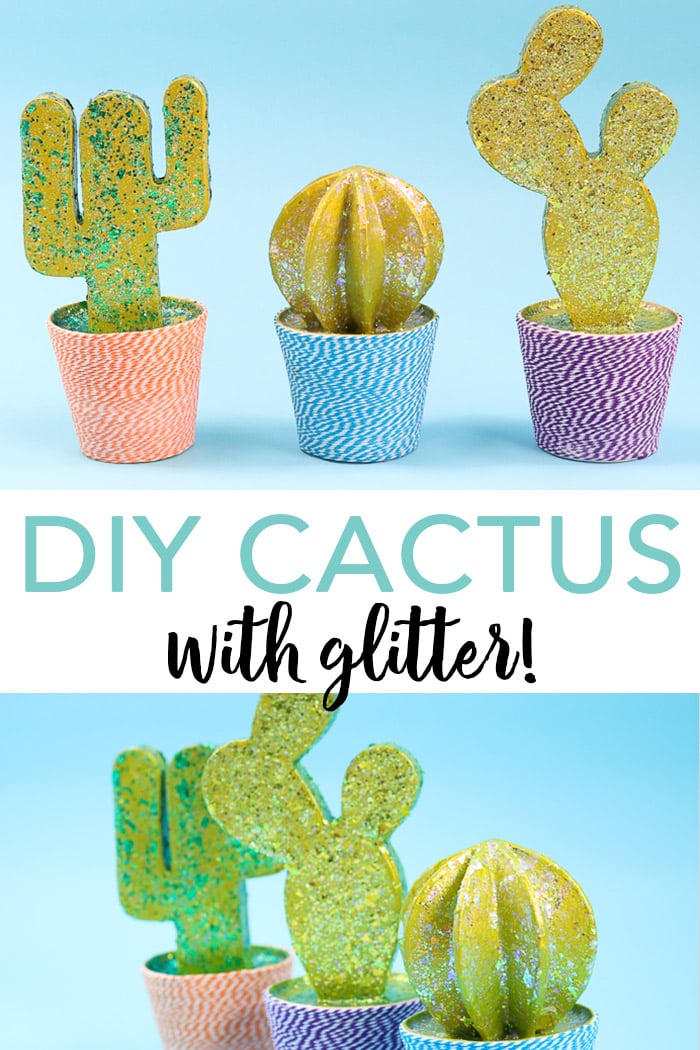 I have good news! If you're longing for cactus room decor, your search is over because I have a simple do-it-yourself solution for you.
A DIY cactus is oh so easy to make yourself – you're gonna be amazed.
I added an extreme glitter finish to a cute cactus in minutes for an adorable addition to any room. I am also trying out the new Mod Podge Ultra for a technique that makes cactus home decor easier than ever to make.
And, for more inspiration, I'm also including more terrific ideas crafts from some of my blogging friends!
Supplies Needed To Make A Glitter Cactus
Here's a list of the supplies I used to make this craft. Feel free to grab the handy printable project instructions card at the bottom of this post!
White craft paint
Glitterific paint in three colors (green, evergreen, and clear hologram)
Twine
Disposable cup
Wax paper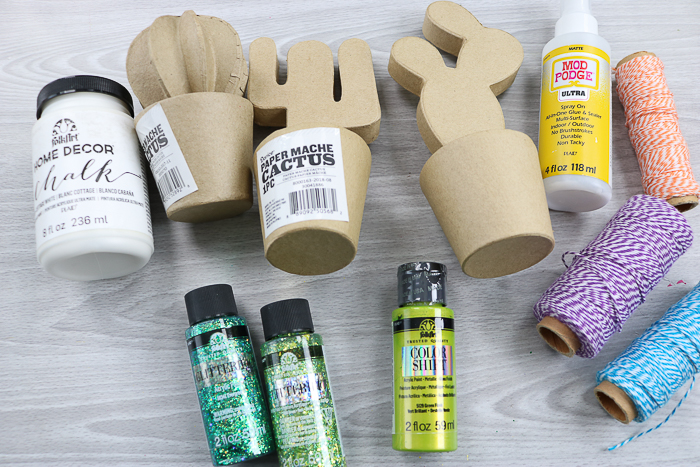 How To Make DIY Cactus Decor
The process couldn't be more simple! Just follow these instructions and you'll be displaying your new DIY cacti in no time.
Paint The Cacti
Start by painting the paper mache cactus. Paint the tops green and the pot white to create an authentic look. I love how the Color Shift paint looks under the Glitterific paint, but you can use any green paint as the base color for your cacti.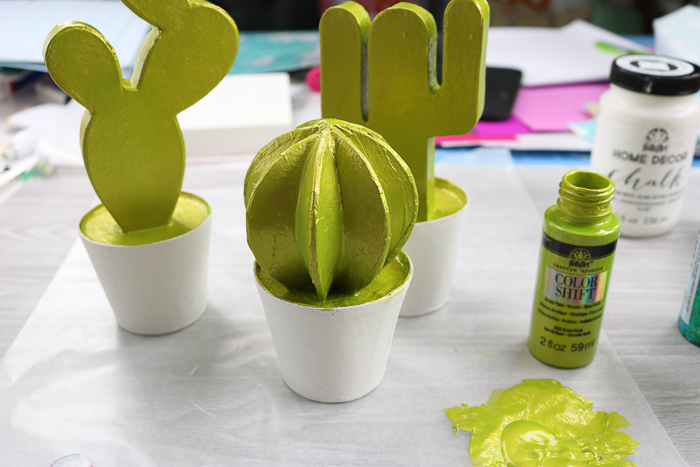 Add Glitter
Allow the paint to dry. Then, come back with three different colors of the Glitterific paint and add a different one to each cactus.
This paint is the ultimate in glitter paint. It has all different types of glitter all in one bottle to create a very dynamic appearance. Simply apply one thick application, and you have all of the glitter you could ever want!
Allow each DIY cactus to dry completely before continuing.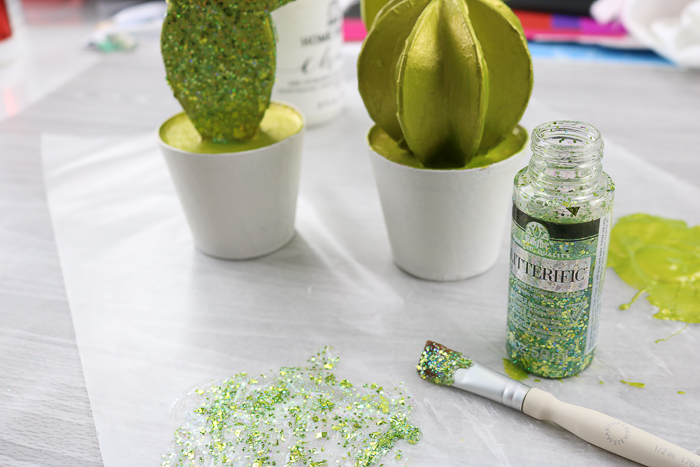 Decorating The Pot
Now, it's time to decorate the pot!
I wrapped each one in different-colored twine. This step is optional as you could just leave the pots a simple white if that is a better fit with your home decor. However, I love the way that the pots look wrapped in twine!
If you have ever wrapped anything in twine, you know that it can be tedious. I have an easy method for you today that just might have you wrapping everything in twine! I'm using the new Mod Podge Ultra for the task.
Soak The Twine In Mod Podge
Just shake the bottle well and pour a little into a disposable cup. Add a length of twine to the Mod Podge and push it down into the Mod Podge with a craft stick to soak.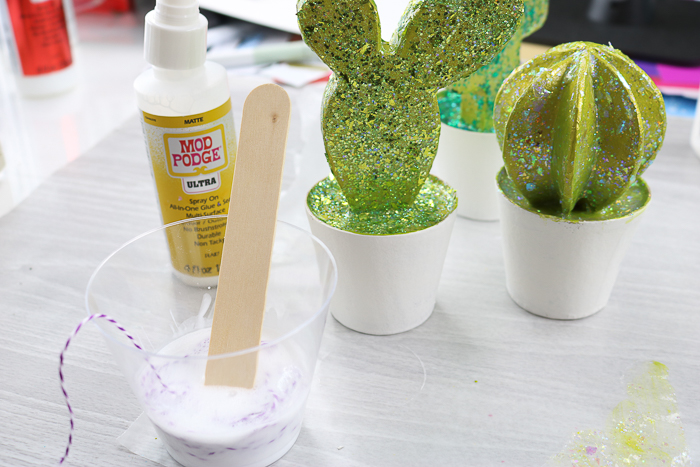 Wrap The Twine Around The Pot
Then, start pulling the twine out of the Mod Podge as you wrap it around your pot. I recommend leaving the twine attached to the roll at the other end so you can keep pulling off lengths and wetting them as you go along.
The easiest way to wrap the twine with as little hassle as possible is to just twirl your cactus around to pull the twine from the Mod Podge bath and make it wrap around the pot.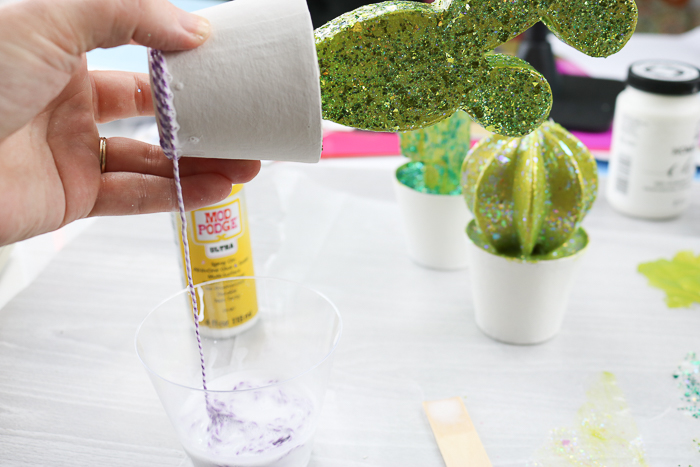 Let Your DIY Cactus Dry
Continue until the entire pot is covered and set aside to dry. I recommend putting it on top of a strip of wax paper, so the pot does not stick to anything. Allow it to dry overnight then your cute cactus decor is ready for display anywhere around your home!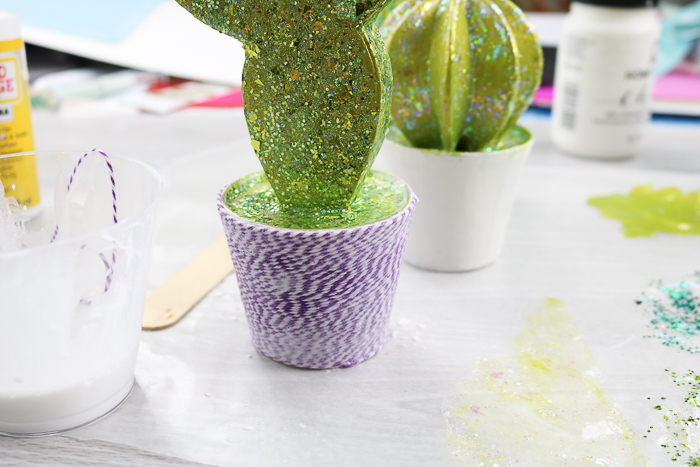 Create Your Own Cactus Decor
A DIY cactus is even easier with these techniques! Just think, some unique and beautiful cactus decor is just minutes away. Who can resist that gorgeous glitter finish?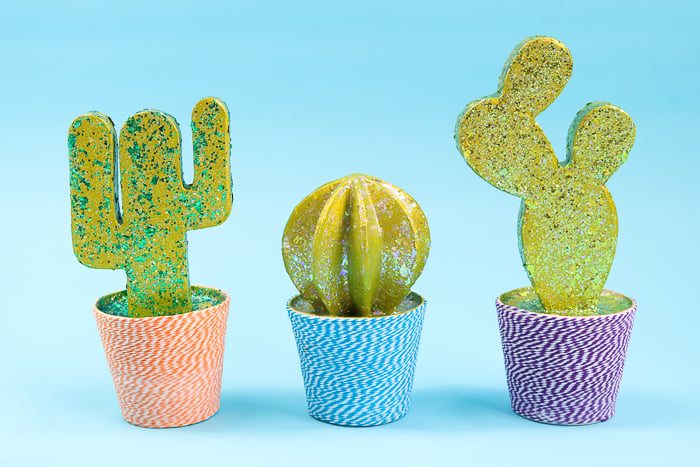 Personalize Your Cactus Room Decor
You can make yours exactly like mine, or you can feel free to get creative and change up the colors on this project. You could also decorate the pots in a different way, either with different colors of twine or a different method of decorating such as paint pouring.
No matter how you do it, you're going to love adding a cute DIY cactus to any room in your home!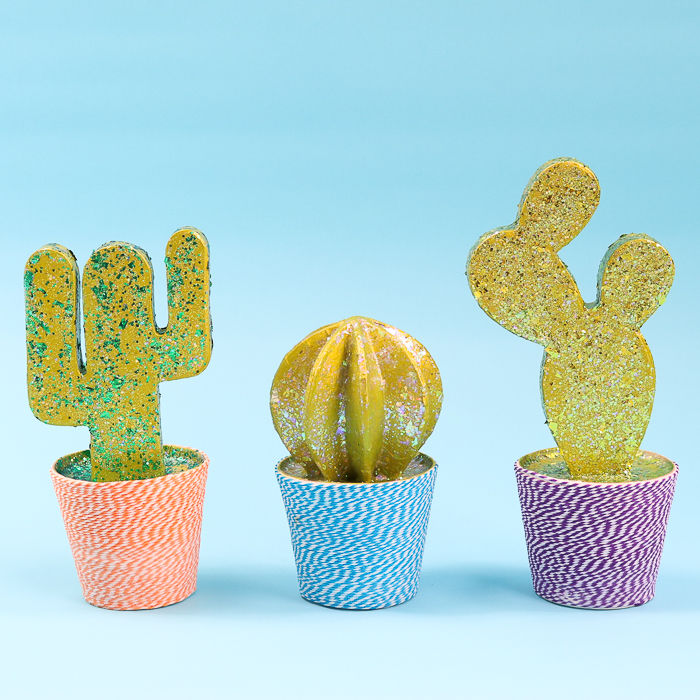 If you love all things glitter, you are sure to love how this DIY cactus decor will make any room sparkle.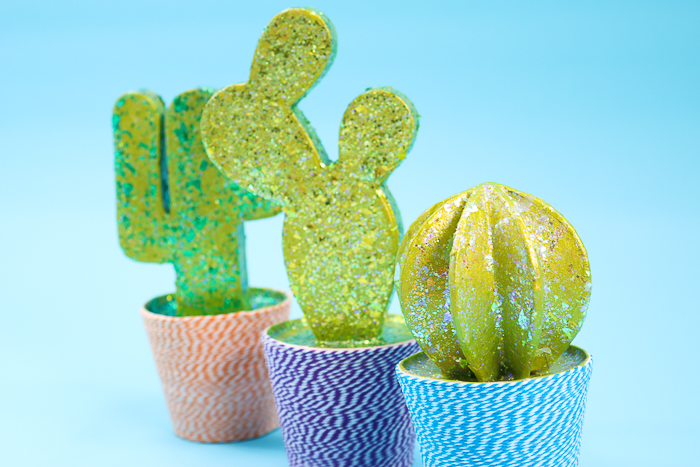 If you want to learn more about using Mod Podge Ultra, check out how I put it to use in creating a Broken Glass Mosaic Frame and Fabric Plant Pots!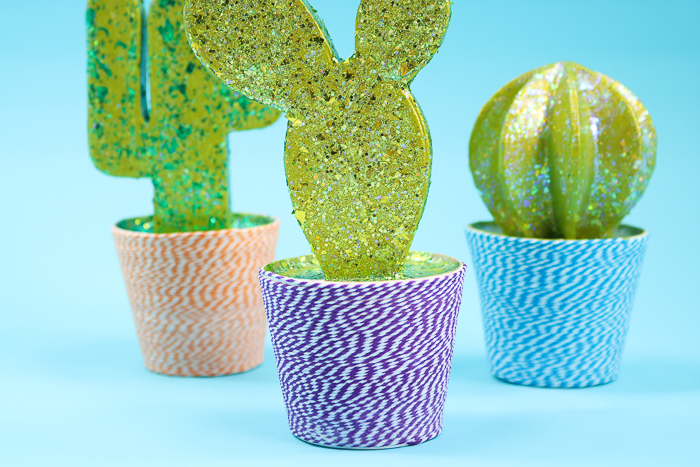 Also, if you love cactus decor, don't miss my DIY Clay Cactus, Cactus Planter Pot, or Decorative Cactus Push Pins!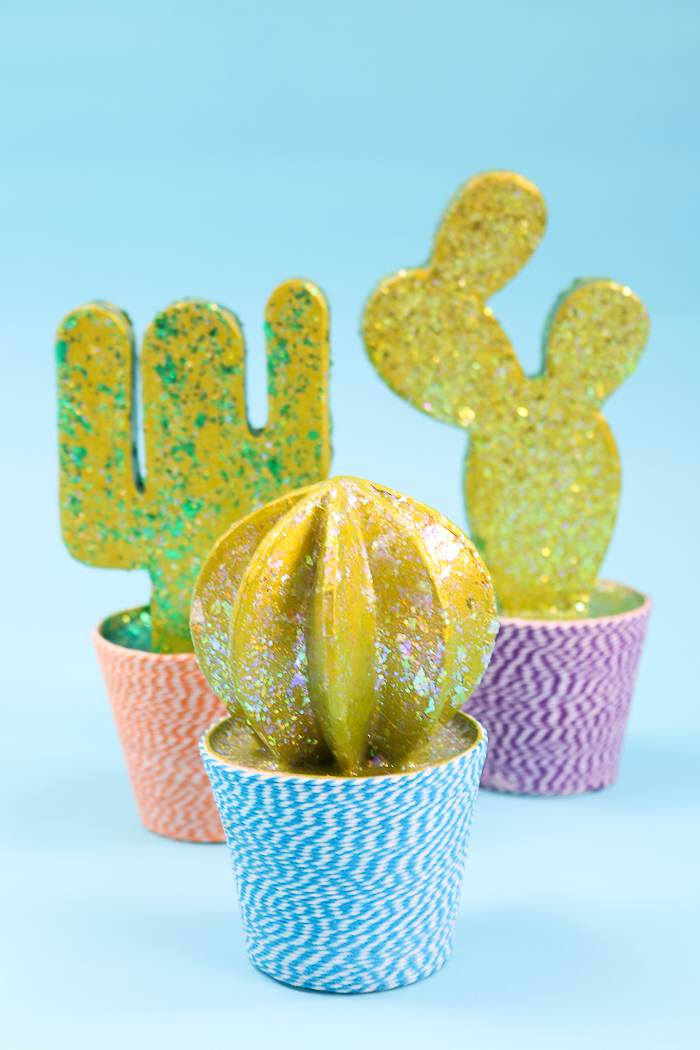 And finally, if you want more decoupage ideas, check out Decoupage Mason Jar Canvas Art, Coloring Page Decoupage Easter Eggs, this felt bunny craft from Polka Dot Poplars, or these bunny painted Easter jars from Me and My Inklings.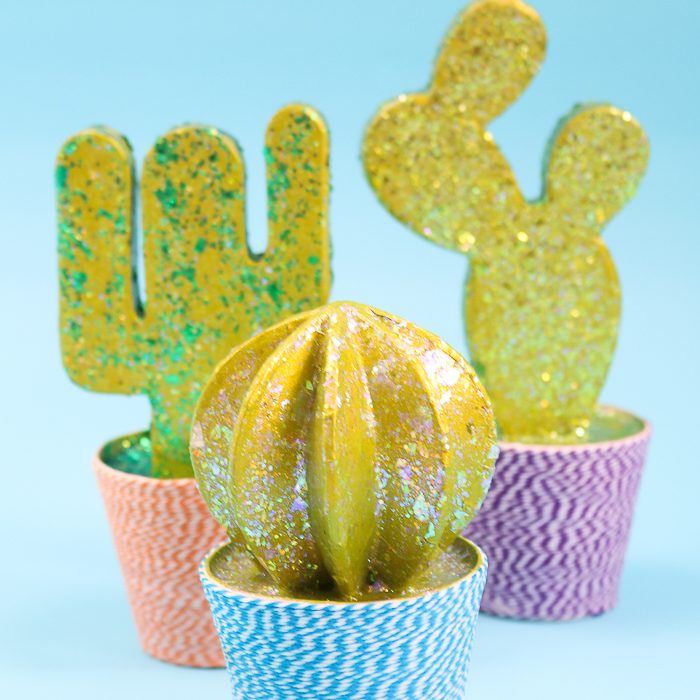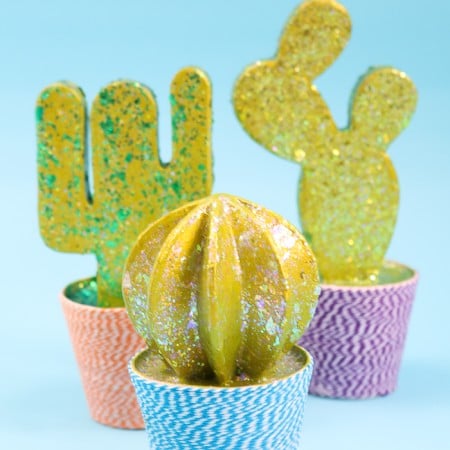 Decoupage DIY Cactus Decor
Take paper mache cacti and use this easy technique to quicklly make popular and beautiful cactus decor for every room in your home!
Supplies
Paper mache cactus

White craft paint

Color shift paint

green

Glitterific paint

3 different green colors

Mod Podge Ultra

Twine

Disposable cup

Craft stick

Wax paper
Instructions
Paint your paper mache cacti. Create an authentic look by painting the tops green and the pot white.

After the paint dries, grab your three different colors of the Glitterific paint and add a different color to each cactus. Allow time to dry completely.

Pour a little of the Mod Podge into a disposable cup. Add a length of twine to it and push it down into the Mod Podge with a craft stick to get fully covered.

Simply pull out the twine and carefully wrap it around your cactus pot as your turn the pot over and over in your hand. This helps to get the job done with as little mess as possible.

Put your cacti down on wax paper and let them dry completely. Once dry, add them to your home decor!
Tried this project?
tag us to show off your work!