Print this organization checklist to declutter your home in just 31 days. Check off each area of your home as you complete the organization task. Our house organization checklist will have your home more organized than ever before!
If you want to declutter your home in 31 days, we have the organizing checklist for you! I have developed a system to tackle the clutter in your entire home in about a month. I thought I would share the checklist here so you can try this method for yourself. Want some additional guidance for organizing? I have that for you too….just read on!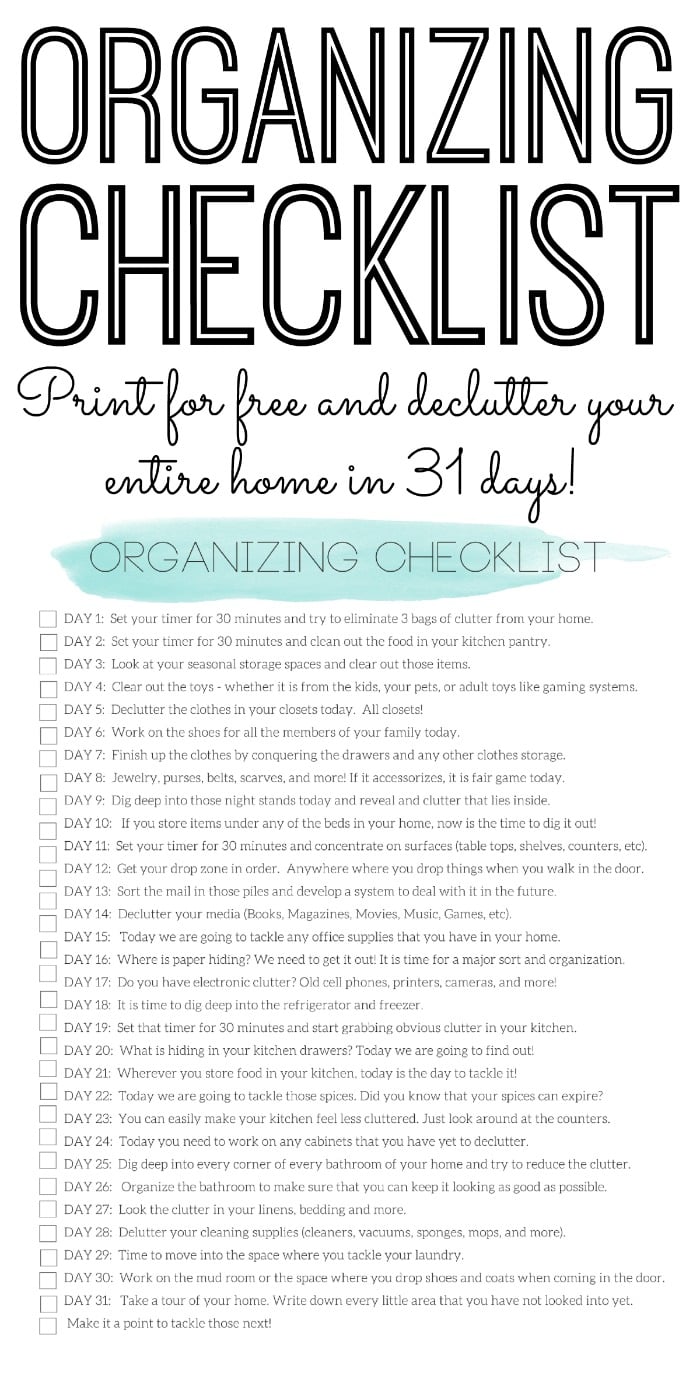 I have been on a decluttering and organizing mission this year. I have shared some of my journey including my 30 minutes declutter challenge. If you are ready to take it one step further, you will want to print this organization checklist. It starts with the 30 minute challenge on day 1 but then expands over your entire home over the next 30 days. At the end, you will be left with a cleaner home that you will want to invite guests into. Sounds too great to be true? Well it isn't! Print the organize your home checklist by downloading via the form below. You will soon be on your way to a clutter free home.
Organization Checklist
Put your email address in the form below and the instructions will be sent to you for downloading the checklist. If you already get the newsletter, just add in your information again as you will not be signed up for anything further. Please remember that this checklist is for personal use only. You can also email me if you have any issues with your download.
You will also be emailed a daily email for each of the 31 days of the plan. Those emails will walk you deeper into each of the checklist items. That way you have a method to remind you to do your task each day. Print your checklist and keep it handy. There is nothing better than the satisfaction of checking a completed item off of a task list. Who is with me on that one?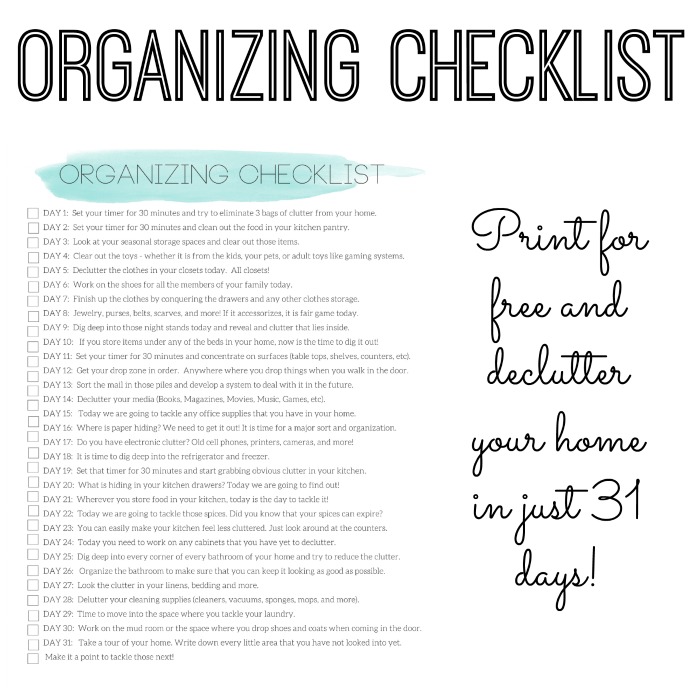 If you love checklists as much as I do, I have others that you will not want to miss.
Print your organizing checklist and get started on decluttering your life in just 31 days. I love breaking down large tasks into easy bite-sized pieces and this checklist does just that. Print yours and get started today! The sooner you start, the sooner you will have an organized home that you love. You can also shop my organization must-haves here. I add things there occasionally that I find and love. They make a great addition to this organization checklist and your more organized home.
Declutter Your Home in 31 Days!
Clear the clutter and organize your home with our daily emails! Every day for a month we will send you a prompt to declutter! Sign up for our email list below to get started.