Finding the perfect recipe organizer can take a bit of trial and error, but once you find the right fit, your life will be transformed! Here are some genius methods to help you learn how to organize recipes once and for all.
Does this sound familiar? You want to make your great-grandmas lasagna recipe, but after ripping your kitchen apart you have to admit defeat and text your sister, yet again to send it to you. Or perhaps you know you saved a fun new recipe online you wanted to try, but can't find it in your bookmarks, Pinterest board, or anywhere else.
If so, you are going to LOVE this post. I'm going to walk you through how to organize all your favorite recipes so they are right at your fingertips anytime you need them
How to Organize Recipes
Looking for a recipe organizer? I have ways to organize those recipes that you may not even have thought of. Ever wanted to make that one recipe that you loved a few months back….and can't find it? Yes, that has happened to me….many times. That is why organizing recipes is so important!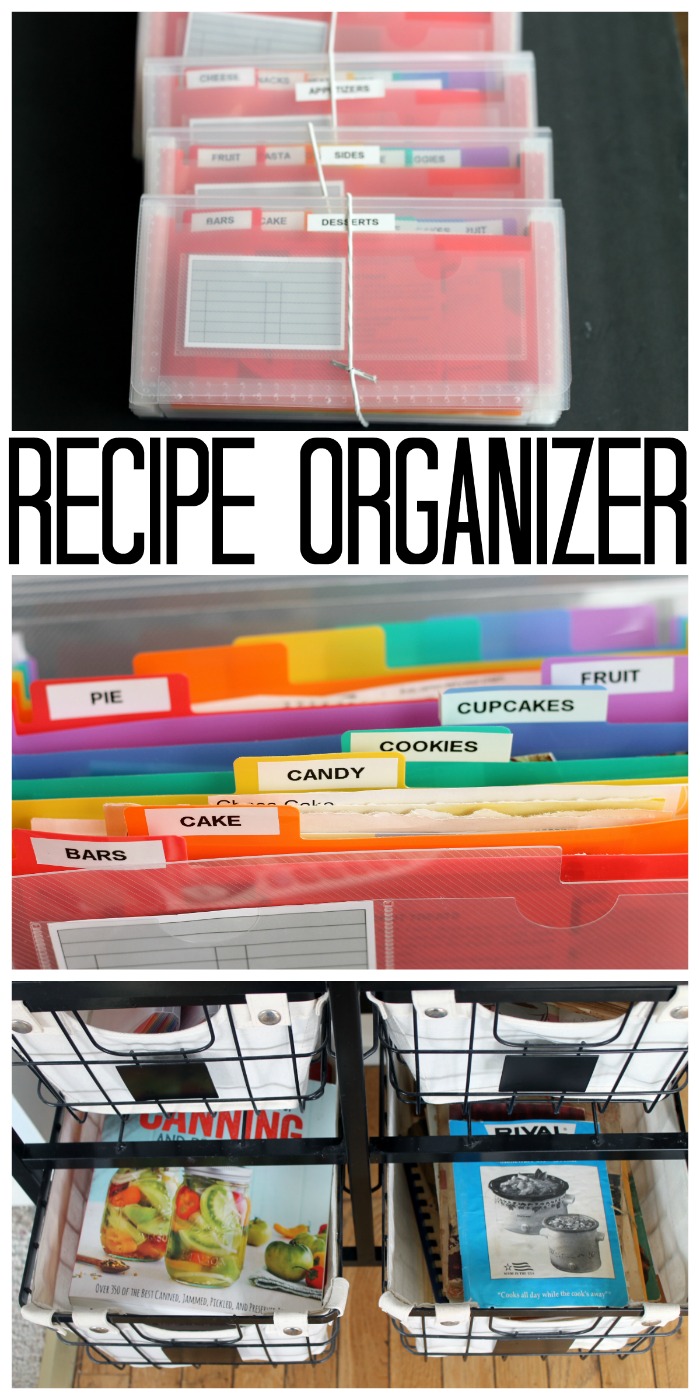 How to Organize Individual Recipes
My first tip is for all of those individual recipes. You know the ones like the magazine clippings or random recipe cards that have mom's favorites on them.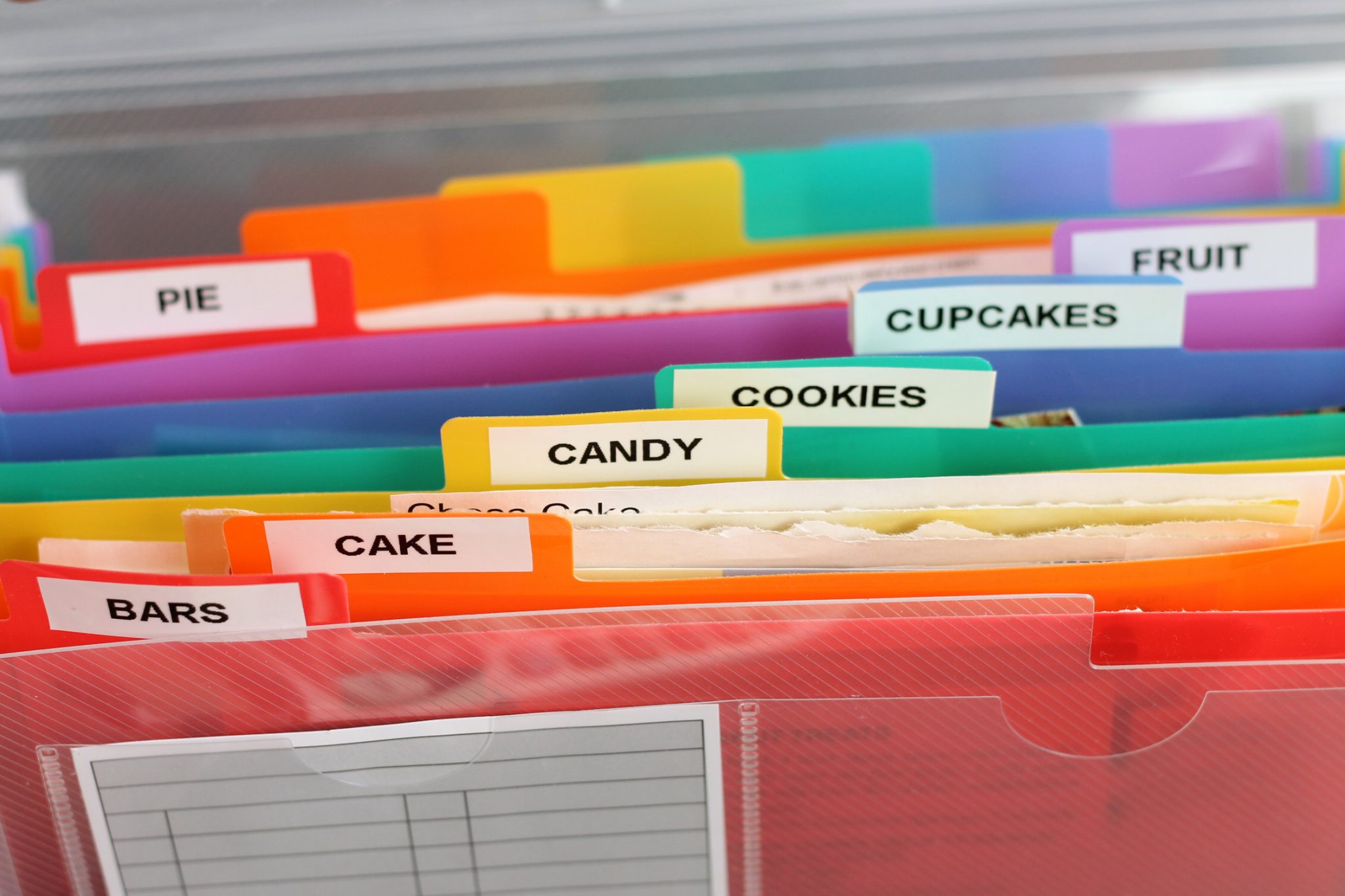 I have a few options that may work for these.
Expandable Files
Expandable files are great for organizing all sorts of paper including recipes. Label each division tab with a recipe category and start adding in those bits of paper.
Love this idea? Click here to see where to buy those files as well.
Bonus tip: I love using those small files that are meant for coupons as a recipe organizer in my home. They work very well for recipe cards or index cards.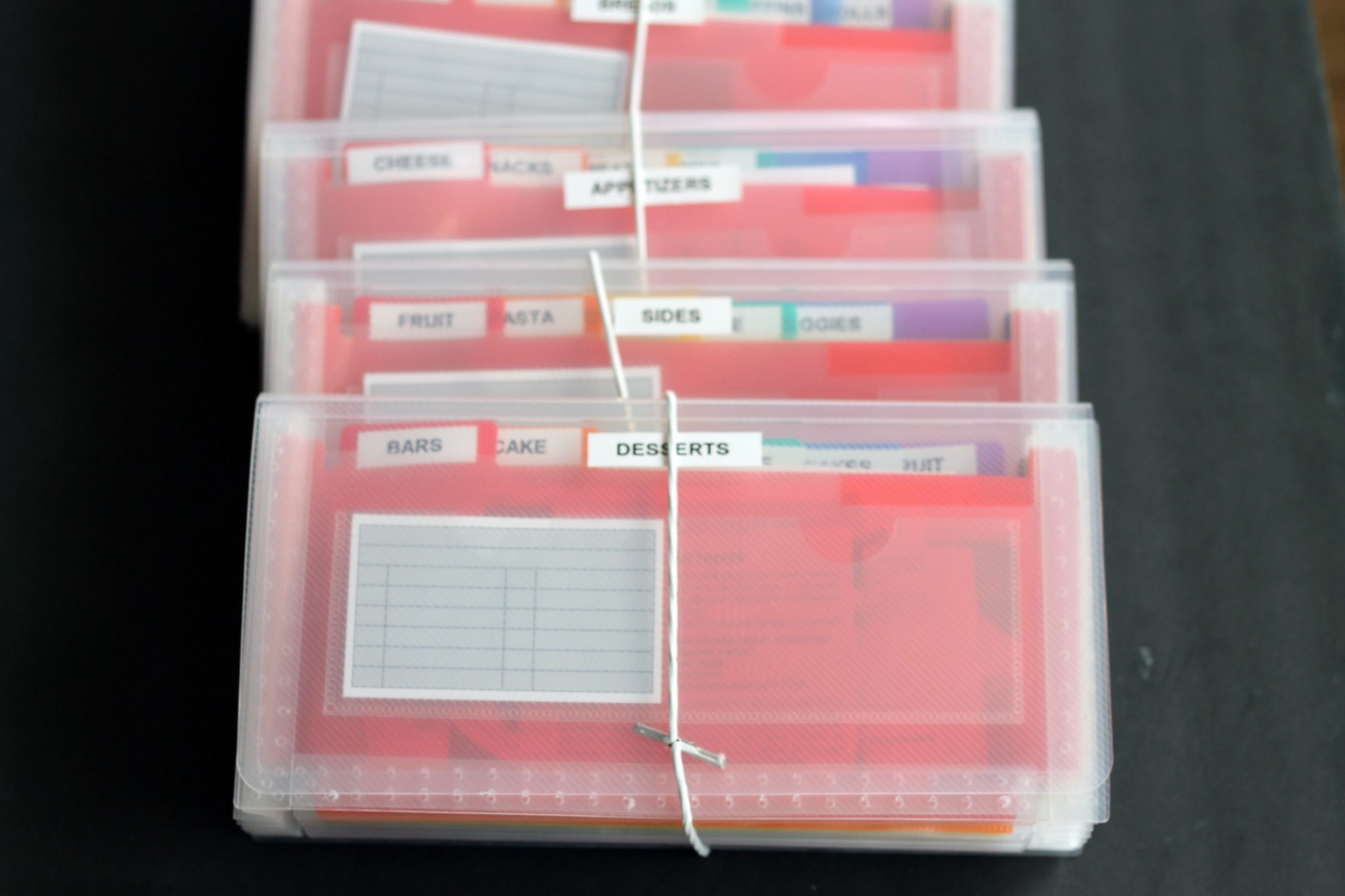 Recipe Tin
Another classic way of keeping recipes organized is purchasing a recipe tin. You can find several on Amazon that come with cute cards and dividers. Then, all you need to do is be diligent about writing your recipes on the cards.
Recipe Binder
A recipe binder may be the perfect solution if you want to keep all of your recipes where they are easily viewed. Plus, they are easy to put together.
Fill a standard office binder with baseball card or photo holders.

Add your recipes to the pockets in an order that will work for you.

Turn them so that they are visible
There you have it—you have an instant recipe organizer filled with your favorites.
Try a Digital Recipe Organizer
No room for the paper anymore? Organize your recipes electronically. Taking images of your recipes ensures that they will be around for years to come.
Scan Handwritten or Clipped Recipes
Invest in a smart scanner or do the work manually by scanning or photographing each one.
Apps for Digitally Organizing Recipes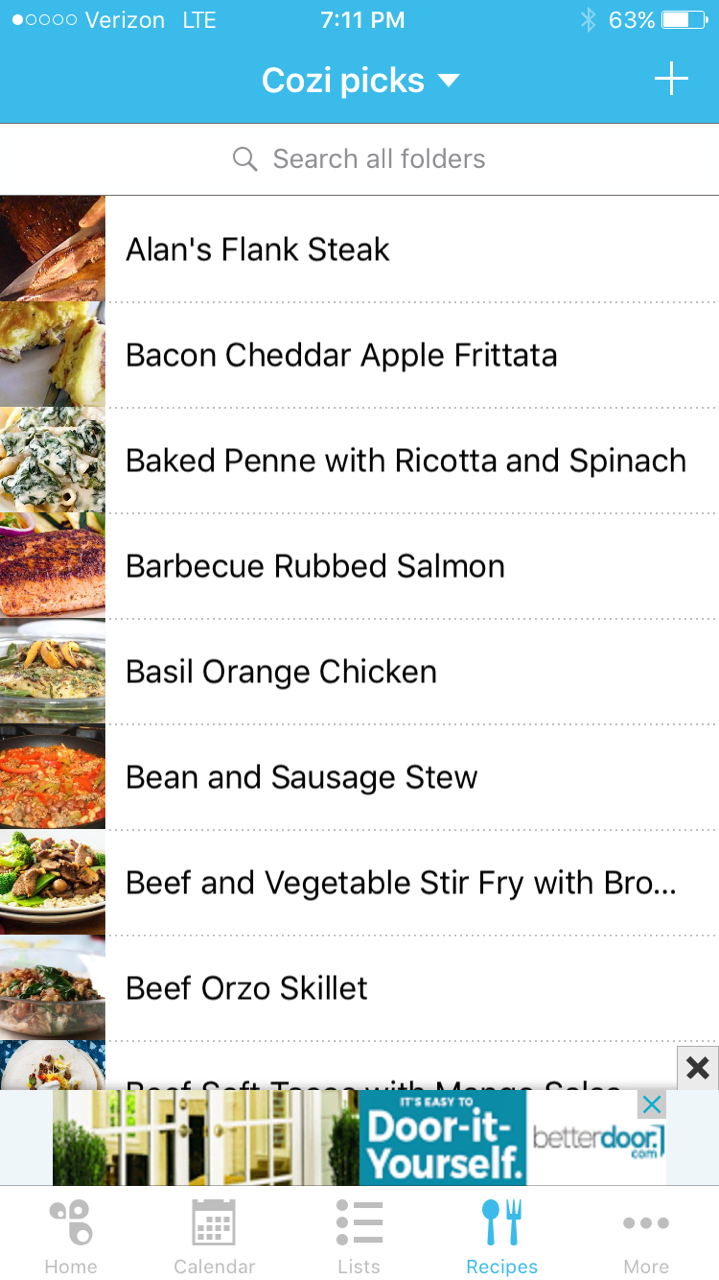 I like multi-function apps that can save me time when looking for recipes and meal planning too. I personally put all my recipes into this awesome app for easy access when meal planning!
Use Pinterest Boards
Of course, Pinterest is an easy way to keep your digital recipes organized. Create several different boards with various categories to make it even easier to find food.
You can see my recipes on Pinterest here!
Other Methods for Digital Recipe Organization
Here are some methods that I have not personally tried but have heard good things about:
How to Organize Cookbooks
What about those cookbooks? If you are anything like me, you love the feel of the books and just can't part with them. I love collecting old vintage cookbooks as well. They have the best recipes in them y'all!
Start by cleaning out your books and getting rid of any that you really don't use. Just use a few recipes in a book? Clip them or copy them and add them to the organization method above.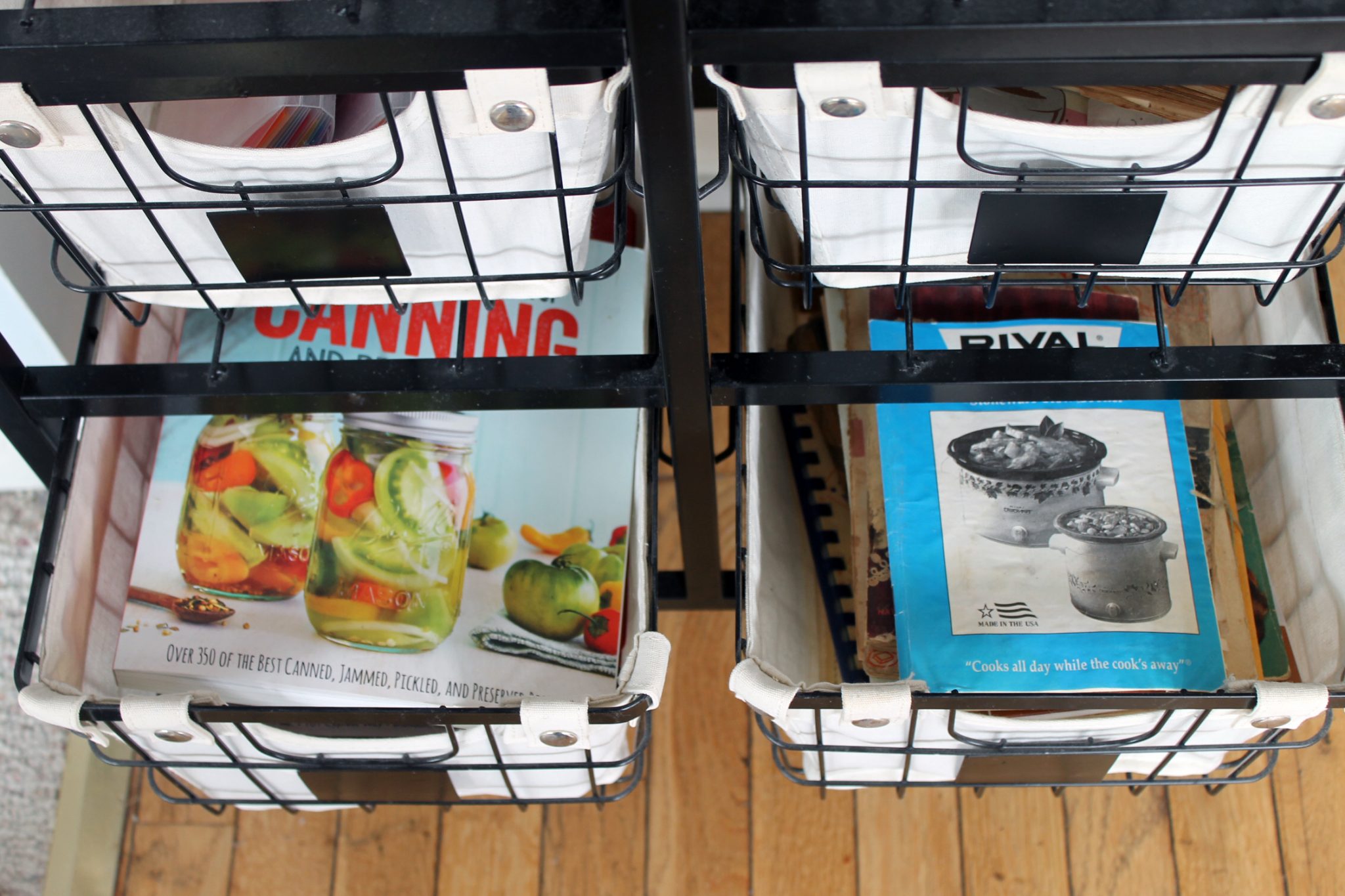 So what can you do with the books that are left to keep them organized and ready when you need them?
Add the books to a lazy susan

and display them on your counter for easy access.

Look for unused areas

of your kitchen that could work for books. Above the refrigerator might be a solution.

Got a small nook of extra space? Add in a bookshelf or drawer cart for all of your cookbook collection You can see my cart here. It works perfectly for the cookbooks that I love.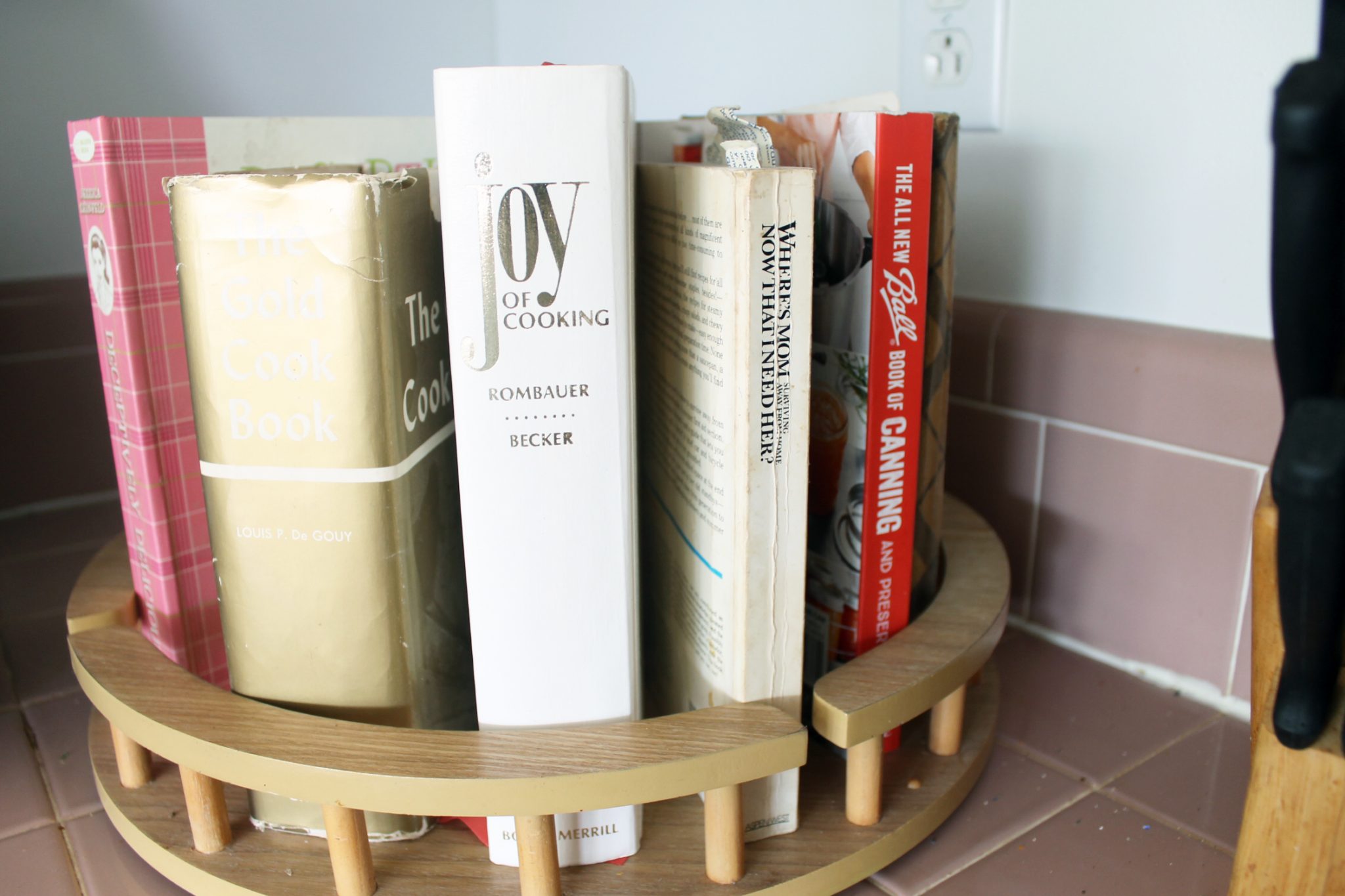 These recipe organizer ideas are sure to help in your kitchen. Add one or more of these ideas to your home to get yourself more organized and be able to find those recipes when you need them.
More Recipe + Kitchen Organization
Love this and want more? Try the links below for more ideas!
Declutter Your Home in 31 Days!
Clear the clutter and organize your home with our daily emails! Every day for a month we will send you a prompt to declutter! Sign up for our email list below to get started.