Paint a birdhouse for your yard with our easy to follow tutorial. You will love these cute camper birdhouses and how great they look in your garden. You can also use our instructions to paint other unfinished wood birdhouses that you may find. I am, however, very partial to these cute campers! In fact, these are hanging on my farm equipment lawn art right now.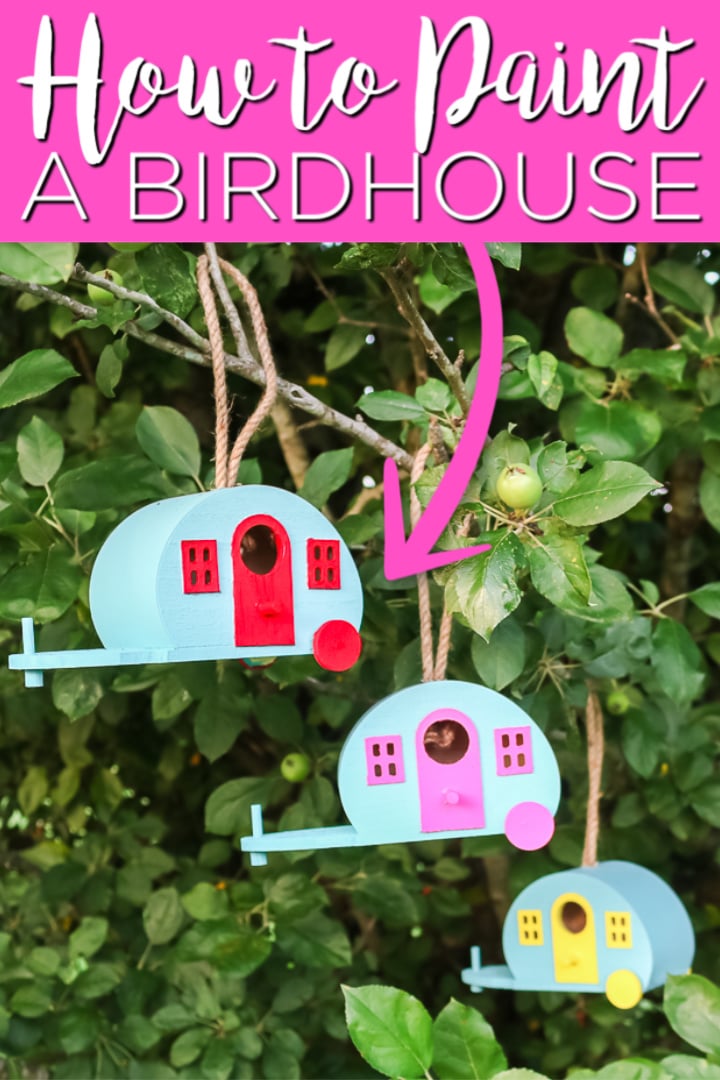 Supplies needed: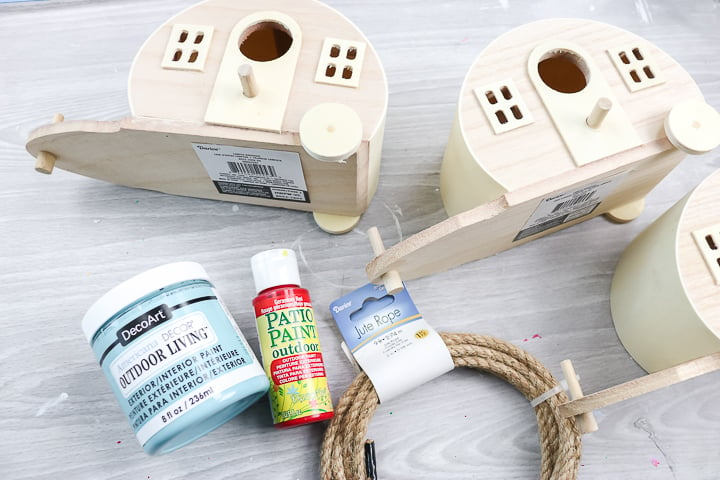 How to Paint a Birdhouse
Now that you have your supplies, it is time to paint your birdhouse. Pick color combinations based on your outdoor decor or just make them colorful to attract the birds. I picked a wide range of colors that I thought were great for a retro camper. Then just follow the instructions below to paint a birdhouse of your very own.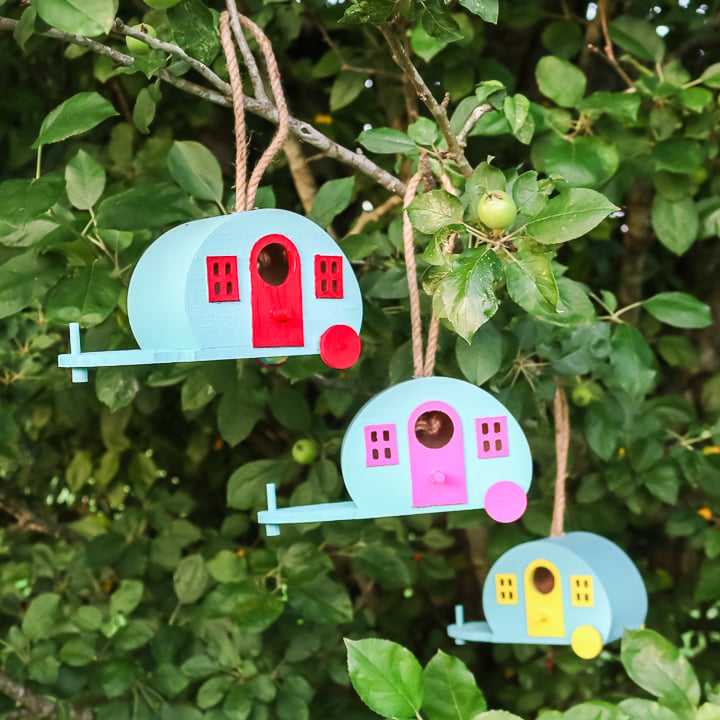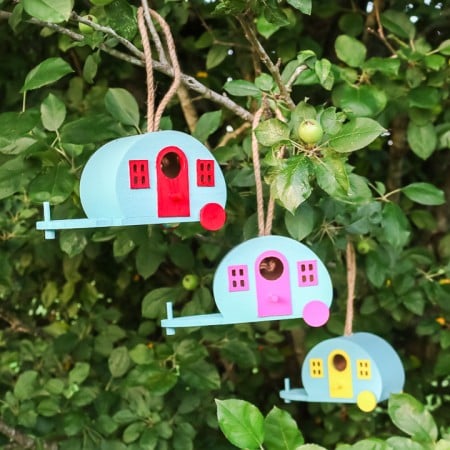 DIY Camper Birdhouses
Painting a birdhouse is so easy and it will leave you with something that will look great in your yard!
Supplies
Camper Birdhouse

get it from Michaels or find another unfinished wood birdhouse

Paint

you need a good quality outdoor paint (two of my favorites are Outdoor Living and Patio Paint)

Rope

Drill

if no hole for hanging

Painter's tape

optional

Sandpaper

optional
Instructions
Sand any rough edges that you find on your birdhouse and clean the surface well. Cover any areas you don't want painted with painter's tape if desired. Then add your first color with a paintbrush. You may need multiple coats of paint to get good coverage. Just be sure to let dry in between coats.

Add your second color (or even a third color if you wish) to the birdhouse with a paintbrush. Again, you may need more than one coat and you want to let this dry in between coats.

If your birdhouse does NOT come with a hanger, you will need to drill a hole in the top. Sand away the rough edges after drilling.

Then thread the rope through the hole for hanging.

Once dry, you can hang your birdhouse outdoors. Want extra protection? You can also use a sealer over the top to protect your paint. Try a clear brush on or spray sealer if you want to add this step.
Tried this project?
tag us to show off your work!
This project is so easy yet will make a big impact in your yard this summer. After all, who can resist a cute camper birdhouse? I know I can't!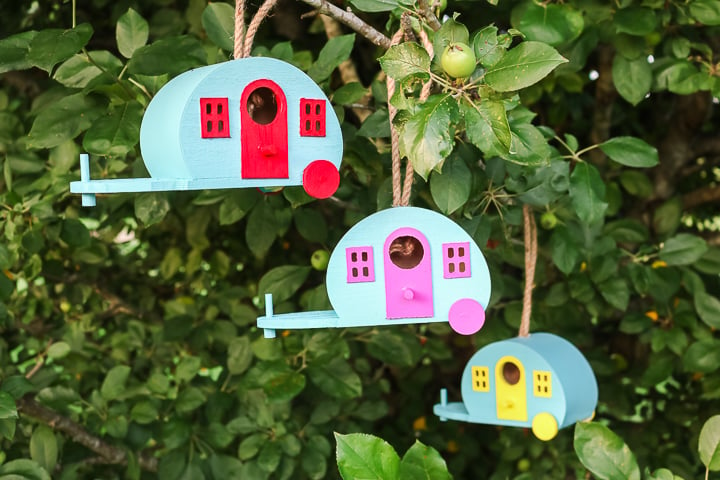 Be sure to pick up quite a few of these as you are going to want them all around your outdoor area. I like mine all painted the same color with different colors on the doors, windows, and wheels. You can mix and match the colors however you would like.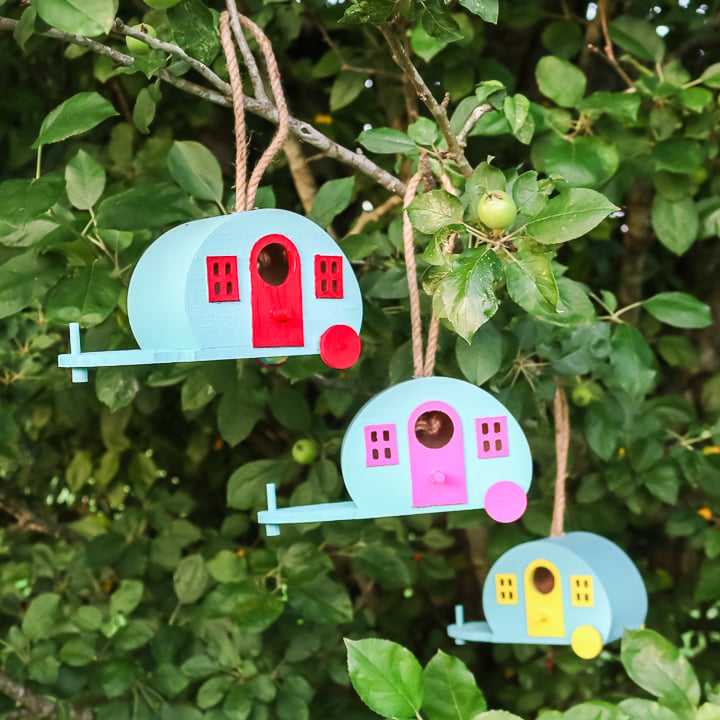 So, will you paint a birdhouse this summer for your home? This is a great project to get the kids involved with as well. Try masking off the areas you don't want painted and let them go to town with the paint. Then remove the masking and add any touch ups yourself. They will love getting to paint something for your home and you will love keeping them busy for a few minutes!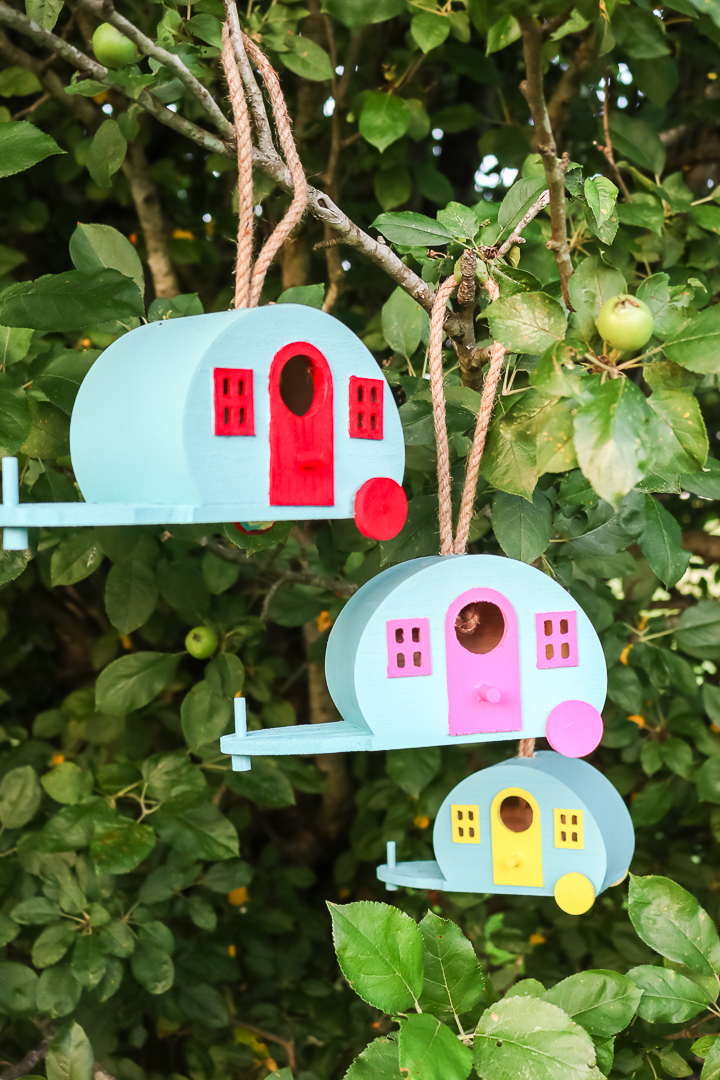 Love this outdoor craft idea and want more? Try the links below as well!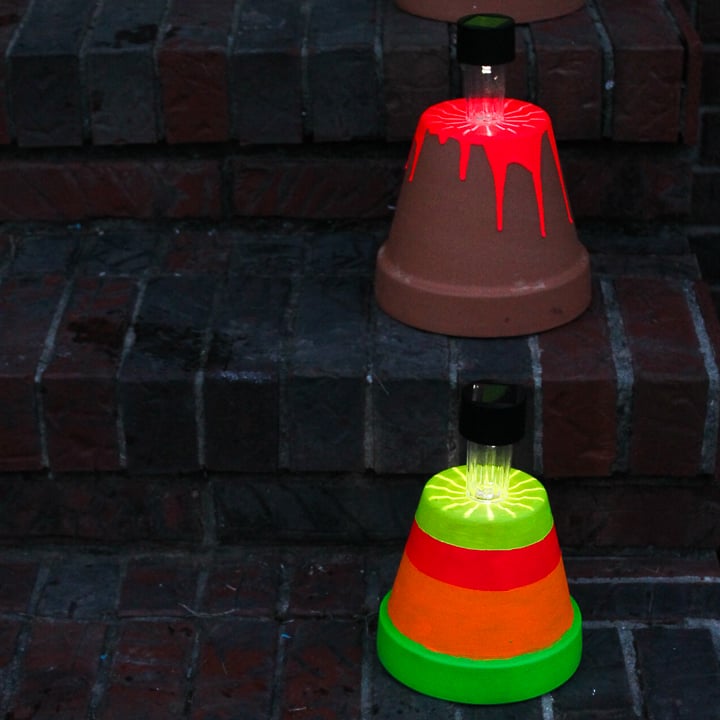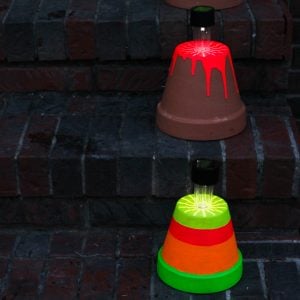 DIY Solar Lights with Neon Paint
An easy way to make a fun splash of color around your outdoor space.
Read More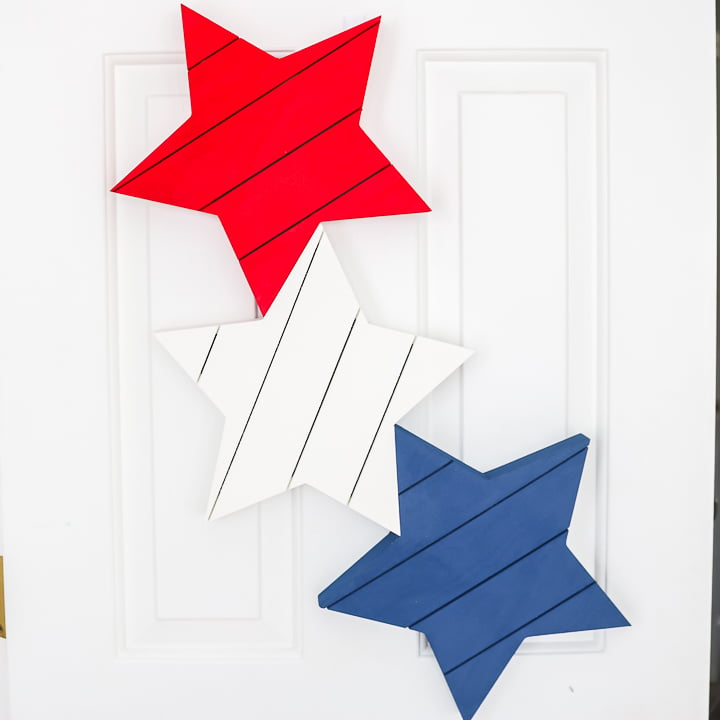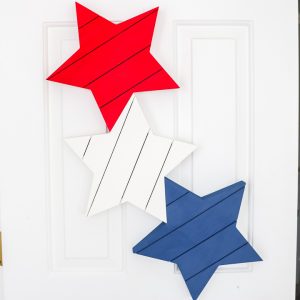 Wood Star Door Decor
A cute and unexpected 4th of July wreath that is super easy to make.
Read More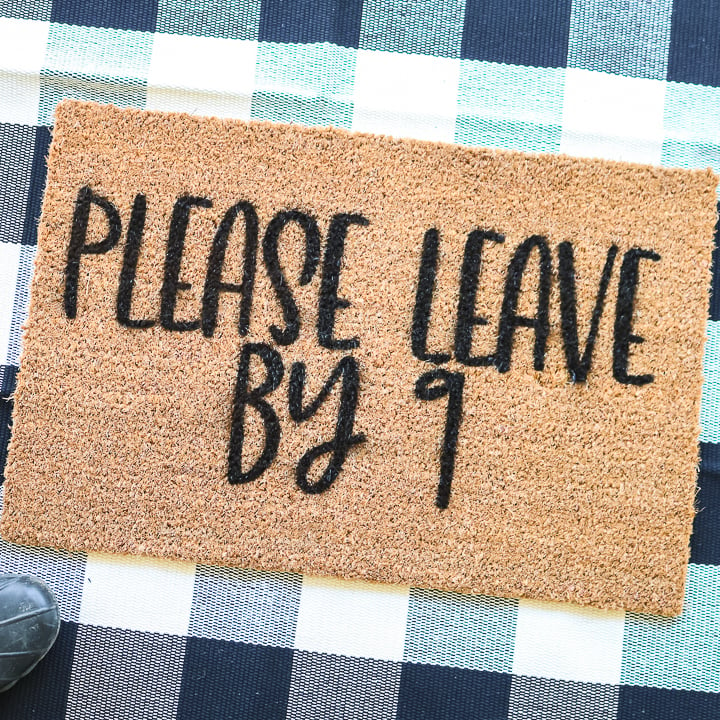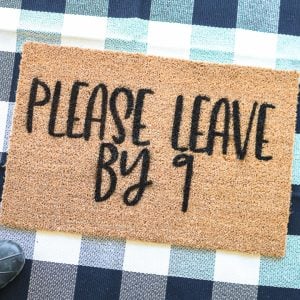 Make Your Own Doormat
A doormat is super easy to make with a Cricut machine and our instructions.
Read More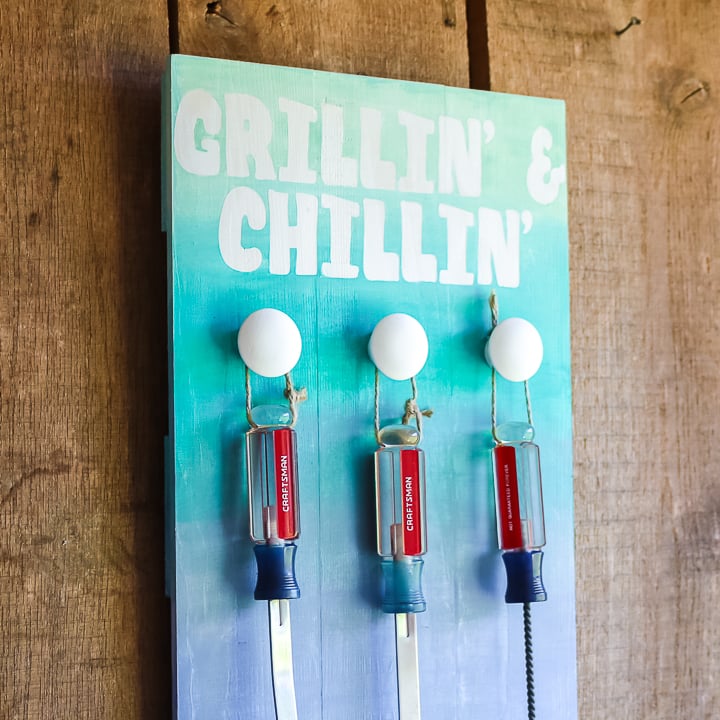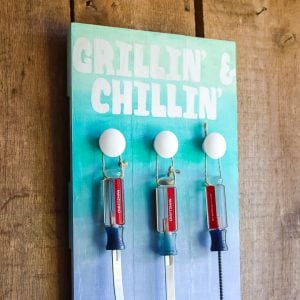 Grill Tool Organizer
Make this DIY grill storage with just a few supplies and some simple steps!
Read More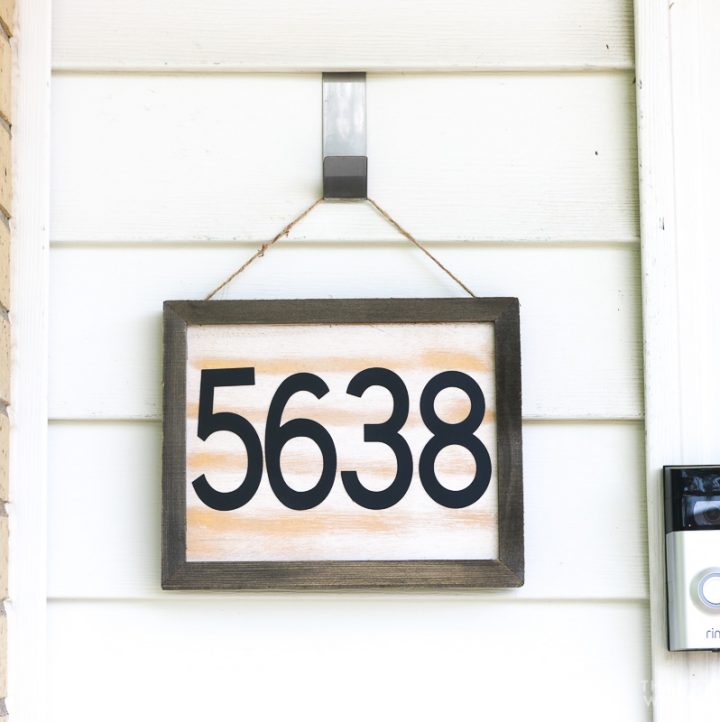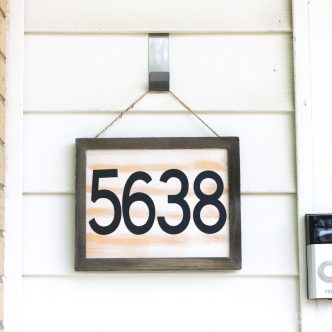 Modern House Numbers
Add house numbers to your outdoor decor with this easy to follow tutorial.
Read More